Wondering what the best 65cc dirt bike is? Whether you're looking for your first dirt bike or you're buying one for your son or daughter, this article will help you make the right decision based on what you need.
I'm going to show you what a 65cc dirt bike is, how to know if you should get one, what models are available, and how to pick the best dirt bike for you.
What is a 65cc dirt bike?
It's a kids motocross bike with a 65cc 2 stroke engine that's very different from your typical trail bike. It's a race bike, so it's high performance and requires more maintenance and proper tuning to run well.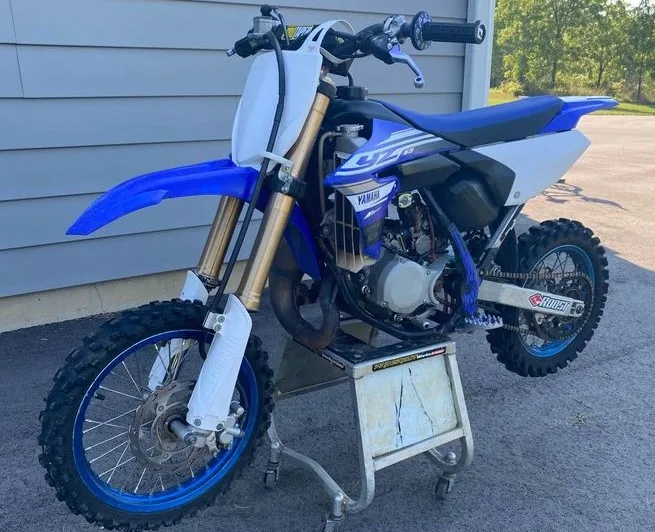 Who Is A 65cc dirt bike For?
There are a couple of 65cc motocross classes that range from 7 years of age to 11 years old. That's who these dirt bikes are intended for, but that's not specific enough to make a decision.
Since it's a 2 stroke motocross bike, it has a snappy powerband and stiffer suspension – these along make it harder to ride than a comparable size 4 stroke trail bike.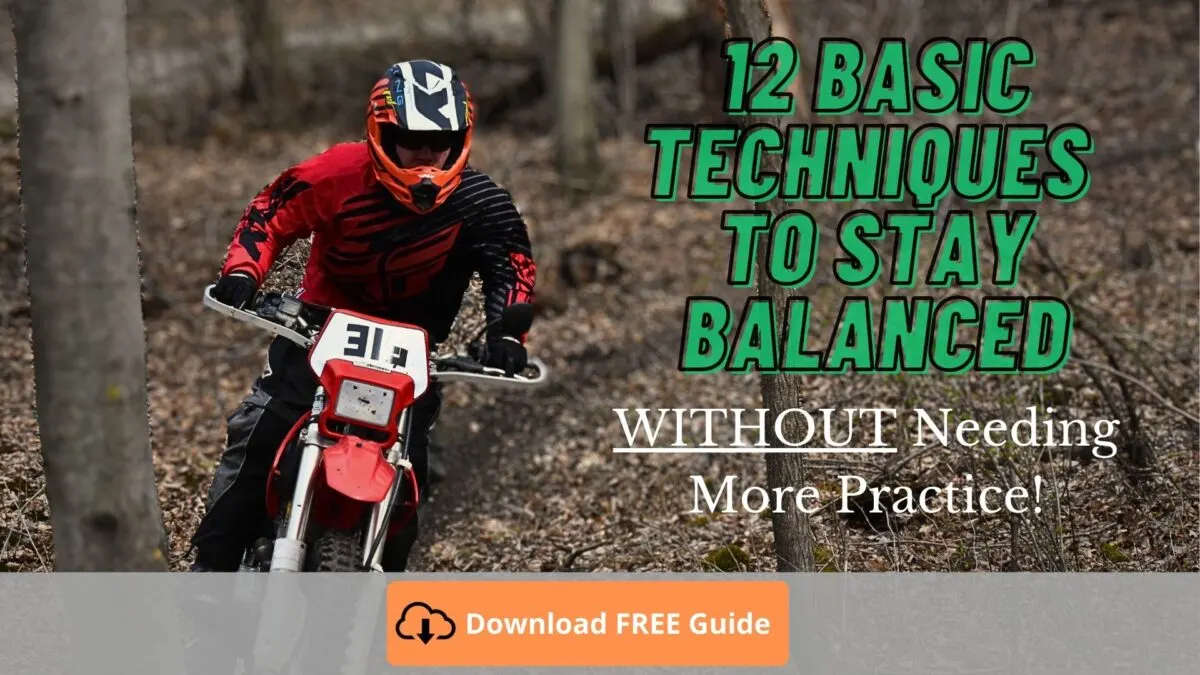 Therefore, a 65cc dirt bike is for 7-11 year old boys or girls that want to race or have a high-performance bike because they have the skills to take advantage of the extra power and suspension.
How tall is a 65cc dirt bike?
Most 65cc 2 stroke dirt bikes have a 29.5 to 30-inch seat height. According to my dirt bike size chart, it's best if you're over 4'6" tall to comfortably reach the ground, but that doesn't matter as much on these bikes.
If you're riding a 65 motocross bike, then you're already an experienced rider and don't need to put your foot on the ground very often. This means that it's okay to have a bike that's a little but taller than my chart size because it's just a guideline – The extra height is a benefit because you get more/better suspension and ground clearance.
How fast does a 65cc dirt bike go?
The top speed of a typical 65cc 2 stroke dirt bike is 50 mph – but does this number really mean anything? Not unless you're drag racing on the road or flat ground, but it does tell you that it's a powerful dirt bike for how small it is! If you care about staying safe, then learning how to properly ride is extremely important so that you aren't falling and getting hurt.
How much horsepower does a 65cc dirt bike have?
A stock 65 makes about 15-18 horsepower, which is pretty crazy when you consider a 125cc 4 stroke trail bike only makes about 6-8 horsepower. This also tells you that you don't need the most horsepower to have fun or ride fast.
For example, I can ride a TTR125 just as fast or faster in the woods than a YZ65, even though it has less than half the HP.
Why? Because it has more usable power that makes it easier to ride – I can ride in a broader RPM range and don't need to be constantly shifting gears to keep it at a high RPM in order to accelerate.
Best 65cc Dirt Bike
So, now that you know what to expect when buying and riding a 65, it's time to pick the right one based on your needs.
These are the best 65cc dirt bikes you can currently buy:
KTM 65 SX
KTM has been making a race-ready 65 motocross bike for many years, and there's a reason why it's so expensive. It has great power and suspension right from the showroom floor, so you don't need to do anything to it unless you're racing at an extremely competitive level.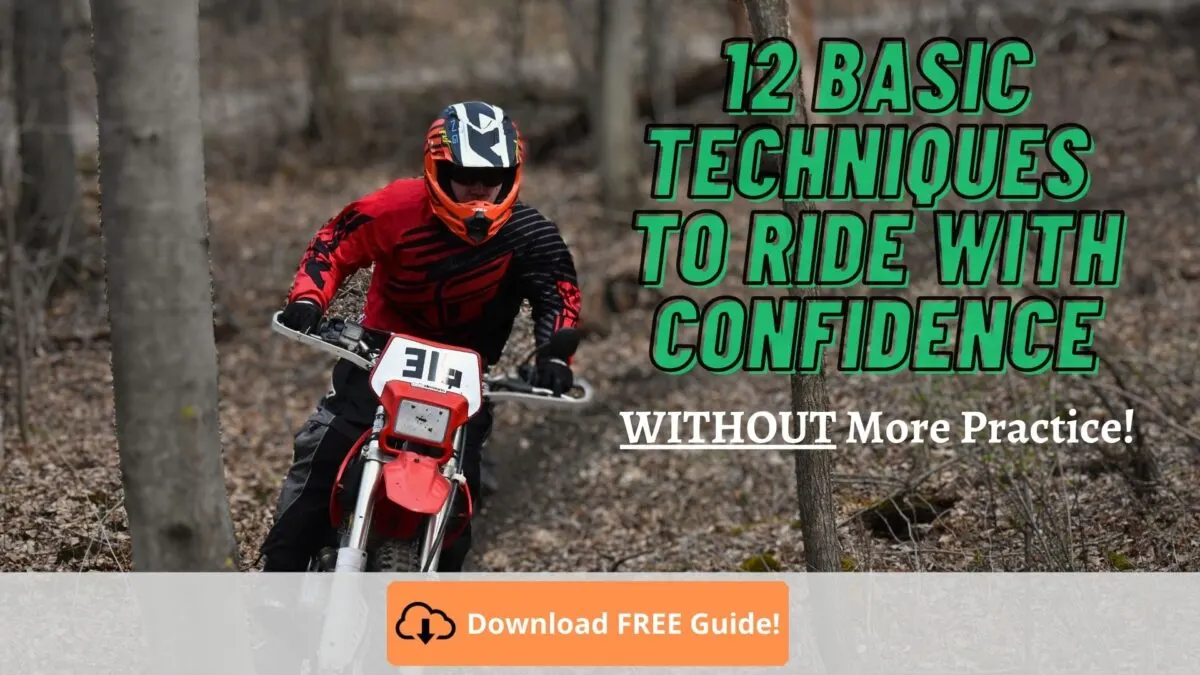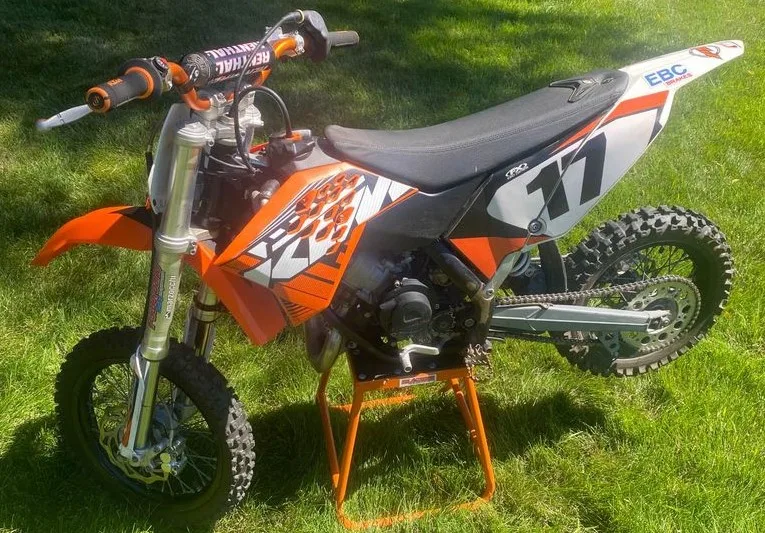 Husqvarna TC 65
Since Husqvarna was bought by KTM, they've updated their dirt bike model lineup and have made a competitive 65. The TC 65 is almost identical to the KTM 65 SX – the main difference is that the plastics are different shape and white instead of orange.
Even though both bikes have the same specs, the plastics will give you a slightly different feel on the Husky 65 and may handle a little bit different. If you can test both before buying, I highly recommend it.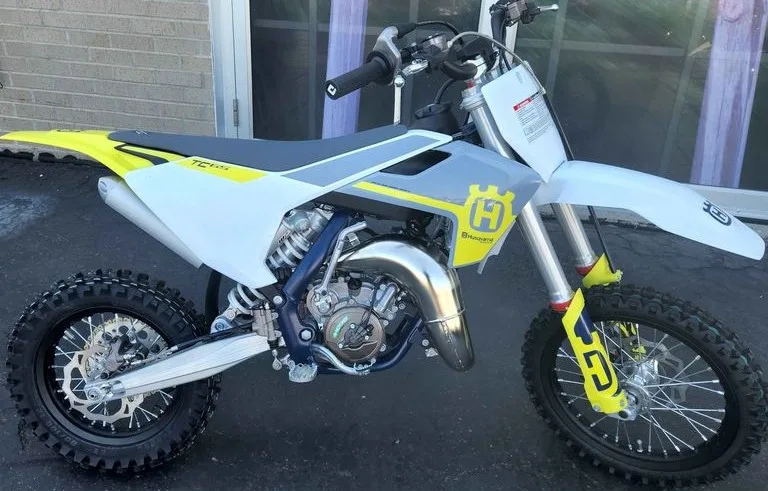 Yamaha YZ65
Yamaha finally (re)added a 65cc motocross bike to their lineup in 2018, which is now a successful race bike for their midsize mini class. It's built to be competitive with the KTM and Husqvarna 65's but with a lower price tag when new.
It may not have quite as much power when you put it on the dyno, but the YZ65 is still a solid platform and the suspension performance is just as good – it has even more travel than the KX65.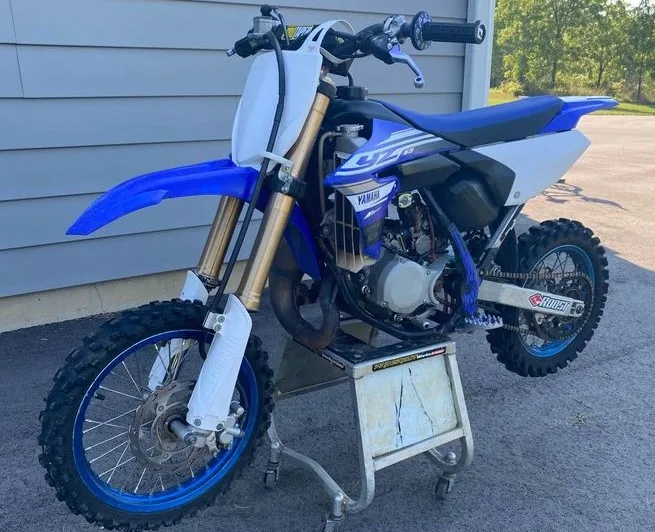 GasGas MC 65
GasGas is the latest dirt bike manufacturer to enter the 65cc class. It's basically the same thing as a KTM and Husqy, so if you like the color red, this is your new option!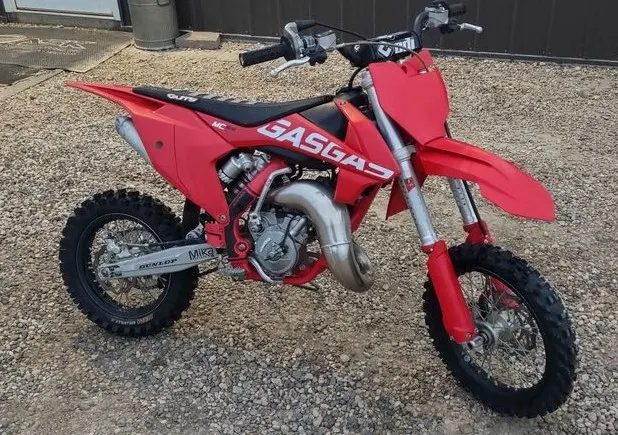 Kawasaki KX65
The KX65 used to be the KX60 back in the 90s, so Kawasaki has been racing in this class for decades. It's a solid motocross bike if you're new to racing because you can find a used one cheaper.
A 65cc 2 stroke usually won't last very long because kids outgrow them quickly and move onto an 85 or medium size dirt bike. With that said, the KX65 doesn't have quite as good of an engine and suspension as the newer YZ65, but that's just fine if you aren't an expert rider.
If you're more concerned about price and durability, a used KX 65 will work just fine.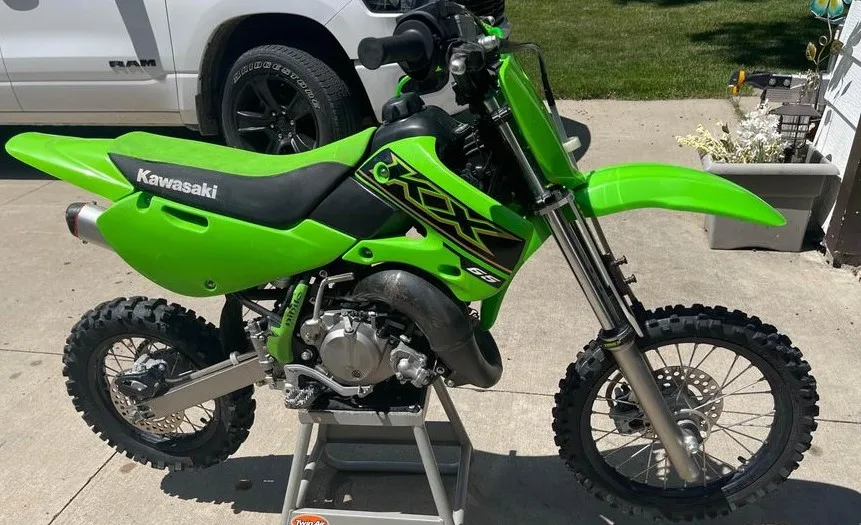 Cobra CX65
Last, but certainly not least, is the American made Cobra CX65. It's a 2 stroke motocross bike that's made for one thing: racing motocross at a high level for amateur kids.
Cobra specializes in kids motocross bike – they don't even sell a full-size dirt bike for adults.
While it's the most expensive bike on this list, you get what you pay for. It has the best overall engine and suspension performance with quite a bit of adjustability if you like to tune it for that last percent of gain over the competition.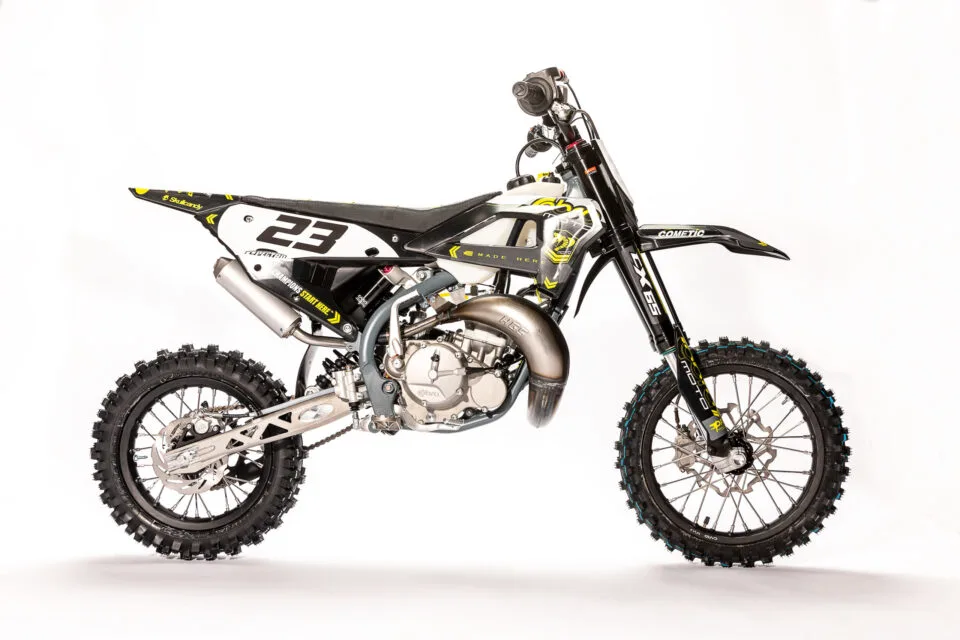 65cc 2 stroke specs & dimension comparison chart
| | | | | | |
| --- | --- | --- | --- | --- | --- |
| | 65 SX | TC 65 | YZ65 | KX65 | CX65 |
| Engine | 64.9cc | 64.9cc | 65cc | 64cc | 65cc |
| Transmission | 6-speed | 6-speed | 6-speed | 6-speed | 6-speed |
| Clutch | Hydraulic | Hydraulic | Cable | Cable | Hydraulic |
| Seat Height | 29.5" | 29.5" | 29.7" | 29.9" | 30.0" |
| Wheelbase | 44.7" | 44.7" | 44.9" | 44.1" | 44.5" |
| Weight | 117 lbs (dry) | 117 lbs (dry) | 134 lbs (wet) | 132 lbs (wet) | 117 lbs (dry) |
| Horsepower | | | | | |
| Price (MSRP) | $5,499+freight | $5,499 | $4,799 | $3,999 | $5,719+shipping |
| Suspension Travel | 8.5"/10.6" | 8.5"/10.6" | 8.5"/10.6" | 8.3"/9.4" | 8.8"/10.6" |
Best 65 for beginners
If you're truly looking for your first dirt bike, then I wouldn't recommend a 65cc 2 stroke as being good for beginners. A better pick would be a 110cc 4 stroke, such as a CRF or KLX 110 because they're much easier to ride and handle, making it safer and more enjoyable.
With that said, if you have to choose one, then I'd pick the Yamaha YZ65 or Kawasaki KX65 as the best 65cc dirt bike for beginners. They're more affordable than the other brands, and they have a little better low-end torque, making them easier to ride and use the clutch.
Best 65 for kids motocross racing
The top 65cc 2 stroke dirt bike for motocross racing is: the Cobra CX 65, although the KTM and Husqvarna are a close second. The Cobra just has them beat I'm overall performance and adjustability with their recent model update of an all new bike.
It may be a little harder to resell used when you're ready to upgrade to a bigger bike, but maybe that's not a deal breaker for you.
Common mistakes buyers make
You learn best from your own mistakes, but you can learn just as much from someone else's mistakes! I've gained a lot of knowledge from buying and selling dozens of dirt bikes over the years, not including all of the bikes that I looked at and didn't buy…
It's easy to make mistakes when buying a used dirt bike that ends up costing you a lot of money in parts to fix it. That's why I want to help you so that you don't make the same common mistakes. I made you a free guide that you can download here.