Is Honda still making the CRF100, and is it the right bike for you? I'm going to answer those questions for you in this article, and I'll also cover the practical info you need about this Honda dirt bike to make the best decision possible.
What is the Honda CRF100?
It's an off-road trail motorcycle with a 100cc air-cooled engine and a 5-speed manual-clutch transmission, but what does that mean for you?
It's a low-performance, simple, and easy to ride dirt bike, and there are pros and cons to this. I'll show you why, and how to know if it's right for you.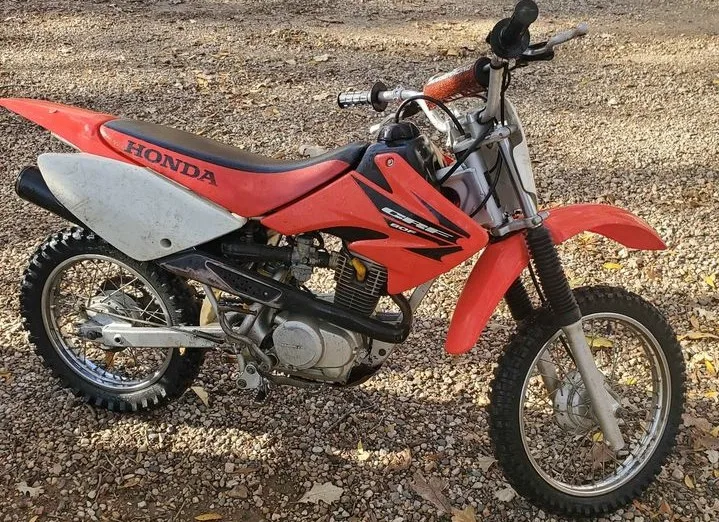 Engine characteristics
The engine is a 100cc air-cooled 4 stroke, which means it's not a race engine, but it's super reliable and makes smooth power. This is important if you or your son or daughter is new to dirt biking.
Having a dirt bike with predictable power helps build confidence right away because you can focus on learning all of the proper riding techniques, rather than trying to control the excessive amount of power.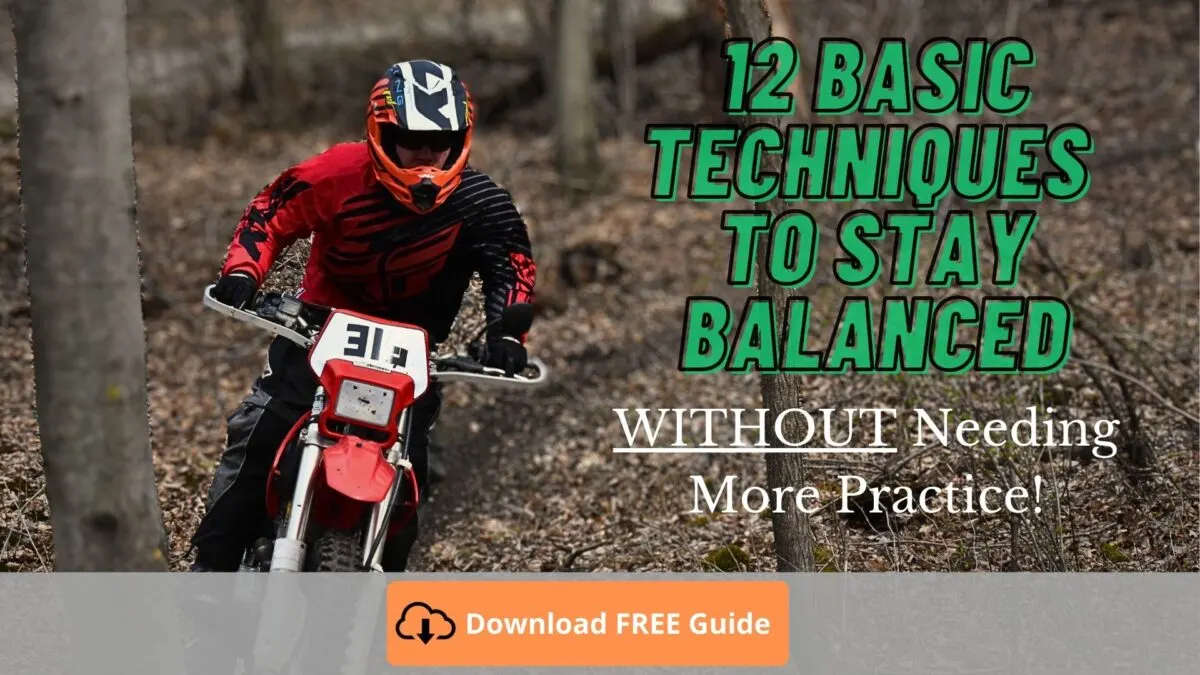 Why a "fast bike" isn't a wise choice
If you're buying a "first dirt bike" for your kid, girlfriend, or wife, please don't start them on a motocross or race bike.
You may think it's cool, but if they're timid or lacking confidence, the unforgiving nature of the high-performance dirt bike will just reassure them that they're "not meant to ride" because it's so hard to control the bike.
Horsepower
Depending on how you calculate the horsepower, the CRF100 has about 7 HP, or about 6 HP at the rear wheel since it loses some from the transmission, chain, and spinning the wheel.
6HP doesn't sound like a lot, but it's enough power to have fun riding off-road, even if you're an adult. That number is really just one number at one RPM.
You see, to make that power, you have to rev the engine to about 7500 RPM and hold it there – who does that unless you're racing flat track or supermoto? Even then, you need smooth torque from idle on up – and that's where the Honda CRF shines!
Top speed
Planning on drag racing on flat ground? If not, the max speed of about 45 mph won't mean much to you.
If you're a beginner or just a casual rider, you don't need to go as fast as possible. The more important spec is the gear-spacing and acceleration. This can easily be changed by using a different size sprocket.
Suspension – what to expect
For beginners, you want soft suspension to absorb the dirt and off-road terrain to make riding comfortable at low speeds. This is exactly what the CRF100 offers with its simple and reliable shock and forks.
As long as you don't weigh over 120lbs, the suspension will handle light to moderate trail riding. Once you start riding more aggressively, you'll want to add stiffer springs so that it won't bottom out the suspension, especially if you're heavier.
Front forks
The stock forks and front-end are very simple, which is nice because it's reliable. It's very soft, which is perfect for learning to ride because it soaks up the bumps at slow speeds.
There's no external adjustability on the forks, so if you're heavier than 120 lbs then you'll want to modify the internals. A simple spring swap to some heavy duty fork springs (Amazon) is affordable and will make it safer and more comfortable if you're an adult.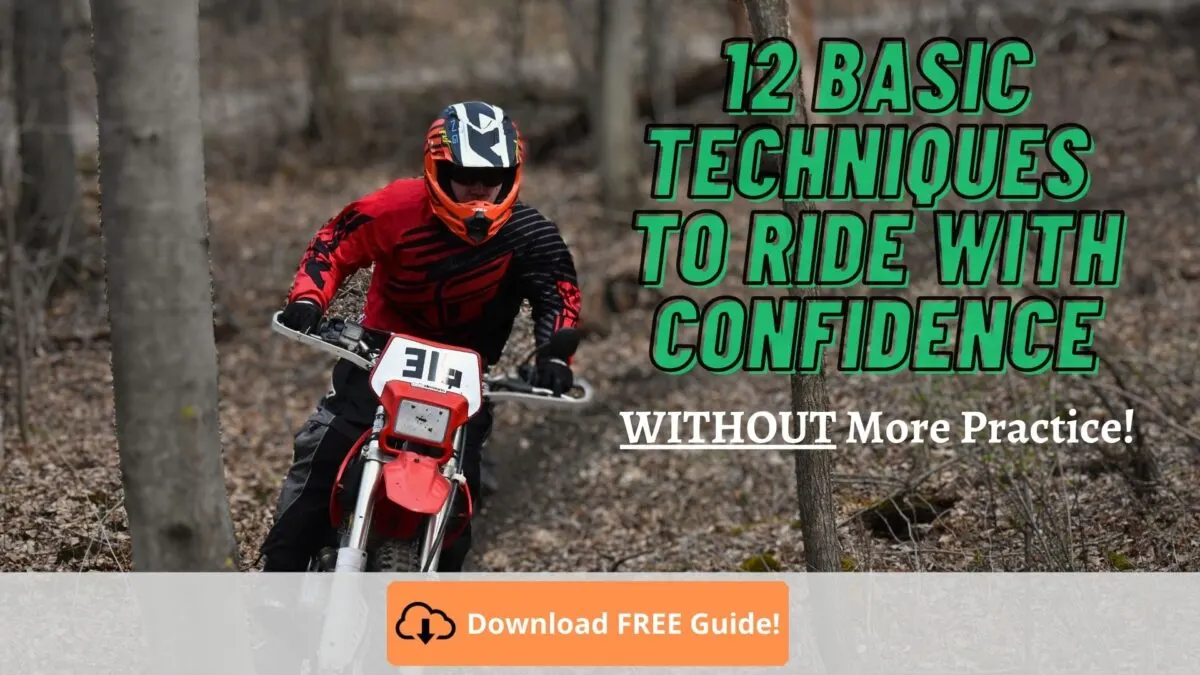 Rear shock
You also get a soft rear shock, which works well with the forks if you're a beginner or lightweight rider. The only adjustment is the shock preload, which is important for setting the sag for your weight to balance the suspension.
After that, you'll need to either get a stiffer shock spring or replace the stock shock with an aftermarket unit (Amazon) if you want better performance.
Handling – is it easy to control?
For a mid-size trail bike, I like the handling of the Honda CRF100F because it's low to the ground and the ergonomics are comfortable. The layout of the handlebars and flatter seat than the older style XR100 make it easier to move around on the bike when cornering.
With a lower center of gravity, this trail bike will help build your confidence riding in the woods because it's easy to lean over in the corners. The short wheelbase also helps it turn at low speeds, which is important because you need to practice your balance and traction at low speeds to give you more control before you ride faster.
CRF100 seat height – what size rider is it for?
At 30.9", the seat height is comfortable if you or your kid is between 4'8" and 5'4" tall. That's a fairly wide range, but it also depends on your inseam length. With longer legs, taller handlebars might help if you don't want to move to a bigger dirt bike yet, like the CRF150F.
Even if you're a slightly taller/larger adult, the CRF100 is still a great dirt bike to learn on. Being able to touch the ground with your foot is a good confidence booster as a beginner to prevent falling over.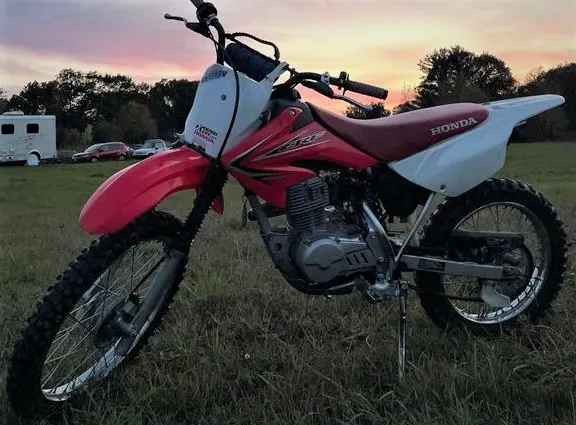 Weight comparison
Coming in at about 170lbs, the CRF100F is not exactly light for a 100cc dirt bike, but it's still considerably less than other medium size dirt bikes. The CRF80 is the next size smaller, but it only weighs about 10 lbs less than the 100.
Is it reliable? How long will it last?
The CRF100 is one of the most reliable dirt bikes you can buy, but that doesn't mean it will last a long time. You see, it mainly depends on how well you take care of it.
When you do proper maintenance, such as changing the oil and air filter, this dirt bike can last a LONG time – hundreds and hundreds of hours of riding. The problem is, it's easy to forget because it's such a durable motorcycle.
That's when problems start happening, such as:
Model year history & changes
The CRF100F was made from 2004 to 2013 when Honda discontinued it for the coming CRF125FB. There were no major changes in all those years. The graphics were updated each year, and then the plastics/seat cover slightly changed in color scheme.
Any common issues?
The CRF100F, like the XR100, had no glaring issues that you should be concerned about. With that said, since it is so reliable of a dirt bike, many owners (often kids) did not take care of it very well.
When looking at a used model, make sure it has the right amount of oil, that the air filter is clean, and that the overall bike is straight and not missing anything. I've looked at some used and abused dirt bikes before, but the Honda 100's are usually the worst – because they're so durable.
Price – how much are they worth?
It's on my list of the top cheapest dirt bikes that are reliable because they're usually inexpensive on the used market. Since Honda stopped making any 100cc dirt bikes, they aren't really going down in value.
A CRF100 is worth anywhere from 800-2000 dollars, depending on a few value factors. Your local market demand and the condition of the bike are important to consider when looking to buy a used dirt bike.
Honda CRF100 Dirt Bike Specs & Dimensions
These are the specifications of a stock CRF100 from Honda:
| | |
| --- | --- |
| | CRF100F |
| Manufacturer | Honda |
| Years Made | 2004-2013 |
| Engine | 99cc air-cooled 4 stroke SOHC |
| Transmission | 5-speed manual-clutch |
| Seat Height | 30.9" (78.5cm) |
| Weight | 174lbs. (wet) |
| Horsepower | 7HP (at the crank) |
| Top Speed | 45MPH |
XR100 vs CRF100
They're basically the same dirt bike. Honda updated the name from "XR" to "CRF" in 2004 to give it a more modern look and sound. The "F" at the end of 100F simply means that it's a trail bike.
Who is the Honda CRF100 for?
The CRF100 is a classic Honda 100 four-stroke trail bike for kids around the age of 10-13 that want to learn how to ride a dirt bike with a clutch. It's easy to ride, very forgiving, and a good size dirt bike for kids or if you're an adult with short legs.
The CRF100F is actually the same dirt bike as the older Honda XR100R – it just has a slightly different name and plastics/cosmetics.
Bottom Line: Is the CRF100 a good dirt bike?
For the right rider, the Honda CRF100F is a great bike, especially if you're on a budget. Below are some reasons why you should or shouldn't get one:
Pros:
It's easy to ride and beginner friendly
Low seat height if you're under 5'4"
Learn to ride with a clutch is made easier than a high-performance bike
Usually affordable in the used dirt bike market
Very reliable and durable
Good resale value – you can usually sell it for close to what you paid for it
Still plenty of mods available to make it faster
Plush suspension if you're a beginner
Cons:
No electric start
Getting harder to find in good condition
Honda stopped making them in 2013
Too big for most kids under 4'6"
How to ride with confidence off-road
Ready to go riding but want to learn how to be a good rider? Starting on a beginner-friendly dirt bike is a good choice to build your confidence, but you need to learn how to use your body to ride with control off-road.
I want to help you get started with a free training guide that will teach you the basics. Tap here to download it.