Looking for the right size dirt bike in the Honda CRF lineup? Whether you're buying your first dirt bike or need help picking your next one, you found the right place!
In this article, I'll show you the differences between the CRF dirt bike models, which one is right for you, and how to pick the right size based on your height and budget!
What is a Honda CRF dirt bike?
"CRF" is Honda's name for their 4-stroke dirt bike lineup for off-road and competition motorcycles. This includes trail bikes, motocross bikes, and enduro bikes.
The letter after the number (size) of the bike determines what type of dirt bike it is.
For example, the CRF150F is the off-road trail bike that's best for beginners, while the CRF150R is the motocross bike for racers or experienced riders.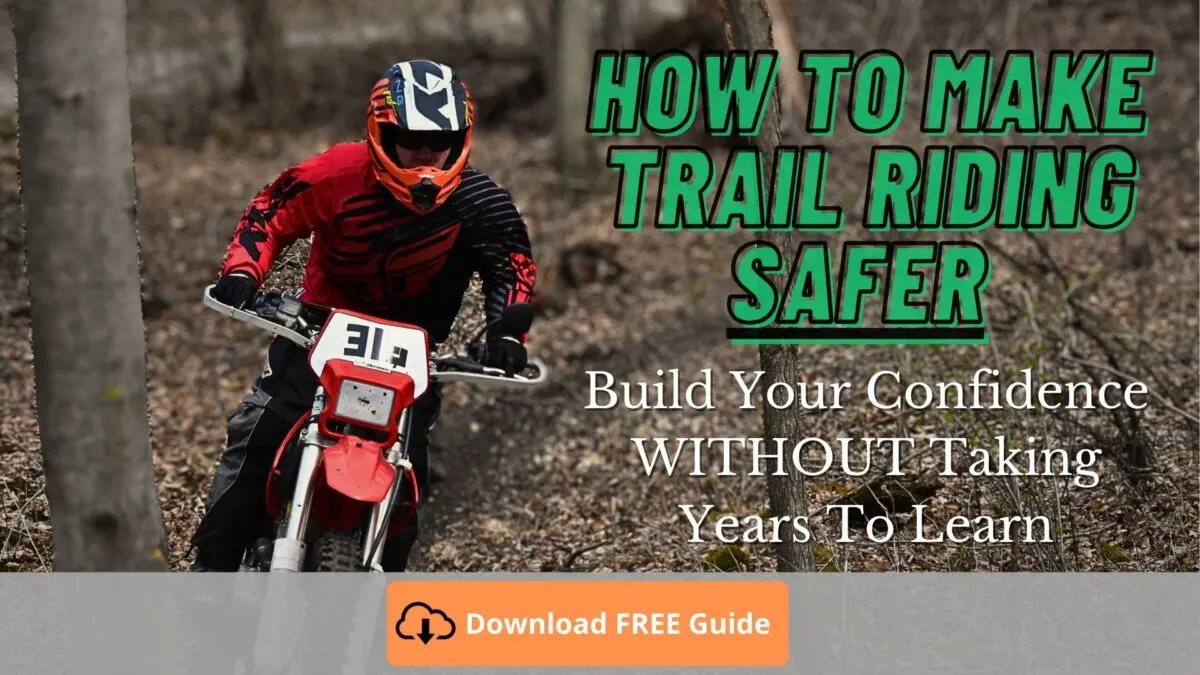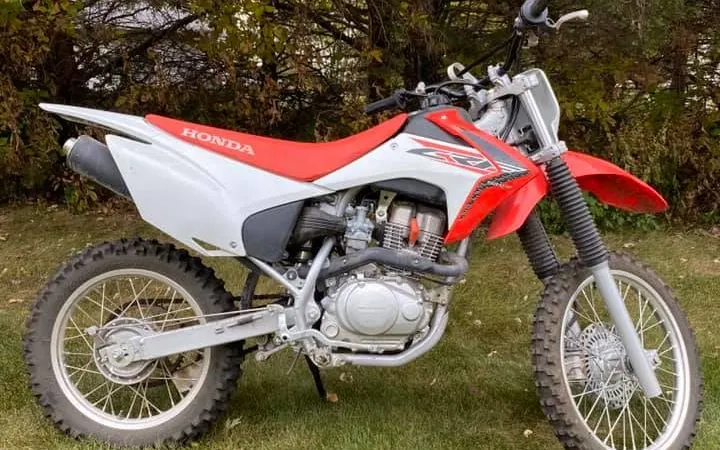 How to pick which one is right for you
If you're new to dirt biking or just getting back into it and want to stay safe, I highly recommend starting on a CRF-F model. This is the 4 stroke air-cooled trail bike, and it's much better for beginners.
Starting on a motocross or high-performance enduro bike when you don't know how to handle a dirt bike off-road is just asking for trouble. When you haven't learned the basic techniques to safely ride, you're going to spend more time trying to control the power when you should be practicing your fundamentals.
A trail bike is much easier to learn on because it's easier to ride with less power and a lower seat height. When the power is smooth and predictable and you can touch the ground with one foot, this builds your confidence much quicker. You can always upgrade to a faster bike later…
What size Honda CRF is right for you?
There are different size dirt bikes that work for just about everyone, but there's no "perfect dirt bike" because they have to universally fit as many people as possible. For example, if you have longer than normal arms or legs, you may have to setup every bike you own a little bit differently than stock, such as different footpegs or handlebars.
When it comes to choosing the right size Honda dirt bike, you need to pick a bike based on your height first, and then your experience level.
Let's say you're 5'2" and a new rider. Then you want to pick a medium size trail bike that has a seat height around 29-31" tall, such as the CRF125F.
Here's a simple dirt bike size chart based on your height. Use this as a guideline and not a rule:
| | |
| --- | --- |
| Age/Height | Seat Height |
| 3-6 years old | 18-21 inch (45-53cm) |
| 6-8 years old | 21-24 inch (53-61cm) |
| 9-10 years old | 24-27 inch (61-68.5cm) |
| 4'10"-5'0″ (147-152cm) | 27-30 inch (68.5-76cm) |
| 5'0″-5'2″ (152-157.5cm) | 29-31 inch (73.5-79cm) |
| 5'2″-5'4″ (157.5-162.5cm) | 30-33 inch (76-84cm) |
| 5'4″-5'6″ (162.5-168cm) | 33-35 inch (84-89cm) |
| 5'6″-5'8″ (168-173cm) | 34-36 inch (86-91.5cm) |
| 5'8″-5'11" (173-180cm) | 35-38 inch (89-96.5cm) |
| 6'0″+ (183+cm) | 37+ inch (94+cm) |
Dirt Bike Seat Height Size Chart
Current Honda CRF lineup
Honda has changed their lineup of CRF model dirt bikes over the years, but they still have the same goal – to make the right size and type of dirt bike for every rider.
So, let's first look at all of the currently available dirt bikes in the Honda CRF lineup:
CRF50F
The smallest gas dirt bike you can buy from Honda is the CRF50F, and it's still one of the leaders in kids' first dirt bikes. It's extremely reliable and easy to ride with a fairly low seat height.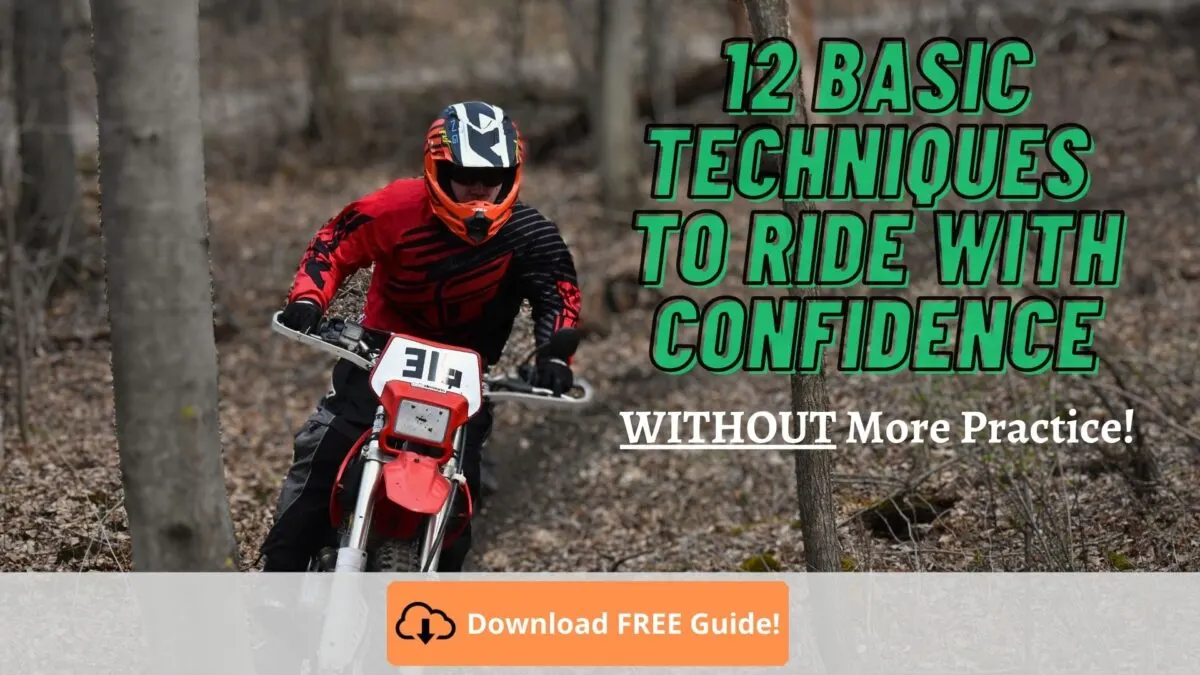 This makes it ideal for kids aged 4-7 years old, depending on their height. There's no clutch and it has a 3-speed semi-auto transmission, so they can leave it in first gear or shift without needing to learn the clutch.
It hasn't changed for many years, so buying new or used doesn't make much difference. It still has a kick-start lever and a carburetor, so if you want simple and old school, this kid's dirt bike is for your son or daughter (or grandkid)
CRF110F
Honda got rid of the CRF70 and CRF80 to replace them with the CRF110F in 2013, which is a pit bike-sized kids' dirt bike. It doesn't have a clutch, so it's a good first dirt bike or transitional bike for kids 7-10 years old that aren't ready to learn how to use a clutch.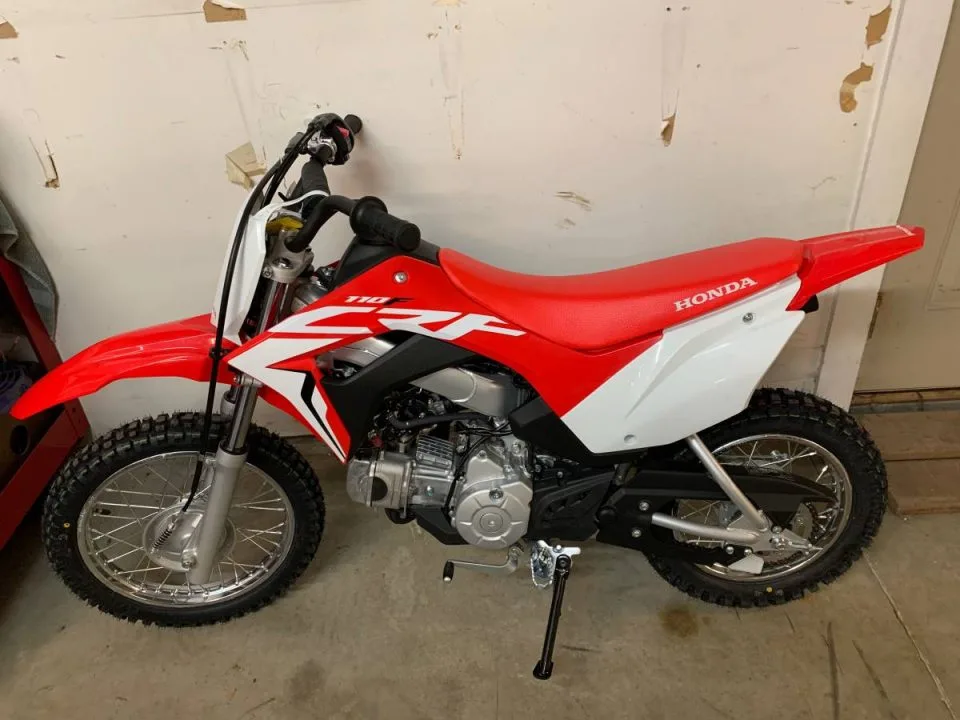 CRF125F/B
Moving up to a medium size trail bike, the CRF125F and CRF125FB are the same dirt bike with the difference being small and large wheels.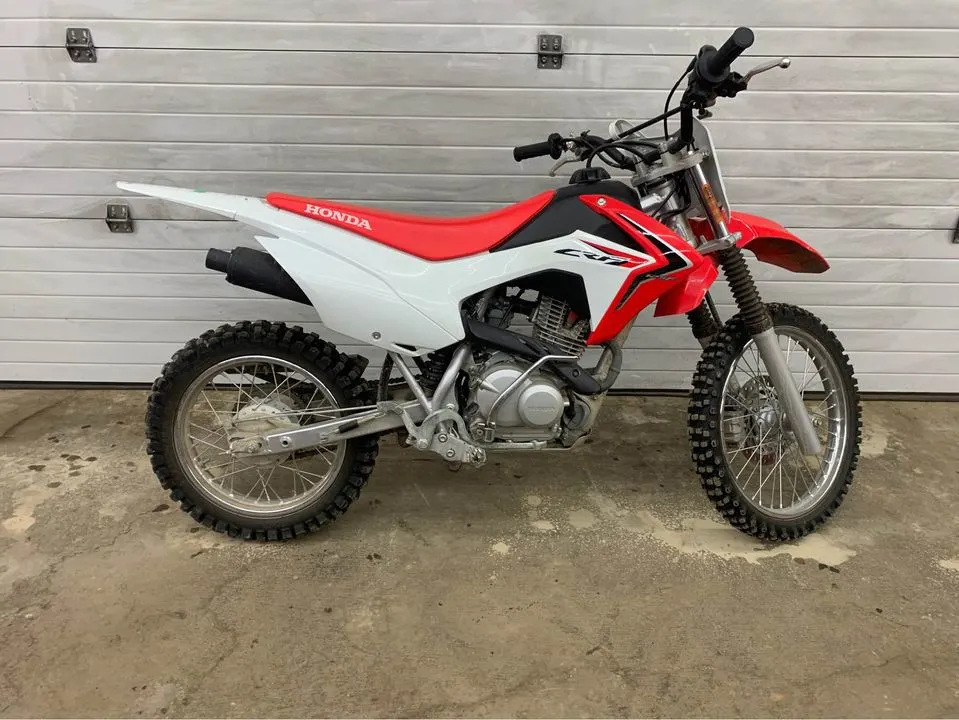 This is the perfect size bike if you're a teenager, young adult, female, or short adult that wants to learn how to ride with a clutch. It still has the same characteristics as the CRF 50: smooth power, low seat height, easy to ride, and very reliable.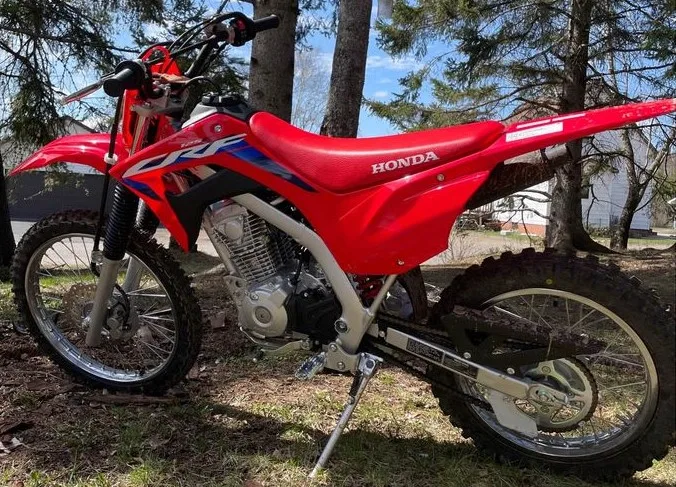 CRF150R/B
The next size CRF dirt bike is the CRF150R mini motocross bike. There's a small wheel and a big wheel model for kids ages 12-15 years old.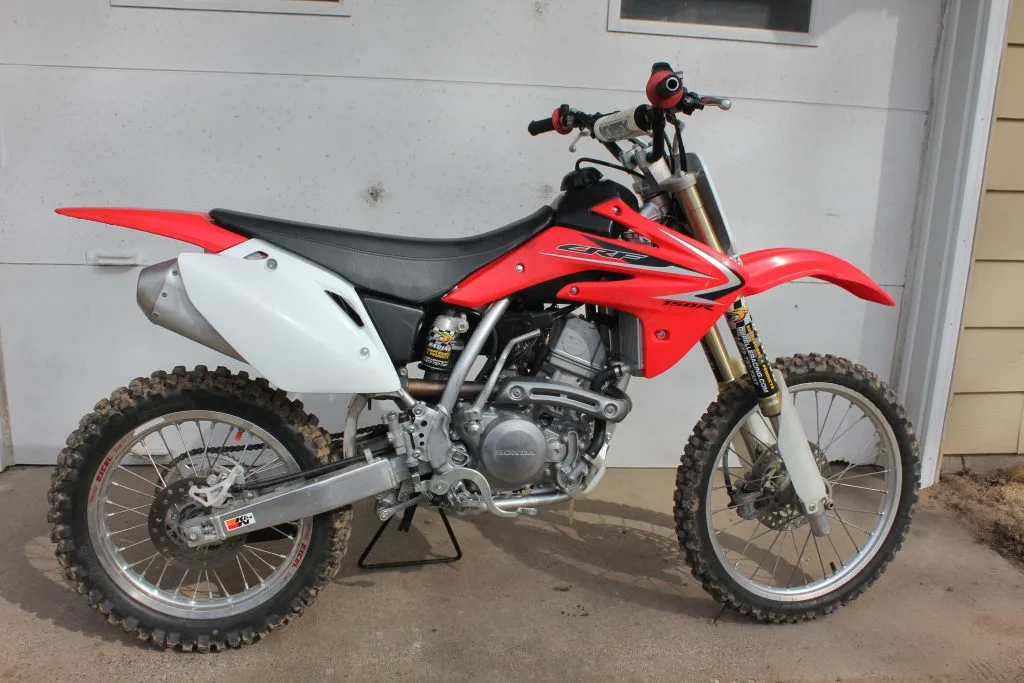 This is NOT a good dirt bike for beginners because the power is abrupt and it has a very light flywheel, making it rev quickly and stall easily. It's built for racing, so trail riding on the 150R or 150RB is not very comfortable in stock form without some major mods.
CRF250F
The latest adult-size trail bike from Honda is the fuel-injected CRF250F. Not to be confused with the 250R or 250X, the 250F is air-cooled and low-performance, but high on the fun factor.
It's super reliable, just like the CRF230F it replaced.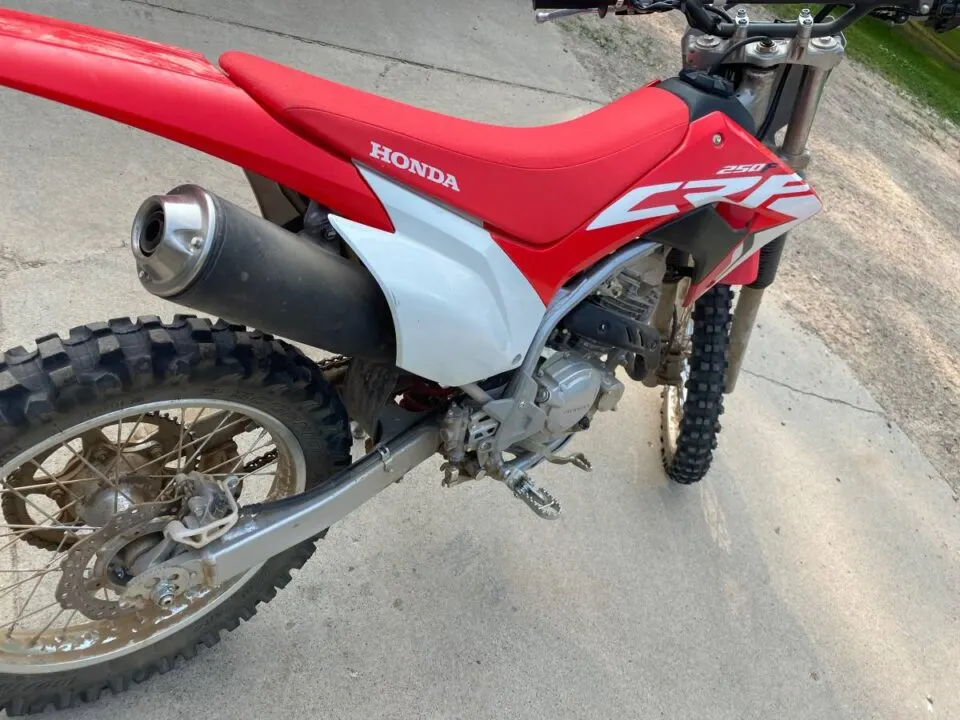 However, it's closer to the older XR250R since it's a 250cc 4-valve engine. This gives it a little more top-end horsepower while still keeping most of the famous low-end torque that we trail riders love.
CRF250R
It's the Honda 250F motocross bike – the CRF250R has changed many times since it came out in 2004. If you're ready to race motocross, the Honda is going to be competitive.
This is not a good dirt bike to start out on because it's powerful, tall, requires more maintenance, and the suspension is stiff for casual riding.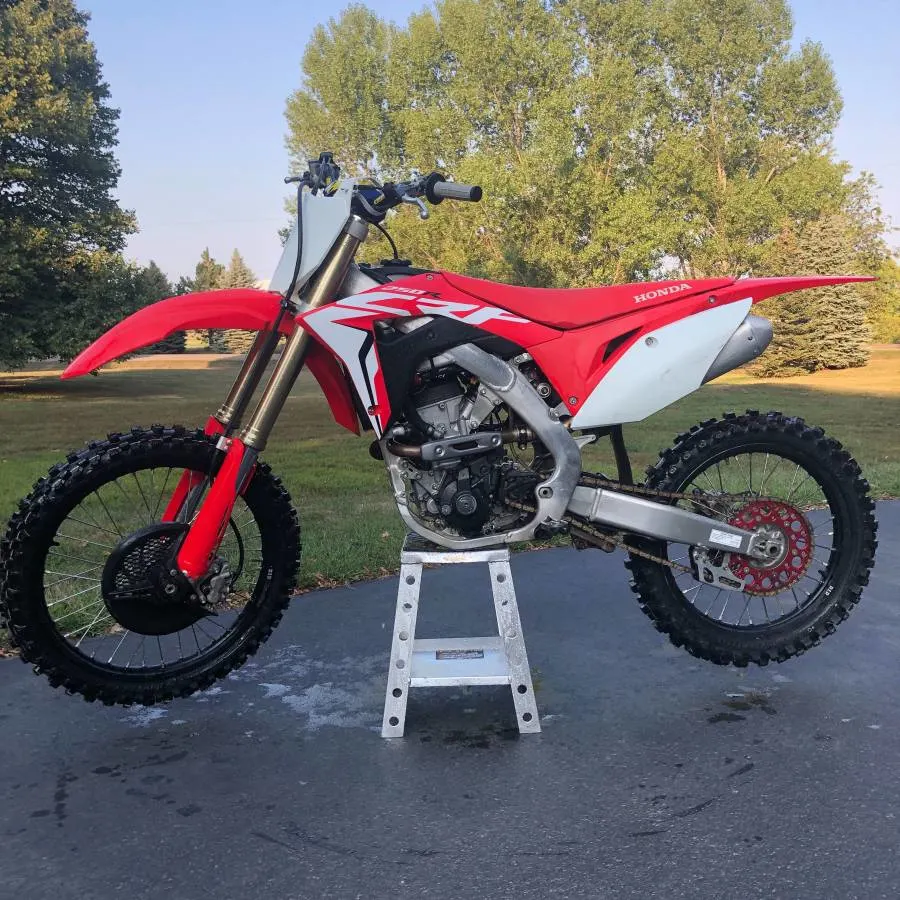 CRF250RX
A newer model for enduro riding and off-road racing, the CRF250RX is a crossbreed of a machine. This model is based on the CRF250R MX bike, but the suspension, engine, and a few other differences make it more comfortable and suitable for trail riding or racing.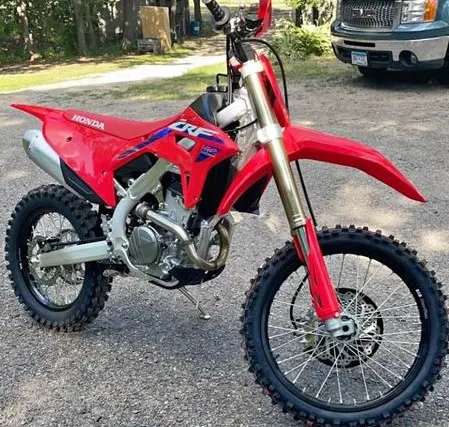 CRF450R
The ultimate motocross bike if you are an expert-level rider or just want less maintenance. The CRF450R has been around since 2002 and has changed many times as well.
Some models are better than others – the first year of each new model usually has some minor flaws that affect how it handles or feels, but it's pretty much always been reliable.
CRF450X
Need a motorcycle for Baja riding? The CRF450X is somewhat of a do-it-all off-road trail motorcycle.
It has plenty of power, although a little more predictable than the race bikes, and the suspension is plusher for casual riding. With lighting and a different transmission, it's good for some low-speed riding as well as cruising down the backroads.
CRF450RX
Another crossover from the trail and MX bike – the CRF450RX is the off-road bike for the most aggressive riders. This is a terrible dirt bike to start on, or if you're still learning the basic techniques.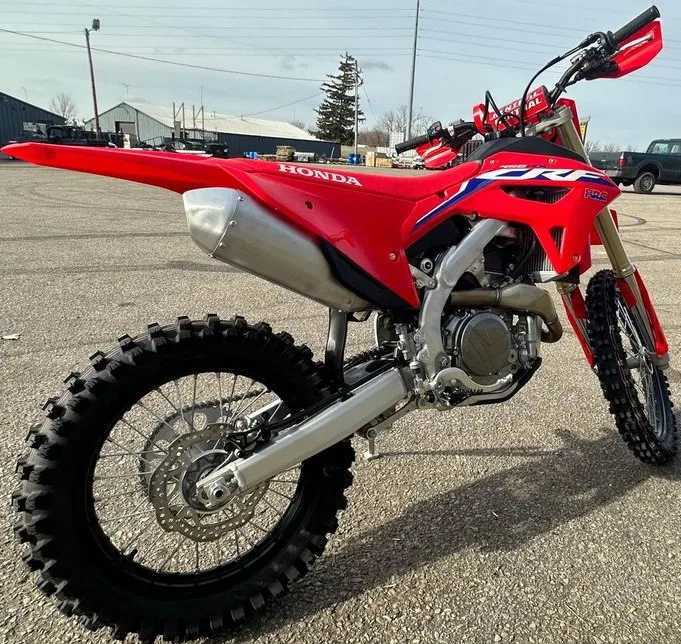 The engine and suspension are based on the 450R motocross bike, but tuned to be slightly softer so that it's more controllable on the trails or in the desert.
You can ride this on the track and trails if you just want one bike to do it all. Just know that there's some compromise when it comes to suspension and handling. In other words, it's not going to be perfect for both types of riding.
Cheaper Honda CRF dirt bikes that are discontinued
Maybe you can't financially afford a new dirt bike. Then it's time to look at all of the older Honda CRF dirt bikes that you can buy used to save thousands of dollars as a new rider.
These are all of the discontinued CRF off-road motorcycle models that are still great bikes:
CRF70F
A step up from the CRF50, the CRF70 is a good choice if your kid is a little too big for a 50cc but isn't ready to use the clutch. Aside from the physical size, they're very similar in how they ride and feel.
CRF80F
The CRF80F is not only bigger, but it's the smallest dirt bike with a clutch. So that means that if your son or daughter has already been riding for years and they're ready to learn how to use the clutch, this is a great bike for smaller kids in the 7-10 year old range.
CRF100F
The tried and true Honda CRF100 had been virtually the same bike for decades. There's nothing wrong with it unless you absolutely need an electric start and fuel injection.
It's super reliable, extremely easy to ride for kids, teens, and adults, and they hold their value well if kept in good shape.
CRF150F
The midsize 150cc 4-stroke trail bike from Honda is a good choice for teens, females, or if you're just not ready for a full-size bike.
It has noticeably more power than the CRF100 and the suspension can hold up a slightly bigger rider. Like all of their air-cooled trail bikes, they all have the same great characteristics that make it perfect for beginners, casual riders, or if you like to ride a "slow bike" fast.
CRF230F
The CRF230F has a cult-like following because of its potential to be a "woods weapon" for adults that want a smaller full-size trail bike. Like any budget dirt bike for trail riding, it has its flaws – mainly the stock suspension.
But, for beginners, it's fantastic because it has plenty of low-end power and is very forgiving. The scale may say that it's heavy, but it feels lighter on the trails than most other adult-size dirt bikes.
CRF250X
Recently discontinued, Honda had the CRF250X as a big step up from the typical air-cooled bike. It was based on the original CRF250R but fairly detuned to be comfortable off-road riding.
It's milder and more functional for longer rides than the CRF250RX, but it can still hold its own. The Honda CRF 250X is a good choice if you're a growing teen or adult that's over 5'8″ and would like a fun, aggressive trail bike without being exhausted from an abundance of power.
How to get started dirt biking for cheap
If you're new to dirt biking or just looking for a cheap way to get started dirt biking again, you don't need to buy the latest equipment to have fun and stay safe.
I want to give you a free 5 step guide that shows you how to get into dirt biking on a budget without sacrificing safety or reliability. Click here to download your guide.