CRF150R vs CRF150F – Which Is Best For You?
Trying to figure out which dirt bike is best for you? The CRF150R vs CRF150F is a common comparison, but they're two very different bikes. I'm going to cover the differences between them, and help you decide which will work best for your riding needs.
What's the difference between CRF150R & CRF150F?
The CRF150R is a motocross bike designed for racing, and the CRF150F is a trail bike designed for trail riding or play riding. The biggest differences between an mx bike and trail bike are the engine, suspension, and chassis characteristics.
Is a CRF150F a good beginner bike?
The Honda CRF150F is a great dirt bike if you're a beginner. Learning how to use the clutch, throttle, and balance is easier on the 150F because the power is very smooth and predictable. 2006+ also has electric start so you don't have to worry about kicking it over all the time 
What does the F stand for in CRF150F?
The first "F" stand for 4-stroke, and the second "F" simply means that it's a trail bike. The "R" in CRF150R means it's a "Race" bike.
Is the CRF150R a good trail bike?
In stock form, the CRF150R is not a very good bike for trail riding, especially in technical terrain. I've had a couple CRF150RB's and they have certain characteristics that make it harder to ride slower, such as less flywheel wright and harsh suspension.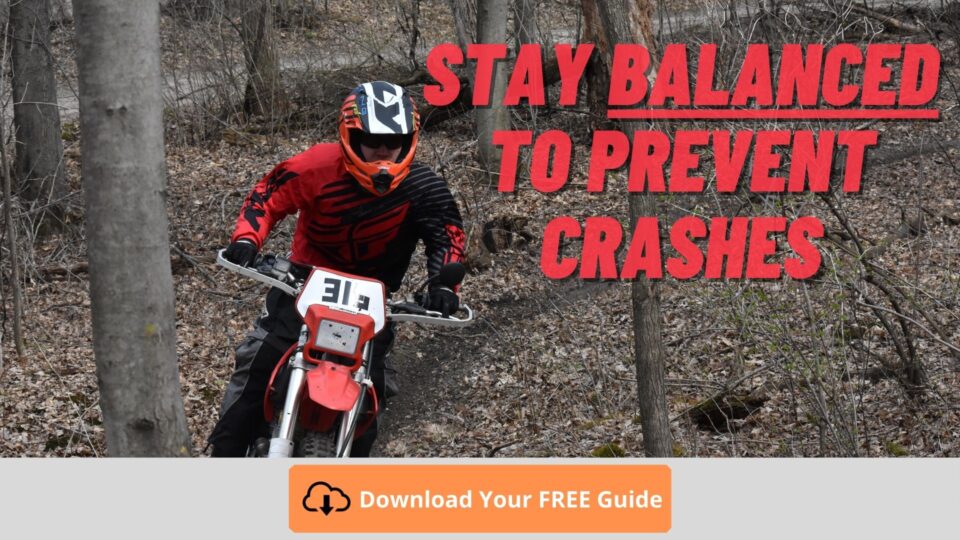 More on this later.
Specs
These are the basic specs according to Honda's website:
| | | |
| --- | --- | --- |
| Specs | CRF150R | CRF150F |
| Engine | 149cc liquid-cooled | 156cc (03-05: 149cc) |
| Transmission | 5-speed | 5-speed |
| Seat Height | 32.8/34.1″ | 32.5″ |
| Curb/Wet Weight | 185lbs | 233lbs |
| Horsepower | 23HP | 12HP |
| Top Speed | 60MPH | 50MPH |
CRF150F
The Honda CRF 150F has been around since 2003, but it made the biggest change in 2006. The 2003-2005 engine was based on the CRF230F, but has a shorter stroke and is kick-start only.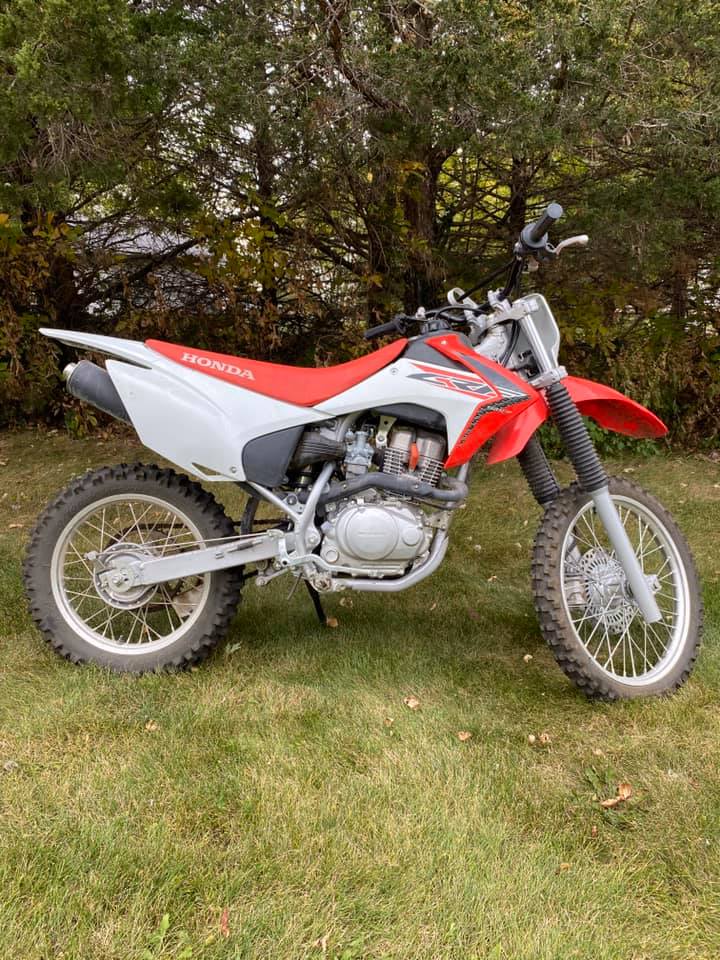 Engine
The 2006 got its own updated engine platform that is lighter with roller rockers (as opposed to the old tappet-style) and has more potential, as well as having electric start. Other than that, it hasn't changed much over the years.
It's a simple and reliable air-cooled engine that has good low-end torque. Learning to use the clutch is very easy, and the power-curve is smooth and predictable. It has less than half the horsepower of the 150R, so you're not going to get into trouble as easily.
There are plenty of mods for the CRF150F, which can be very fun, but it would take a lot of cash to make it comparable to the
Suspension
Compared to the CRF150R, the CRF150F has very soft and 'springy' suspension. It's outdated, but it's simple and it works great if you're new to riding a dirt bike. You won't be able to comfortably hit jumps with it.
Riding around the field or on smooth single track is where it will suit you well.
Pros
Easy to ride
Reliable
Cheap to maintain
2006+ has electric start
Plenty of mods available
It's a typical Honda trail bike
Cons
It's a little heavy (only noticeable if you have to pick it up off the ground)
Suspension is lacking when you start riding aggressively
2003-2005 has kick-start (which can break parts with a highly modified engine)
Bottom Line
Where the CRF150F shines is for teens and young adults learning to ride a dirt bike. The 32.5" seat height makes it the right size if you're around 5'0" to 5'6" tall.
The suspension, engine and chassis are low-tech, but they're reliable, plush, and easy to maintain.
Are you looking for your first dirt bike (or for your teen/girlfriend/wife)? Then the CRF150F is for you.
CRF150R
The CRF150R comes in a small wheel and a large wheel model. The CRF150RB is also called a big wheel or expert model. It's designed to race in the supermini motocross class (against 112cc 2 stroke mx bikes), but many adults, including myself, have bought them to trail ride.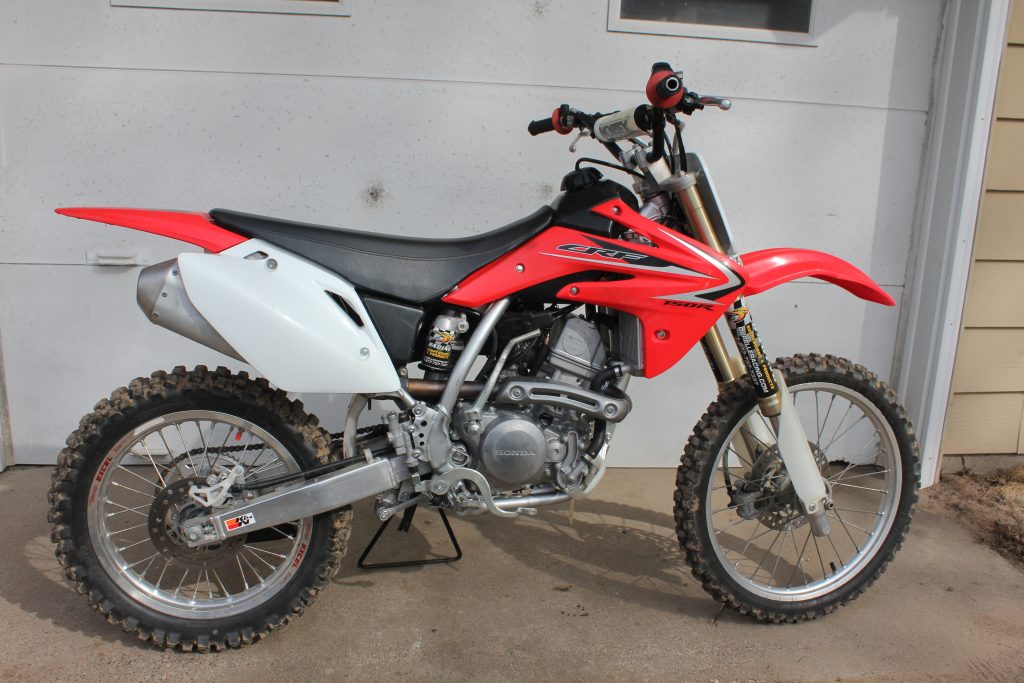 However, it's challenging because there's basically no flywheel weight.
What does that mean?
It revs up very quickly because the engine mass that spins is so lightweight. This is good for racing or if you ride at full throttle most of the time. But that also means that it revs back down very quickly. This results in constant stalling – especially if the jetting isn't spot-on or if you don't have good clutch control.
This can be tuned with some carb jetting and other mods, but you'll need to invest some hard-earned cash.
Engine
The CRF150R engine is high-strung, meaning it works best when you rev it and keep the RPM's high. It's fun and surprisingly quick for how small of a bike it is, but once you slow down, it struggles.
It stalls easily, making it difficult to ride if you're a beginner rider. It also doesn't have a lot of bottom end torque compared to the CRF150F.
Suspension
Stock suspension is set up for about an 80-100lb rider for motocross. This means that the springs are soft for an adult, but the valving is somewhat harsh for trail riding. You'll want to get this re-valved and re-sprung if you're an adult riding it.
Pros
Great power to weight ratio
Plenty of power for adults
Mods available to make it easier to ride trails
Cons
It's loud
Stalls easily – not beginner friendly
$$$ required to make it trail-friendly
Can be hard to quick-start if jetting is off
Bottom Line – CRF150R vs CRF150F
Is your kid planning to race Supermini and you want him or her on a 4 stroke? Then The CRF150R/B is the right choice.
Or are you an adult looking for a trail bike? If so, take note of the disadvantages of the CRF150R vs CRF150F and know that it will either be harder to ride or cost more to get it single-track trail-worthy.
How to be a faster & safer trail rider
No matter which Honda dirt bike you choose, there's one way to increase your speed and safety on the trails. It starts with learning how to properly ride your bike. Click here for proper riding techniques to get started the right way.