Best CRF150R Mods To Make It Fast & Comfortable
Looking for a list of the best, no nonsense mods for your Honda CRF150R or 150RB?
This guide covers the top performance upgrades to make it faster and more comfortable.
Why Modify Your CRF150R?
There's a number of reasons why you would want to modify parts on your Honda 150 mx bike. You might be an adult that's looking for the best lightweight trail bike, or you simply want a faster supermini race bike.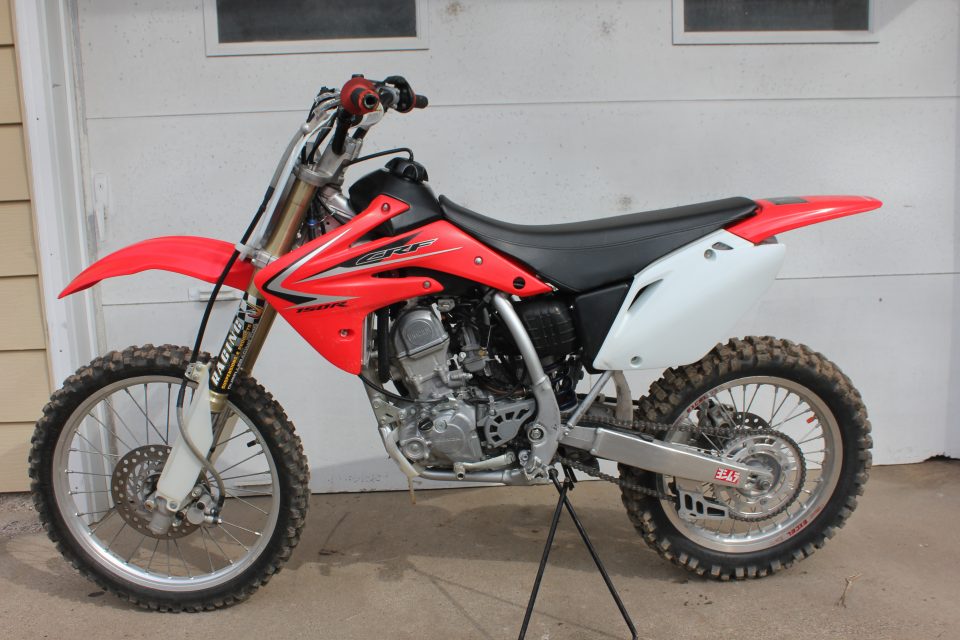 Either way, there's plenty of mods and upgrades to make your CRF150 faster and more comfortable to ride without compromising the reliability.
The best mods for your CRF150R/B are: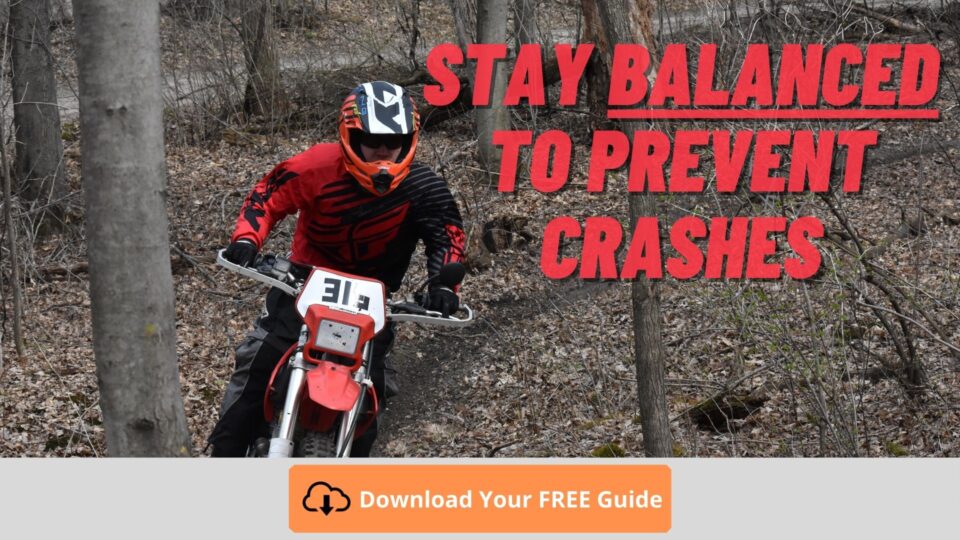 Hour meter
Jetting (42 or 45 pilot)
R&D Flex fuel screw
Suspension (springs/valving)
Head pipe
Quieter muffler
Rekluse z-start pro
Hi-comp piston
Torque cam
Tall Seat (for adults)
Wider footpegs
Hour meter
Keeping your 150R race bike reliable is the most important thing. A cheap and simple hour meter like this one from Amazon will keep track of the engine run time. That way you can just look at the clock and know for sure how many hours it's been since the last oil change or maintenance servicing.
Jetting (42 or 45 pilot)
Jetting is extremely important when it comes to how your dirt bike runs. The CRF150R comes a little lean depending on the climate you ride.
If your 150R is hard to start when cold or has a bog at low RPM then the pilot jet is probably too lean. Going from the 38 stock pilot jet to a 40 or 42 is a common fix. You'll have easier starts and better throttle response.
R&D Flex fuel screw
The fuel screw is a great jetting tuner to get that perfectly crisp throttle response and easy starting.
As the temperature or humidity changes, the air-fuel ratio will change. This means the fuel screw needs adjusting to compensate.
The stock fuel screw is a pain to reach without a special tool.
Instead, you can install an R&D flex fuel screw (Amazon) that makes fuel screw adjustments quick and easy without any tools required!
It's a flexible screw that you can turn with your fingers to adjust the fuel screw once installed.
Suspension (springs/valving)
Whether you're racing motocross or trail riding in the woods, getting the suspension set up for you is extremely important if you want a comfortable ride that builds confidence.
First, you need the correct spring rate for your weight and type of riding. If you're an adult, you'll most likely need some stiffer fork springs, as well as a stiffer rear shock spring.
After that, adjusting the sag to get the proper ride height is key.
Then you just adjust the clickers and tune the oil weights and height to get the right feel. Those are the cheapest suspension mods for your CRF150R
Head pipe
Upgrading to an aftermarket head pipe can get you a little more power. The FMF megabomb does that while slightly reducing the decibels from the exhaust.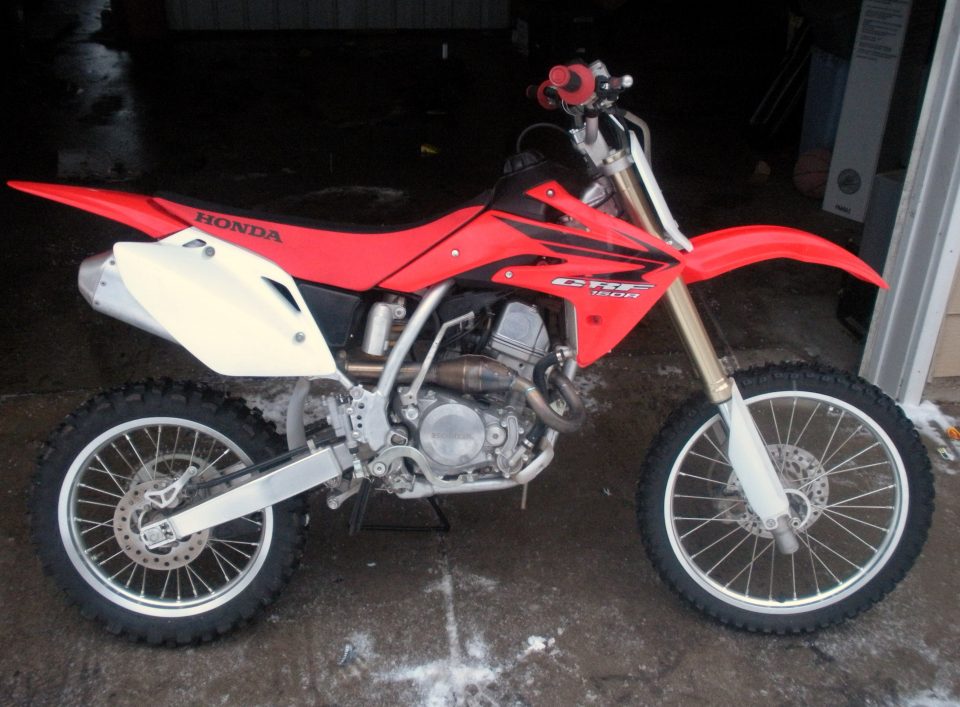 That's good because the 150R is pretty blasted loud even with a stock exhaust.
Quiet Muffler?
If you need to really quiet it down, the FMF Q4 is the best choice. It's quality made, and it comes with a spark arrestor to make it legal for trail riding on state trails.
DB Dawg?
A decibel dawg is an insert that can quiet down the stock muffler. However, I had a hard time tracking down their availability.
CRF250X Muffler Failure
Wanting to make my CRF150RB as quiet as possible for riding at home on my trails, I did a lot of research. 
One or two people online had installed a stock Honda CRF250F muffler on their 150R. I found a cheap used muffler and wanted to give it a try.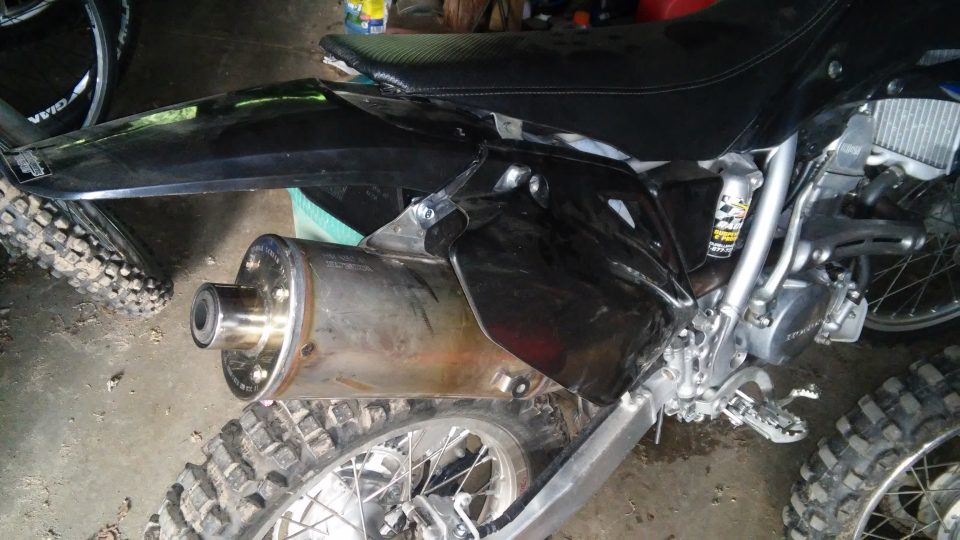 Wells after many hours of testing, jetting, and trying to make it run well, I finally gave up.
I tried going leaner and richer on the pilot jet, main jet, as well as swapping out the needle. There was still a midrange stumble under heavier loads that I couldn't love with. Removing the end cap on the muffler fixed the stumble, but then it was almost as loud as the 150R muffler again…
Maybe if I got more creative with the jetting I could make it work, but I didn't have the motivation. It was a failed mod for me, but I didn't know until I tried.
Flywheel To Help Prevent Stalling
Tired of constantly stalling your 150R? It's easy to stall because there's very little inertia from the engine and flywheel.
It's good for acceleration because less weight allows the engine to spin up to a high RPM faster, but it also means that it will just as quickly slow the engine down.
An easy way to deal with this is by adding a flywheel weight. It's a simple bolt-on part that will add weight, which will slow down the inertia of the engine, both accelerating and decelerating.
This will help you to stall less often, and it will also smooth out the power at lower RPM, which will increase traction.
Rekluse Z-Start Pro
Really want to turn your CRF150R into a woods weapon? Installing a Rekluse auto clutch will seriously up your trail riding game with this bike.
If you got tired of having to constantly slip the clutch to keep the engine from stalling, this mod is for you.
It's not cheap compared to the other mods on this list, but it will turn your Honda CRF 150R into a new bike.
Auto clutches aren't just for old people that can't ride. They just make it so there's one less thing for you to worry about.
The Rekluse Z-Start Pro (Amazon) is adjustable to make the clutch engage when you want it to.
Hi-Compression Piston
Rebuilding the top-end on your CRF150R? Before you order a new piston kit, consider upgrading to one with more compression.
Vertex has an affordable hi-comp piston kit that simply replaces the stock piston and bumps up the compression.
More compression = more torque. Torque is good, especially if you're an adult or trail rider. You'll be able to lug the engine getting up hills and over obstacles more easily, while not having to shift as often.
Camshaft (torque or race?)
The camshaft is another serious power upgrade if you know what you want.
Besides a piston, it's one of the first engine mods you should consider for your CRF150R.
The HotCams stage 1 camshaft is specifically made to boost low-end to midrange torque. If you like to lug your bike and ride a gear lower and make use of the broad powerband.
The stage 2 camshaft from HotCams is designed to increase top-end horsepower. This is great if you are a racer or just like to rev it out all the time.
Tall Seat (for adults)
While the CRF150RB has the bigger wheels, it's still pretty small compared to a full size dirt bike. If you're taller than 5'6″, a tall seat might be a good mod to increase your comfort.
A taller seat means your legs will be less cramped because it's a further reach to the footpegs.
Handlebars
Now that you have a taller seat, you'll want some taller handlebars to open up the cockpit.
Renthal has some Mini High CRF150R handlebars that are higher than stock.
Wider footpegs
The stock pegs aren't terrible, but if you're an adult then your boots are bigger than the intended size.
Upgrading to some wider foot pegs (Amazon) will give you more stability and confidence. It can also give the cockpit a slightly bigger feeling if they're lower than the stock pegs.
Kickstand For Trail Riding
Going to be trail riding with your CRF150R? A Fastway billet kickstand should be on your list of mods. It's sturdy, and much easier to hold your bike up with than finding a tree in most cases.
The best mod for speed and comfort on the trails?
How would you like to ride faster with more control and confidence? Would you believe me if I told you it can be done without any aftermarket parts?
That's right, all it takes is an upgraded rider. Don't worry, it's easier than it sounds. It just takes the right coaching with the right riding techniques.
Want to learn more? Click here to get started with trail riding techniques to quickly boost your confidence and control.