Looking to get a Honda CRF150RB Expert model? It's not the same as the standard CRF150R, so I'll cover the differences and the practical info you need to help you decide if this is the right dirt bike for you.
CRF150R vs CRF150RB differences
The CRF150R & CRF150RB are almost identical, but the wheel sizes are the biggest differences. The CRF150RB is designed for taller riders that aren't big enough for a full-size 250F. The large wheel model also has slightly stiffer suspension valving for a heavier rider.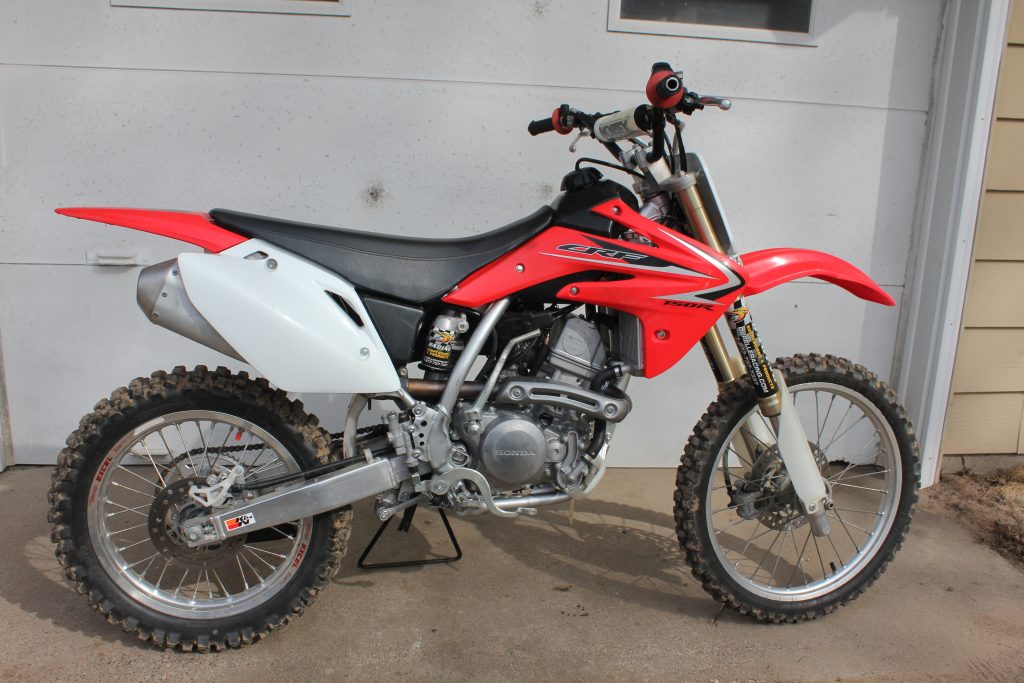 Who is the CRF150RB for?
It's built for teens that want to race motocross or ride aggressively. It's not a beginner bike, so if you or your kid is new to dirt biking, this is not a good bike to start on.
With that said, many adults that have short legs like riding a CRF150RB with a few mods to fit your height and weight. I've had a couple of these big wheel model Honda 150's and they're fun to rip through the trails with. It takes more work, though, because the power-curve is aggressive and snappy.
Age range
Honda made the CRF150RB for 12-15 year olds to race in the supermini class. If you just want a fast and lightweight 4 stroke for trail riding, then adults of any age can comfortably ride it within a certain height range.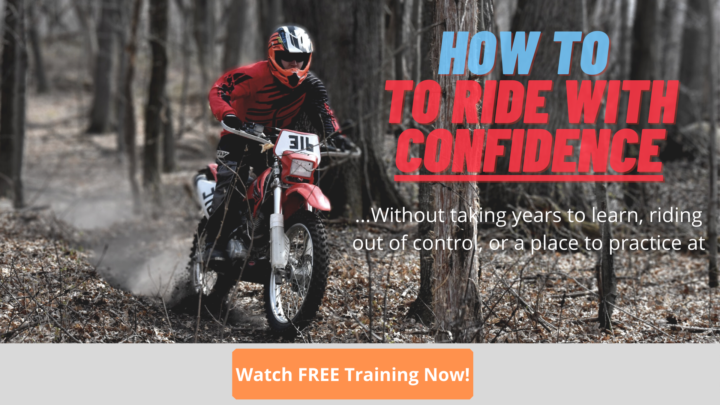 Rider size
The suspension is set up for a 90-120lb motocross rider. If you weigh more than that, stiffer shock and fork springs will most likely be needed. For trail riding, an internal re-valve from a good suspension tuner will help because it's tuned for harsh impacts from the factory.
It's a good size dirt bike if you're 5'0"-5'5" tall. Any less than that and you'll want the smaller wheel CRF150R.
Is the CRF150RB reliable?
Yes, the CRF150RB is actually a fairly reliable motocross bike. It's not going to go through valves and a piston every 10-20 hours unless you're racing hard or constantly bouncing it off the rev limiter.
Do your simple maintenance, such as checking and changing the oil, as well as cleaning the air filter when dirty, and the CRF 150RB will last many hours.
Does it have a weight limit?
There's no specific weight limit, but as I mentioned in the 'rider size' section, the CRF150RB is built for teens. If you weigh much more than 120lbs, it's going to feel soft and bottom out easily, especially if you ride aggressively.
Honda CRF150RB year changes
The CRF150RB has stayed virtually the same since it was first made in 2007.
The biggest changes made were: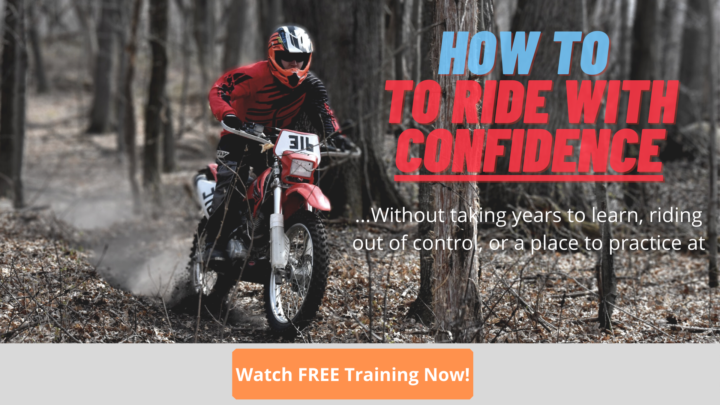 2008: Carb needle updated for easier jet tuning
2012: New cylinder head, piston, camshaft, and accelerator pump circuit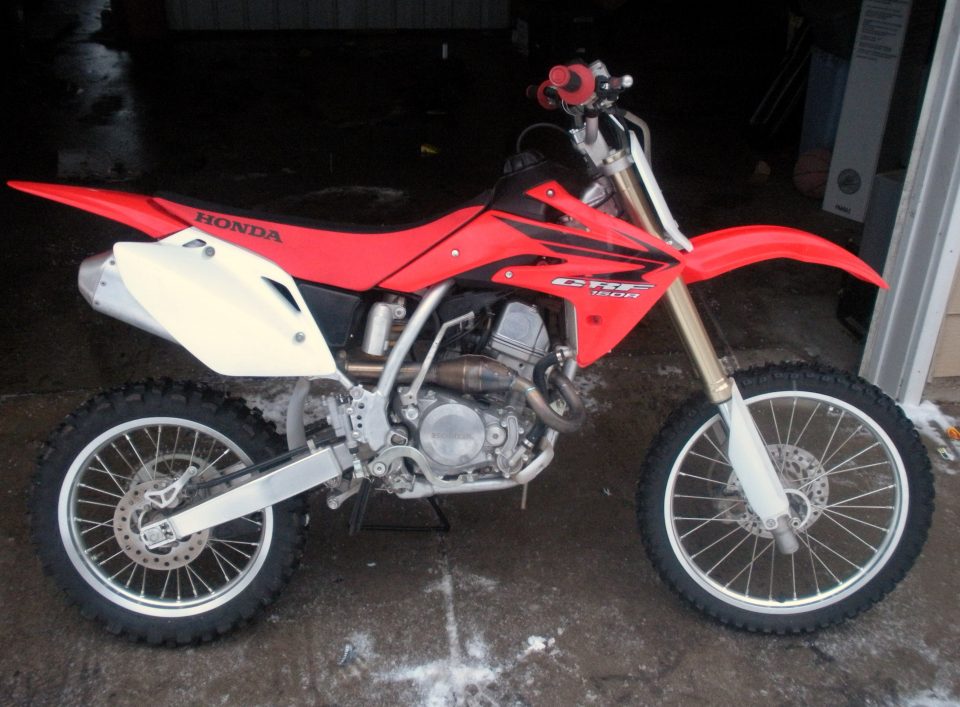 Specifications
Here are the specs for the Honda CRF150RB:
| | | |
| --- | --- | --- |
| Specifications | Honda CRF150R (Small Wheel) | Honda CRF150RB (Big Wheel) |
| Engine | 149cc liquid-cooled single cylinder four stroke | 149cc liquid-cooled single cylinder four stroke |
| Horsepower | 23.5 Horsepower | 23.5 Horsepower |
| Top speed | 60mph | 60mph |
| Transmission | 5-speed close-ratio | 5-speed close-ratio |
| Seat height | 32.8 inches | 34.1 inches |
| Tire size | 17/14" | 19/16" |
| Gas tank capacity | 1.11 gallons | 1.11 gallons |
| Oil capacity | 0.62 US qt | 0.62 US qt |
| Wet weight | 185lbs. | 187lbs. |
| MSRP (Retail Price) | $5099 | $5199 |
Issues
There really aren't that many issues when it comes to the CRF150RB. There was a recall in 2007 when it came to the swingarm, but that was taken care of. Some people had valve problems, but that's typically due to over-revving the engine and lack of maintenance (oil & air filter)
The biggest CRF150RB issues are:
You can fix 99% of these issues by riding more or properly cleaning the carb if it gets dirty. I don't use seafoam, but I do use good non-oxygenated fuel when possible because it lasts longer before going bad in the carb.
Used Price
The prices vary, but the CRF150RB usually costs more than the small wheel CRF150R because more people like the bigger wheels.
You can expect to spend 1500-4500 for a used CRF150RB. It really depends on your local market value, the current season, and the bike year and condition.
Is the CRF150RB right for you?
Still haven't figured out if this is a good dirt bike for you? Here's some pros and cons to make it easier.
Pros:
Bigger wheels than the standard CRF150R make it more stable for bigger riders and trail riding
Fast and fun to ride
Lightweight for a 4 stroke
Reliable if ridden and maintained properly
Can make a good woods bike with some mods
Cons:
Not beginner-friendly power and clutch
Kick-start only
Not as reliable as a trail bike for beginners
Costs more used than a typical trail bike
CRF150RB vs CRF230F
While they're similar in seat height, the CRF150RB is a much different dirt bike than the CRF230F. The 150RB is a high-performance race bike with smaller wheels and a shorter wheelbase, so it handles better and quicker on the motocross track. The Honda 230 is a much better beginner and trail riding bike.
How to safely ride with confidence
Just starting out? Then you probably picked up that I don't recommend the CRF150RB as your first dirt bike. With that said, whether you're new to dirt biking or want to improve your confidence riding off-road to prevent bad crashes, I want to help you out.
Click here to download my free training guide to learn the proper techniques to make you a safer and better rider.