Are you looking to get a Honda 250F but didn't realize how many 250cc dirt bikes Honda has to offer? I'm going to show you the different 250 4 stroke dirt bikes, which one is right for you and why it's so important to pick the right one.
What's the difference between a Honda 250F & 250R?
The CRF 250F is a trail bike for beginners and casual trail riders, while the CRF 250R is a motocross bike for racing on tracks with jumps and whoops.
Even though they're 250cc 4 stroke dirt bikes from Honda, they have next to nothing in common. The CRF250R has a snappy, high-strung engine that's built to be ridden fast at high RPM.
The CRF250F, on the other hand, is a low-performance air-cooled engine with extremely smooth power that's very easy to ride and forgiving if you're new to dirt biking.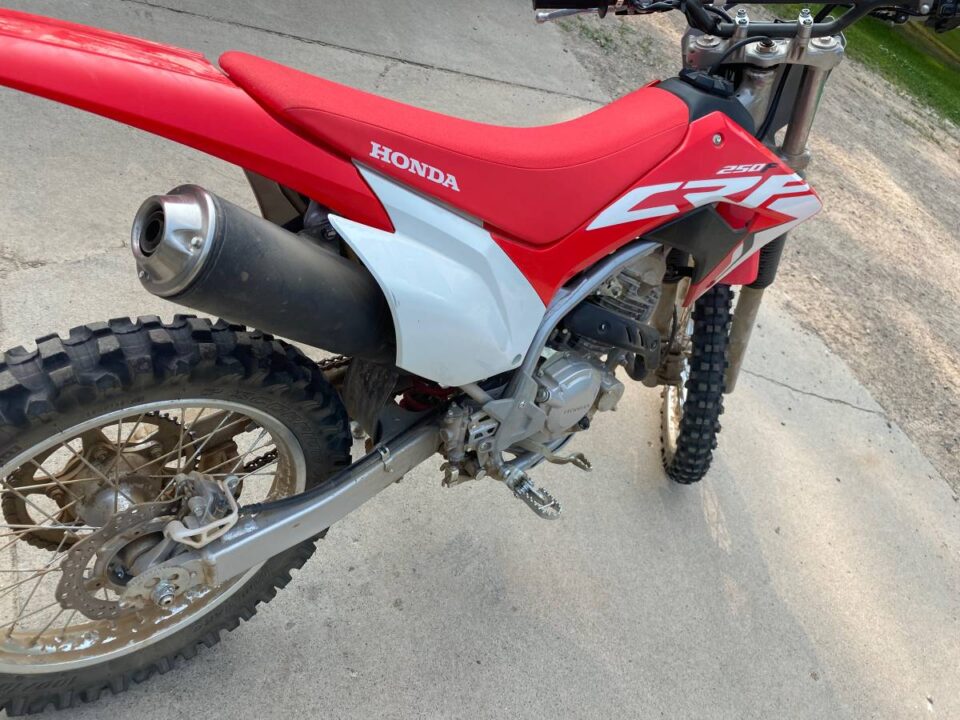 How fast does a Honda 250F go?
The top speed of a CRF 250F is around 60-65 MPH, but that means very little unless you're drag racing. Acceleration is more important, but even then you need the right type of dirt bike for the specific terrain you're riding to be the most comfortable.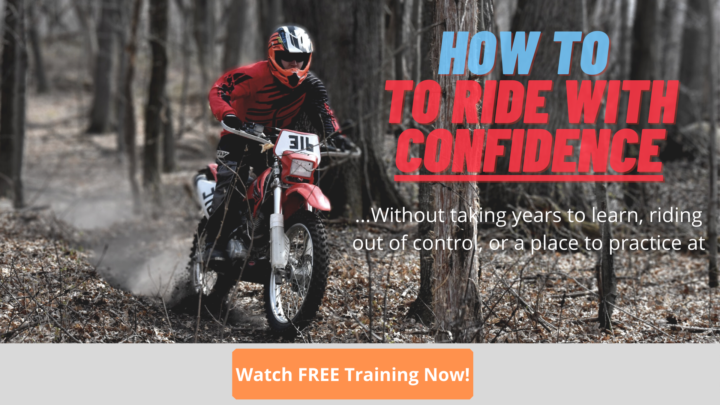 For example, you don't want to take the 250 trail bike on the motocross track because the suspension is way too soft for the hard impact of jumping.
On the flip-side, the 250 motocross bike will be too stiff and the power will be too snappy for most riders on single-track trails.
Which Honda 250 dirt bike is right for you?
So, by now you know that Honda has several 250F (250cc Four-stroke) dirt bikes, both new and discontinued, that are built for different kinds of dirt bike riding.
But which one is right for you? You have the:
CRF250F
CRF250R
CRF250RX
CRF250X (discontinued)
XR250R (discontinued)
Trail riding or beginners
If you're new to dirt biking, transitioning from riding on the street, or just getting back into it after a long break, then you'll want a beginner-friendly dirt bike. The last thing you want is an aggressive powerband and stiff suspension that will buck you off the back before you can even get comfortable.
And yet, that's what I see too many new riders do – which ends up getting him or her hurt, or they quit dirt biking because 'the risk is higher than the reward'.
That's a sad deal, and that's why it's my mission to help direct beginners like you to start on the right dirt bike.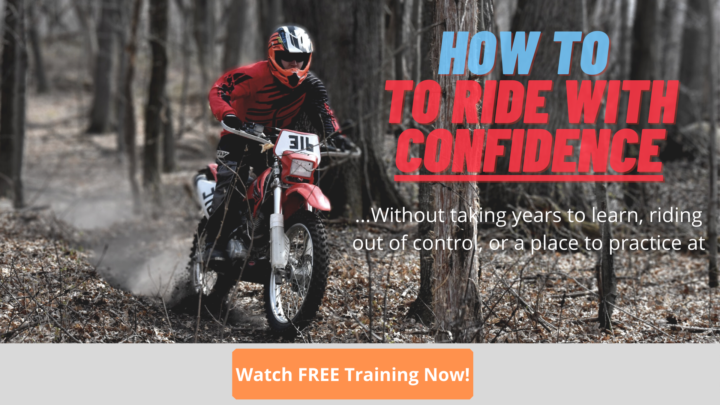 Honda's CRF250F is the air-cooled trail bike with a lower seat height. It is the best Honda 250F if you're a beginner or just a casual rider.
With a lower seat height, it's easier to touch the ground with one foot, which immediately builds your confidence because you don't have to worry about tipping over every time you come to a stop.
Learning to ride with a clutch is easy because the engine has good torque at low RPM while still being smooth and predictable. A dirt bike that's easy to ride is best to start on because you can focus on learning proper techniques, unlike a powerful bike that will require more physical and mental energy to control it.
Discontinued Honda 250 four-stroke trail bikes
Honda used to have a CRF250X, which was their higher-performance 250 trail bike. It's based on the older CRF250R, but it's softer as far as the suspension and power go, making it a little more trail-friendly. I wouldn't recommend it for your first dirt bike because it's harder to control and the seat height is high.
The older XR250R is similar to the current CRF250F trail bike but without the modern technologies of electric start and fuel injection. It's rock-solid reliable, easy to ride if you're new to riding off-road, and has enough power for 99% of adults that just want to trail ride for fun.
Enduro riding
Honda recently added the CRF250RX, which is based on the 250R MX bike model, but with some comfortable trail mods. It's basically an updated, and slightly more aggressive version of the CRF250X that they stopped making.
It has a close-ratio transmission, weighs less, and updated suspension which is better for racing off-road. Don't pick the CRF250RX enduro bike unless you're an experienced rider that needs a high-performance 250cc trail bike.
Motocross racing
Lastly, the CRF250R is the motocross version of the Honda 250F dirt bikes. It's been around since 2004 but has been updated many times since then.
With all of the other available bikes, I wouldn't recommend this model unless you're actually going to race or ride motocross tracks. There are just not many good reasons why you need an MX bike if you're not actually going to use it for what it's built for unless you just want to be "cool".
Here at MXHideout, we prefer 'function' over 'coolness'.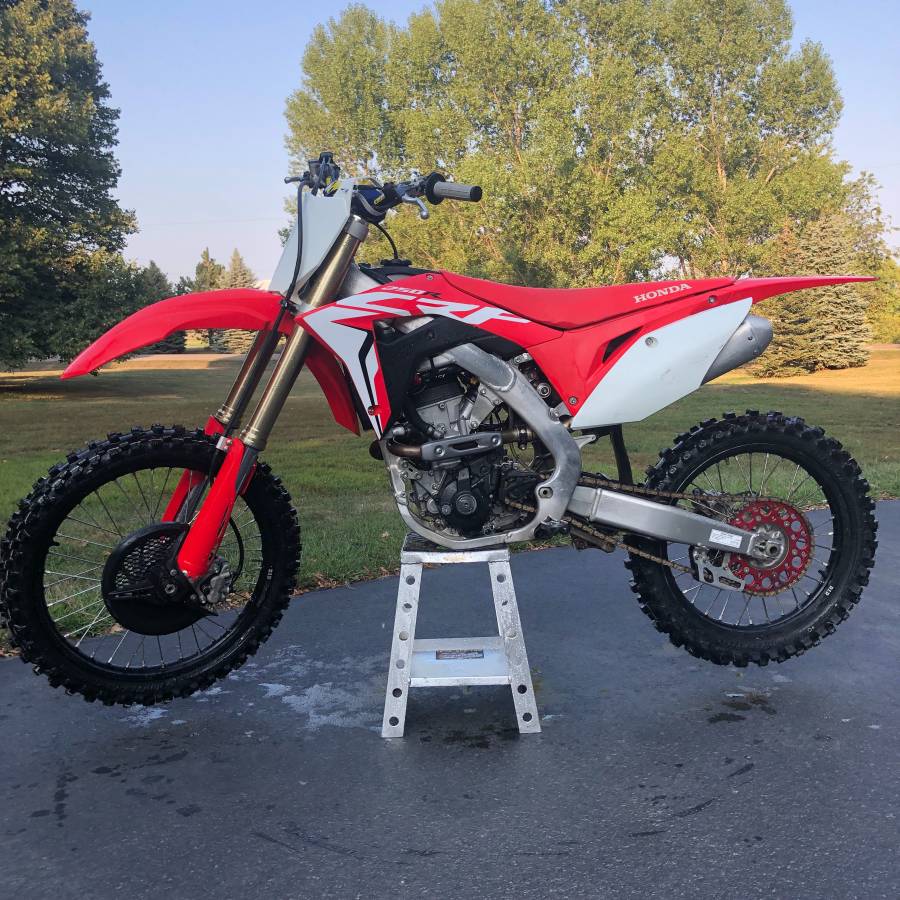 I'm not saying that motocross is bad – in fact, I really enjoy watching it! I just think it's dumb to start on a motocross bike if you're new to riding or don't plan to ride it on a track.
How to become a confident off-road rider
Picking the right dirt bike to start on will give you a quick boost of confidence, but it takes a number of things to be a good rider. I want to show you the next, and most important step.
It comes down to your riding technique and how you use your body to control the bike. To quickly learn the basics to make you a safe and confident rider on any dirt bike, click here to sign up for my free training.