Looking to buy a Honda 4 stroke dirt bike but not sure which one is best for you? I want to show you all of the available models (new and used), which type is best for you, and how to choose the right bike for your size.
Honda doesn't make 2 stroke dirt bikes anymore, so all they make are 4 stroke dirt bikes today. Whether it's trail riding, motocross, hard enduro, or dual sport riding, Honda has a bike for virtually any kind of riding you want to do.
How to pick the right size dirt bike for you
The more experience you have, the less your height matters for picking the right size dirt bike.
For example, even if a 250cc 4 stroke enduro bike is too tall to comfortably touch the ground for you, it might be a good bike if you have the experience level to stay in control and balanced while riding.
As a beginner, you want to pick a smaller dirt bike so that you can touch the ground with one foot – especially if you have short legs. Starting on a smaller size dirt bike can build your confidence quicker because you don't have to worry about falling over as easily.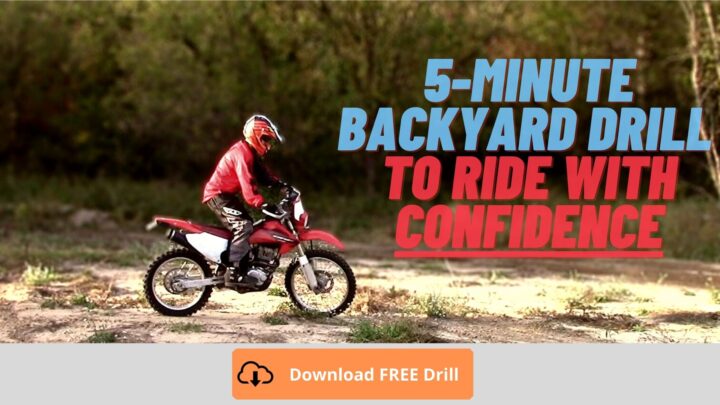 Honda 4 Stroke Trail Bikes For Beginners
Whether you're looking for your first dirt bike or just want to be a casual trail rider, Honda has a model for you. They've changed their trail bike lineup quite a bit over the years, but they're always solid and reliable bikes:
These are the current 4 stroke trail bikes from Honda:
CRF50F
CRF110F
CRF125F
CRF250F
CRF50F
It's the dirt bike that I started on and many other kids have started for a number of reasons. The Honda CRF50, which used to be the XR50, is their smallest dirt bike for kids ages 3-7 years old.
It has a low seat height, it's easy to start (although it doesn't have an electric start), the power is very smooth and predictable, and the 4 stroke reliability gives you a great package to start on for your son or daughter getting into dirt biking.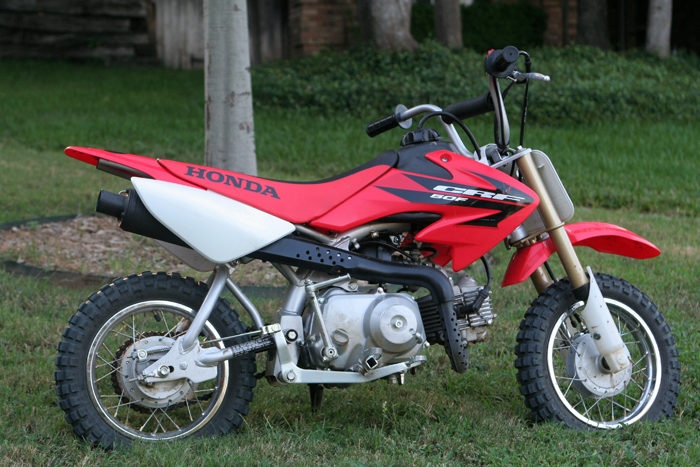 CRF110F
It's a beginner bike… or a trail bike… or a pit bike? The CRF110 is a versatile off-road bike that is great for kids, teens, and adults.
It's a good size dirt bike for kids ages 8-12 years old, depending on their height. There's no clutch, so you don't have to worry about learning proper clutch control as a beginner.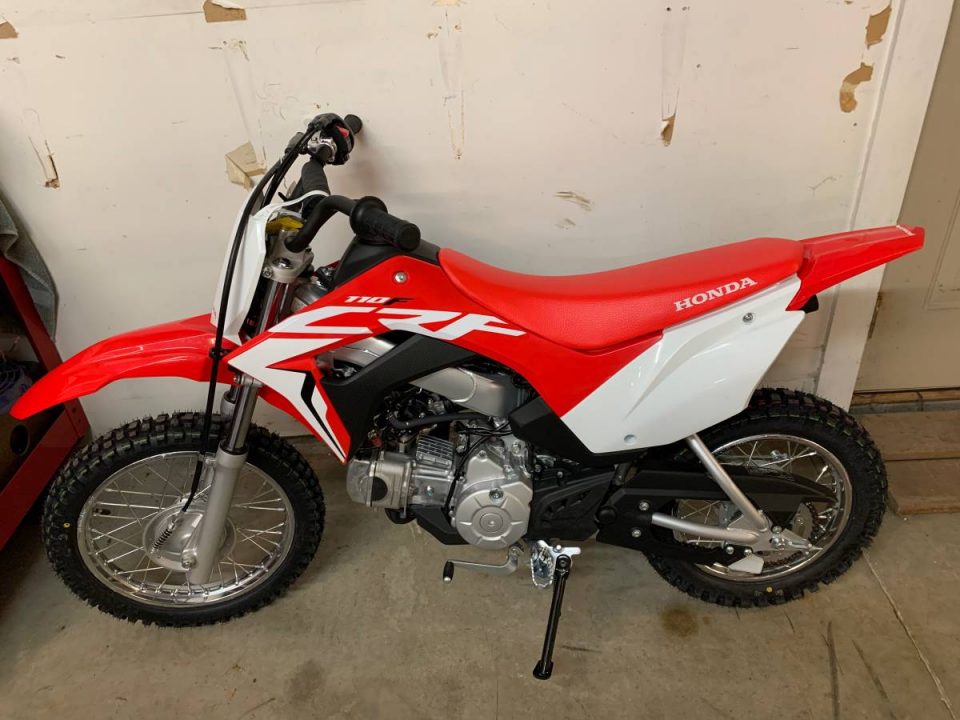 CRF125F
Transitioning up to the 125cc 4 stroke trail bike, the CRF125 is the mid-size class because it's big enough for kids and adults with short legs.
It has a clutch, and the four-stroke engine makes it super easy to learn on. This is a perfect size dirtbike for training new riders, whether it be teens, young adults, or your wife or girlfriend.
The CRF125FB is the big wheel version with larger wheels and a slightly taller seat height. It has a little better stability on the trails with the bigger wheels and tires, so choose the model that fits you best.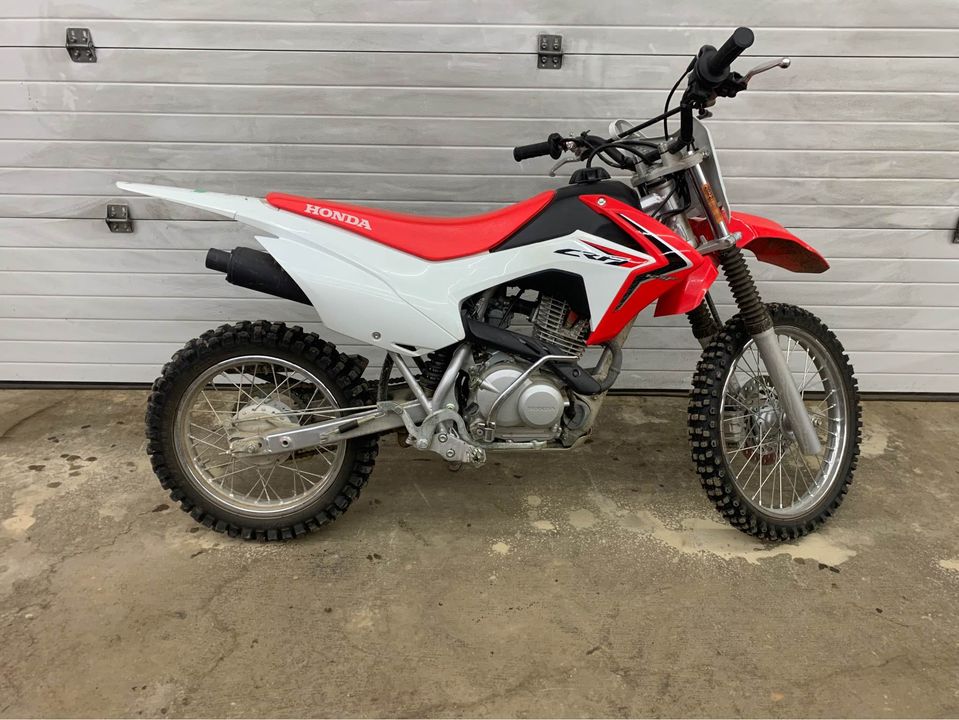 CRF250F
The biggest 4 stroke trail bike for beginners from Honda is the new CRF250F. It took over the CRF230F spot, but it's more like an updated XR250 due to its 250cc 4-valve engine.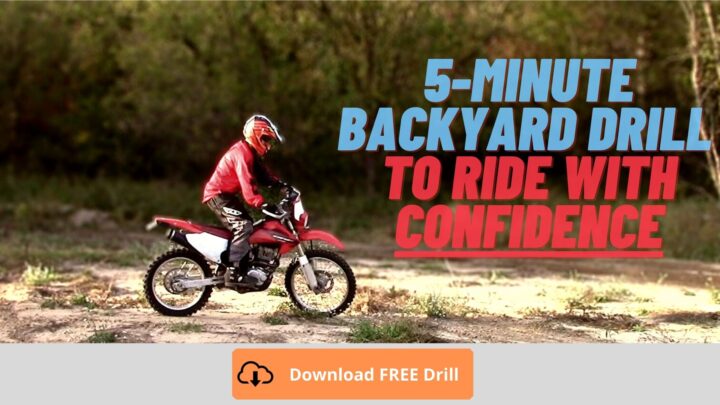 If you've done any research on it, then you've probably heard that it's overweight and the suspension sucks. Is that true?
Yes, but only if you compare it to the high-performance enduro bikes that cost twice as much. The CRF250F is a great dirt bike if you're new to riding off-road because it's super easy to ride and it's reliable.
Don't worry about upgrading until you've mastered the basic techniques and are confident in your riding skills.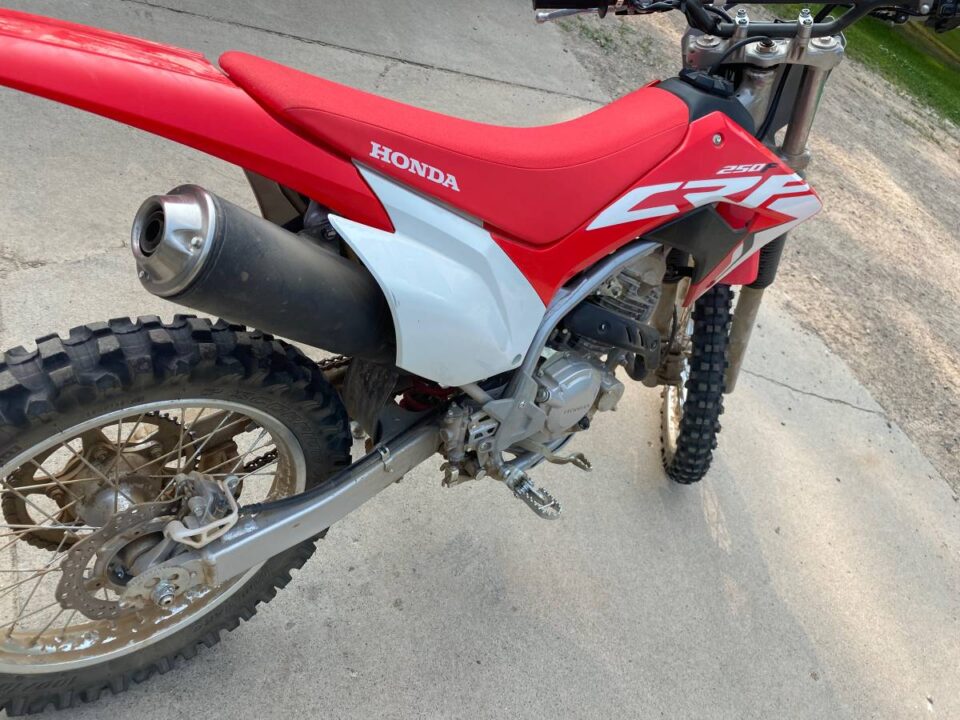 Honda Competition Enduro Bikes For Trail Riding or Hard Enduro
Honda continues to change their competition trail bike (enduro bike) lineup over the years. They've never had a 2 stroke dirt bike in this category, and there are only these 3 current models available:
CRF250RX
It's based on the CRF250R motocross bike, but has some nice options that make it comfortable for trail riding.
The CRF250RX has softer suspension to absorb the obstacles on the trail better. It also has a kickstand and an engine package that's tuned better for off-road riding – more low-end torque.
CRF450X
There's only been one big change to the CRF450X, but that's because it's such a solid off-road motorcycle. With good low-end torque and plenty of horsepower for virtually any rider, it's a versatile off-road bike.
It had the old-style carburetor engine platform until 2019 when it got the new fuel-injected engine with better all-around performance. It has softer suspension, a wide-ratio transmission, lights, a kickstand, and a trail-tuned engine compared to the CRF450R that it's based on.
CRF450RX
Also coming from the 450R motocross bike,the CRF450RX is the middle-ground between motocross and trail riding. Whether you want to go to the track or ride trails, it's good if you want the best performance.
The suspension and engine are a little more aggressive than the 450X, so it's far from a beginner bike. It's a hardcore race and enduro bike once you're an expert level rider.
Or if you just want to show off to your buddies how fast you can go in a straight line…
Honda 4 Stroke Motocross Bikes
Honda prides itself in 4 stroke technology because they were among the first companies to stop making 2 stroke motocross bikes. Now they just have these 4 stroke dirt bikes for motocross racing:
CRF150R
CRF150R Expert
CRF250R
CRF450R
CRF150R
It's supposed to race against 85cc 2 stroke mx bikes, but it's heavier and doesn't handle quite as well for teens. Not to be confused with the CRF150F trail bike.
It's a good dirt bike for teens that want to race a four-stroke or just ride aggressively. I don't recommend it for beginners because the power is snappy, it's hard to kickstart, and the power curve is not very smooth.
CRF150R Expert
It's the same bike as the small wheel CRF150R, but it has larger wheels and slightly stiffer suspension. It's basically the next step up for taller or older teens as they progress in their racing career.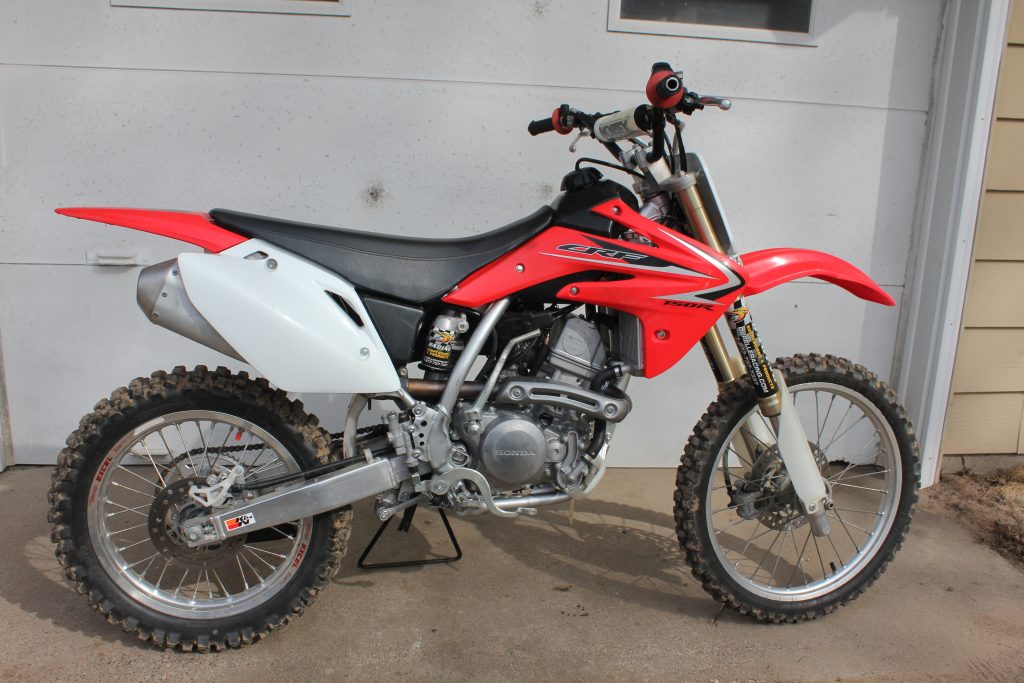 CRF250R
The CRF250R is the smallest full-size motocross bike that Honda has, but it's not for the faint-of-heart. Please don't start on this bike if you're new to dirt biking.
The Honda 250F mx bike is a good bike if you want to race motocross. There's plenty of other models if you intend to do other types of riding.
CRF450R
Moving up to the biggest motocross bike from the Honda brand, it's what the top racers, like Chase Sexton and Ken Roczen use.
Their CRF450R might be highly modified to fit their needs, but they always start with this stock model. Motocross bikes are so fast and good these days that you don't even have to do much to them to be competitive at the local level.
CRF450RWE
Want to spend more money? Honda has the 'Works Edition" CRF450R that has more bling and a little bit more power.
From an aftermarket exhaust and some engine mods, it's a little bit closer (looking) to a factory race bike.
Honda 4 Stroke Street Legal Dirt Bikes
Want to ride on the dirt and street? Then you need a street legal dirt bike. Honda has a few different models to choose from (all 4 strokes, of course):
CRF300L
CRF300L Rally
CRF450RL (updated model of CRF450L)
XR650L
CRF300L
An updated version of the CRF250L, Honda made a point to get more low-end torque for more fun and heavier riders – or if you just haul a lot of gear for adventure riding.
The CRF300L is heavy for a trail bike, but I still consider it a good beginner bike if you're using it as a dual-purpose machine.
CRF300L Rally
Want to do more adventure riding and rack up the miles? Honda added some goodies (upgraded accessories) to make the CRF300L Rally more comfortable and functional for rally-type riding.
CRF450RL (updated model of CRF450L)
Need more power and overall-performance? I don't recommend the CRF450L for beginners unless you're just riding on the road with some easy gravel roads.
It's based on the CRF450R motocross bike, but it's detuned quite a bit to make it more manageable and road legal.
XR650L
Ready for the apocalypse? The XR650L has been the same motorcycle for many years, but that's because it's so popular.
With good torque, smooth power, extreme reliability and durability, you can put tens of thousands of miles on it with little more than oil and air filter changes.
Honda 4 Stroke Dirt Bikes That Are Not Made Anymore But Still Good Bikes
Maybe you can't afford a new dirt bike but really want to go riding. I totally hear you, and that's why I put together a list of good and reliable 4 stroke dirt bikes that Honda used to make.
These dirt bikes are inexpensive (comparatively), easy to maintain, and fun to ride:
How to choose the right bike
Still need help finding the right dirt bike to start on? I put together a simple guide to help you make the decision easier, and you can get it for free by clicking this link.