The Honda XR400 has been discontinued, but that doesn't mean it's a bad dirt bike. In this article, I'm going to give you a practical breakdown of what it has to offer and why you should or shouldn't get this durable Honda dirt bike.
Choosing the right dirt bike is important, especially if you're new to dirt biking. Starting on the wrong one might be the difference between you quitting after a few rides and making it a lifelong passion. That's why I want to help you find the best dirt bike for YOU!
Who is the Honda XR400 for?
It's a 4 stroke trail bike for adults that want a simple, reliable, and smooth power curve to enjoy trail riding without worrying about any high-tech parts failing, such as fuel injection or a battery-powered electric start system.
I would not recommend it as a good beginner dirt bike unless you're a bigger guy (6'0" and 200lbs.) because it's fairly heavy and it has quite a bit of torque. This combination would make it hard to control if you're new to dirt biking, so it's best to start on a smaller dirt bike that's easier to handle.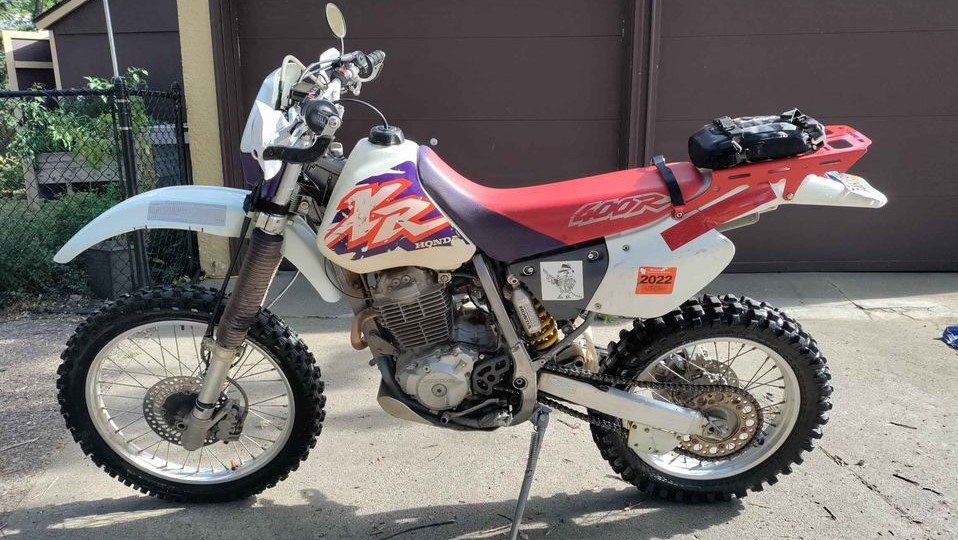 Engine
The 397cc XR400 engine has been around for a long time (it's also used in the popular 400EX sport-quad from Honda), so it's a proven motor for riding off-road. It's not high performance, and it's definitely not a new technology – rocker arm valvetrain.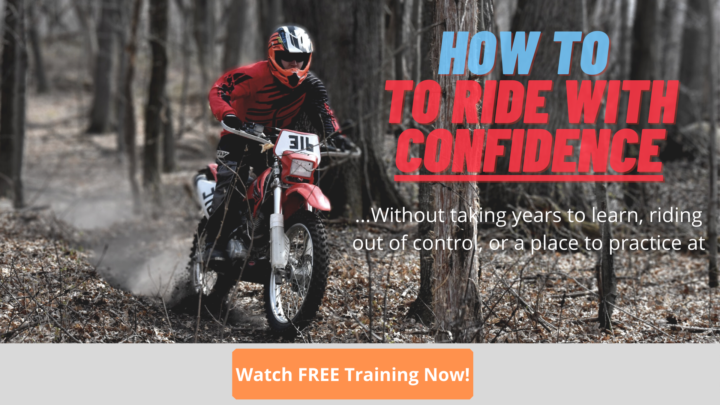 But what does that mean for you?
It makes good torque, which is great for trail riding where you're probably going to spend most of your time riding below 6000 RPM. You can ride up hills and get over obstacles with a twist of the throttle, rather than having to shift down or slip the clutch on a smaller dirt bike.
The 4-valve rocker arm makes smoother power, so it's predictable and easier to ride, which also gives you more traction than a newer enduro bike would give you. The XR400 may only have 35 HP, but it can put almost all of it to the ground with ease because of the smooth powerband, rather than making a lot of noise and spinning up a bunch of roost.
Not only is the power good, but this XR engine is rock-solid and reliable, just like the XR200 and XR250 trail bikes. Clean the air filter when it gets dirty, keep oil in it and change it when dirty, and this dirt bike will last you a long time.
The carburetor is reliable as long as you ride it regularly. Letting it sit will gum up the jets and circuits, making it hard to start after sitting for a while.
Suspension
This is a trail bike, so don't expect to be able to do big jumps without issue. For casual trail riding, though, the stock forks and shock work very well for not being "modern technology".
You can adjust the compression and rebound clickers on the XR400 forks and shock for maximum comfort. However, you need to have the proper spring rates for your weight, and then set the sag on the shock to make the suspension balanced.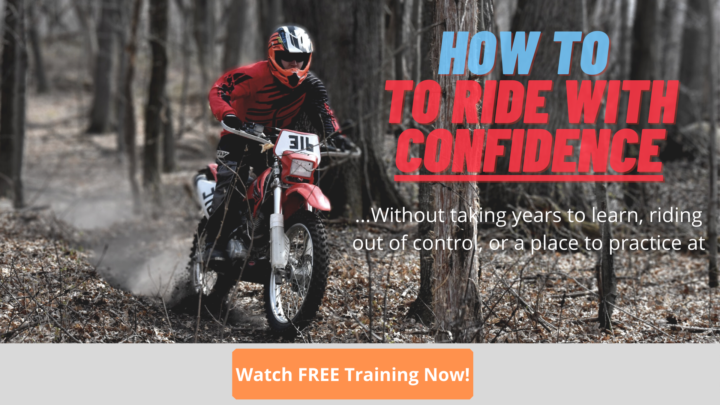 If you weigh 200+ or are an aggressive rider, you'll find that the stock springs are on the soft side. They're nice and plush if you're a beginner and riding slow or on mild terrain – not a lot of bumps and obstacles.
Handling
The XR400 is very average when it comes to handling. This doesn't mean it doesn't turn or ride well, but due to the higher than average weight, it's not as easy to lean and whip around as a lightweight trail bike.
The extra weight, however, gives you a nice 'planted' feeling that doesn't allow it to get kicked around by rocks, roots, and bumps as easily as a lighter bike.
Size
Again, it's an average size dirt bike – slightly bigger than medium, if that means anything to you. The seat height is 36.6", which is about 2" less than the tallest dirt bikes. If you want to be able to touch the ground with one foot, then you'll want to be at least 5'8" tall to ride the XR400.
Weight
Back to the weight, the XR 400 weighs about 276 pounds fully loaded in stock form. Believe it or not, it was built to be a lightweight mid-size XR because the XR600R was so big and heavy to handle off-road.
I wouldn't call the 400 a pig, but it's definitely got an extra 10-20 pounds on most other trail bikes similar in size. But if you can easily handle a 250cc 4 stroke, then the 400cc Honda isn't that much heavier as far as feeling it while riding. When you need to pick it up, though, that's where it'll be more challenging.
Specs
| | |
| --- | --- |
| Engine | 397cc 4-valve SOHC 4 stroke |
| Transmission | 5-speed |
| Seat Height | 36.6" (93cm) |
| Weight | 276 lbs. (wet) |
| Horsepower | 34 HP |
| Top Speed | 75 MPH |
Model years Honda made them
From 1996 to 2004 Honda made the XR400R with no major changes. It was then discontinued in 2004 because Honda started coming out with more high performance enduro bikes that became greater in demand.
Issues to be aware of?
There aren't many issues with the XR 400R, but that doesn't mean they're perfect in the used market. Since they're so reliable, many owners neglected them. Running low or out of oil and not replacing the air filter are a common problem, leading to a rough running or smoking engine.
They can also be hard to start after sitting for a while or if the jetting is off. Lean jetting or flooding makes it hard to start.
Bottom Line: Is the XR400 a good dirt bike?
Yes, the XR400 is still a good dirt bike, but it's not the right bike for everyone. Here are some pros and cons to help you make a better decision.
Pros:
Good torque and smooth power gives you good traction and acceleration
It's easy to ride
Good size beginner bike if you're a taller/bigger guy
Relatively affordable in the used dirt bike market
No electric start or fuel injection to fail (if you like old and simple)
Lightweight for a big-bore XR from the 90s
Cons:
Can be hard to start if it's been sitting or jetting is off
No electric start means you always have to kick it over
It's a little heavier than modern trail bikes, but not that much heavier
Getting harder to find in good condition
XR400 vs DRZ400
The Honda XR400 is a little more durable for trail riding because it's air-cooled and a little more simple with better suspension. The DRZ400 makes a better dual sport bike for on and off-road riding.
How to ride with confidence off-road
Whether you choose the XR400 or another dirt bike, there's one thing that you can do to quickly build your confidence on any dirt bike, and I want to show you how.
It starts with your riding technique and learning the basics to stay balanced and in control. Tap here to download my free training.