Suzuki DRZ400 – Practical Review On What You Need To Know
Looking to buy a Suzuki DRZ400 or just want to know more about this dirt bike? In this review, I'll cover all of the practical info and specs you need to make the best decision on whether or not this bike is right for you.
What is the DRZ400?
The Suzuki DRZ400 is an off-road or dual sport dirt bike, but there are two different models. They both are very similar and both have a liquid-cooled 400cc 4 stroke engine.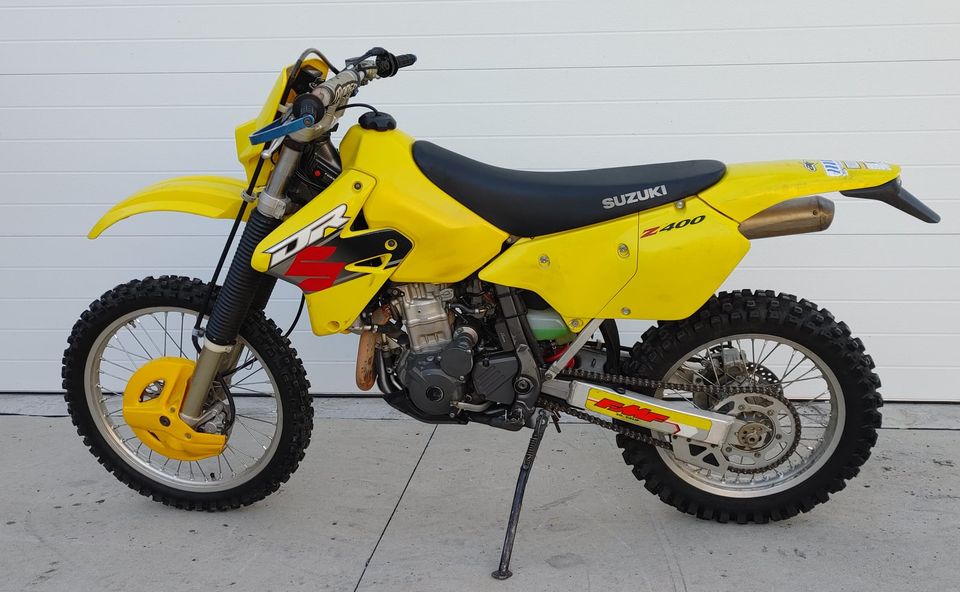 The DRZ400SM is a street-legal supermoto version (supermotard) that comes with road wheels and tires. 
DRZ400 vs DRZ400E vs DRZ400S – What's the difference?
The DRZ400 and DRZ400E are the off-road models that have a slightly higher performance from the factory. The DR-Z400E model has an added electric start option.
The DRZ400S is the street model and is slightly detuned and heavier because it has street legal lights for dual-sport riding. 
Who is the DRZ400 for?
It's a bigger off-road dirt bike that's meant to be somewhat versatile. It's good at a lot of things, but not great at anything in particular. It's too big and heavy for beginners, but it's just not great for aggressive riding because the suspension is on the soft side, depending on your weight. 
Is the Suzuki DRZ 400 a good bike?
The DRZ400 is a good bike if you can only have one bike and you're looking for a dirt bike that can do a little bit of everything. It has plenty of power to do just about anything, but is not overwhelming. If you get it plated, then you can ride on the street to get to the trails, and then do some mild single-track trail riding. 
Engine performance
If you know anything about the Honda XR400, the DRZ400 is basically a modern version of the XR engine. It's liquid-cooled, and with that comes more performance.
It's definitely not comparable to a motocross or enduro bike, but the low-end torque and midrange power make it fun and easy to ride if you can handle the weight. 
Is the DRZ400 fuel injected?
No, Suzuki has not updated to fuel injected. The DRZ400 still has a carburetor on all models. 
Suspension
The suspension is fairly simple but good for what it's designed for. The forks and shocks are soft enough for dual-sport and adventure riding and can handle moderate trail riding. If you're on the heavy side and want to ride aggressively, then the suspension will feel soft and bottom out. 
If you're a newer rider, just make sure that the springs are right for your weight, then set the shock ride height, then adjust the clickers to get the most comfort. If you're on a budget, it's not worth it to spend a lot of money tuning the suspension unless you're going to be riding this bike for many years to come. 
Handling
Since the DRZ400 weighs over 300lbs ready to ride, it's not going to handle like a typical trail bike in the woods. If you want a good dirt bike for single-track trail riding, this is not the right bike for you. 
It's based on the intention of dual-sport riding, which is a combination of riding on the road, gravel/fire roads, and some trail riding. The DRZ400 will feel stable, especially at higher speeds on smooth terrain. 
Reliability
Change the oil, keep the air filter clean, and the DRZ400 will last you a long time. Especially if you are dual sporting this bike, it can last tens of thousands of miles. 
DRZ 400 Specs
Any known issues?
You're bound to find people complaining about one thing or another, but that's simply because there are so many DRZ400 bikes out there. In reality, there are no major issues or problems with this basic.
Just do your simple maintenance and it will last a long time. The harder you ride it and the less you maintain it, the more likely you'll have problems, just like any other dirt bike. 
DRZ400 vs DR650
Both Suzuki's are good dual sport bikes, but the DR650 is the better choice for more road riding. The 650 is bigger and heavier and built for putting more pavement miles on. 
How much is a DRZ 400 worth?
The value of a DRZ 400 is dependant on quite a few variables. Your local market, supply and demand, and the condition of the bike are among the most important. 
For an off-road model DRZ400 you can expect to spend 1800-3500, while a street legal model is a few hundred more, and the SM supermoto model is generally worth $3000-5000 depending on the year and condition. 
You should get a DRZ400 if:
You want a mid-weight dual sport bike
You want a dirt bike that can do a little bit of everything
You want smooth power with good torque
You don't mind a heavier dirt bike with more stability
You want a reliable 4 stroke dirt bike
You enjoy modifying your bike with aftermarket parts
You shouldn't get a DRZ400 if:
You're new to dirt biking and will only be riding off-road
You want a single track trail bike
You're going to be adventure riding on the road a lot of miles
Will the DRZ400 make you a better rider?
What kind of riding are you doing? If you want to ride single-track trails, the DRZ400 will make it harder because of its weight and size.
If you're a bigger guy or simply want a do-it-all dirt bike that can dual sport, ride on the road, as well as some moderate trail riding, then the DRZ 400 is a bike that will suit your riding, but there's one thing that will make you a better rider no matter what bike you choose.
That one thing comes down to you and your riding technique because it's the difference between riding with control and riding too fast for your skills, which can end in an injury from crashing. If you want to learn how to quickly become a better & safer rider, then get my Free training by clicking here.