Looking to buy a Suzuki DRZ400 or just want to know more about this dirt bike? In this review, I'll cover all of the practical info and specs you need to make the best decision on whether or not this bike is right for you.
What is the DRZ400?
The Suzuki DRZ400 is an off-road or dual sport motorcycle, but there are different models of the same 400cc Suzuki. They are very similar and both have a liquid-cooled 4 stroke engine.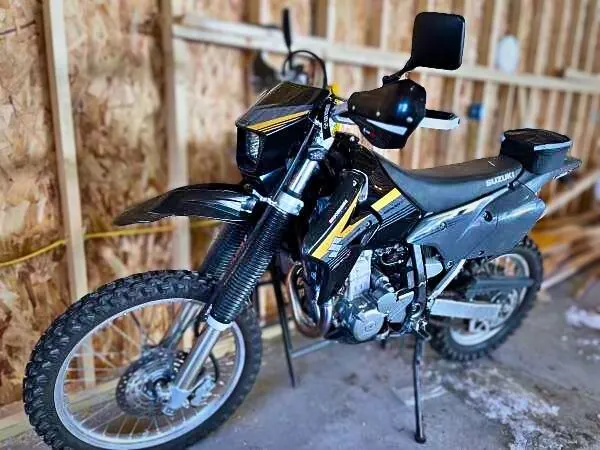 Drz400 models
There are four different Suzuki DRZ400 models available, although you can only buy two of them new from a dealer today. They are:
DRZ400 – Off-road trail bike
DRZ400E – Off-road trail bike with electric start
DRZ400S – Street legal dual sport motorcycle
DRZ400SM – Street legal supermoto motorcycle with road wheels and tires
DRZ400 vs DRZ400E vs DRZ400S – What's the difference?
DRZ400 is the standard name and model, but it comes in a total of four different options based on your needs. The DRZ400E is the off-road trail model that has a slightly higher performance from the factory. The DR-Z400E model has an added electric start option.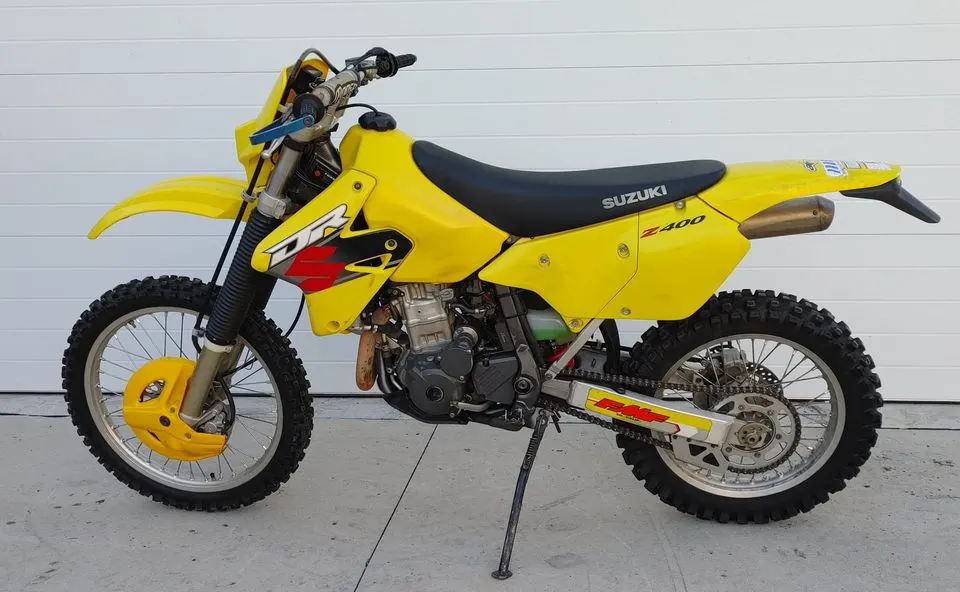 The DRZ400S is the street model and is slightly detuned and heavier because it has street legal lights for dual-sport riding. You get dual-purpose DOT tires that are legal and safer to ride on the road because they're more rounded but can still handle some off-road riding.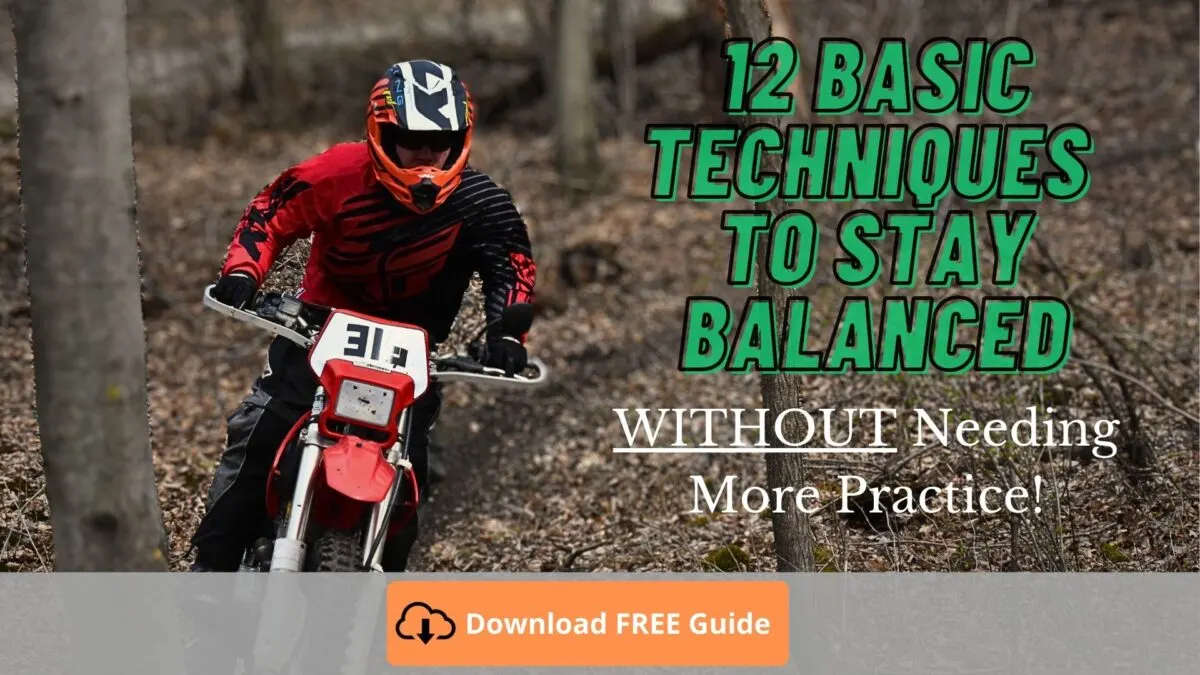 DRZ400E vs DRZ400S
The main difference is that the 400E is the off-road model and the 400S is the street legal dirt bike for on-road and off-road riding. The "E" model had more power due to higher compression, hotter cams, and a Keihin FCR carburetor. The suspension was also more adjustable and performed better until 2003 when the "S" model got the same forks and shock.
DRS400S vs DRZ400SM
The biggest difference is that the 400 "S" model is a dual sport bike with wheels and tires that are made for riding on and off-road, while the, while the 400 "SM" model is a supermotard with full street wheels and tires that are made for riding on the road.
The 400SM also has upgraded brakes that are bigger for stopping quicker, as well as inverted forks and an "RMZ" style swingarm
Want to ride in the dirt and on the street? Get the DRZ400S.
Just want a supermoto/hooligan bike for riding on the pavement around town, the highway, or commuting? Pick the DRZ400SM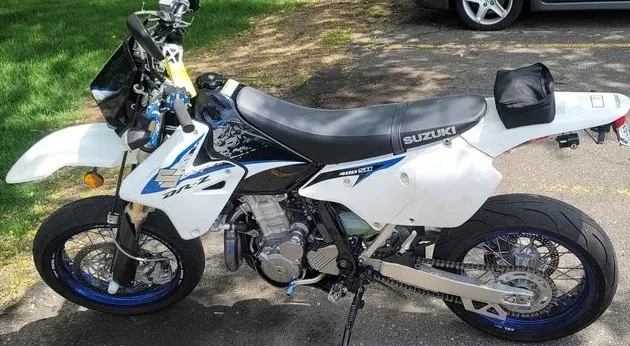 Who is the DRZ400 for?
It's a bigger off-road dirt bike that's meant to be somewhat versatile. It's good at a lot of things, but not great at anything in particular.
It's too big and heavy for beginners, but it's just not great for aggressive riding because the suspension is on the soft side, depending on your weight.
Engine performance – a league of its own?
If you know anything about the Honda XR400, the DRZ400 is basically a modern version of the XR engine. It's liquid-cooled, and with that comes more performance.
It's definitely not comparable to a motocross or enduro bike, but the low-end torque and midrange power make it fun and easy to ride if you can handle the weight.
Horsepower – how many ponies does it really have?
Depending on which model DRZ 400 you get, it will have around 32 horsepower at the rear wheel, which is probably 36-38 HP at the crank. When you had the option of the DRZ 400E and 400S, the 400E had slightly more throttle response and power because it wasn't "corked up" as much due to being the off-road-only model with fewer manufacturer restrictions.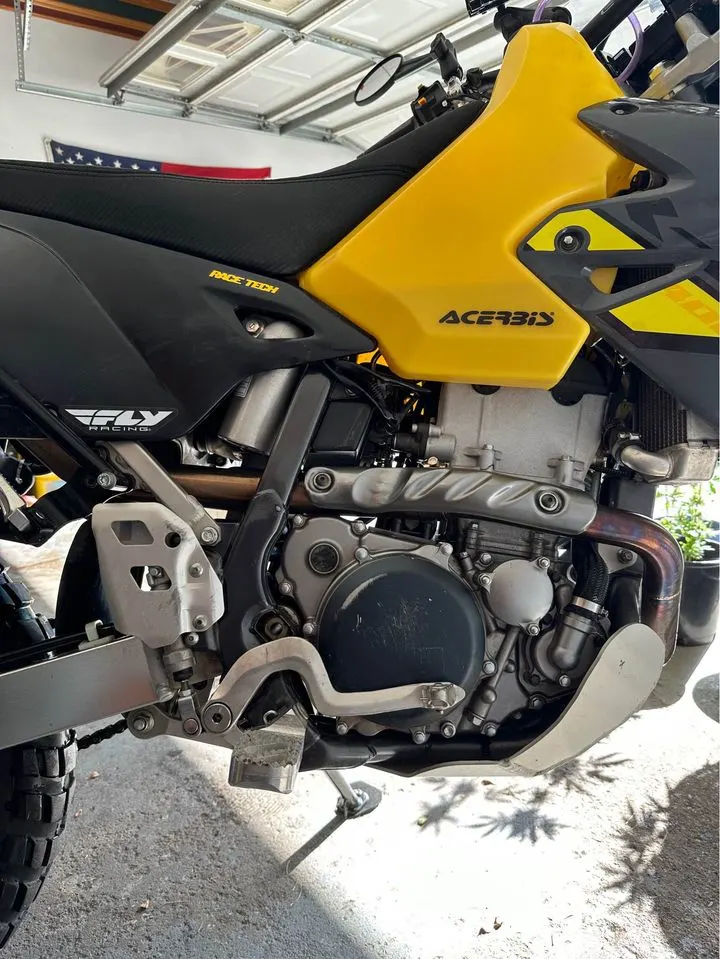 Compared to a 450 MX bike, the Suzuki 400 enduro doesn't have nearly as much power, but it's not supposed to compete with them. It was originally built to be a race bike, but it's turned into a reliable dual sport model with a broad power curve.
Can you make it faster? Absolutely, and I'll cover the top mods later in this review.
Top speed
The top speed of a stock DRZ 400 is about 80-90 mph depending on which model you get, but why would you need to go that fast on a dual sport bike? Well, only if you're racing on flat ground, but you can just change the gearing if you want a higher max speed or better acceleration.
Going to a bigger or smaller sprocket size doesn't change the power, but it does change the final output gearing. A bigger rear sprocket (Amazon) will shorten the gearing, allowing you to accelerate quicker if you don't mind a lower top speed.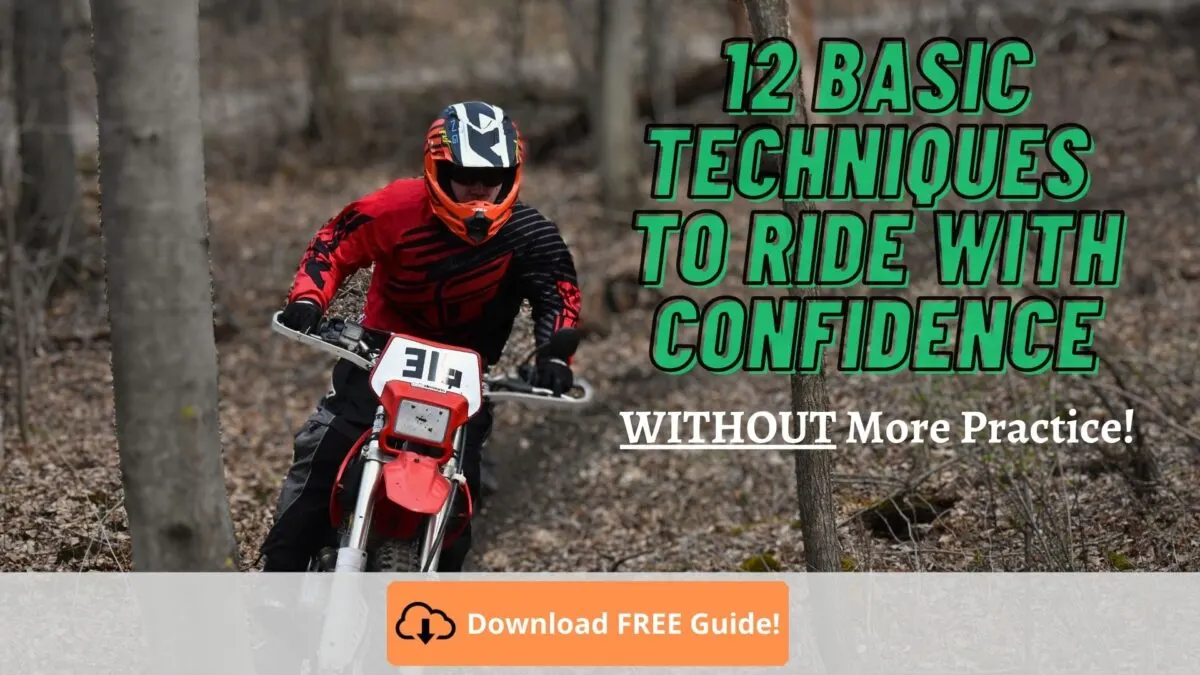 Fuel economy
The gas mileage is dependent on how you ride and where you ride. However, if you're doing casual dual sport riding around town, you can expect to be in the 40-50 mpg range if you're easy on the throttle.
Going to a smaller rear sprocket (Amazon) will allow you to cruise at a lower RPM, which should give you a slight MPG increase and reduce engine wear.
For more off-road and single track trail riding, your fuel economy will drop a little bit from that because you're riding slower but still on the gas.
Is the DRZ400 fuel injected?
No, Suzuki has not updated to fuel injected. The DRZ400 still has a carburetor on all models.
A carburetor can perform just about as well as fuel injection if you know how to properly tune it. It's not a "black art", it just takes a little knowledge and a little bit of willingness to test until you get it better – and the benefits can be huge, such as easy starting, more power, better reliability, and more!
Suspension – what to expect
The suspension is fairly simple but good for what it's designed for. The forks and shocks are soft enough for dual-sport and adventure riding and can handle moderate trail riding. If you're on the heavy side and want to ride aggressively, then the suspension will feel soft and bottom out.
If you're a newer rider, just make sure that the springs are right for your weight, then set the shock ride height, then adjust the clickers to get the most comfort. If you're on a budget, it's not worth it to spend a lot of money tuning the suspension unless you're going to be riding this bike for many years to come.
Front forks
The fork technology on the DRZ 400 hasn't seen a major change, but that's one reason why it's reliable, simple, and affordable. If you're a bigger dude, it's a little on the soft side – especially for aggressive riding.
You can externally adjust the compression damping with the clickers to get a more comfortable ride based on your weight and riding style. If that doesn't do enough, you'll have to go with stiffer or softer fork springs (check price on Amazon).
Rear shock
The stock rear shock is fairly soft, which is nice if you're a beginner because it will soak up the bumps for a comfortable ride. It has multiple external adjustments to make it work better for your weight.
You have the shock preload, which is necessary on every bike you ride if you want the suspension to be balanced front to back for the most comfort. You don't want the ride height too low or too high or else you'll be missing out on better handling and traction.
Most riders in the 180-220 lb. range upgrade to a 5.7kg shock spring (check price on Amazon) from the 5.3kg stock spring rate to make it stiffer so it doesn't sag too much and bottom out easily.
Then you have compression and rebound damping clickers. These slow down and speed up how fast the shock compresses and rebounds. It's a simple way to tune it to be stiffer or softer for your weight and riding style.
Handling – how does it compare?
Since the DRZ400 weighs over 300 lbs ready to ride, it's not going to handle like a typical trail bike in the woods. If you want a good dirt bike for single-track trail riding, this is not the right bike for you.
It's based on the intention of dual-sport riding, which is a combination of riding on the road, gravel/fire roads, and some trail riding. The DRZ400 will feel stable, especially at higher speeds on smooth terrain.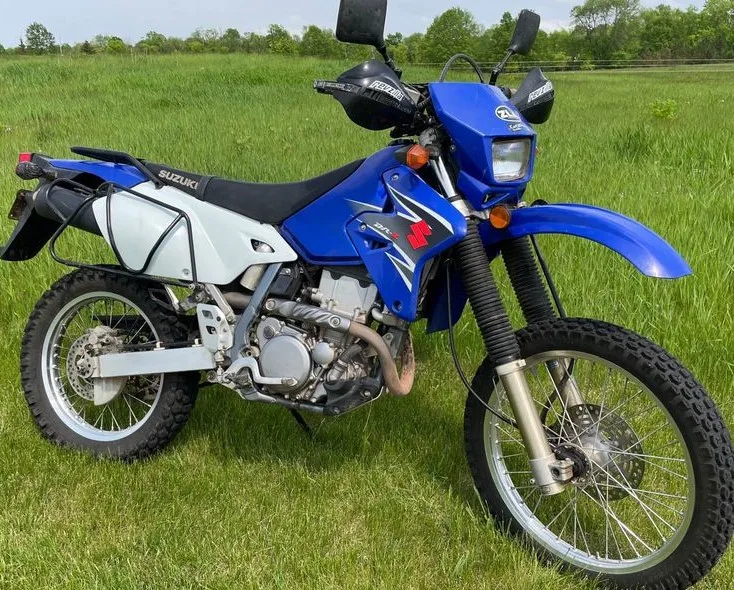 Weight – how does it compare?
The DRZ400 weighs 275 lbs, while the DRZ400E weighs 288 lbs with the extra 13 pounds from the electric start system. While this sounds pretty heavy for a dirt bike, it's not that much heavier than a typical 4 stroke Enduro bike.
For example, a Yamaha WR450F weighs 271 lbs, so the kick-start-only DRZ only weighs 4 pounds more. This is hardly noticeable, and the electric start model is about 17 lbs more than the WR450F, which is most noticeably if you have to pick it up off the ground.
Then you have the DRZ400S, which weighs 317 pounds wet. This is due to the extra weight of the headlight, tail light, turn signals, mirrors, and all of the necessary equipment to make it street legal.
Reliability – how long will it last?
Change the oil, keep the air filter clean, and the DRZ400 will last you a long time. Especially if you are dual sporting this bike, it can last tens of thousands of miles.
Compared to a 450 enduro bike, this Suzuki 400 engine will be more reliable because it's slightly lower performance. Less power = more reliable as a general rule because it produces less heat. The biggest enemy of an engine is heat, whether it's caused by extra power or more friction from a lack of oil.
Model year history
It came from the DR350, which is a dual sport bike with a 350cc air-cooled engine. Suzuki discontinued that and updated to their 400cc liquid-cooled engine with less weight and more power.
This is the model year history with major updates:
2000: First year of the DR-Z400
2002: DRZ400S model got updated suspension with external adjustment (same as DRZ400E suspension)
2004: Discontinued the DRZ400 off-road kick-start-only model
2005: First year of the DRZ400SM supermoto model
2006: Discontinued the DRZ400E off-road model
2007: Downgraded to BSR carburetor (less power and throttle response)
DRZ 400 Specs & Dimensions
These are the essential specifications of all four 400cc models from Suzuki:
| Specs | DRZ400 | DRZ400E | DRZ400S | DRZ400SM |
| --- | --- | --- | --- | --- |
| Manufacturer | Suzuki | Suzuki | Suzuki | Suzuki |
| Engine | 398cc liquid-cooled 4 stroke | 398cc liquid-cooled 4 stroke | 398cc liquid-cooled 4 stroke | 398cc liquid-cooled 4 stroke |
| Transmission | 5-speed manual clutch | 5-speed manual clutch | 5-speed manual clutch | 5-speed manual clutch |
| Seat Height | 36.8" (93.5cm) | 36.8" (93.5cm) | 36.8" (93.5cm) | 35.0″ (89cm) |
| Weight (wet) | 275 lbs | 288 lbs | 317 lbs. | 322 lbs. |
| Horsepower | 32 HP | 30 HP | 30 HP | 30 HP |
| Top Speed | 80 MPH | 80 MPH | 90 MPH | 90 MPH |
| Price (New MSRP) | | | $6,999 | $7,399 |
Any common problems?
You're bound to find people complaining about one thing or another, but that's simply because there are so many DRZ400 bikes out there. In reality, it has a few common problems, but there are no major issues with this motorcycle.
The most common DRZ400 problems are:
ACCT (automatic cam chain tensioner) puts too much pressure on the cam chain – upgrade to an MCCT (check price on eBay)
Not starting – usually sitting too long
Overheating – riding too slow or poor clutch control
Just do your simple maintenance and it will last a long time. The harder you ride it and the less you maintain it, the more likely you'll have problems, just like any other dirt bike.
Is the Suzuki DRZ 400 a good bike?
The DRZ400 is a good bike if you can only have one bike and you're looking for a dirt bike that can do a little bit of everything. It has plenty of power to do just about anything but is not overwhelming. If you get it plated, then you can ride on the street to get to the trails and then do some mild single-track trail riding.
You should get a DRZ400 if you:
Want a mid-weight dual sport bike
Want a dirt bike that can do a little bit of everything
Want smooth power with good torque
Don't mind a heavier dirt bike with more stability
Want a reliable 4 stroke dirt bike
Enjoy modifying your bike with aftermarket parts
You shouldn't get a DRZ400 if you:
Are new to dirt biking and will only be riding off-road
Want a single track trail bike
Are going to be adventure riding on the road a lot of miles
How much is a DRZ 400 worth?
The value of a DRZ 400 is dependent on quite a few variables. Your local market, supply and demand, and the condition of the bike are among the most important.
For an off-road model DRZ400 you can expect to spend 1800-3500, while a street legal model is a few hundred more, and the SM supermoto model is generally worth $3000-5000 depending on the year and condition.
DRZ400 vs DR650
Both Suzuki's are good dual sport bikes, but the DR650 is the better choice for more road riding. The 650 is bigger and heavier and built for putting more pavement miles on.
DRZ400 vs KLX400
They are essentially the same motorcycle – the main difference is that Kawasaki uses green plastics and different graphics.
Best DRZ400 mods
Since it's a fairly mild engine to begin with (by today's standards), many owners love to upgrade this bike because it responds well to most modifications.
These are the best mods for your DRZ400 that actually make faster & more comfortable:
3×3 Airbox mod
Jetting
Suspension upgrade
Carb upgrade
Big bore kit
Camshafts
Porting
Will the DRZ400 make you a better rider?
What kind of riding are you doing? If you want to ride single-track trails, the DRZ400 will make it harder because of its weight and size.
If you're a bigger guy or simply want a do-it-all dirt bike that can dual sport, ride on the road, as well as some moderate trail riding, then the DRZ 400 is a bike that will suit your riding, but there's one thing that will make you a better rider no matter what bike you choose.
That one thing comes down to you and your riding technique because it's the difference between riding with control and riding too fast for your skills, which can end in an injury from crashing. If you want to learn how to quickly become a better & safer rider, then get my Free training by clicking here.