Looking to get a Suzuki DR650 but not sure if it's the best bike for you? Whether you want to compare model years, study the specs, or understand what makes this bike so popular, you're in the right place!
In this review, I'll show you exactly what kind of motorcycle the DR 650 is, why it may or may not be right for you, and what to expect when buying and riding one to save you time and money!
What is the Suzuki DR650?
It's a 650cc single-cylinder 4-valve 4 stroke dual sport motorcycle, but let's break down what that actually means. It's basically a big dirt bike that's street legal for riding on and offroad.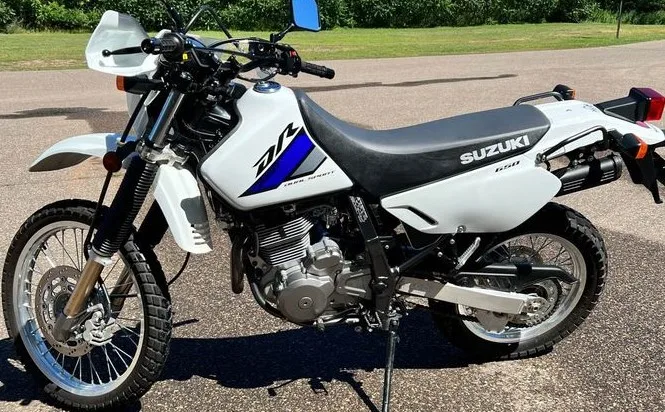 A 650 is about the largest dirt bike you can buy. It's an air-cooled & oil-cooled engine, so it doesn't have massive horsepower, but it has a lot of low-end torque with a very smooth power curve – this makes it easier to ride than a high-performance motorcycle because it's easier to control.
It was first made in 1990, replacing the older DR600 model. It's still made today because it's such a popular dual-purpose motorcycle.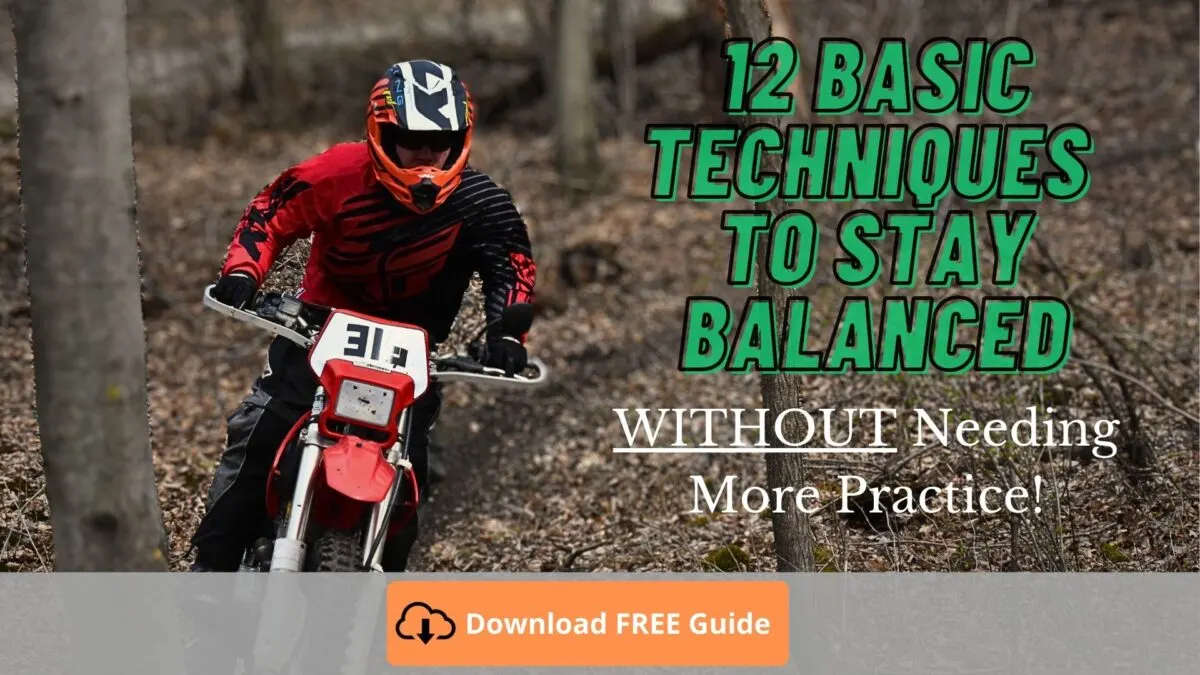 Who's it for?
The DR 650 is a good motorcycle if you want a dual sport motorcycle that will perform well on the asphalt as well as the dirt and gravel. More specifically, you can make it an adventure bike to ride around the country back roads and do some easier single track trails if needed.
Seat height – what size rider is the DR650 for?
Suzuki says the seat height is 34.8″, which makes it a good size dirt bike if you're 5'7″-6'0″. However, you can adjust the seat height up or down a little bit if you're shorter or taller.
It's also wider than a typical dirt bike, so it feels bigger and taller because your legs get pushed out. You only need one foot to touch the ground, though, if you have good balance.
Engine – what to expect
The DR650 doesn't do anything great, but it does just about everything well for a dual sport. The air and oil-cooled engine is built for simplicity, reliability, and functionality.
It has plenty of power to go just about anywhere and haul just about anything you need to tour the world, but it's not going to win many drag races with its smooth and broad power.
Horsepower & top speed
With just over 40 horsepower in stock form, you might dismiss it, but that's not where the potential is. In reality, it has more torque than horsepower, which is not very common for a dirt bike.
This means that it will accelerate very well from a low RPM – you just won't be able to reach super high top speeds. However, with some mods, which I'll cover later in this review, you can get to 50+ HP fairly easily.
Suspension
With over 10 inches of wheel travel and the ability to lower the seat height, the stock suspension is pretty good for an inexpensive dual sport motorcycle. Even though it's a more conventional set-up, there's some adjustability to make it fit your height and weight.
Front forks
The stock forks on the DR 650 are made to be a good compromise for riding on and offroad. With more suspension travel than a KLR650 dual sport bike, it can soak up bumps a little better for a more comfortable ride.
Unfortunately, there's no external adjustment on the front forks, but you can still do some internal tuning. Getting the correct spring rate is important if the stock forks springs are too soft or stiff for your weight.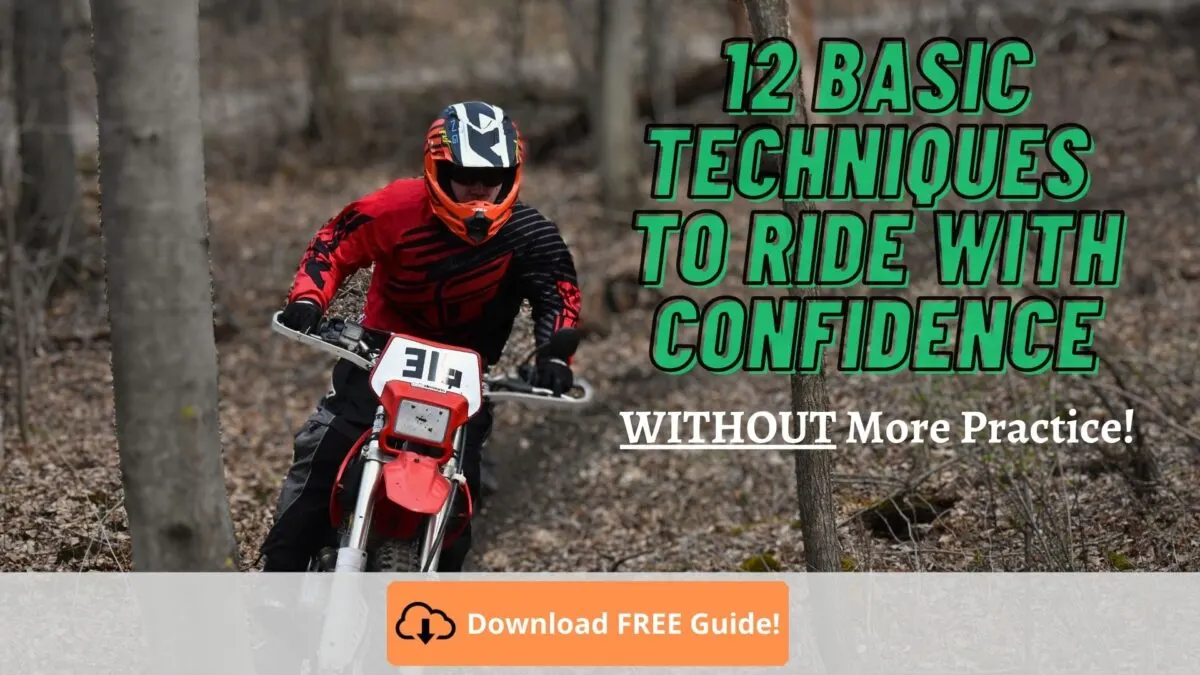 Lowering the forks
You can lower the front suspension by moving the internal pre-load spacer. You'll want to lower the rear as well to keep your bike balanced. Shortening the kickstand is also necessary or else it will tip over.
Rear shock
The stock rear shock on the DR 650S is a little more versatile with some external adjustment. Not only can you adjust the preload, which is important to get your proper ride height, but you can adjust the compression damping.
By turning the shock clicker, you can slow down or speed up how fast the rear suspension compresses – this makes it feel stiffer or softer to tune it for the best comfort.
Lowering the rear shock
You can also lower the rear, which is important if you also lower the front – if your bike isn't balanced front to rear, it won't handle very well and you'll be more likely to fall because it won't get the best traction.
It's slightly easier than lowering the front because it's an external adjustment. If you can remove the shock and spring, you can lower your DR650 seat height for free!
Handling
For a dirt bike, it's big and heavy, but for a street bike, the DR650 is fairly lightweight. What does that mean though?
Well, it's not going to handle very well on tight or technical trails because it won't turn well at low speeds. You'll really feel the extra weight compared to a trail bike – this can actually help with stability because it won't bounce around as easily. However, once you get it out of balance, it's much harder to bring back and prevent a crash.
The DR650 really does well with a mixture of smooth trails, gravel roads, and some city roads or back road riding. It's not the most comfortable for long highway rides, but a nice aftermarket seat and a windshield can help
Weight
The Suzuki DR 650 weighs 366 (curb weight) when ready to ride with all fluids and a full tank of fuel – some dirt bike specs only show the dry weight, which could be a 10-30 pound difference!
An average trail motorcycle is 250-280 lbs, so this is considerably heavier, but that's what makes it nice and stable for cruising at higher speeds on gravel roads or asphalt. You'll notice the weight the most at very low speeds or if you fall over and have to pick it up off the ground.
Model year history & changes
The first generation DR650 (1990-1995) used the DR600 engine with a bigger bore and stroke, but the chassis was updated. The engine was tuned for more top-end horsepower compared to the second-gen model.
You had to use more clutch to get going and riding at low RPM was harder than on the newer model. It was built for Dakar-rally racing, which is why it had more of a race-tuned engine.
This is the major model updates for the Suzuki DR 650 (from suzukicycles.org):
1990: First year of the DR650 (DR 650 Dakar & DR 650 RS model options)
1996: New engine & chassis (less weight, smoother running, and more low-end torque), smaller seat
2015: Suzuki changed the name from DR650SE to DR650S (no physical change was made)
Is the Suzuki DR650 reliable?
If you want a dual sport dirt bike that will last a long time, you've found the right bike. The DR 650 is very reliable if you just do regular maintenance, which isn't much compared to a high-performance motocross bike.
You can easily get 10,000 miles or more on the engine with regular oil changes and keeping the air filter clean. In fact, many Suzuki DR650 owners get tens of thousands of miles from dual sport riding – riding on-road and off-road. Highway miles cruising at a moderate RPM will make the engine last longer.
Any common problems?
It's a very durable and reliable dirt bike that didn't have any major issues. With that said, there have been some common complaints about the stator cover crank access plug getting welded on.
Using loctite on the threads will help prevent this. Also, removing the plug while the engine is still warm will make it easier.
Another issue, although very rare, it's possible that the neutral sending unit screws can come loose. If they fall into the engine, they can cause a catastrophic engine failure that would seize your engine.
You can keep an eye on these screws to see if they're vibrating loose, or just pay attention to the neutral light on your dashboard. If it stops working or has intermittent issues – stop and check those screws behind the engine stator cover!
Using some blue loctite can help keep them in place, or you can remove it altogether to permanently get rid of the problem if you don't need a neutral light to tell you when you're in neutral.
Specs & dimensions
These are the essential specifications and dimensions of the DR650S, according to Suzuki's website:
| | |
| --- | --- |
| | DR650S |
| Engine | 644cc air/oil-cooled 4 stroke 4-valve |
| Transmission | 5-speed manual clutch |
| Seat Height | 34.8" (cm) |
| Suspension Travel | 10.2"/10.2" |
| Weight | 366 lbs |
| Horsepower | 43 HP |
| Top Speed | MPH |
| Price (New MSRP) | $6,799 |
Is the DR650 the right dirt bike for you?
Pros
Good overall street legal dirt bike for dual sport riding on and off-road
Plenty of power that's smooth and easy to control
Very reliable with simple maintenance
Suspension is better for off-road than most dual sport motorcycles
Affordable dual sport bike
Plenty of mods available
Stable for riding longer stints on the highway compared to a lightweight dual sport
Easy to lower the seat height if you're a short rider
Cons
It's heavy for an off-road motorcycle compared to a trail bike
Not great at any one type of riding (better used as a do-it-all dirt bike)
Can be hard to find on the used market
How much does the DR650 cost?
The retail price of a new Suzuki DR650S is $6,799, but a used one can be found for less. Depending on the year and condition, a used model can cost you between 2000-5000.
An older generation DR is worth closer to the 2000-3000 value, and a newer generation is closer to the 4000-5000. However, your local market is a big factor in the actual value of each bike.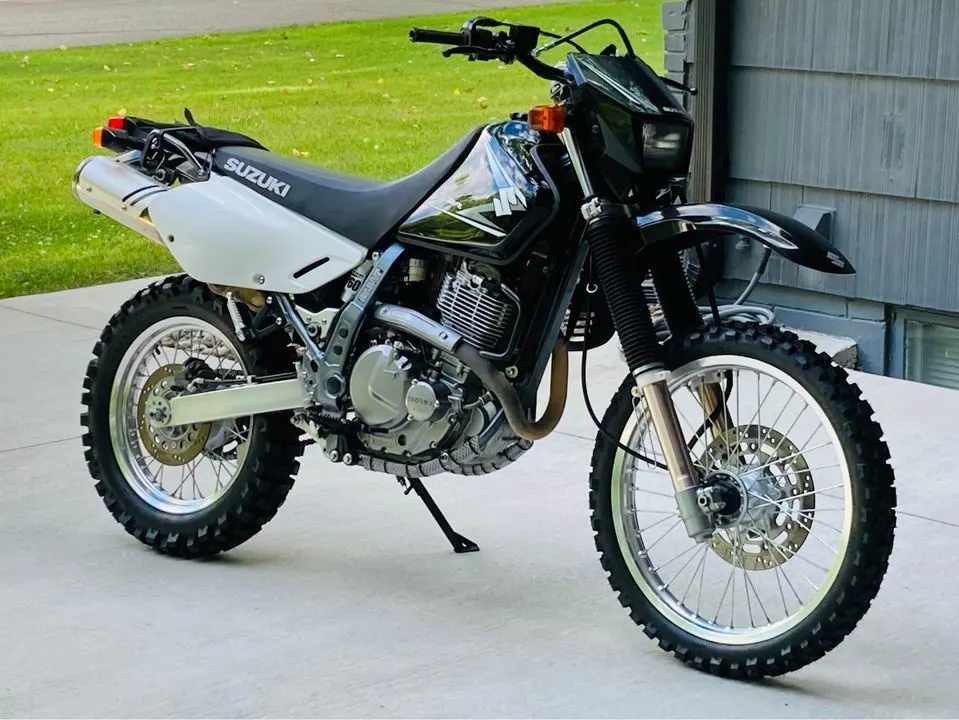 DR650 vs KLR650
While both dual sport bikes appear to be similar due to their 650cc engine, they're quite a bit different. The biggest difference is that the DR650 is 90 lbs lighter and is better at off-road riding with more suspension and a better handling chassis, while the KLR is better at long-distance adventure riding on the highway due to its weight and stability.
DR650 vs DRZ400
The main difference is that the DR 650 weighs 50-100 lbs more (depending on which DRZ400 model) and is better for long-distance dual sport riding. The DRZ400 is better for riding around town and commuting with the ability to do trail riding more easily. Both bikes are fairly heavy for tight single-track trail riding.
DR650 vs DL650
The DL650 is a full street bike and weighs about 120 lbs more than the DR650. It has a more powerful liquid-cooled engine. The DL650 (Vstrom) can be used for adventure riding, but you'll want to put some dual sport tires on to safely ride off-road or in the gravel. I would not recommend trail riding with the DL 650 unless you're an experienced rider with heavy adventure bikes.
Best mods
Carb jetting or upgrade
Suspension
Exhaust
Gearing
Engine upgrades
Bigger gas tank
Windshield
How can I make my DR650 faster?
You can add an aftermarket exhaust that flows better, install a big bore kit, or upgrade the carburetor to make your DR650 faster. Egle from AdventureBound said that swapping to a Mikuni flatside carb made a big improvement in throttle response and overall power. It's not cheap, but it makes a nice difference when properly jetted.
Learn how to ride off-road with confidence
New to riding off-road or just want to build your confidence quicker? I've been riding dirt bikes and street bikes for over 20 years and have learned from many mistakes that I have made and seen others make, and now I want to share what has helped me the most. I put together a basic technique guide that shows you how to ride with more control without taking years to learn – click here to download it.