Looking to get a Suzuki RM 125 but not sure if it's the right bike for you? Whether you're new to dirt biking or considering a new bike, this article will give you the info you need.
In this review, I'll show you what kind of bike the RM125 is, why it may or may not be the best dirt bike for you, and what to expect when looking to buy one so that you save time and money.
What is the RM 125?
It's a 125cc 2 stroke motocross bike with a liquid-cooled engine, but what does that mean? The RM125 was Suzuki's MX bike for racing the outdoor motocross and indoor supercross, so it was tuned for the best performance for riders like Travis Pastrana would be competitive.
Of course, their factory race bikes would highly modified, but even a stock RM 125 is competitive at the amateur level. With that said, some years were better than others, and now you can't buy a new one because it's been discontinued, unfortunately.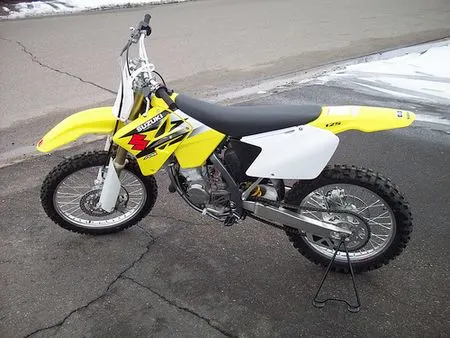 Who's it for?
It's a full size motocross bike made for teens and adults that want a small-bore 2-stroke for racing. Whether you're transitioning from an 85cc MX bike or just don't want a 250, the RM 125 is a good transitional bike if you already have riding experience.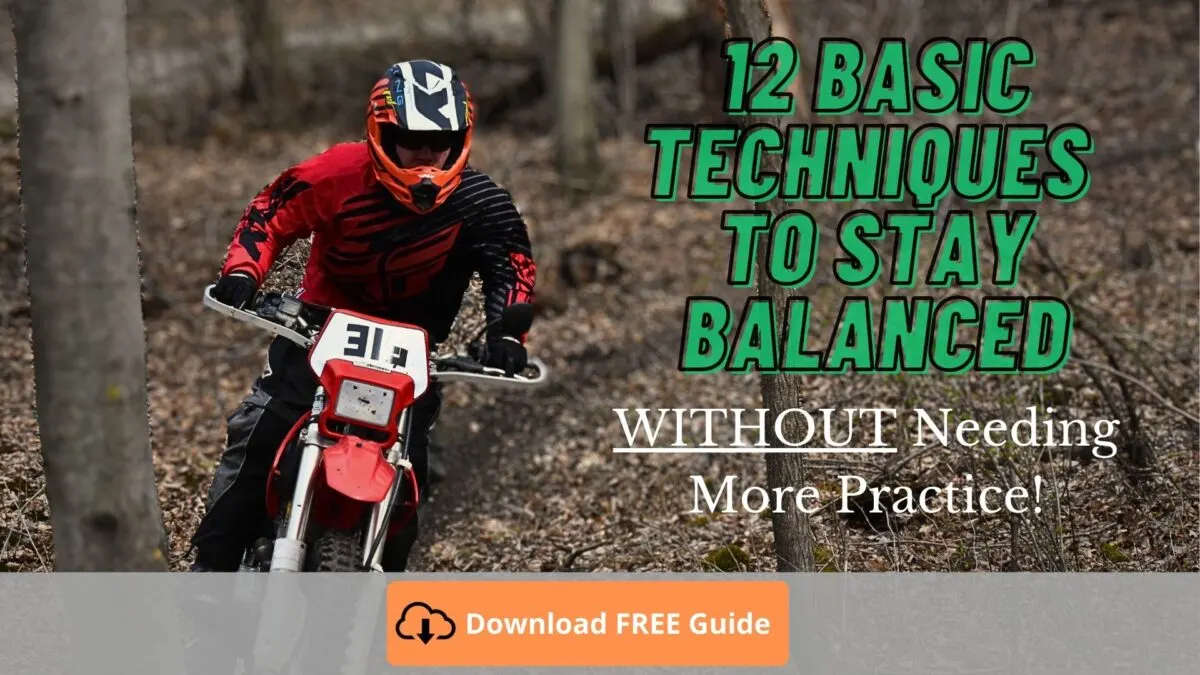 Is the RM 125 good for beginners?
I would not recommend this as your first dirt bike because it's a high-performance race bike that's harder to control than a beginner-friendly trail bike. With stiff suspension and an abrupt power-curve that lacks low-end torque, it's hard to learn how to ride on for a couple of reasons.
Not only is it uncomfortable and hard to handle at slow speeds due to the stiff suspension and chassis set up, but the power is hard to control because you have to be efficient with the clutch. You have to keep the engine at a higher RPM than a typical trail bike to get it going and accelerate.
When was it made?
The RM125 was made for a few decades, starting in 1975. Suzuki quit making them after 2006 due to their 4 stroke motocross bikes taking over. They saw more demand and business growth in focusing their efforts on 4-stroke dirt bikes
Are 2 strokes better than 4 strokes?
That really depends on what your preferences are. Do you want a lightweight and better handling dirt bike, or do you want smoother power with good low-end snap?
2 Stroke dirt bikes are better than 4 strokes in some areas, but a 4 stroke is generally easier to ride on a motocross track. This dirt bike comparison will always be a debate, and you need to consider what you want and will have the most fun with – because that's what dirt biking is about, right?
RM125 Engine – what to expect?
The RM 125 has always had a 125cc two-stroke engine, but it's had a few major updates over the years. They're basically all good when it comes to performance, so the newer model the better, as a general rule.
Another feature that I should point out is that the power-curve is unlike most dirt bikes. As you would expect, this small-bore two-stroke has next to no bottom-end power, making it a little less user-friendly to new riders. On the flip-side, it has good mid-range, and a killer top-end that pulls hard.
125's are meant to be ridden hard and wide open to keep it in the meat of the power-band. If you are skilled enough to keep it there while racing, the RM125 will reward you. Even in stock form this bike has a potent top-end and over-rev.
Horsepower
The 2001 and newer RM 125 engine makes around 38 horsepower at the crank, and DirtBike magazine dyno'd it at 32.5 HP at the rear wheel, making it the second most powerful 125 in its class (2nd to the KTM 125 SX).
Top speed
A stock Suzuki RM 125 top speed is about 65 mph, but that doesn't mean very much unless you're drag racing on flat ground. When are you going to ride that fast off-road? If you want to go faster, just change the gearing with a different size sprocket (Amazon).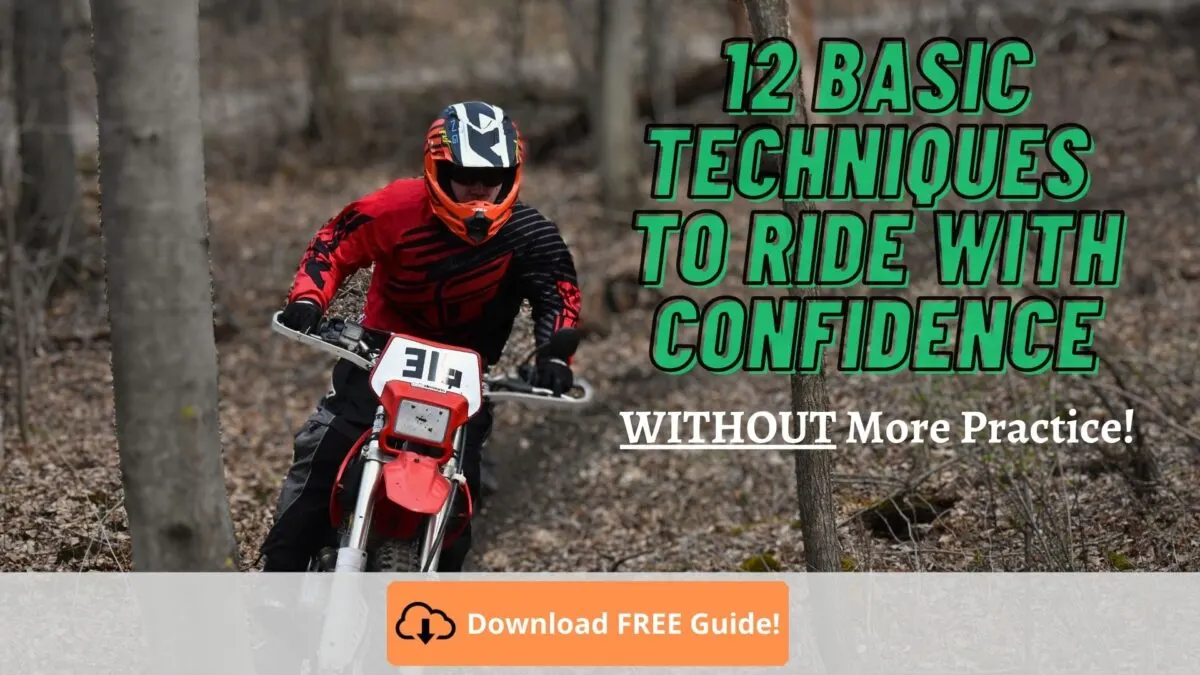 RM125 Handling
One of the main reasons why this generation of RM 2 strokes is as popular as it is, is because of how well they handle. Having a fast bike is good, but if it handles like a pig, you're not going to be very competitive out on the track.
Being a little 125cc mx bike, you're probably thinking that it should automatically handle great comparably to the heavier four-strokes. That is generally true for 125's. However, every rider that gets off of one raves about how well they can corner with an '01 or newer RM125.
Suspension
Depending on what year RM 125 you get, the suspension could be good or not so good.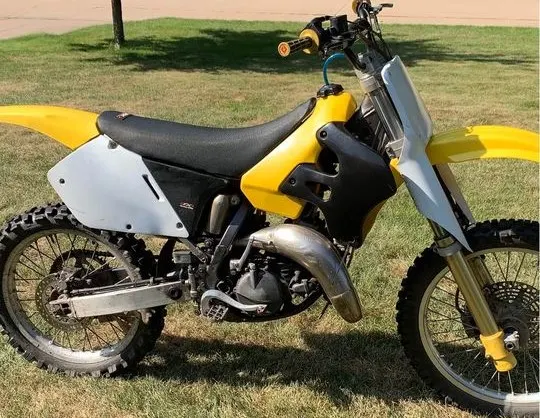 Specs & dimensions
| | |
| --- | --- |
| | RM125 |
| Manufacturer | Suzuki |
| Engine | 125cc liquid-cooled single-cylinder 2 stroke |
| Transmission | 6-speed manual clutch |
| Seat Height | 37.4" (68cm) |
| Suspension Travel | 12.2"/12.2" |
| Weight | 192 lbs (dry) |
| Horsepower | 38 HP (at the crank) |
| Top Speed | 65 MPH |
Seat height – what size rider?
With a seat height of 37.4″, it's a good size dirt bike if you're 5'8″ to 6'2″ tall, but your height isn't the most important thing. Your inseam matters too, but you really only need to be able to touch the ground with one foot.
Weight
The weight of the later generation RM 125's didn't change much. They were about 192 lbs. dry (no fluids), and about 208 pounds wet (ready to ride). They were always competitive/near the top when it came to being lightweight in the 125 MX class.
This helps it turn and handle better because it takes less effort to move and lean the bike. The 2001 and later model years were the best when it came to weight and overall handling.
Model year history and changes
These are the major year updates and changes throughout the history of the Suzuki RM 125 motocross bike:
1975: First year of the RM 125
1981: New engine with liquid-cooling
1989: USD (upside-down) front forks
1994: Updated to 19″ rear wheel
1995: Changed to conventional front forks
2001: New engine (more power), chassis (lighter), suspension (Showa) and plastics (updated styling)
2003: Updated engine – doesn't interchange with older or newer model years
2004: Updated suspension, frame, and brakes for better handling and stopping
2008: Last year of the Suzuki RM 125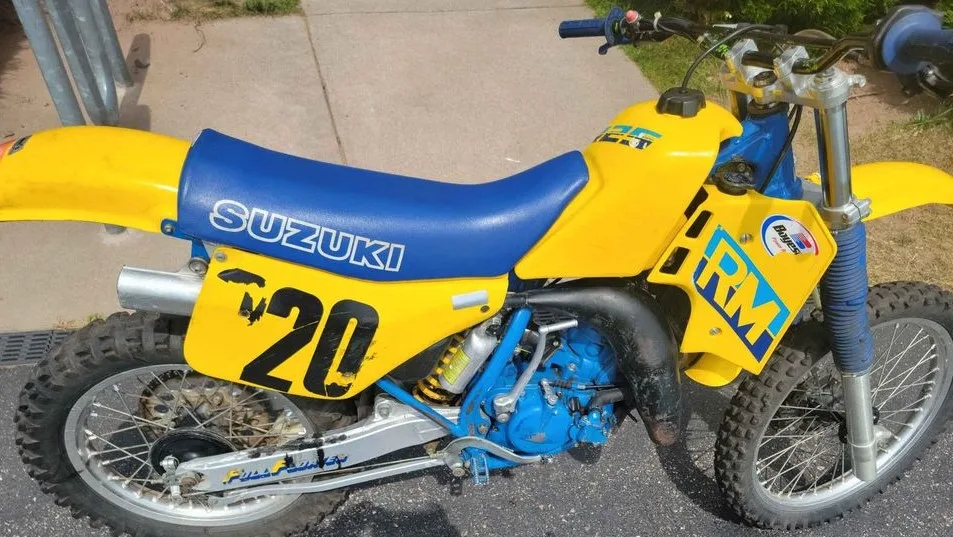 What's the best year for the RM 125?
If you're looking for an all-out race bike, I would definitely consider adding a 2001 or newer RM 125 to the list, whether you're still a novice, or an expert. However, the best years are the 2004-2007 with the last major engine, suspension and chassis updated being in 2004.
Any issues with the RM 125?
The usual things to check for on a 125 are the top-end, air filter, seals, and oil. Many sellers say that they just rebuilt it, but unfortunately, you can't always go by what they say.
If possible, pull the pipe off and take a peak inside the cylinder to look at the walls, as well as the piston. If you can see scoring marks, you can expect a rebuild coming in the very near future. A compression test can also give you a idea of the condition of the top-end.
Bearings are a something to look for on an RM125. Check the wheels for side-to-side play (also check the spokes to make sure the wheels are straight and tight).
The suspension linkage and swing-arm bearings can rust and freeze-up if not properly greased. Not many people properly maintain their dirt bikes, so you can expect them to need replacement when you buy it. These things are all pretty cheap and easy to replace, so if you can work the seller down another hundred or two, that should pay for most of the maintenance items.
Is the Suzuki RM 125 a good dirt bike for you?
Still can't decide if it's the right dirt bike for you?
Here are some practical pros and cons to help you choose the best dirt bike based on your needs:
Pros:
Handling is #1 in its class
Very powerful engine
Lightweight
Easy and cheap to maintain
Parts are still readily available at many dealers
Cons:
Suspension is good, but not its strong point
Harder to find locally compared to a YZ125
Durability can be hit or miss depending on the model year and how it was maintained
It's yellow
Suzuki RM 125 price – how much is it worth?
Prices of used bikes can vary greatly. If you're looking to get an '04-'05 in good shape, you can expect to pay around 2000-3000 dollars. On the other end, an '01 RM125 that is beat up might be worth half that, or less if they really need cash. 2000 and older are in the 600-1500 range.
RM125 vs DRZ125 – what's the difference?
Even though they're both 125cc dirt bikes from Suzuki, they're very different. The main difference is that the RM 125 is a high-performance MX bike built for racing, while the DRZ125 is a physically smaller trail bike that's best if you're a beginner or casual trail rider.
How to ride with confidence and control off-road
If you're more of an off-road or trail rider, then I want to show you how to ride with control and confidence so that you can enjoy riding more and worry about crashing less. It starts with proper riding technique and how you use your body on the bike. Click here to learn more.