Are you wanting to get a street legal dirt bike but not sure where to start? Whether you're looking for your first dirt bike or just want to pick the right bike based on your needs, you're in the right place!
In this article, I'll show you what dirt bikes are street legal, why you may or may not want to get one, and then how to pick the right one with some practical tips for getting started so that you save time, money, and stay safe while having fun!
Or if you just want to know what the top 3 cheap used street legal dirt bikes are, click here.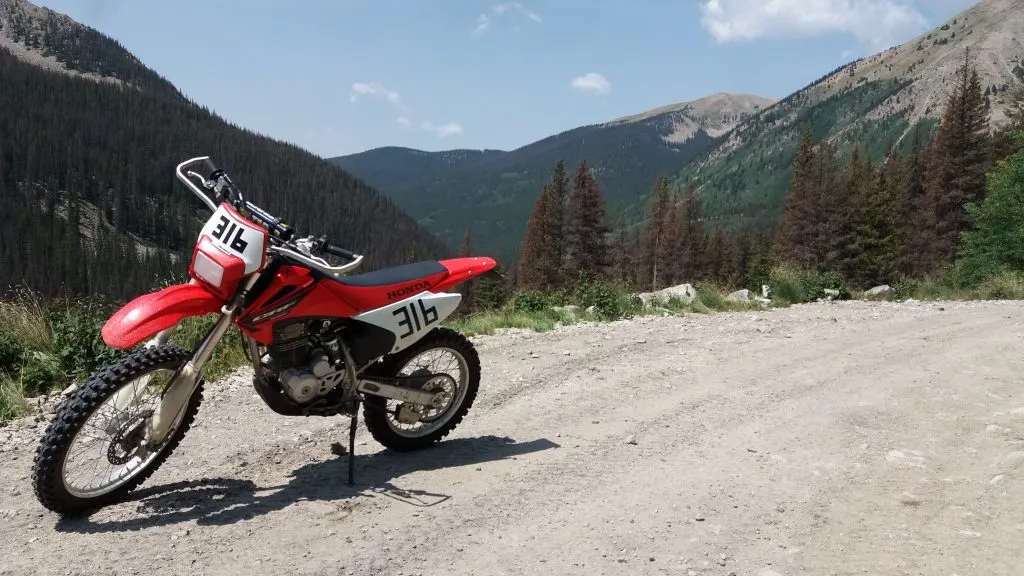 Are dirt bikes street legal?
Most dirt bikes are not street legal because they're made for "off-road use only" and don't have the parts to make them legal (lights/mirror/etc.), but there are a select few models from each company that are street legal when you buy them from the dealership.
Some dirt bikes can be converted to be street legal depending on your location, but it's much easier (and usually cheaper) to buy one that's already plated for road riding if you want to ride on the road and dirt with the same bike.
Can I Ride A Dirt Bike On The Street?
Only dirt bikes that are legally licensed and plated for street use can be ridden on the road. Most dirt bikes cannot be ridden on the street because they're "Made for off-road use only".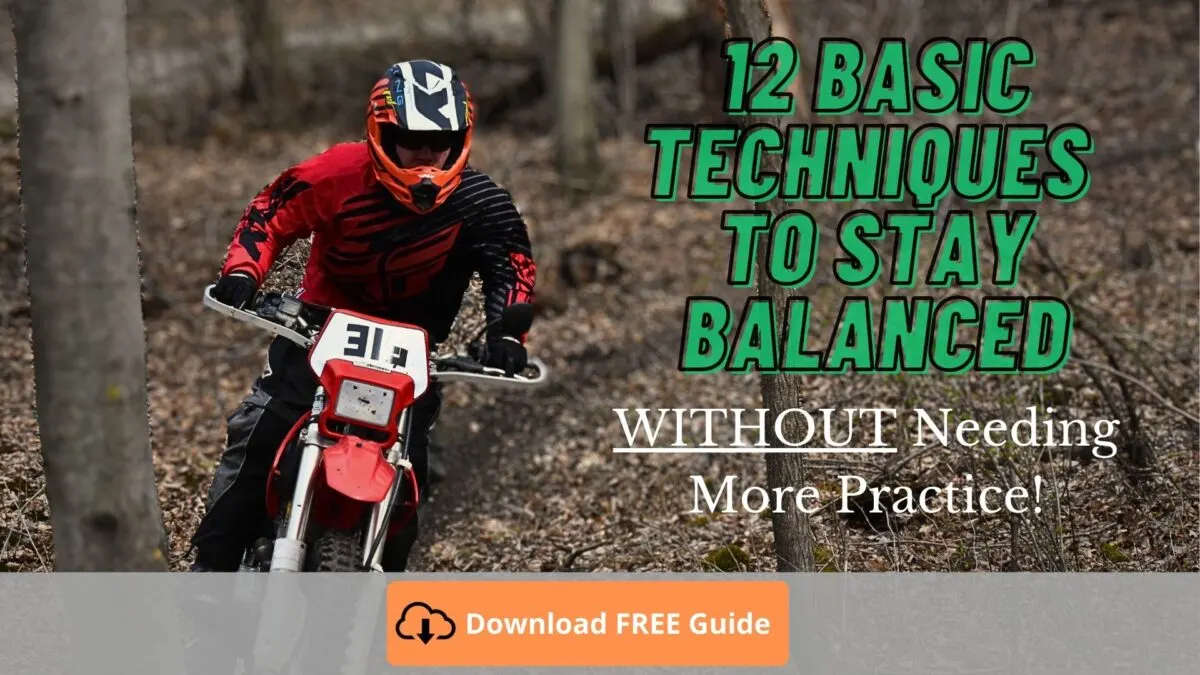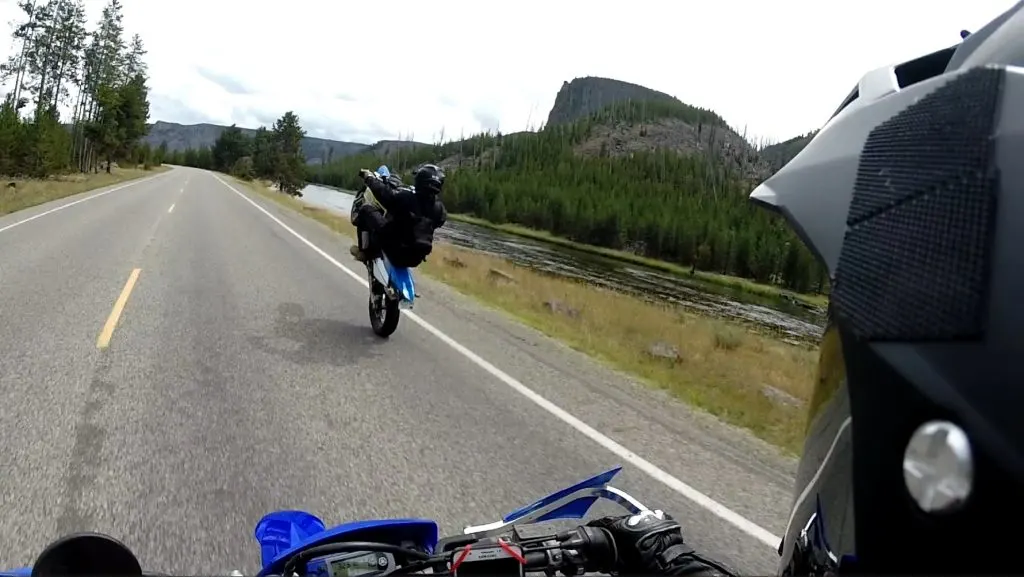 With that said, some small towns in rural areas allow off-highway motorcycles and ATVs to legally share the road with cars and trucks.
Are enduro bikes street legal?
The word "enduro" can mean different things depending on who you're asking. In today's era, I consider an enduro motorcycle or dirt bike to be a high-performance trail bike. This can be 2 stroke or 4 stroke.
In that case, enduro bikes are typically not street legal from the factory because they're built for off-road and trail riding. For example, a KTM 300 XC-W is an enduro bike that has a headlight and tail light, but it's not road legal from the factory because it doesn't have all of the required parts.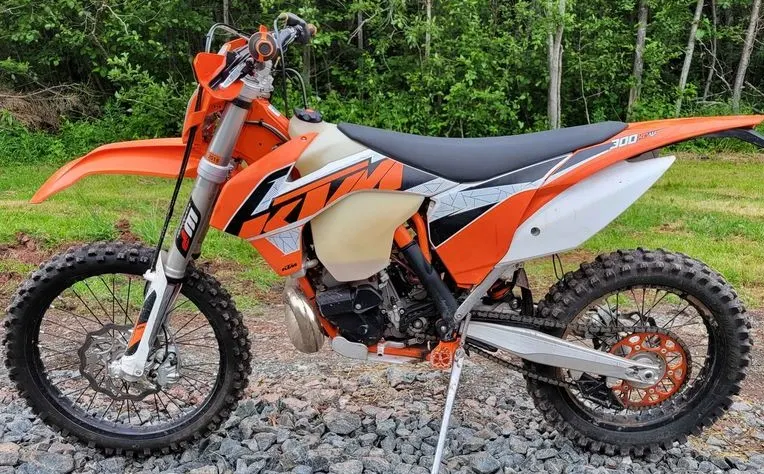 There are a few Austrian-made street legal dirt bikes from KTM and Husqvarna that are basically an Enduro bike.
These enduro-based dirt bikes are street legal:
KTM 350 EXC-F
Husqvarna FE 350S
KTM 500 EXC-F
Husqvarna FE 501S
The major difference is that they have all of the extra equipment/parts, such as tires and lighting, to make them legal for riding on the road. This makes them a little heavier and slower in stock form than the average enduro bike model.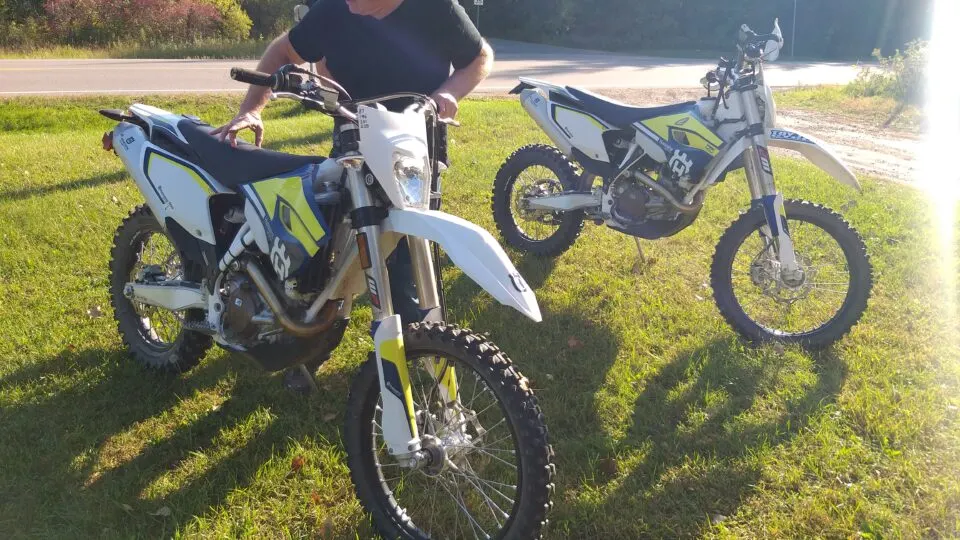 What makes a dirt bike street legal?
A street legal dirt bike is an off road motorcycle with knobby tires that is road registered and plated for use on public roads. To be street legal, it has to have at minimum:
DOT tires
Tail light
Brake light
Mirror
Turn signals (some states don't require them)
A street legal on road dirt bike with road tires is often called a dual sport bike in the motorcycle industry. Dual sport simply means that it is designed for two different types of riding; on and off-road.
Should you get a street legal dirt bike?
A road legal dirt bike has one main advantage over a regular dirt bike or street bike. It can be ridden on a road legally, and you can ride it on trails.
What's more fun than using your dirt bike to commute to work and then ride to a trail and do some single track without changing anything?
Street Legal Dirt Bike vs Dual Sport Bike
Maybe you just want to have your enduro bike plated so that you can ride from trailhead to trailhead legally. Some states allow you to register and get a license plate for your dirt bike to ride on the road if it meets the requirements.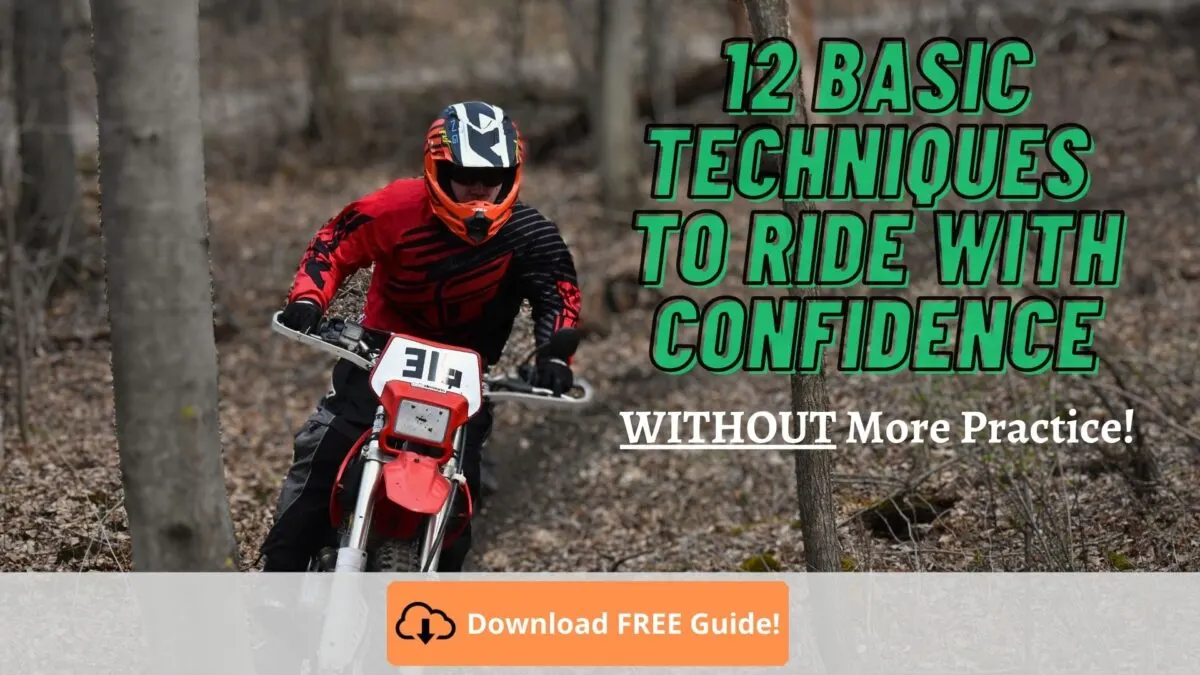 So which is better?
It really depends on what you want to use the bike for. If you're just a trail rider that needs a plated bike to stay legal when riding through a town or backroads, then you don't need a dual sport bike.
A dual sport bike is a better choice if you want to put on a lot of miles, dirt or asphalt. Also, if the trails are easy, then a dual sport is plenty capable even for a beginner rider.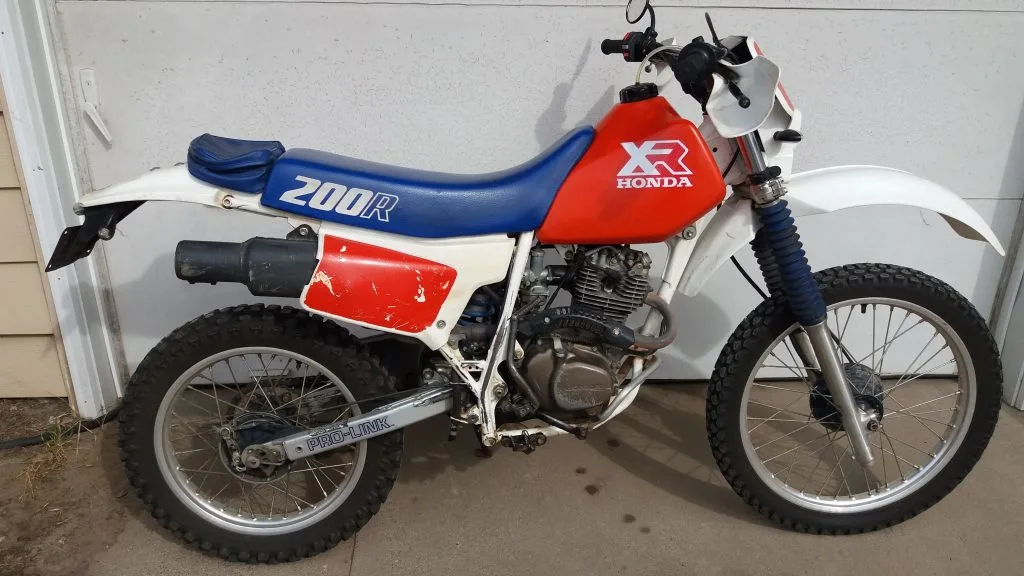 Disadvantages To Dual Sport Bikes
Obviously, a dual sport bike isn't the "end all" of dirt bikes. While there are many advantages, let's take a quick look at what they aren't great at.
Buying a new street legal dirt bike that is designed for dual sport use means that it has compromises.
The biggest disadvantages to a dual sport dirt bike are:
Tires – not great in the dirt or on the street
Weight – heavy for off-road but not as stable as a street bike on the road
Gearing – 1st gear is too fast for tight trails and 5th or 6th gear may not be tall enough for cruising
Power – Smooth but very tame, which is actually an advantage as well
Dirt bikes that are street legal
There are a lot of dirt bikes that are road legal, but it's a wide range of sizes and what they're good at. Dirt bike companies update, reveal, and remove models every few years based on popular demand.
This list covers the current 2023 dual sport list of street legal dirt bikes, as well as non-current models that are still good and relevant if you want to save some money buying used.
Honda Dual Sport Bikes
Honda has upped their game when it comes to street legal dirt bikes in the past 10 years. Before it used to just be an XR650, but now there's an option for almost any of your needs.
XR650L – Bullet-proof, can handle freeway ride, but still able to do some off road riding
CRF450RL – The hardcore option of speed, performance, and off-road ability. Not the greatest for long highway runs, but still reliable and able to ride some single track
CRF300L – Just like the CRF250L but more power. A great entry level lightweight dual sport dirt bike for street riding and casual light-duty trail riding
CRF300L Rally – More options and a bigger gas tank for a better adventure bike experience than the standard CRF250L
CRF300LS – With 2 full inches lower in seat height, the 300LS is even better if you're a short rider. It loses about 1 inch of suspension travel and ground clearance, but that's a small compromise.
CRF250L* – The beginner's choice (or if you're short). It's a little heavy for hardcore trail riding, but it's a great 50/50 dual sport/off road bike
CRF230L* – A lightweight dual sport bike based on the CRF230F. It's a great starter bike with a very low seat height, but the power is underwhelming.
Trail 125 ABS – Just want to ride around town or country roads with a little bit of off-road capability? The Trail 125 is a remake and is a good bike for beginners that gets great gas mileage
XR150L – Based on the discontinued CRF150F – great for beginners or riding around town and doing some mild trail riding. Stock tires aren't the greatest for off-road, though.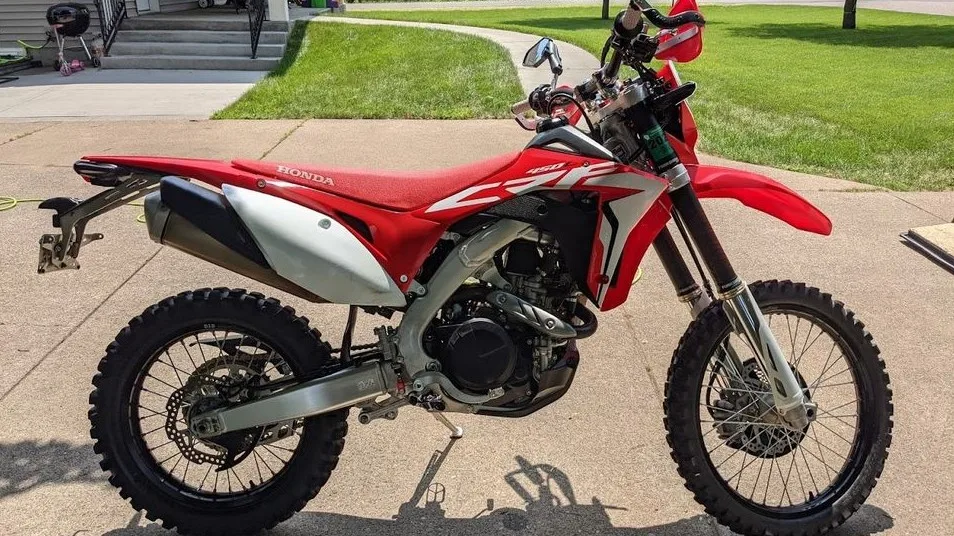 Yamaha Dual Sport Bikes
Yamaha only has two current dual sport dirt bikes to offer, and they're both built for beginner riders.
TW200 – Beginner dual sport dirt bike with very low seat height and low power makes it very forgiving and easy to ride.
XT250 – Slightly bigger and more power for slightly taller riders
Yamaha WR250R* – Higher performance dual sport bike that makes decent power and is off-road capable, although considerably heavier than a lightweight trail bike
WR250X* – Supermoto model with full street wheels makes it a great town and hooligan bike. Doesn't handle off-road as well with the street tires.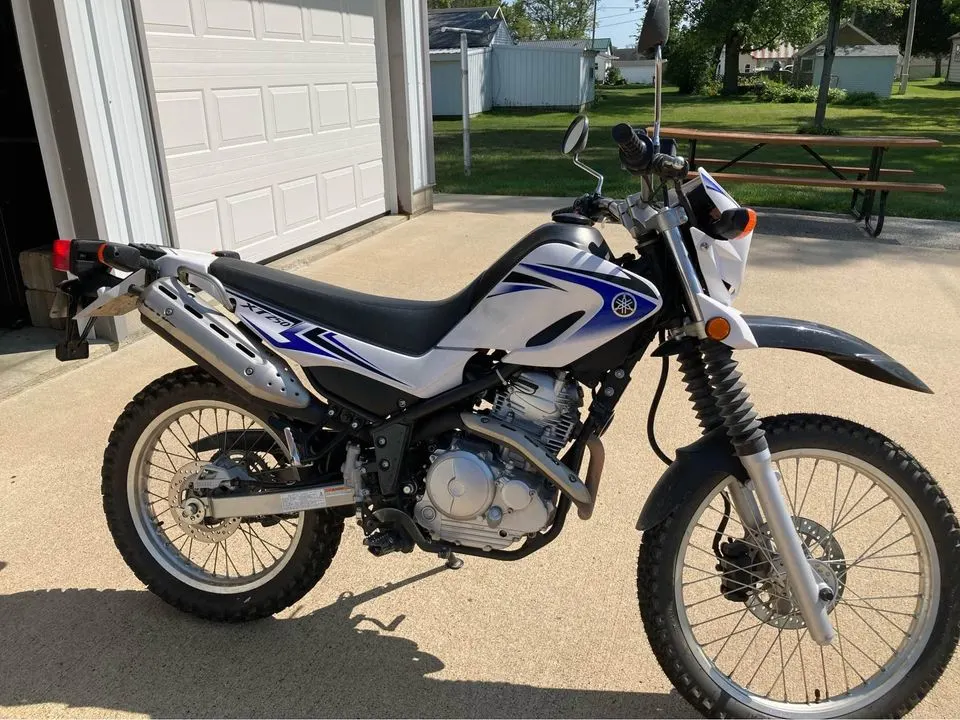 Kawasaki Dual Sport Bikes
KLR650 – It's back with fuel-injection. If you want to ride around the world on a reliable dual sport bike, the KLR 650 is the standard choice for value and durability. It's big and not great at trail riding, but it can handle fire roads and double-track well.
KLX230 S – The lightweight street dirt bike based off of the KLX230R trail bike.
KLX300 S – Bigger and more powerful than the KLX230 – a good beginner bike if you're a larger/taller rider
KLX300SM – Supermoto version of the KLX300 with full street wheels and tires.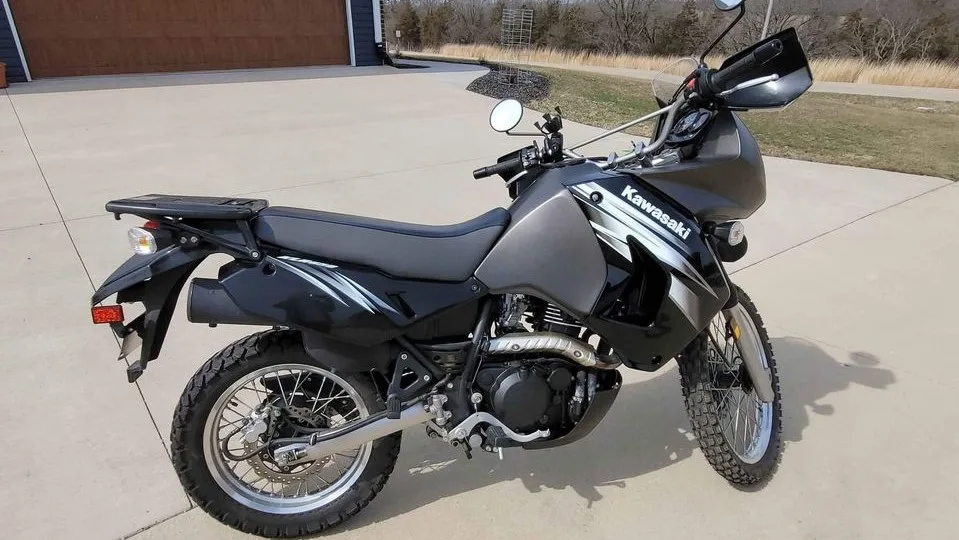 Suzuki Dual Sport Bikes
DR650S – Road legal dirt bike that's similar to the KLR650 but slightly toned down and a little more off-road capable. A great adventure bike for touring on any type of road.
DRZ400S – A mid-size dual sport bike that's been around for a couple decades. Decent performance, very reliable, and a good all-around dirt bike.
DRZ400SM* – Supermoto version with 100% road tires
DR200S – Cheap street legal dirt bike that's good for beginners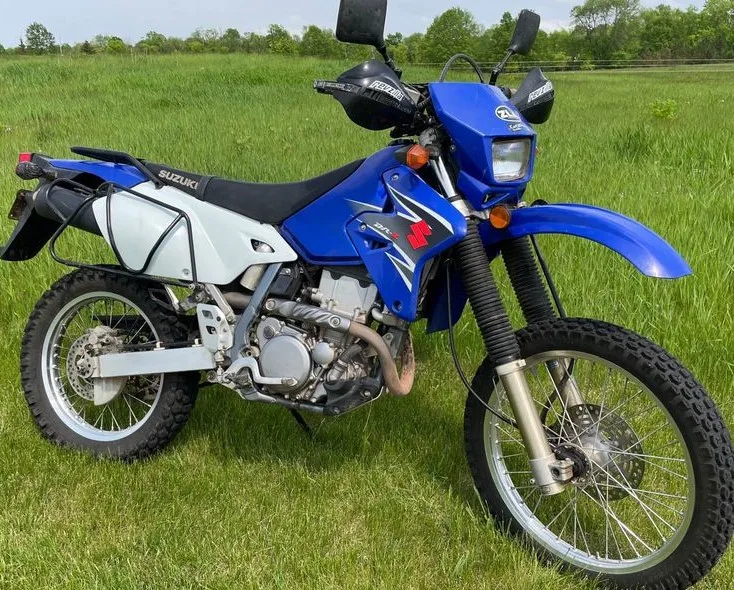 KTM Dual Sport Bikes
These are the current KTM street legal dirt bikes:
The 350 is a great lightiweight dual sport bike that can handle trail riding – it's a good upgrade from the DRZ400S if you want something lighter, more powerful and has better suspension.
The 500 is one of the best all-around dirt bikes because it's street legal, surprisingly light for a 500cc dirt bike, and is very reliable. It's a good choice for lightweight dual sport riding if you want the most performance.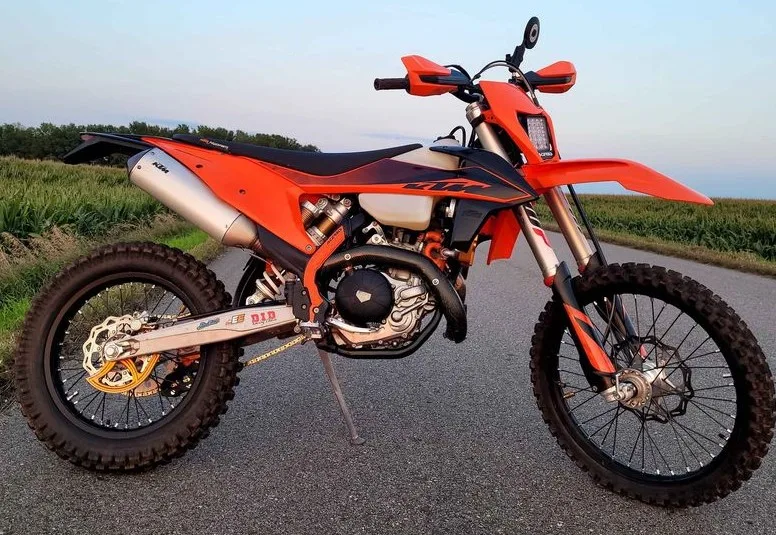 Husqvarna Dual Sport Bikes
Beta Dual Sport Bikes
350 RR-S
390 RR-S
430 RR-S
500 RR-S
Choosing the best street legal dirt bike for your needs
Now that you've seen the street legal off road motorcycle models from the top brands, it's time to decide which is best for you. To make this decision easier, I'll show you the simple factors you need to consider and why they're important so you pick the right bike.
How Do You Carry Your Weight?
The weight of a dual sport bike isn't a big deal if you're sticking to the road. In fact, the extra weight will help keep you stable at highway cruising speeds.
The problem is when you slow down and jump into the woods. Single track riding requires a lot of maneuvering back and forth, as well as balancing. A heavier dual sport is going to feel exhausting compared to a regular trail dirt bike if you're doing any kind of technical single track.
Gearing Up For Your Riding
Dual sport bikes have wide ratio transmissions. This means that each gear is spaced further apart.
For example, when you shift from 1st to 2nd gear, the RPM will drop a lot more than a close-ratio transmission bike will. Motorcycles with a lot of low-end torque can take advantage of this because you can lug them at low RPM and they will still accelerate.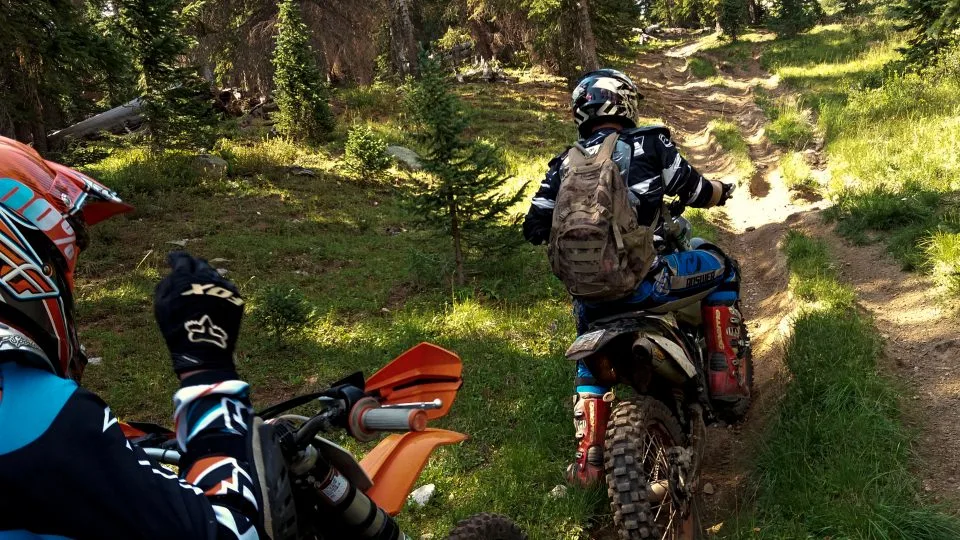 Wide ratio transmissions are also great if you do a lot of highway riding. A tall 5th or 6th gear will keep the RPM lower at cruising speed, which equates to better fuel economy, less wear on the engine, and less vibrations.
The problem is that when you are riding single track trails with a lot of changing terrain or obstacles, you want to be in the meat of the power more often. Having a wide ratio transmission in a road legal dirt bike makes this more difficult because the gears are spaced further apart.
Power: How Much Is Enough?
Dual Sport Bikes are built for durability. Performance is often sacrificed for this reason. A Honda CRF250L has considerably less power than the CRF250R, but they produce power in different ways.
The CRF250L or Yamaha's WR250R are great dual sport bikes for beginners because the power is smooth and predictable.
So, how much power do you need?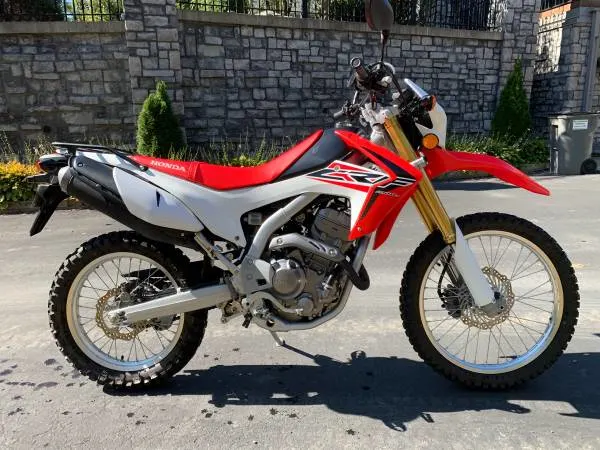 A smooth power-curve is easier to ride and better for all-around dual sport riding because it's less tiring. A 250 has more than enough power for beginners, but still enough to enjoy riding if you're a more experienced rider.
What's the best street legal dirt bike?
There are a lot of good dirt bike options these days. The best models riding on and off-road that are street legal are:
Honda CRF300L
KTM 500 EXC-F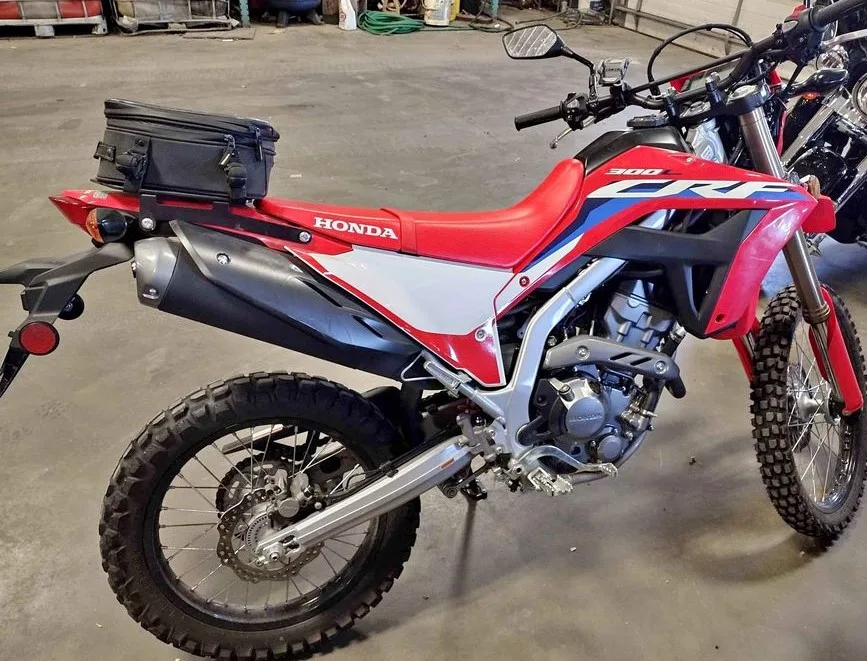 Best street legal dirt bike for beginners
There are more beginner-friendly street dirt bikes now than just a decade ago, which is great news for you!
Best street legal dirt bike for beginners:
Honda XR150L – super easy to ride, low seat height
Yamaha TW200 – fat tire, low seat height
Kawasaki KLX230 – better for off-road/gravel roads
Yamaha XT250 – good all-around town bike
Honda CRF300L/S – best street and trail bike for beginners
Cheap street legal dirt bike
Maybe you're on a budget and just want something cheap to get started or to save money.
These are the best cheap street legal dirt bikes:
The Honda XR150L is an air-cooled dual sport bike that is excellent for beginners for a few reasons. The seat height is nice and low at 32.8 inches, it has smooth and controllable power, and it's super reliable.
It's based on the discontinued CRF150F and can handle some light trail riding well, but the stock tires are better suited for riding on pavement. Cruising on the freeway isn't good because it doesn't have much horsepower.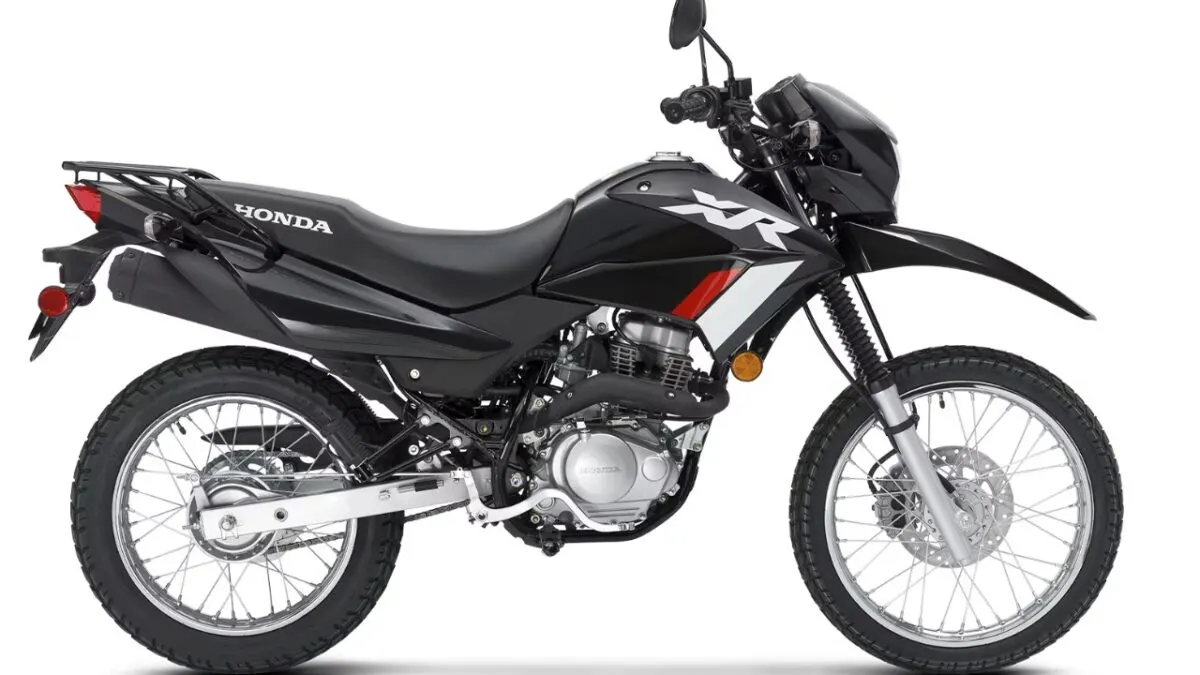 The WR250R is a good combination of being affordable, good performance, and reliability. It's getting harder to find used because they aren't sold anymore, but it's still a solid street legal dirt bike for beginners or if you're commuting in the city and want to be able to ride off-road after work.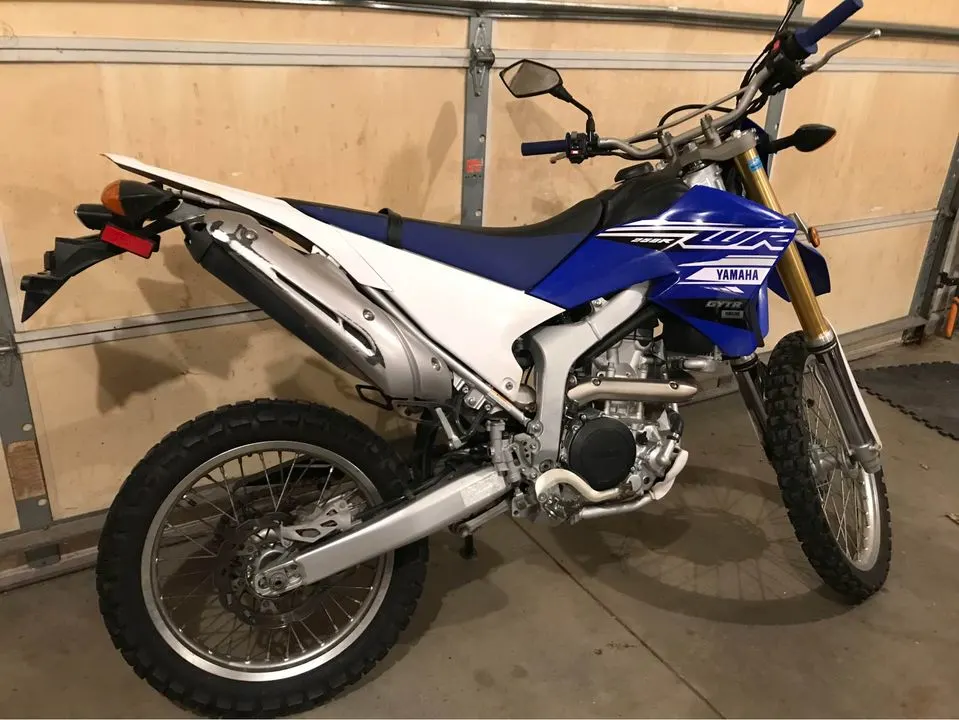 The X-Pro Hawk DLX 250 EFI (Amazon) is not a typical dirt bike brand that I would recommend, but for the sake of being cheap, it's here. It's street legal, and for around 2000 dollars, you can be legally riding on the road and dirt after you get it registered with your state (Not available in California).
It's fairly reliable for a Chinese bike (the engine is a Honda CRF230-clone), and the EFI is a nice upgrade so you don't have to mess with jetting.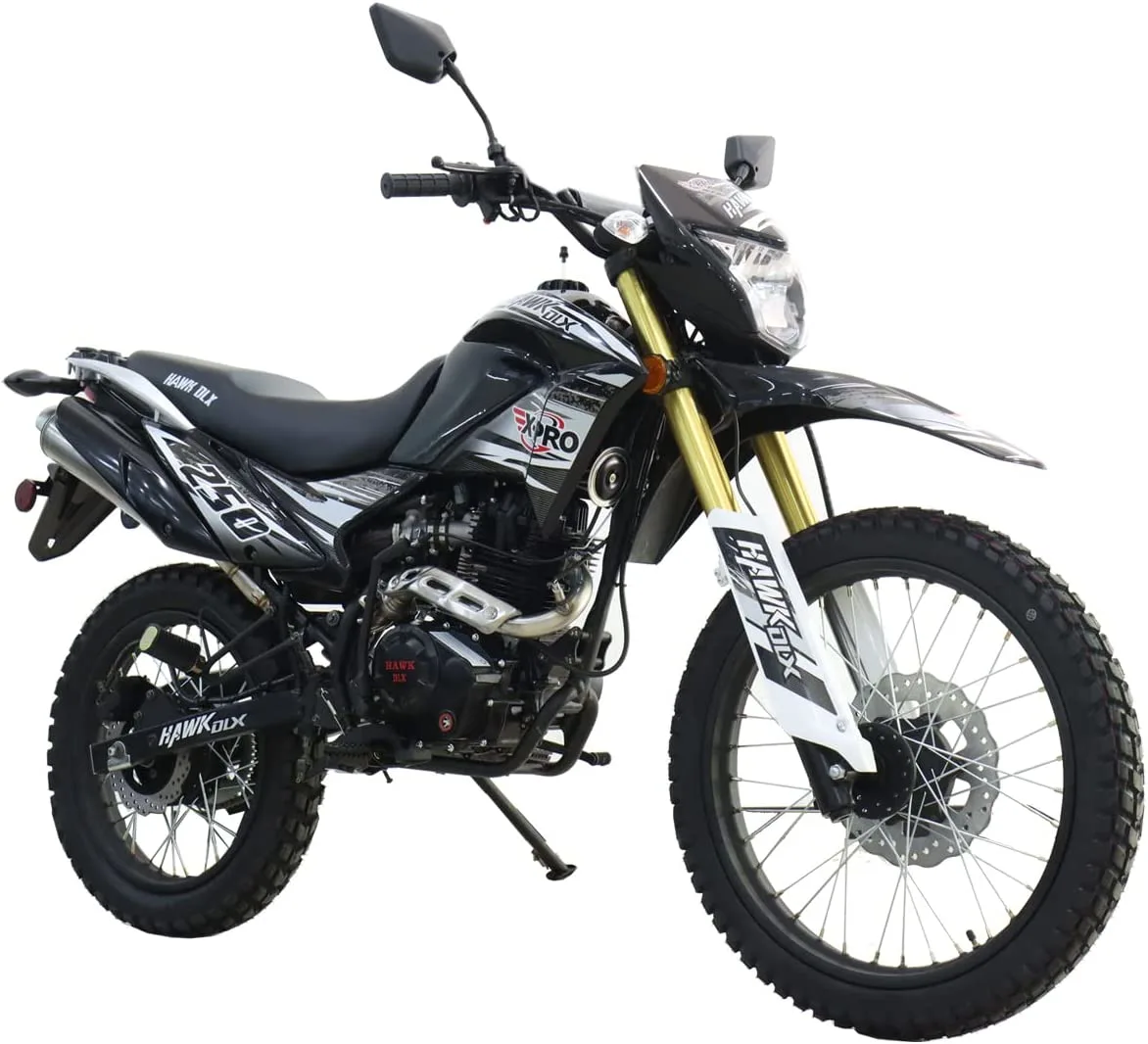 I'll also throw in an "honorable mention" for a cheap used road legal dirt bike, and that's the Kawasaki KLR 250. It hasn't been made since 2005, but it's a solid dual-purpose bike that's reliable and inexpensive to buy and maintain if you can find one for sale in the used market.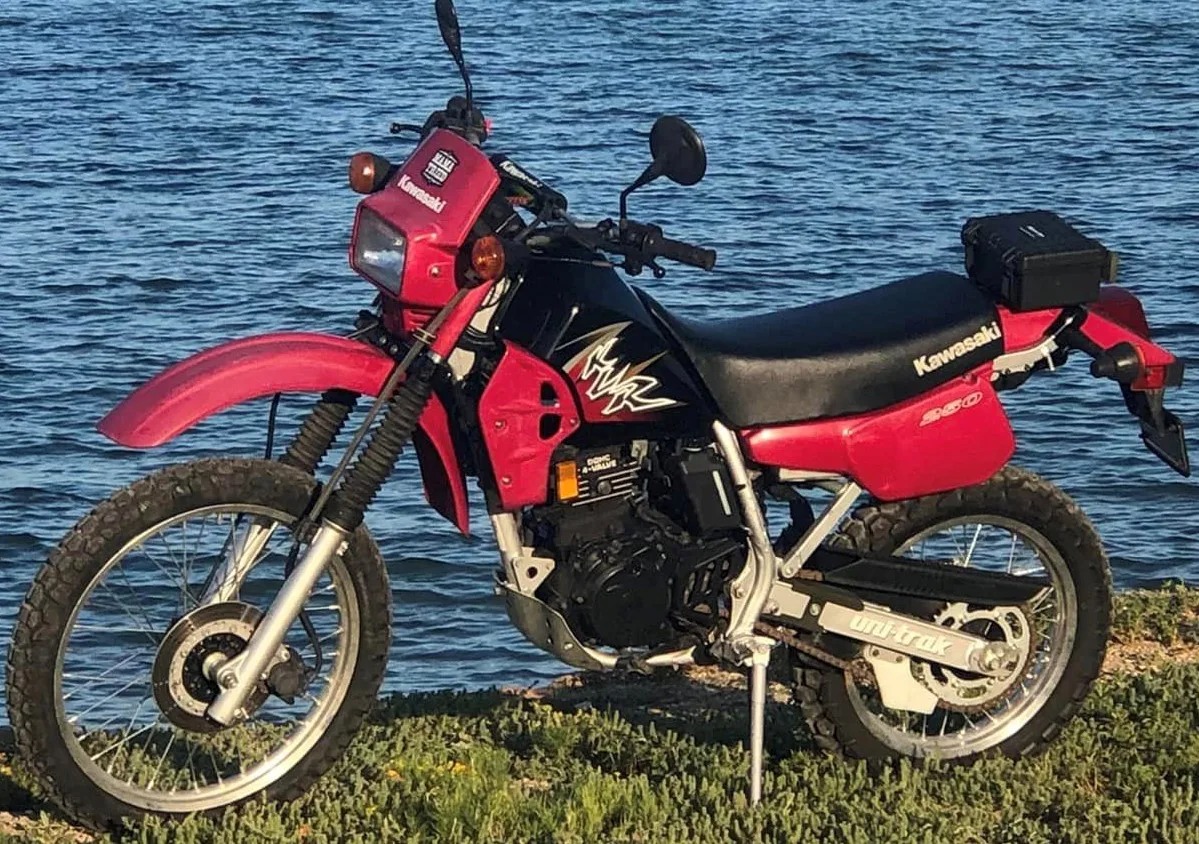 Best dual sport bike for adventure riding
Looking for a more comfortable dirt bike to do some long-distance adventure riding? Whether you want more power or more comfort, you have a range of options:
These are the street legal dirt bikes for adventure riding:
KTM 500 EXC-F
Husqvarna FE 501S
Yamaha Tenere 700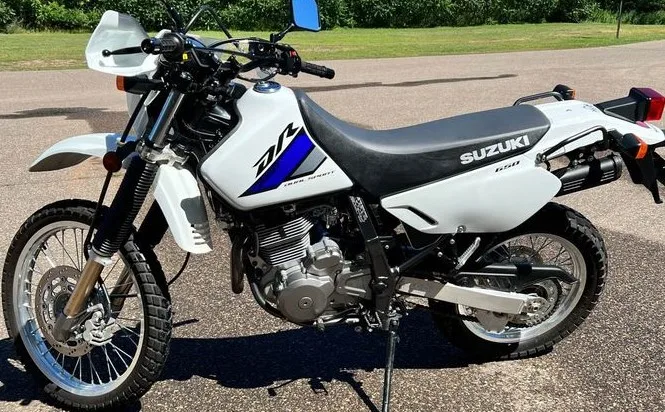 Best street legal dirt bike For city riding
For riding in the city, you don't need a lot of power, especially if the speed limits are lower than the highway. In that case, smaller motorcycles are easier to ride and handle because they turn quicker and require less effort on your part.
Depending on your needs, these are the best street legal dirt bikes for city riding:
Honda XR150L
Yamaha XT250
*Yamaha WR250X
*Kawasaki KLX250S
*Honda CRF250L
Honda CRF300L
Kawasaki KLX300 S
Honda CRF450RL (450L)
*non-current models
Best dirt bike for commuting
In my mind, there's a difference between just city riding and daily commuting. You might want a little bit more when it comes to commuting, depending on where you ride and your preferences.
For example, you might just want the lightest and smallest bike that handles well in the city or gets good gas mileage. Perhaps you want an adventure bike that can double as a commuter while being able to haul stuff in cases for your lunch, as well as go on riding trips. Or maybe you want a high-performance motorcycle that you can daily commute with, but then ride to and through the trails on after you clock out of work.
So, in that case, these are my picks for the best dirt bikes to daily commute on and why:
Honda XR150L – lightweight and great for low speed commuting
Kawasaki KLX230 S – lightweight and easy to ride for beginners
Honda CRF300L – lightweight adventure bike that's easy to ride with a little more performance and luggage capacity
KTM 500 EXC-F – High-performance trail bike that can be ridden just about anywhere because it's powerful and lightweight
Suzuki DR650 – Budget adventure bike that has pretty good off-road capability
Yamaha Tenere 700 – It's more of a lightweight street bike that has the ability to do some lightweight off-road riding. Plenty of power and handles well.
Best street and trail motorcycle
Perhaps you're looking for a good "do it all" motorcycle that can tackle the asphalt legally while still being light enough to handle riding on the trail. You definitely want something lighter but can still handle riding on the road and keeping up with traffic.
These are good motorcycles for riding on the street and trails:
Kawasaki KLX230 – Good choice for beginners if you don't need to cruise fast
Honda CRF300L – Great choice for a lightweight all-around road legal dirt bike
Kawasaki KLX300 – Comparable to the Honda 300
KTM 350 EXC-F – Good midsize street & trail bike with above average performance
Husqvarna FE 350S – Basically same as KTM 350
Honda CRF450RL – Good for experienced riders or if you're doing easier trail riding
KTM 500 EXC-F – The ultimate choice for doing any kind of riding
Husqvarna FE 501S – A white version of the KTM 500 (very minor differences)
Street legal pit bikes (125cc & under)
A pit bike is basically a miniature-sized dirt bike that adults ride for fun, such as the Kawasaki KLX110, but most pit bikes are not road legal. There is somewhat of a new breed for small street-legal dirt bikes, and Honda is currently leading the charge with several models.
These are the 110-125cc street legal pit bikes/mini bikes:
Honda Grom
Honda Monkey ABS
Honda Super Cub C125 ABS
Honda Trail125
Honda Navi
Kawasaki Z125 Pro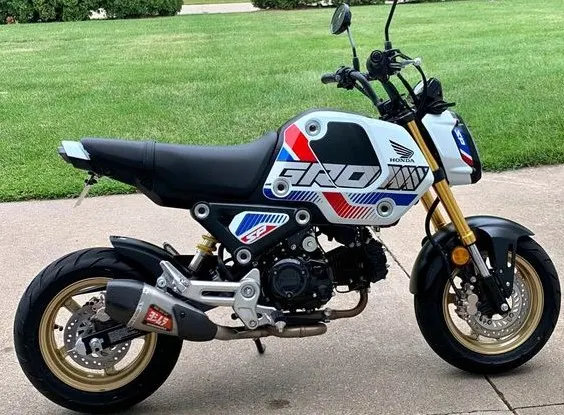 250cc street legal dirt bikes
250cc is a common size for dirt bikes right? Well, that's not always the case – it really depends on the type of dirt bike you're considering, as well as the current era of off-road motorcycles.
These are the most popular 250 dirt bikes that are road legal:
*Honda CRF250L
*Honda CRF250L Rally
*Yamaha WR250R
Yamaha XT250
*Kawasaki KLX250
*Discontinued – as you can see, 250cc road legal dirt bikes aren't a popular size at the moment with just one being available for brand new motorcycles.
What are the best dual sport tires for pavement and off-road?
Factory tires on a dual sport are usually a 50/50 combo. This means that the knobs are halfway in between what a full dirt knobby and a full street knobby look like. The knobs are still aggressive enough to make you feel some confidence in easy off-road terrain. However, they're conservative enough so that you can drive on the road smoothly with grip and control.
The problem? They're not great at either dirt or the road.
How much dirt vs pavement will you be riding?
You'll want to pick the combo of dual sport tires (Motosport) based on the type of riding that you'll primarily be doing. For example, you can get 80/20 tires that are 80% dirt biased, or 20/80 that are 80% asphalt biased. There are many tires in between for the best compromise.
Jimmy Lewis from DirtBikeTest always recommends the Kenda Big Block (Motosport) for a true dual sport tire. Using them in the "hard direction" generally works best.
Are dirt bikes safer than street bikes?
It really depends on you and what kind of riding you're doing.
In one sense, a dirt bike is safer if you're trail riding at low speeds and are riding smart with safety in mind.
On the other hand, you may be racing motocross or other high speed riding that you might be more likely to go hurt doing than riding a street bike.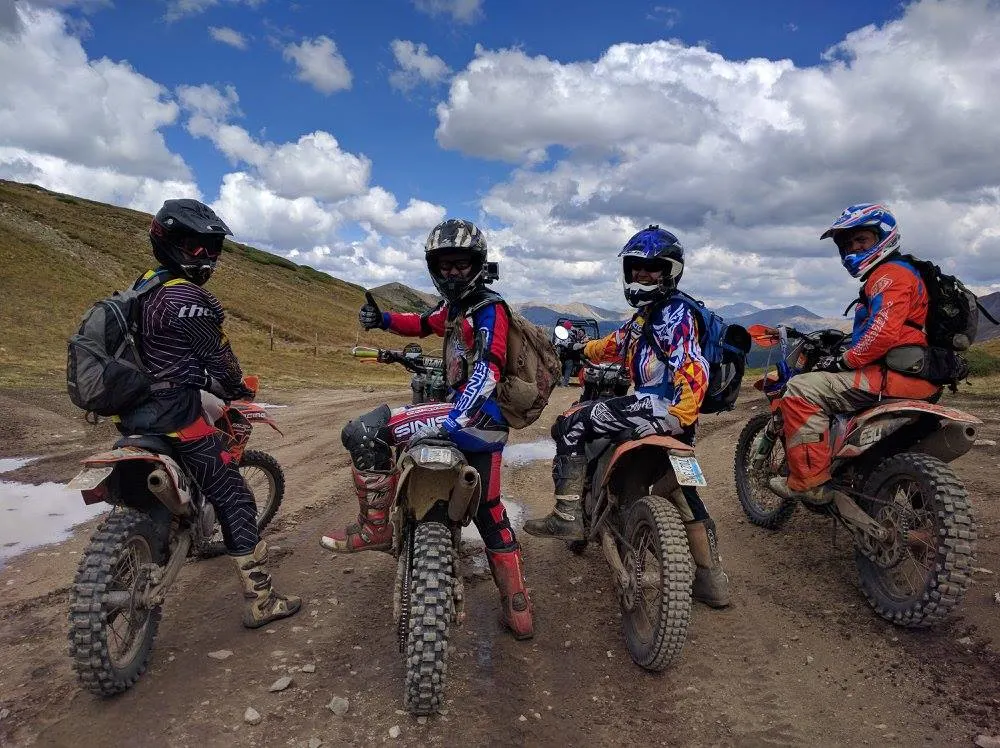 While accidents happen and are sometimes out of our control, it's up to YOU to ride smart and wear proper protective gear when riding any kind of dirt bike or street bike.
Transitioning from a street bike to a dirt bike is harder than you think, even if you've been riding for years.
Should you get a dirt bike or street bike?
I'll answer that with another question:
What kind of riding do you want to do?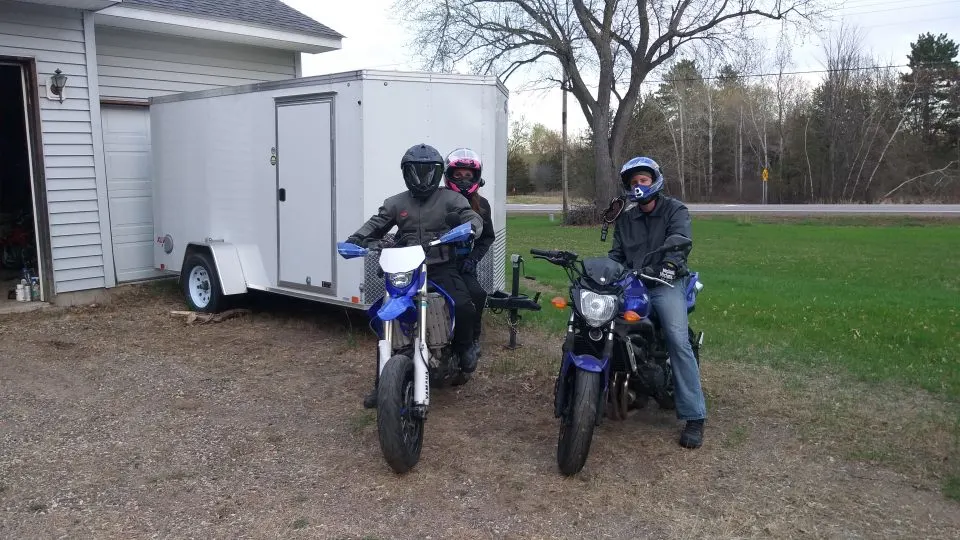 If it's just trail riding or recreational off-road riding, then get a dirt bike.
Want to ride on the street in town or out on twisty country roads? Get a street bike.
Can't decide and want to do a little of both? Then consider a dual sport motorcycle that can do both safely. Just know dual sport bikes have certain limitations that are mentioned above.
Are 50cc dirt bikes street legal?
A 50cc dirt bike is not street legal from the factory. 50cc mopeds can be ridden on the road because they meet the requirements for being street legal.
You must check with your local state laws and regulations because not all states are the same regarding mopeds and dirt bikes.
Lights and a mirror are components that every state will require for a street legal motorcycle.
Is a supermoto street legal?
A supermoto can be made street legal in many states, but just the fact that a bike is a supermoto does not make it street legal.
Any motorcycle must meet the necessary requirements and/or registration to be ridden on the road without risk of getting a ticket.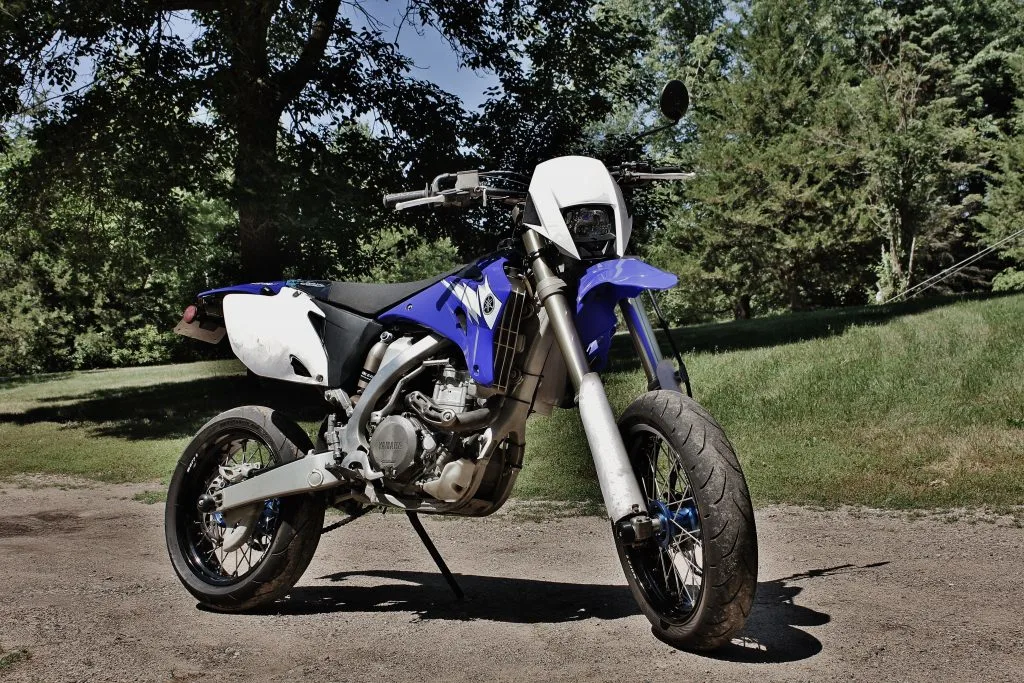 How to make a dirt bike street legal
Some states allow you to convert or "dual register" your dirt bike to get a license plate for legally riding on the street. There is a strict list of required parts that your dirtbike must have before being eligible for converting.
To make your dirt bike street legal, you need to get it licensed for the road (apply for title/dual-register), then convert to road tires and add a mirror, horn, headlight, tail and brake light, and turn signals if needed.
This can be done for as little as a few hundred bucks by piecing parts together and using dual sport tires. But it can also cost $3000+ if you buy supermoto wheels and tires, as well as a quality dual sport light kit.
How to become a faster & safe rider in less time
The quickest way to become a better rider is by learning proper riding technique, and I can show you how to do that quickly. If you want to ride with more control and confidence off-road, then click here for my free off-road basic technique guide.