Looking to get a Honda CRF250L but not sure if it's the right dirt bike for you? Whether you're new to dirt biking or looking to get another bike, you've found the right article!
In this review, I'll show you what kind of motorcycle it is, why it may or may not be right for you, and what to expect when buying and owning one.
What is the CRF250L?
It's a 250cc liquid cooled 4 stroke dual sport motorcycle. It's not your typical dirt bike or street bike.
It has an engine that's similar to a street bike in power characteristics, but it's good for riding off-road too.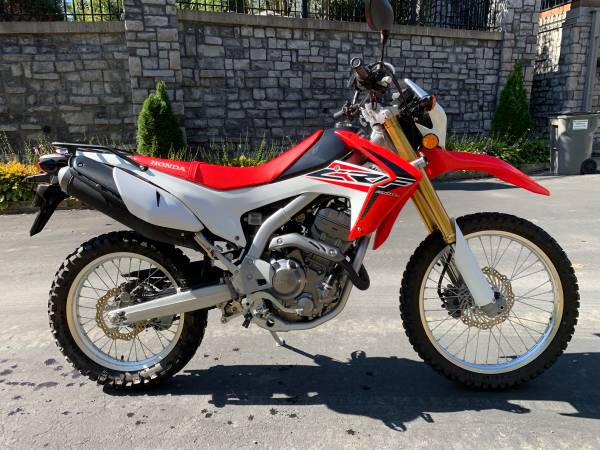 Who's it for?
It's a good bike if you're a beginner that wants a street legal dirt bike or you want a lightweight adventure bike. It doesn't do anything "great", but it does a lot of things well.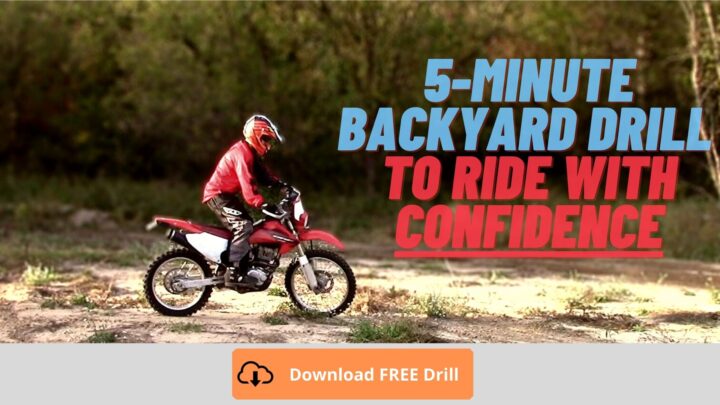 For example, it's not a very good dirt bike for single-track trail riding because it's heavier than a typical trail bike. But, it's still capable of riding easy trails and exploring off-road, especially if you're an experienced rider.
It's easy to ride because it has a relatively low seat height and the power is smooth and predictable. It's not going to easily scare you because of this.
Engine – what to expect
The engine is taken from a different model 250cc Honda street bike, but it's geared for dual sport riding. This means that you can ride slow in 1st gear without having to constantly slip the clutch, but it still has a high enough 6th to cruise on the highway without revving out the engine.
With a broad power curve, it has decent low-end torque and enough horsepower to get up most anything that you would expect with a dual sport bike. If you're a beginner, learning how to use the clutch is pretty easy with the CRF250L because of the low 1st gear and torque right off of an idle RPM.
Suspension
Since it's a dual sport bike that accomdates beginners, the suspension is nice and soft. This is nice for absorbing bumps and small obstacles on easy trails.
The forks and rear shock are adjustable, so you can tune it for better comfort. From the factory, it's set up well if you're in the 140-180 lb weight range.
If you're over 200 lbs or plan to ride it aggressively on the trails, you will probably want to get stiffer shock and forks springs or you'll bottom them out often. Getting the front forks and rear shock balanced is the first step to having your CRF250L suspension work properly and handle well.
This is done by adjusting the ride height if you already have the right spring rates. Too many people forget or ignore this step and they miss out on what a good handling dirt bike can feel like – hint: it gives you more confidence and control!
Handling
The CRF250L handles low to moderate speeds fairly well because the wheelbase is shorter than bigger dual sport bikes. Since the seat height is lower, this also makes it easier to lean and turn because the center of gravity is lower.
However, due to its weight, it doesn't handle technical trails, big obstacles or whoops very well. This weight is also an advantage on the highway because it's more stable and doesn't get pushed around by the wind or "dirty air" from other cars and trucks as much as a trail bike would.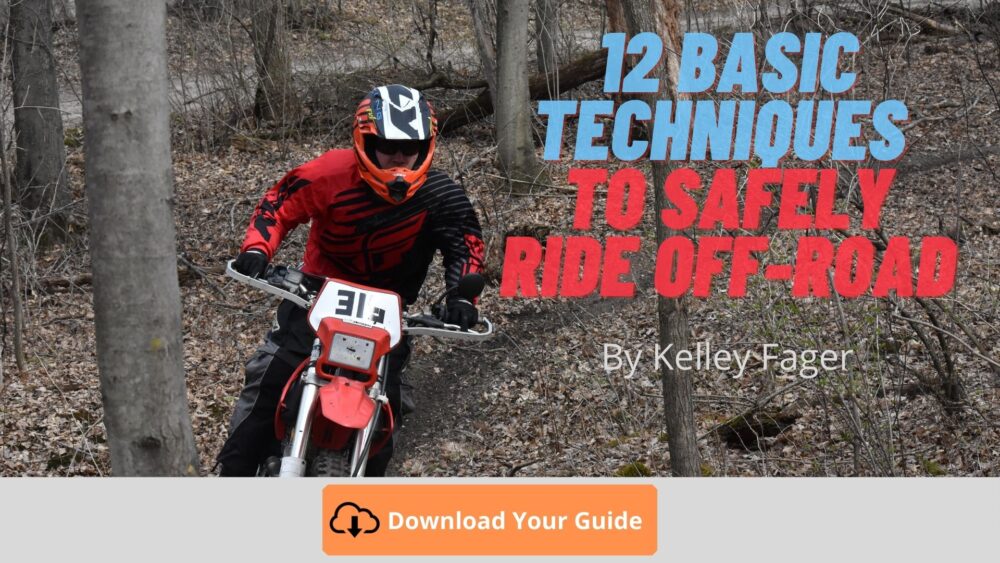 CRF250L weight – how big of an issue is it?
At about 317-322 lbs (depending on model year), the CRF250L is about 50-70 lbs heavier than a dirt bike that's made for trail riding. This is a big difference and you will definitely feel it when riding it back to back – it will be more noticable on tight and technical trails when you have to work harder to handle the bike.
With that said, since the center of gravity is lower than taller dirt bikes, it won't feel like a 70 pound difference. That is, unless you have to pick it up off the ground if you fall over.
If you're just going to be riding off-road and weight is a concern, I would recommend looking at other trail bikes. But, if you need a lightweight dual sport bike for riding on and off-road, there aren't many bikes lighter than the CRF 250L.
CRF250L Seat height – Is it the right size for you?
With a 34.7″ seat height, it's 2-3 inches lower than than most full size dual sport bikes. This is not only good if you're a short rider like me, but it also gives you more confidence if you're a newer rider.
The CRF250L is ideal if you're between 5'4″ and 5'10", but it also depends on your inseam length. There are ways to lower it if you have short legs, and you can also make the bike feel bigger if you're taller.
I'll cover both of these shortly.
Model year history/changes
There are 2 generations of the Honda CRF250L. The first generation is from 2012-2017, and the second gen is 2018-2020.
Reliability – how long will it last?
The engine is already a proven and reliable engine, and the rest of the motorcycle is typical Honda. The CRF250L is a durable bike and will last thousands of miles and many years if you take care of it.
If you're riding it like a dual purpose motorcycle, on and offroad, you could get 20,000 miles or more on it before needing a major engine rebuild. This will require regular oil and filter changes, as well as keeping the air filter clean.
Any common issues?
There are no major common issues with the CRF250L – one of the reasons why it's such a good bike is because it's reliable and durable.
The 2018 model year had a transmission recall, so check the VIN with your local Honda dealer to see if it's been done to yours or the one you're considering buying.
Specs & dimensions
| | |
| --- | --- |
| | Honda CRF250L |
| Engine | 250cc air-cooled 4 stroke |
| Transmission | 6-speed manual clutch |
| Seat Height | 34.7" (88cm) |
| Suspension Travel | 9.8"/9.4" |
| Weight | 317/322 lbs (1st gen/2nd gen) |
| Horsepower | 24 HP (at the crank) |
| Top Speed | 80 MPH |
Is the CRF250L the right dirt bike for you?
Still not sure if yoy should get a Honda CRF250L? Here are some practical pros and cons to help make your decision a little easier
Pros
It's a street legal dirt bike – you can ride on and off-road legally
It's very reliable and durable
Had a lower seat height – good for 5'4″-5'10" (plus mods available to make it feel bigger or smaller)
Great beginner street bike that can do some mild off-road/trail riding
Perfect lightweight adventure bike/rally bike for cruising around the countryside
Good gas mileage
Smooth and predictable power – easy to ride and you won't get exhausted quickly
Plenty of aftermarket parts to upgrade it
Cons
It's heavy if you're strictly trail riding
Not the most stable dual sport bike for putting lots of highway miles on
Doesn't have a lot of horsepower, but enough to do most anything within reason
Honda stopped making it in 2021
How much does the CRF250L cost?
Since Honda discontinued it (replaced by the CRF300L), you're going to have to buy one used. Street legal dirt bikes tend to demand more money in most areas, so you might spend a little more than you would on a similar sized trail bike.
With that said, the CRF 250L is still a relatively affordable entry level bike that will cost you somewhere in the 3000-5500 dollar range. The exact value depends on your local market demand, the condition, the model year, and potentially the upgrades (although they generally don't add nearly as much value as they cost).
CRF250L vs XT250
The main difference is that the CRF250L has better overall performance, whether it's the engine or suspension. The Yamaha XT250 has an air-cooled engine and is slightly lighter, but it's a trade-off. Do you want a cheaper bike or spend a little more and get more power and off-road comfort?
CRF250L vs CRF300L Power
Honda replaced the CRF250L with the CRF300L because people wanted more usable power – and that's one of the biggest differences. You can expect a noticeable increase in power in the low end and midrange torque, which is where most of us ride unless you're climbing a long, steep hill.
CRF250L vs Rally
The main differences are that the CRF250L Rally has a a bigger gas tank and more suspension travel, giving you a slightly taller seat height and more ground clearance – these are better for off-road riding because of the upgraded performance and ability to ride over larger obstacles without the frame getting hung up as easily.
CRF250L vs CRF250F
Although they're both 250cc Honda 4 stroke dirt bikes, they're quite a bit different. The CRF250F is a trail bike with an air cooled engine, and the CRF250L is a street legal dual sport with a liquid-cooled engine.
The 250F is best for casual and off-road riding only, but the 250L is best if you need to ride on the road or go on long adventure rides on gravel roads.
Best mods
There are many parts available to upgrade your stock motorcycle into something that is more comfortable and better performing for the type of riding that you'll be doing.
These are some of the top mods for your CRF250L:
Airbox
Gearing
Tires
Exhaust
Fuel tuner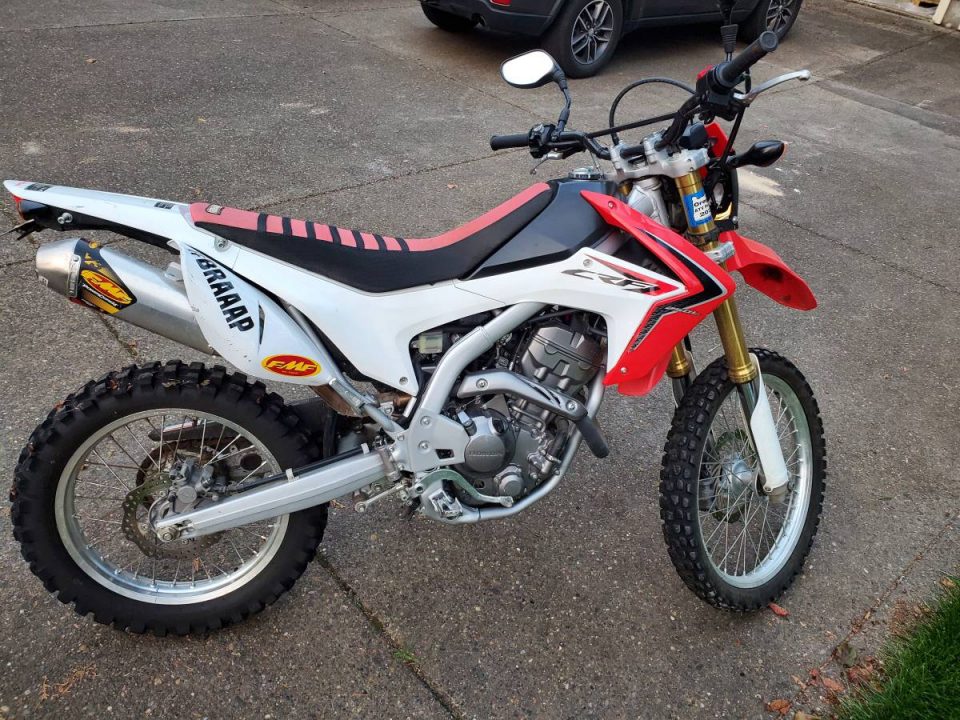 How to lower the seat height
Maybe you have short legs or you're a female that wants a 250L and it's just a little too tall for comfort. Fortunately, there are some ways to make it fit you better.
Some of the best ways to shorten the CRF250L are:
Lowering link
Shave seat height
Adjust preload
Internal fork and shock lowering
However, adjusting the suspension will affect how your bike handles. If you're a beginner you may not notice a difference, but it does make the bike feel longer and the steering slower – more stable.
How to make a CRF250L taller
Maybe you like the idea of a lightweight dual sport bike, but the 250L is just a little bit too short for your liking.
Well, you can do some of these simple mods to make it feel taller and more comfortable:
Taller seat
Adjustable footpegs
Taller bars/bar riser & extended cables (if needed)
Upgraded suspension (if needed for you weight)
How much weight can be removed?
Realistically, you can remove around 15 pounds from your CRF250L with a lightweight exhaust and lithium battery, but it starts getting hard to remove big chunks after that. Either way, it's not cheap, and it's never going to be a lightweight dirt bike.
It's a street legal motorcycle, so it's built to be more durable with a heavy frame that's strong enough for carrying luggage and hauling a heavier rider. Then you have all of the accessories, electronics, and wiring that add some weight. For most of us, you're better off losing some body fat, or starting with a lighter bike if that's your goal.
Learn how to trail ride with confidence
Want to become a safe and confident rider without taking years to learn the proper techniques? I put together a free workshop that shows you the simple steps to riding with control 5X faster if you're a beginner, struggling to progress, or just getting back into riding. Click here to access this exclusive workshop now!