Wondering how to carry extra fuel on a dirt bike but not sure which option is best for you? Whether you just need something in case of emergency, or you want to greatly extend your fuel range so that you can ride further without filling up, there's an aftermarket part or choice for you!
In this article, you're going to learn the different ways to haul more gas on your dirt bike or dual sport motorcycle, why you should or shouldn't choose a specific way to carry it, and how to choose the right one based on your needs and budget.
Quick picks!
Just need the best option without all of the details? Here are the best parts to carry extra fuel on a dirt bike:
Should you carry extra fuel – what are the drawbacks?
While there are obvious reasons to carry extra fuel on your dirt bike ride or trip, such as being able to ride further without needing to fill up, there are definitely some drawbacks to holding more fuel that you might not have thought through.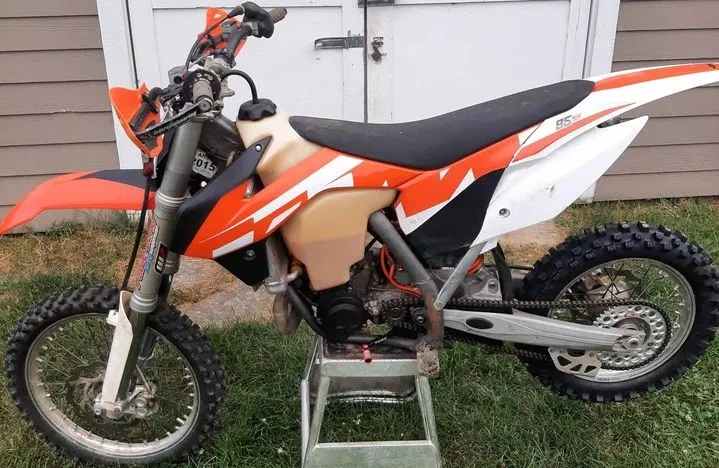 Poor handling
While it may not be a huge difference, you will definitely notice that your dirt bike won't handle as well if you're carrying extra fuel on it. Not only is it more weight, but the extended gas tank or whatever you use will most likely be located high on the bike.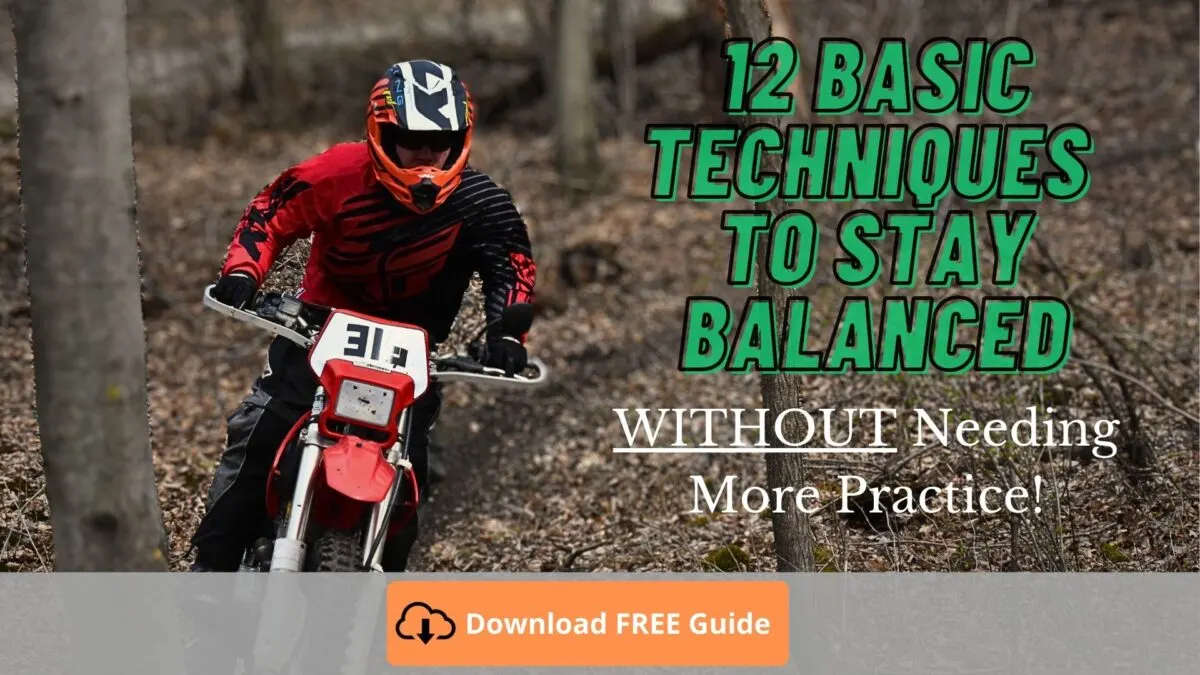 This gives your dirt bike a higher center of gravity, which generally decreases overall handling. You'll notice it feels more "tippy" at slow speeds, and you'll need to use more energy when turning or riding rough terrain at higher speeds.
Harder to get on and off
Depending on what kind of "tank" you use, getting on and off your dirt bike will be more difficult. This may not be a deal breaker for you, but if you have short legs like me, then it's already harder to swing your leg over the fender and seat.
If you have a rear auxiliary tank, which is convenient for extra gas, that's an extra few inches that you'll have to get your leg over to get on and off your bike. Just something to keep in mind when considering your extended fuel capacity options.
Is it secure?
The more aggressively you ride, the more secure you'll need your extra fuel supply to be so that it doesn't fly off. You could lose it in the middle of nowhere, rendering it useless, or it could fall on the trail, causing your friend behind you to hit it and crash (uh-oh!).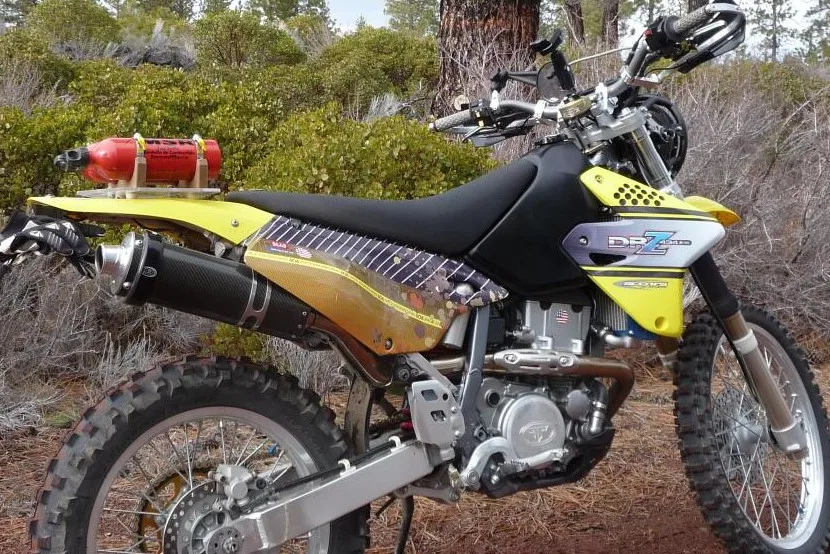 So, an oversize tank will be the most secure because it's already bolted onto the bike and covered by the seat. If you're adding an auxiliary tank, you may want to consider additional security straps or measures if you're worried about it rattling loose and falling off.
You're more likely to see a front fender tank get loose before falling off, while a rear tank may fall off without you even noticing it – especially if you're at the tail end of your riding group!
How far can you ride a dirt bike before running out of gas?
There are many variables that affect how long or far you can ride on a gas dirt bike, such as:
The type and size of bike
What kind of riding you're doing
How you ride it (conservative vs aggressive)
How it's tuned
For example, if you're riding a 450 motocross bike out in the desert at moderate to high speeds (averaging 30 mph), you might only be able to ride 40 miles before running out of fuel.
However, if you're riding a 250cc trail bike on the trails (averaging 15 MPH) and are conservative on the throttle, you could probably ride 80+ miles on a full tank of gas without carrying extra fuel.
How to know if you need to carry more fuel
First, you need to know how far you can go on a full tank of gas before hitting reserve or almost empty. Record the mileage, and then if you want to go on longer rides, then you either need to increase your fuel capacity, plan ahead if there's a gas station along the way, or figure out how to increase the MPG of the dirt bike you're riding.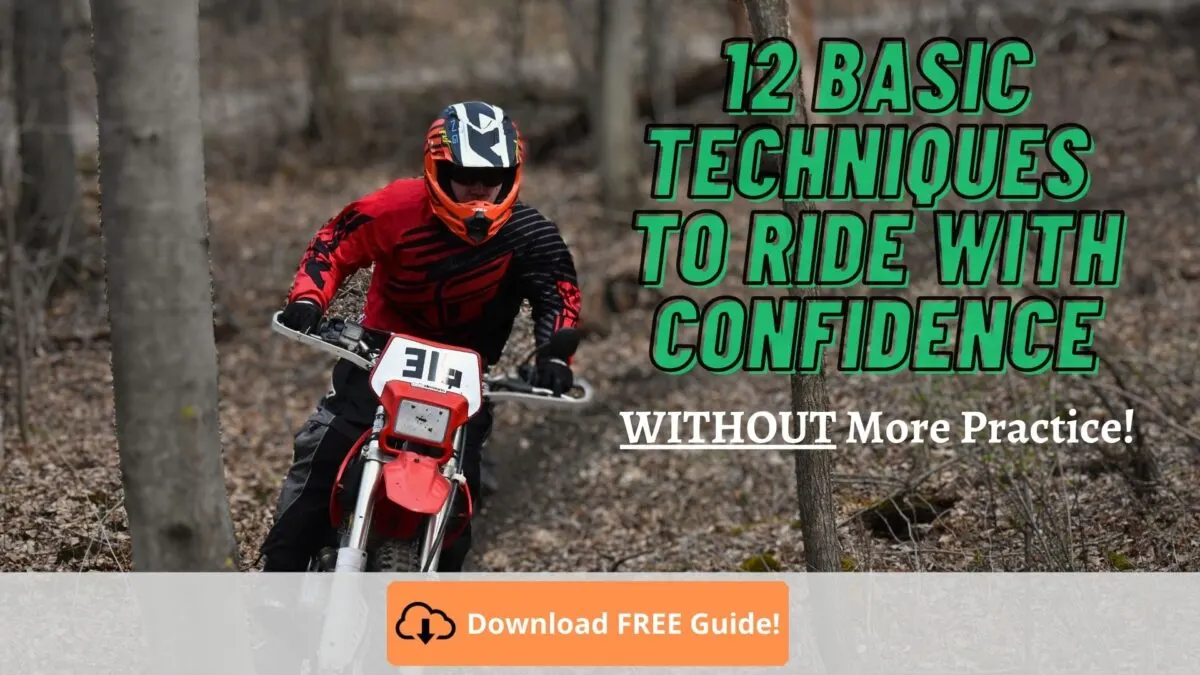 Another reason to bring extra fuel is in the case of an emergency, even if it's just an extra 20-30 oz (Amazon) – that could save you a lot of time and energy from having to push your bike just 1 mile back to camp or the nearest gas station!
Oversize tank
For most dirt bikes, the easiest way to carry extra fuel is by upgrading to a bigger (oversize) fuel tank (MotoSport). Stock gas tanks from the factory usually have room for expansion (more fuel) before having clearance issues with the frame, exhaust, or other parts.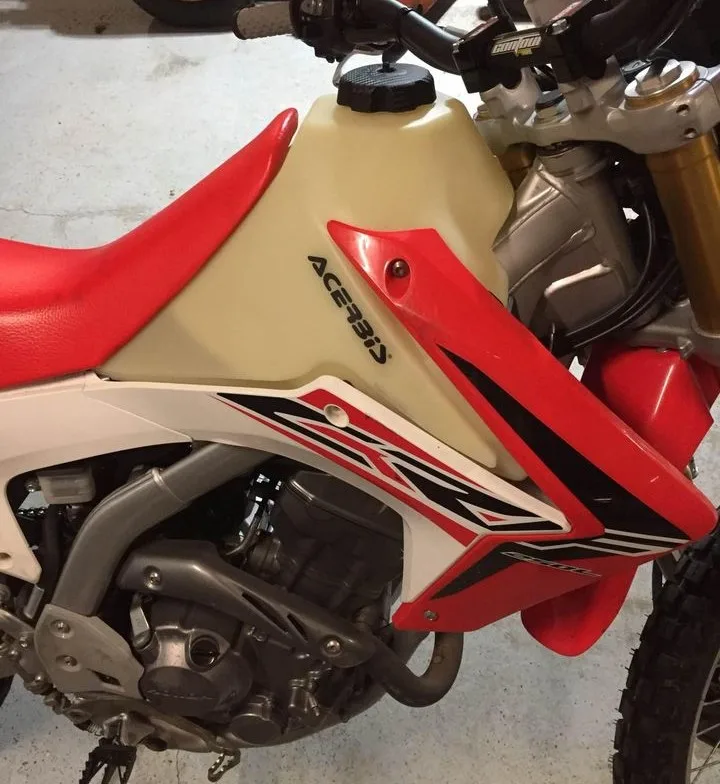 Not every dirt bike has available aftermarket tanks, but you can usually get an extra 0.5-1.5 gallons of fuel, which can greatly extend your day of riding without needing to refuel! Black gas tanks generally look better on most bikes, but clear/white fuel tanks are convenient because you can easily see how much fuel you have left from the outside.
Pros:
Most secure (least likely to fall off)
No additional tanks to deal with
Weight is slightly lower on bike than auxiliary tanks (less top-heavy)
Cons:
Most expensive option
May not fit with aftermarket radiator braces or steering stabilizer
Not all bikes have larger tanks available
May require slightly more work (than other options) to replace the original gas tank
Know your model & year of dirt bike before ordering!
It's important to know the specific dirt bike model and year so that you can order the correct oversize gas tank. Most dirt bike brands have multiple "generations" for each specific model.
In other words, some dirt bikes come with a different style of plastics and gas tank every 3-4 years. If you buy one for the wrong year, it's not likely to fit your bike.
For example, the Yamaha YZ450F had the same gas tank from 2006-2009, but if you buy an aftermarket tank for a 2005 or 2010, it won't fit your 06-09 because it's made for a different chassis and plastic setup.
Do you have a steering stabilizer?
Another important note is that some larger aftermarket gas tanks may not fit with aftermarket steering stabilizers because they run into each other. I can't list every possible fitment issue, so you need to research if it's a problem with your specific bike, tank, and stabilizer if you have one or want to run one.
Front Auxiliary Tank
Adding a front auxiliary fuel tank (Amazon) is another relatively easy way to carry extra fuel because it bolts onto your front forks and siphons directly to your main fuel tank. This means that the auxiliary tank gets sucked dry before using the gas in your dirt bike's tank.
The Acerbis front tank is about 0.8 gallons of extra fuel capacity, which will make your front end roughly 12 lbs heavier at the start of your ride. You may need to make your forks slightly stiffer to compensate for the extra weight that will make the forks sag, but nothing major.
Pros:
Can be mounted to virtually any dirt bike
Cheaper than an aftermarket oversize fuel tank
Hooks up to your main dirt bike gas tank and is used first
Less likely to lose if it falls off because you can see it while riding
Cons:
Adds weight up high (worse handling)
Only adds 0.8 gallons (some options have a higher capacity)
Removes stock headlight or front number plate
Adds more weight to the front end
Other issues with a front aux tank?
Since the Acerbis front aux tank replaces the stock front number plate or headlight assembly, you'll lose your headlight unless you have auxiliary lights (Amazon) mounted on the bars or forks.
Also, if you have a Honda motocross bike with an OEM steering stabilizer on the front forks, the front aux tank may not fit on the forks unless you can make a custom spacer.
Handlebar Mount Tank
Another fairly simple option is the Acerbis Bar Mount Tank (Amazon), which bolts onto and sits above your dirt bike handlebars. It only holds an extra 0.6 gallons, but maybe that's all you need to have more fun!
It siphons directly to your main tank as well, so even though the added weight is top-heavy, most of it is gone after you use up that first 0.6 gallons of gas. The main complaint is that if you have modern fat bars (1-⅛"), there will be a large gap between the bottom of the tank and the bars because there's no crossbar & pad.
Pros:
Can be mounted to virtually any dirt bike
Cheaper than an aftermarket oversize fuel tank
Hooks up to your main dirt bike gas tank and is used first
Less likely to lose if it falls off because you can see it while riding
Can still use stock headlight/front number plate
Cons:
Adds weight up high (worst handling)
Only adds 0.6 gallons (some options have a higher capacity)
Big space underneath if you have fat bars without a crossbar
Rear auxiliary tank
Another good option for hauling more gas on the trails is an Acerbis Rear Aux Tank (Amazon), which holds an extra 1.6 gallons – almost doubling the capacity & range of most stock dirt bike gas tanks!
It bolts onto most rear dual sport luggage racks (Amazon) as well as dirt bike rear fenders. You really want this tank to be secure because if it falls off on the trail, it may be very difficult to find, especially if there is no one riding behind you in your group.
You can plumb it into your existing fuel tank or gas line. It comes with a mounting kit, but you may want to add some extra bracing if your rear fender is not strong.
Pros:
Can be mounted to virtually any dirt bike
Cheaper than an aftermarket oversize fuel tank
Hooks up to your main dirt bike gas tank and is used first
Comes with fender mounting kit (also works with most rear racks/dual sport carriers)
Holds an extra 1.6 gallons of fuel – almost double of some bikes!
Cons:
More likely to loosen/fall off on weaker rear fenders (may require extra security measures)
Adds more weight to the rear end
More likely to get lost if it falls off because you can't see it while riding
Harder to get on and off your bike due to increased rear fender height
Fuel Bottles
For the most portable system of carrying extra fuel, the MSR Liquid Fuel Bottle (Amazon) is a popular choice because they're small, last virtually forever, and are great if you just want that peace of mind if you happen to run out of gas before reaching a gas station or camp.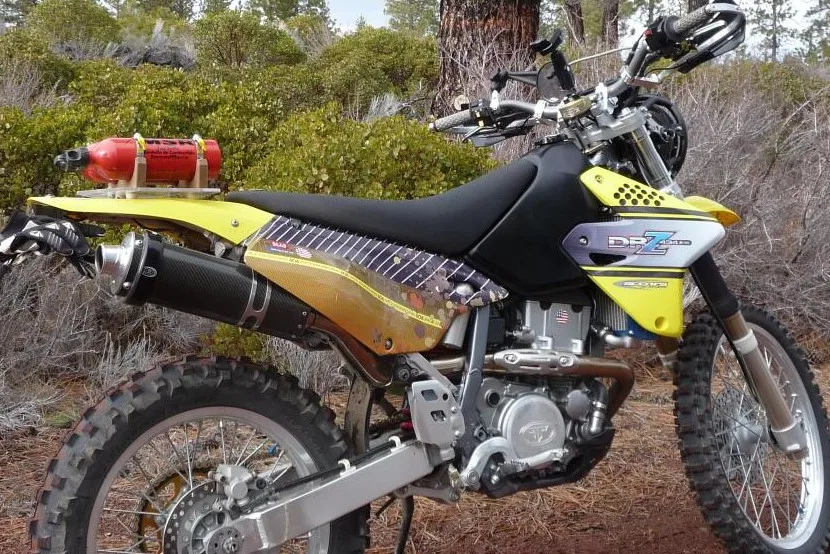 The biggest bottle size is 30 oz, so don't expect to get much further range, but rather, it's great if you run out of gas and you're within a few miles of a station to fill up. A Nelson-Rigg Trails End Fuel Bottle Holder (amazon) is a nice way to mount it on most dirt bikes or dual sport motorcycles.
Pros:
Can be mounted to virtually any dirt bike
Cheapest option for carrying extra gas
More options for mounting location on your bike
Best lightweight option for "peace of mind" in case of emergency
Cons:
Only holds up to 30 oz of extra fuel
Universal 1-Gallon Fuel Tank Pack
Want to carry a full gallon with the ability to mount it on many other vehicles? The RotopaX 1-gallon pack (Amazon) is a solid option that's reliable and durable. It doesn't hook up to your dirt bike fuel tank like the Acerbis products do, so you'll have to stop and manually fill it up, but it's pretty universal in how you can mount it.
For example, you can strap it to your rear fender, or dirt bike luggage rack, or use their Pack Mount (Amazon) which makes it quick and easy to bolt onto many things, such as the front forks.
Pros:
Best bang for your buck for the amount of extra fuel you can hold
Can mount on multiple locations on most dirt bikes
Can easily be removed and used on other vehicles
Cons:
Not directly hooked up to main dirt bike gas tank (requires stopping to fill up)
Fuel Bladder
For a slightly different but more versatile way of carrying extra fuel, the Giant Loop Armadillo Bladder (Amazon) is a good option if you need flexible mounting. You can strap it to your tank, fender, or throw it in your backpack if you don't mind the extra weight.
They come in 1, 2, 3, and 5-gallon bladder options, although the 1 & 2-gallon are the most practical for dirt bike riding. With that said, maybe you're doing some adventure riding and really want the 5-gallon bladder (Amazon) for riding an extra 100-200 miles out in the middle of nowhere.
Pros:
More mounting or carrying options since the bladder is flexible
Multiple size options for increased riding range
Cheaper than an aftermarket gas tank
Rolls up small after being emptied
Not directly hooked up to main dirt bike gas tank (requires stopping to fill up)
Cons:
Potentially less durable than "solid" plastic tanks
More expensive than most other options
Comparing your extra fuel options
Here's a simple chart showing the differences between each product, including how much extra fuel they can hold and how much they cost:
3 BONUS options for increasing your fuel range
While we covered the main choices for hauling extra fuel on your dirt bike while riding, there are a few more ways to "get by" in case of emergency if you need to ride a little further before refueling.
Here are 3 more "tricks" or ways to get extra fuel on your dirt bike ride:
Siphon from your buddy
Yep, if you're "that one guy" that always runs out of gas before everyone else because you're on a motocross bike with a small tank, then there's a good chance that someone with a bigger gas tank can get you some if you run out.
To siphon gas on a dirt bike with a carburetor:
Turn the petcock/fuel-valve off
Remove the fuel line from the carb inlet
Place fuel line from gas tank into a spare empty bottle
Turn on petcock until bottle is full (or however much you need)
Turn off petcock
Replace gas line onto carb inlet
Turn petcock back on!
If you have an EFI bike, then you may need to get creative, such as removing the gas cap and carefully pouring fuel into a spare empty bottle.
Please don't be a jerk and expect to get extra gas from your riding buddies all the time – this should be in an emergency only.
Jetting
Carb jetting is not a common solution when considering options for increasing fuel range, but you would be surprised at how much more fuel efficient your dirt bike could be when correctly jetted. If your dirt bike really guzzles the gas, then there's a good chance that tuning the jetting will increase your gas mileage, allowing you to ride longer without filling up.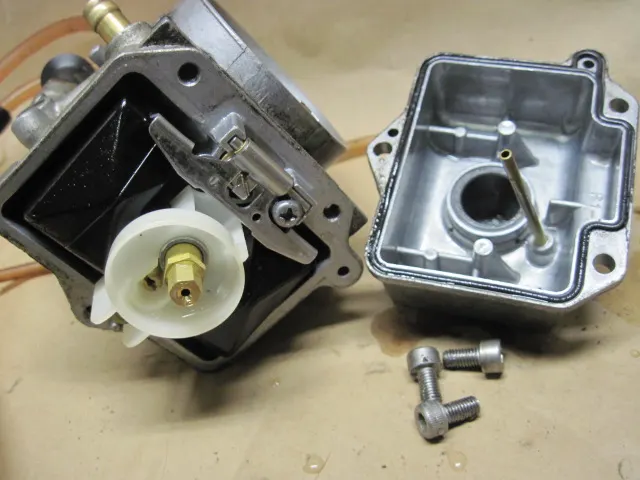 In addition, you'll not only use less gas and save money, but your dirt bike will also have better throttle response, and better power while being more reliable when it's properly jetted. For example, if your 2 stroke dirt bike is hard to start and smokes a lot even after fully warmed up, there's a good chance that adjusting the carb jets will help!
Get a different bike
If none of the above options are good enough, then perhaps the best solution is to get a different dirt bike that better suits your needs. The bigger and more powerful your dirt bike is, the less fuel efficient it will be, as a general rule.
However, motocross bikes specifically are usually the worst when it comes to riding long distances. Not only do they have snappy engines that aren't fuel efficient, but they usually have small gas tanks to reduce the weight for better handling.If you don't need the extra performance, then selling your dirt bike and buying a trail bike may be your best option if you want to ride further without needing to fill up on gas.