Looking to get a Honda CRF250F but not sure if this dirt bike is right for you? This review will cover the practical info you need, as well as some comparisons to help you decide if this is the best bike for you.
What Is The Honda CRF250F?
The crf250f is a 250cc air cooled four stroke trail bike. It's designed for new riders that want a dirt bike that's easy to ride and is reliable.
Honda discontinued the crf230f and introduced this bike as the newer model in 2019. I'll cover the differences later in this article.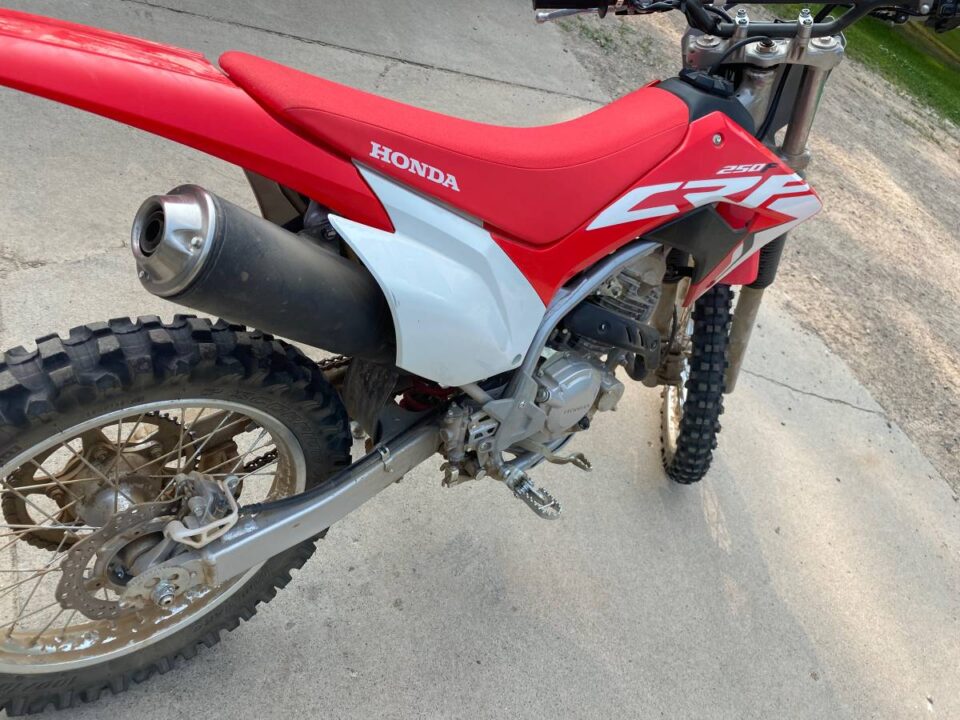 What's the difference between the CRF250R & CRF250F?
The CRF250R is a high performance motocross bike built specifically for racing on tracks with jumps. A CRF250F is a lower performance trail bike that's built to be comfortable for riding on trails for beginners or if you don't care about going very fast.
Even though they're both 250cc and have a "CRF" in the model name, the 250R and 250F models are very different dirt bikes when it comes to the engine, suspension and overall size.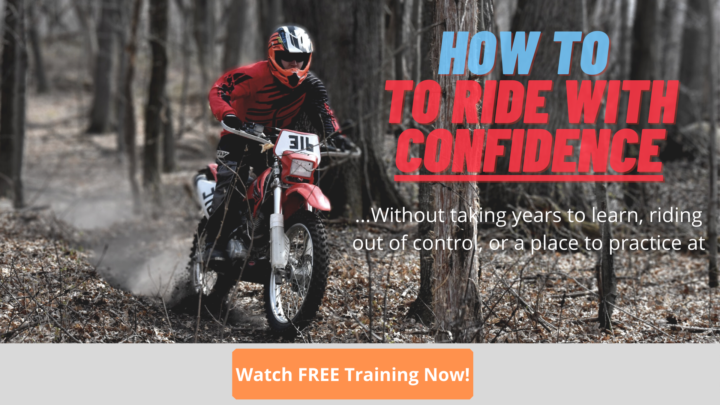 Is a CRF250F a good beginner bike?
The CRF 250F is a great beginner bike if you're an adult or teen that is the right size for this bike. I'll cover it more later, but the biggest drawback is the weight of this 250f. It will be a little bit hard to handle if you're a smaller or weaker rider.
With that said crf250f is very easy to ride because the engine is smooth and predictable and the suspension is plush and comfortable for riding at low speeds.
CRF250F Engine
Going back to a standard 250cc displacement (compared to the 223cc CRF230), the CRF250F has a little more overall power, especially mid-to-top end horsepower.
The CRF230 wasn't lacking low-end torque, but it just ran out quickly on top, so the 250F has a little better spread. It's still a torque-y engine with good power right off of idle, making it easy to learn how to use the clutch.
Keep oil in it, and it's sure to last a long time, just like any Honda trail bike.
CRF250F Suspension
Unfortunately, you can't get high performance suspension from a budget dirt bike, so Honda did not make any major upgrades to the forks and shock. With that said, it is a little bit beefier to handle more weight (partially from the bike…).
The rear shock still struggles to perform once you start pushing the pace, especially on rough terrain. You can adjust the preload for your weight, but there's no compression or rebound adjustments.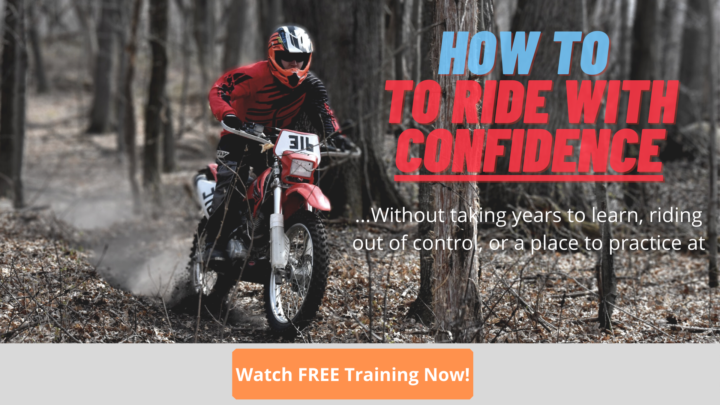 The forks can be sent to a tuner that specializes in conventional DR forks to get it to perform pretty well, and the cost is quite a bit less than more complex modern forks.
The biggest thing is making sure the springs are setup for your weight, and then adjust the sag/ride height for your weight.
CRF250F Size & weight
The biggest drawback on the CRF250F, besides the suspension, is the weight. The XR200 was fairly lightweight, but then the updated CRF230F got heavier (partly due to the electric start), but then the CRF250F gained even more weight (about 16 lbs.).
It's not very noticeable for casual trail riding because the center of gravity is much lower than bigger enduro bikes. You'll notice the weight when you have to pick it up off the ground, but you shouldn't be falling often if you have proper riding technique.
So, even though it's heavy, the CRF250F is still a good beginner bike if you're an average size adult or taller teenager. If you're a short guy or a girl looking for your first dirt bike, you might want to consider something like the KLX140L or TTR125.
Honda CRF250F Specs
| | |
| --- | --- |
| Engine | 249cc air-cooled 4 stroke 4-valve |
| Transmission | 5-speed |
| Seat Height | 34.8" |
| Weight | 265lbs. |
| Horsepower/Torque | |
| Cost | $4,749 MSRP |
Is the CRF250F street legal?
No, the CRF 250F does not come street legal from the factory. It doesn't have any lights, horn, DOT tires, or other equipment needed to be legal to ride on the road.
With that said, some states may allow you to register it for road riding with the proper modifications to make it legal.
Is the CRF250F good for dual sport riding?
Even if you can get the CRF250F plated to ride on the road, I wouldn't consider it a very good bike for dual sport riding. It needs lighting and the transmission is better for off-road riding at lower speeds.
It's also lacking in the power department for highway riding, and it's not the most comfortable to sit on for hours at a time. The CRF250L would be a much better dual sport bike than the CRF250F.
Pros & cons – what's good & what's bad?
CRF250F Pros:
Very easy to ride for teens & adults
Super reliable
Good handling at low speeds & in the woods – weight isn't that noticeable
Electric start & fuel injection reduce a lot of frustration
Has potential if you're willing to upgrade the suspension
Power is not a problem – especially if you seek out the right mods
Affordable compared to enduro bikes
Simple & easy to maintain
CRF250F Cons:
It's a little bit heavy when you drop it
The suspension is lacking for hardcore trail rider
Is the CRF250F the right dirt bike for you?
So, if you haven't figured out if this is the best dirt bike for you, then I'll cover the quick facts to help you.
You should get a CRF250F if you:
Transitioning from riding on the street to off-road
Want a simple, reliable bike that's easy to ride
Don't like dealing kickstart or carburetors
Are at least 5'4″ tall
Want to learn proper technique to become a better trail rider faster
Don't need mega horsepower
Want a great single track trail bike
Enjoy modifying parts as you go
You should NOT get a CRF250F if you:
Want a high performance dirt bike for aggressive riding
Want the lightest dirt bike available
Prefer kickstart and a carburetor
Would rather mix and smell 2 stroke premix
Are desert racing at high speeds
Best CRF250F mods
This "beginner bike" has a lot of potential with the slightly bigger engine, suspension, and fuel injection. It's still new, so there isn't a huge aftermarket supply yet, but it's slowly coming out.
These are some of the top upgrades & performance parts for your CRF250F:
Fork upgrade
Rear shock upgrade
Intake mod
Exhaust upgrade
Fuel tuner
CRF250F vs CRF230F
The biggest changes are the engine and fueling system, but there are quite a few minor changes between these two 4 stroke trail bikes from Honda.
The CRF250F has a 26cc bigger engine and 4 valves instead of two. It's completely different, and as a result has more midrange and top-end power than low-end torque compared to the older 230.
The forks are 41mm compared to the CRF230F's 37mm, which means they'll flex less with a heavier rider and be a little more stable.
Weight is a noticeable difference, with the 250F being 16 pounds more than the 230F. It's slightly bigger, but not by much. Overall, it's just built for a slightly bigger rider, but it's still easy to ride for beginner adults and teens.
Lastly, the CRF250F gets an upgraded fuel injection system, which I think is a big improvement over the very outdated carb that came on the CRF230F.
It's capable of making much more power, and there's no jets to change or worry about tuning it for different elevation riding.
With that said, you're going to have to spend more since the CRF250F is still pretty new and the 230 has been around since 2003.
Will the CRF250F make you a better rider?
If you're just getting into off-road riding, then the CRF250F is a great dirt bike to start on. It will make you a better rider faster because it's easy to ride and very forgiving, but there's one mistake that many new riders make that makes it harder to ride with control.
It starts with your riding technique, and if you're just learning on your own or from a friend, then it's easy to make bad habits and not learn all the safe techniques, which is why I want to help you get started the right way. Click here to learn more.