Looking for the best 250 enduro bike to suit your trail riding style? The good news is that there's plenty of good models and brands to choose from. The bad news is not all enduro bikes will work well for what you need.
In this article I want to help you learn which enduro bikes are made for the type of riding you want to do, as well as your skill level.
What is a 250 Enduro dirt bike designed for?
An enduro bike today is basically a high performance trail bike that is built for riding single track trails. A simple trail bike is great if you're a beginner, and an enduro dirt bike is a step up once you've mastered basic riding technique.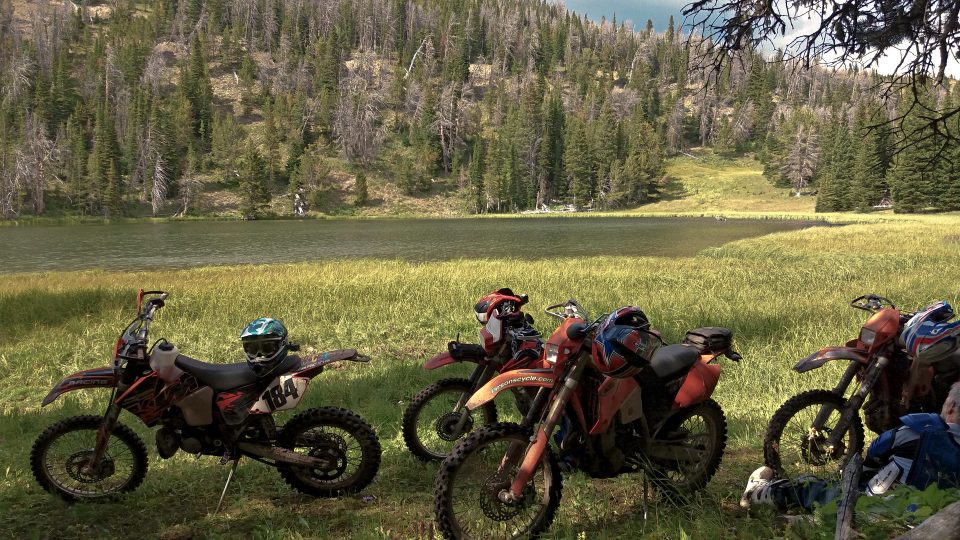 Single track trails can be in the woods, high desert, or hard enduro type trails in the mountains.
Can I ride a motocross bike for enduro riding?
Technically, yes you can ride an mx bike for enduro. Is it practical? In most cases, no.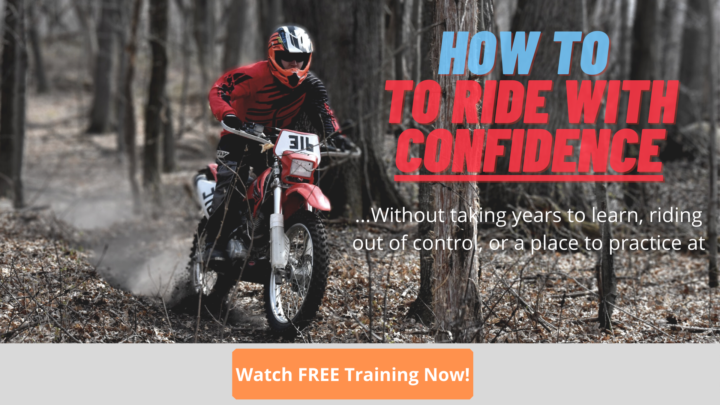 Why? Because of how a motocross bike is set up.
An mx bike has stiff suspension, an aggressive power-curve, a 19" rear wheel, and a close-ratio transmission. These specs, combined with no kickstand, lights, or other trail-friendly accessories make it harder to ride and enjoy on trails.
You can modify a 250F or 250 2 stroke for woods/enduro riding, but it will take a lot of money and time to make it about the same as a stock enduro 250 from the factory.
Best 250cc enduro bike
So, what's the best 250 Enduro? First, you have to decide what you want it to do best. Do you prefer a 2 stroke or 4 stroke for trail riding? Will you be mostly riding tight and technical trails, or higher speed trails that flow well?
2 stroke vs 4 stroke 250 Enduro bike
A 250cc 2 stroke still has advantages over a 250cc 4 stroke. It's slightly lighter (modern 4 strokes have gotten pretty lightweight), but the power is still more.
A 2 stroke is also more resistant to stalling and overheating.
Why?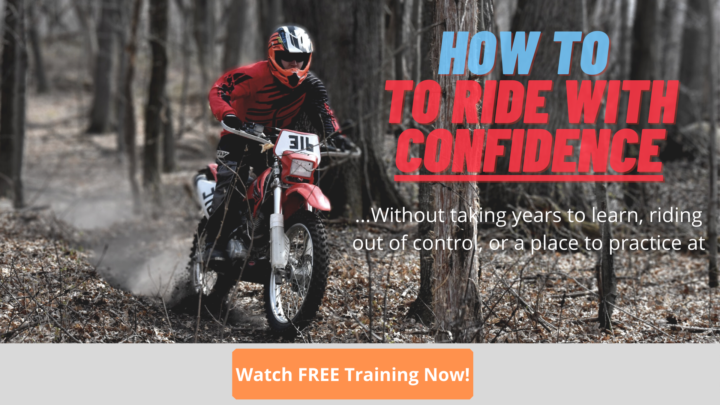 Because the engine runs cooler. The transmission oil is separate from the top-end, and a 4 stroke keeps circulating the same oil from top to bottom, keeping it hotter longer.
Best 250 enduro bike for beginners
I always recommend starting on a trail bike, as opposed to a high performance enduro bike, if this is your first dirt bike.
With that said, I would consider the Yamaha WR250F or Kawasaki KLX300R to be the best 250 enduro bikes for beginners.
Wait, I just contradicted myself, right? A KLX300 is NOT a 250cc dirt bike. You're right, but it's kind of in a class of its own, with 250cc being the closest, and it's a good full size beginner bike. It's a cross between a trail bike and an enduro bike.
The Yamaha WR250F has almost always had the best low-end torque in its class, which makes it easier to ride. This is the most realistic choice if you're new to riding off-road.
Best 250 enduro bike for short riders
Unfortunately, most enduro bikes are tall because of the amount of suspension travel and chassis design. With that said, Beta 250 RR (2 stroke) has a slightly lower seat height than most enduro bikes – 36.6" compared to the typical 37.5-39.0".
If you want to cheat with a 300cc enduro bike, then the Kawasaki KLX300R or Beta 300 XTrainer have lower than average seat heights as well, making them good if you're a short rider.
Best 250 enduro bike for tall riders
Most enduro bikes have a seat height of 38", but there aren't any that sit higher than 39". The best 250 if you're a tall enduro rider are the XC or race models. This would include:
Honda CRF250RX
KTM 250XC
Yamaha YZ250FX
Kawasaki KX250XC
These are based off of the 250cc motocross bikes, but the engine and suspension are tuned a little more for off-road racing rather than jumping. They have the most suspension and are the tallest dirt bikes available for off-road riding.
Best 250 enduro bike for the money
The best bike for the money is going to be a cheap used bike in good condition. A good older enduro bike is a WR250F, CRF250X or KTM 250XCW.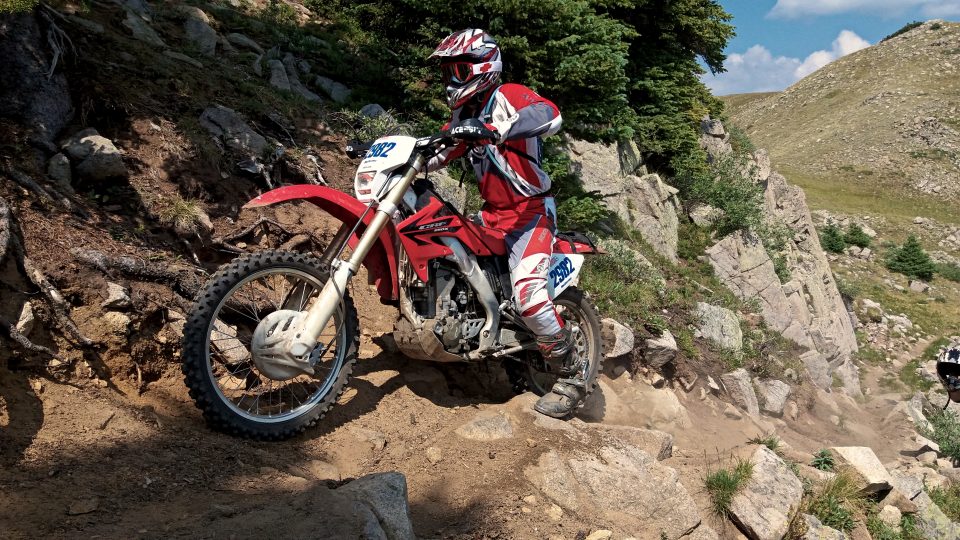 Best 250 enduro bike for trail riding
All 250 enduro type dirt bikes are good for trail riding, but not all of them are great at certain types of trails. You might ride tight singletrack trails in the woods, but you might ride high-speed desert trails, or somewhere in between.
A 250XCW 2 stroke is good for technical terrain, while a CRF250RX 4 stroke is better for faster riding on open terrain.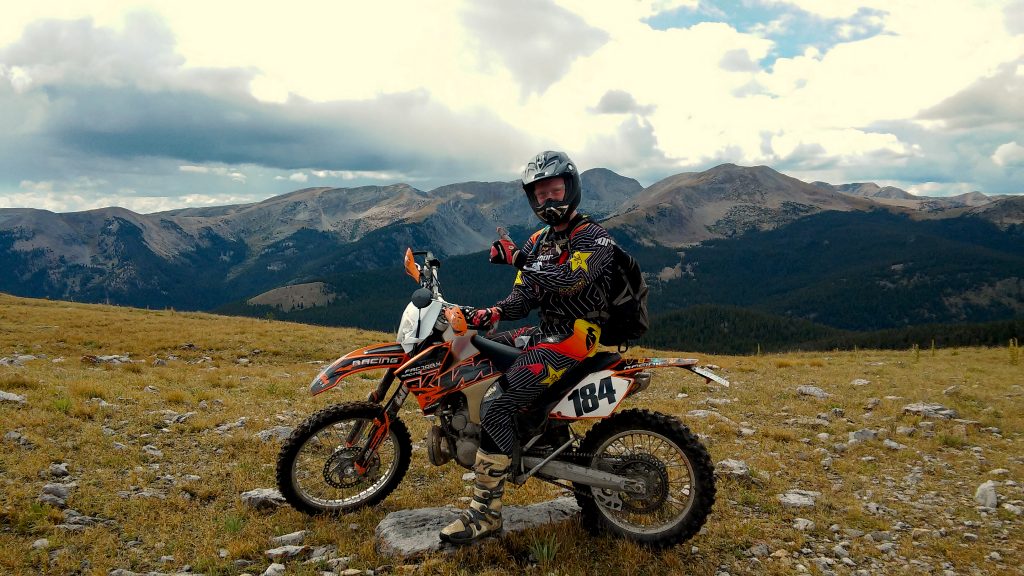 You simply have to look at what each model is designed for and then decide which bike will work best for your riding and style.
Yamaha 250 enduro 4 strokes usually have more torque than others in its class, while KTM usually has the most top-end horsepower.
Most reliable 250 Enduro bike
All enduro bikes are pretty reliable these days, as far as race bikes go. With that said, from my experience of owning and researching over the years, it's hard to go wrong with a Yamaha brand dirt bike.
This means that any year WR250F or YZ250FX enduro bike is most likely to be reliable if you maintain it properly.
Difference between 250 & 450 enduro dirt bike
There's a big difference between a 250 & 450 enduro bike, and it's not just the 200cc's.
A 450 is not only heavier in weight, but also in how it feels while riding. There's more spinning engine mass, giving it more inertia.
What does that mean?
When you give it gas or let off the gas, the acceleration and deceleration is going to feel a lot more noticeable on the 450 because it's spinning more weight.
If you've ever spun the front tire on your bicycle and then stood on the ground holding the wheel off the ground while it's still spinning, that heavier feeling is the 'gyro effect'.
As a result, you'll get worn out quicker on a 450 than a 250. This makes it exponentially worse because once you're tired, the extra power of the 450 will be even harder to control. If you get arm-pump, one little flick of your right wrist and you're riding into the next tree…
Please stay away from any 450 if you're a new dirt bike rider.
How to build confidence at enduro/trail riding
Having the right bike is important, as well as properly setting up the controls and suspension to fit your body and riding style. But the best way to ride faster is by learning proper technique.
This all starts with the basics, such as riding position with your body and feet. Want to get started? Click here to learn how to trail ride with confidence.