Planning to get a Honda CRF250X or just need to know more about it? This review will give you the practical info you need to help you decide if it's the best dirt bike for you.
What is the CRF250X?
It's a high performance 4 stroke trail bike or enduro bike that is based on the CRF250R motocross bike. It first came out in 2004, but it hasn't made as many drastic changes over the years as the 250R has.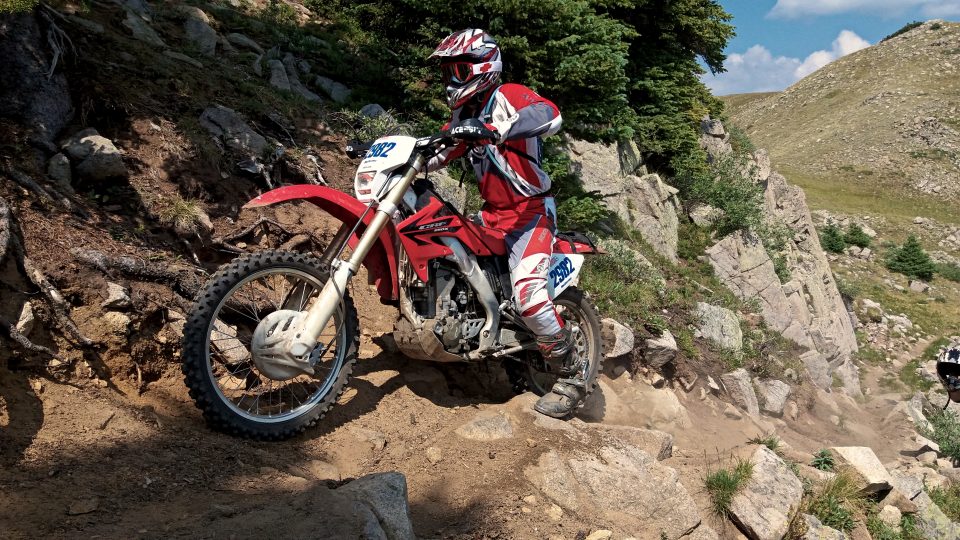 What's the difference between CRF250X & CRF250R?
In the early years of these Honda 250F's they were actually fairly similar. The CRF250X simply had better trail options, such as: softer suspension, smoother power curve, 18″ rear wheel, kickstand, larger gas tank, lights, etc.
As the years went on, the CRF250R continued to advance in performance, while the 250X didn't get much for updates.
Does Honda still make the CRF250X?
The CRF 250X was discontinued in 2017 and replaced with the CRF250RX in 2018.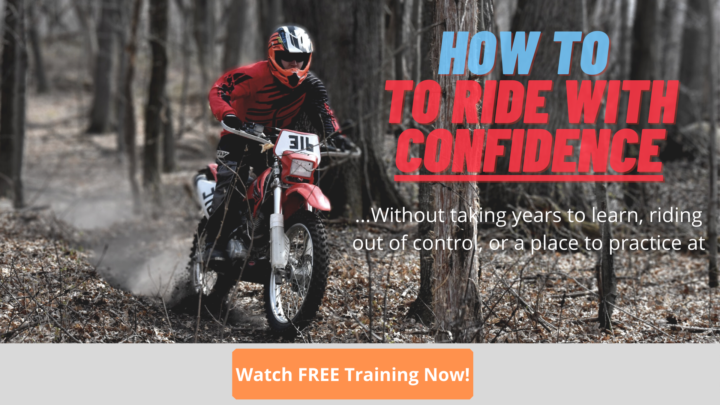 More than likely, this was done due to lack of popularity (sales), and Honda wanted to adjust their market to a more aggressive and higher performance enduro 250.
Is the Honda CRF250X good?
Yes, the CRF250X is good for its intended purpose, especially if you tune/modify a few things to your liking. It's a good intermediate level trail bike for technical to open trails. Meaning, it's not the greatest at right and technical or super high speed, but more in between.
Engine
The 250X has a solid engine if you maintain it, especially after some slight updates for reliability in 2006 to the valve train.
With that said, since it's based off of the 250F MX bike, it doesn't have much bottom end torque, making it a little harder to control at low speeds on the trails or if you're just getting used to riding off-road.
Suspension
The forks and shocks are set up better for off-road riding than the 250R, even though it uses similar parts. The valving and spring rates are softer, making it much more comfortable riding over rocks, roots, logs, and trail chop.
Even if you don't like how it is from the factory, it's fully adjustable so you can tune the compression and rebound very easily and quickly to make it perform better for your overall riding needs.
Handling
It's made from a race bike, so it's going to handle like a race bike. This can be good, but it really depends on what you want in a bike. If you're just putting around or prefer tight single track trails, then the Honda CRF250F or CRF230F would be better since they're smaller and turn better at low speeds.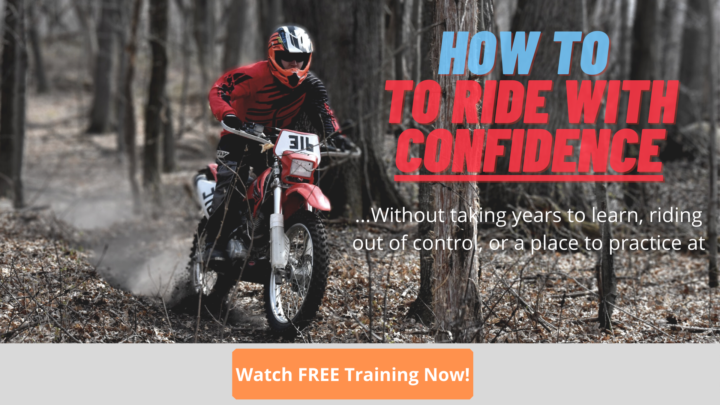 Riding moderate to high speed trails, the CRF250X will shine because it has the long wheelbase and power to keep pulling. For example, whoops will be easier because the bike will stay more level compared to a shorter trail bike.
Specs
| | |
| --- | --- |
| Engine | 249cc 4-stroke liquid cooled 4-valve |
| Horsepower | 30HP |
| Transmission | 5-speed wide ratio |
| Seat Height | 37.7″ |
| Weight (wet) | 254 lbs. |
| Top Speed | 80mph |
CRF250X Issues?
Some people complained of valve problems in the early years of the CRF250X. Honda made some slight changes to the cylinder head in 2006 and that seemed to help. With that said, I've heard of owners of 04-05 models not having a problem.
The biggest thing is how you ride it. If you're constantly bouncing off of the rev limiter, your CRF250X is not going to last very long before needing an engine rebuild.
Is the CRF250X the right dirt bike for you?
So, that brings us to the ultimate question… These factors will give you a quick decision or simply help you decide if the Honda CRF250X is a good dirt bike for you or not.
The CRF250X is right for you if you:
Already have off-road experience and want to upgrade from a beginner bike
Want a higher performance trail bike
Ride trails at moderate to high speed
Prefer a 4 stroke over a 2 stroke
The CRF250X is NOT right for you if you:
Need a lower seat height for your short legs
Want lots of low-end torque
Ride tight and technical trails (unless you plan to modify some things)
Will the CRF250X make you a better rider?
If you're just getting into dirt biking, the Honda CRF250X may not be for you because it has more of a snappy powerband, making it less forgiving and harder to control. With that said, it can make you a better rider if you already have trail riding experience with good technique.
In any case, if you want to become a better and safer rider, I want to help you out.
Many new riders make the same mistakes when it comes to riding technique, so that's why I put together a free training guide to show you the basics to give you more control. Get started by clicking here.