Planning to get a Honda CRF250X or just need to know more about it? Honda has several different 250cc 4-stroke models to choose from, so it's important to know which one will be best for you.
In this review, I'll show you what kind of bike the CRF 250X is, why it may be a good or bad choice for you, and what to expect when buying and riding one.
What is the CRF250X?
It's a high performance 4 stroke trail bike or enduro bike that is based on the CRF250R motocross bike. It first came out in 2004, but it hasn't made as many drastic changes over the years as the 250R has.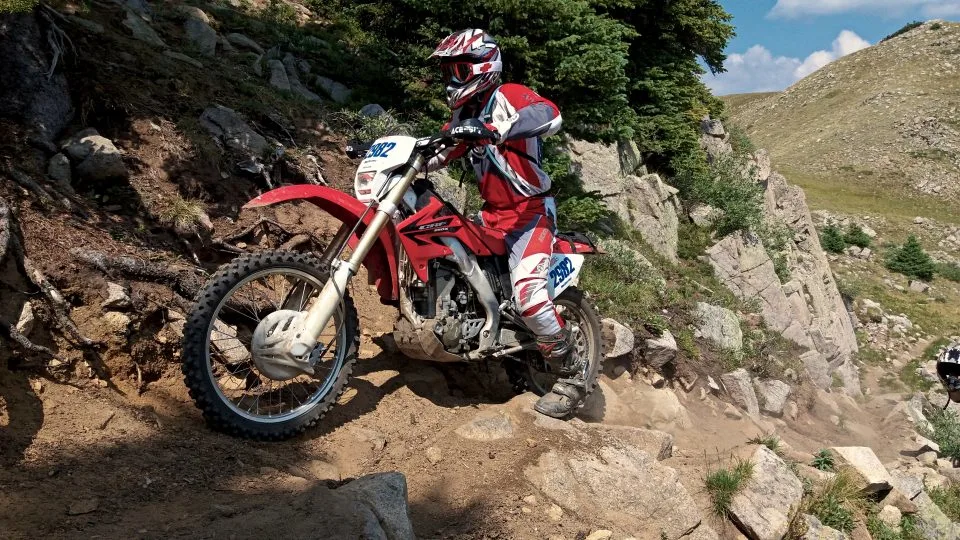 Who's it for?
It's a good dirt bike if you're ready to move up from a beginner trail bike because you want more power and suspension. For example, the CRF250F is great to start on for your first dirt bike, and then upgrading to a CRF250X would be the next step up.
Seat height – what size rider is the CRF250X for?
At a 37.7 inch seat height, the CRF250X is one of the tallest dirt bikes you can buy. Ideally, it's a good size bike if you're 5'9″-6'2″ tall, but that's just a guideline.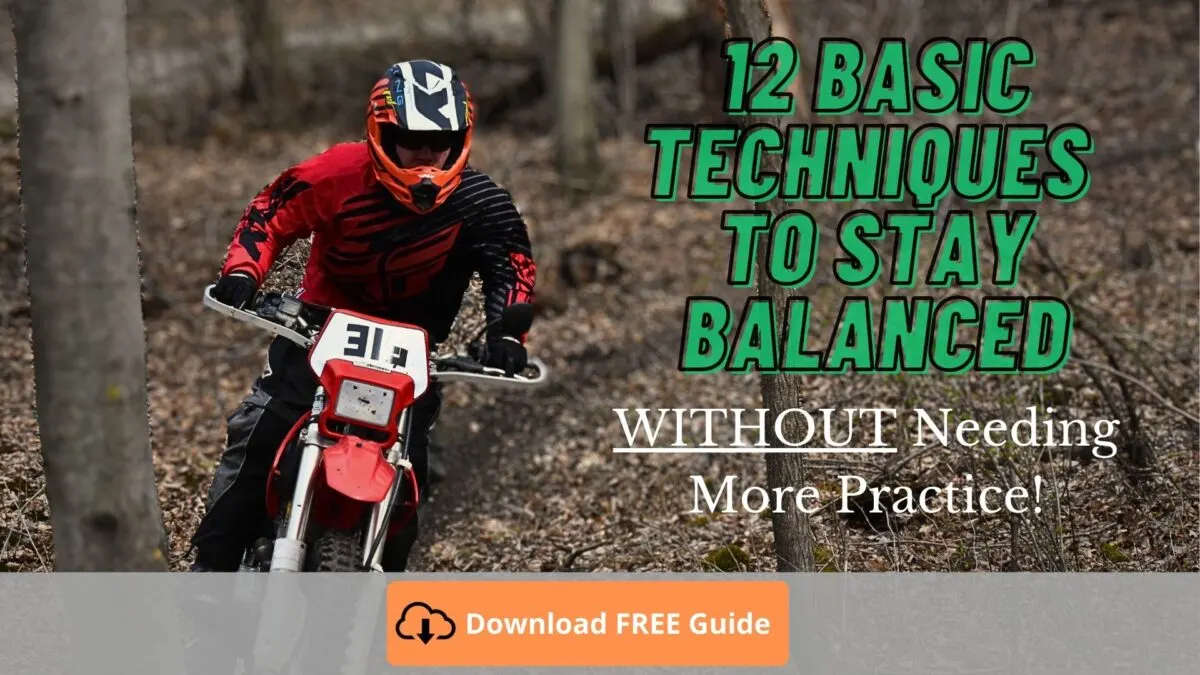 In fact, if you're an experienced and confident rider, then the seat height doesn't matter that much. Being able to touch the ground with one foot is all you need, even as a beginner, but that's less important as you advance your riding skill.
Think about it – if you have good balance and can stay on the footpegs while riding, which is just basic technique, then you don't need to worry about falling over.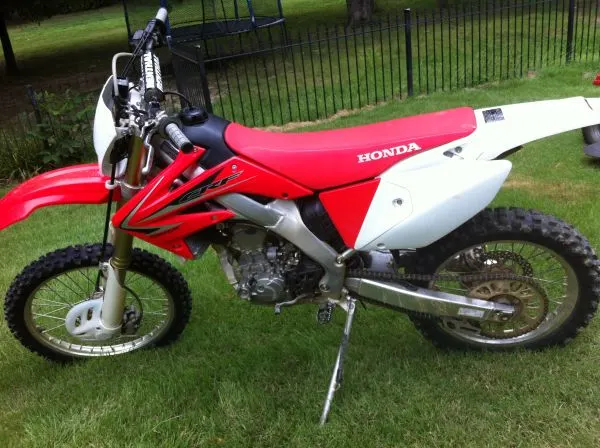 While I believe it's important to wear proper protection in case you crash, you shouldn't actually be falling unless you're pushing yourself out of your comfort zone, which is not necessary unless you're being paid to ride full-time.
What's the difference between CRF250X & CRF250R?
In the early years of these Honda 250F's they were actually fairly similar. The CRF250X simply had better trail options, such as: softer suspension, smoother power curve, 18″ rear wheel, kickstand, larger gas tank, lights, etc.
As the years went on, the CRF250R continued to advance in performance, while the 250X didn't get much for updates.
Does Honda still make the CRF250X?
The CRF 250X was discontinued in 2017 and replaced with the CRF250RX in 2018.
More than likely, this was done due to lack of popularity (sales), and Honda wanted to adjust their market to a more aggressive and higher performance enduro 250.
Engine characteristics
The 250X has a solid engine if you maintain it, especially after some slight updates for reliability in 2006 to the valve train.
With that said, since it's based off of the 250F MX bike, it doesn't have much bottom end torque, making it a little harder to control at low speeds on the trails or if you're just getting used to riding off-road.
Horsepower
A stock CRF250X has about 29 horsepower at the crank, which is about 24-25 rear wheel horsepower. What does this mean?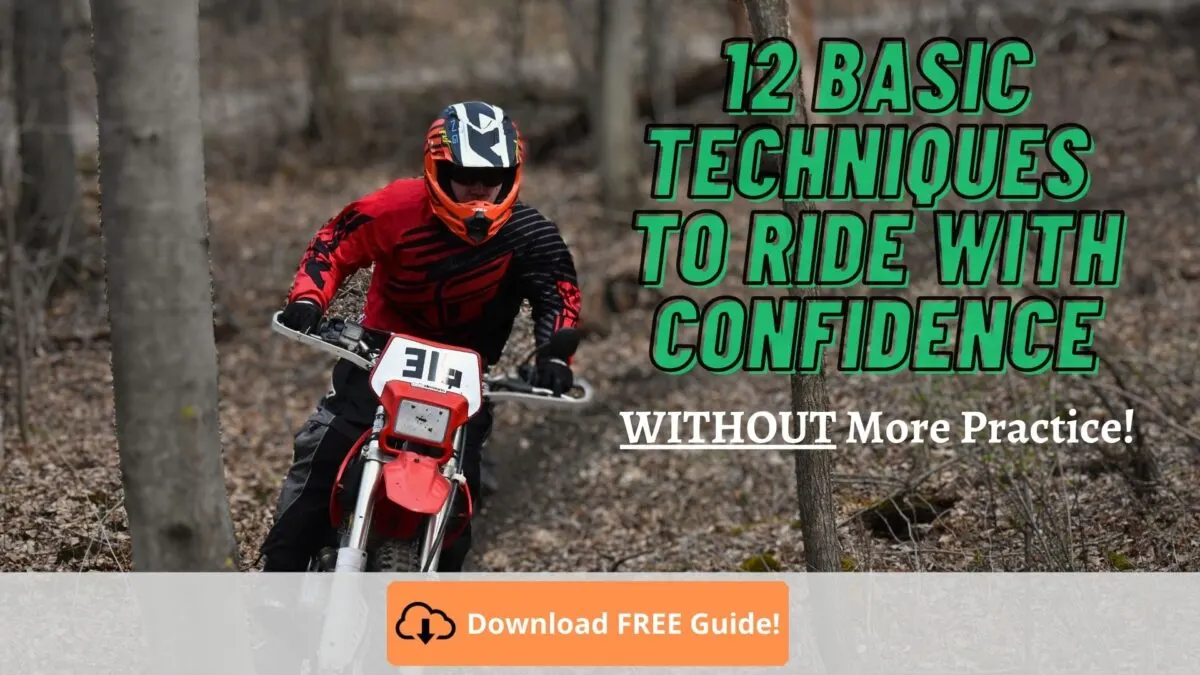 It has plenty of power to do most any kind of riding off-road, especially if you're a trail rider. However, it doesn't have quite as much low-end torque right off idle as a 450 or 300cc 2 stroke.
The 250X has a fairly light flywheel, combined with a detuned 250R MX engine, it's a little tricky to ride on tight and technical trails if you're not good with the clutch. There are some mods you can do to make it less prone to stalling and increase the usable power, which I'll cover in just a bit.
Top speed
The top speed of a stock Honda CRF250X is about 75 mph, but this isn't very important unless you're drag racing or riding high-speed desert trails. If you want to go faster, just go to a smaller rear sprocket (Motosport) to change the final gearing to raise the max speed.
CRF250X Jetting
Depending on where you live, if your CRF 250X still has the factory stock jetting, then it's most likely too lean. This makes it hard to start, especially when cold, and you're missing out on more horsepower!
They come too lean from Honda to make it run "cleaner", so you'll want to richen it up unless you ride at high elevation. If you modify the intake/exhaust, it may run even worse without tuning the jetting.
Here's a simple jetting chart for a stock vs recommended settings:
Stock:
Fuel screw:
Pilot: 40
Needle:
Main: 130
Leak jet: 70
Recommend stock or uncorked CRF250X jetting for elevation 0-3000 ft and 60-80 degree temps:
Fuel screw: 2.0 turns out (or whatever starts easiest with best throttle response)
Pilot: 42
Needle: 2nd clip position
Main: 150
Again, these are just for a starting point. Every bike is a little bit different in what jets it needs, and it will change as you ride at a different elevation, temperature, or modify the intake/engine/exhaust.
The fuel screw will need the most fine tuning if you want a great running bike. It can be done in just a few minutes if you simply have the knowledge on how to do it.
Electric start reliability?
The electric starting system has never had any major issues. There have been quite a few forum posts about not being able to start a CRF250X with electric start but the kickstarter works, which is good if you're worried about needing a backup.
The most common starting problems are usually related to a weak battery, poor jetting, or a dirty carb. A bad ignition or stator could also cause it not to start, as well as a bad ground or wire in the starting system.
Suspension
The forks and shocks are set up better for off-road riding than the 250R, even though it uses similar parts. The valving and spring rates are softer, making it much more comfortable riding over rocks, roots, logs, and trail chop.
Even if you don't like how it is from the factory, it's fully adjustable so you can tune the compression and rebound very easily and quickly to make it perform better for your overall riding needs.
Front forks
One of the reasons why the Honda 250X is a better performing off-road bike than a less expensive trail bike is the suspension. You get fully adjustable forks so that you can easily tune them for more comfort.
With that said, you still need to have the proper spring rate for your weight and riding style. Stock is made for 150-180 lb. riders, so if you weigh more than that, you'll want stiffer fork springs (Motosport).
Then you can start adjusting the compression and rebound damping clickers. These are super easy to adjust and can make a big effect on how your bike handles, giving you more comfort and confidence.
Rear shock
The rear shock is even more important when it comes to handling. The stock shock is also fully adjustable, but you need the right spring rate (Motosport) before you get started as well.
Next, you need to adjust the sag to get the right ride height for proper suspension balance and bike handling. Then you can move into the clickers.
The stock forks and shock are the same as the first generation CRF250R MX bike, but the internal components are slightly different. Honda set up the suspension to be softer because you're hitting small bumps and most likely riding at lower speeds.
Handling
It's made from a race bike, so it's going to handle like a race bike. This can be good, but it really depends on what you want in a bike. If you're just putting around or prefer tight single track trails, then the Honda CRF250F or CRF230F would be better since they're smaller and turn better at low speeds.
Riding moderate to high speed trails, the CRF250X will shine because it has the long wheelbase and power to keep pulling. For example, whoops will be easier because the bike will stay more level compared to a shorter trail bike.
Weight – how does it compare?
With a wet weight of 254 lbs, the CRF250X is slightly heavier than the 250R MX model due to the trail riding accessories. But it's still lighter than the CRF250F trail model, even though it's physically larger.
Compared to a 450, the 250X feels lightweight and quite a bit easier to handle – not just because it weighs less, but because the smaller engine has less rotating mass, causing it to feel lighter so you don't get fatigued as quickly.
Reliability – how long will it last?
Since it hasn't changed much since it was first made, the CRF250X is a proven dirt bike and most models are very reliable. One of the most common reliability issues was the first couple years when the engine got too hot too often and burned a valve up, causing the engine to lose compression.
Other than that, it's a durable bike as long as you take care of it. Just doing simple maintenance like changing the oil and keeping the air filter clean will help make it last you a long time – potentially a few hundred hours before needing an engine rebuild.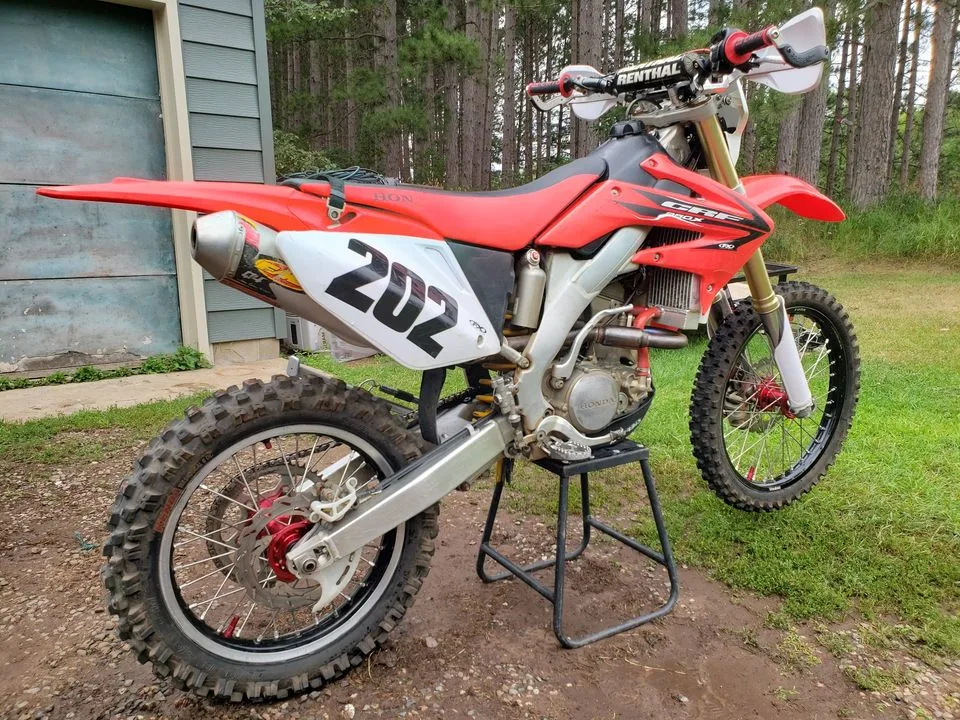 Model year history & changes
The Honda CRF250X was made from the year 2004 until 2017, and here are most of the updates that it got throughout its history:
2004: First year of the CRF250X
2006: Upgraded valve seat material (cylinder head), stiffer suspension valving, new lightweight rear hub, swingarm, shock body, fork guards/cable brackets, and new front axle placement
2007: Engine updates to cylinder head porting and updated muffler, carb has new accelerator pump and linkage for better throttle response, revised ignition mapping,
2008: Smaller gas tank, fatbars, lightweight front and rear brake discs
2009: White rear fender
2017: Last year of the CRF250X model
Specs & Dimensions
| | |
| --- | --- |
| | CRF250X |
| Manufacturer | Honda |
| Engine | 249cc 4-stroke liquid cooled 4-valve |
| Horsepower | 30HP |
| Transmission | 5-speed wide ratio |
| Seat Height | 37.7″ (96cm) |
| Weight (wet) | 254 lbs. |
| Top Speed | 80mph |
| Price (avg. used) | $3500-4000 |
Common CRF250X Issues?
Some people complained of valve problems in the early years of the CRF250X. Honda made some slight changes to the cylinder head in 2006 and that seemed to help. With that said, I've heard of owners of 04-05 models not having a problem.
The biggest thing is how you ride it. If you're constantly bouncing off of the rev limiter, your CRF250X is not going to last very long before needing an engine rebuild.
Is the CRF250X street legal?
No, it's an enduro bike that's made for off-road riding. It does have a headlight and tail light, but it would need other equipment before you could consider getting it plated.
Can you convert it to a dual sport bike?
With that said, there are enough aftermarket parts available to make a dual sport kit for your CRF 250X. You would still need to get it registered, which may or may not be possible in your state/country.
I wouldn't consider it a good dirt bike for dual sport riding because the engine, transmission, and suspension is set up for trail riding. You can definitely make it more comfortable and reliable for riding on the road, but it would take quite a few mods.
Is the Honda CRF250X good?
Yes, the CRF250X is good for its intended purpose, especially if you tune/modify a few things to your liking. It's a good intermediate level trail bike for technical to open trails. Meaning, it's not the greatest at right and technical or super high speed, but more in between.
Is the CRF250X the right dirt bike for you?
So, that brings us to the ultimate question… These factors will give you a quick decision or simply help you decide if the Honda CRF250X is a good dirt bike for you or not.
The CRF250X is right for you if you:
Already have off-road experience and want to upgrade from a beginner bike
Want a higher performance trail bike
Ride trails at moderate to high speed
Prefer a 4 stroke over a 2 stroke
The CRF250X is NOT right for you if you:
Need a lower seat height for your short legs
Want lots of low-end torque
Ride tight and technical trails (unless you plan to modify some things)
CRF250X vs CRF250RX
Although they're both Enduro bikes, the biggest difference is that the CRF250RX has a more aggressive suspension and engine set-up and has modern technology. It's even closer to the 250R MX bike, while the CRF250X is still basically the same mild enduro bike from 2004.
CRF250X vs 450X
The biggest difference between the 1st gen 250X and 450X are the power and weight difference. The CRF450X has a lot more torque in the low to mid RPM range, but it also feels noticeably heavier, which will wear you out quicker if you're not in good shape.
CRF250X vs CRF250L
A CRF250L is quite a bit different because it's a street legal dirt bike that has less power and softer suspension. It's a much smoother ride for dual sport riding and is easy to ride, even if you're a beginner.
Best CRF250X mods
A stock CRF250X is a decent trail bike right off the showroom floor, but it has quite a bit of potential if you're willing to invest some time and money into upgrading it. The stock suspension can be tuned to work well if you're under 180 lbs.
Not only can you get more power out of your Honda 250X, but better starting, throttle response, and overall power curve. All of these should make it easier to ride without making you exhausted as quickly.
These are some of the top CRF250X mods:
Jetting
Adjust stock suspension for your weight
Cut air box lid
Pink wire cut
Exhaust baffle mod
Flywheel weight
Will the CRF250X make you a better rider?
If you're just getting into dirt biking, the Honda CRF250X may not be for you because it has more of a snappy powerband, making it less forgiving and harder to control. With that said, it can make you a better rider if you already have trail riding experience with good technique.
In any case, if you want to become a better and safer rider, I want to help you become a better and safer rider faster.
Many new riders make the same mistakes when it comes to riding technique, so that's why I put together a free training guide to show you the basics to give you more control. Get started by clicking here.