Ever since I was little I wondered what it would be like to go on dirt bike camping trips but I didn't have the means to do it…
Fast forward to today and I've been on many weekends and extended trips where I rode and camped for up to 2 weeks.
There are a lot of things that I've experienced over the years, whether I learned the hard way or just based on my personal preferences while camping – and to be honest, I don't even like camping! However, there are a number of ways to do it, and with the right preparation, it can be fun and safe even if you've never done it before!
In this article, I'm going to show you:
The different ways you can camp with your dirt bike
Why it's important to properly prepare so that you have the most enjoyable experience while staying safe/dry/warm
How I actually camp with my dirt bike and the gear and tools I bring.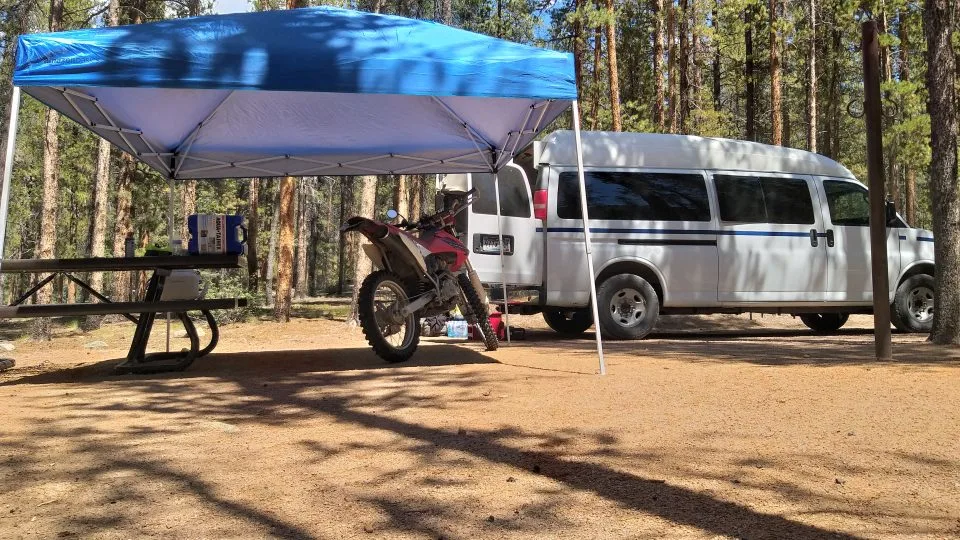 What Is Dirt Bike Camping?
Dirt camping is simply staying overnight with your dirt bike where you are riding. This could be out in the mountains or at your local trailhead.
Why Should I Camp With My Dirt Bike?
There are so many reasons why I personally enjoy camping with my dirt bike. I don't use a tent anymore but have many times in the past.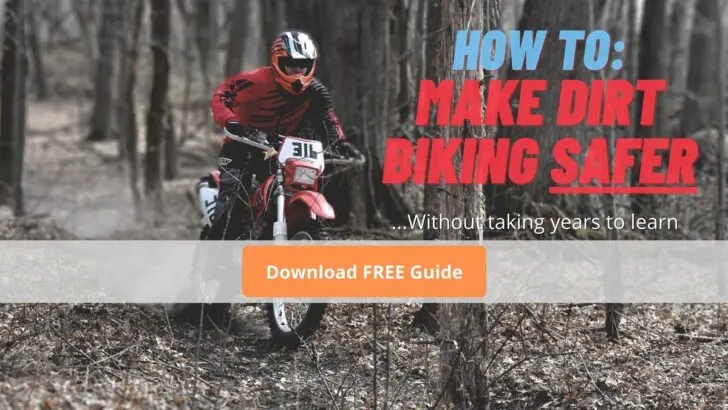 Here are all of the positive reasons why you should at least try dirt bike camping:
See new places
Get more riding in
Enjoy the outdoors
Better bonding with family/friends
Learn new skills
Challenge yourself when things go wrong
Eat yummy food
Understand your dirt bike better
How do you go camping on a dirt bike?
Do you want to have everything on your bike for camping, or do you just want to park your vehicle and set up a tent so that you can go riding in that area for the week/weekend? It's a totally different setup for each type of camping, so that's why you need to decide which one you want to do first.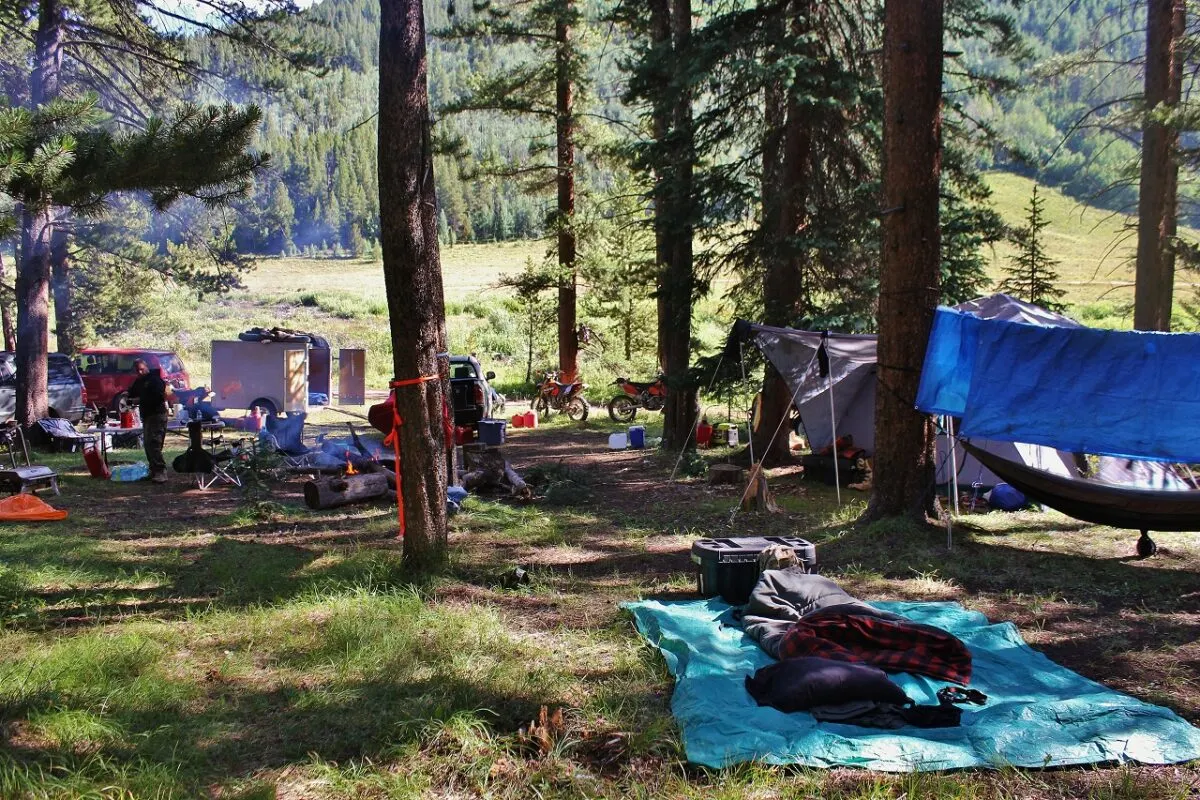 To go camping on a dirt bike where you'll be going back to your truck every day, you just need to have camping gear at your truck, and then bring enough food, water, and a toolkit on your bike while riding all day.
To do a weekend or week-long camping trip on your dirt bike/adventure bike, you need to have all of your luggage and camping gear on the bike with you.
Camping With Dirt Bikes vs Dual Sport Camping
Before we move on, I should clarify…
Camping with dirt bikes is when you haul your enduro or trail bike out to an area where you're going to ride. You always come back to your same camping/parking spot by the end of the day.
Dual sport camping is when you load up your dual sport/street legal dirt bike to ride and stop to camp at different locations each day throughout your trip.
This guide will primarily be based on dirt bike camping, but I'm sure you'll find some helpful tips that crossover to dual sport camping as well.
Dirt Bike Camping Trips – Where To Ride?
First off, where are you going to ride? Even though many state trails have gotten shut down, there are still so many places to ride in the U.S.
New to dirt biking? Check out your local trails. For example, this list on the MN DNR website shows the state trails and has info on each of them.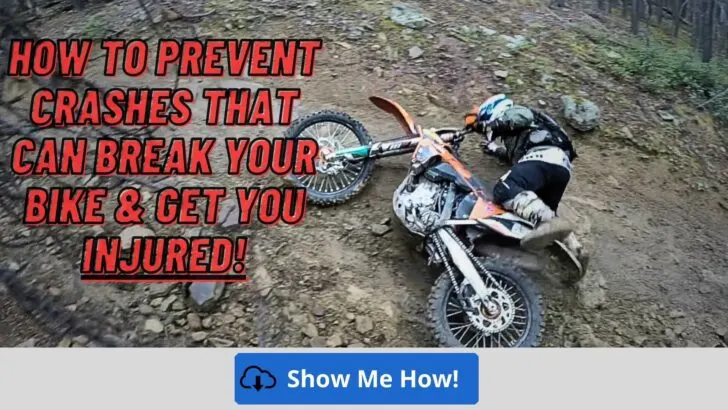 What type of motorcycle is best for trail riding?
You have a few options based on your goals and preferences. For example, do you just want to ride local trails that have short loops over the weekend? Then you don't need to pack much gear/equipment on your bike/body.
Also, are you a newer rider? Then you don't want a super powerful bike, especially if you're going out into the wilderness or mountains and will be miles from civilization and cell phone service.
These are the 4 main types of off-road motorcycles and why you should pick one:
Best trail dirt bike for camping
What kind of trails will you be riding? What's your riding style and skill level? A dirt bike camping trip means that you'll probably be doing a lot of riding, which can be exhausting and may require you to re-fill your gas tank before you make it back to camp.
This means that you should have a bike that is reliable and comfortable. That knocks off basically any motocross bike.
Am I saying that you can't ride all day and all week on the trails with a motocross bike? Essentially yes, but it's still possible. You'll just want some proper mods to make your ride more comfortable and durable in the woods.
Your best bet is to choose a trail bike or enduro bike. The suspension is softer, and the engine has smoother power characteristics. Both of these traits will allow you to ride longer without getting as worn out.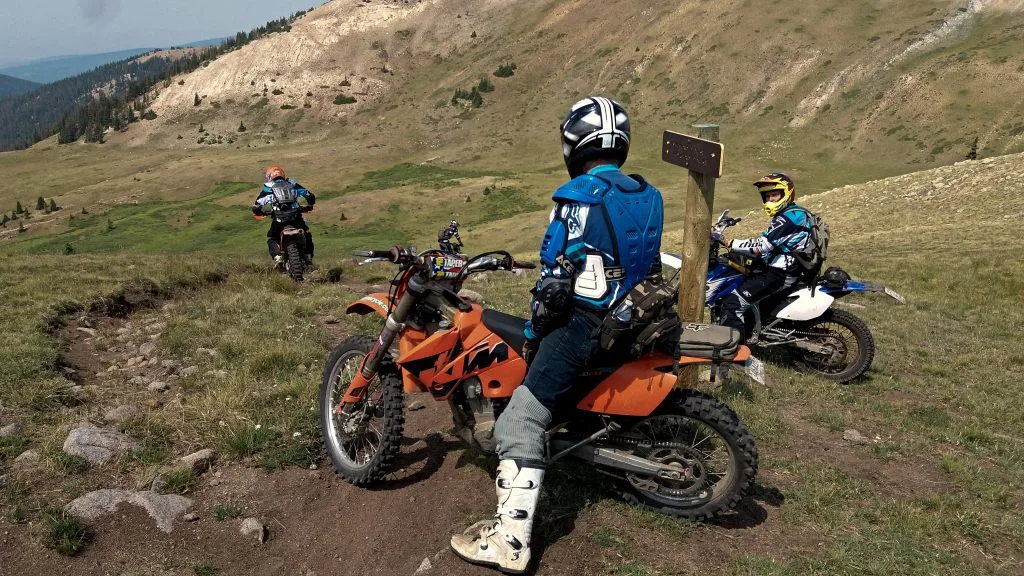 Riding a motocross bike in the woods is harder because the stiff suspension will beat you up, and the abrupt power will wear you out quicker, especially if you are a beginner rider.
2 Stroke or 4 Stroke Trail Bike?
I'll let you decide which is better when it comes to 2 stroke vs 4 stroke dirt bikes because there are pros and cons to each type of trail motorcycle.
There are a number of models from each group that are great for trail riding.
For example, a KTM 250XCW is a popular 2 stroke enduro bike, but maybe you don't want a KTM. This list of the top 2 stroke trail bikes will help you decide.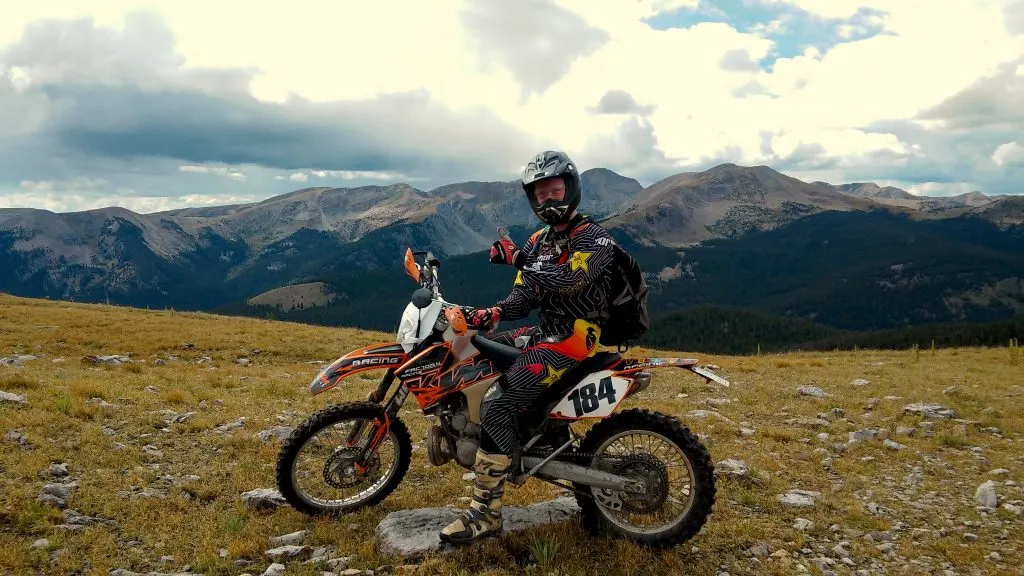 On the other hand, the KLX230R is a good trail bike for beginners that want something comfortable, easy to ride, and don't want to deal with a carburetor. For a full list of the best 4 stroke trail bikes read this guide.
What is the most reliable dirt bike for camping?
Fortunately, most dirt bikes made today are pretty reliable – you might get 0.5% of them that turn out to have an uncommon issue, but as long as you maintain your dirt bike, it's going to last a long time.
Did you understand what I just said? As long as you maintain your dirt bike, it will be reliable.
In other words… If you don't maintain your dirt bike, no matter what model or year you have, it's not going to last very long.
With that said, for adventure riding or camping, there are some specific models that will be a little more durable if you're not riding aggressively, which I'll explain why in just a moment.
These are the most reliable dirt bikes for camping:
Yamaha TW200
Kawasaki KLX230
Honda CRF250F
Yamaha XT250
Honda CRF300L/Rally
Yamaha WR450F
Honda CRF450RL
KTM 500 EXC-F
Honda XR650L
Suzuki DR650
Kawasaki KLR650
These dirt bikes either have an air-cooled engine or a liquid-cooled engine that's detuned for better rideability and durability. They are generally going to be the most reliable because they are lower-performance and overbuilt (parts are thicker/stronger).
The advantage of "low-performance" dirt bikes
When an engine creates horsepower, it also creates heat due to combustion and friction. Heat is the biggest enemy of an engine.
So, when you have a high-performance enduro bike, it's naturally going to create more heat. That doesn't mean it won't be reliable, but a "slower" trail bike or dual sport bike will typically last longer before needing an engine rebuild because it doesn't produce as much heat.
Best motorcycle for long-distance camping
Maybe you want to put on more miles and will be camping overnight (or multiple nights) with just the gear on your bike. In that case, then you'll want a dual sport bike that can handle carrying luggage and is a little more comfortable.
These are the best motorcycles for long-distance/overnight camping:
Honda CRF250L
Honda CRF300L/Rally
KTM 500 EXC-F
Husqvarna FE 501S
Suzuki DR650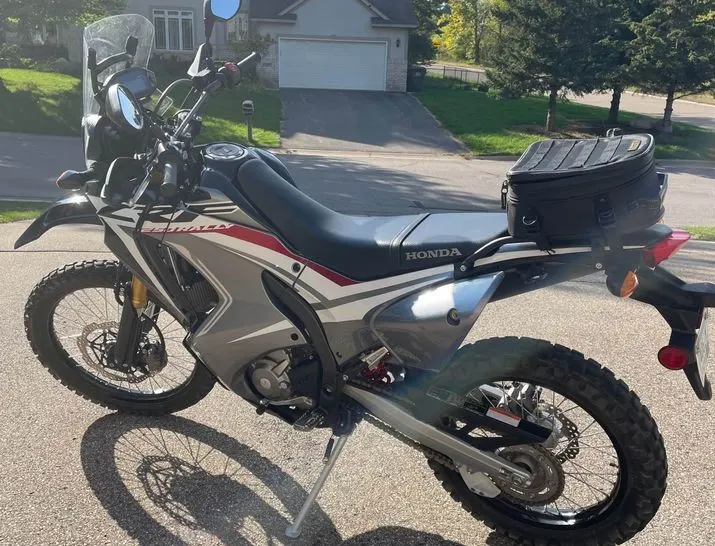 Dirt Bike Camping List
Now that you've picked which dirt bike to take camping, it's time to look over the list of essentials to bring.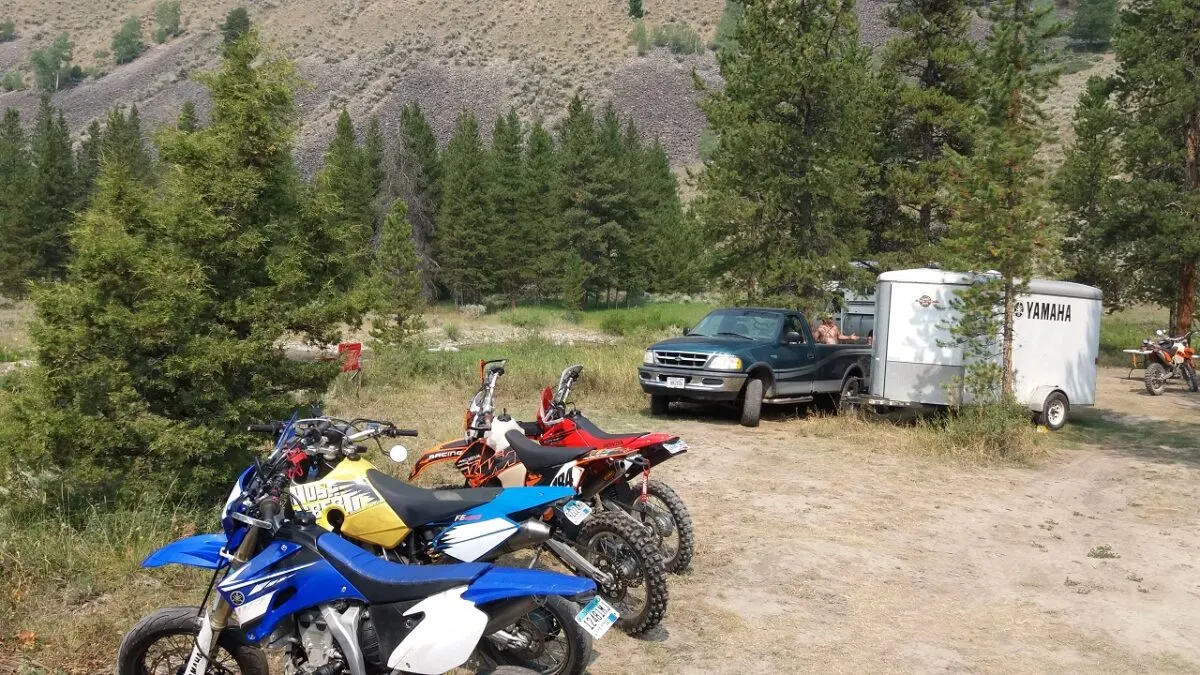 I've been out to the mountains many times and I've consolidated my list for efficiency. But at the same time, I like to be prepared in case of an emergency. The last thing I want is to drive many hours and either forget something or have something fail, resulting in a trip ending early.
This dirt bike camping trip list includes gear for camping, cooking utensils, and dirt bike tools:
Tent
Tent footprint/tarp
Sleeping Bag
Sleeping Mat/Pad/Cot
Pillow
Canopy
Folding Chair
Headlamp
Toilet Paper
Multi-tool/knife
Lip balm
Bug Spray
First aid kit
Toothbrush/toiletries
Card/utility table
Portable stove
Pot/pan
Mess kit
Water container
Soap
Fender bag w/spare tube
Fanny pack
Tools for removing/changing a tube
Hand air pump
I'm not going to include all of the clothes, riding gear, and bike requirements because that's all personal preference and based on your needs.
To get my full list of lightweight tools and spare parts that I bring with me on my trail pack kit read this article.
Best dirt bike camping tent
What's the best dirt bike tent? I like a tent that sets up quickly, can withstand some fairly major rain and wind, and is big enough for me and any gear/clothing that I bring inside with me.
If you're all about lightweight and minimalism then the BedNet System (Amazon) is a good choice.
However, a 2-person is the minimum size I used when I was by myself so that I can fit gear and junk with me to keep it dry/safe.
Bottom Line:
Plan ahead, and be prepared. You've got to be smart if you're limited on space or weight. Remember to bring the right tools for basic maintenance or repair if something goes wrong.
Dirt bike camping is one of my all-time favorite things to do. Riding in different climates and on new trails with amazing views or terrain is something that can't be done if you sit at home!
How to ride safer off-road on your camping trip
Now that you've got the basics prepared for a riding trip, it's time to increase your riding skill so that you don't crash hard and get hurt! I want to help you out with proper riding techniques to quickly give you control and confidence. Click here to get started for free.