Have you ever been trail riding and broke something or got a flat tire? Having tools and parts to repair your dirt bike will save your day of riding.
But you can't carry all of the tools that are in your tool box with you while riding. I've done numerous dirt bike camping trips and trail rides where it's necessary to bring tools.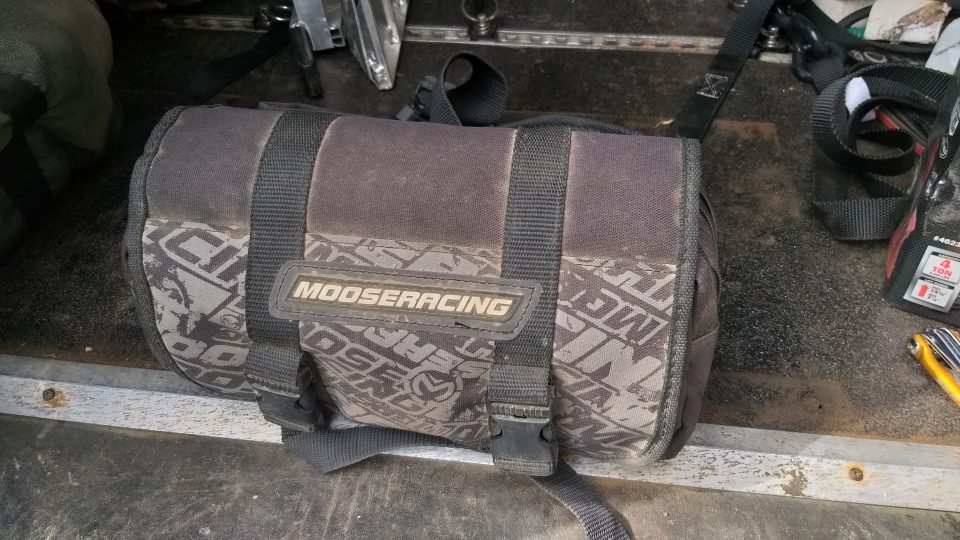 This article will cover what the contents of my trail pack and fender bag are. I only include the top essential items to keep the weight down.
Dirt Bike Tool Kit Checklist
I use this same tool kit whether I'm on a KTM enduro bike or a Honda trail bike. The only differences are a couple of tools or spare parts to match each specific dirt bike.
For example, the axle size is different from bike to bike, so I have to make sure that my axle wrench in my tool kit is the right size for the bike I'm riding.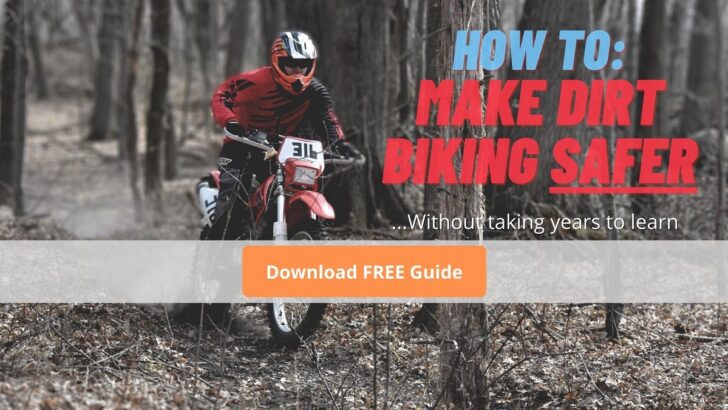 My trail riding tool kit checklist is:
T-Handle
8, 10, 12, 13, 14mm sockets
Screwdriver bits for socket
Aluminum adjustable wrench
Multi-tool
Locking pliers
Mini side-cutters
Zip-ties
Combo tire irons
Tire pressure gauge
Hand air pump
Quiksteel
Cash/credit card
Spare spark plug
Spare front tube
Backup CDI
Hydration pack
Mini first-aid kit
Front Fender Bag
Spreading the weight out is important in my opinion. If you're wearing a backpack with all of your tools and spare parts all day, your shoulders and back are going to be hurting.
I like my fender bag (Amazon) because it's simple, functional, and durable. I keep my spare inner tube and the 2 tire irons that come with in the front fender bag.
How To Prevent Your Fender Bag From Falling Off
Whether you install your fender bag on the front or rear fender, there's always some risk of it coming off if it's not secured.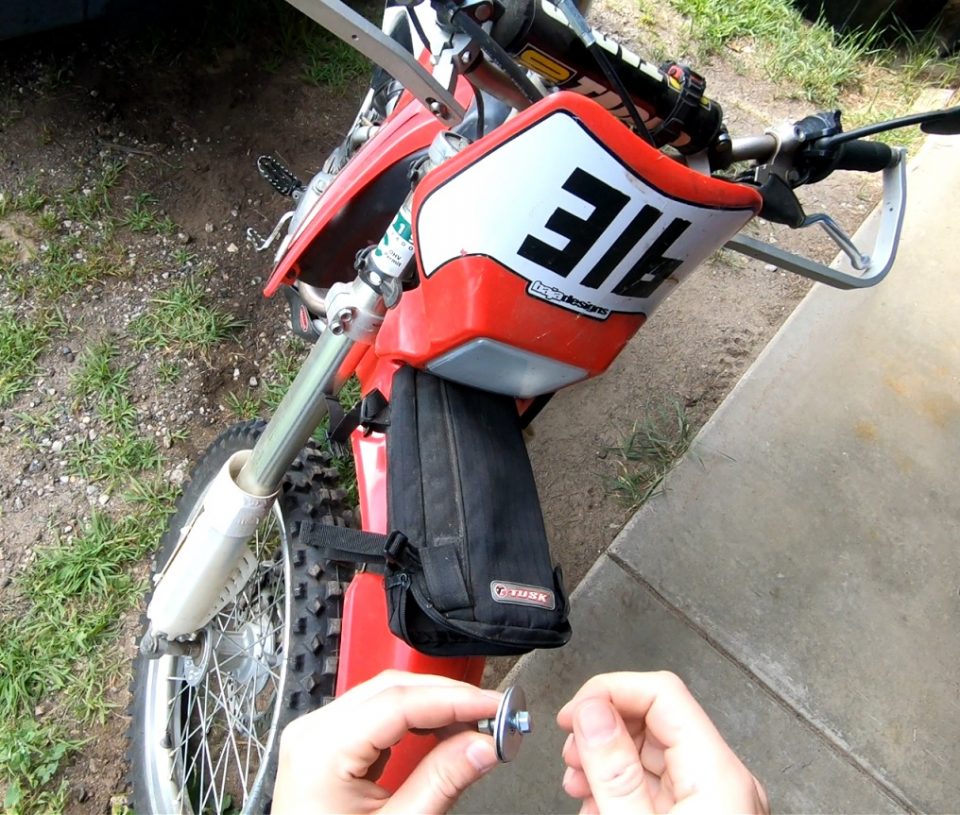 I drilled a ¼" hole in the front fender and fender bag inline. I then put an M6 bolt through it with an extra large washer on both sides of it and the nut.
What's In My Fanny Pack?
I used to just use a backpack to hold my tools while trail riding, but that got old fast. My second big dirt bike camping trip I got a fanny pack to disperse the weight.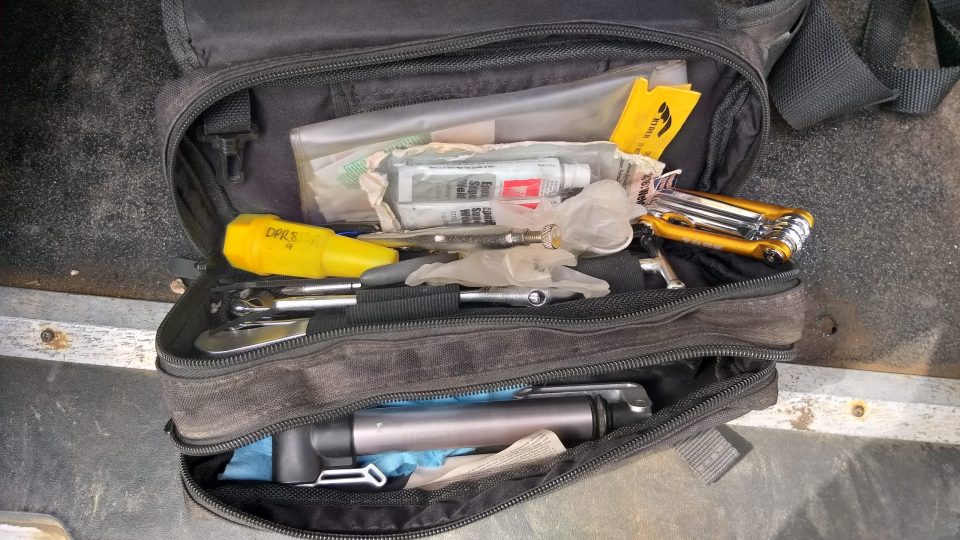 The fanny pack works surprisingly well because the weight is hardly noticeable at my waist. I only notice it when I'm standing and bouncing a lot on the trails.
So, what do I put in my fanny pack? Here are its contents:
T-Handle w/sockets
Screwdriver bits
Wrenches (common sizes)
Adjustable wrench (aluminum)
Zip-ties
Tire pressure gauge
Hand air pump
Combo tire irons
Locking pliers
Mini side-cutters
Spare spark plug
Bandages
Multi-tool
My Favorite All Around Tool?
I never owned a T-Handle (Amazon) too until a few years ago, which is incredibly hard to believe. After buying one for my portable dirt bike tool box kit, I started to realize how useful it was and wish I had gotten one years ago.
As soon as I put my trail pack list together I bought another t-handle for it, along with a new set of ¼" sockets for it. I only put the 8, 10, 12, and 13mm in because I rarely use any others.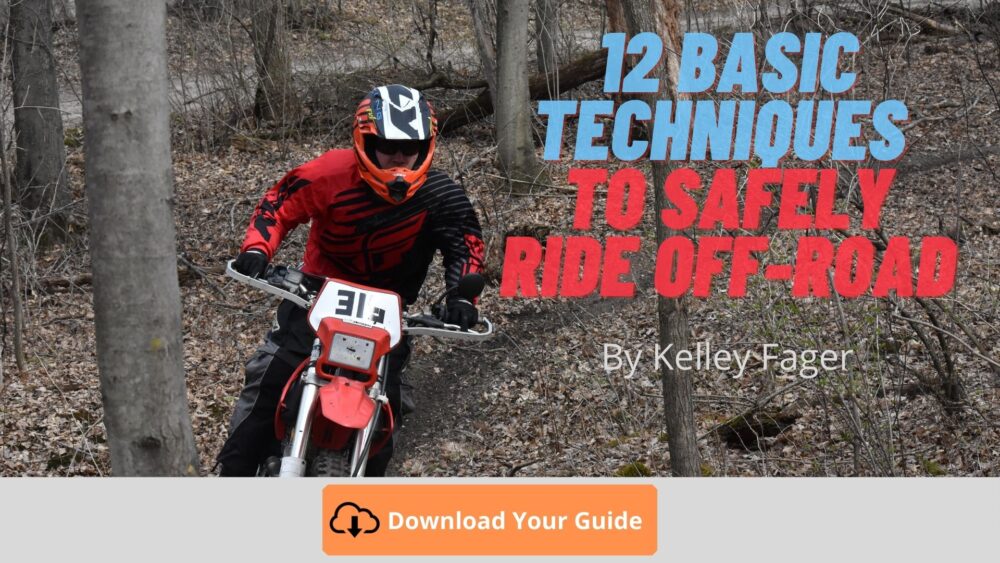 I did add a socket and screwdriver bits as well so I don't need any full size screwdrivers in my trail kit for trail riding.
What Wrenches Are Best?
Some trail-side dirt bike repairs demand a wrench, so I added a select few sizes to my kit.
Any basic wrenches will work, but lightweight is the name of the game if you're a hardcore single track trail rider. For that, I'd get the motion pro ultralight titanium wrench set (Amazon). They're less than half the weight of steel and they're durable enough for the occasional trail-side usage.
Secondary Wrench
It's smart to have two wrenches of the same size. I don't mean having two full sets, but rather having an adjustable wrench.
Some jobs require a wrench on both sides of the nut and bolt.
To keep the weight down, I got an aluminum adjustable wrench (Amazon). It's surprisingly sturdy, but super lightweight.
Zip-ties
There's not much to say about this tool other than that zip-ties can come in real handy for certain "patch jobs". They hardly weigh anything, so I always try to keep a handful of them in my pack for trail riding.
Checking/Filling Tire Pressure
Dirt bike tire pressure is extremely critical. It's something I always try to check before every ride. You can get more traction and riding comfort by adjusting the PSI in your tires by just 1.
Not only can you prevent flats by checking your tires, but you need something to fill your tire if you have to replace it on the trail.
I just have a simple pencil tire pressure gauge in my fanny pack to check PSI. A small bicycle hand air pump works great for filling the tubes. It's fairly small and lightweight, so I'd rather have the pump than the CO2 cartridges that run out of air rather quickly.
Tools To Change Tube
Getting a flat tire on the trail sucks. But what's worse is not having the tools to change it.
The only tools I need to bring for changing a dirt bike tube are 3 tire irons and a spare tube.
I really like my motion pro combo tire irons because they have built-in features to remove the wheel and rim lock. One iron has a 27mm end to remove and install the axle nut (there's multiple options for different model dirt bikes), and then the other tire spoon has a 12mm and 13mm combo to remove the tube and rim lock nuts.
They're super lightweight and don't take up too much room. Since they're short, you'll want 3 tire spoons to make up for the lack of leverage.
How to be a better & safer trail rider
There's a lot of things that can help improve your riding, but there's only one thing that will make a lifelong difference that you can use on any bike.
It starts with your riding technique, and I want to help you get started the right way. I have a complete guide with practical tips to prepare you for what to expect and what mistakes I made when I started. Click here to be a safer trail rider by learning techniques that give you more control.