There's a lot of bad information on the internet when it comes to choosing which dirt bike to buy. This is especially true about the best 4 stroke dirt bikes for trail riding.
That's why I put together this simple guide to help you with what I've learned over my 20+ years of dirt bike riding and owning dozens of motocross and trail motorcycles.
There are different types of trails, so there's no "perfect bike" for every kind of trail and rider. That's why we'll look at what 4-stroke trail bikes are best for each specific type of trail you might ride.
What's The Difference Between A Dirt Bike And A Trail Bike?
A trail bike is a type of dirt bike that is built specifically for riding on trails. It generally has softer suspension and a smooth engine that's easy to ride.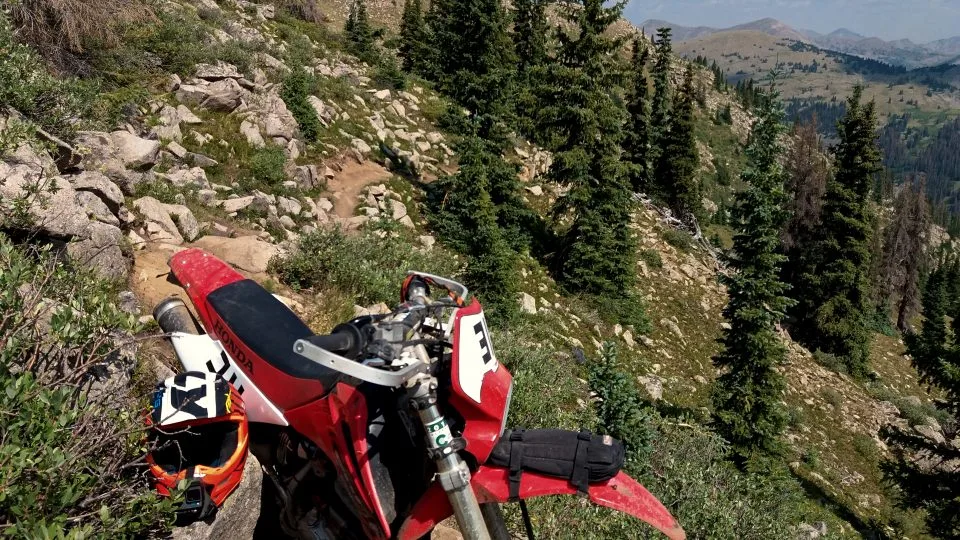 A trail bike also can differ in that it has an 18″ rear wheel (allows for bigger knobbies/sidewall), a larger gas tank, armor (hand guards/skid plate/etc.), a wider ratio transmission to make each gear more usable, a different exhaust that's quieter with a spark arrestor, a kickstand, as well as a head and tail light on some models.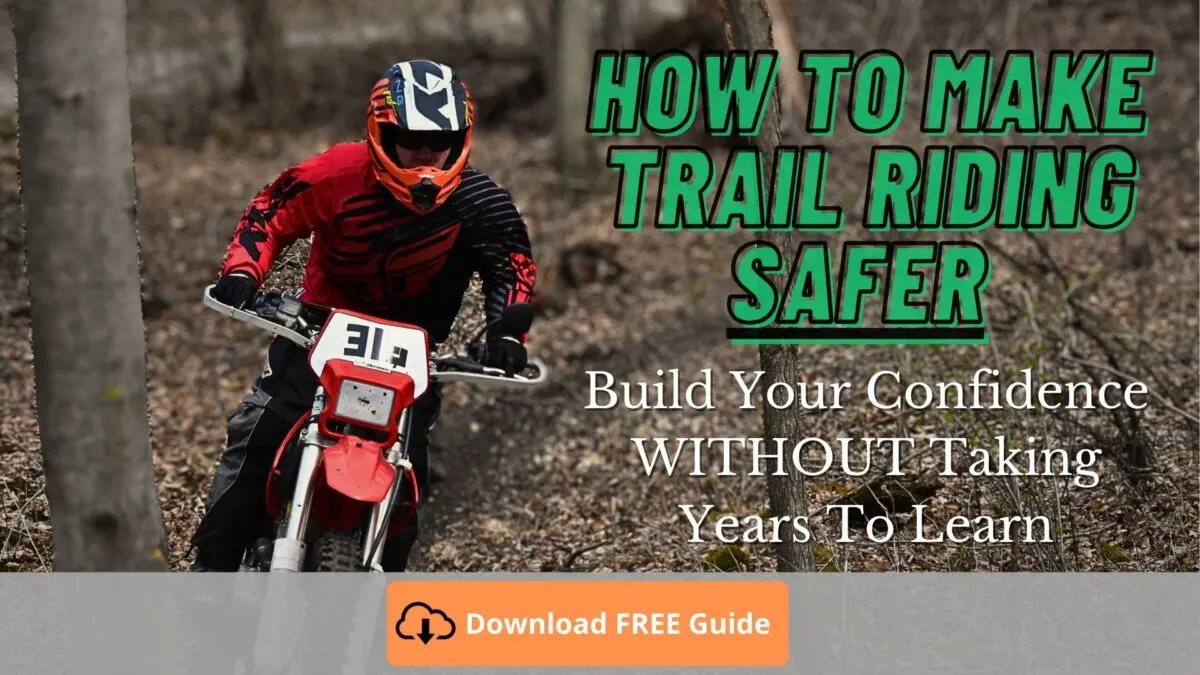 They're a lot better than a motocross bike for trail riding because they're more comfortable and easier to ride off-road. The extra accessories are worth the extra weight unless you're a hardcore racer.
What Kind of Trail Riding Are You Doing?
There's more than one kind of trail riding. I've ridden my dirt bikes on trails that are in the woods, up and down mountains, in desert-like terrain, or just in my backyard and state trails.
Certain models of dirt bikes will work better or worse on different types of trails. If you want to be aggressive and race through the open woods at high speeds, then you'll want a high-performance enduro bike that is built for racing.
Just want a comfortable trail bike for casually riding up the mountain hills? A simple, low-performance air-cooled 4 stroke will meet your needs at less than half the cost of the race-ready model.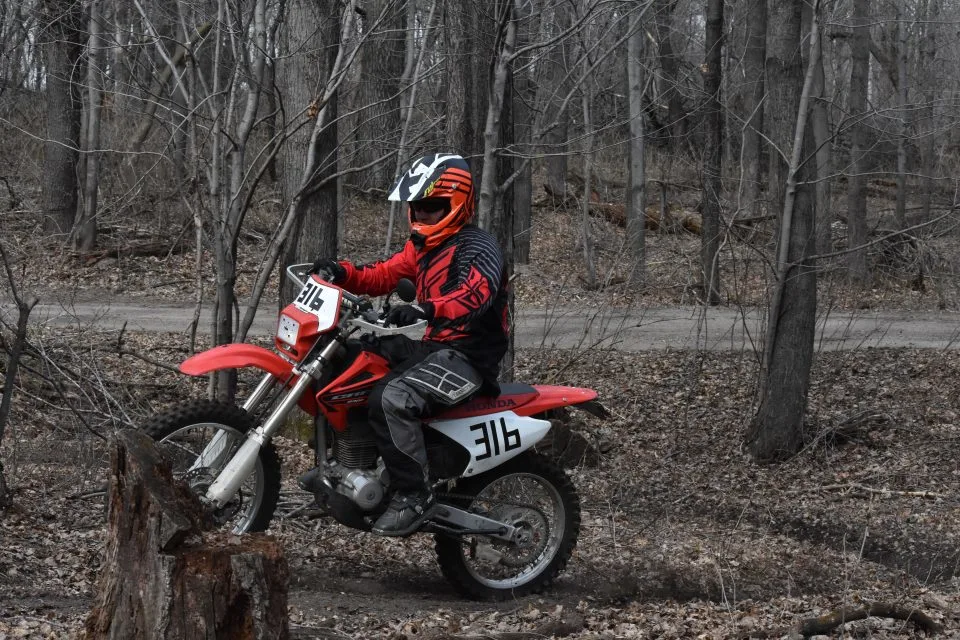 With that said, I still ride a "slow trail bike" aggressively and have more fun than ever! It just needed some suspension tuning to be able to handle the higher speeds and bigger impacts.
What Is Your Skill Level?
Just because you want to ride fast on the trails does not mean you should start out on a 450 race bike. If you're a beginner, I highly recommend starting out on a dirt bike that is easy to ride with smooth and predictable power.
A slower bike is easier to ride fast than riding a fast bike at slow speeds. Skipping ahead to a bigger 4-stroke and trying to "grow into it" will only slow down your pace of learning.
I learned that the fastest way to become a better rider is to master the basic skills of clutch and throttle control, as well as balance. By learning the proper techniques, you'll also have more control and be able to ride longer without getting exhausted.
Once you've completely outgrown your first dirt bike, then it's time to look at a more serious enduro trail bike.
What Is Your Size?
Dirt bike size is more important for beginners than it is if you're an expert level rider. Being able to touch the ground with one foot builds your confidence because it can prevent simple tip-overs.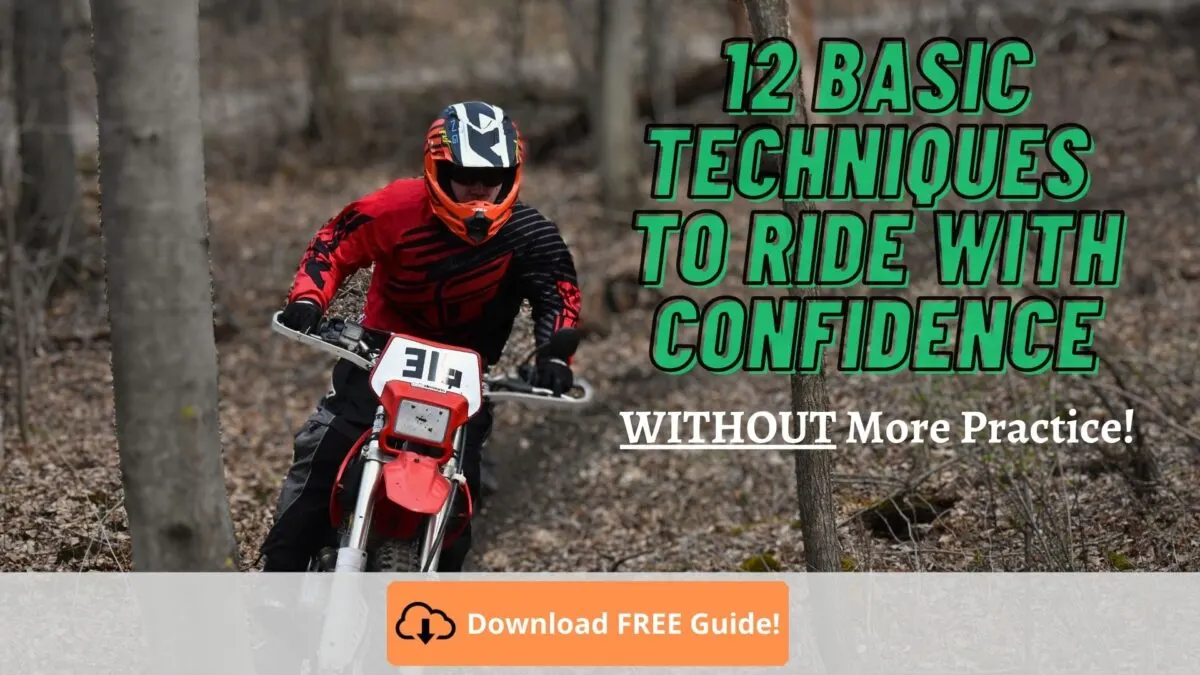 Confidence is key to growing your riding skill and technique. This is true even if you're a pro rider.
There are a number of mid-size and smaller full-size dirt bikes if you are shorter than average. Even if you buy a 4 stroke that's a little too tall, there are several ways to lower the seat height.
Are 4 strokes good for trail riding?
Depending on what type of dirt bike you get and the type of trails you're doing, 4 strokes can be really good for trail riding. For example, you don't want to ride a 250F 4 stroke MX bike on tight and technical trails, especially if you're a beginner.
My video/podcast below shows you what you need to know before buying a 4 stroke dirt bike:
You need to choose the right kind of trail motorcycle for the job. Keep reading to find out what the best trail dirt bike is for your size and budget so that you can have fun for many years to come.
Is A 2 Stroke or 4 Stroke Better For Trail Riding?
There will always be an argument going for 2 strokes or 4 stroke dirt bikes.
If you've read this far, then you probably know these advantages that a 4 stroke trail bike has:
Broad power curve
No mixing oil
Latest R&D technology
Easier to ride longer
Generally longer rebuild intervals
If you haven't done any research on 2 stroke trail bikes, check out this article to see why they're so popular.
Getting To The Best 4 Stroke Trail Bikes
Now that you have a good idea of what to look for in a bike, here are the best 4 stroke dirt bikes for trail riding:
Kawasaki KLX140
Honda CRF250F
Kawasaki KLX300R
Yamaha WR250F
Honda CRF250RX
Yamaha YZ250FX
KTM 250XCF
Yamaha WR450F
KTM 500 EXC
Which 4 stroke bikes you should AVOID for trail riding
Before I go into why each model deserves this title, I just want to briefly mention some models that are NOT good trail bikes, especially if you are a beginner. Other sources may throw these or similar bikes out there as being the best bikes for trail riding, but they are all motocross bikes.
MX bikes are designed for one thing: racing on a motocross track. They have so many traits that make them poor trail bikes and are difficult to ride in the woods.
Examples of bad 4 stroke dirt bikes for trail riding:
Yamaha YZ250F
Honda CRF250R
Suzuki RMZ250
KTM 250SXF
Kawasaki KX250F
Bottom Line: stay away from motocross bikes if you are a beginner until you have learned proper riding techniques.
There's no reason to buy an MX bike until you're ready to ride on a motocross track.
What's The Best 4 Stroke Trail Bike For Beginners?
The overall best 4 stroke for a beginner that's riding trails is the Honda CRF250F. This is not the same bike as the CRF250R or 250X.
It's the successor of the CRF230F, which is also a great woods bike, but Honda discontinued it in 2019.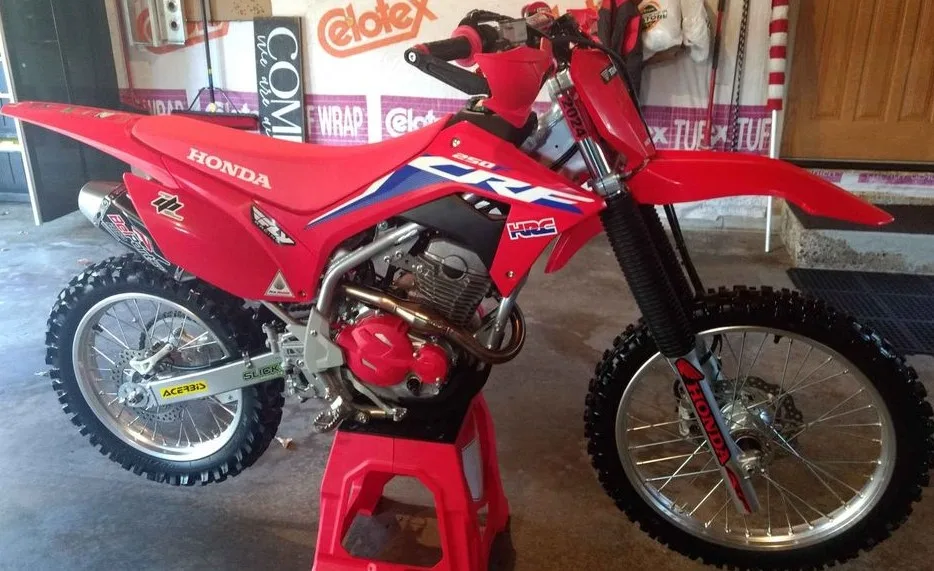 The CRF250F is an all new air-cooled 4 stroke with a dual-camshaft design. It has electric start, but the biggest upgrade is the electronic fuel injection system.
No more pesky carburetor to deal with, as the EFI auto compensates whether you're starting the bike hot or cold.
The low seat height of 34.8″ helps build confidence, being a few inches shorter than a standard full size 4 stroke.
Other reasons why the Honda CRF250F is a great trail bike:
Smooth power-curve with good torque
Low seat height; Low center of gravity
Very reliable
Plenty of mods will be available
Shorter wheelbase; makes turning easier
Other 4 stroke beginner bikes that are good for trail riding
Honorable mentions in case you don't want a Honda include: Kawasaki KLX230R, Yamaha TTR230.
If you're a new rider, then you're on the right track to becoming a skilled rider by researching this article for the best dirt bike to start out on!
A 4 stroke trail bike is a great option for learning how to ride, but it's even more important to learn proper riding technique. To learn the fundamental techniques and build your confidence, tap here to get started for free.
Best cheap used 4 stroke trail bike for beginners
Maybe you're on a budget and need a cheap dirt bike to get started.
If that's the case, then here are the most affordable trail bikes if you're looking for your first dirt bike: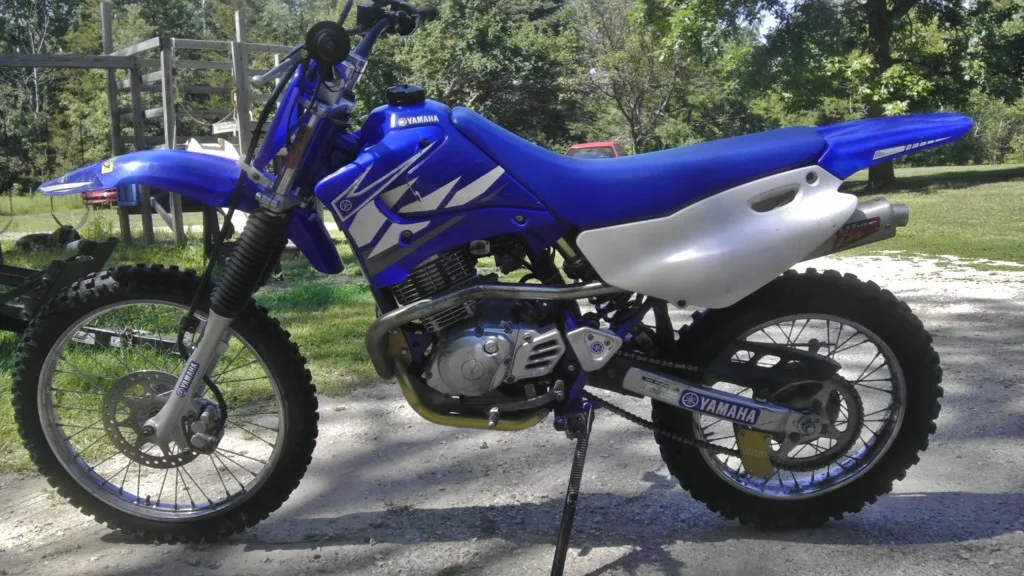 Starting out on these older bikes is a great and inexpensive way to get started into riding off-road. If you can find one in good shape, you'll not only save money when you buy it, but it will also be cheaper to maintain.
What's The Most Reliable 4 Stroke Trail Bike?
The most reliable dirt bikes for trail riding are going to be the ones that are maintained the best.
All kidding aside, the air cooled 4 strokes are generally the most reliable because they're the lowest performance engines.
The CRF250F, KLX230R and TTR230 are super durable and among the most reliable dirt bikes if you just keep the oil clean and full, and have a clean air filter.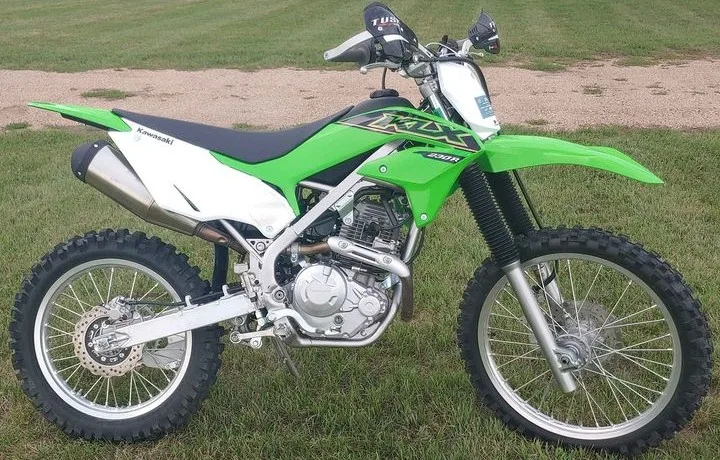 What's The Best 250cc 4 Stroke Trail Bike?
There's many different 250 models that are designed for trail riding.
Honda has the CRF250F for beginner trail riders, the CRF250X for intermediate and experienced trail riders, and the CRF250RX for enduro riders that want a race bike that can still handle technical terrain in the woods.
The best 250 4 stroke dirt bikes for trail riding are:
250 or 450 Dirt Bike For Trails?
A 250 four-stroke is better for riding slower, tighter trails because it's lighter and easier to handle. A 450 is better for faster, more open trails because it has plenty of power.
While a 450cc dirt bike might only weigh a few pounds more than a 250, the mass of the engine makes it feel a lot heavier. For example, when I went from a 200cc enduro bike to a 450cc, I got exhausted MUCH quicker because I'm not very strong.
If you don't need the extra power, it's not worth the extra effort, in my opinion.
Best 4 Stroke For Fast Trails/Racing
The CRF250RX, YZ250FX, 250 XC-F, and KX250X are among the best enduro 4 strokes for high-speed and aggressive trail riding. They are lightweight and based on the 250 motocross bikes but are set up for off-road riding.
The motocross bikes listed above in the "worst 4 strokes for trail riding" can be used for riding in the woods, but they do not have the key traits that make it much more enjoyable.
For example, compared to the YZ250F MX bike, the YZ250FX has a wide-ratio 6-speed transmission, a larger gas tank, an 18" rear wheel (better for off-road), a kickstand, suspension that's tuned for off-road racing, and an engine tuned for broader power.
All of these differences add up to a much better riding 250 4 stroke on the trails.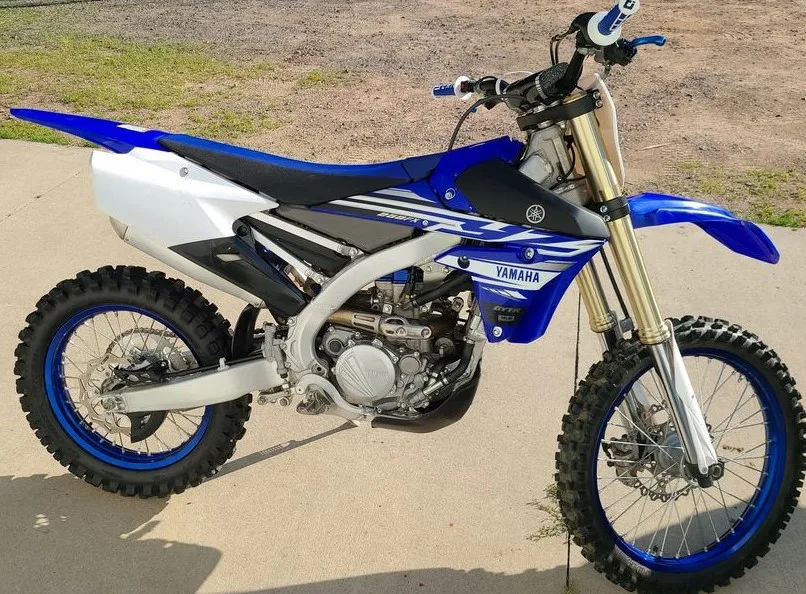 Can you race 4 stroke dirt bikes?
Absolutely! There are many 4 stroke enduro and motocross bikes for racing, but you can even race a "slower" 4 stroke trail bike.
I've raced a CRF230F "girls bike" at some hare scramble and enduro races and was still competitive in my class. As long as the suspension is set up for you, it's more about YOU the rider, and your riding ability than what bike you're riding.
Best 4 Stroke For Desert Trail Riding
Desert riding usually requires a bigger and more powerful bike. Sand and high-speed riding need more torque and horsepower or else you're going to be doing a lot of shifting to keep moving at a fast pace.
Yamaha's WR450F has always been a solid bike, but it's improved yet again. The engine has plenty of horsepower, based on the YZ450F engine. You can also tune the ECU from your phone to get the exact feel that you want.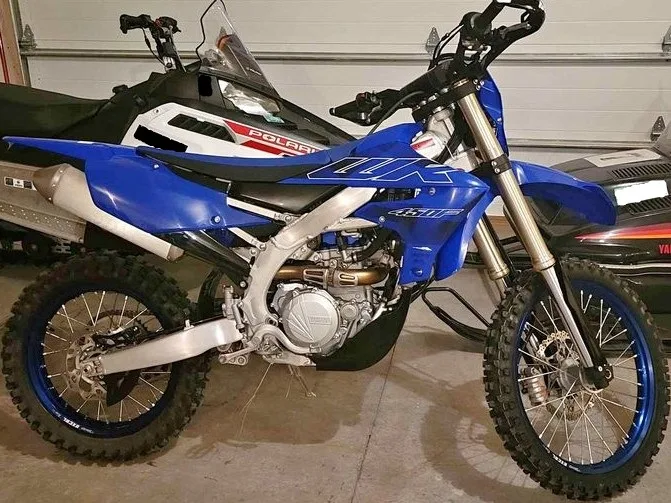 The Honda CRF450X is another great option for high-speed desert or Baja-like riding.
KTM's 500 XCF-W is another step in the direction of high performance. If you're looking for more than 450cc of power, the KTM 500 is the ultimate do-all bike.
Tuning the ECU may be required to get the most out of it if you get a "smogged" bike with all the EPA-restrictive parts.
Best 4 Stroke For Tight Single Track
Are you looking to get the ultimate woods weapon? Your best bet is the lightest bike with a shorter wheelbase.
Unfortunately, there's no high performance option available unless you modify your own bike, such as a modded CRF230F.
The Honda CRF250F and Kawasaki KLX230R are great for tight single track riding, but they fall short in suspension and overall performance in stock form if you want to ride aggressively.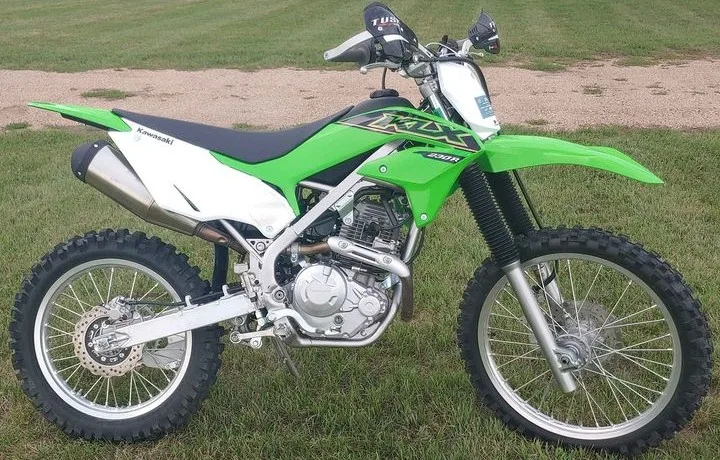 Yamaha's WR250F has come a long way in the past 10 years, using the YZ250F powerplant but tuned for smoother power.
However, it's still a tall bike with a full size seat height and wheelbase, so it doesn't have much of an advantage over another 250 4 stroke trail bike.
Best lightweight street legal trail bike
Maybe you are limited to just one dirt bike due to space or your wife's rules. Whatever it is, having a street legal dirt bike can be really beneficial so that you can ride to the trails, but there's just one problem…
Dual sport dirt bikes are heavy, which makes for a poor trail bike, in most cases.
So, that's why I want to show you the lightest available street legal dirt bikes that are still good for trail riding. With that said, you need to know which motorcycle is good based on your experience level. For example, just picking the lightest bike isn't necessarily good for a beginner because it's a high-performance model.
These are the best lightweight street legal dirt bikes for trail riding:
KTM 350 EXC-F (experienced riders) – (est.) 243 lbs/229 lbs dry*
KTM 500 EXC-F (experienced riders) – (est.) 254 lbs/240 lbs dry*
Suzuki DR200S – 278 lbs
Honda CRF450RL (experienced riders) – 291 lbs
Kawasaki KLX230 S – 297 lbs
Kawasaki KLX300 – 302 lbs
Honda CRF300L – 306 lbs
Looking to buy a used 4 stroke dirt bike?
Maybe you're on a budget and can't afford to buy a brand-new bike. That's okay, but buying a secondhand dirt bike can leave you with some major problems if you don't know what to look for.
Check out my video (or podcast episode) below so that you know what to look for when buying a used 4 stroke:
5 Simple steps to get start dirt biking on a budget
Whether you're brand new to dirt biking, just getting back into it, or coming from a street or mountain bike, finances are often an issue when getting into this hobby. You can easily spend $10-15k just buying a bike and gear to get started, but I want to show you how to do it for a fraction of that while still having just as much fun while being safe. Click or tap here to learn more.