Looking to get a Honda XR100 but not sure if it's the right dirt bike for you? Whether you're new to dirt biking or just want to get another bike, you're in the right place!
In this article, I'm going to show you exactly what kind of bike the XR 100 is, why it may or may not be good for you, and then what to expect buying and owning a used one so that you save time and money.
What is the Honda XR100?
It's a 100cc Honda air-cooled 4 stroke trail bike with a 5 speed manual transmission and clutch, but what does that mean? An air-cooled engine is simple, reliable, and low-performance, but that's not necessarily a bad thing, as I'll shortly explain why.
With a manual clutch and 5 gears, it's one of the smallest dirt bike engines with a clutch, which makes it great for learning if you or your kid is ready for it.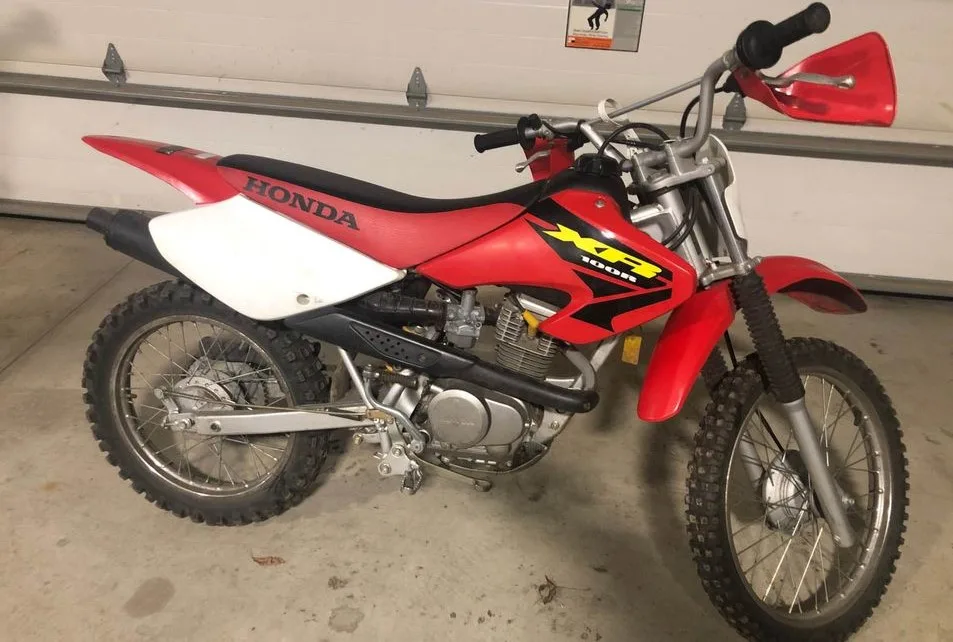 Who's it for?
It's designed for teens, young adults, women, or any shorter rider that wants to learn how to ride a dirt bike with a clutch. It is big enough for adults to use as a pit bike, yet has a short enough seat height for a kid.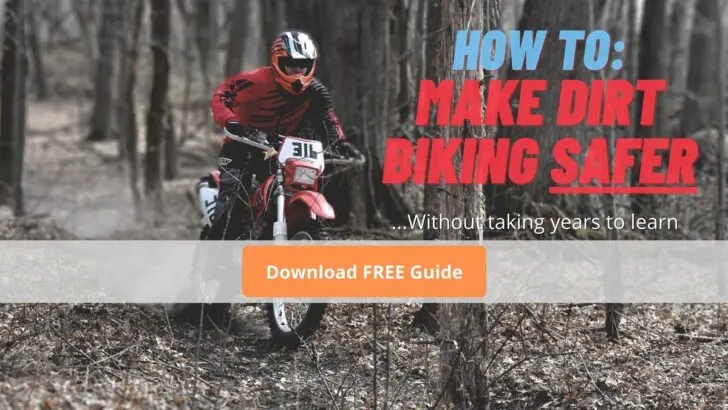 XR100R vs XR100 Differences
The difference between the Honda XR100R and the Honda XR100 is Nothing, besides the added letter.
After 1985 XR100R is the actual name designation that Honda gave this dirt bike. Many people just use XR100 to shorten it up and save time when typing it in or saying it out loud.
With that said, the 1984 and earlier XR100 has an older design, which includes the lower performance dual rear shocks. In 1985, Honda officially renamed it the XR100R and went to a single rear spring shock.
XR100 Engine – what to expect
Do you want an engine that's easy to ride and learn how to use the clutch?
The power is very smooth and manageable, and can still get you out of a lot of messes. Due to a heavy flywheel and low gearing, stalling is not an issue on the XR 100 because you can let the RPM get very low and the engine will keep turning, which is the opposite of a motocross bike.
The 100cc four-stroke air-cooled engine that powers the Honda XR 100 and CRF 100 has virtually stayed the same over the past few decades (other than the CDI ignition upgrade in '92).
It may not be up to date with today's four-stroke motocross bike technology, but why change something that already works, and works well!
How much horsepower does an XR100 have?
A stock XR 100 has 6 horsepower, which doesn't sound like much, but it has just enough power to give you loads of fun. Having less power makes it easier to control, which is exactly what you want as a beginner rider.
This 100cc dirt bike engine is also great if you're an adult that enjoys riding pit bikes. It is an excellent starting point for an 'mini adult trail bike' because it's cheap, easy to work on, and has the potential to be a quick little machine in the woods or tight tracks.
XR100 engine upgrades
While you're never going to make it a high-performance race bike, there are some simple and affordable ways to get more power out of your Honda XR 100 trail bike. Un-corking and jetting are quick and easy ways to get a little more power for cheap.
The best XR100 power upgrades for your money are: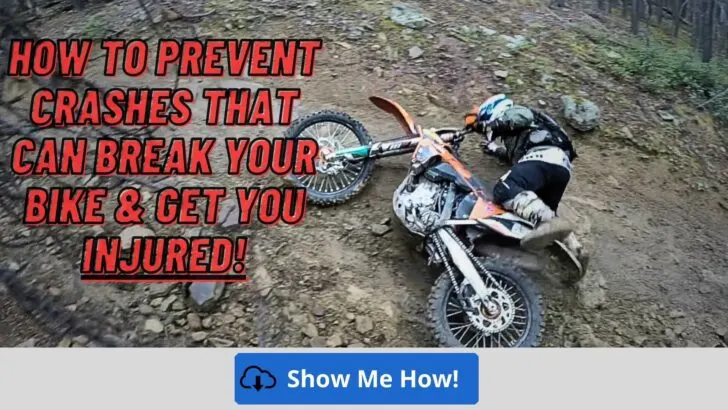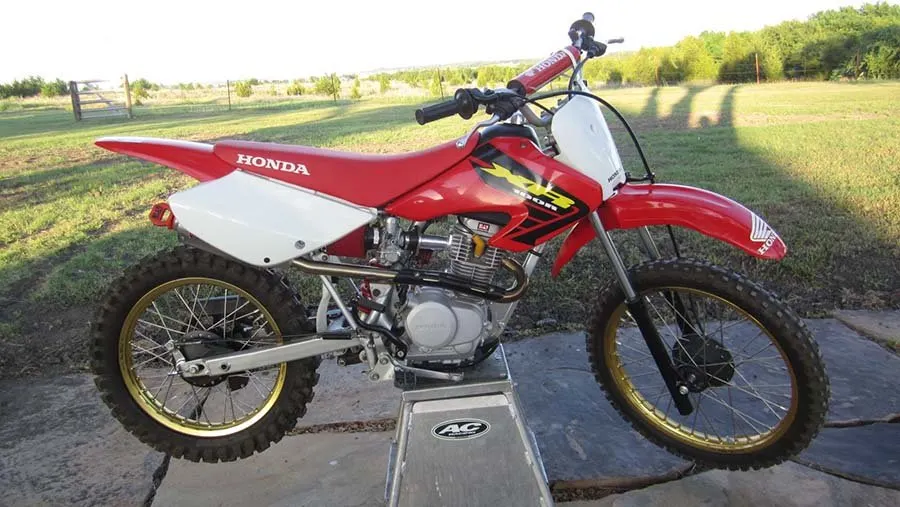 Top speed
An XR100 can reach a max speed of about 50 mph when riding on flat ground, but that number doesn't mean much. I mean, how often will you have the 1/4 mile of flat ground it needs to reach its top speed?
Is it hard to kick-start?
Compared to newer dirt bikes, the XR100 doesn't have an electric start, which may be a deal breaker for you. However, the one advantage a kick-start dirt bike has over electric start is that there's no battery that can die on you out in the middle of a trail.
The XR100 is easy enough for a kid to kick-start it, so you don't need the added weight of a battery and starter; although one could come in handy when stalled on a hill. You just need to have a good starting technique for kicking the engine over.
Suspension – what to expect
For what it is, suspension on the XR/CRF 100 is pretty versatile. While I don't recommend racing one in its stock form, it sure can take a beating.
Many adults and bigger kids (me, ha) like to rip around on these bikes; hence why finding a roached (abused) XR100 for sale is common.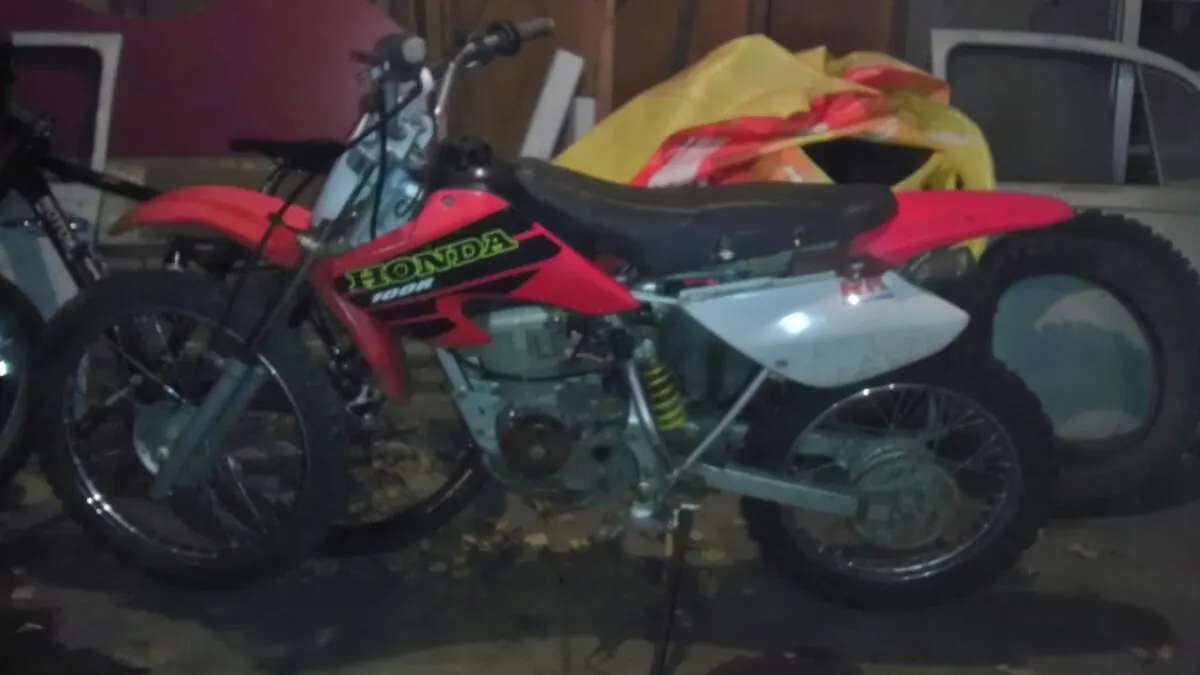 Why do we do it? Because it's so fun on a smaller bike that you can just whip around.
All in all, the stock springs are meant for some under 130lbs that trail rides. It will last longer than it should if you jump it, but you risk breaking the frame, handlebars, and possibly more.
XR100 suspension upgrades
Since the stock forks and shock are so soft if you're an adult or heavier rider, the first thing to do is upgrade the springs. The stock suspension will bottom out and can snap apart if you're too aggressive.
Stiffer springs (Amazon) and an aftermarket frame cradle (Amazon) are a must if you're going to race/jump this bike, but also if you're riding faster than a beginner.
You can also use heavier weight fork oil (Amazon) to slow the compression and rebound down. This is a "poor man's re-valve". Raising the fork oil height will also help stiffen the forks and resist bottoming.
How reliable is the XR 100?
The reliability of the Honda XR machines is at the top step. You can get years or decades out of a stock engine, but only if you keep up on maintenance (which isn't much).
Keep oil in it by changing it after about 10-15 hours of use (depending on the riding conditions), keep the air filter clean, and don't let the gas go bad.
The problem with reliable dirt bikes…
Reliability is one of the main reasons adults use this engine for their pit bikes. Even after modifying the engine it can still last a long time.
However, this is also the reason why so many of these bikes are in rough shape. The owner just keeps filling up the gas tank and riding until it starts running rough or stops altogether – you may find one or more of these for sale, so it's important to know what to look for so that you don't make a mistake buying a lemon.
XR100 rider size and seat height
With a seat height of 30.5″ inches, it's a good size dirt bike if you're 4'8″-5'2″ tall, which is generally older kids, teens, young adults, and females. Of course, your inseam is just about as important so you can touch the ground with one foot.
Being able to touch with your foot helps build your confidence in case you lose your balance and need to catch yourself. As you learn how to stay properly balanced, you won't need to put a foot down unless you're coming to a stop.
Is there a weight limit?
There is no weight limit, but the XR100 will struggle if you weigh over 130 lbs. due to soft suspension and low horsepower. If you're a heavier rider or plan on doing jumps with it, you'll want to upgrade the forks and shock and possibly the frame so that it won't break on you.
Even though the XR100 or the updated CRF100F only puts out a measly 6 horsepower, it's still enough to chug around the property with an adult on the saddle.
XR100 Specs & Dimensions
| | |
| --- | --- |
| | XR100R |
| Manufacturer | Honda |
| Engine | 99cc air-cooled 4 stroke |
| Transmission | Manual Clutch 5-speed |
| Seat Height | 30.5″ (77.5cm) |
| Weight (wet) | 174lbs. |
| Horsepower | 6 HP |
| Top Speed | 50mph |
| Wheel/Tire Size | 19/16″ (Front/Rear) |
Any common problems?
The XR100 was such a well-made dirt bike that it never really had major issues. With that said, there were little things that occasionally came up if you ride a lot of hours or leave it sitting for too low.
The most common XR100 problems were:
XR100 Model year history & changes
The XR100 was made for many years, but there weren't many major changes.
These are the years that Honda made updates to the XR 100:
1981: First year of the XR100
1985: First year of the XR100R – updated to mono-shock (Pro-link suspension), plastic gas tank
1992: Updated CDI ignition (from earlier points-ignition)
1995: Updated cylinder head with larger fins for better cooling
2001: Updated plastics/gas tank/graphics, main shaft, intake valve seal, and rear shock
2003: Last year of the Honda XR100R
When Did Honda Stop Making The XR100?
Technically, the last year of the XR100 was in 2003. However, the CRF100F, which is virtually the same dirt bike, was built until 2016, when Honda transitioned to the CRF125.
What's an XR100 Worth?
You can check bluebook prices, but they generally not be accurate. The best way to determine the value or worth of an XR100 is to check the local market. This goes for any dirt bike, as it's all about supply and demand.
An XR100 in good shape is generally worth around 900-1200 in the U.S., but it may be hard to find one that cheap if there are very few of them available. The opposite goes for a surplus of XR100's.
The second most important factor to its worth is the actual condition of the dirt bike. If you're going to look at one to potentially buy, make sure you know what to look for so that you don't get screwed over.
XR100 vs TTR125
While the TTR125 has slightly more power, the XR100 can still hold its own. I like the ergonomics and handling of the 2001 and newer models. However, none of them have electric start.
So, which is better? The biggest difference is the electric start option on the Yamaha.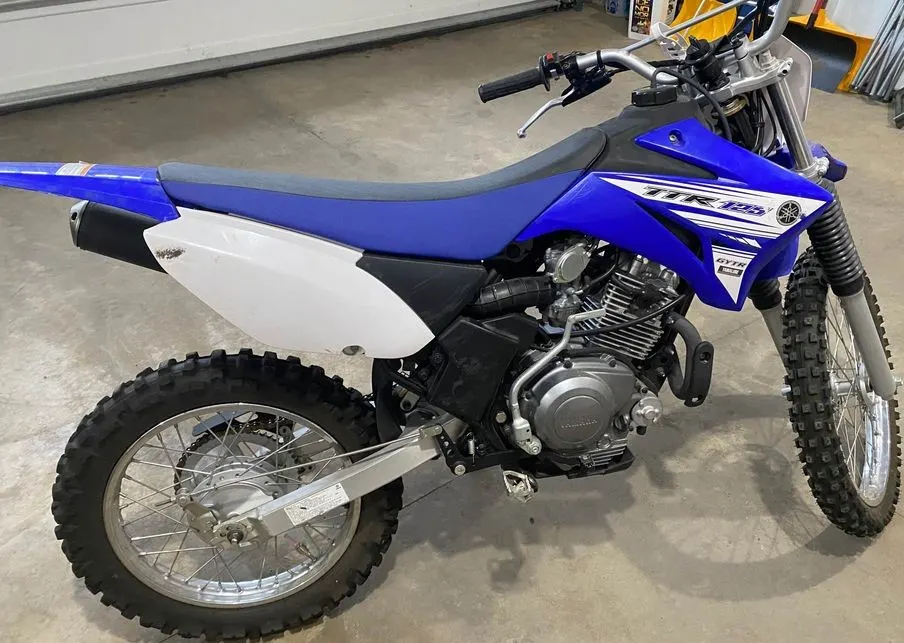 Both the XR100 and TTR125 have plenty of aftermarket mods available. I'd go with the one that you can find the best deal on in good condition.
Is the XR100 a good starter dirt bike?
The XR100 is a good starter bike if you're the right size because it's extremely easy to ride, and has every control you'll ever use! Easy kick-start, throttle, brakes, clutch, suspension….What more do you need from a "First-bike"?
The engine is very forgiving with its clutch and buttery-smooth power. It's a lot more difficult to stall this on the trails than a motocross bike.
You Should Buy An XR/CRF100 If You:
Want cheap fun
Enjoy riding more than maintaining
Want to learn how to ride a motorcycle
Like pit bikes
Trail ride
Like the 4-stroke power curve
Want an easy to ride bike
Want a back-up bike
You Shouldn't Buy An XR100 If You:
Expect a race bike in stock form
Don't like having fun
Add a gallon of gas and you're in for some serious fun…
XR100 Mods?
While a stock XR100 is fairly restricted to more skilled riders and weekend warriors, there are endless mods and upgrades you can do to beef up this bike to make it more potent. A pipe and heavy-duty suspension upgrade may be all it takes to provide hours and hours of fun.
However, some of us that are more on the edge like to go a step or four further… This can turn into an all-out pit bike build that starts with an XR 100 engine as the power-plant but uses a modified chassis/suspension from an 85cc 2-stroke motocross bike.
If you want to add even more fun, modifying an XR100 is a great hobby if you enjoy wrenching on things, plus it'll be faster if you add the right engine and suspension upgrades. Click Here to learn what the top 5 five mods are for the XR100.
5 simple tips for buying a good used XR100
Since you can't buy one new, you're going to have to buy one used, and that can be scary. You don't know what the previous owner has done to the bike, so it may be a piece of junk, but that's where I can help.
I want to give you a free gift that will show you the top mistakes people make when buying a used dirt bike so that you save time, and money, and don't end up with a bike that quits running. Click here to download the PDF Checklist.