When buying a used dirt bike, or any vehicle for that matter, you never truly know what you are getting. Just because the seller says it was rebuilt, doesn't mean it won't grenade on you an hour after you get home. You don't know what exactly has been done to it, and they may not have rebuilt it correctly.
Not everyone lies about what they have or what's been worked on, but some people just don't know. That's why it's YOUR job as a buyer to do as much research and scrutinizing of the bike as possible. The more you know about the model of bike you're looking at, as well as the bike itself, the better you can judge its value.
Bring A Friend That Is More Experienced
If you've never gone to look at a used bike before, asking a friend to come along that is very experienced with wrenching on bikes is highly recommended because they generally know what to look for. However, you can use this list of things to look for to give yourself a jump-start on dirt bike mechanics 101.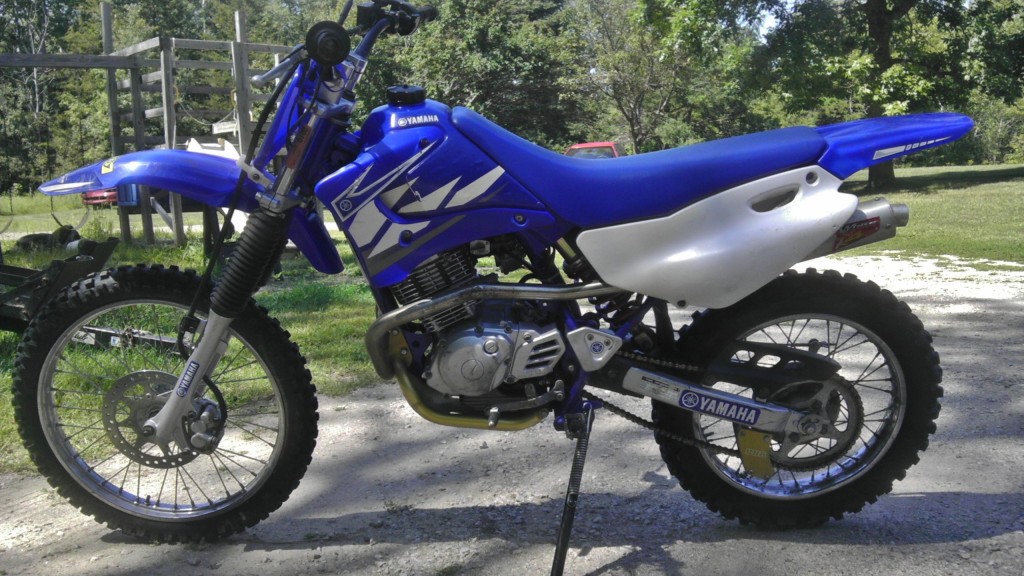 These guidelines relate to motocross bikes, trail bikes, 2-strokes, 4-strokes, air-cooled and liquid-cooled bikes for every make.
1: Just Look At It
Upon arrival, you can sometimes tell if a dirt bike is a cherry, or if it is a complete junkbox on wheels. Look at the plastic, frame, and over-all cleanliness of it. If it was put away wet often, there will be a lot of stains and dirt caked on the bottom of the engine/chassis.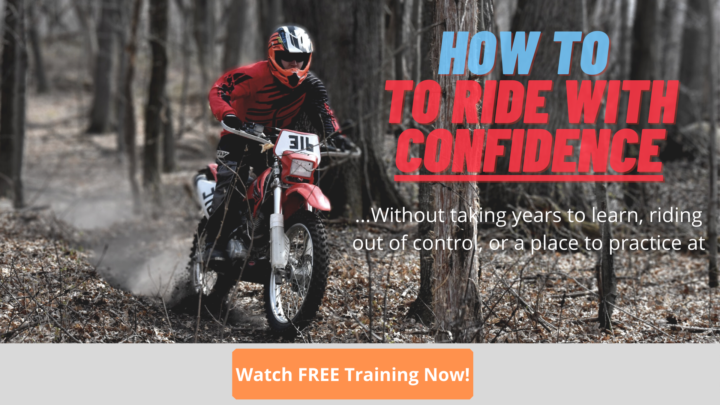 2: Look At Surroundings
This doesn't pertain to the bike specifically, but while looking at it, take a look around. Where and how is the bike sitting? Is the garage/place clean? How does the seller's other vehicles look? If everything is clean and looks well taken care of, there's a good chance the bike was, too. This alone shouldn't be the determining factor though.
3: Frame Damage/Straightness
If the dirt bike has been in a major or numerous crashes, the frame or subframe usually shows it. Check for unusual bends/cracks at the welds or where two sections meet. If the subframe is bent, it's usually easy to see by looking at the bike from the rear. The fender will usually lean more to one side. If it's too far to bend back, a used subframe is anywhere from 50-200 bucks depending on the bike.
4: Wheels
Take a close look at both wheels for bends or cracks, as well as missing spokes. If anything is damaged or missing then the bike was ridden hard or rode on rough terrain. Spin the wheels to see if they wobble at all. Used wheels in good shape can be expensive.
5: Tires
Are the tires worn out or cracked from old age? If they don't have any sharp edges then you'll want some fresh rubber for a big increase in traction, which is not only safer, but it will put more power to the ground. A pair of tires can cost close to 200 bucks or more, depending on what kind of performance you're looking to get.
6: Suspension
You may need to get it re-valved for your weight, or it may just need to be serviced if the seller hasn't done it in a while (or ever). This could be as little as new oil and a charge of nitrogen (rear shock).
7: Bearings
There's quite a few bearings on a dirt bike, and most of the time you can expect them to be needing new grease at the minimum. Move the wheels side-to-side to check their bearings. If there's any slop they need to be replaced.
The steering stem has bearings that are usually under-greased from the factory. If it's hard to turn the handlebars, they may need to be replaced.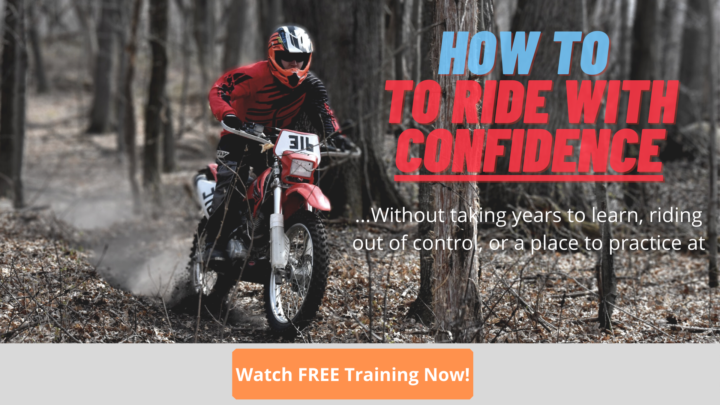 8: Swing-arm/Linkage
With the bike on a center stand, move the swing-arm up and down, as well as side-to-side. It should move freely without binding. If it's rough or wobbles, it will need to be serviced and may need a new bushing kit.
9: Air Filter
If the seller won't let you take the seat/panel off to look at the filter, he/she is probably trying to hide something. If you're looking for a good running and reliable bike, it's probably best to walk away if they say "No". Take a look at how clean the filter itself is, as well as the rest of the airbox. Someone who takes good care of their bike will keep these both clean.
10: Engine/Transmission Oil
This is just as important as the air filter, if not more so! Most bikes will either have a dipstick or a sight glass so you can easily check the oil level. You should be able to see some oil at least at the minimum level. If you can't see oil, there's not enough to properly lubricate. If it hasn't already, it will cause damage, and is one of the leading causes of blown engines.
Many air-cooled trail bikes, such as the Honda XR lineup, are so reliable that some owners never change the oil. Eventually it will run low and will start smoking or seize. However, some dirt bikes require you to start and idle them for a minute in order to check the oil. Make sure you know how to check it before you go.
11: Chain
Chains can last a long time if they are taken care of. On the flip side, if the chain is never or rarely cleaned and lubed, it can wear out faster than the top-end on a motocross bike.
Check for kinks, as well as how far it is on the adjuster. If there's no room left for adjustment, it's because the chain is stretched out and is in need of replacement. If the chain has a lot of corrosion or skips at all, it's toast.
12: Sprockets
Sprockets usually wear with the chain. You can often get one rear sprocket, and two front sprockets out of the life of a chain if properly maintained. Look at the teeth for any chunks missing or odd shaped teeth from wear.
13: Brakes
Look at the brake pads for wear. If they're close to the limit marks or metal, they need to be replaced. Also take notice of the brake fluid in the master cylinder(s). If it's low or dirty, it may need to be flushed out. Most of this is just maintenance, though, and isn't too costly.
14: Coolant
Pop the radiator cap off and check the coolant level. It should be at or near the top. If it's low then the engine may have overheated and spit some coolant out the overflow tube.
15: Radiators
After you look at the coolant, take a closer look at the radiators. Are they smashed or bent? How do the fins look? If it looks like it's been poorly repaired or patched up, you can count on needing a new one, which can be expensive, depending on what you get (new/used/aftermarket).
16: Handlebars
They can get bent easily if the bike was flipped or wrecked. You can usually tell just by looking at it, but by a simple test ride you should be able to feel if they are bent or not.
Aftermarket handlebars sometimes means that the stock ones got bent, along with the possibility of other parts in the process, so pay close attention if so.
17: Levers
Brake and clutch levers are very easy to bend/break. They are fairly inexpensive, but if more than one needs replacing, the repair bill quickly adds up.
The shift lever and rear brake pedal can get bent as well. Make sure the shifter is on tight. If it's sloppy, the splines could be worn and it'll need a new one.
18: Seat
Does it have any rips? If the cover was replaced, was it put on correctly? This has little to no mechanical function, but some of us like our dirt bikes looking nice.
19: Fork Seals
Fork seals are cheap and fairly easy to replace with the right tools. However, it can be time consuming, and is quite expensive to have a shop replace them. If they are barely seeping, you might be able to get away with just cleaning them.
20: Engine Noises
Start and let the engine idle for at least a minute. Listen for any rattling or ticking. If it's a 4-stroke and it ticks with the RPM of the engine, it's probably a worn timing chain or tensioner. Fairly simple fix on most bikes. If there's a rattle that gets noticeably quieter when the engine is fully warmed up, it may be piston rattle, which will require a rebuild.
21: Transmission
The best way to test the transmission is by riding the bike and shifting through all the gears. It should shift easily up and down through all the gears, with or without the clutch. If you hit a 'false neutral' in between gears, it may have a bent shift fork, which requires the cases to be split (a lot of labor).
22: Clutch
You can test the clutch while you're riding as well. How big is the 'friction zone' or how much movement does the clutch lever have from disengaged to engaged? Or does it even fully engage? A slipping clutch will rev out and the engine may feel really low on power. You can try dumping the clutch while in gear to see if it slips or engages and stalls. If it stalls or quickly goes to the correct RPM then it probably won't need to be replaced.
23: Exhaust
Look at the head pipe for dents or bends. If there's any major damage, you'll want to get it repaired or replaced. A crushed pipe will be lacking power.
Also listen to the exhaust note. You can usually tell when there is little to no muffler packing because it's loud and raspy. A freshly packed silencer is relatively quiet (depending on the specific silencer), and will sound nice and crisp. Packing is pretty cheap, but it's not very fun to replace.
24: Carburetor
You're probably not going to be able to internally inspect the carb, but you can get a good idea on how dirty it may be when trying to start it and riding it. If the bike is hard to start and/or has a bog when accelerating, there's a good chance it will need to be cleaned. This is often the case if the dirt bike has sat for a number of months (or even weeks).
25: Recalls
If you're going to spend a lot of money on a dirt bike, you might as well get to know your stablemate beforehand. Fortunately, it's easier than ever these days with the internet. Do some research on the specific make, model, and year of the dirt bike you are looking to buy.
Every bike will have common problems after years of use, and while some may cost more to fix than others, you can save money in the long run by planning ahead if you know that your particular bike may need a special part or 'fix' in the future.
Bottom Line
I know all of this may seem like a lot to take in right away if you've never looked at a cheap used dirt bike, but it gets a lot easier the more you do it. Like I mentioned above, it's a great idea to have a knowledgeable person with you to help.
Also, do not be afraid to walk away from a bike. Everyone may say that they have the nicest and fastest bike, but if you want a clean and reliable dirt bike, it's better to wait than wasting your hard earned cash dollars on a pile of junk that's going to sit in the corner of the garage after blowing up on your first ride.
Learn to ride your new bike the right way
Once you get a great deal on a nice used dirt bike, it's time to learn how to properly ride it so that you don't crash and get hurt right away.
There's a lot of little techniques that need to be learned to give you the confidence and control needed to ride safely with speed.
Want to learn more? Click here to get started for trail riding techniques.