Trying to find the best dirt bike training wheels but need help figuring out where to start? Not all kits are made the same way, and some are better quality than others.
Most kits that you find on Amazon are universal for a kids dirt bike, so they can work on various brands of bikes. In this article, you'll learn what dirt bikes can have training wheels put on them, why you may or may not even want a kit installed, and how to choose the right training wheel kit based on your specific needs.
Top dirt biking training wheels based on your needs
Just need a quick reference?
Here are the best dirt bike training wheels depending on what bike you have: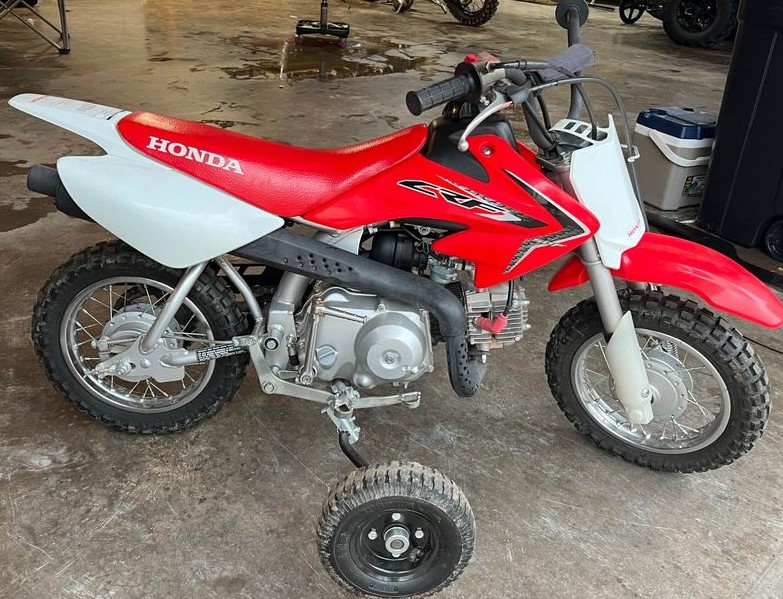 Can you put training wheels on a dirt bike?
Yes, you can install training wheels on a small dirt bike, but it may require modifications to fit depending on the kit you buy or the dirt bike you're putting them on.
You see, dirt bikes aren't sold with training wheels, so aftermarket companies have to make their own kits. Since no two dirt bikes have the exact same specs and dimensions, these training wheel kits are generally made to be a universal fit.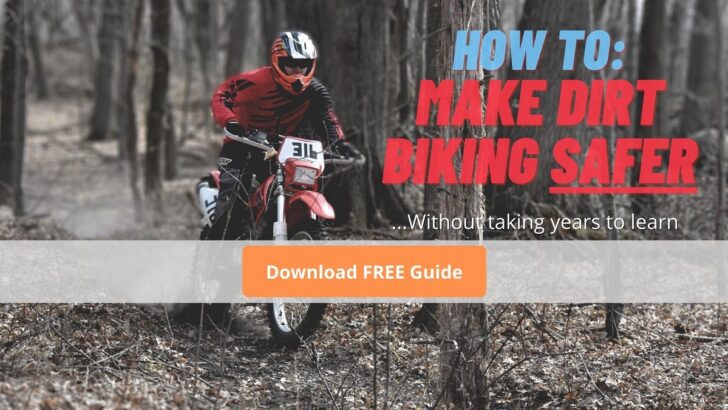 The problem with universal fit
They're adjustable so that you can install them on different models, whether it's a gas dirt bike or electric dirt bike, but this can cause issues when you're trying to install it on your bike.
The mounts may need to be cut and re-welded or just added onto to actually bolt on to your bike, depending on the kit and bike you have.
Can you put them on a 50cc dirt bike?
Yes, most training wheel kits are made to fit most 50cc dirt bikes. However, a KTM 50 SX or other taller 50 cc motocross bike is too tall for most of the training wheels.
The wheels won't be close enough to the ground, so they won't do much good to prevent falling over.
What age do you start using training wheels on a dirt bike?
You can start using training wheels on a dirt bike as young as 2 years old, but it's really up to you (the parent or guardian) to decide what they can handle. If the training wheels are touching the ground on both sides, then your child only needs to be able to reach the foot pegs and handlebars to control the bike.
Why you should NOT get training wheels for your kids' dirt bike
Let me be honest here – I want your kid to have fun and become a good dirt bike rider, but I also want them to stay safe.
Personally, I believe training wheels are not beneficial if you truly want your son or daughter (or grandkid) to learn how to properly ride a dirt bike.
For example, if the training wheels are doing all of the balancing, then you're not getting a dirt "bike" experience; they're getting a "four" wheeler experience. You might as well get them an ATV because that's basically what a dirt bike with training wheels is like.
The better option for training on two wheels
Okay, then how can you train your kid to ride a dirt bike without training wheels and not get hurt? The simple solution is to start them on a bike that's extremely easy to balance on.
It's called a balance bike (Amazon), or if you want an electric motor to learn throttle control, then you can check out my article on the best electric balance bikes for kids.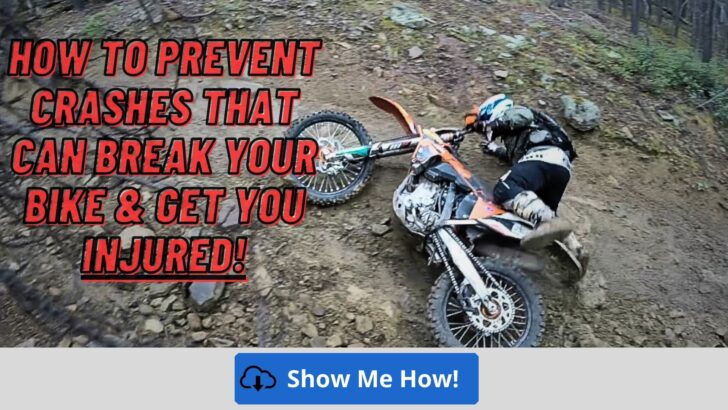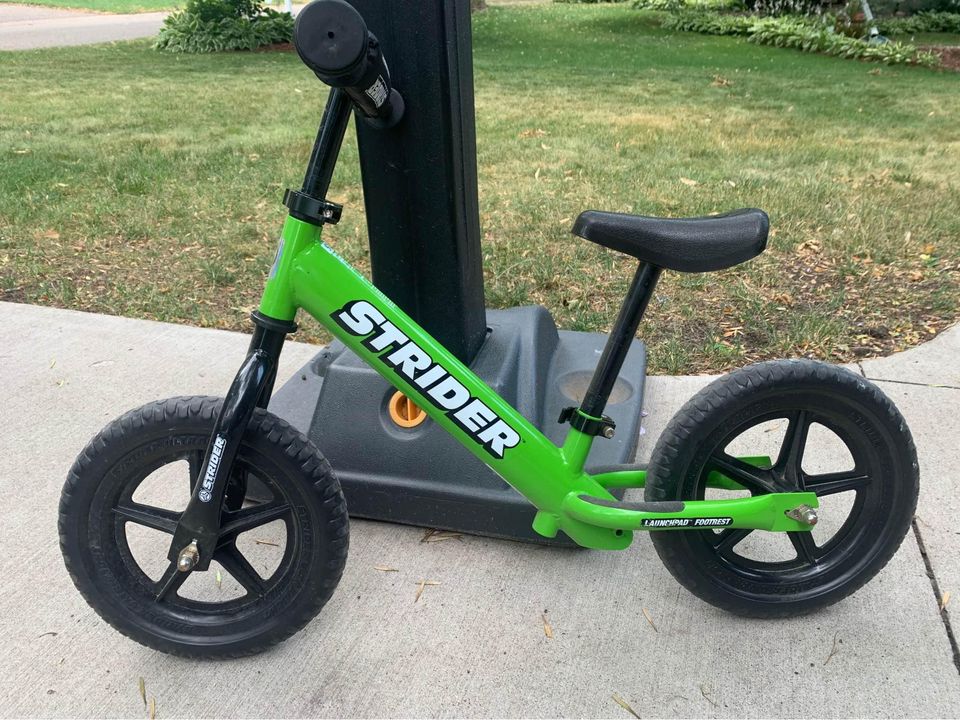 A balance bike has these advantages over a dirt bike with training wheels:
Lighter & easier to handle
Slower – less likely to crash and get hurt
You actually learn how to balance – an essential skill to riding a dirt bike
Very affordable – cheaper than just a training wheels kit
What are the best dirt bike training wheels?
Whether you have a Honda CRF50 dirt bike, a Razor MX350 electric motorcycle, or an off-brand 50cc pit bike, there are several options to choose from based on your budget and how mechanically inclined you are.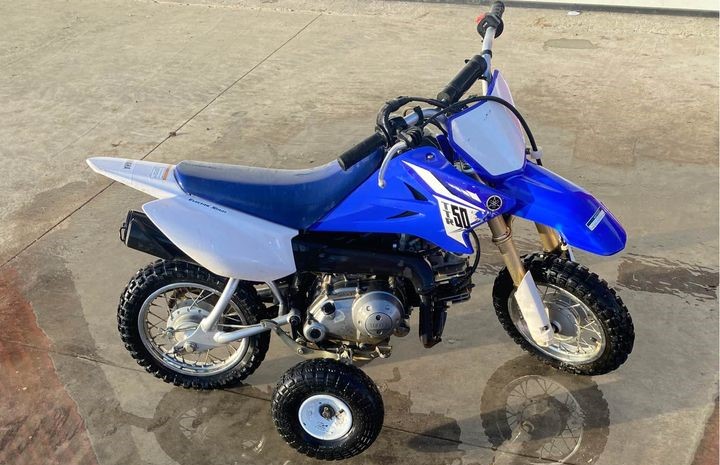 These are the top training wheel kits for dirt bikes for sale on Amazon:
Hardline Universal
The Hardline Universal training wheels kit (Amazon) is the most popular because it's a good combination of quality, function, and price. It's affordable, and it works on most 50cc dirt bikes for kids.
Pros:
Fits most 50cc name-brand and off-brand dirt bikes – taller 50cc bikes might not fit
Fits on OSET electric MX-10, 12.5 models & Kuberg Cross & Cross Hero
Durable mounting on the footpeg bracket – not likely to bend or break
Stock foot pegs stay in the factory position – keeping the ergonomics comfortable
Adjustable – you can change the position of wheels so that it requires more or less rider balance based on your skill level
Better cornering and handling off-road with built-in wheel spacing
Quality fit and finish so you don't have to modify it just to get it to work
Grease fittings so that they will last many years and not seize up
Powder-coated finish that will last longer than paint.
Comes with installation instructions
Cons:
Takes a little bit of time to remove and install it – there's no "quick-mount" capability
Not made for racing/jumping
May require occasional adjusting/re-tightening to keep them in proper position (loctite might help)
Instructions could use some more details
You should buy this if:
You want the best bang for your buck
You don't need the best instructions to install aftermarket parts
AlveyTech 50cc Training Wheels
One of the cheapest training wheels you can buy, the Alvetech 50cc kit (Amazon) is definitely not the highest quality. It's harder to install, but that still makes it a decent choice if you have more time than money.
Pros:
Cheap/affordable
Universal fit – made for most 50cc dirt bikes
Cons:
May require DIY mods/adjustments to make it fit
Missing parts/hardware to install – a common complaint from buyers
You should buy this if:
You have more time than money
You don't mind cutting and modifying the training wheel mounts
Pomeade Universal Adjustable Training Wheels (50cc/Razor)
Another universal training wheel kit that can fit on most small 50 cc kids dirt bikes and razor motorcycles – but what makes the Pomeade brand kit (Amazon) different? It's a sturdy kit, which makes it priced a little higher than most.
The biggest complaint is that there are no instructions included, so you just have to figure out how to install it based on pictures.
Pros:
Durable materials – sturdy and long-lasting
Universal fit
Wheels have grease fittings for the bearings to get long-life
Fairly affordable
2-year warranty – in case parts break or are missing
Cons:
No instructions – can be hard to install if you need step-by-step tutorial
You should buy this if:
You want a durable and reliable set of training wheels
You can follow images to install the training wheel mount on a dirt bike
Hardline Adjustable Training Wheels For Razor Electric Motorcycle
Looking for the best quality training wheel kit specially made for your electric razor dirt bike? This Hardline brand adjustable kit (Amazon) costs a little more than most, but you get what you pay for in reliability and overall quality.
Pros:
Made for the Razor MX125,MX350,MX400,MX450,SX500,MX650 Electric Motorcycle
Higher-quality components that last longer
Pretty easy to install with the instructions
Can fit small 50cc dirt bikes, such as CRF50 or PW50
Cons:
Expensive
Instructions aren't the most detailed, which is typical for these types of parts
You should buy this if:
You have a Razor electric motorcycle
You prefer spending more to get better quality
You don't need the best instructions to install aftermarket parts
BikeMaster Training Wheels For Yamaha TTR 50
If you have a Yamaha TTR50E, you have a specially-made training wheels kit from Bikemaster (Amazon). It's slightly cheaper than most, simple, and overall pretty good quality.
Pros:
Perfect fit for Yamaha TTR50 kids dirt bike
Inexpensive compared to other brand kits
Easy to install
Cons:
Doesn't easily fit on other size/brand/model dirt bikes
You should buy this if:
You have a Yamaha TTR 50E
XIKOBY Coleman Mini Bike Training Wheels
The Coleman 200 is a popular mini bike on Amazon, and now there's a training wheels kit for it (Amazon). This universal and adjustable kit is made to fit the Coleman mini bikes, as well as other 50cc dirt bikes and razor motorcycles.
Pros:
Made for Coleman mini bikes
Adjustable to fit various kinds/sizes of mini bikes/dirt bikes
Uniquely designed wheel mounts so that they don't loosen or tilt
Cons:
Not much for buyer reviews available
You should buy this if:
You have a Coleman mini bike
You don't need to see a lot of reviews to make a purchase
BYP Adjustable Honda CRF50 Training Wheels
If you have a Honda Z50, XR50, or CRF50 and you're on a budget, the BYP training wheels (Amazon) are an inexpensive option, although the price does somewhat reflect the quality. While it's specially made for the Honda 50cc pit bike, the brackets and hardware aren't the greatest quality, which is reflected in the cost of the kit
Pros:
Cheaper than many other training wheel kits
Made for Honda 50cc dirt bikes (Z50, XR/CRF50)
Cons:
Quality control isn't the best – some parts may be of lesser quality and require modification
You should buy this if:
You have a Honda 50 and don't mind modifying/upgrading if the parts don't work quite right
You have more time than money
BYP Adjustable Razor MX350 Training Wheels
Want a cheaper training wheel kit for your kids Razor electric bike? The BYP adjustable kit for Razors (Amazon) is slightly more affordable, simple, and of decent quality.
Pros:
Good quality fit for Razor electric motorcycles
Sturdy – they shouldn't move/loosen after riding
Simple design – fairly easy to install (even with poor instructions)
Cheaper than most training wheel kits for dirt bikes
Nice kit for the price
Cons:
Instructions don't have the best details for putting it together
Parts quality isn't the highest
Customer service is questionable
You should buy this if:
You have a Razor MX350, MX400, or MX125 electric bike for kids
RSLLC Rigid Motorcycle Training Wheels for Razor MX350
Another training wheel kit for the Razor electric bike – it's a solid bar mount sold by RSLLC (Amazon). It's simple, easy to install, and works well for a reasonable price on Razor youth electric motorcycles for your kid.
Pros:
Made to fit Razor MX350 and MX400 electric bikes for kids
Simple and easy to install
Solid bar mount – no bends to worry about
Customer service is decent if you have an issue with your kit
Cons:
Some people had to drill new holes to fit their Razor MX350
You should buy this if:
You have a Razor electric motorcycle
You can drill a couple of extra holes if, for some reason, it doesn't fit perfectly
What protective gear do you ACTUALLY need?
Ready to get started riding but not sure what riding gear you need? It's easy to spend as much or more on gear as a new dirt bike, but I want to show you how to spend less while being just as safe (or more so) as expensive gear. Click here to learn what riding gear you actually need.