Trying to find the best dirt bike gear for kids but not sure where to start or how much you should spend? Whether it's your first dirt bike or you're looking to upgrade safety equipment, choosing to wear the right gear can prevent or reduce a lot of injuries that could leave you hurting and on the couch for months when all the other kids are outside playing or riding!
Even basic gear covering most of your child's (or grandchild's) body can prevent scratches and bruises from a simple tip-over in your yard, but to make things easy, I made this a step-by-step guide.
In this article, you'll learn:
What gear is most important for kids riding a dirt bike
Why expensive gear might not be as safe as cheaper gear
How to choose the right protective gear for you & your child based on size & budget
Kids vs adult dirt bike gear – is there a difference?
For the most part, there's not really a difference in how dirt bike gear for adults works compared to youth dirt bike gear. The main difference is that "Youth" gear is sized appropriately for most children 12 and under, which is very important when it comes to dirt bike safety.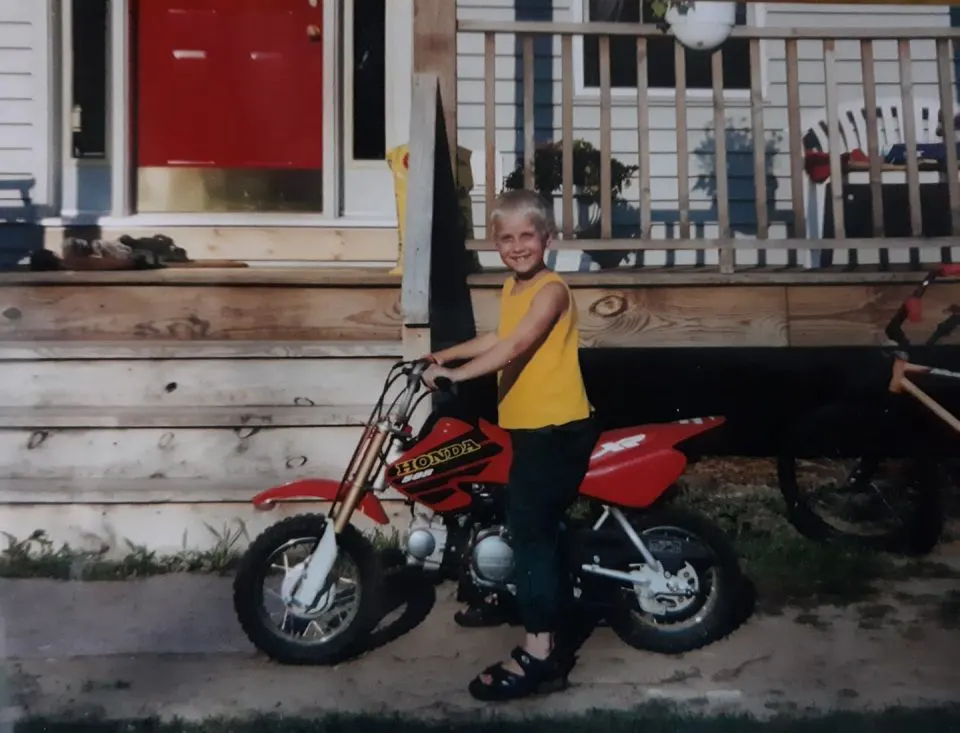 When your riding gear doesn't fit properly, it's distracting and more dangerous because it moves around and can actually fall off if you crash – keep reading to learn more about each piece of kid's dirt bike gear.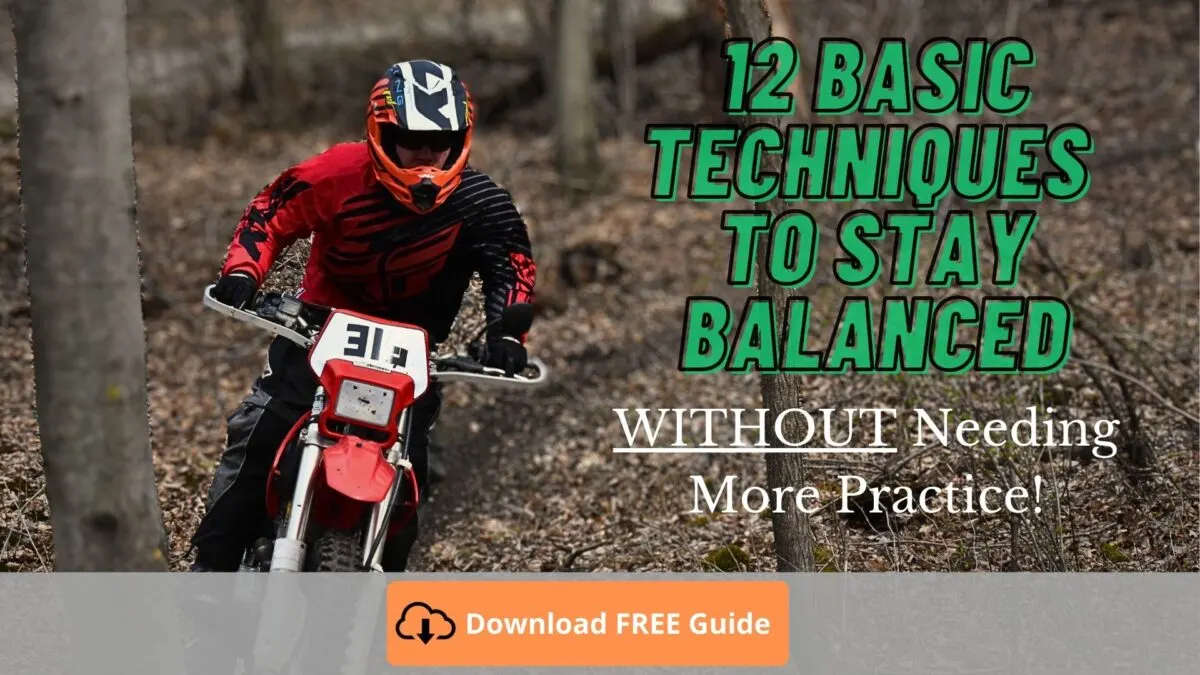 What gear do kids need for dirt biking?
Kids should be wearing the same or similar protective gear as an adult while riding a dirt bike.
There are many choices when it comes to each item, but the main riding gear items include:
Dirt bike helmet
Dirt bike boots
Eye protection (goggles)
Riding gloves
Pants
Long sleeves
Chest & back protector
Elbow guards
Knee guards
Not all of these are mandatory, but I highly recommend them because it's worth getting used to wearing them rather than falling and getting hurt or scraped up and bruised.
What is the most essential dirt bike gear?
The most important piece of dirt bike gear is a properly fitting helmet because your head is so important to your life! But I wouldn't recommend riding a dirt bike with just that.
The second most important item is a pair of good dirt bike riding boots. Tennis shoes offer virtually no protection and even work boots don't offer adequate protection for dirt biking.
Why you & your kid need REAL dirt bike boots
For one, dirt bike boots are much stiffer, which can be annoying at first because it's hard to move and feel the shifter & brake, but they protect your feet and ankles from getting crushed or twisted if your dirt bike falls on you.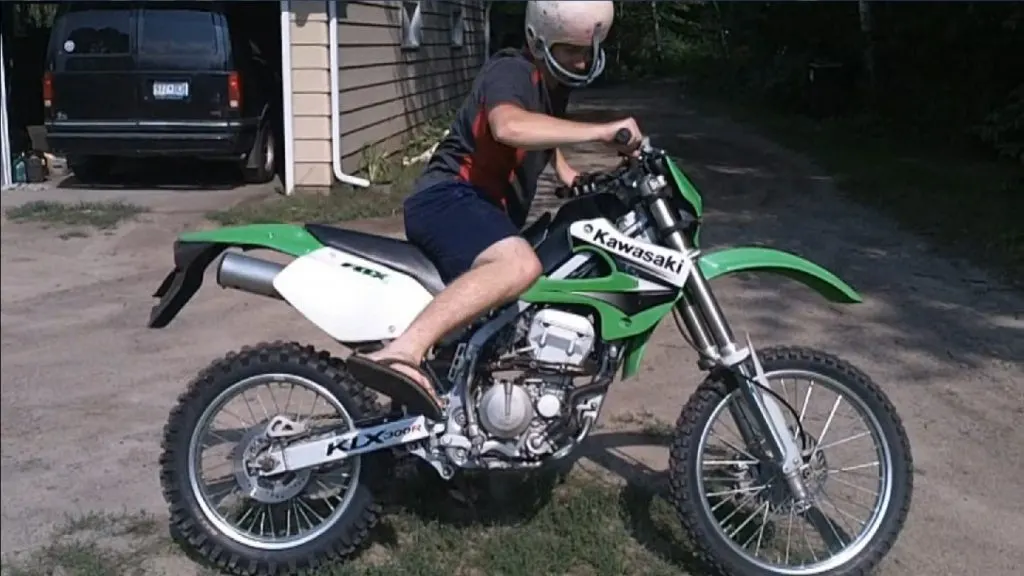 They're also much higher than most work or hiking boots, which cover your covers if they get smashed or pinched. It's not worth your comfort to use anything other than real dirt bike boots – but that also doesn't mean you need to spend $500 to get a nice pair, which I'll cover later in this article.
What should you look for when buying dirt bike gear for kids
There are so many brands and choices in each brand that you may need help figuring out where to start when it comes to riding gear for kids. Don't worry, I'm going to break down what you should be looking for when it comes to each piece of protective gear so that you can easily pick out gear based on your specific needs and budget
Helmet – the most important safety factor!
Kids often choose dirt bike gear based on 'looks', but the #1 safety factor when choosing an off-road motorcycle helmet (or any riding gear, for that matter), is how it fits.
For example, a common mistake is buying a helmet that's slightly larger than your head because it's "loose & comfortable". The problem is that it can slide around too much, and once the materials "break in", it will be even looser and is more likely to fall off your or your child's head in a crash.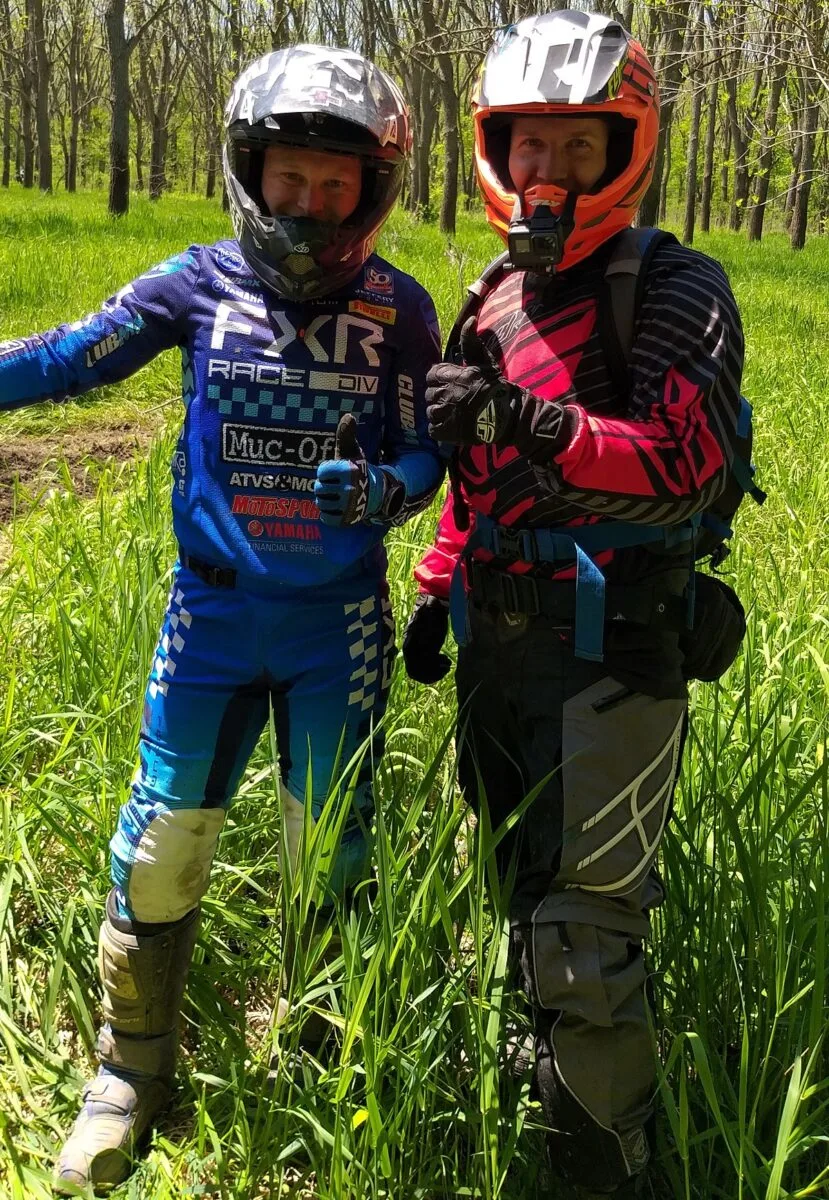 Test before riding
The safest helmet is one that fits your head nicely and snugly without squeezing too tight. Some helmets have a more "round" shape, while other brands have a more "oval" shape. This is why it's so important to go to your local dealer or test-fit the helmet before riding.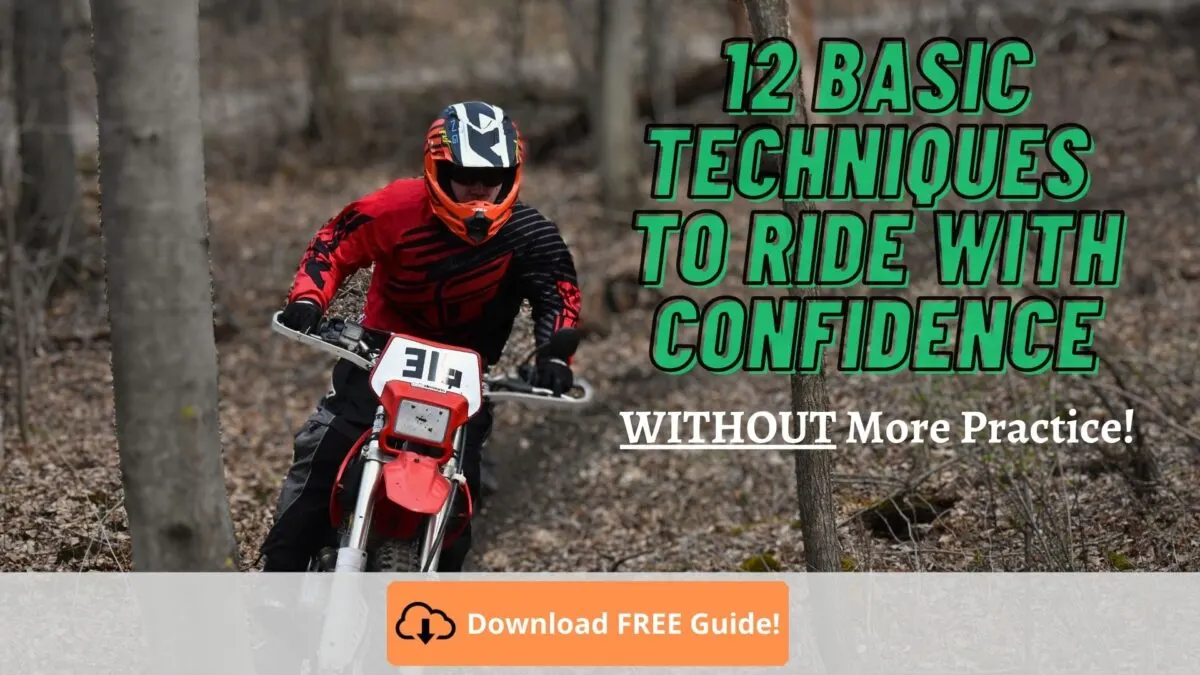 I would consider these to be the most critical aspects of buying the right dirt bike helmet for kids:
Fitment: size & shape based on your head
Build quality: more durable materials naturally cost more
Price: As a general rule, you get what you pay for, but that doesn't mean a $600 helmet is safer for you than a $200 helmet depending on the fit and technology
Weight: Less weight is typically safer and less exhausting but more expensive
Technology: lightweight materials, MIPS liner, adjustable cheek pads, removable liners, and additional venting are some modern updates for helmet tech
Ventilation: more & better vents keep you cooler on hot summer days
Graphics: high-quality paint/graphics look sweet, but they can inflate the price
Do the helmet ratings mean anything?
U.S. uses a DOT rating, which is a basic safety certification that you should look for at a minimum. There is also a SNELL rating, which has slightly more strict testing, so it has the potential to be safer, but comparing a controlled test to a real-world crash makes it hard to say which helmet certification makes it safer or not.
In other countries, these are the standard dirt bike helmet safety test certifications:
New Zealand – NZ 5430
Europe – ECE 22.05
Australia – AS1698
UK – BS (British Standard)
When to replace a helmet – what if you drop it?
Helmets don't last forever when you get in an accident with one or the material just breaks down over time. For example, if you smack your head onto the ground in a high-speed crash – even if the helmet isn't cracked, you should still replace it because the foam/internal material has been crushed, making it compromised and less safe if you hit it again.
Any crack in the outer shell of a dirt bike helmet should warrant an immediate replacement. However, if you accidentally drop it on the ground and it gets a scratch, then it's most likely fine to keep using.
Boots – how to choose the right type & size
Almost any dirt bike boot will do if you want the cheapest pair you can find. However, there is some difference between a motocross bike and a trail riding boot.
An off-road trail/enduro boot is typically softer and more flexible, making it easier to feel the pegs, shifter, and rear brake pedal. An MX boot is stiffer because it's made to protect better because you're more likely to have a higher-speed crash.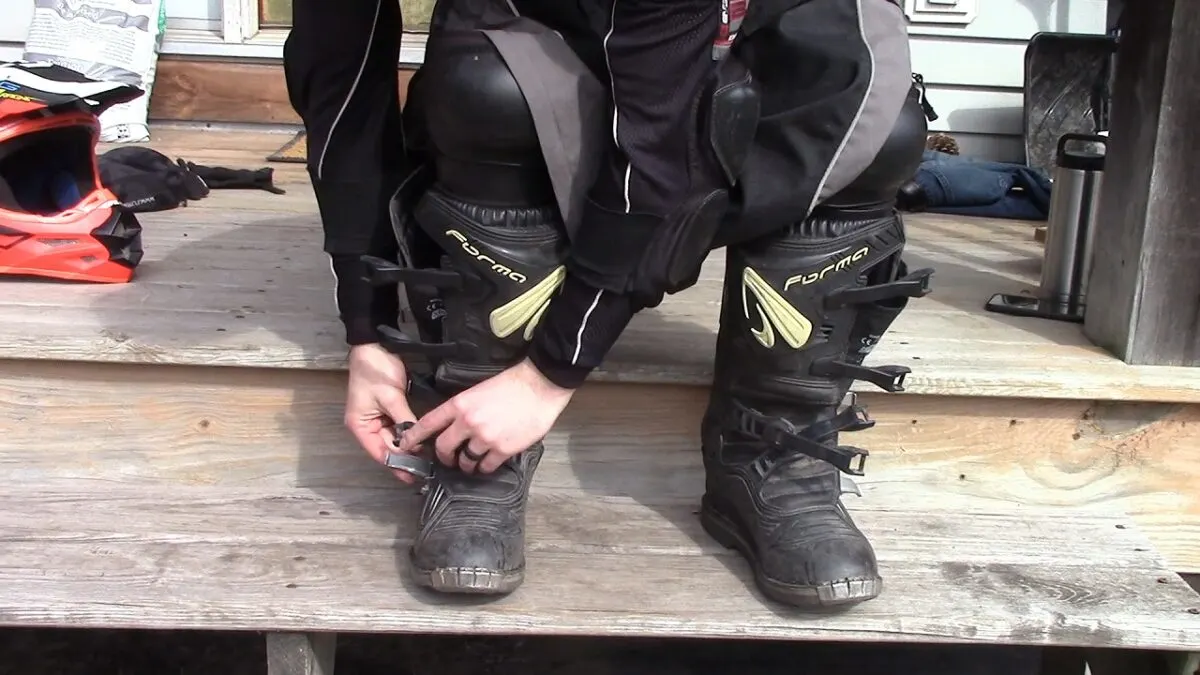 Just the right size
Not all brands offer different types of boots for kids, but the next important step is choosing the right size. They should be nice and snug without being overly tight on the width or length of your feet.
Too big and your feet will have too much room, making it harder to bend, as well as adding unnecessary weight. Too small and it will be painful. Snug without hurting is good because the boots will also break in after a few hours.
What to do if new riding boots are too stiff?
Speaking of breaking in, new dirt bike boots for kids can be stiff and hard to ride in (especially cheaper boots). The best thing to do is simply wear them until they can flex more easily.
Walk around in them and bend your ankles back and forth so the leather breaks in quicker. Applying some leather conditioner oil (Amazon) will also soften the leather quicker.
Goggles/Eye protection – they're not created equal
While I often wear motorcycle glasses (Amazon) if I'm riding alone, they don't offer near the dust and rock protection as a good set of dirt bike goggles do (Amazon). A properly fitting goggle gives you a good seal so that dust doesn't come in and ruin your vision while riding.
However, it's best to test-fit goggles for a couple of reasons. One, you want it to fit your face properly. This comes to the foam seal against your skin, as well as how it fits around your nose – if the goggle body is too big then it will push on your nose and make it harder to breathe, which is super important while riding your dirt bike, whether you're a kid of adult!
Two, your helmet makes a difference with each goggle – the same goggle may not fit two different helmets the same. That's why it's always best to test fit before keeping a pair of kid's dirt bike goggles.
Lens tint – which is best?
A smoke or mirror tint looks cool, but it's not practical (or safe) if you're riding in dark areas, such as the woods, or in rainy/cloudy conditions. For dark areas, I recommend a clear or perhaps yellow tint goggle lens (whichever you're more comfortable with).
A dark/smoke tint is best for riding in sunny conditions, such as the desert or motocross track out in the open.
Gloves
While you can get away with a pair of cheap mechanics gloves (Amazon), a good pair of dirt bike gloves (Amazon) will be more enjoyable in the long run. Dirt bike gloves don't offer much as far as crash protection goes, but they do offer protection and comfort while riding.
It's easy to put a lot of stress on your hands, especially if you have formed bad riding habits. Good-fitting dirt bike gloves have better dexterity to move your fingers and will stay formed to your hands so that callouses don't form and offer better breathability so your hands do slip on the grips, causing you to lose control.
Chest/back protector – how much coverage do you want your child to have?
A lot of people skip buying chest protection either because they think it's bulky and restrictive or because they don't think it's worth the investment, but that's not a wise choice. Chest protectors offer better safety while being less restrictive than they used to be, and just compare the price to a hospital visit if you get hit by a tree or a rock with just a jersey on…
Again, it's best to try on different chest protectors for kids to be comfortable because they don't all fit the same.
Under jersey vs over jersey
An under-jersey kids' roost shield (Amazon) is slimmer and won't be seen, but it may not be as comfortable if you don't want it against your skin. An over-jersey chest protector (Amazon) can offer slightly more protection and won't chafe your skin, but it's noticeably bigger and shows on the outside of your jersey.
Chest protector vs body armor
For an all-in-one solution with chest, back, shoulder, and elbow protection, a full youth body armor (Amazon) is the way to go. It's more gear, yes, but you or your kid are less likely to get hurt – plus it's better than having a separate set of elbow guards.
When the elbow guards are built-in into the body armor, they're less likely to rotate or slide off, which defeats the purpose of wearing them.
Elbow guards – ya or nay?
If you don't get body armor with elbow guards built-in, then it's worth considering some inexpensive elbow guards (Amazon) if your child might fall over on hard terrain, such as rocks, clay, or logs.
Even though it's simple plastic and padding, it can prevent a lot of potential scrapes and bruises from falling or bumping into a tree or rock.
Knee guards – how much are your child's knees worth?
Maybe you've seen some adult knee braces for $300 (for each leg!), but I don't recommend those for children because they're bulky and unnecessary.
Instead, buying a cheap set of knee guards (Amazon) will save a lot of painful scrapes and bruises if you're falling on rocks, running into trees, or just falling over and hitting your knees often!
Neck brace – do you need one for motocross?
For most casual and low-speed trail riding, a neck roll (Amazon) or neck brace generally won't prevent much as far as injuries go. For motocross, where you race at higher speed with big jumps, a neck brace (Amazon) can help displace a hard impact on your neck.
However, it really depends on how you crash, because some riders have said that a neck brace can cause an injury, while others won't ride without one. It's up to you to do your own research and decide if your son or daughter should wear one or not.
Other misc. Gear that helps
Why is dirt bike gear so expensive?
Are a $600 helmet (Amazon) and a $250 pair of boots (Amazon) really worth the price? If you're just starting out, or if this is your child's first dirt bike, then you don't need to spend that much without sacrificing much if any safety.
The expensive gear offers better protection and comfort which is best if you're a competitive rider that's riding at high speeds and more likely to crash.
Less expensive youth dirt bike gear will keep your son or daughter much safer than not having any protective gear. The one thing you have to remember is to make sure it fits properly. If a helmet is loose or the protective guards are sliding around, they can actually be more dangerous.
How to save hundreds of dollars on dirt bike gear for kids
Buying a reliable dirt bike is already expensive if you're new to this hobby, but your jaw might drop if you look at the price of some dirt bike protective gear – don't worry, I want to share some ways to save lots of money WITHOUT skimping on you or your child's safety, because that's the most important factor.
I put together a quick and practical guide that shows you how to save hundreds (or thousands) if you're just getting into this sport – click here to get this dirt bike budgeting guide today for FREE.
Best dirt bike gear based on your budget:
Since it's easy to spend hours or days researching and reading through reviews, I narrowed down a couple of sets of kids' dirt bike riding gear based on a specific budget so that you can just click the right size and buy with confidence.
Here's a good kids' dirt bike gear package for cheap (under $300) on Amazon:
Best kids dirt bike gear package under $550:
What's the best dirt bike for kids to start on?
Maybe you haven't even bought a dirt bike yet and want to choose the right first dirt bike for your child so that they don't get hurt or you don't have to work on it a lot. Don't worry, I've narrowed down the top choices based on your specific size and budget – click here for the best kid's dirt bikes.