6 Essentials For Riding Dirt Bike Alone
Finding riding buddies at any given time can be difficult at times. If it's a beautiful Sunday afternoon and everyone is busy, but you have a perfectly good dirt bike sitting in the garage that is begging to be ridden, what's going to stop you?
Some people will never ride without someone else with them due to safety risks. While I completely understand that, some people have schedules that make it very difficult to find riding partners, and that shouldn't make you get rid of your dirt bike.
So, if you really want to ride your dirt bike like I do but can't find friends to ride with, it's time to get yourself and your bike ready for some solo adventures. Not only are there things you should bring with you in case of emergency, there's some general guidelines that you should follow when riding alone so you reduce the chances of an accident.
Phone
Whether you're out riding in your backyard, or 10 miles out in a forest, it's a good idea to bring a cell phone. If you or your bike can't make it back safely, you need to be able to contact someone for help. This alone can save you from most disasters.
Wallet/Cash
Having some ID and cash on hand can also get you out of a jam. In a worst case scenario, someone may need to know who you are and who to contact. A concussion may knock you out and cause some short-term memory loss. Also, if something breaks, you run out of gas, or your dirt bike needs a tow, having some money with you will save a lot of time, and may allow you to get help from the right person. You can put your wallet and phone in zip-loc bags so they stay dry.
Hand Tools, Not Tool Hands
Have you ever tried fixing or replacing parts on your dirt bike without any tools? It sucks, doesn't it… This is why it's a good idea to bring a small tool pack along on your solo rides.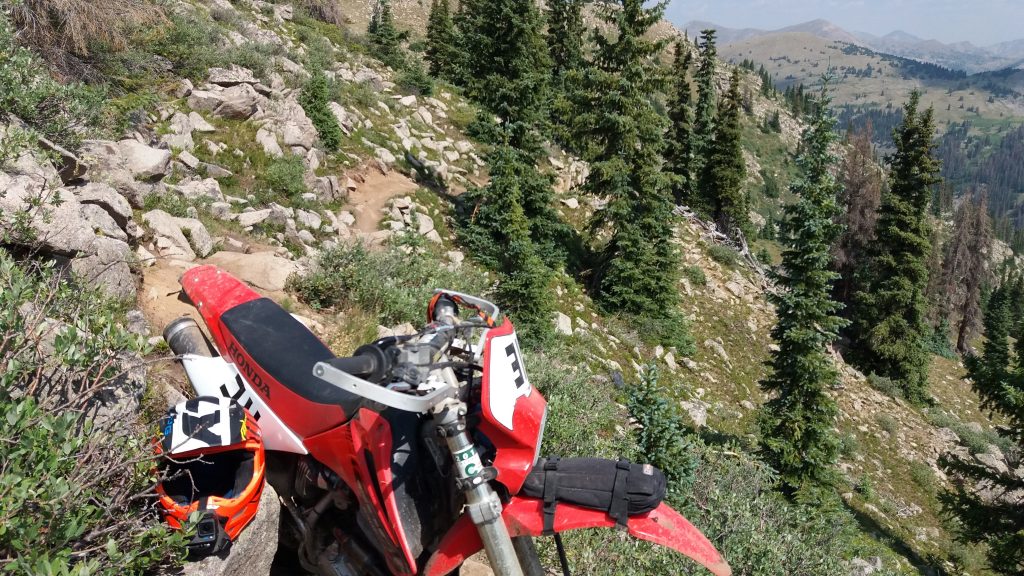 Adding more weight to my ride is not something I'm fond of, but in this case it can possibly save me hours of frustration. If you already ride with a small backpack, just add some of the most used tools for your bike, such as a few wrenches, a pair of screwdrivers, pliers, duct tape, zip ties, a spark plug, and anything else you might use on a regular basis.
You Might Get Hungry/Thirsty
Always bring water. You don't always know how long you will be out for, and dehydration can be very dangerous. Not drinking enough before and during your riding session will drain your energy, and it will cause you to lose concentration. A hydration pack is the most convenient way to carry water since you can mount a hose to your helmet to drink while riding.
You can also store some small snacks or extra tools in the available pockets. Having a couple energy/granola bars with your water can give you just enough juice to safely get you back in home case of emergency.
Don't Be Dumb
It's just something I have to say because it seems like every time I get on a dirt bike I feel like conquering the world. Unfortunately, this is not the best mindset when flying solo on a dirt bike. While dirt biking is inherently risk-taking, if you're pushing yourself as fast as you can go, an accident will happen sooner rather than later. One little divot or tree that you oversee or miscalculate and you're on the ground.
Going fast is fun, and it's so easy to get the adrenaline pumping, but if you come up to a very challenging and/or dangerous obstacle, I encourage you to take an extra minute to decide if it's worth taking the risk. You can get faster by riding in your comfort zone; it's called riding smarter.
A few little bobbles or near-misses are okay every once in a while; that means you're running at a good pace. But if you're coming close to hitting things or wiping out every couple minutes, you need to slow down.
Tell Someone
Last, but not least, if you're going to ride alone, ALWAYS tell someone where you're going and about how long you plan on riding for. A family member, a riding friend that couldn't make it in time, or even a good neighbor if you happen to have one. Even if you're an experienced rider, all it takes is one little accident to produce a life-threatening situation, and being stuck out in the middle of nowhere without anyone knowing where you are is one of the worst case scenarios.
This article is not to scare you from riding alone (although I believe it's always safer to ride with someone), but merely to prepare you and to help reduce the number of dangerous situations. So please, plan ahead, ride safe, and have fun!