Looking for the best 50cc dirt bike but not sure where to start? Whether you're looking for a first dirt bike for your kid or for yourself, you're in the right place!
In this article, I'll show you different types of 50cc dirt bikes, why it's important to choose the right kind based on your specific needs, and then how to easily pick the right bike.
How old do you have to be to ride a dirt bike?
There's no legal minimum age for riding a dirt bike in the U.S. (check your local country laws if yours is different) as long as you are legally riding in an area and have permission.
So, that means that your 3 year old boy or girl can start riding a dirt bike, but I want to show you which ones are best based on size, experience and budget!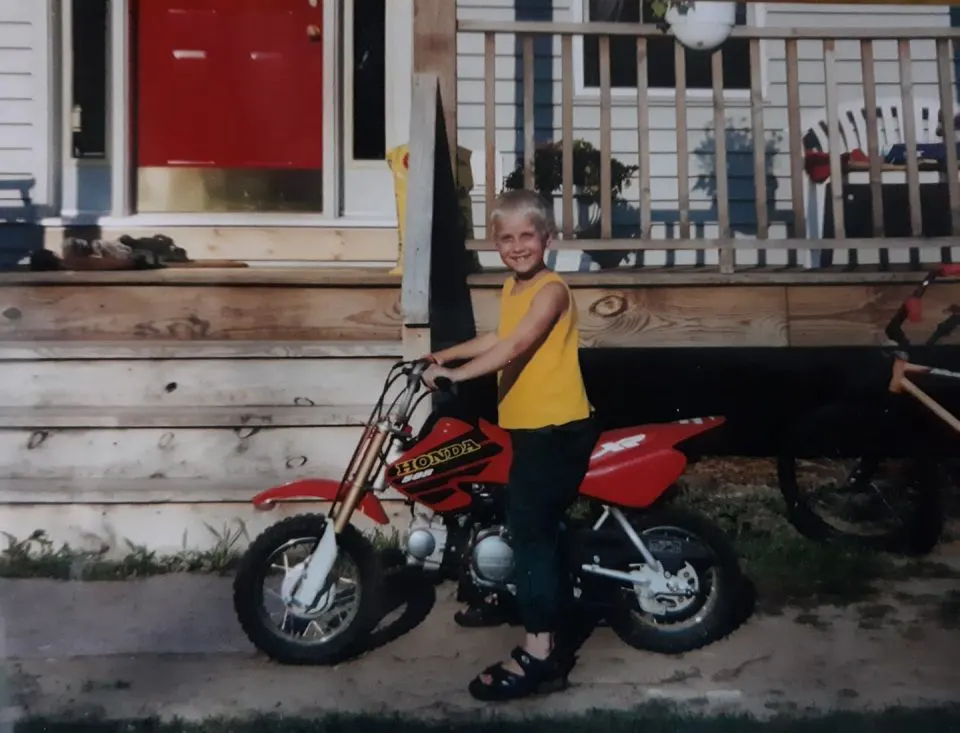 Is a 50cc dirt bike good?
50cc dirt bikes can be good, but it depends on the brand you get, what type of bike it is, and what you're looking for in a bike. That's why I'm here to show you so that you don't get overwhelmed and pick the right bike the first time.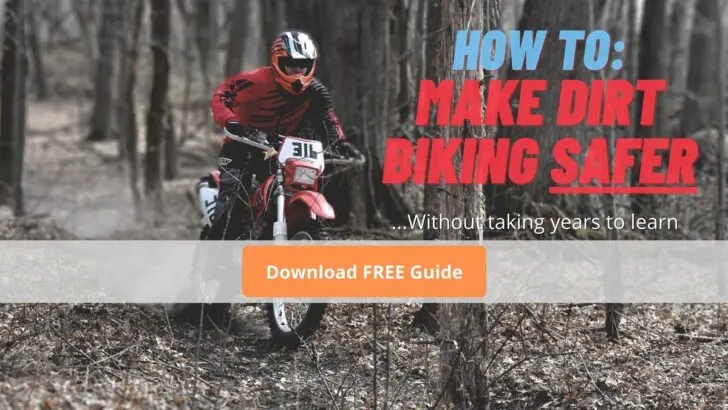 Cheap 50cc vs name brand 50cc dirt bikes
Although it's generally 49cc to be exact, a 50cc dirt bike or motorbike is probably the most popular size because it's small, can be put into just about anything, and it has enough power to do many things, like ride a dirt bike or cut down trees with a chainsaw.
Simply put, there are dozens or even hundreds of different 50cc dirt bikes and motorcycles to choose from, but many of them are low quality.
The main difference between a cheap 50cc dirt bike and a name brand 50cc dirt bike is that the name brand bike will be more durable and last much longer. More about this shortly…
What age group is 50 cc dirt bike for?
If you're looking for a small dirt bike for your kid or grandkid, a 50cc dirt bike is best for 3-7 year olds, depending on their height and strength.
Which size 50 based on your height?
The physical size of a dirt bike is important when considering the height of your kid. If the seat is too tall, then they can't touch the ground with their foot, then they'll fall over all the time and make them get frustrated very quickly.
50cc dirt bikes have a seat height anywhere from 18.7" to 26.9". This means that a 50 dirt bike can be good for kids in the 37-45" range in height.
Can adults ride 50cc dirt bikes?
Yep, they're very popular in the pit bike world because they're cheap, easy to ride, are safer because they're slower, and there are many mods available to make them faster.
How fast can a 50cc dirt bike go?
Most 50cc dirt bikes can go 25-30 mph, but it also depends on if they have a throttle or speed limiter that restricts the top speed. For most kids, you only need to go 10-15 mph as they're learning to ride.
If you're an adult and want to go faster, you'll have to upgrade the engine, intake and exhaust, as well as the gearing.
What are the different types of 50cc dirt bikes
You can get a 2 stroke or 4 stroke 50cc dirt bike, and they came as a trail bike or race bike, as well as an electric dirt bike. Each type has its own advantages and disadvantages, so you want to learn about each so that you can pick the right bike.
What 50cc dirt bike is best?
For the sake of investing in good quality dirt bikes, I'm only covering the best name brand bikes, whether it's new or used in case you want a cheaper dirt bike.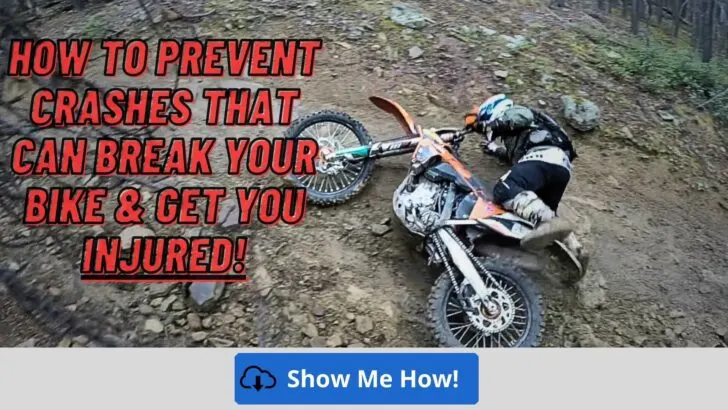 These are the best 50cc dirt bikes you can buy:
Yamaha PW50
Honda CRF50F
Yamaha TTR50E
KTM 50 SX
Cobra CX 50
Honda CRF-E2 (Electric)
KTM SX E 5 Mini (Electric)
These are the best used 50cc dirt bikes that are discontinued:
Honda XR50
Suzuki JR50
Kawasaki KDX50
KTM 50 SX Junior
Honda Z50R
Smallest 50cc dirt bike for kids
The best smallest 50cc dirt bike for kids is the Yamaha PW50 for a number of reasons. It has the lowest seat height so that your son or daughter can reach the ground with their foot. It also has an adjustable throttle that you can set to limit their speed when learning to ride.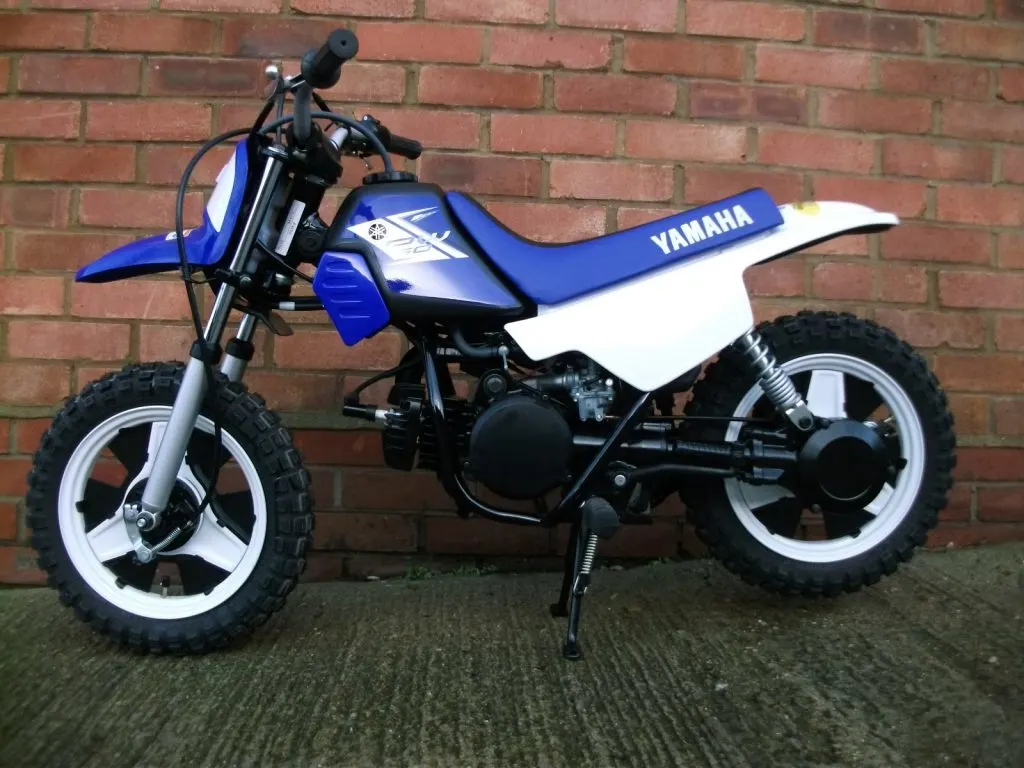 The 2 stroke engine is very smooth and predictable, making it easy to get used to a throttle. The shaft-drive wheel is nearly maintenance-free, so you hardly have to maintain it other than adding gas and oil to their individual tanks.
Best 50cc dirt bike for 5 or 6-year-old
For beginners and newer riders, the Honda CRF50F and Yamaha TTR50E are the best for 5 and 6-year-olds that are too big for the little PW50. They have 50cc 4 stroke engines with a 3-speed semi-automatic transmission and have a slightly taller seat height.
Both 4 stroke engines are good with smooth power. They're easy to maintain, are super reliable, and there's no 2 stroke oil to worry about forgetting.
Having 3 gears gives your son or daughter room to grow with speed, but there's no clutch to worry about, so you just shift it into gear and twist the throttle.
CRF 50 vs TTR 50
The biggest difference is that the TTR50E has an electric start, but the CRF50F weighs a little bit less. Otherwise, they're pretty equal across the board regarding the specifications.
Best electric dirt bike for small kids
Electric dirt bikes are getting increasingly popular because they require less maintenance and don't make much noise, allowing you to ride in more areas. The new Honda CRF-E2 is currently the best beginner electric dirt bike for kids in the 4-7 year old age range. The KTM SX E 5 Mini is the best electric dirt bike for little kids that want to race motocross in the electric mini bike class or just have a faster bike.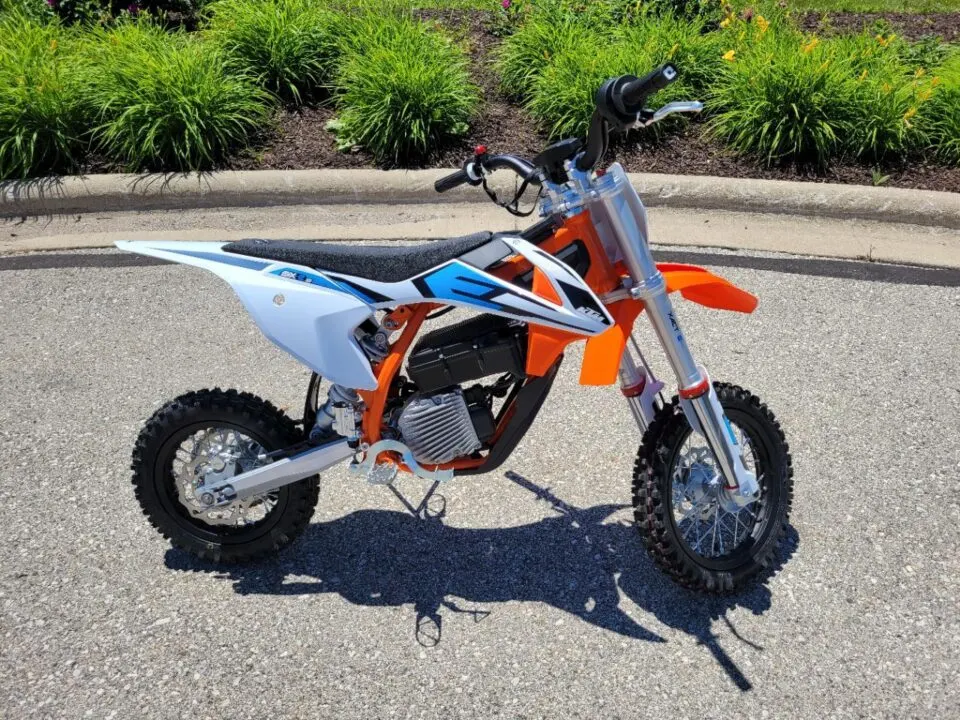 Best 50cc dirt bike for motocross racing
Going back to gas dirt bikes, the best 50cc dirt bikes for motocross racing are the Cobra CX 50 and the KTM 50 SX. They are the most popular MX bikes in the class because they come ready to race from the factory.
The Cobra CX 50 has multiple model options based on your needs and budget, as well as which 50cc class you want to race. There are 10" wheel size and 12" wheel size classes for racing.
Best 50cc dirt bike for adults
Since the race bikes are harder to ride due to the more aggressive power and suspension, and the PW50 is just too small for the average adult, there are only two logical options. The Honda CRF50 and Yamaha TTR50 are the best 50cc dirt bikes for adults because they're more versatile.
They're both simple, and reliable, and there are plenty of aftermarket parts available to upgrade the power and suspension to ride or race them faster without breaking easily from jumping.
What riding gear do you need?
Choosing the right dirt bike is one of the first steps to staying safe and having fun. The next step is choosing the right gear, and the price doesn't always reflect how safe it is.
For example, a $100 dirt bike helmet for your kid may be safer than a $500 helmet for him or her. I want to show you why: click here to read the article on riding gear.