Wondering what vehicles can fit a dirt bike so that you can go riding? Whether you're on a budget or are willing to buy a new vehicle, I'll show you what can and can't fit a dirt bike.
In this article, I'll also show you what it takes to carry a dirt bike, whether it's a truck, car, van or SUV.
Can a dirt bike fit in a truck?
Any truck that has a traditional bed is able to fit a dirt bike in it. Whether you have an old El Camino, a small GMC Sonoma pickup, or a Chevy Avalanche, hauling a dirt bike is pretty straightforward once you load it into the bed.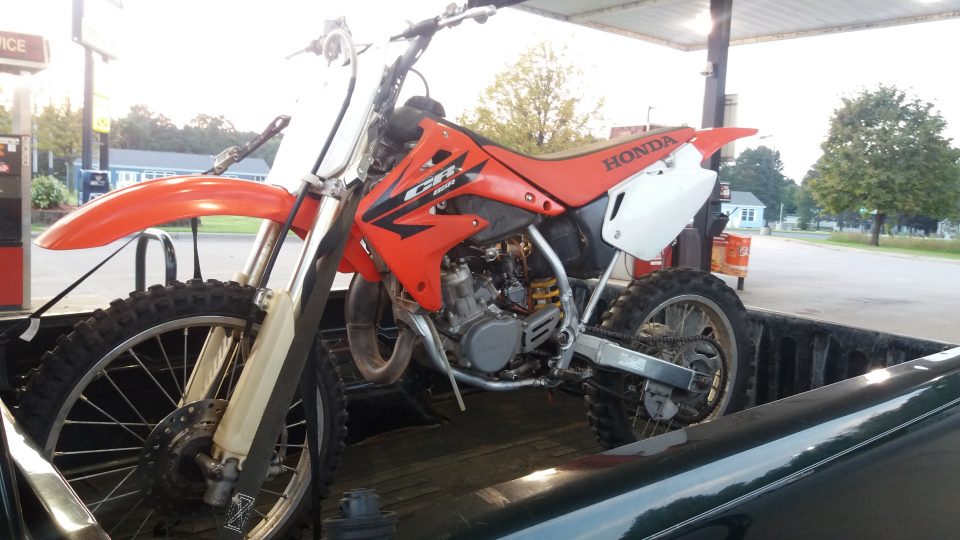 Will a dirt bike fit in a short bed?
Yes, even if you have a crew cab truck with a short bed, a full-size dirt bike will fit. According to Motortrend, a short bed has a 5'5"-5'8" length, which is shorter than the overall length of a popular Yamaha WR450F, which is just over 7 feet, so how does that work?
You will have to leave the tailgate down so that the rear wheel will go over the tailgate, which is my preference, or you can strap your bike down at an angle in order to close the tailgate.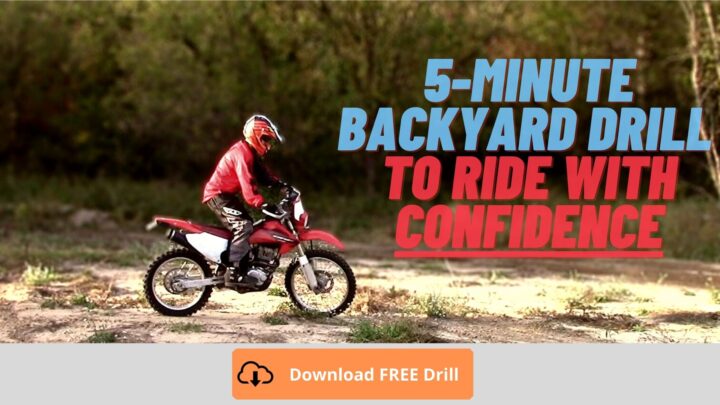 Is it okay to leave the tailgate down hauling a dirt bike?
Many people think that if the tailgate on your pickup truck is left down, everything is going to fly out as you drive down the highway. But that's not the case, and I have proof.
When I used my dad's pickup trucks before I had my own bike transportation, I always left the tailgate down, and guess what – nothing flew out after a few years of driving like that!
All you have to do is place all of your gear, tools, gas can, etc to the front of the bed with the light stuff crammed between something heavy and the truck. Then just don't accelerate extremely hard from a stop so things won't slide backwards.
If you still don't feel safe leaving your tailgate down, you can always get a bed extender that acts as a tailgate in case something does start sliding.
Which trucks can fit a dirt bike?
There are many different trucks that can fit and haul a dirt bike or multiple bikes. Basically, any pickup truck with a bed can fit a dirt bike or motorcycle.
These are the most popular trucks that can fit a dirt bike:
Chevrolet Silverado/GMC Sierra
Ford F150 pickup
Dodge Ram
Toyota Tundra
Chevy Avalanche
Chevy S10/GMC Sonoma
Ford Ranger
Chevy Colorado/GMC Canyon
Honda Ridgeline
Toyota Tacoma
Best trucks to carry dirt bikes
Any half-ton or midsize pickup truck is best for carrying dirt bikes. Honestly, whatever you have that can fit a dirt bike is just fine.
The worst trucks for transporting bikes are lifted trucks because they're so much harder to load and unload due to their height.
If you're pulling a larger enclosed trailer with dirt bikes, it would be best to upgrade to a ¾-ton or 1-ton truck or van depending on the weight of your trailer load.
Will a dirt bike fit under a truck topper?
A standard size topper will not fit a full-size dirt bike due to the height. You can probably fit a small to medium size dirt bike under the topper if you compress the forks. For example, a KLX110 or CRF125F small wheel should fit tightly under a truck with a topper.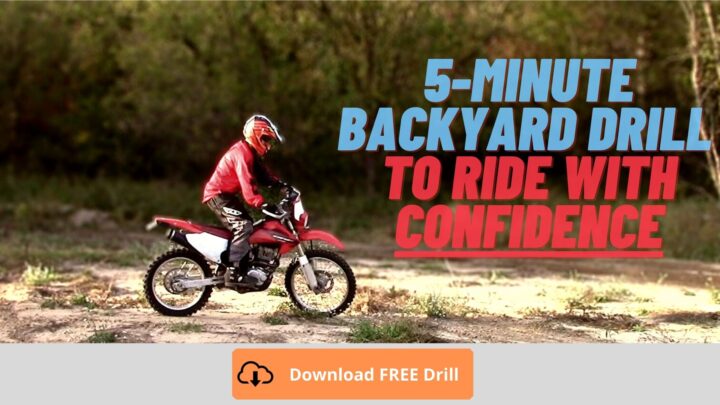 An extra tall topper, however, should fit any size dirt bike if you compress and strap the forks down beforehand. It will be a tight fit, but you can make it work.
How to transport a dirt bike without a truck
Maybe you don't have a truck and don't want to get one just to haul your dirt bike because they're too expensive, use too much gas, and take up too much space. If that's the case, then you'll be happy to know that there are many other vehicles that can fit or transport a dirt bike legally and safely.
You can haul a dirt bike using a van, SUV, and even a car with the right set-up. Let me explain how.
Can a van fit a dirt bike?
Depending on which type of van and dirt bike you have, there's a chance you can fit a dirt bike in it. A typical mini-van will not fit an adult-size dirt bike even with the seats removed because the interior height is too short.
With that said, you can still fit a smaller dirt bike in a smaller van. There are many larger vans that will fit any size dirt bike and can haul multiple bikes with ease using the proper setup.
What vans will fit a dirt bike?
These vans will fit any size dirt bike if there's no bench seat in the back:
Chevy Express Cargo 1500/2500/3500
GMC Savanna Cargo 1500/2500.3500
Ford Econoline E150/E250/E350
Dodge Sprinter
Mercedes-Benz Sprinter Cargo Van
Ram C/V Tradesman
Nissan NV Cargo Van
Ram ProMaster
Nissan NV200 Compact Cargo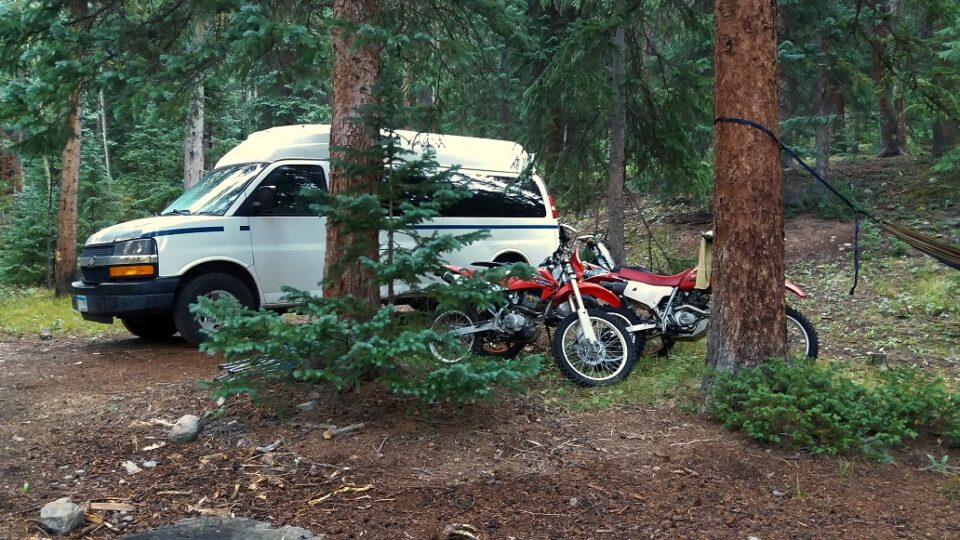 Can an SUV haul a dirt bike?
Yes, many SUVs can haul a dirt bike. They may not have a bed, but you have two other options.
You can mount a dirt hitch carrier, or you can pull a trailer, but it really depends on what your vehicle's capacity rating is for.
Best SUV for dirt bikes
You don't need a fullsize SUV to haul dirt bikes unless you're pulling an enclosed trailer that's bigger than 5×8. For a hitch carrier or lightweight open trailer, most compact SUVs will work just fine.
These are the best SUVs for hauling a dirt bike:
Chevy Traverse
Ford Escape
Dodge Durango
GMC Acadia
Chevy Blazer
Honda Pilot
Buick Enclave
Subaru Ascent
Toyota Highlander
Toyota 4Runner
Kia Telluride
Acura MDX
Can a car haul a dirt bike?
Similar to an SUV, many cars can haul a dirt bike, but there are more limitations due to the capacity of your car's frame strength. Your car may be able to use a lightweight hitch carrier, but the most likely option will be pulling a lightweight trailer due to the tongue weight.
What is tongue weight?
Tongue weight is simply the weight that the hitch is holding up at the point where the insert is mounted, whether it be a trailer or hitch carrier. A lightweight open trailer will have much less tongue weight because most of the weight is loaded on the trailer tires.
A dirt bike rack or hitch carrier will give you a higher tongue weight because virtually all of the weight is at the mounting point where the most leverage is.
Can I use a dirt bike hitch carrier on a car?
First, you have to find out if your car can have a hitch receiver installed onto it. There are also 2 main sizes of hitch receivers with different load capacity, so it's important to know what your car can handle, and then also what the hitch mount receiver you install can handle for weight.
What cars can carry a dirt bike?
If you'd like to keep your car for daily driving and carrying your bike to save money on gas and insurance, then using what you already have might be the best and easiest.
Here are some of the most common cars that can carry a dirt bike if you install a hitch receiver on them:
Chevrolet Malibu
Ford Fusion
Honda Accord
Toyota Camry
Nissan Altima
Hyundai Sonata
Dirt bike carrier for car
Choosing a solid hitch carrier and insert is important for a couple of reasons. You don't want a poorly built carrier or weak strapping system to fail, causing your precious dirt bike to fall off and grind itself away on the highway.
Also, you want it as sturdy as possible so that it doesn't rock or sway back and forth while driving – especially on a bumpy road. If your bike is flopping around, the handlebars can smash your window out of it gets enough momentum swinging.
So, depending on if you want a single or double motorcycle carrier, these are the best hitch mount dirt bike carriers for cars:
Can a dirt bike fit in a car?
A dirt bike for adults will not fit in a car unless you disassemble it and fold down and/or remove passenger seats. I've seen pictures of hardcore riders do this, and while it's creative, it's highly impractical.
What vehicle can pull a dirt bike trailer?
Any vehicle with a hitch receiver can pull a dirt bike trailer if it's within the towing capacity. There are pros and cons to using each type of vehicle to haul your bike or multiple bikes.
The cheapest vehicle for you may be what you already have and adding some simple equipment to fit or carry your dirt bike.
How to strap a dirt bike down
The easiest way to strap a dirt bike down in a truck, van or trailer is:
Load it forward when possible.
The front wheel goes against the wall/partition/wheel chock
Use ratchet straps hooked to the handlebars and hook the other ends so that they're pulling each side of the bars down and away
Cinch each side down carefully until the forks are partially compressed and the bike won't rock side-to-side easily
The straps should not be pushing or pulling on cables/wires/anything delicate
How to progress your dirt bike skills 5X faster
I constantly see many people trying to learn everything on their own when it comes to dirt biking, but I want to help you reach your goals much faster.
Instead of making all of the common mistakes (like I did), I'm going to show you the simple steps to become a better, safer, and confident trail rider. I put together a workshop that shows you how to do this and it's totally free – click here to sign up and get instant access!