Wondering if the Yamaha TTR230 is the right dirt bike for you? Whether you're a beginner or just getting back into riding, you're in the right place!
In this review, I will show you who it's for, why it's important to pick the right bike, and what to look for when buying a used one.
Who Is The Yamaha TTR 230 For?
The TTR 230 is built for a variety of riders, but it's best for teens and adults that are new to dirt biking. It's not a race bike but it is capable of doing technical trail riding if you are a skilled rider.
The simple suspension makes it dangerous on a motocross track, but if you want to learn how to safely ride a dirt bike with a clutch, then this trail bike might be for you. Keep reading to make the best decision possible.
So, if you're age 13 years or older and want to learn how to ride or just casually ride on the weekends, the TTR230 might be just the right bike for you.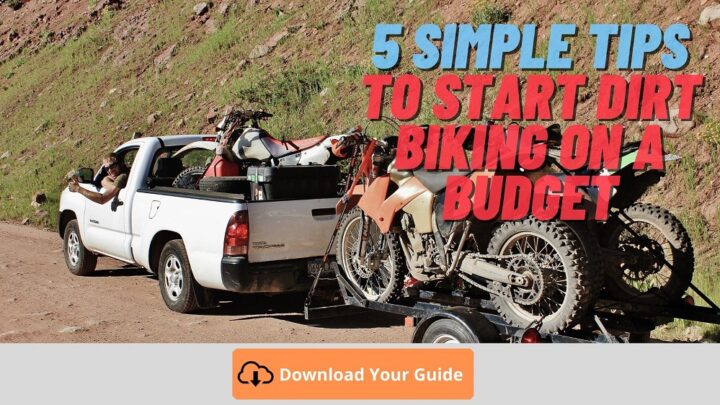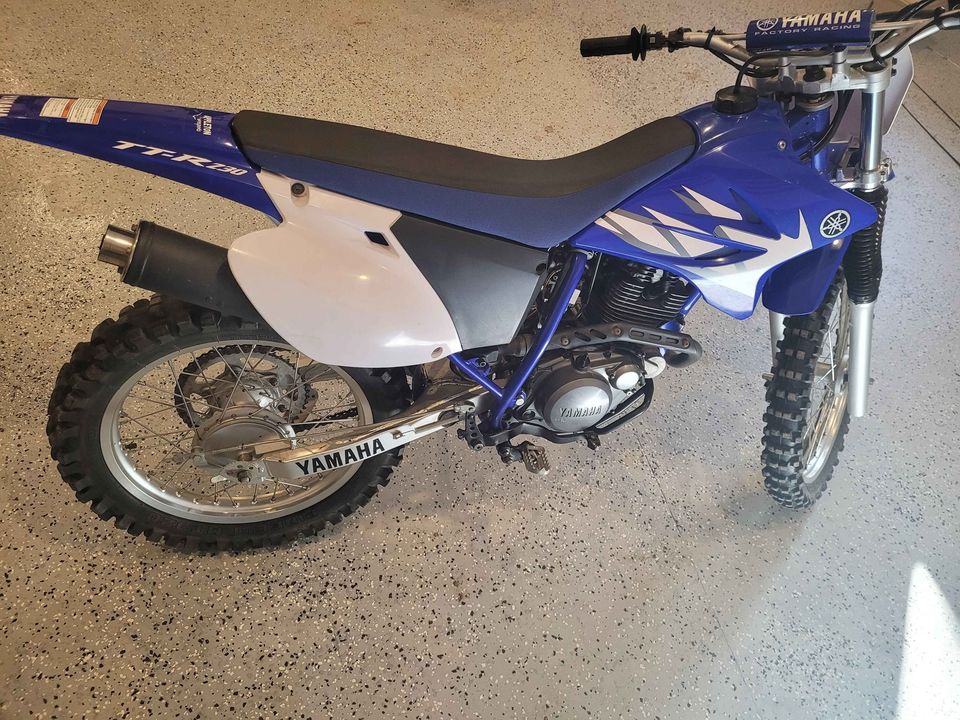 Is the TTR 230 electric start?
Yes, all years are electric start only. This means there's no back-up kickstart.
If your battery dies, you can most likely get it bump-started in an emergency. The battery is located behind the side cover on the right side under the seat in case you need to charge it or jumpstart it.
Is the TTR230 fast?
Compared to a race bike, such as the YZ250, the TTR230 is not a fast dirt bike. But that's not what it's designed to be.
Even though it as a top speed of about 60 mph, it's a trail bike that's easy to ride and will help turn you into a better rider on the trails. Riding faster starts with learning proper techniques at slow speeds to build your confidence.
Engine
Horsepower is not the strength of the TTR230. It's not going to win any drag races, but that doesn't mean it's not a good dirt bike.
What it's good at is making smooth, predictable power. 20 HP to be precise.
It doesn't have quite as much off-idle torque as the CRF230, but the power curve is very forgiving so that you don't get into trouble easily.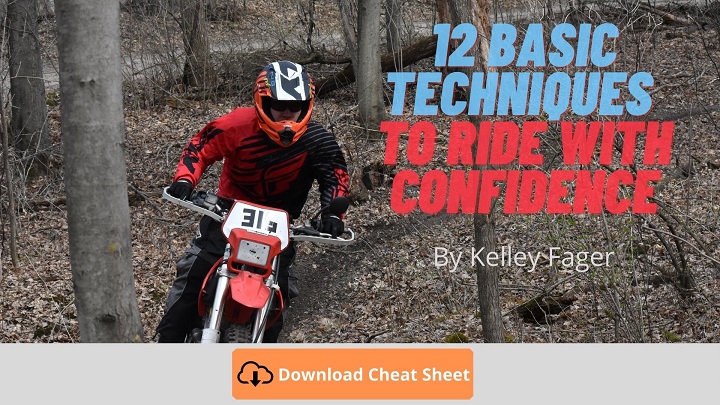 As a beginner, this is exactly what you want, as opposed to an enduro or MX bike that feels like it's going to rip your arms off when you get tired.
Power upgrades
There are definitely some mods that you can do to your TTR230 to give you that extra 'oomph' to get over logs. But nothing that will turn it into a fire-breathing monster that eats up 450s on hill climbs.
With some exhaust, jetting, and simple engine mods, you can still whoop up on guys with brand new enduro bikes on single-track trails. That, my friend, is what makes the TTR230 so fun to ride in the woods.
TTR230 Jetting
The carburetor jetting is important for it to start and run well, as well as making the most power. Unfortunately, it doesn't have fuel-injection, nor is there an easy upgrade for it.
This means you'll have to do some basic carb tuning, which is actually pretty easy on this dirt bike.
Any power mods will require some jet tuning, and it may need some if the bike is brand new, depending on your climate.
The stock TTR230 runs slightly lean from the factory, especially if you uncork it. The stock jetting is a 35 pilot jet and a 125 main jet.
Jet kit or upgrade to make it run better?
You can get a jet kit (Amazon), but you can do it cheaper with just a couple of OEM jets.
Most riders find that a 38 pilot and 130 main jet runs well in most climates. So, just run to your local Yamaha dealer and pick up those jets if you still have the stock ones and see if it runs better.
Air screw adjustment?
The TTR230 has a fuel screw, which adjusts the fuel mixture for the pilot jet circuit. It controls the amount of fuel that goes in, so opening it up will richen it.
Turning the fuel screw 1/4 turn can make it run better or worse, so try making one change at a time (with the engine fully warmed up). The fuel screw affects how it starts, idles, and the throttle response at low throttle position openings, which is where you'll probably be riding a lot.
Suspension
You're not going to get the latest in technology when it comes to the suspension on a TTR230. What you will get is a plush and comfortable ride for trail riding and riding around the yard at slow to moderate speeds.
Forks
No adjustability externally on these forks, but there are some things you can do to tune it.
Heavier springs or fork oil weight is fairly simple to do and will allow you to ride a little more aggressively, or if you simply weigh over 150 lbs.
Shock
Same with the rear shock, but it's harder to tune it internally. All you get is the externally pre-load, which you should do for proper balance and handling.
The valving can't be changed easily, and there's no compression or rebound clickers to adjust. Riding fast on technical terrain will be less comfortable because the stock shock and fork will get bucked around.
TTR 230 jumping – is it possible & safe?
The stock suspension is not built for jumping with big impacts because it's a trail bike. Is it possible? Yes. Is it safe? Not exactly.
If you're doing jumps bigger than 10ft. or you weigh over 150lbs, the stock forks and shock are going to bottom out. This can break things eventually, or cause you to crash because it's more likely to get out of control when it rebounds.
Handling
The TTR 230 is heavy compared to a 250cc motocross bike. Weight is important when it comes to handling.
However, the TTR handles well at lower speeds because of its lower center of gravity – the bike is smaller and lower compared to a larger full-size dirt bike. This makes it easier to balance on as a new rider.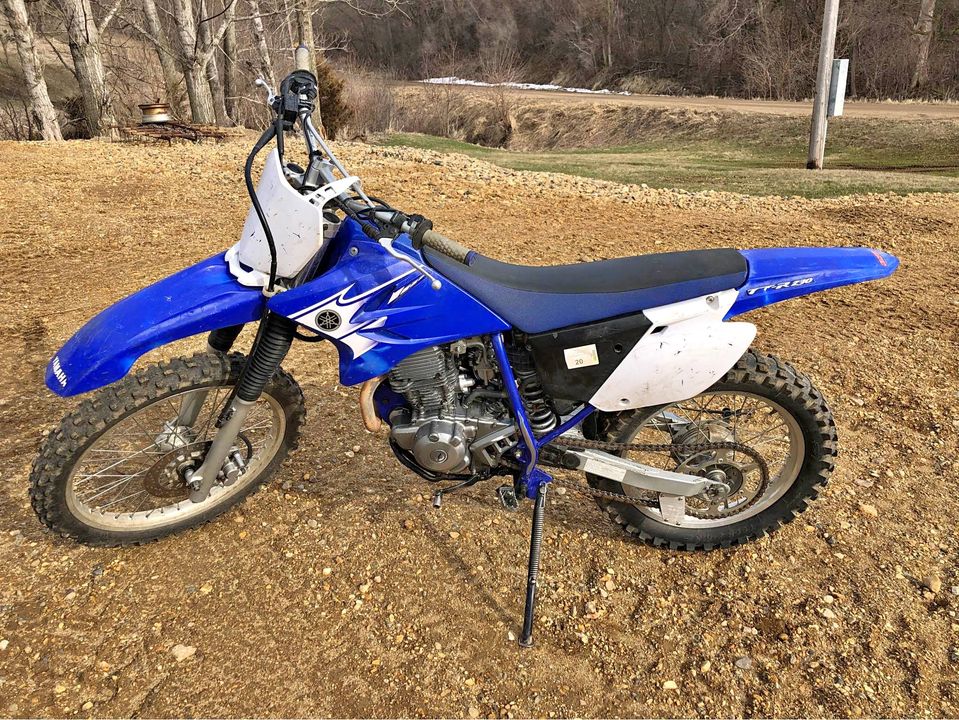 Weaving in and out of trees in the woods is where this trail bike shines. Its shorter wheelbase makes it quicker and easier to turn.
Want to make a fool out of your buddies on $10k bikes? Learn how to ride in the tight woods on a 230cc trail bike.
Is a TT-R230 a full size dirt bike?
The TTR230 is technically a full-size dirt bike because it has 21/18" wheels, but it's smaller than a typical MX and enduro bike. The seat height is only 34", which is 3-5" shorter than most full-size bikes.
How tall should you be to ride a TTR 230?
This makes it a good size dirt bike if you're 5'5″-5'10" in height. However, you inseam length makes a difference as well. Basically, you just need to be able to touch the ground with one foot to balance when coming to a stop.
Besides the smooth power, this is the second biggest factor to why this is a great beginner bike for teens and adults. Being able to touch the ground with your foot will boost your confidence because you can prevent a lot of tip-overs.
It may not have as much ground clearance, but that doesn't matter unless you're hitting huge logs and rocks or riding through deep ruts.
TTR 230 Weight – It feels lighter than it is
At 251lbs wet with fluids, the Yamaha 230 is on the porky side, but that's normal for this trail bike class. You'll notice it when you have to pick it up off the ground.
But when riding it handles like a lightweight bike because the center of gravity is lower.
TTR230 Specs
The TTR 230 hasn't changed much over the years, according to Yamaha.
| | |
| --- | --- |
| Engine | 223cc air-cooled 4 stroke |
| Transmission | 6-speed manual clutch |
| Weight (wet) | 251lbs |
| Seat Height | 34.0" |
| Horsepower | 18HP |
| Top Speed | 60mph |
| Price (MSRP) | $4,449 USD |
TTR230 Model Year Changes
It has not changed since it was first made in 2005. Plastic/graphics are the only updates each year. This means that you should buy the cleanest one you can find if you're buying a used bike.
The TT230 came from the TTR225, which isn't much different from that other than the body/plastics.
Common TTR230 Issues
Yamaha has been making this trail bike platform for decades, so there's no major issues that you need to be concerned about. As long as you know it's a beginner bike that's not made to jump, it will be a solid bike.
With that said, due to it being so reliable, many TTR 230 owners didn't maintain them, so they're often well used and abused without being taken care of.
You may need to tune the jetting if you want the most power with good throttle response and easy starting.
If reliability is a concern, then get the OEM manual, read it, and do the simple maintenance. Change the oil when it's dirty or low, clean the air filter when it's dirty, have the chain properly adjusted, and keep the bearings greased.
Maintenance expectations
The TTR 230 is one of the most reliable dirt bikes and is very easy to maintain in the long run. Doing oil changes every 10-20 hours and cleaning the air filter when it gets dirty is the majority of the work you'll need to do.
Checking and adjusting the chain tension should be done every ride – the snail adjusters are as easy as it gets to tighten it accurately.
TTR230 vs CRF230
The ultimate 230cc trail bike battle is between the Yamaha and Honda. The CRF230 is more well known because it came from the popular XR200.
The CRF230F has a little more low-end torque than the TTR230, while the TTR230 has slightly more mid-to-top horsepower in stock form. The Honda 230 has better aftermarket availability, but used models are generally priced higher than the Yamaha.
TTR230 vs TTR250
Both are 4 stroke trail bikes, but there are some major differences between these two dirt bikes. The TTR230 basically a slightly smaller version of the TTR250.
It has a 2-valve engine with about 9 inches of suspension travel, while the TTR250 has a DOHC 4-valve engine with about 11 inches of suspension travel.
The TTR250 is an older model, but it's a better choice if the TTR230 is too small for you to fit comfortably. The 250 is close to 20lbs heavier than the 230.
TTR230 vs TW200
While they're both great beginner bikes, it's not a close comparison. The TW200 is a dual sport bike with a much different chassis and tires suited for all types of riding.
Bottom Line: Is The TTR230 A Good Dirt Bike?
The TTR230 is a fantastic dirt bike if you're a newbie or casual trailer rider.
It's a terrible bike if you want to race motocross or want the best technology available.
Keep reading if you need more specific details on whether it's the right bike you're looking for or not.
What's Good?
Lower seat height than MX/Enduro bikes
Smooth & predictable power
Electric start
Extremely reliable
Great handling at lower speeds and in the woods
What's Bad?
Heavy to pick up off the ground
No kick-start for back-up
Suspension is soft for aggressive riding
Unstable at high speeds
It's a little small if you're a tall beginner rider
The TTR230 Is For:
Teens transitioning to a full-size dirt bike
Girls moving up from a smaller dirt bike bike
Adults that want a beginner bike that's easy to ride
Riders that want a 'sleeper bike' in the woods
The TTR230 Is NOT For Riders That Want:
To do big jumps
The latest technology
The best suspension
How To Shorten A TTR230
Transitioning to a full-size dirt bike but need it as short as possible? The TTR230 is a common beginner bike for females, and it can be lowered relatively easily.
The easiest ways to make your TTR 230 seat height lower are shaving the seat foam and adding a lowering link.
A lowering linkage changes the rear shock geometry, but it's not very noticeable if you're a new rider. It helps to lower the forks as well.
Lowering The Forks
You can lower the front-ene by raising the forks in the triple clamps. This will lower the overall seat height of your TTR230. It's good practice to write down the original setting before changing anything.
A spacer can be added internally to the forks to lower them as well.
Lowering The Shock
Adjusting the shock for less preload will lower the seat height. This is easy to do, but will affect suspension performance. If you're a beginner, this won't negatively affect your riding.
A spacer can be added internally to the shock as well, but it's only a job for someone skilled at rebuilding a shock.
Can you make a TTR230 Street Legal?
It depends on what state you're in and what the regulations are. Some states allow off-road motorcycles to be registered to be legal to ride on the road with some required parts.
The typical parts needed to make your TTR230 street legal are:
Tail & brake light
Mirror
Horn
Tires that are DOT-approved
Turn signals (may or may not be required)
Muffler (sound limit may be necessary)
Please refer to your state or countries laws if you want to get your off-road dirt bike plated.
How much is a TTR 230?
The value really depends on a number of factors. The local current market, the condition, and the year are the most important.
But for a ballpark estimate, an average used TTR 230 is worth $1500-3000.
5 Mistakes people make when buying a used TTR 230
Whether you're just trying to get a good deal on a used dirt bike or you don't want to end up with a "turd", there are some common mistakes that people make when buying a used dirt bike.
Maybe you're in a rush, or you don't inspect the bike well enough… I want to show you the simple steps I've learned from making mistakes while buying used bikes over the years so that you get a good deal on a good bike. Click here to learn how.