Looking for the best enduro motorcycle of 2023 but not sure which is right for you? Whether you're a beginner or looking to upgrade your dirt bike, you're in the right place!
In this article, I'll show you the differences between today's enduro bikes vs the past, what type is best for you, and then the best enduro motorcycles to choose from based on your specific needs.
What is an enduro motorcycle?
There are two types of enduro dirt bikes, so it depends on which type of motorcycle you're looking for. You can get one that's built for riding trails and off-road only, or there's a street legal version.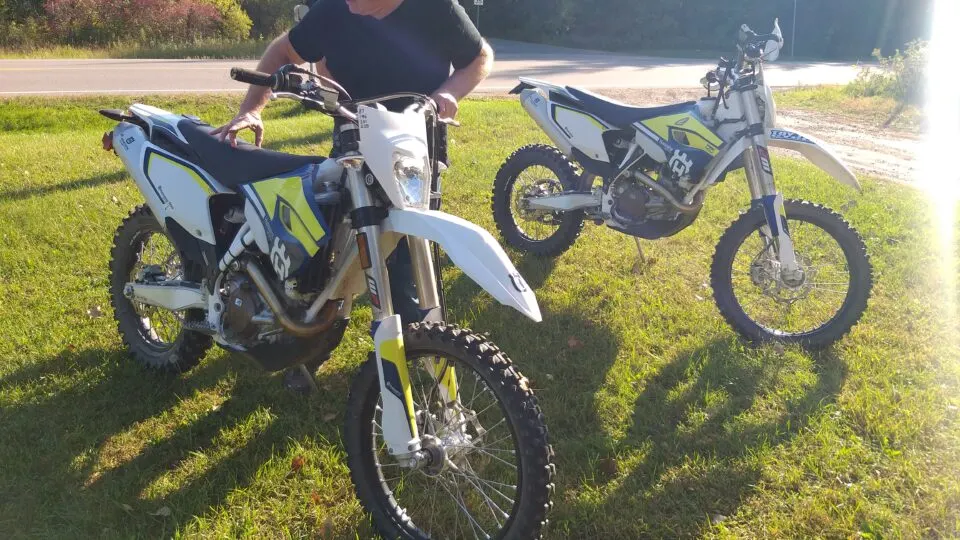 Enduro off-road bike vs dual-purpose enduro bike
An enduro dirt bike for riding on trails is typically based on the motocross bike version but is tuned to be more comfortable riding off-road.
For example, the YZ250X is a 2 stroke enduro bike that's based on the YZ250 2 stroke motocross bike. The YZ250X has softer suspension, a kickstand, and the engine is tuned more for low-end power, making it a good trail bike or hard enduro bike.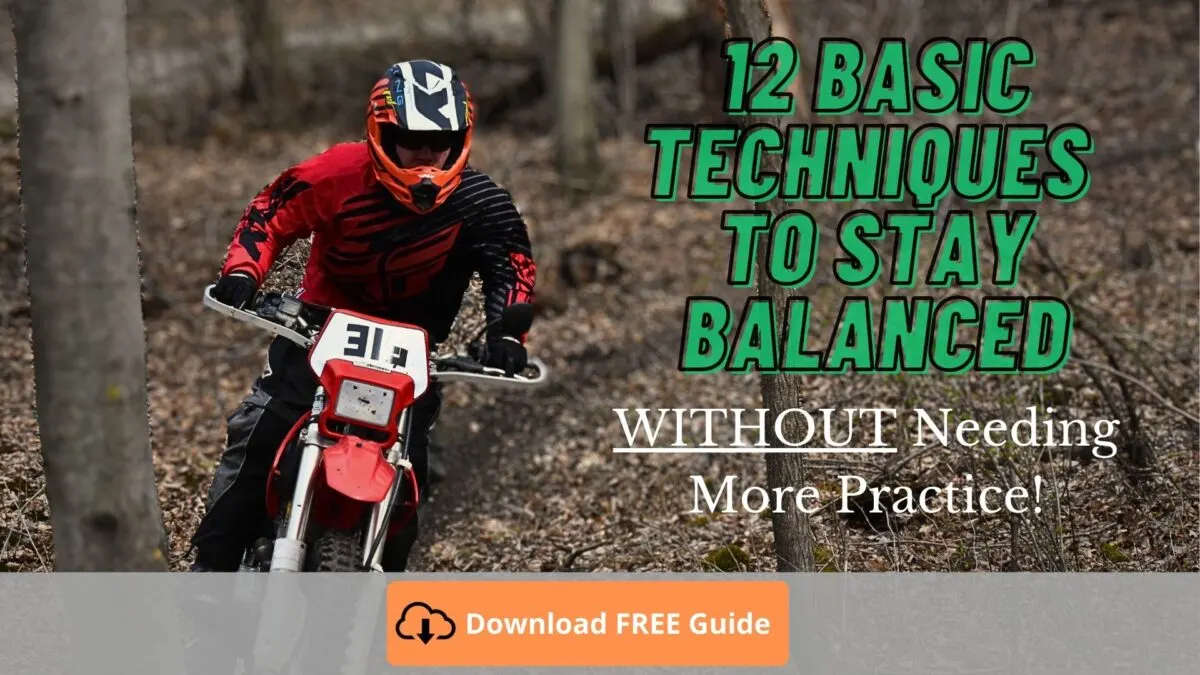 A dual sport bike or dual-purpose motorcycle is the modern name for a street legal enduro dirt bike. Back when dirt bikes first started getting popular, and "enduro" was just a street legal version of an off-road dirt bike.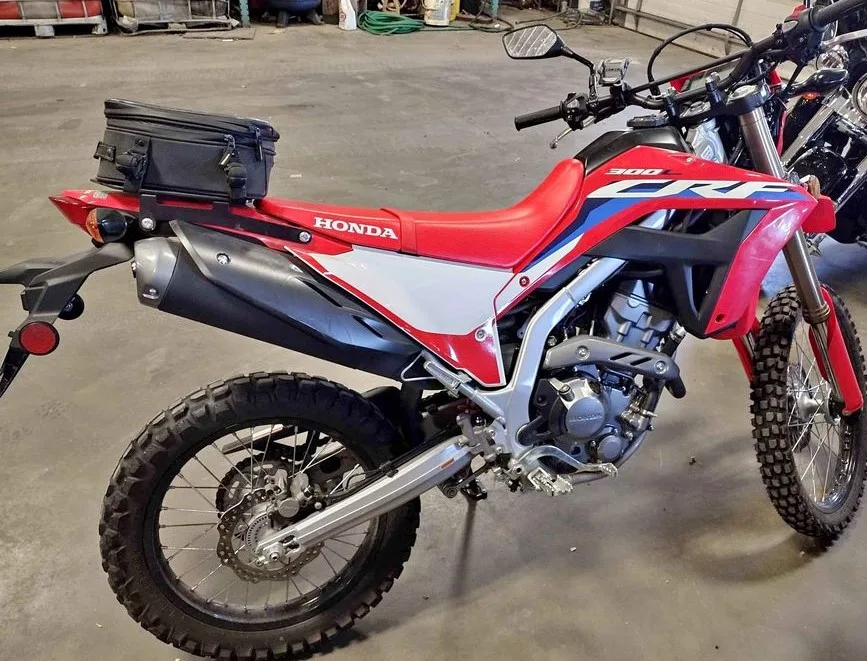 Today, an enduro bike is typically referring to a high-performance trail dirt bike or cross-country race bike.
2 Types of enduro motorcycles: which is best for you?
There are two different categories within the two different types of enduro motorcycles.
First, you have 2 stroke vs 4 stroke, which is the biggest difference. In short, a 2 stroke has a lighter handling feel, while a 4 stroke generally has a broader power curve with more "snappy" torque.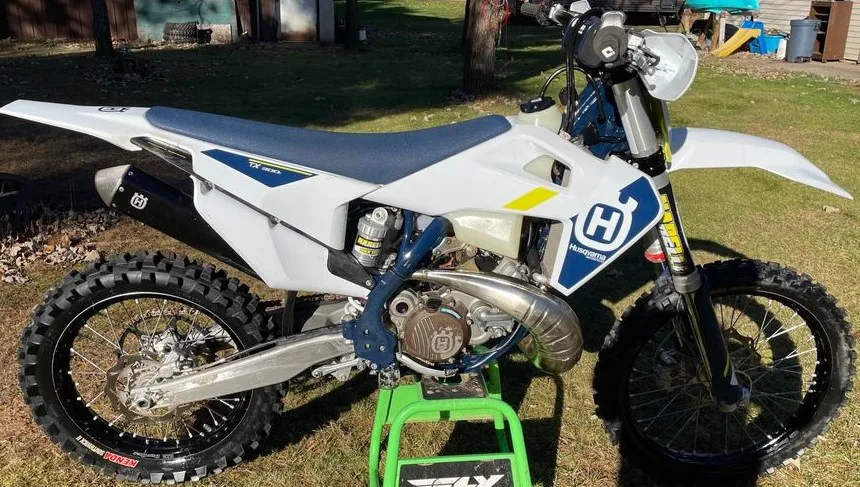 Then, you have an off-road vs cross-country difference between enduro dirt bikes. Most dirt bike manufacturers make one of each for every size dirt bike nowadays.
An off-road enduro motorcycle usually has these distinct characteristics:
Softer suspension
Smoother engine power
Wide-ratio transmission
Headlight/tail light
A cross-country enduro motorcycle usually has these distinct characteristics:
Firmer suspension
Slightly more aggressive engine tune
Close ratio transmission
No lights
For example, a KTM 250 XC-W is an off-road enduro bike, while a KTM 250 XC is a cross-country enduro bike. The 250 XC-W is better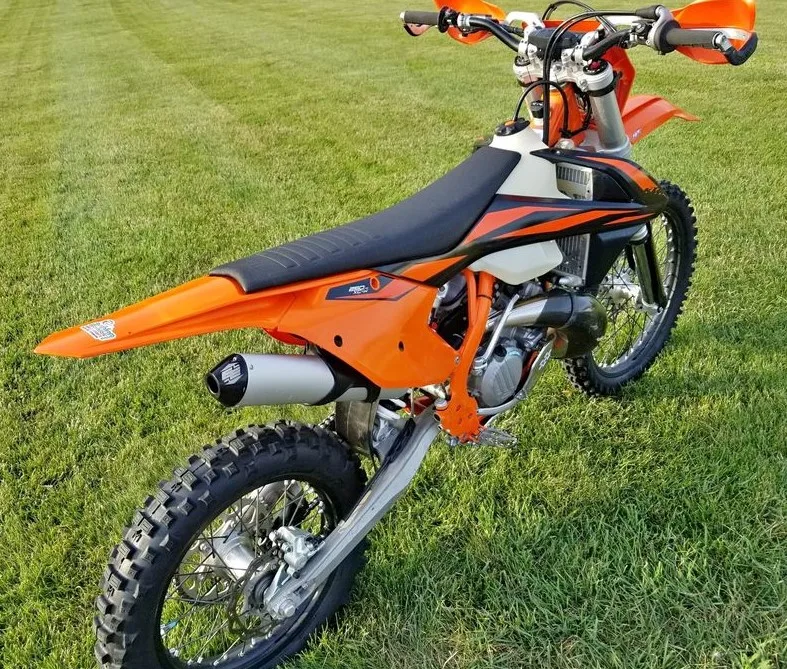 Which is better for you: MX or Enduro bike?
What type of riding do you plan on doing? If it's just off-road and trail riding, then an enduro bike is better than a motocross bike.
Why?
Because an MX bike has stiff suspension and an abrupt (snappy) power curve that makes it harder to control while riding in the woods or out in the bush.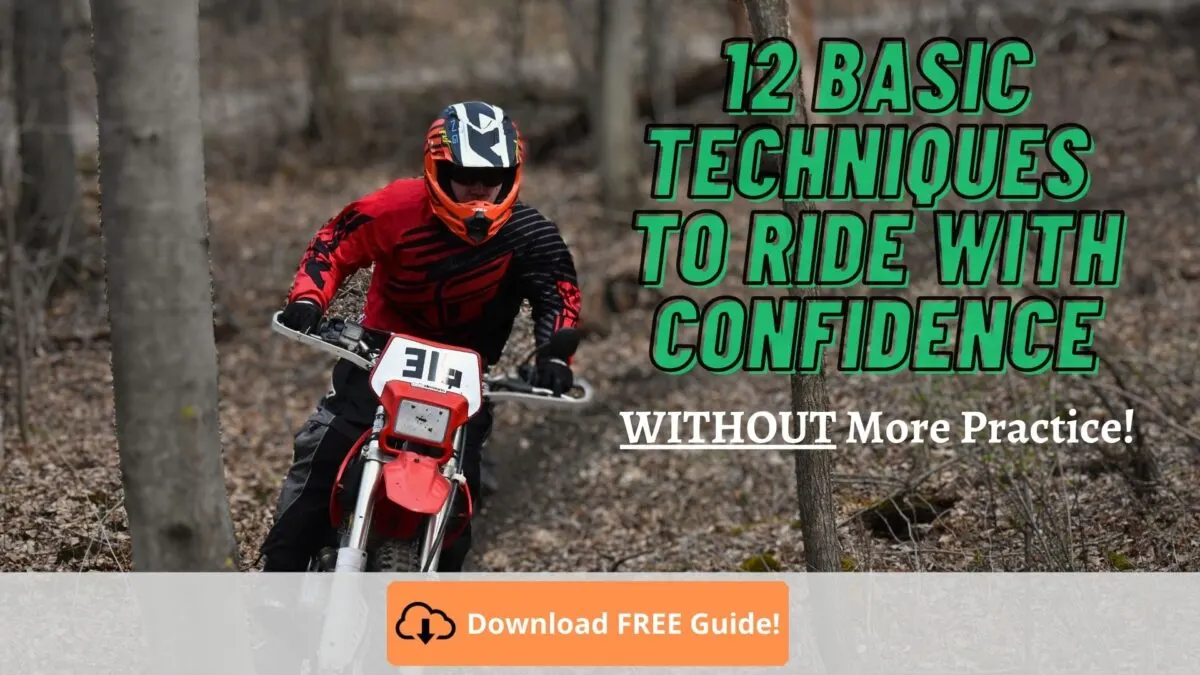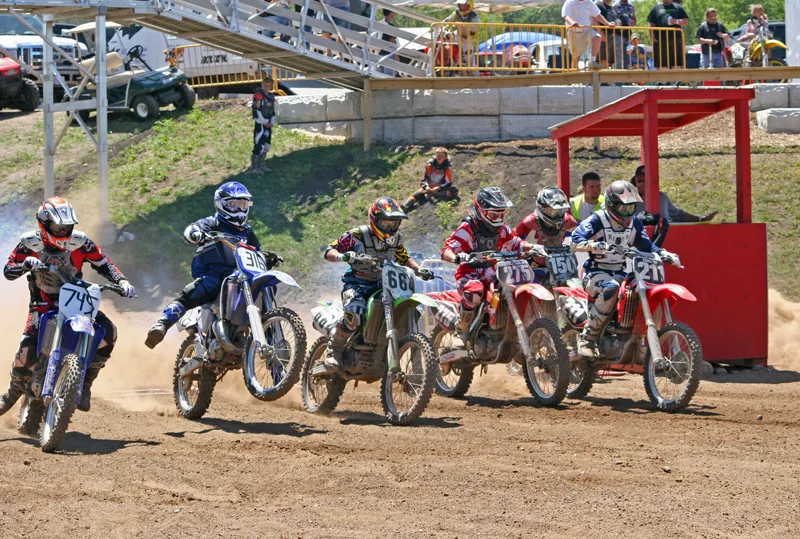 With softer suspension, smooth power, and other trail accessories, an enduro dirt bike is simply more practical to ride off-road with.
Can you turn an MX bike into a woods bike? Yes, but it takes a lot of work and money, so it would be much easier (and probably cheaper) to start on a dirt bike that's already built for woods or trail riding.
I know this because I tried riding many different motocross bikes in the woods…
New enduro motorcycles – Which brand is best?
Honestly, after putting this list together, I'm shocked at how many different new enduro motorcycles there are – that's both good and bad for you!
It's awesome because all of these companies are building more custom dirt bikes to fit your specific needs, but that also means it's harder to make the "perfect choice" because you have… so many options to choose from.
So, that's why I'm going to narrow down the best dirt bikes based on what you need after I show you the top rated dirt bikes from each of the best enduro motorcycle brands.
These are all of the latest enduro off-road bikes that you can buy new from your local dealer showroom:
125 XC
250 XC
300 XC
150 XCW
250 XCW
300 XCW
250 XCF
350 XCF
450 XCF
350 EXC-F
500 EXC-F
500 EXC-F
The XC models are 2-strokes for cross-country racing, and the XC-W models are 2-stroke enduro models that are similar but better for trail riding due to softer suspension and wide-ratio transmissions, among other differences..
The XC-F models are 4-strokes for cross country enduro racing, and the EXC-F models are dual sport enduro models.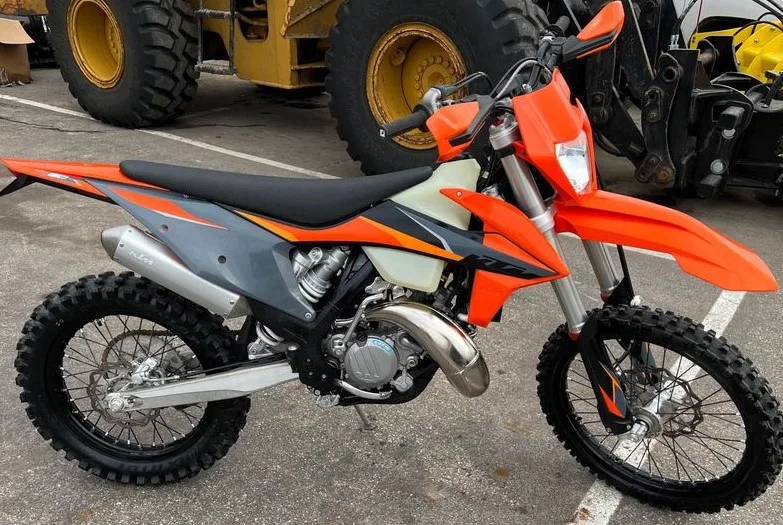 Husqvarna enduro motorcycles:
TE 150
TE 250
TE 300
TX 300
FE 250
FE 350S
FX 350
FE 450
FX 450
FE 501S
TE stands for two-stroke enduro model for off-road riding while the TX is the cross-country off-road racing bikes. FE stands for four-stroke enduro, FX is the racing version, and the "S" models are dual-sport motorcycles that are street legal.
CRF250RX
CRF450X
CRF450RX
CRF450RL
Honda only sells a few enduro dirt bikes, and they're all 4-strokes. "RX" is the cross country race bikes, and the "X" model is a milder version for offroad and trail riding. The "RL" or "L" model is the dual-sport version for riding on-road and off-road.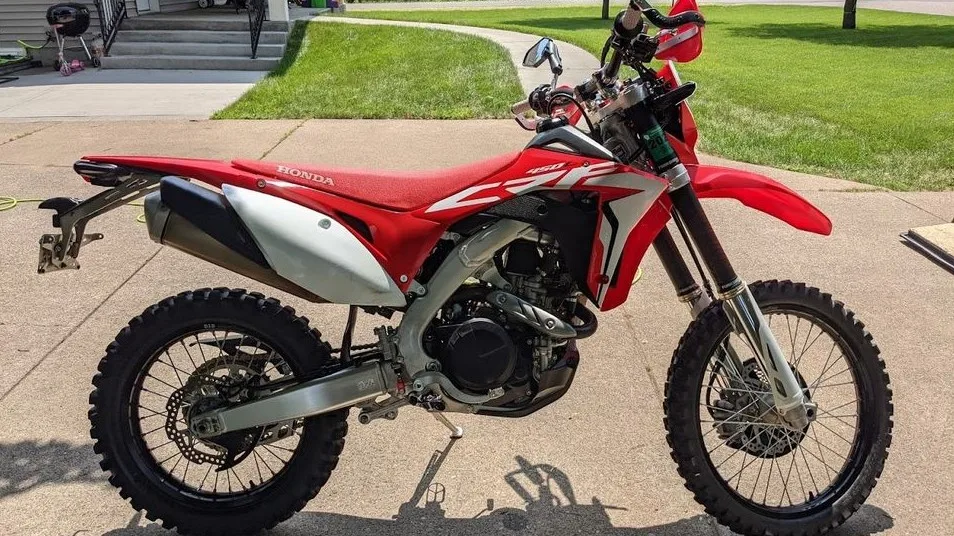 YZ125X
YZ250X
WR250F
YZ250FX
WR450F
YZ450FX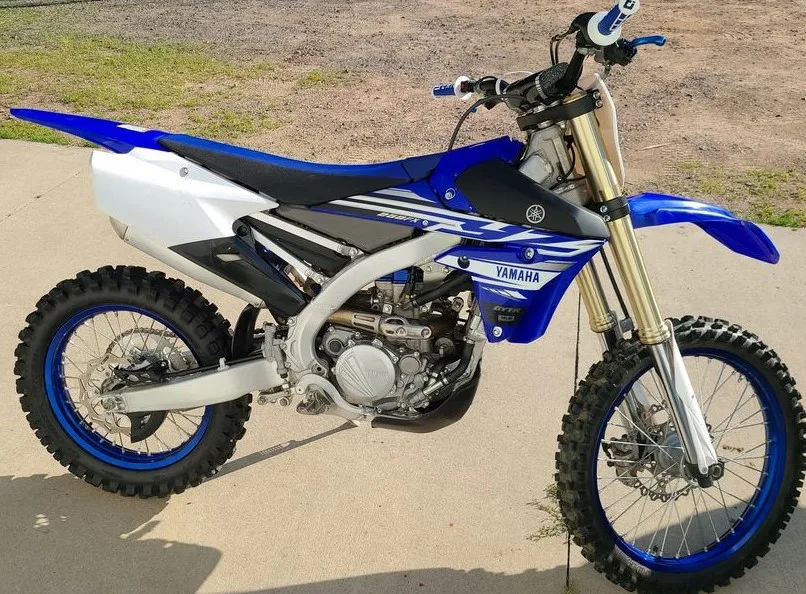 The 125X and 250X are the 2 stroke enduro competition bikes that are based off of the MX bike version. The "WR" models are the wide-ration enduro bikes that have softer suspension and are better for slower or all-around trail riding. The FX models are the cross-country 4-stroke race bikes with more "snappy" power, firmer suspension, and a close-ratio gearset.
Do you want a 250 or 450 four-stroke enduro motorcycle? Kawasaki gives you two options, and they're both made for cross-country racing.
GasGas enduro motorcycles:
EC 250
EC 300
EX 250
EX 300
EX 250F
EX 350F
EX 450F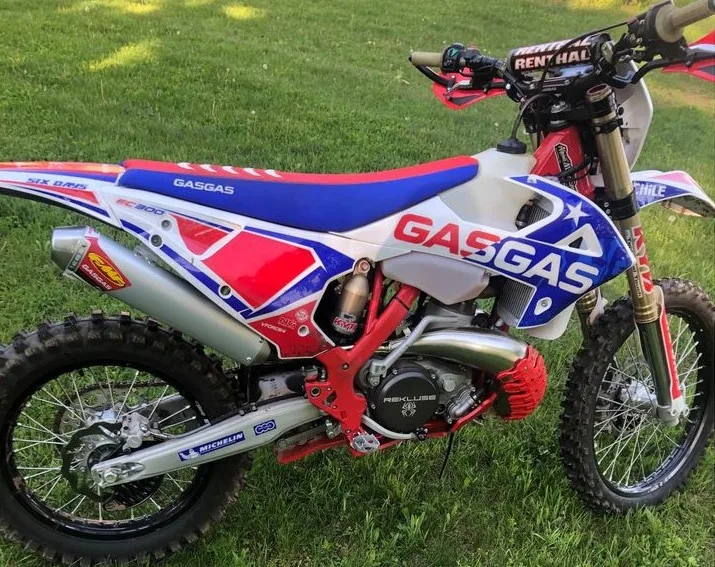 The EC models are 2 stroke enduro bikes for off-road and trail riding, while the EX models are cross-country enduro models for racing/faster trail riding. The models with an "F" are the 4-stroke enduro bikes.
Beta enduro motorcycles:
125 RR
200 RR
250 RR
300 RR
350 RR
390 RR
430 RR
480 RR
300 XTrainer
350 RR-S
390 RR-S
430 RR-S
500 RR-S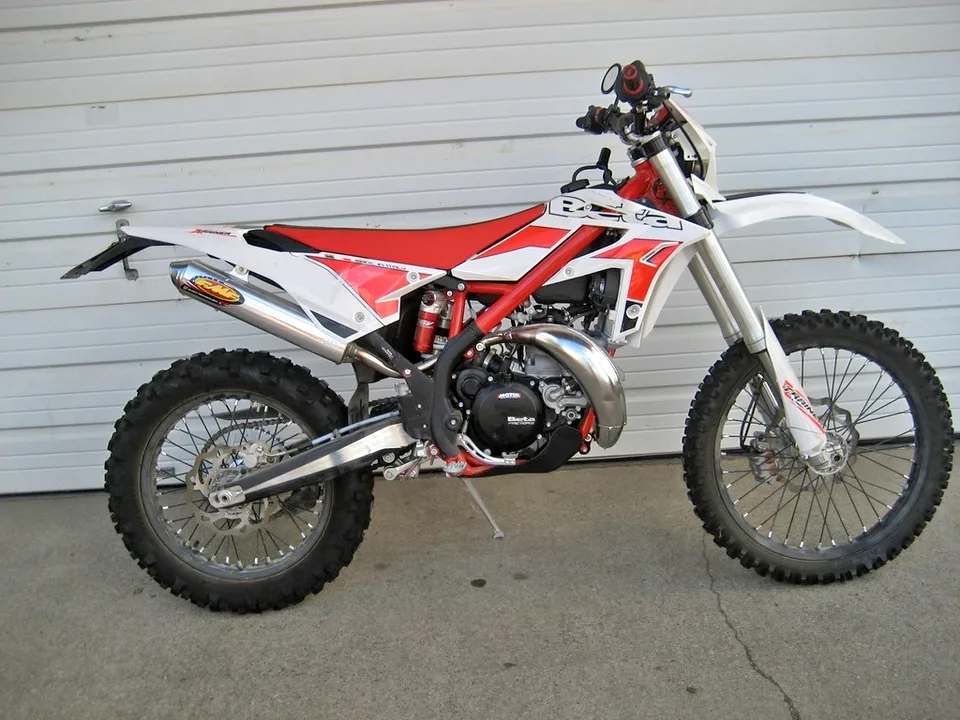 The 125, 200, 250 and 300 models are 2 stroke enduro bikes, while the 350, 390, 430, and 480 RR are the 4 stroke versions. The "RR-S" models are dual sport motorcycles, and the XTrainer is an enduro bike for beginners because it's slightly smaller, smoother power and softer suspension.
Sherco enduro motorcycles:
125 SE Factory
250 SE Factory
300 SE Factory
250 SEF Factory
300 SEF Factory
450 SEF Factory
500 SEF Factory
It's pretty simple, the SE models are two-stroke enduro dirt bikes, and the SEF are the 4-stroke version.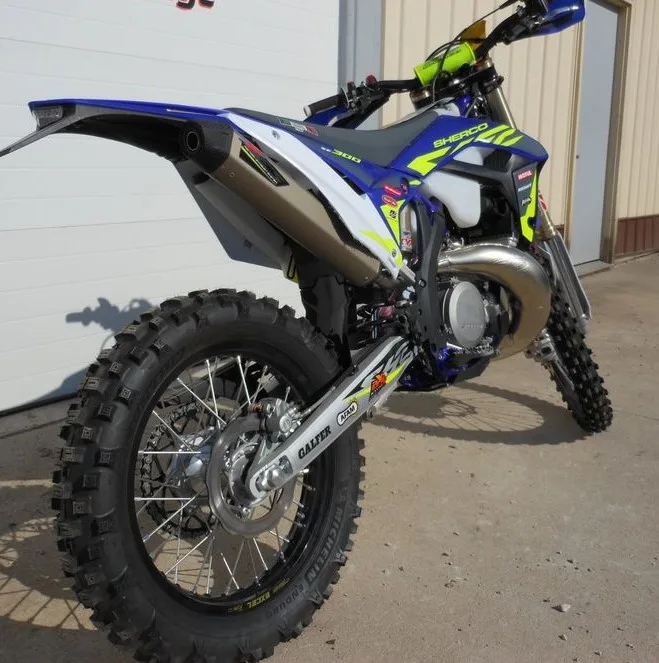 Best enduro bike for beginners
Everybody wants a better and more powerful dirt bike, but is that actually what you need?
I knew I didn't need a 450, but I kept trying MX bikes and high-performance Enduro bikes for trail riding.
This didn't work for me because I couldn't use them to their full potential. It wasn't until I decided to go back to the basics and buy a $650 beginner bike – an XR200.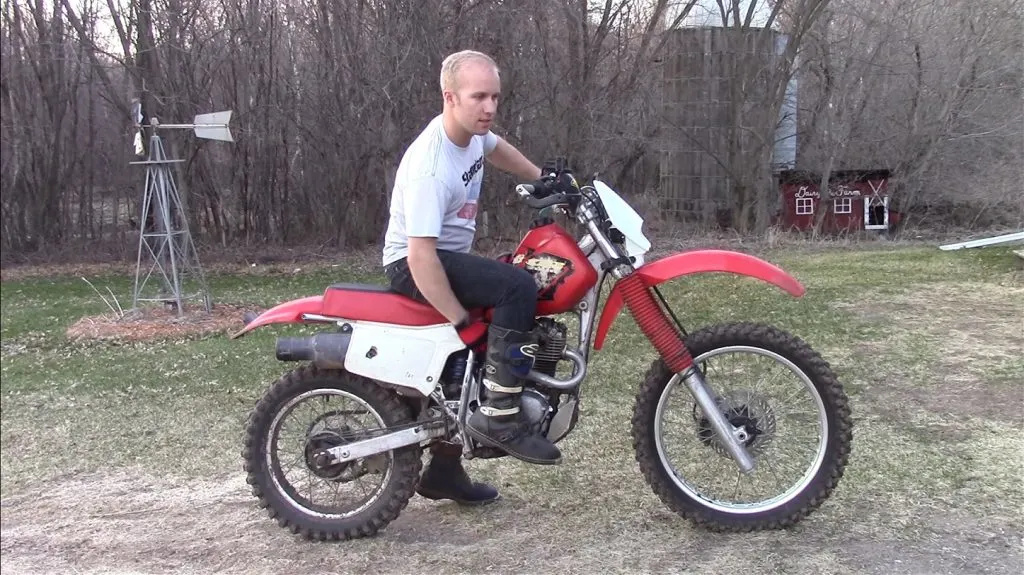 It was slow, but it was comfortable and much easier to learn how to properly ride with confidence and control.
I started riding faster on a slower bike.
Yep, so if you're a beginner, these are the best starter enduro motorcycles:
Kawasaki KLX230R
Honda CRF250F
Kawasaki KLX300R
Beta 200 RR
Beta 300 XTrainer
Best small enduro motorcycle for short rider
Let's face it, most dirt bikes are tall if you have short legs like me (27" inseam). You shouldn't need to put both feet down on the ground because that's poor technique, but being able to confidently touch with one foot can really boost your confidence.
There's not many good 'medium-size dirt bikes' that are high performance because it would cost too much for dirt bike companies to make them – you can't just slap an engine into a smaller frame because there's so much testing involved to get it to handle properly.
With that said, these are the best small enduro bikes if you're a short rider:
Beta makes their frames on these two 2-stroke dirt bikes slightly smaller for the smaller or beginner rider. They're easier to handle and make good, smooth power. Electric start and oil injection get rid of most objections to owning a 2 stroke dirt bike.
What are the best hard enduro bikes?
Hard enduro riding is tight and highly technical trail riding. Endurocross racing could be considered hard enduro riding, but there's specific models that are typically used for hard enduro off-road riding.
The best hard enduro bikes are 2 strokes because they're lighter, making them handle better. They also don't stall as easily, and overheating is less of an issue because they run cooler and the engine/transmission oil is separate compared to most 4-strokes.
Most hard enduro riders use these dirt bikes:
KTM 300XCW TPI
Husqvarna TX 300I
Beta 300RR
Sherco SE 300 Factory
What's the best all-around dirt bike?
If you want to ride your dirt bike everywhere – including on the street, then you need a dual-sport motorcycle. It doesn't do any certain type of riding 'great', but it's pretty good at everything.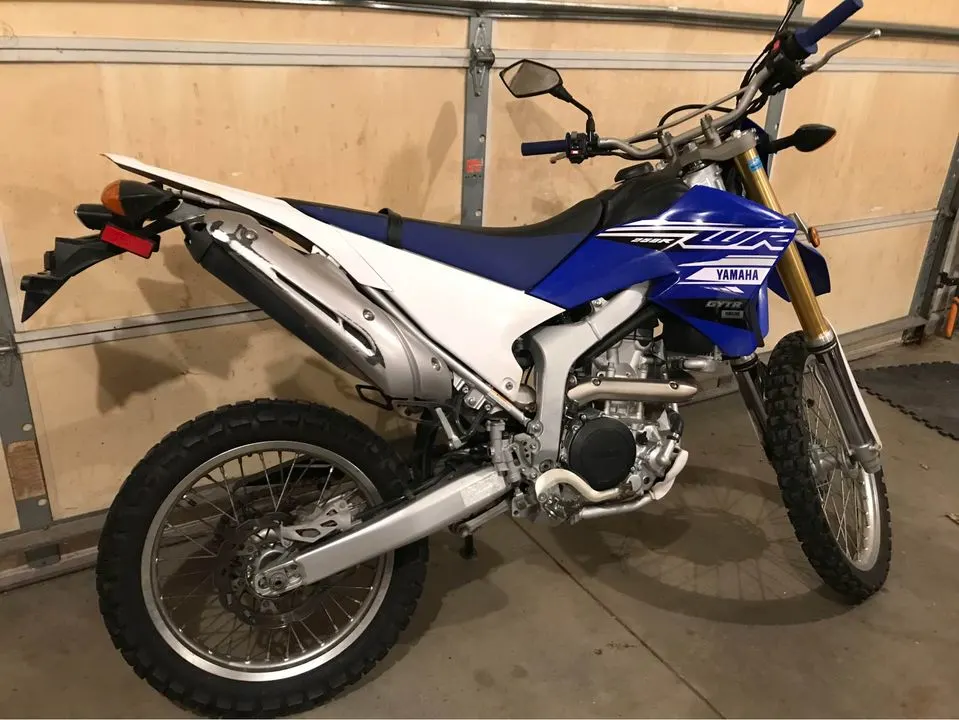 It's a compromise to be able to legally ride anywhere. They come with DOT dual-purpose tires, which are usually a 50/50 combination tread.
This means that it has knobs for better traction on the dirt compared to a street tire, but the knobs are not very big, giving it a smoother surface for a comfortable ride on the street without lots of vibration.
Best dual sport motorcycle 2023
There are quite a few street-legal dirt bikes to choose from. The more off-road miles you plan to put on it, the smaller you should go with bike size.
Heavy dual sport or adventure bikes are built to handle riding in the dirt, but they just get hard to handle. It gets even worse when you have to pick them up off the ground.
With that said, these are the best street legal enduro motorcycles:
Yamaha TW200
Kawasaki KLX230
Honda CRF300L
Kawasaki KLX300
KTM 350 EXC-F
Honda CRF450RL
KTM 500 EXC-F
Best lightweight enduro for on-road & off-road
Just want a modern, lightweight street legal dirt bike? Unfortunately, there's no "perfect bike" for this, because they're either too heavy, too tall, too hard to ride, or just not enough power.
The best lightweight street legal enduro bikes are:
Kawasaki KLX250
KTM 350 EXC-F
Husqvarna FE 350s
The KLX250 S is about as light as it gets for a street legal dirt bike that still has decent power. The Suzuki DR200S weighs about 20lbs less but the power is very underwhelming.
The WR250R is very comparable, but Yamaha recently discontinued it.
The KTM 350 EXC-F has considerably more power and performance. It also costs a lot more. If you're short, it's going to be a struggle because it's one of the tallest dirt bike sizes.
The Husky FE 350s is basically the same motorcycle as the KTM 350 but with white plastics and a few minor differences.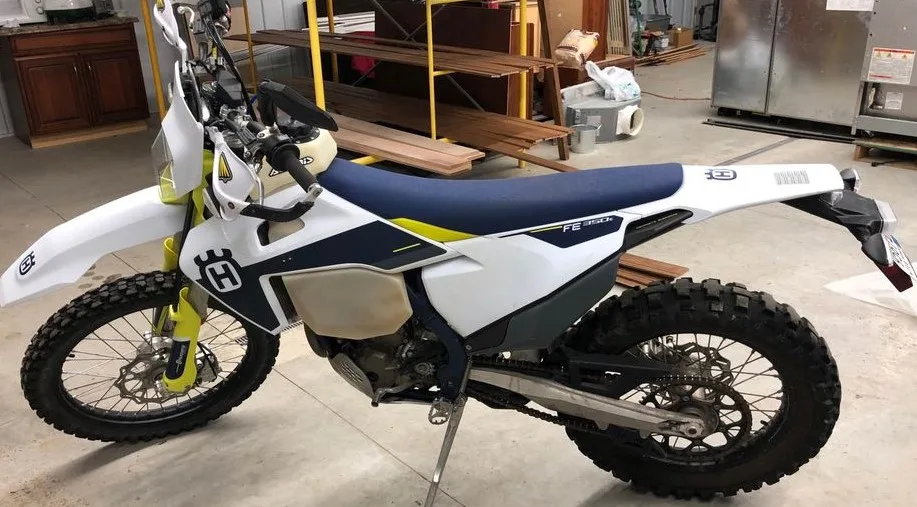 Best 125-200cc enduro bike
Whether you're looking for your first enduro bike or just want the lightest motorcycle you can find, a 125, 150, or 200 cc is an excellent choice. They still make good power, but they handle so much better off-road than a 250 and especially a 450.
It's not just the weight that makes them so much easier to lean, turn and control, but it's the less rotating mass that makes them feel even lighter!
For example, a 125 two-stroke engine weighs about 50 lbs, and a 450 four-stroke engine weighs about 65 lbs – that extra 15 pounds of rotating parts makes it handle like a much heavier motorcycle, especially when you rev the engine higher.
These are the best 125-200 cc enduro motorcycles for off-road:
Yamaha YZ125X
Sherco 125 SE Factory
KTM 125 XC
KTM 150 XCW
Husqvarna TE 150
Beta 125 RR
Beta 200 RR
Best 250 enduro bike 2023
Whether you want to race off-road in the desert, enduro, hare scramble, or have a track and trail bike, a 250cc enduro bike will do a good job. They're still fairly light but don't have so much power that you'll get your arms ripped off like a 450 would.
With that said, I still don't recommend these bikes if you're a beginner – go to the beginner section to pick the best trail dirt bike for you.
250 2-stroke for trail riding:
GasGas EC 250
KTM 250 XCW
Husqvarna TE 250
250 2-stroke for cross-country racing:
GasGas EX 250
Sherco 250 SE Factory
Yamaha YZ250X
KTM 250 XC
Beta 250 RR
250 4-stroke:
Yamaha WR250F (trail riding)
Yamaha YZ250FX
Honda CRF250RX
KTM 250 XCF
Kawasaki KX250X
GasGas EX 250F
Best 300 enduro bike 2023
"KTM" is almost synonymous with "300" when it comes to riding off-road, and especially hard enduro. They started making a 300cc 2 stroke since the late 90s, and have been tweaking and perfecting it so much that every manufacturer that sells Enduro motorcycles learned from KTM and jumped on board – this is great for you because there's more competition and custom choices.
KTM won virtually every 300 shootout contest that dirt bike magazines did for a while, but they're all really good and competitive now. Each model just has its own characteristics and quirks.
Best 300 2-stroke for trail riding:
KTM 300 XCW
Husqvarna TE 300
Beta 300 XTrainer
GasGas EC 300
Best 300 2-stroke for cross-country racing:
KTM 300 XC
Husqvarna TX 300
GasGas EX 300
Beta 300 RR
Sherco SE Factory 300
Best 350 enduro bike
A 350cc dirt bike seemed pretty odd when KTM first introduced it back in 2011, but for an average rider like you and I, it's become one of the most popular sizes – why is that?
Well, it's because a 250cc four-stroke just doesn't have quite enough "snap" for some riders, while a 450 is just more than you really need. So, a 350 seems to be the perfect compromise because it handles better than a 450 without losing too much power (mostly down low).
It's a mystery why Yamaha hasn't developed their own 350cc enduro bike yet…
These are the best 350 enduro bikes for racing and trail riding:
KTM 350 XCF
Husqvarna FX 350
GasGas EX 350F
Beta 350 RR
These are the best 350 enduro bikes for dual-purpose riding:
KTM 350 EXC-F
Husqvarna FE 350s
Beta 350 RR-S
Best 450 enduro bike 2023
A 450cc dirt bike has become the ultimate "man's bike" because it's basically unlimited power – 99.99% of us can't take advantage of all that torque and horsepower. But, it is nice to be able to stick it in 2nd or 3rd gear and stay there for a whole trail loop!
They've also become very reliable – if you're not constantly and needlessly bouncing off the rev limiter. You can get hundreds of hours on the engine before needing to rebuild it.
These are the top 450 enduro bikes for trail riding:
KTM 450 XCF-W
Yamaha WR450F
Honda CRF450X
Husqvarna FE 450
These are the top 450 enduro bikes for cross-country/desert racing:
KTM 450 XCF
Yamaha YZ450FX
Honda CRF450RX
Kawasaki KX450X
Husqvarna FX 450
GasGas EX 450F
Sherco 450 SEF Factory
The Top 10 Enduro Motorcycles of 2023
Just want a simple list of the top rated enduro bikes so you can choose the one that fits your needs? This list includes bikes that are lightweight, short, good for beginners, cross-country racing, trail riding, track & trail, dual sport riding, and more!
These are the top 10 Enduro motorcycles of 2023 from smallest to biggest:
KTM 150 XCW
Beta 200 RR
Yamaha YZ250FX
KTM 250 XC
Beta 300 XTrainer
KTM 300 XCW
Husqvarna TX 300
KTM 350 XCF
Yamaha YZ450FX
KTM 500 EXC-F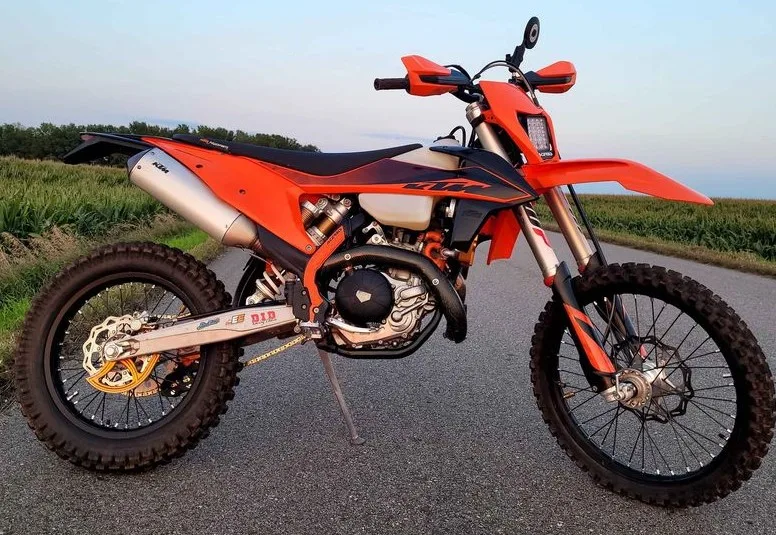 Best off-road enduro motorcycle 2023
For strictly off-road riding, and more specifically trail riding, these are the best enduro motorcycles (dirt bikes):
KTM 250XCW
Yamaha YZ250FX
KTM 300XCW TPI
Husqvarna TX 300i
Yamaha WR450F
Best 2 stroke enduro dirt bike
Whether you want a 125 or 300cc 2 stroke, there's many models to pick from compared to 20 years ago.
These are the best enduro dirt bikes (2 stroke):
Yamaha YZ125X
KTM 150XC
Beta 200RR
Husqvarna TX 250i
KTM 300XCW TPI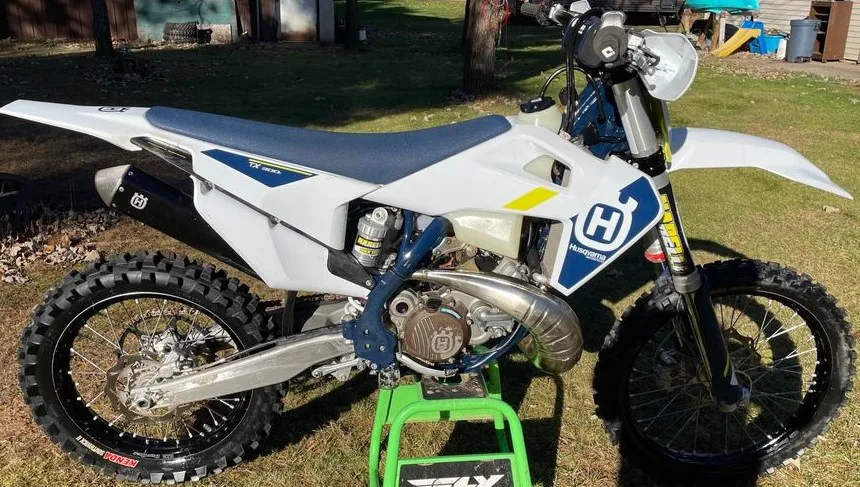 Best 4 stroke enduro bike
You can choose from a 250cc all the way up to a 700cc enduro bike, but the best sizes for off-road riding are 500cc and under.
The best 4 stroke enduro motorcycles are:
Yamaha YZ250FX
KTM 350 XCF
Yamaha YZ450FX
KTM 500 EXC-F
Best enduro motorcycle of all time
This is a tough question because it really depends on what you want to do with the bike. I would consider the KTM 300 XCW and the Yamaha WR450F among the best enduro motorcycles of all time.
They are both powerful, good handling, reliable, and overall great dirt bikes if you're an experienced off-road rider.
Best enduro motorcycle for heavy rider
Whether you're a beginner or have been riding for years, it helps to have some extra low-end torque if you weigh more than the average rider.
The KLX300R is a good beginner enduro bike if you're heavy but new to dirt biking. If you need to upgrade for more performance, a 300 2-stroke ( KTM 300) or 450 4-stroke (WR450F) are solid bikes for heavier riders.
Most powerful enduro motorcycle
Are you looking for the baddest and fastest enduro bike? The Husqvarna 701 Enduro is the most powerful enduro motorcycle with 74 horsepower – are you in the market for one or do you just think it's cool?
Motorcycles continue to get faster, but that's not necessarily good. There will always be new riders coming into this sport (maybe that's you right now!), but have more power is not a good thing… at least not right away… or even for a long time.
Is more power ACTUALLY the best way to go faster?
In fact, 99% of dirt bike or enduro riders can't take full advantage of the power that a 450 dirt bike has. It can actually slow you down and cause you to get exhausted quickly if you aren't physically fit and a pro rider.
Instead, riding a smaller (slower) enduro dirt bike will almost certainly help us improve our riding because it requires us to be more efficient and smoother. That way, you can improve your riding technique much quicker, which will make so much more difference than upgrading your motorcycle.
Best cheap enduro motorcycle
Can't afford a newer model dirt bike but still want a high-performance off-road enduro bike? While older dirt bikes don't handle as well or have as much power, they are still very capable of riding fast or on technical trails – especially if you get the suspension set up for your weight and the engine properly tuned.
These models are the cheapest enduro motorcycles you can buy:
Kawasaki KDX 200
Kawasaki KDX 200R
Yamaha YZ250
Kawasaki KLX300R
KDX200/220
The KDX 200 and 220 are essentially an older version of the KTM 200. They're a little bit softer and mellower but are fantastic trail bikes because they're fairly easy to ride and have a slightly lower seat height.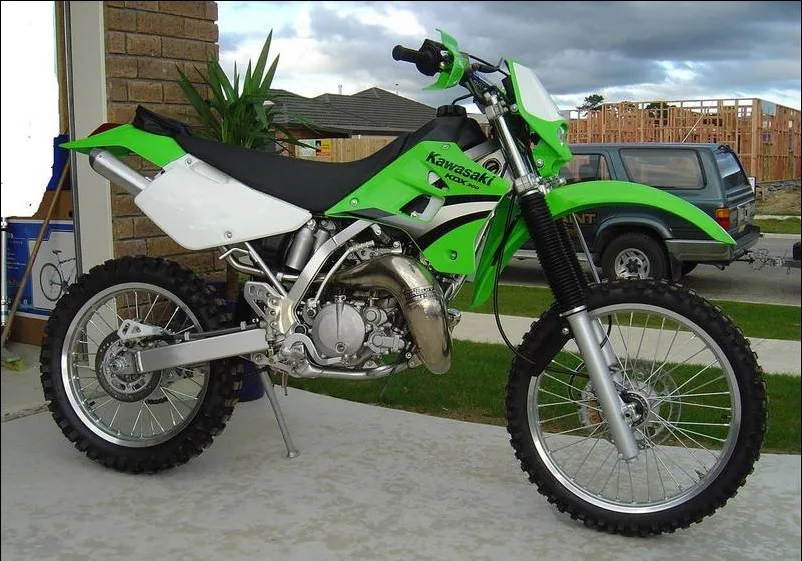 YZ250 – An MX bike??
The YZ250 is a motocross bike, yes, but the engine is so versatile and reliable that you can set it up for woods or enduro riding fairly easily. a late 90s to early 2000s YZ 250 can be found fairly cheap compared to enduro bikes that are 10-20 years newer.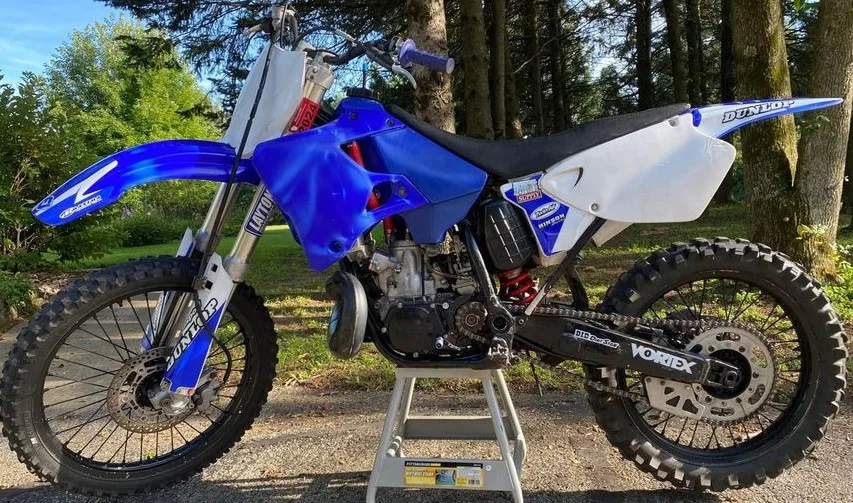 KLX300R – older or newer
The KLX300 isn't quite on par with modern four-stroke enduro bikes, but it's better than an air-cooled trail bike. They're better if you're a beginner, older rider, or just want to casually trail ride while having a soft enduro motorcycle characteristic.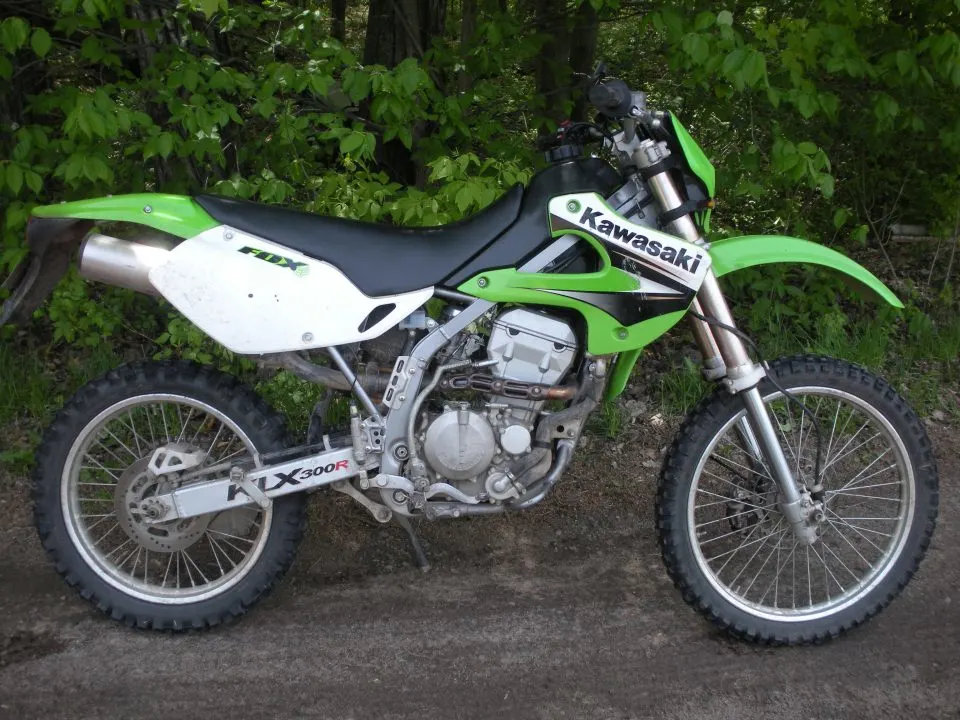 How to safely ride off-road with control
You don't need the best bike to have fun dirt biking. You don't need a fast bike to ride faster.
A confident rider on a 'slow bike' will beat a nervous beginner rider on a 'fast bike' every time on the trails.
It comes down to your technique, and I want to show you how to learn these basics with less seat time. Click here to get started for free.