Looking to get a Honda XR 250? Whether you're looking for your first dirt bike, your next bike, or just getting back into riding off-road, you're in the right place!
In this review, I'll show you what the XR250R is good for, why it may be the right bike for you, and practical info for buying and owning one.
What is the Honda XR250R?
XR means cross country. In other words, a Honda XR250R dirt bike is an off-road trail bike. Honda didn't have any other 4 stroke race bikes until 2002, so it was the top 4 stroke 250 dirt bike available.
Honda first made the XR 250 in 1979 and stopped making it in 2004 in the United States. The CRF250X then took its place as their 250cc 4 stroke trail bike.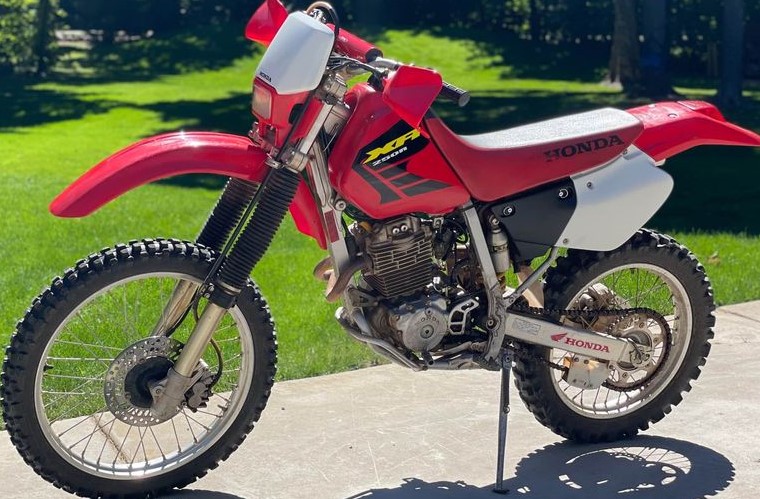 XR250R Engine
It's a 250cc air-cooled 4-valve 4 stroke engine, but what does that mean? Is an air-cooled engine any good these days?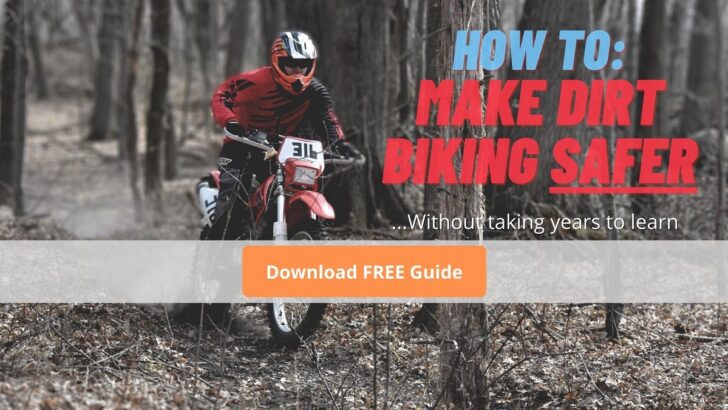 While an XR 250 engine may not have the close to the same horsepower as a modern 250F, there are some distinct advantages. It's less likely to overheat, it has good low-end torque, and it's simple and reliable.
This means that it's very beginner-friendly, being easy to ride, but it's also fun enough if you're an experienced rider. As long as you regularly change the engine oil and keep the air filter clean, which is simple maintenance, the it will last many years.
Horsepower
A stock XR250R has about 25 horsepower, which is pretty good for a 250cc air-cooled trail bike, but that's not the only thing that makes this bike so good. The more important number is the torque and how much it has at a low RPM.
With decent torque right off idle, it makes using the clutch, learning to ride, and trail riding much easier because you don't need to rev it high to accelerate. Combine that with the heavier flywheel weight compared to a race bike, and the XR 250 is very good at getting traction so that you stay in control – especially on slippery terrain!
Top Speed
The top speed of a Honda XR 250 is about 70 mph, but that doesn't mean a whole lot unless you're racing on flat ground in a drag race – that's not important if you're a real dirt biker. I mean, how often are you going to reach max speed if you're trail riding?
XR250 Jetting for easy starting & power
Depending on what model year your XR250R, you might have different stock jetting specs. For '86-'95 models, stock is 40 pilot jet and 125 main jet. 1996-2004 had a 45 pilot and 132 main (CA had a 40 pilot and 122 main).
What's the best jetting? Well, it depends on your specific bike and how it's setup (stock vs mods), as well as your climate.
At near sea level with an uncorked XR 250, the 45 pilot jet and 135 main jet seem to be a good starting point. To get the best results, you'll have to do some simple test and tune to get the best power, throttle response and efficiency.
Suspension – is it outdated?
Since the XR 250 is built for trail riding, the suspension is much softer than a motocross bike. This makes it a comfortable ride off-road and at low speeds because it soaks up a lot of the small, harsh bumps and rocks, whereas an MX bike would have a "harsh" initial shock that you would feel through the handlebars.
Front forks
They're conventional style forks, which is right side up (RSU), which means they're simple and not very high-tech. This is not bad, because they're plush, reliable, and they work for trail riding or if you're just a casual rider.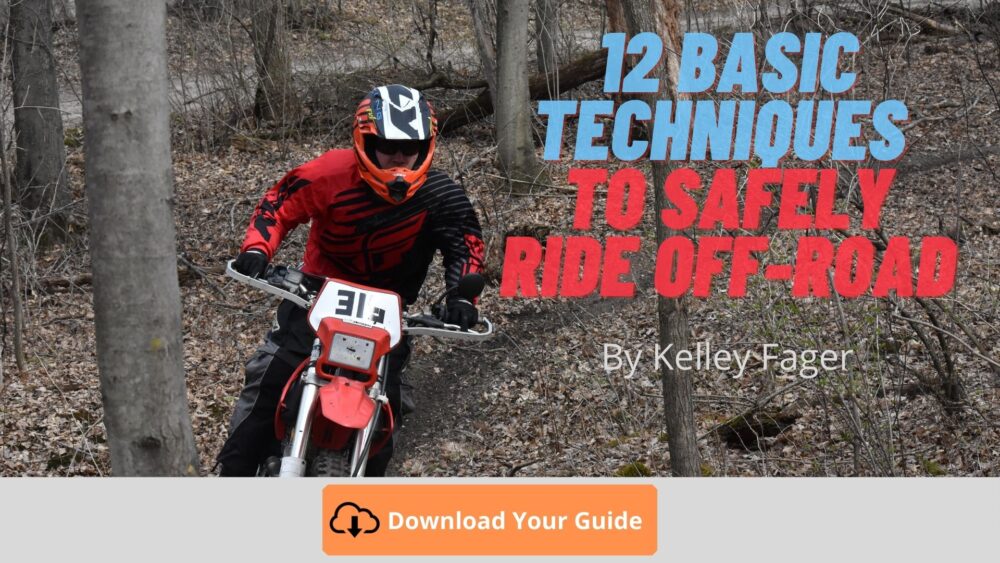 Honda updated the forks to a cartridge-style in 1990, which simply makes the valving more effective and tunable so that you can get a more customized feel based on your weight and riding style.
The suspension got updated again in 1996 with more travel. With better valving and tunability, they can be made to work quite well for trail riding.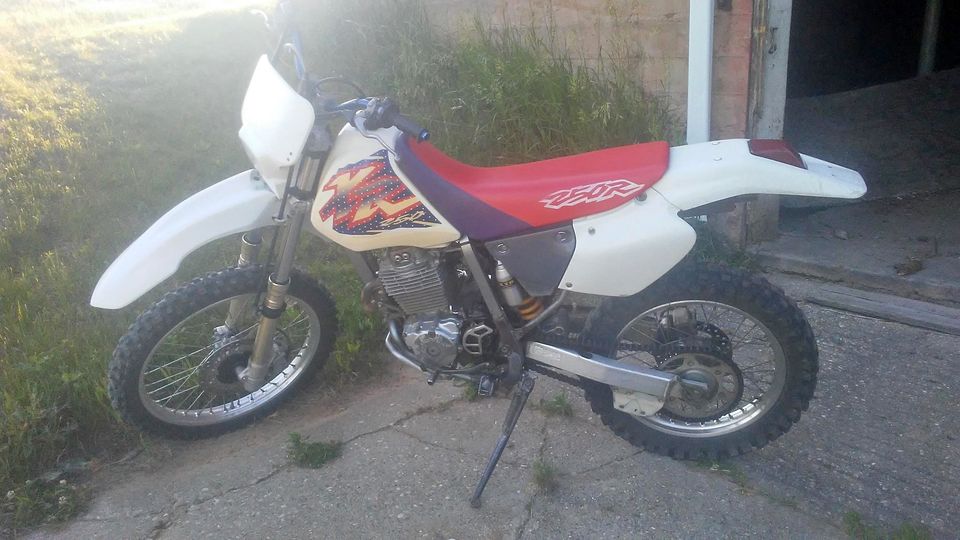 Rear shock
In 1981 the XR 250 first came with a mono (single) rear shock, but you're probably not looking at a bike that old to ride. It's fully adjustable with compression and rebound clickers.
In 1996, the shock got upgraded internals for better damping and more resistant to fading. This makes it perform better on longer or more aggressive rides.
XR250 History & model year changes
The Honda XR 250 was first made and sold in 1979. There were a few major updates over the next couple decades, but nothing that would radically change this into a lightweight single track weapon that many of us would love to have.
With that said, here's the major year updates of the XR250R over the years:
1981 – Updated to a rear mono-shock
1986 – Changed to a single carburetor.
1990 – Forks updated to cartridge style. Rear brake updated to disc.
1996 – Updated suspension with more travel, quicker steering from a different rake angle, and some engine updates with less flywheel weight, dry-sump and altered counterweight.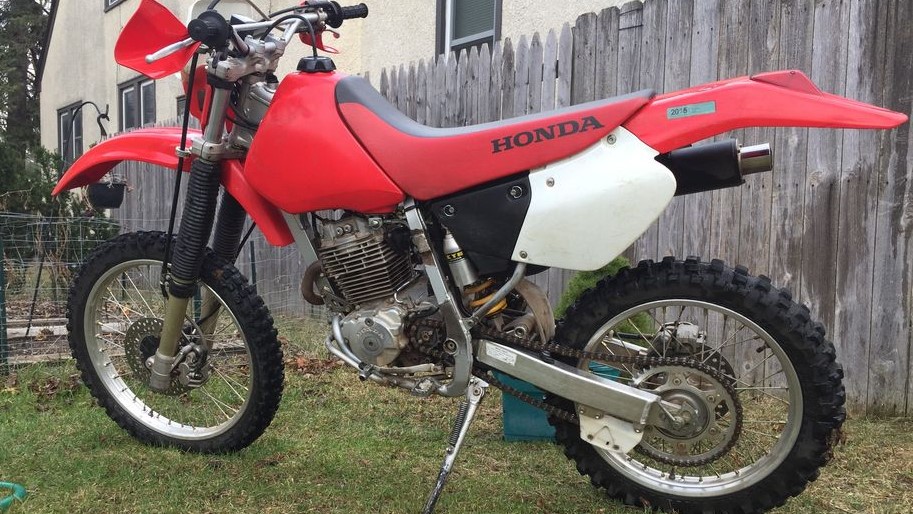 Is it street legal?
The xr250r is not street legal, but its xr250l cousin is street legal from the factory. However, you might be able to make it street legal with the right parts if your state allows it to be registered for street use.
The most essential parts in a dual sport kit are a headlight, tail and brake light, mirror, horn, and turn signals.
Specs & Dimensions
| | |
| --- | --- |
| | XR250R |
| Manufacturer | Honda |
| Years Made | 1979-2004 |
| Engine | 249cc DOHC air-cooled 4 stroke |
| Transmission | 6-speed manual clutch |
| Seat Height | 36.4″/36.0″ (86-95/96-04) |
| Weight | 245 lbs. (without fuel) |
| Horsepower | 25HP |
| Top Speed | 70 MPH |
What's the best year to buy?
1996 and newer are the latest updated models, so 96-04 are the best years for the XR250.
With that said, any model year 1986 and newer is good as long as it's in good shape. They're great trail bikes for beginners or if you just want a solid bike with smooth power.
Honda XR 250 issues?
There aren't any major issues with this bike. It's just a rock solid trail bike that needs just some basic maintenance to stay running. It's not the lightest or faster dirt bike, but it's as durable as it gets.
Where you can buy your XR250
Nowadays there's many places to buy a used dirt bike. With that said, craigslist and Facebook marketplace are still my favorite websites to search.
Price comparisons to other bikes on the market
Since XR250's are getting more difficult to find, their value is slowly increasing. A comparable bike would be the DRZ250 and KLX300R. All of these are somewhat hard to find these days, and they can greatly vary in price for a used bike.
What are they worth?
So, what can you expect to pay for a used one? It can vary greatly depending on the model year and the condition. What kind of shape it's in usually plays a bigger role with this bike.
For a rough value of the Honda XR 250, you can expect to spend 800-3000 for a used one.
What to look for when buying one used
Like many Honda XR's, the XR250R is easily abused without completely destroying it. This means that finding one in good shape these days is getting tougher.
Generally, if it looks really clean and well taken care of, there's a good chance it will be a good bike. The main things to check are the oil and the air filter. If they're both clean or close to it, then it's probably been maintained fairly well.
The Top XR250 Mods
There used to be many performance parts available to mod an XR250R, but there are not many shops that carry them or do work on discontinued air-cooled bikes. It's unfortunate because you could make an XR250 a little torque monster, as well as a high RPM race machine that's similar to a modern 250F.
The most effective mods for your Honda XR 250 are:
Uncork intake & exhaust
Jetting
Gearing
Suspension mods/swaps
Exhaust upgrade
Big bore kit
Hot camshaft
Porting
Stroker crankshaft
Can you do motocross with the XR250R?
It's definitely possible, and I've seen people do it, but the XR 250R does not have the suspension or chassis to handle jumping safely.
You would want stiffer suspension so that it doesn't bottom out. Not only is bottoming out the forks and shock uncomfortable, but it's dangerous because it can cause a crash or damage the bike.
With a shorter wheelbase, it's not quite as stable at high speeds or on whoops. This is what makes it a good trail bike because it turns better at slower speeds
How to lower a Honda XR 250
Maybe you want an XR 250 but you need a lower seat height. There are a few ways to do it – some are free or cheap, others cost a little bit more.
Lowering the seat height helps if you have short legs like me so that you can reach the ground but don't want to get a smaller size dirt bike.
You can lower the seat on your XR250 by:
Shaving the seat foam
Raising the forks
Adjusting shock preload
Lowering linkage
Is a lowering linkage worth it?
A lowering link (Amazon) is simply an aftermarket part that replaces the stock linkage that connects the rear shock and swingarm, but it also changes the geometry. This lowers the rear of the bike, which makes it feel more stable and have a lower center of gravity.
The problem is that the suspension will be out of balance front to rear, causing it to handle poorly in comparison. To help correct it, you'll want to lower the forks in the triple clamps.
So, is it worth it? If you're a beginner, you're probably not going to notice the difference in handling, so it's probably worth it if you need every inch you can get. You can always swap back to stock later.
Who is the XR 250 for?
It's a trail bike that's made for beginners or if you're a casual rider that wants a reliable dirt bike. It has enough power to do just about anything, but is still easy enough to control if you're new to riding off-road.
The XR 250 is definitely not a race bike – it's a good woods bike for low to moderate trail riding speeds. But, with that said, you can upgrade the engine and suspension to be a competitive woods racing machine if you have the skill to ride it.
XR250R vs XR250L
The XR250R is geared and built for off-road and single track trail riding. The XR250L is almost the same bike, but the biggest difference is that it's street legal and has accessories added on to be legal and more comfortable to ride on the road. These parts include: DOT tires, mirror, horn, gearing, odometer, etc.
The XR250L is noticeably heavier and doesn't handle as well at low speeds off-road. It's definitely a dual sport type of dirt bike.
XR250 vs CRF250 (250R/250X/250F)
Since there's now 3 different CRF250 models, you have to figure out which bike you want to compare it with.
XR250 vs CRF250R
The XR250R is not even close to the same bike as the CRF250R motocross bike. The CRF250R is a high-strung race bike with a snappy and powerful engine with stiff suspension, and a slower steering angle for more high speed riding.
XR250 vs CRF250X
The CRF250X took over the 250 4 stroke trail bike spot for Honda, but it's still radically different from the XR250. The 250X is based off of the CRF250R mx bike, so it has a tall seat height, stiffer suspension and a snappy power-curve.
It's detuned and slightly softer all-around, as well as having a wider ratio transmission, but it's harder to ride in tight and technical single track. It has a fairly light flywheel weight compared to the XR, so it's easier to stall at slow speeds.
XR250 vs CRF250F
The CRF250F is the latest and closest update to the XR250R. It has fuel injection and electric start, but apart from that and the flatter ergonomics, it's not much different or better than the old XR.
XR250 pros and cons – is it a good dirt bike for you?
While it's primarily a 4 stroke trail bike for beginners, there's a few good reasons to like this Honda 250.
The XR250R is the right dirt bike for you if you:
Want a full sized beginner-friendly dirt bike
Prefer reliability over performance
Don't mind kick-starting
Like to tinker with and modify your bikes
Ride single track trails
Want plush suspension
Like a broad, predictable power curve
The XR250R is the wrong dirt bike for you if you:
Want the latest in technology
Expect a high performance race bike
Plan to jump or go to a lot of motocross tracks
Need electric start
How to become a better rider
If you're just getting into riding off-road or back into it, then I want to help you become a better and safer rider so that you don't get hurt.
The Honda XR 250 is a great bike to start and learn on, but the next step to building your confidence is to learn how to properly ride it with control using basic techniques.
However, many new riders fail to learn all of the proper techniques because they're learning on their own or were just taught by a friend.
So, I want to help you out by giving you my free training guides that teaches you the basic techniques to ride with confidence and control. Click here to download your free guide.