Interested in buying a Suzuki DRZ250, or just want to get to know your dirt bike better? In this review I'm going to cover just the practical information you need to decide if it's the right bike for you.
If you're new to dirt biking, then it's as important as ever to start out with the right bike. It's one of the most common mistakes I see new riders make – choosing a dirt bike that's NOT beginner-friendly. Keep reading to find out if you've chosen wisely…
Who is the DRZ250 for?
The Suzuki DRZ250 is a 250cc 4 stroke air-cooled trail bike designed for beginners and trail riders. It's simple, reliable, and will fit you well if you're 5'6" to 6'2".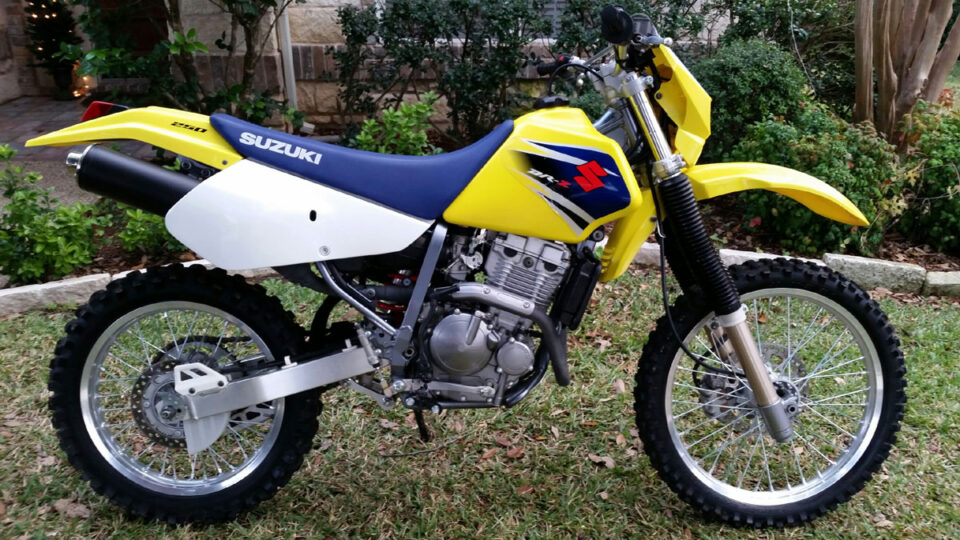 Engine
The engine has a dual overhead camshaft design with 4 valves, but what does that mean to you? Compared to most 230cc trail bikes with a single cam and only 2 valves, the DRZ250 has more midrange and top-end horsepower, although it loses a little bit of off-idle torque.
The electric start is very nice to have if you don't want to get frustrated trying to kick the engine over. In the case of an emergency – such as a battery failure – it does have a kickstart for backup.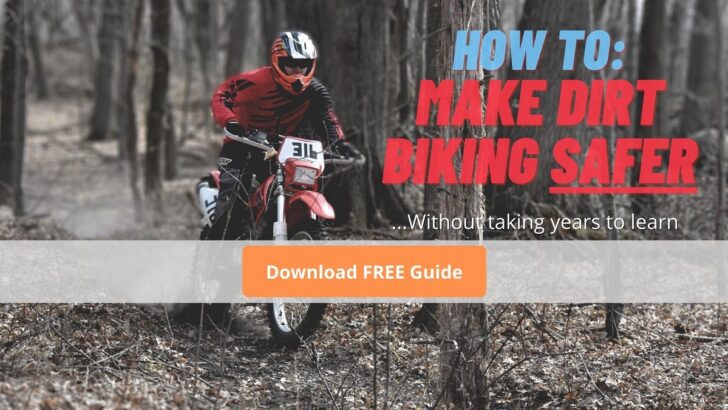 The 6-speed transmission is great for tight single-track trails, as well as cruising back to camp on the fire roads without wringing the engine out.
Performance mods
It's not a Honda (their trail bikes usually have the most mods available), but there are still some performance upgrades you can do to get more power out of your DRZ250.
Uncorking the intake and exhaust and then re-jetting is the easiest way to get more throttle response and power for cheap.
A big bore kit and aftermarket exhaust system are the next big mods if you want to spend several hundred bucks.
DRZ250 Jetting
The jetting is decent from the factory, but it's probably a little bit lean depending on your climate. Stock is a 125 main jet and a 42.5 pilot jet. Bumping up to a 130 main and 45 pilot jet (maybe bigger on the main if you mod it) should make it start easier and provide a little more power.
Suspension
The suspension is nice and plush for a new rider, but there's some tuning that you can do with it. The forks and shock will get harsh if you ride aggressively on rougher terrain.
The best things to do are:
Make sure shock and fork springs are good for your weight – stock is optimal for 140-180lb riders
Set sag for you so that the suspension is balanced
Handling
Just going to be casually riding off-road or trails? The handles very well on smooth terrain at slow to moderate speeds. The center of gravity is lower than a modern enduro bike, which makes it easier to turn and weave around trees.
The shorter wheelbase also helps it turn quicker at low speeds. It's like cornering on the street with a car compared to a truck.
Size
Being slightly shorter than most full-size dirt bikes, it's easier to touch the ground with your feet. You don't need both feet to touch – especially if you take my riding school techniques – but reaching the ground with one helps build confidence.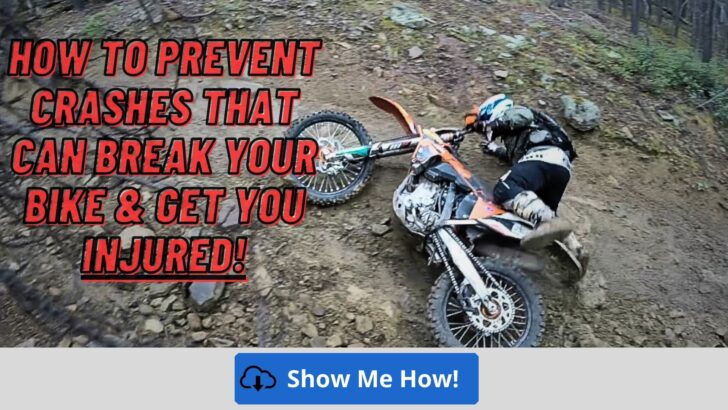 Weight
The DRZ, like its trail bike competition, is not super light. It's an affordable dirt bike, which is why lightweight materials and extra R&D is not included.
With the lower center of gravity, it handles well, making it feel like it weighs less. Picking it up off the ground is the only time where it feels extra heavy, but that can be prevented with some proper riding lessons starting here.
Specs
| | |
| --- | --- |
| Engine | 249cc DOHC 4-valve 4 stroke |
| Transmission | 6-speed |
| Starting System | Electric & kick-start |
| Weight | 288lbs (wet – ready to ride) |
| Seat Height | 35" (89cm) |
| Horsepower | 25HP |
| Top Speed | 65MPH |
Model year changes
It's been pretty much the same bike throughout its years being made. It first came out in 2001 and nothing broke easily, so Suzuki hasn't put any more engineering into it to keep cost down.
Common DRZ 250 issues
There aren't any major issues that are common with this Suzuki. It's just a solid, durable bike that won't win any competitive races but will get the job done for many years. The California model comes with a different carb that's tuned leaner and puts out less power.
Is the DRZ250 a good dirt bike?
It really depends on what you're looking for in a dirt bike. If you want a full size trail bike that's easy to ride and will be super reliable, then the DRZ250 will not disappoint you.
For a practical breakdown, let's look at the pros and cons.
Pros
Electric start – no kicking unless the battery dies
Backup kickstart
Low seat height (35")
Smooth, predictable power is forgiving
Easy to ride and learn on
Reliable as can be
Suspension can be externally adjusted
Plenty of power for virtually any sized beginner
Cons
It's fairly heavier if you're a smaller rider
Getting harder to find used
Not as much off-idle torque as some 230cc trail bikes
It's yellow?
DRZ250 vs XR250R
Suzuki built the DRZ250 to beat the almighty Honda XR250R, but the competition was short-lived because the XR250 was discontinued in 2004.
With that said, the DRZ has electric start and adjustable compression and rebound on the suspension, which is two advantages over the XR.
The XR250 has more availability in bikes and parts, as well as aftermarket for performance upgrades.
The DRZ250 has slightly more modern features that are more luxurious, but it also weighs more as a result.
Will the DRZ250 make you a better rider?
As a beginner, the DRZ250 is a good bike to make you a better dirt bike rider, but that's just the beginner. It's easy to ride, which is great for learning on, and riding with proper techniques is the key to becoming a skilled and safe rider. I want to help you get started, so tap here for a free guide on proper off-road riding techniques.