Looking to buy a Honda CRF150F but not sure if it's the right size or type of bike? Whether you're a beginner or just looking for a good dirt bike, you're in the right spot!
In this review, I'll show you what the CRF 150F is, why it may or may not be the right size and type of dirt bike for you, and how to find a good deal on one so that you save time and money.
What is the Honda CRF150F?
It's a mid-sized trail bike with 19/16″ wheels that has a 150cc air-cooled 4 stroke engine and a 5-speed manual clutch transmission. The CRF150F is a good step up from the CRF100 but still smaller and lighter than an adult size CRF dirt bike.
Does Honda still make the CRF150F?
No, Honda started making the CRF150F in 2003 but stopped selling it in 2017 in North America. They decided that they had too many options for trail bikes, so the The CRF125FB took its place.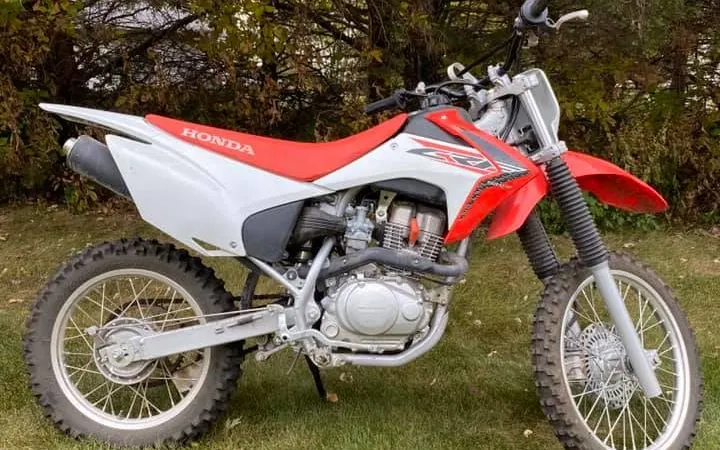 What age range is the CRF150F for?
It's designed for a teenager, so ages 13-19, but it's a great beginner bike if you're an adult that wants a shorter bike to learn how to ride a dirt bike with a clutch.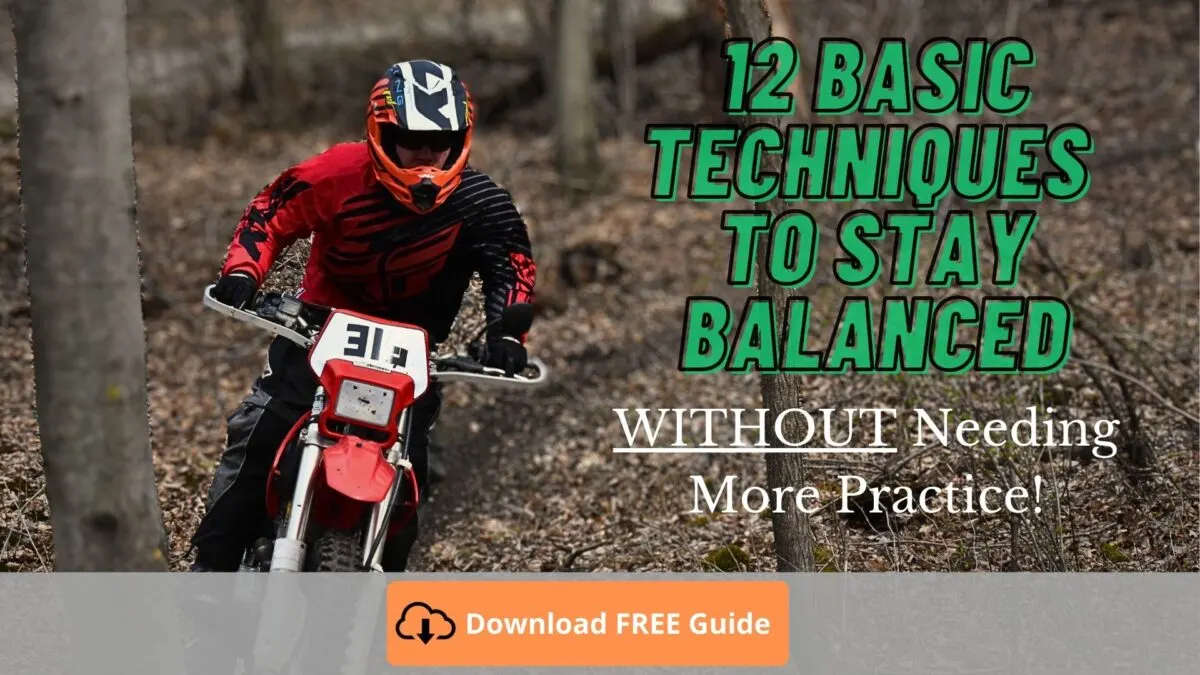 It has plenty of power if your kid is just starting out, but still enough to ride around if you weigh 200+ lbs.
CRF150F Seat height – what size rider?
With a seat height of 32.5 inches, it's a good size dirt bike if you're 5'1″-5'6″, depending on your inseam length. The biggest issue if you're a beginner is that you touch the ground with one foot.
Being able to touch will give you more confidence when coming to a stop so that you don't fall. The best way to build your confidence is by learning the basic techniques.
What Does the "F" stand for in CRF150F?
The "F" in CRF simply means four stroke for its 4 stroke engine. The "F" in 150F is Honda's way of saying it's a trail bike.
CRF150F vs CRF150R – Which Honda 150 dirt bike is best?
The CRF150F and CRF150R are not even close to the same bike, other than that they have the same size engine displacement.
The main difference is that the CRF 150F is a trail bike with a low-performance engine, suspension and chassis, while the CRF 150R is a high-performance motocross bike for racing. The 150F is better if you're a beginner or casual trail rider, and the 150R is better if you want a motocross bike for racing.
CRF150F Engine – what to expect
As I mentioned earlier, the 03-05 engine is a de-stroked CRF230 engine. It has a nice, smooth powerband that is predictable and not overpowering, which is why it's such a good bike if you're new to dirt biking.
It doesn't have a ton of torque right off of idle, but it's very smooth and easy to control. This makes learning how to use the clutch much easier compared to a race bike.
In 2006 it got a completely new engine that is better in almost every way. The top end is redesigned for less weight and more potential power. It lost about 7cc engine displacement, but it's more efficient with slightly higher compression, a redesigned head for better flow and a square bore and stroke (57x57mm).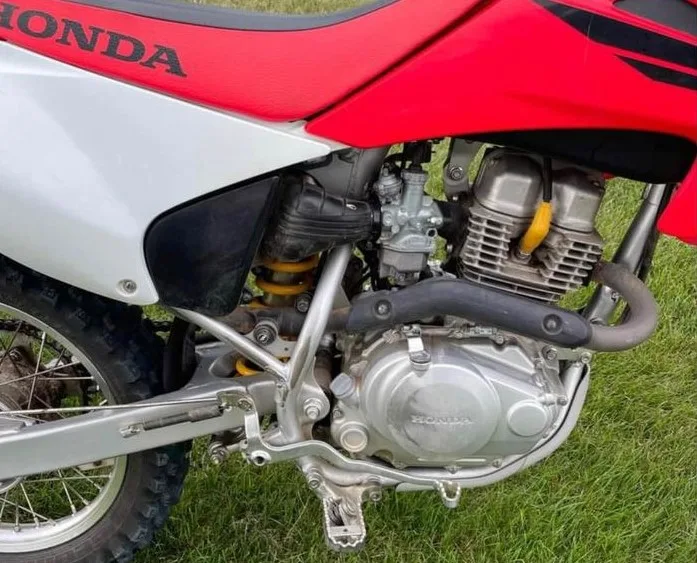 Horsepower
A stock CRF 150F has about 12 horsepower. This may not seem like a like compared to a 250cc race bike, but peak horsepower isn't the only important number.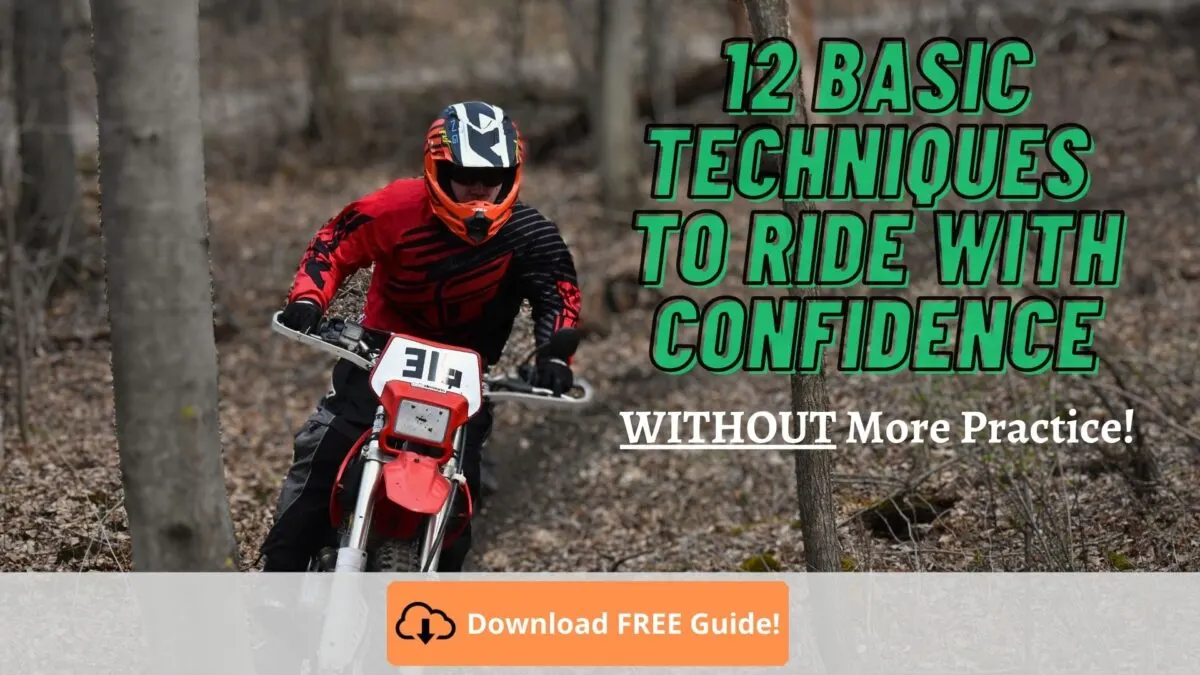 For example, just because a 250 enduro bike has 35 HP doesn't mean you're using that much. You see, if you're only riding at 3000-6000 RPM, it's only making about half that power or less – you have to rev those engines very high to get that maximum power, which isn't easy or always practical, especially if the terrain is slippery.
The CRF150F power curve is so smooth that it's going to put almost all of the power to the ground as traction, giving you acceleration and control, whereas a much faster bike might be spinning the rear tire and all of that extra power going to waste and causing you to ride out of control.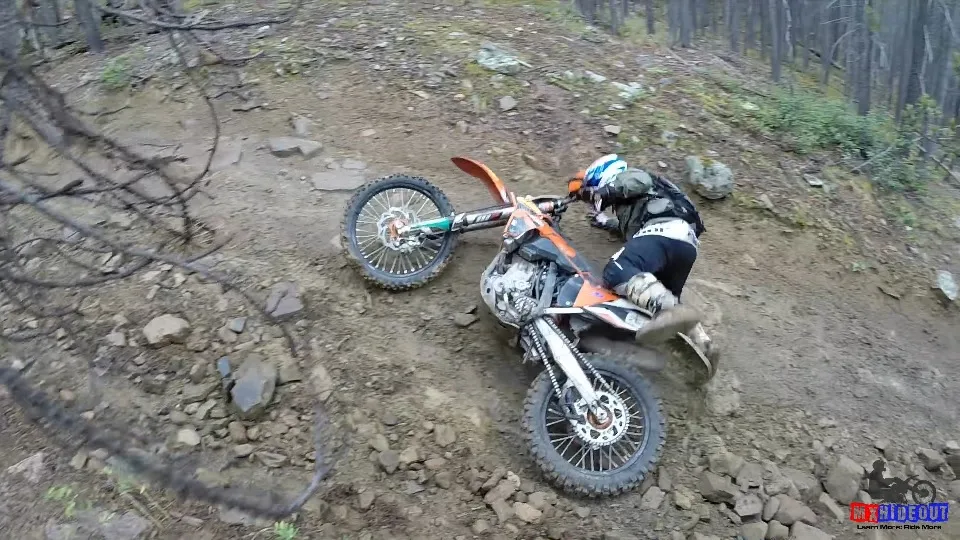 Top speed
The top speed of a stock CRF150F is about 50 mph, which doesn't mean much either – unless you're on flat ground and drag racing.
Engine upgrades?
There quite a few mods available, but the first generation (03-05) engine cases can't handle too much power before breaking. A big bore kit, aftermarket exhaust, proper jetting and gearing change will give you a nice boost in performance.
Suspension
The suspension is probably the biggest limiting factor if you're looking for high performance because that's not what the CRF 150F is built for. The forks and shock are very simple, soft, and reliable – that's why it's an affordable trail bike.
With that said they work just fine if you're a beginner. Once you start riding faster and more aggressive, then you will start to get bucked around.
Front forks
The forks are notoriously soft, but that's completely fine if you're a beginner or just a casual trail rider. The plushness will soak up a lot of the small bumps and obstacles, especially at low speed.
Going to stiffer springs and heavier fork oil can help, or you can send them out to get an old-school re-valve. The stock conventional forks can be made to perform better if tuned by the right person. With that said, you only have so much suspension travel to work with – more travel = more potential comfort and performance.
Rear shock
The stock rear shock is non-adjustable outside of the pre-load, which is absolutely necessary to adjust if you want your dirt bike to handle properly. Setting the sag with the pre-load adjuster to your weight will get the suspension balanced so that the front and rear work together.
The biggest problem is when you start riding faster on rough terrain and the shock packs down due to too slow of damping. For example, if you hit a sharp bump, the shock compresses. If you hit another sharp bump right after, the shock might not have enough time to fully rebound, so it compresses even more.
Then, once it has time to fully rebound, it can pop the rear end up higher than expected. If you're a beginner riding at low speeds then this isn't a problem, but it can get dangerous if you're an expert level trail rider.
Handling
Being a midsize dirt bike, the CRF150F handles well at low speeds and on tight trails with sharp turns. This is because it's shorter in length and height with a lower center of gravity.
A shorter wheelbase means it has a tighter turning radius so you can corner around trees quicker. The lower seat height also makes it easier to lean and turn.
The wheels are smaller than a full-size dirt bike, so it doesn't handle obstacles on the trail as well as a full size dirt bike with 21/18 inch wheels. Bigger wheels roll over things more easily. This is just one of the tradeoffs of a smaller dirt bike.
CRF150F Specs & Dimensions
| | |
| --- | --- |
| | 2003-2005 (First Gen)/2006-2017 (Second Gen) |
| Engine | 156cc/149cc (03-05/06-17) |
| Transmission | 5-speed manual clutch |
| Starting system | Kick-start/Electric start |
| Seat height | 32.5″ |
| Weight | 233lbs |
| Horsepower | 12HP |
| Top speed | 50 MPH |
| Gas tank capacity | 2.17 gal/1.9 gal |
CRF150F model year history/changes
2003-2005: CRF150F was based on the CRF230F style engine. It simply has a shorter stroke and a kick-start instead of electric start.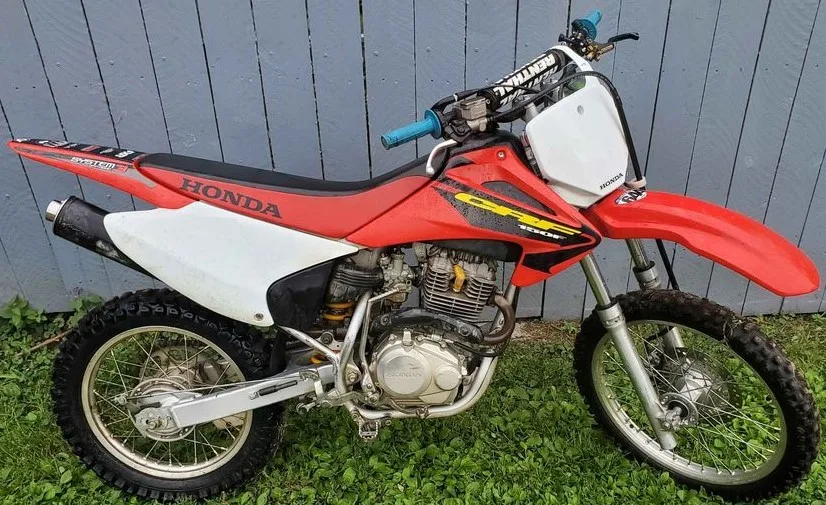 2006: Completely updated engine that is lighter and slightly more modern with a roller rocker camshaft. It also got an electric start, but that added a few pounds to the overall weight.
2015: Updated plastics and graphics for a more modern look
2017: Last year of the CRF150F – Honda discontinued this model and now sells the CRF125FB in its place
How much is a Honda CRF150F worth?
Since they're not being made new anymore, you'll have to buy used. Depending on your local market and the model year, the price of a used CRF150F may be 1000-3500 dollars.
The older generation from 03-05 are not worth as much as the newer model, so you can most likely find them for under 2000.
The 2006 and newer model are going to be worth more, depending on the condition and year.
What to look for when buying a used CRF150F
The Honda CRF150F is super reliable, which is good and bad. It can last you many years, but many owners neglect it by not doing any maintenance.
Check to see if they've done routine maintenance, such as oil, air filter, chain, etc. If these simple things haven't been done, then it's a good chance that it's in rough shape internally and will need some repairs in the near future.
Is the CRF150F a good dirt bike?
That depends on what you want to do with it. The CRF150F is a great bike if you're a teen or adult that wants to learn how to ride a dirt bike with a clutch, or if you're shorter than average height.
Looking for a fast bike that can handle jumps? Then the 150F is not for you.
Who is the CRF150F good for?
Still can't decide if it's the right dirt bike for you? To break it down, here's a list of things you need to keep in mind if you are looking to buy one soon.
The CRF150F is a good dirt bike if you're:
A new rider
A teen or adult/female that's short (under 5'6″)
Wanting a medium sized dirt bike that's easy to ride
Planning to ride trails at a slow to moderate pace
Want electric start (2006+)
Prefer reliability over high performance
The CRF150F is NOT a good dirt bike if you're:
Wanting to race motocross or do jumps
Under 4'8″ or over 5'6″ tall
Wanting a full size dirt bike
Needing the latest and greatest in technology
CRF150F vs KLX140L
They're similar in size, but the Honda 150 is slightly bigger and heavier. It also has a little more torque and horsepower. They both have electric start (2006+), so they're very similar bikes.
If you want a little more power and more potential for mods, then the CRF150F wins. However, if you want a slightly smaller and lighter mid-size bike, then the KLX140L is the bike for you.
CRF150F vs TTR125
The Honda 150F is definitely bigger and more powerful, but not by a whole lot. It really depends on how big you are, which you find the best deal on, and whether you like red or blue bikes.
The TTR125 is better if weight is your biggest concern.
Best mods
Just want to make your CRF 150F faster? Whether you're on a budget and want free/cheap mods or want to go all out for the most power, there are quite a few upgrades available.
These are the best mods for your CRF150F:
Air box mod
Re-jet
Un-cork
Suspension mods
How to lower a CRF150F
Still want one but can't quite reach the ground or want to grow into it?
The best ways to lower the seat height of your CRF 150F are:
Shave seat foam
Lowering link
Internal suspension mod to lower it
Take your riding confidence to the next level
Want to ride with more control and confidence on the trails? I want to show you proper riding technique. Tap here to get started.