Best CRF150F Mods – Which Upgrades Are Worth It?
Looking for the best mods to make your CRF150F faster? The Honda 150F is a simple trail bike that is meant for beginners, but there's a boatload of upgrades available to make it perform closer to an enduro bike.
Whether you're on a budget and want little more power, or want to make your CRF150F an adult play bike, this article will cover it all with no fluff.
The Year The Honda CRF150F Changed
Before moving forward, you must know that there are two different CRF150F models. While it's basically still the same bike, the 150F received an engine change in 2006. From 2003-2005 it was basically a de-stroked CRF230F engine with kickstart.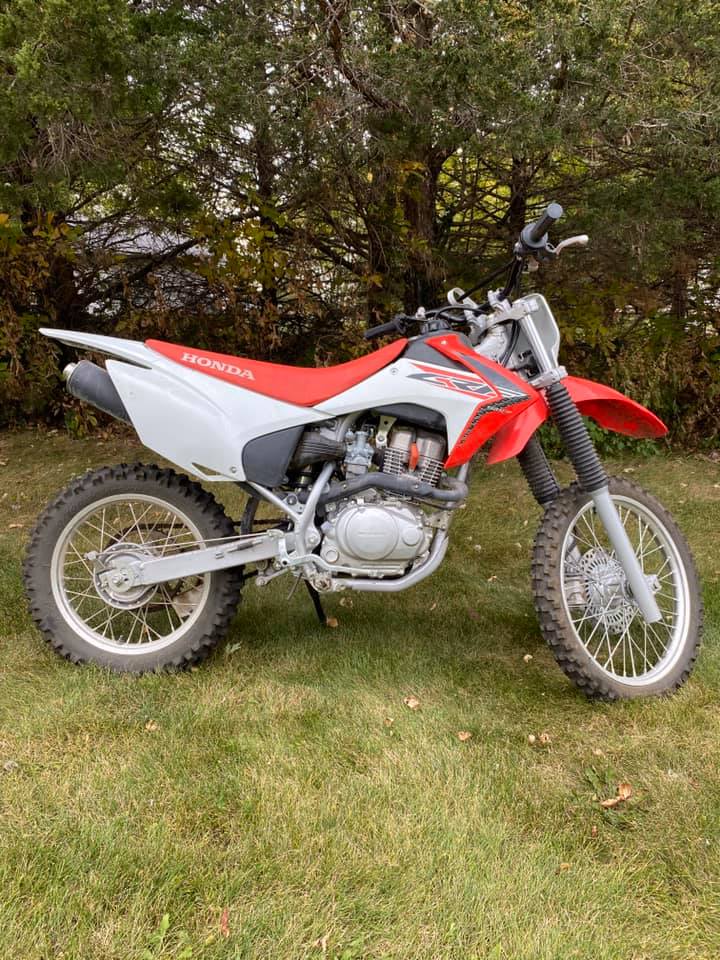 The newer engine is electric start, weighs less, and is capable of making pretty good power for an air-cooled 4 stroke.
You must know which model you have before modifying parts such as the exhaust or piston. I will try to point that out when possible.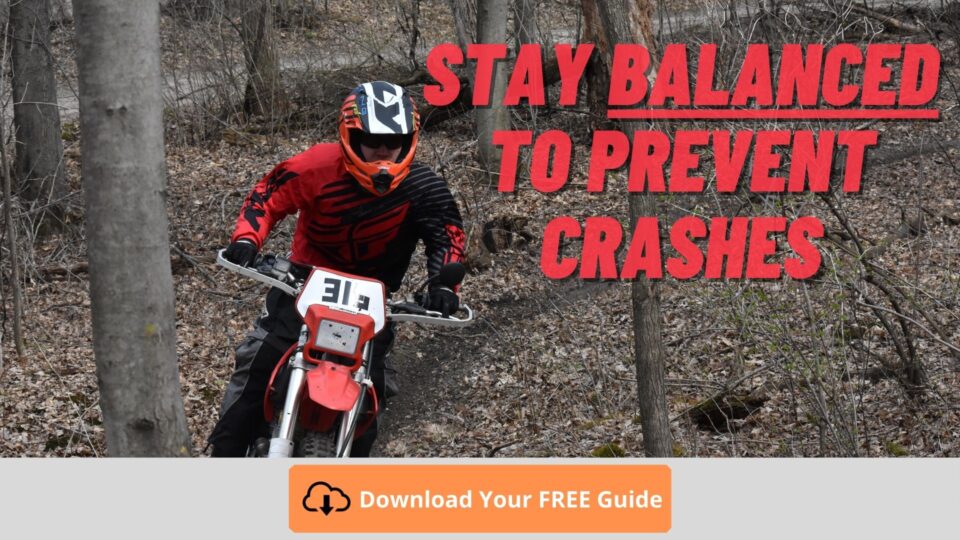 So, without further ado…
The best mods for your Honda CRF150F trail bike are:
Remove intake snorkel
Exhaust Baffle
Jetting
Gearing
Exhaust
Carb Upgrade
HC Piston
Big Bore Kit
Camshaft
Porting
Stroker
Lightened Flywheel
Lightened Crank
Mods For Adult Riders:
Stiffer Suspension
Taller Handlebars
Footpeg/Re-locate
Remove Snorkel
The stock air box has a snorkel lid on it. This is to help prevent dust and water getting into it, but it restricts the amount of air getting in.
Removing this snorkel lid allows more air to get in, which means there's more potential for power.
Exhaust Baffle
The stock exhaust is actually not too bad if everything else is stock. You can remove the baffle end cap on the end of the muffler to get a little more power and throttle response, but it will produce more noise than anything.
Jetting is required to get the full benefit of this mod.
CRF150F Jetting
The stock jetting on the CRF150F is too lean and you can easily get some more power out of it if it hasn't already been changed.
The stock pilot jet is a 40 and the main jet is a 98. Going up to a 42 pilot and a 110 or 115 main jet will make it start easier, run better and have more power. Adding a shim or 2 under the needle clip will also help richen it up.
If the rest of your bike is stock then a 110 main should work, but if it's bogging at full throttle or you have intake/exhaust mods then you might need a 115 main jet.
This is all for jetting a stock carburetor.
Gearing
Swapping sprockets is a quick and easy way to change the gearing for acceleration or top speed.
Going up one size on the front sprocket will make 1st gear more usable, especially after some power mods. Each gear will also last longer and you'll get a higher top speed from your CRF150F
Exhaust
The next upgrade would be a full aftermarket exhaust. Not only will it sound better, but you'll get some more power and better throttle response when jetted properly.
A Pro Circuit exhaust system is relatively inexpensive, the quality is good, and it's an all-around improvement over stock. It may or may not be available from Amazon.
The best system for a CRF150F is probably the Big Gun, but is fairly loud. It comes with a removable spark arrestor screen and is not too much more expensive then the PC exhaust.
Carburetor Upgrade
Going to a bigger carb can be a good mod if the rest of the engine/exhaust is bigger. A 26mm XR200 carb is a common upgrade and doesn't require too much work. You'll need the XR200 throttle and cable to work.
Amazon has some cheap carb upgrades, but I warn you against their reliability. They're Chinese made carbs and generally have much lower quality parts and materials.
They may be cheap, but you might spend a lot of time trying to get it running right.
High Compression Piston
One of the easiest ways to get more power from your CRF150F is with a high compression piston kit ('06 & newer engines).
Stock compression ratio is really low to prevent detonation if you use low quality gas.
Raising the compression will boost the torque, and you will still be able to use premium pump gas.
Big Bore Kit
Need to replace the top-end? You might as well get a big bore kit. They're not much more expensive than a piston kit and depending on the kit, you'll get a new matching cylinder with it. Just bolt on and ride with more torque and horsepower while still being reliable.
Camshaft
Are you serious about getting power out of your little Honda? A camshaft is needed to uncork this engine, especially if you have a big bore and more compression.
The stock cam is very small and lazy, which is great for a smooth running beginner bike. But there's definitely more potential when you install the right cam with a properly sized engine and carb.
Web Racing Cams is the most popular supplier of camshafts for the CRF150F and similar bikes.
Porting
Porting is often looked at last, but it, as well as the camshaft, is one of the most important parts of getting the most out of your engine.
Think of the cylinder head ports as a straw in your milkshake. The stock head is a small straw that is easy to suck out a little bit, but you're limited on how much of the milkshake you can get in your mouth no matter how hard you suck.
Replacing it with a large straw, it's much easier to get a larger amount of that shake out of the cup.
That is similar to modifying the ports on your 4 stroke dirt bike.
Now before you go any further, you must know that simply making the ports bigger will not automatically give you more power. In fact, you may make it worse if you don't know what you're doing.
That's why it's best to take it to someone that is experienced with the CRF150F engine specifically. They will know what parts of the port needs work and how to modify it based on how the rest of your intake/engine/exhaust is built.
Stroker
Want a 250cc CRF150F? Engines Only has a big bore and stroker crank kit for the first generation 2003-2005 model.
It's definitely more pricey, but the power gains are substantial over other simple mods, as you would expect.
Combine this kit with a properly ported head, a good flowing exhaust, the right cam, and a bigger carb for amazing fun. It still runs on pump gas premium too.
Lightened Flywheel
Looking for every last bit of power? Well, you're not going to get it with a lightened flywheel.
But! You will get a quicker accelerating dirt bike!
Removing weight from the flywheel won't change the amount of power, it just changes the inertia of the engine. The lighter the engine weighs, the easier it is to get spinning.
That also means that it will decelerate quicker too. Normally this would be a trade-off, but the stock CRF150F flywheel is so heavy that there is very little negative impact.
Lightened Crank
Want to go all out? This mod is not for the faint of heart? If you're getting the crankshaft stroked, you might as well have it lightened by someone that knows what they're doing. Having the crank lightened and balanced has a similar effect as lightening the flywheel: faster acceleration.
Mods For Adult Riders
Okay, so you're not just building this sweet 150F for your kid, huh? It's definitely not a full size bike, but you can modify some parts to make the cockpit a little bigger. The suspension also needs some attention before you ride it aggressively or else you may end up hurting yourself.
Handlebars
First, some taller bars are probably going to make it more comfortable for you. Upgrading to some lightweight but stronger Pro Taper bars (Amazon) will resist breaking or bending much better so that you don't have to quit riding after a simple tip over.
Footpegs
The stock foot pegs are pretty lame. They're super heavy for how weak they are, and they just aren't wide enough if you're an average-sized adult.
Upgrading to some aftermarket wider footpegs will give you more stability and strength. This means that you can stand on the bike with more confidence without your foot slipping off. They also won't bend as easily if you tip over on a rock or stump.
Fork Upgrade
The stock forks are incredibly soft for anyone over 100lbs unless you're just riding on flat ground. You have a few different options. They're all around the same price, but they're different mods in how they work.
Springs
Stiffer fork springs (Amazon) are the simplest way to go. They'll hold you up better and resist bottoming, all for less than 100 bucks.
The downside? The valving could use some work as well if you want the most comfortable ride.
Race Tech Emulator
Race Tech has emulators for the CRF150F forks that give you the ability to tune the stock forks to a degree. They're a little more expensive, but you can get your forks to perform better if you don't mind taking them apart at least once or twice to get them dialed in.
Send Them To Bruce
Of course, you can also send your 150F forks to someone that's specialized in conventional DR (Damper Rod) forks, such as Bruce Triplett. He knows how to modify the stock rods and springs for your weight and riding style to get you a surprisingly well performing ride.
Shock Upgrade
The stock shock is no better than the fork. In fact, it's probably worse because of the poor rebound that can buck you around in rough terrain.
So, if you want to ride your CRF150F fast, I strongly encourage you to get the stock shock fixed or replaced with something better.
A stiffer shock spring can help, but it's the rebound valving that needs the most help.
Stock Shock Rebuild
The OEM shock isn't supposed to be rebuildable, but it's been well documented by owners that it's possible if you have the time and tools to do so. It's definitely the cheapest route it you know what you're doing, but it will take some time to tear it down, modify some internal parts, and then put it back together.
Aftermarket Shock
In the past, Fox and Works shocks were available as a great upgrade to the stock CRF150F shock, but they're not made anymore.
Now there's Hagon shocks. They're not fully adjustable, but still a big improvement in performance and comfort over stock.
A CR80/CR85 shock can be swapped onto your CRF150F with a little bit of work. It's easier on the 03-05 kick start models because there's no battery box in the way of the shock reservoir.
To install a CR85 shock on a 2006+ CRF 150F you'd have to re-locate the battery to the air box and remove the battery compartment to make room for the shock reservoir,
What Mods To Do First?
Have a budget and need to stick to it for now? Here's the list of first mods I recommend for your CRF150F Budget Performance Package:
Remove snorkel
Jetting
PC Exhaust
Fork mods/springs
Shock mods
Will the CRF150F make you a better rider?
Starting on a dirt bike that's easy to ride is important if you want to quickly build your confidence. The next step is learning proper riding techniques and habits.
Ready to take that next step to become a better and safer rider? I want to help you get started the right way: Click here for your free gift.