Trying to figure out if the Honda CRF150R is the right dirt bike for you? Whether you're a beginner looking for your first dirt bike, upgrading from a smaller bike, or just want to know the truth about this bike, you're in the right place!
I've owned a couple of them, so in this review I'm going to show you what this dirt bike actually is, why it may or may not be a terrible bike for you, and what to expecting when looking to buy and ride one so that you can make a better decision to save time and money!
What is the Honda CRF150R?
It's a 150cc liquid-cooled 4-stroke motocross bike that's built for jumping and racing. It's a high-performance, lightweight, and loud dirt bike, but that's just a basic description. You want to learn more about the engine, suspension, and performance specs…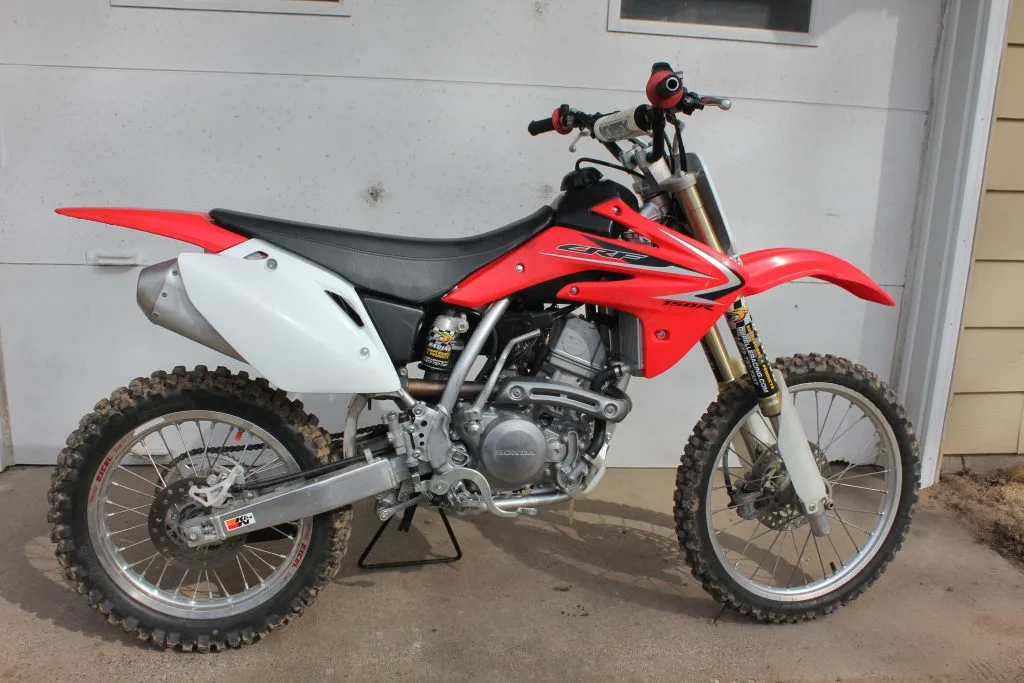 CRF150R Engine expectations
This is a liquid-cooled 150cc 4 stroke engine with a very light flywheel, but what does that mean? It doesn't have much torque right off of idle, so it doesn't lug very well at low RPM.
With a light flywheel, the engine revs up very quickly. This is great for racing or if you're an experienced rider that likes an aggressive power curve because it will accelerate quickly.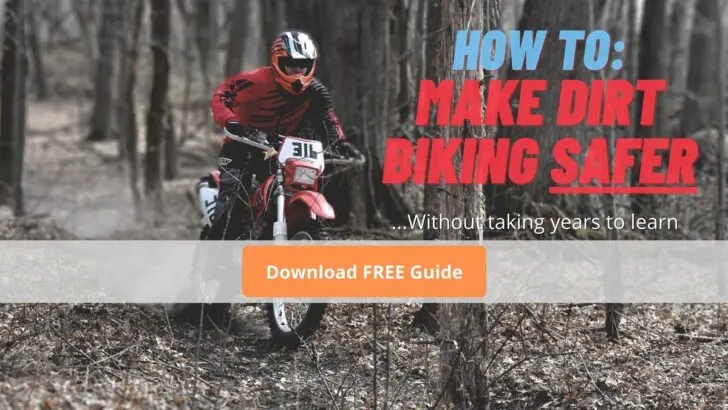 The problem with a fast-revving engine
The problem? It also decelerates quickly because there's less inertia (weight keeping the engine spinning). This makes it more prone to stalling – especially if you're learning how to use the clutch or like riding at low RPM.
Adding a flywheel weight and tuning the jetting will help, but it's not going to feel like a torque-y trail bike. If you really want to prevent stalling, just add a Rekluse auto clutch (Amazon) and you're good to go!
CRF150R top speed
A stock CRF150R top speed is about 60 mph, but this number doesn't mean much unless you're drag racing. You can easily change the acceleration and top speed by going to a different size sprocket on the front or rear.
Horsepower & torque
The CRF150R has 23.5 horsepower at the crank, which gives you about 21 horsepower at the rear wheel. This is peak power, so this number only matters if you're constantly riding at that RPM. What most people don't look at is the torque curve.
If you're racing, then low-end torque isn't something you're worried about. But if you're a trail rider or just ride for fun, then having good and smooth torque down low is very important because the engine can lug and accelerate from a low RPM – you don't have to slip the clutch in fear of it stalling.
The CRF 150R has very little low-end torque compared to a trail bike, which is what makes it harder to ride if you're a beginner.
It's loud!
For such as small dirt bike, the Honda CRF150R is ridiculously loud thanks to the stock exhaust setup. It's basically a straight-through pipe and muffler, so there isn't much to quiet it down.
This is fine if you're racing motocross on a public track where noise isn't a concern. However, if you're riding on a private track or on state trails, then you're going to want a quieter exhaust to help prevent getting yelled at by neighbors or complaining hikers/bikers.
The best way to quiet it down is by installing an aftermarket slip-on exhaust, such as the FMF Q4 (Motosport). It's not the cheapest mod, but it may help keep your riding area open with a quieter dirt bike!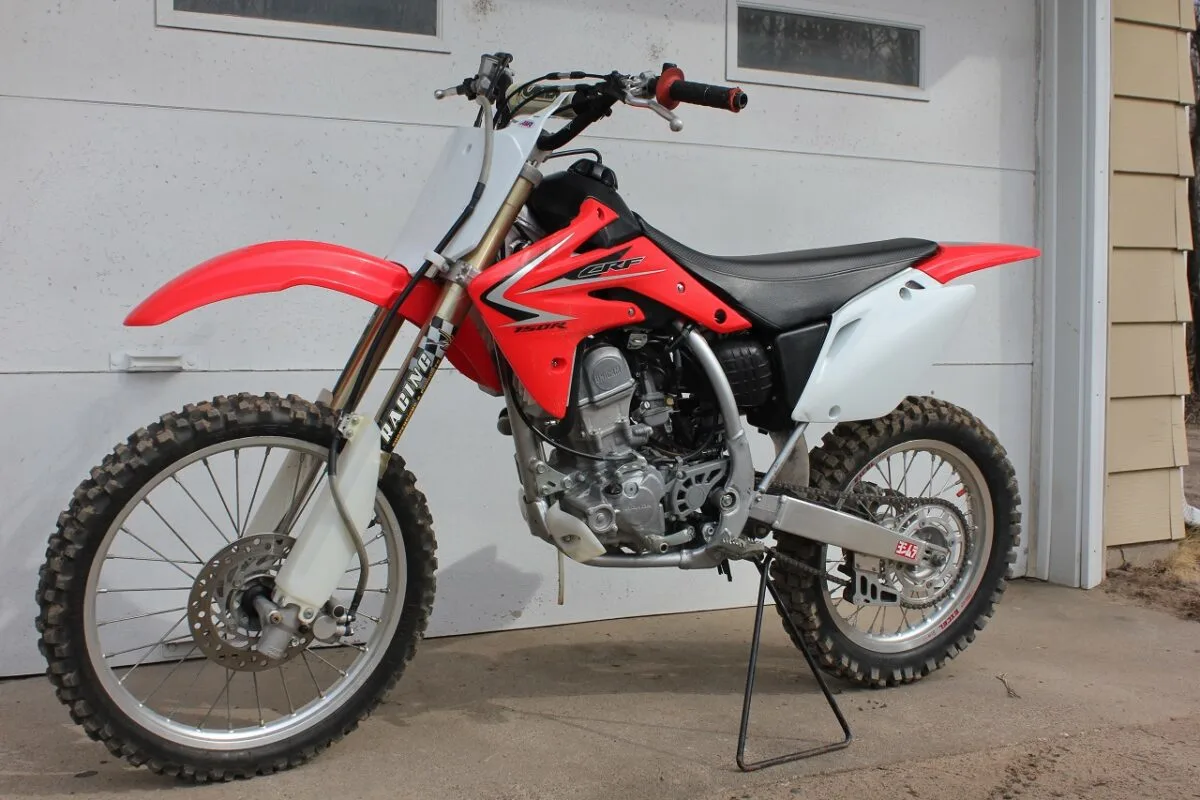 CRF150R suspension
Compared to an inexpensive trail bike, the Honda 150R has high-tech suspension that's fully adjustable. This is necessary to be competitive in motocross to soak up the big jumps, whoops and any other obstacles.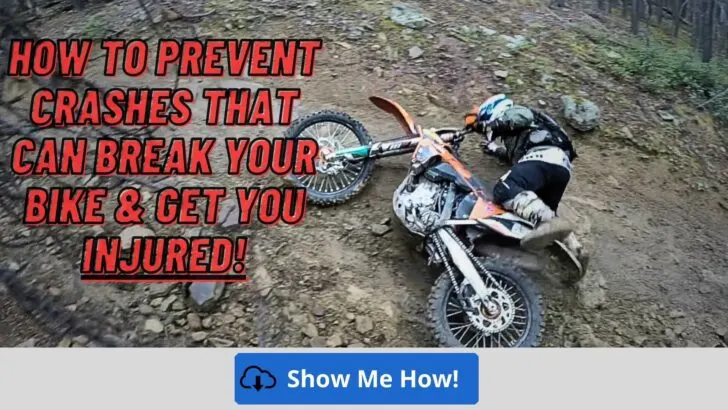 The forks and shock are set up for a 70-120 lb. kid, but they're going to be harsh if you're just a casual rider. You see, the springs may be soft enough, but the internal valving slows down the compression and rebound, making it feel stiff if you're riding slow or hitting small, sharp bumps on a trail.
Front forks
The stock forks have 10.8 inches of travel, which is almost as much as a full-size bike. The CRF150R big wheel has slightly stiffer valving than the 150R small wheel for better comfort, as it's the better choice if you're taller and heavier.
If the stock forks are too stiff or soft for your weight, the first thing you'll want to do is get the correct springs (Amazon). Then you can starting adjusting the clickers.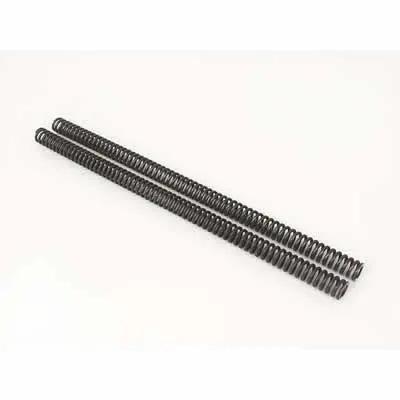 The compression and rebound clickers will slow down or speed up the forks, making it stiffer or softer. Tuning these can give you a lot more comfort on the track (or trails) and should be done before you consider sending the stock suspension components to a professional.
Rear shock
The stock rear shock is also fully adjustable, but you need to get the proper spring rate (Amazon) if you're too heavy for it and bottoming out the travel.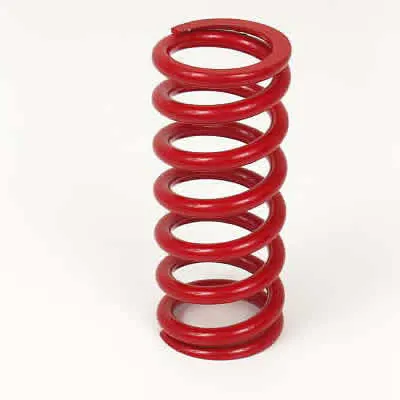 Once you know you have the right shock spring, then you need to adjust the sag. This will give you the proper ride height so that your suspension is balanced for the best handling and traction.
Then you can move to the compression and rebound clickers for even more comfort. By turning a clicker in just a few clicks at a time, you should notice a small difference in how it feels.
Caution when making suspension changes
Making external adjustments on a CRF150R is pretty simple, but you should always write down your settings before making any changes. That way you can go back to the original setting if you need to.
It's also important to make one change at a time. If you're adjusting multiple things at once, it's hard to know what adjustment caused a change.
Can a CRF150R be trail ridden?
Yes, that's why I bought a CRF150R in the past. However, it's not a very good trail bike in stock form on single track trails. It stalls easily, has rather harsh suspension, and is just a little too snappy.
Below is a video of me riding my backyard trails. It takes a lot more energy to ride fast than my CRF230F because of the reasons I just gave.
With that said, if you could tone it down, make it a little plusher and easier to ride, then the CRF150R could be a good trail bike for adults or teens.
Seat height – Are you the right size rider?
The small wheel CRF150R has a seat height of 32.8". It will fit you if you're between 4'10 and 5'2" (147-157cm).
The big wheel CRF150RB has a seat height of 34.1" It will fit if you're between 5'0" and 5'6" (152-168cm).
With that said, your inseam length plays a big role in how you fit it as well as your riding skill. The better balance you have, the less your seat height matters because you have the confidence to keep your feet on the pegs.
Does it have a weight limit?
There isn't an actual weight limit, but the CRF150R/B is built for a rider that weighs about 80-120lb.
Can you ride it if you weigh 150lbs or more? Yes, but the suspension is too soft for aggressive riding and will bottom out.
If you're an adult and want to ride the CRF150R then I highly suggest getting stiffer springs and possibly re-valving the suspension. I cover that in the mods section at the bottom of this article.
Is the CRF150R reliable?
Reliability was originally seen as an issue, but in actuality, that's not necessarily true. Yes, the CRF150R is not as reliable as its CRF150F cousin, but that's because it's a race bike that requires you to ride it harder. The more RPM, the quicker the engine will wear out; it's simple science.
With that said, you're not going to have to adjust the valves every 5 hours like some people may have said on forums. If you're trail riding the CRF150R or are easy on the throttle and properly maintain it (oil and filter changes), it's going to be pretty reliable. You might get 50 or 100+ hours on the engine before needing a rebuild.
Model year history & Changes
There haven't been too many big changes made since the year it was first made in 2007.
The noticeable changes made are:
2008: Carburetor needle changed for easier jetting tuning
2012: New cylinder head, piston, camshaft, and accelerator pump circuit updates
Easy year identification
So, how do you best identify which year model you have or if you're going to look at a used one for sale? The graphics are specific to each year, but the best way is by reading the VIN. The VIN is on the right side of the steering stem frame.
The year is determined by the 10th digit in the 17 digit VIN. A "7" would means it's a 2007, and a "B" means it's a 2011.
Honda CRF 150R Specs & Dimensions
Just need the OEM numbers?
Here are the basic specifications for the from Honda:
| | | |
| --- | --- | --- |
| Specifications | Honda CRF150R (Small Wheel) | Honda CRF150RB (Big Wheel) |
| Engine | 149cc liquid-cooled single cylinder four stroke | 149cc liquid-cooled single cylinder four stroke |
| Horsepower | 23.5 Horsepower | 23.5 Horsepower |
| Top speed | 60mph | 60mph |
| Transmission | 5-speed close-ratio | 5-speed close-ratio |
| Seat height | 32.8 inches (83.3cm) | 34.1 inches (86.6cm) |
| Tire & wheel size | 17/14" | 19/16" |
| Gas tank capacity | 1.11 gallons | 1.11 gallons |
| Oil capacity | 0.62 US qt | 0.62 US qt |
| Weight (curb/wet) | 185lbs. | 187lbs. |
| MSRP (Retail Price) | $5099 | $5199 |
Any common problems?
Valves and top-ends were thought to be a problem in the beginning, but that's mainly due to misuse or lack of knowledge. The CRF150R has stainless steel valves, which tend to last longer than titanium valves. This means they're more reliable and will cause less issues long term.
The biggest problems that I read about from CRF150R owners is when they don't ride it enough or do not properly maintain it. When you leave your dirt bike sit, the gas starts going bad within months or weeks!
Your CRF150R may have these issues if you let it sit for a few months with pump gas:
Hanging idle
Hard to start
Idle adjustment/screw/problems
It may not even start when you take it out the next time to ride. You may need to do proper carburetor cleaning to fix it.
Maintenance schedule
Oil changes and cleaning the air filter are the most important maintenance tasks. A schedule or every 10-15 hours for the oil and whenever the filter is dirty is a good starting point.
Remember that the CRF150R/B has separate compartments for the engine oil and transmission oil. Meaning you have to drain and fill two different spots.
Valve adjustment
The more you race and ride at high RPM, the more often you should check the valve clearance. You might not have to adjust the valves on your CRF150R every 10-20 hours.
It may go 50 or 100+ hours if you're conservative and properly maintain it. Heat and lack of maintenance are the biggest enemies of valves.
Who Is The CRF150R For?
The CRF150R is a motocross race bike that's not to be confused with the CRF150F trail bike. While the 150R is a kids dirt bike, it's a high performance race bike.
Is a CRF150R a good beginner bike?
If you're a complete beginner, then it's not a good starter dirt bike. It's relatively hard to start if you're not used to a kick-starter. The power is also abrupt and it's very easy to stall, especially if the jetting is off.
These characteristics and more make it a poor beginner bike.
Used price
It really depends on your local market. An older CRF150R in poor condition may be as cheap as $1200, but a clean bike that's only one year old might be $4500.
The most common factors for the value of a used CRF150R dirt bike are:
What the current market is
The overall condition
What's been done to the bike
Best Mods & Upgrades
Whether you're just looking for more power to race motocross or are an adult that wants to trail ride, there are quite a few mods available for the Honda CRF150R.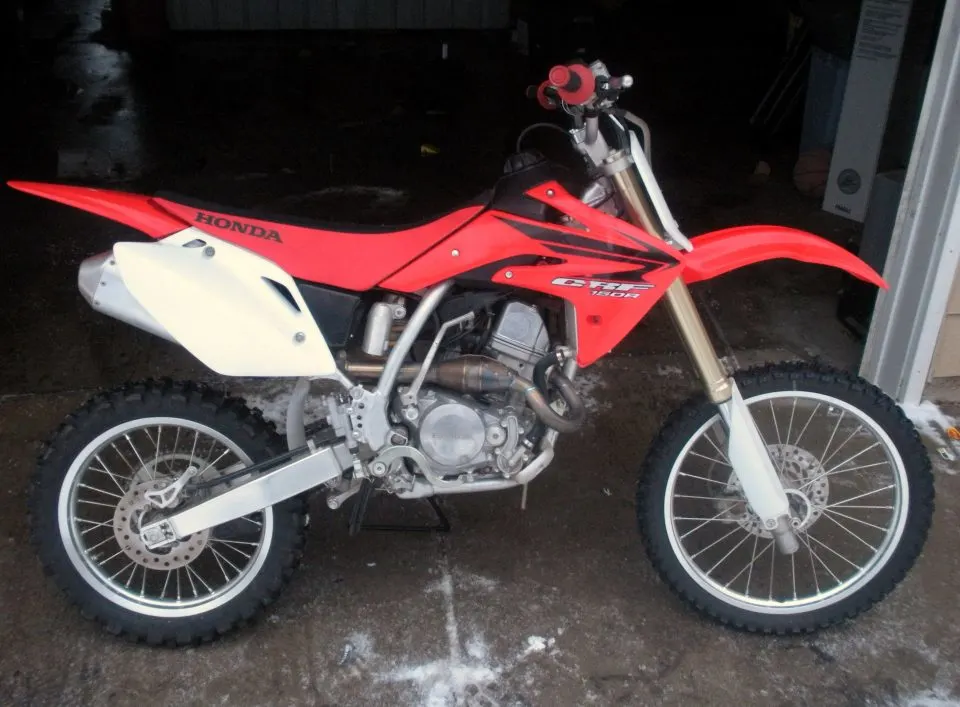 Some of the best mods to upgrade your CRF150R are:
Jetting
Suspension
Head pipe
Jetting the carb will make it start easier, run smoother, and stall less often.
CRF150R vs YZ85
Comparing a stock CRF150R vs YZ85, the biggest difference is the extra weight of the 150R. Being lighter, the YZ85 handles a little better and will be just as fast or faster, despite slightly less horsepower.
The 150R was built to be in the 85cc mini class, but it can only run in the supermini class, which is against up to 112cc 2 stroke motocross bike. With that said, the Honda CRF150R might be a better choice if you prefer the smoother power curve of a 4 stroke and don't mind a little extra weight.
CRF150R vs CRF150RB Differences?
They are almost the same bike; the biggest differences are the wheel & tire sizes, the wheelbase and slightly stiffer suspension on the CRF150RB big wheel model.
The CRF150R is the small wheel version with 17/14″ wheel and tire size, while the CRF150RB is the larger and longer big wheel (AKA "Expert") with 19/16″ wheel size and slightly stiffer suspension valving.
How tall is the seat height?
The seat height on the crf150r small wheel model is 32.8 inches tall, so it's good if you're about 4'10" and 5'2″ tall. The 150RB big wheel (150R expert) is 34.1″ inches tall, so it's better if you're 5'0″ to 5'5″ tall.
These numbers aren't a rule, but rather a guideline because it also depends on your inseam length and experience level to be able to safely ride this motocross bike.
Size & Age Range
The CRF 150R is built for racing in the 85cc/Supermini class, which is for kids age 12-16 years old. It's currently the only kids motocross bike from Honda.
The small wheel (standard model) is for a 12 year old, and the big wheel (expert model) is for ages 14-16 years old. However, your kid's age shouldn't be the only factor. They may be too small or big for it.
Is a Honda CRF150R good for adults?
With that said, there's plenty of adults that ride the CRF150RB, including myself! Follow the mods at the end to make it more comfortable for you.
Review: Is the CRF150R/B a good dirt bike for you?
Whether you or your kid is the right size for the 150R or 150RB, skill level and the type of riding should be the biggest determining factor.
CRF150R Cons:
This is a motocross race dirt bike. This means its disadvantages are:
Harder to kick start
Doesn't have much low-end power (bad for beginners)
The power is abrupt and less predictable than a trail bike
Suspension is for 80-100lb rider, but is harsh for trail riding
It's easy to stall (bad for beginners)
Small gas tank (bad for long trail rides)
CRF150R Pros:
However, where the CRF150R is good is:
No mixing gas (It's a 4 stroke engine)
It's lightweight for a 4 stroke
It has more torque than an 85cc 2 stroke (YZ85/KX85/CR85)
It can be a fun trail bike for an adult with some mods
How to become a better & safer off-road rider
Are you more of an off-road rider but want to stay safe while quickly increasing your skill? In order to ride faster without crashing, you have to stay in control of the bike, and that starts with proper riding technique. Click here for my Free training to give you more control and confidence.