Looking for the best beginner dirt bike for a 12-year old kid but not sure where to start? Whether your kid (or grandkid) is short or tall, or you're on a budget, you're in the right place.
I want to help you find the best quality dirt bike that's going to be reliable so that it's safe and doesn't break down easily. In this article I'll show you the proper steps to getting into dirt biking, what size dirt bike is best for a 12 year-old, and which one to pick based on height and budget.
How old do you have to be to ride a dirt bike?
There's no rule or law in most states or countries that require a minimum age for riding a dirt bike if you're riding on private property and have permission. Many kids start riding at the age of 3-5 years old.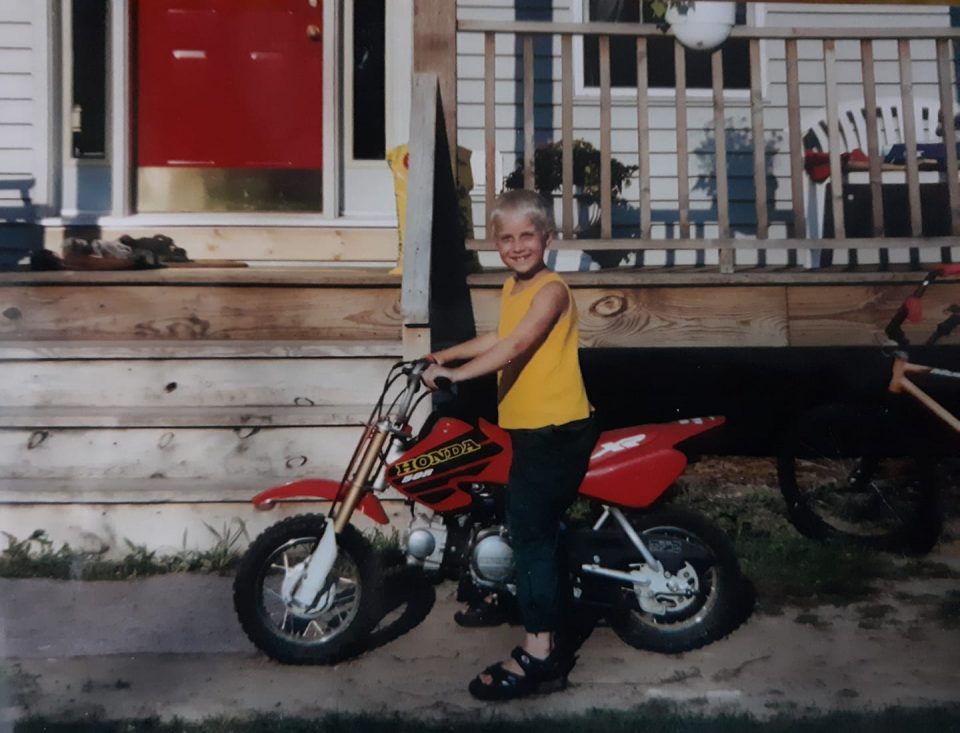 It's never too late to get started, especially if you just want to have fun and explore the world or your area on a dirt bike. With that said, it's easier to learn how to ride at a young age because you have faster reflexes and you build your muscle memory quicker.
One of the biggest reasons why older riders that are beginners crash is because they try to go too fast too soon.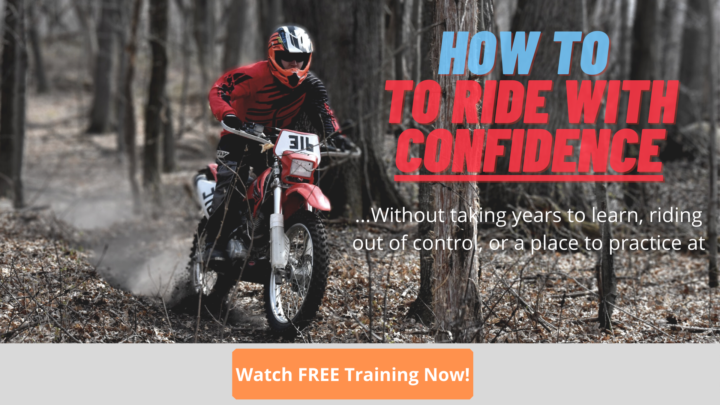 Is dirt biking good for a 12 year old kid?
Yes, there are many good reasons and benefits for riding a dirt bike as a kid. Not only is it great exercise, but it can keep your son or daughter out of trouble.
Dirt biking doesn't have to cost a fortune either. In fact, buying the dirt bike should be the most expensive part if you're just going to ride trails. There are many ways to keep it on a tight budget.
What you need to know before buying a dirt bike
If you're brand new to dirt biking, then there's some essential knowledge that you should know before getting started. That way, when it comes to your attention, you aren't shocked or overwhelmed.
For example, to start dirt biking you need to know and prepare for:
Which dirt bike is best
How you're going to haul it
Where you're going to store it
What riding gear you need
The essential tools you need to maintain your bike
Learning how to properly ride it
What size dirt bike is good for a 12 year old?
This mainly depends on the height of your 12 year old son or daughter. Most 12-13 year-olds will fit well on a medium size dirt bike.
If they're shorter than the average kid or have short legs, then you want to pick a dirt bike that's smaller. If they're tall, go with a bigger size bike.
For more specifics and to make it easy, below is a simple dirt bike size chart based on rider height. Use this as a reference tool and not an absolute factor.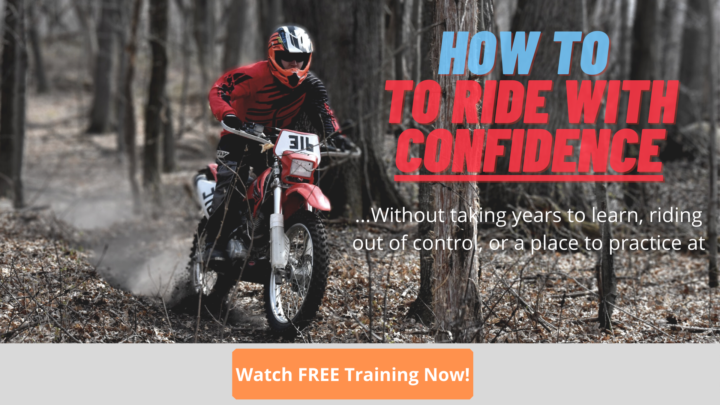 It's best to sit on and even test ride a dirt bike if possible to know if it's the right size for you.
Here's a dirt bike size chart based on your height and the seat height of the bike. Use it as a starting point (reference)
| | |
| --- | --- |
| Height | Seat Height |
| 4'6″-4'10" (137-145cm | 26-29 inch (66-73.5cm) |
| 4'10"-5'0″ (147-152cm) | 27-30 inch (68.5-76cm) |
| 5'0″-5'2″ (152-157.5cm) | 29-31 inch (73.5-79cm) |
| 5'2″-5'4″ (157.5-162.5cm) | 30-33 inch (76-84cm) |
| 5'4″-5'6″ (162.5-168cm) | 33-35 inch (84-89cm) |
| 5'6″-5'8″ (168-173cm) | 34-36 inch (86-91.5cm) |
| 5'8″-5'11" (173-180cm) | 35-38 inch (89-96.5cm) |
| 6'0″+ (183+cm) | 37+ inch (94+cm) |
Can a 12 year old ride a 125cc dirt bike?
Yes, but it depends on what type of 125cc dirt bike. Just because it's a 125cc engine doesn't mean it's the same size as another 125 dirt bike.
There are 2 stroke and 4 stroke dirt bikes, and when comparing them in the 125cc class, they're completely different. The 2 stroke is a tall motocross race bike and the 4 stroke is a shorter trail bike.
Not many 12 year olds are tall enough for the 125 MX bike, nor can they handle the power unless they've been riding or racing for years.
That's why the 4 stroke 125 is the best choice for most kids.
Not only is the trail bike much smaller, making it easier to touch the ground, but the engine and suspension are much more forgiving. This makes it easier to ride and learn the basic techniques.
What dirt bike should a 12 year old beginner get?
So, now that you have a good idea of what to expect, it's time to look at what the best dirt bikes are. I'm only going to recommend name brand dirt bikes here because they're the safest and most reliable.
You can pick a cheap dirt bike from Amazon or somewhere, and it will most likely work, but there are just too many disadvantages to buying one. They're only good if you just need the absolute cheapest dirt bike and you won't be riding it for very long.
So, whether you're in the U.S., UK, Australia, Canada, or another country, these are the best dirt bikes (motorbikes) for a 12-year-old boy or girl:
Honda CRF125F/B
Yamaha TTR125LE
Kawasaki KLX140/L/G
Suzuki DRZ125
Honda CRF250F
Yamaha TTR230
Kawasaki KLX230R
Now I'm going to go into more detail on each bike so that you can get a better idea which dirt bike to choose.
Honda CRF125F
Honda has the CRF125F and CRF125FB. They're almost identical, but the big wheel model has bigger wheels and a slightly higher seat height.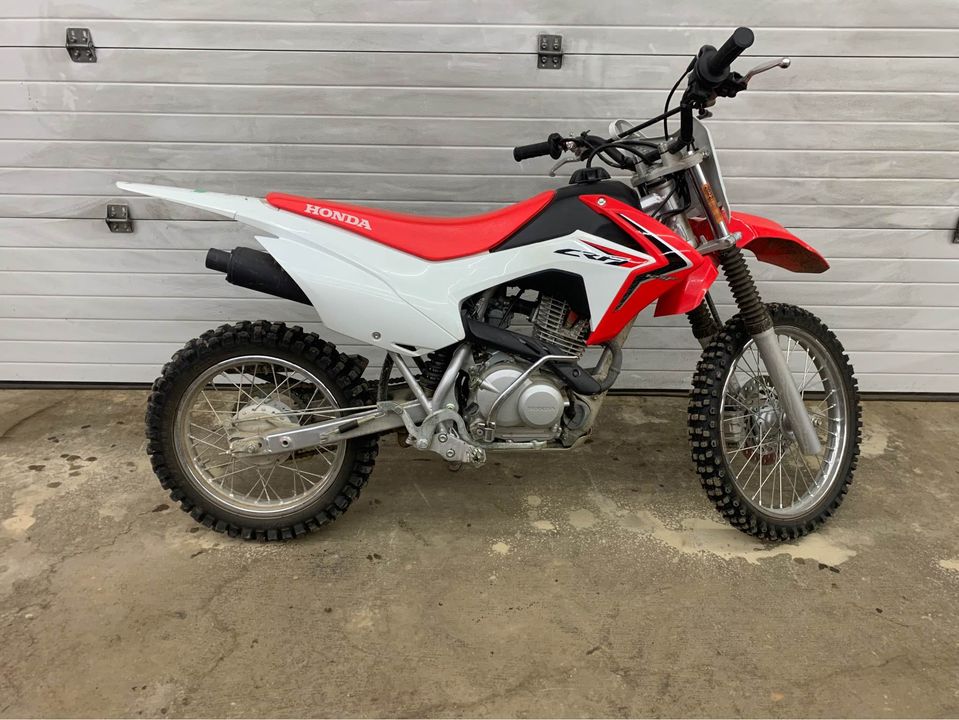 So, what size kid is this for?
The small wheel is good if you're between 4'6″-4'10" in height. The big wheel is better if you're between 4'10-5'4″ in height.
The 125cc engine is very tame but has enough power for any size kid. Learning how to use the clutch is very forgiving because the low RPM power is smooth and predictable.
The CRF125 was first made in 2014 and changed from a carburetor to fuel injection in 2019. It's an electric start, so there's no kick-starting or dirty carb to worry about.
Honda CRF250F
Moving to a substantially bigger, heavier, and more powerful machine from Honda, the CRF250F is a good beginner dirt bike if you're 5'6" or taller. It still has the same power characteristics as the smaller CRF; just more of it.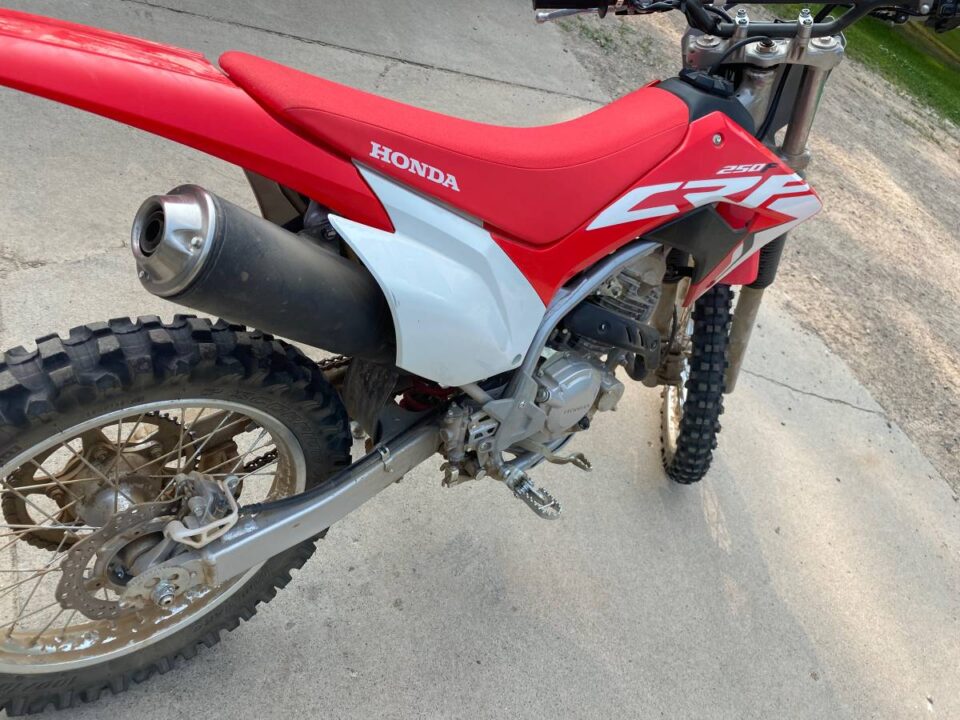 If your 12 year old is bigger and stronger than the average kid and is ready to go to a full size dirt bike, this is a great transitional bike. It's still shorter and easier to handle than an enduro bike. It's also very reliable and has good resale value.
Yamaha TTR125LE
Yamaha used to have 4 different models of the TTR125, but now it's just the TTR125LE. The "LE" simply stands for large wheel and electric start. It's essentially the same size as Honda's CRF125FB.
The TTR 125 is a solid choice because it's been proven for 20+ years and hasn't changed much. That's good because parts are easy to find and they're a little more affordable.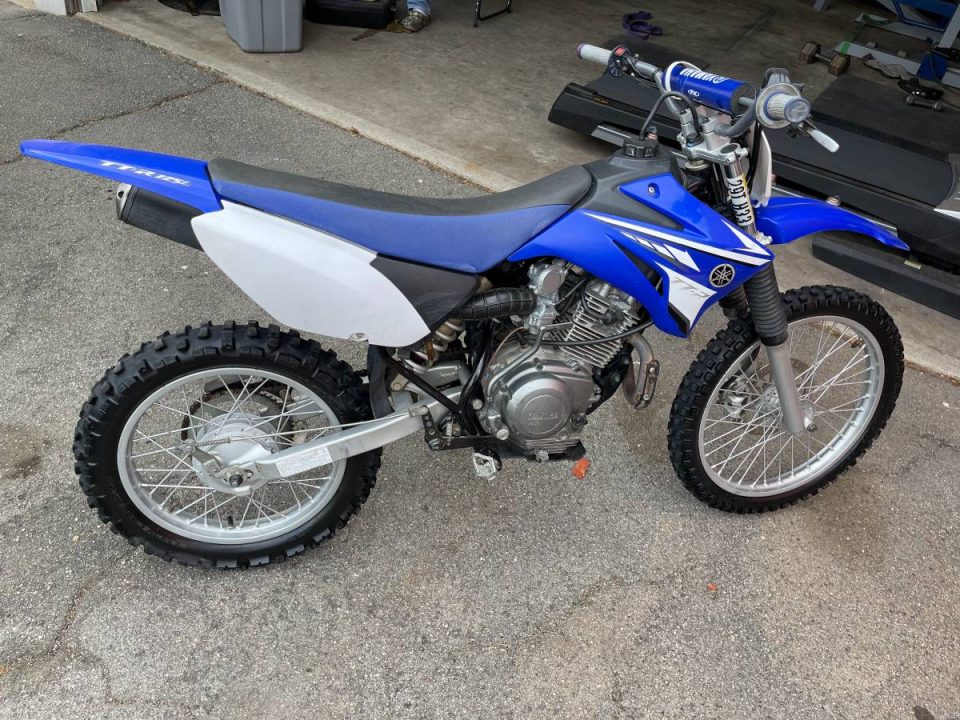 The suspension and ergonomics aren't the best in its class, in my opinion, but for a new rider, it won't make a difference.
Yamaha TTR230
Moving up to the 230cc trail bike, the TTR230 is comparable to Honda's latest CRF250F. The difference is that the engine is slightly smaller and it doesn't have fuel injection.
The good news? It's cheaper to find a good TTR230 on the used market. It's a great entry-level dirt bike for your kid or young adult if they're at least 5'6" in height.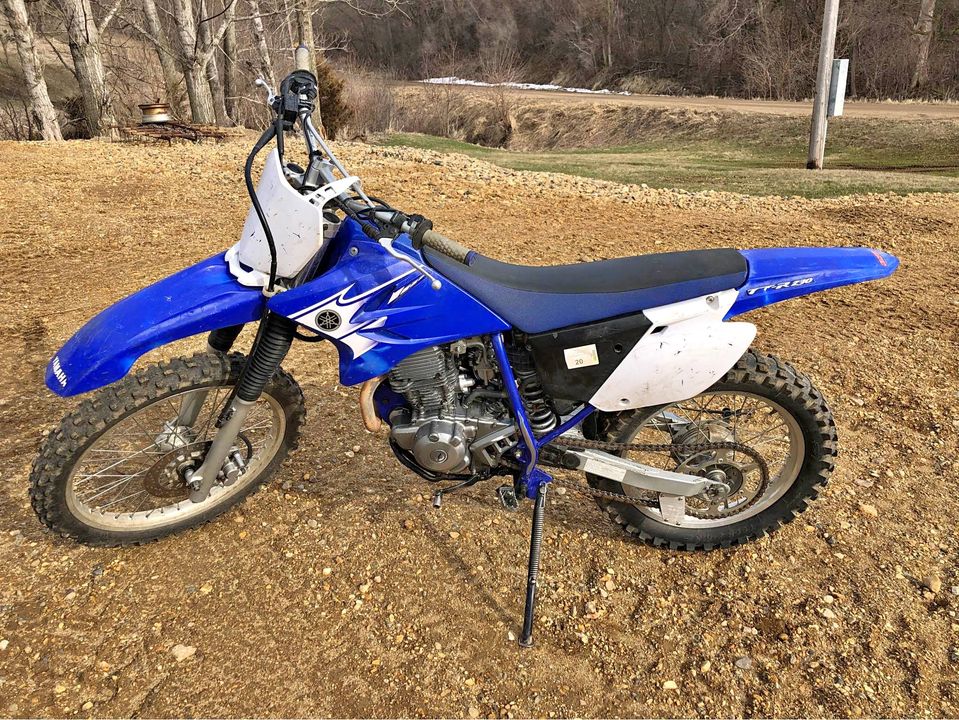 Kawasaki KLX140
The KLX 140 has three different size options, but unfortunately, Kawasaki keeps changing their model naming system!
The KLX140 (now KLX140R) is the small wheel, the KLX140L (KLX140R L) is the large wheel, and the KLX140G (KLX140R F) has the full-size wheels.
They're essentially the same dirt bike but with different size wheels and tires, along with different seat heights. Choose the size that fits you best.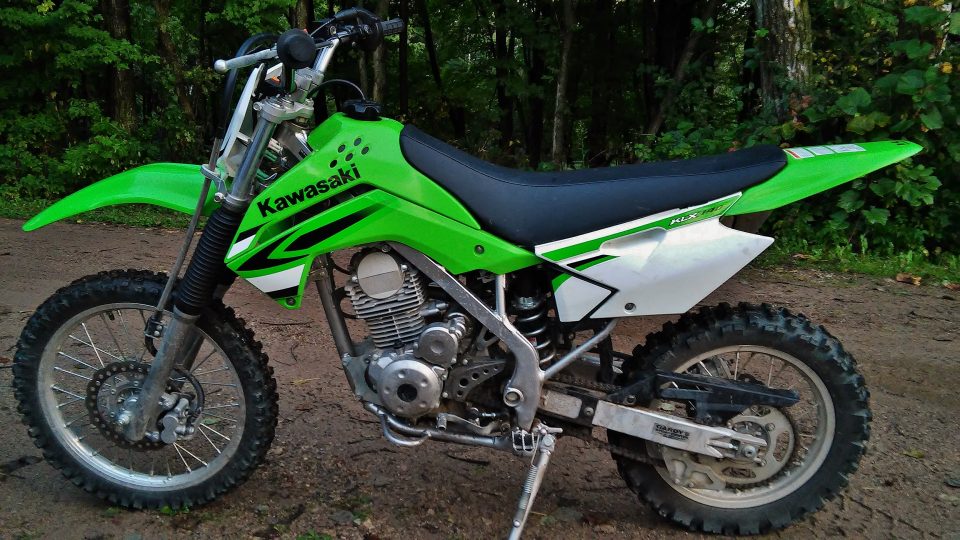 I like the KLX140 because it's an overall solid and easy-to-ride motorcycle. It feels more like a motocross bike while riding it, but the suspension and handling are comfortable.
It doesn't have fuel injection, but the electric start works well.
Suzuki DRZ125/L
The only good dirt bike for a 12 year old from Suzuki is the DR125. It comes in either the small wheel model or the DRZ125L large wheel.
Not much to write home about, but it's definitely a dirt bike to consider if you get a good deal on one. It still has kick-start and a carburetor, but it's reliable.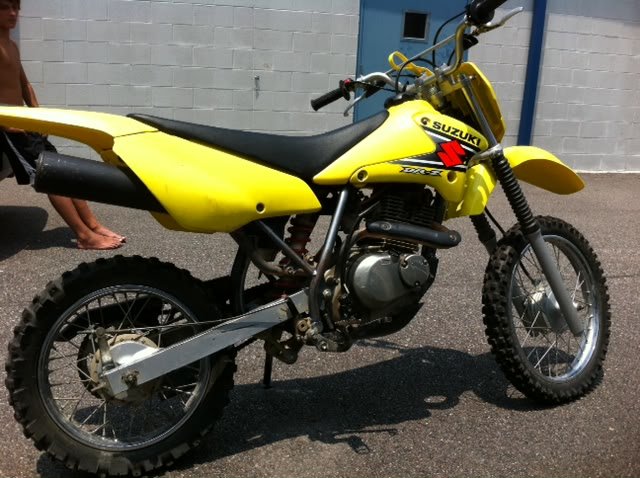 If you (or your kid) can live with a kick-start bike (it's pretty easy to start when properly jetted), then I would recommend it because it's easy to ride and learn how to use the clutch on.
Bottom line
If you're still unsure on which dirt bike buy to pick, here's a quick summary:
Best cheap dirt bike for a short 12 year old: Yamaha TTR125
Best new dirt bike for a short 12 year old: Honda CRF125F
Best cheap dirt bike for a tall 12 year old: Yamaha TTR230
Best new dirt bike for a tall 12 year old: Honda CRF250F
How to make dirt biking safer for your 12-year-old kid
Choosing the right first dirt bike is the first step, but that's only the beginning if you want to prevent injuries. So many riders learn to ride on their own, but this is the easiest way to form bad habits.
These bad habits cause you to use more energy and crash more often. I want to show you the proper techniques to ride with more control from the beginning. Click or tap here to get started now.