Kawasaki KLX140 Review – Everything You Need To Know About It
Looking for the best beginner bike? Maybe you're considering which bike would be best for your wife or a girl in your life like I was for my wife. This is a comprehensive guide and review on Kawasaki's KLX140 trail bike. I want to help you decide if this is the best dirt bike for you or not.
What is the KLX140?
The KLX140 is a 144cc air-cooled 4 stroke trail bike with a 5-speed manual clutch and transmission. It has 4 different wheel sizes, all aimed at beginner riders of different sizes. It is still carbureted and not fuel injected. But it does have electric start, removing some of the frustrations if you're a new rider learning to ride.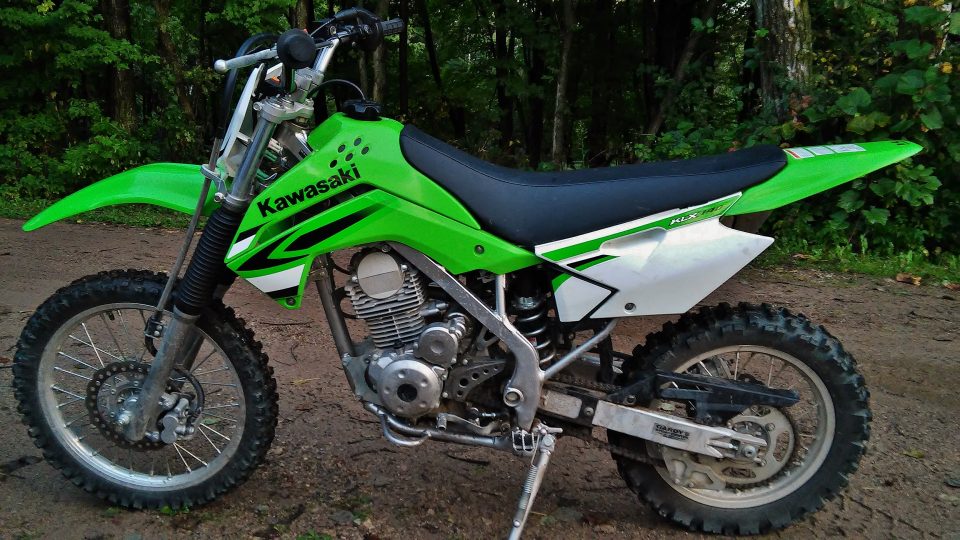 The KLX140L is the closest rival to Honda's CRF150F that you just read about. It has mid-size wheels and a simple, reliable 144cc air-cooled 4-stroke engine.
Is the KLX140 a good bike?
The KLX140 is one of my favorite dirt bikes for beginners. It's great if you're just starting out and want a quality bike that's super easy to ride. The suspension is nice and plus, it starts easy, and it handles very well. It may not have EFI, but I recommend using non-oxygenated gas and you shouldn't have carb problems.
Lightest, Most Compact Package
The KLX 140L has a one inch lower seat height, and almost 2 inch short wheelbase than the CRF150F. Coming in at 209lbs wet and ready to ride, the 140L is the lightest bike in it's class. It's an excellent dirt bike for teens, females, riders 5'6″ and shorter, or if you just want to start out on a nice, compact set of wheels.
Simple, No-Nonsense, Reliable Machine
Much like most of the other bikes in this guide to buying the best beginner dirt bike, the KLX140L is a very basic and homely platform. The air-cooled engine is durable, the suspension is simple, yet plush and friendly to new riders.
KLX140 vs TTR125
The KLX140 definitely has more power, but does that alone make it better vs the TTR125? It's just as reliable and I like the ergonomics and handling a little more. The only problem is they're harder to find used and usually cost several hundred dollars more.
KLX140L Final Impressions?
Lowest seat height? Check. Electric start? Check. Cheap to buy? Check. If you're looking for the best mid-size beginner dirt bike, the KLX140L is as good as it gets.
Pros:
Lowest seat height
Great handling; lowest CoG
Lightest on the list
Electric start
Simple, reliable
Quieter than most dirt bikes
Low cost, new and used
Cons:
Smaller wheels (compared to a full size dirt bike)
Small chassis; not good for tall riders
No back-up kick-start
It's green? (or maybe you like the color green!)
Kawasaki KLX140G
Wait, didn't I just read about the KLX140? Yep, but the KLX140G is a newer version that Kawasaki updated for riders that want a full-size dirt bike, but still like everything else about the little 140.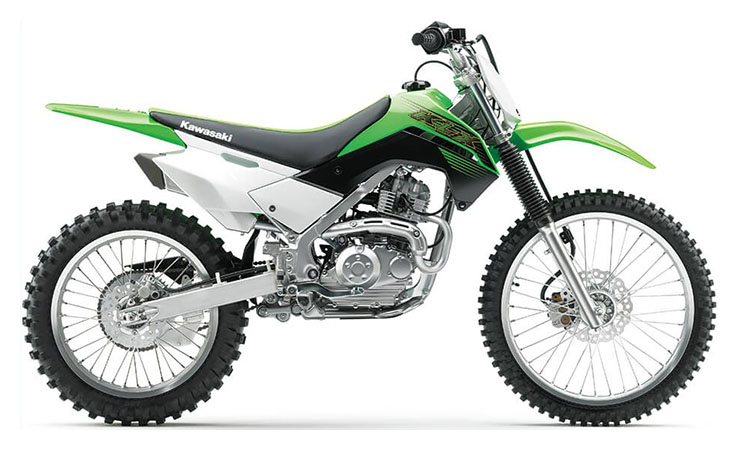 The 140G has full-size wheels (21/18″), so the seat height and wheelbase are taller and longer. It only weighs 9lbs more, so it's still lightweight compared to the rest of the pack.
KLX140G Final Impressions?
The KLX140G has the lowest seat height and is the lightest full-size 4-stroke dirt bike on this list. It may not have a lot of power, but it will be the easiest to ride.
With an MSRP of well under $4,000, this is a very affordable beginner bike. They've already been around for a few years, so waiting to find a used one can save you even more cash that could be spent on proper riding gear and gas.
Pros:
Very low seat height (33.9″)
Only 218lbs wet
Full-size wheels
Electric start
Low CoG
Reliable
Cheap for a full-size dirt bike
Cons:
Low power output
Similar cockpit size as the KLX140L
No back-up kick-start
It's green?
How much does a KLX140L cost?
KLX140: $3,099
KLX140L: $3,399
KLX140G: $3,699
How to ride trails faster
The KLX140 is a fantastic bike to build your confidence riding off-road, but that's just the beginning.
You must learn proper riding technique and body position to have real control over the bike in the woods.
Want to learn how to get started the right way? Click here to learn more.