Wondering if the Kawasaki KLX 140 is the right dirt bike for you? Whether you're looking for the best beginner bike for you or for your female partner, you're in the right place!
In this article, I'll show you differences between each KLX140 model, which one is right for you, and what to expect when buying one so that you save time and money.
What is the KLX140?
The KLX140, which is now the KLX140R, is a 144cc air-cooled 4 stroke trail bike with a 5-speed manual clutch and transmission. It has 3 different wheel sizes and seat heights, all aimed at beginner riders of different sizes.
It is still carbureted and not fuel injected. But it does have electric start, removing some of the frustrations if you're a new rider learning to ride.
The KLX140L is the closest rival to Honda's CRF150F. It has mid-size wheels and a simple, reliable 144cc air-cooled 4-stroke engine.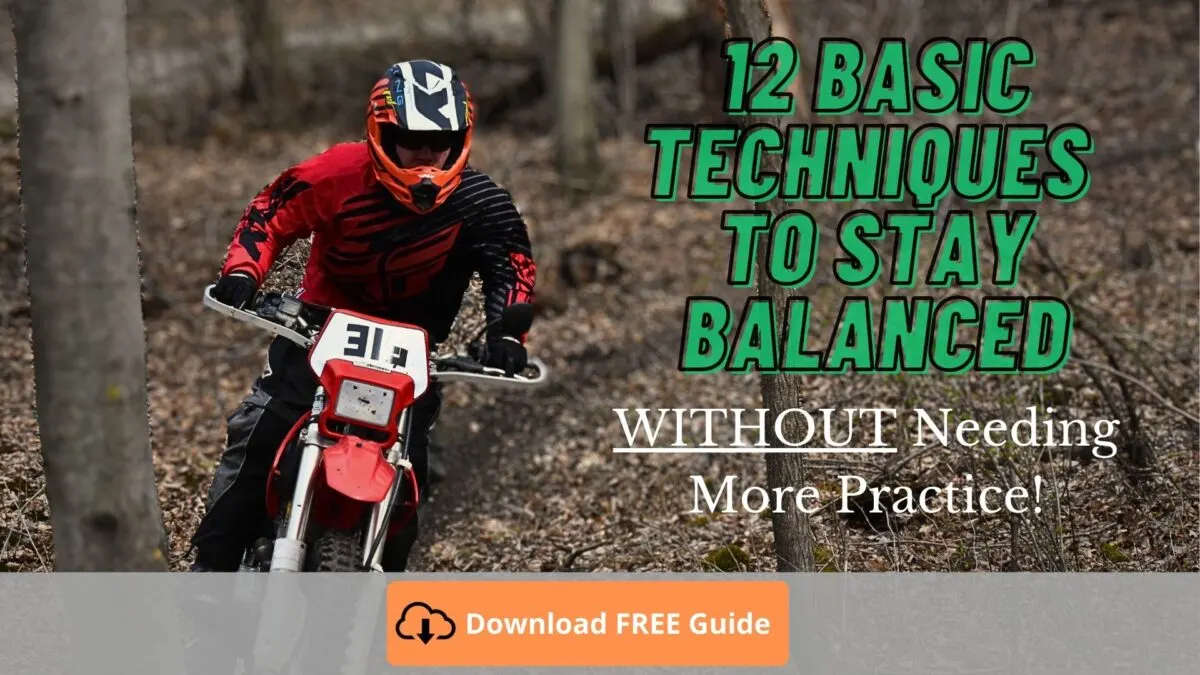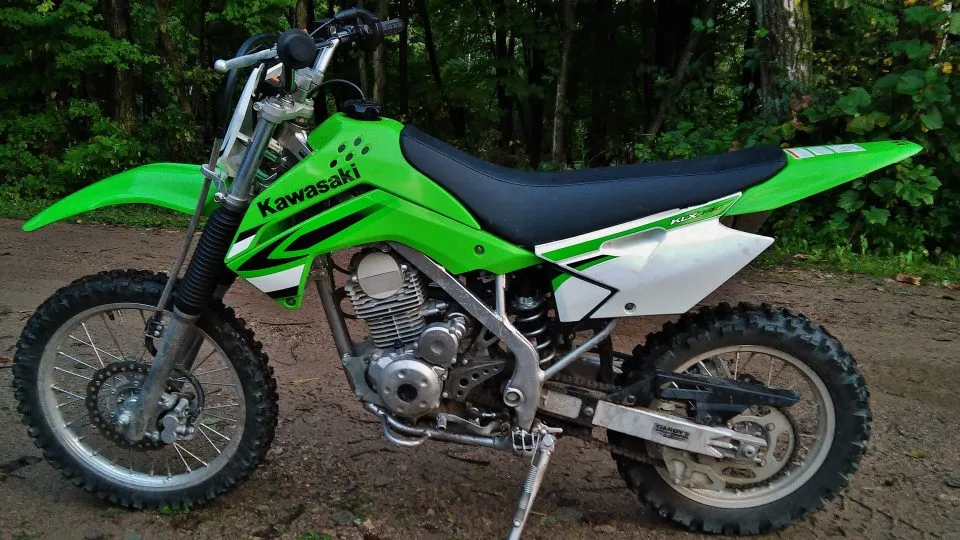 Is it the right type of bike for you?
The KLX 140 is a trail bike, which is one of several types of dirt bikes, but is it right for you? If you're a beginner, just getting back into riding, want to go trail riding, or just want a play bike for casual riding, this is the best type of dirt bike for you.
That means it's not a good choice if you want to race motocross or need a street legal dirt bike for riding on the road and dirt.
Kawasaki 140cc engine characteristics
It's a 144cc 4-stroke air-cooled engine that is built to be very forgiving and to last a long time. The KLX140 makes good, smooth power from idle to about 8000 RPM, but it's happiest at a low to mid RPM.
Having a predictable power-curve makes it perfect if you're new to riding because it's not going to easily jump out of your hands like a big enduro bike would.
Keep the engine full of oil (but not overfull) and the air filter clean, and the KLX140 engine will last many years. It's comparable to the old Honda XR trail bike engines, if you're familiar with their reliability.
Horsepower – do you really need to know?
The KLX 140 makes about 9 horsepower at the rear wheel – this doesn't sound like a lot, but there's more to it. You see, that number is just the peak power it puts out at a specific RPM. Simply put, you have to keep the engine RPM at 8000 RPM to make 9 HP, but most of use won't rev it that high all of the time.
What's my point? Well, if you compare it to a KX85 that makes over twice the power, the KLX 140 actually makes more power at a lower RPM, such as 3000-5000, where we typically rev the engine to while trail riding.
This means that you can use less energy by riding at a lower RPM – while getting better traction, on a slower bike. This is why I enjoy riding "slow trail bikes" if the suspension can handle it.
Top speed – for street racers…
The max speed of a stock KLX 140 is roughly 50 mph, which doesn't mean much either. How often are you going to ride a dirt bike that fast unless you're drag racing on flat ground? If you want better acceleration or more top speed, just change the gearing (sprocket size).
Suspension – what to expect
As a budget trail bike, the forks and shock are pretty simple and low-performance – but this isn't bad. They're nice and soft for absorbing bumps and obstacles at low speeds for better comfort, and they're very reliable.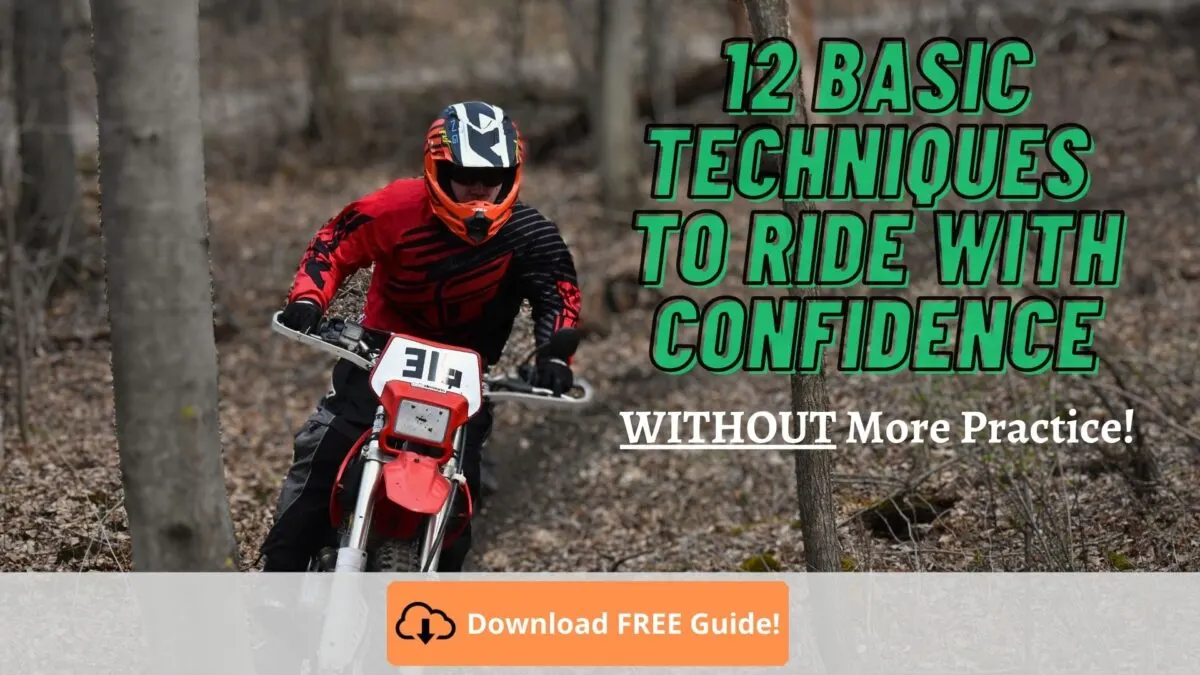 Stock forks
The fork seals will last a long time because the boots cover up the upper legs, but they're easy to work on if you do have to do some routine maintenance.
The downside is that they're soft on all of the models and not externally adjustable. Each bigger model KLX 140 has slightly stiffer forks, but if you're over 180 pounds, you're going to bottom them out easily.
Fork travel for each model size
Even though they all use a 33mm conventional (RSU) front fork, they don't all have the same suspension travel.
Here's the basic difference in front fork/wheel travel travel:
KLX140R: 7.1″
KLX140R L: 7.1″
KLX140R F: 7.5″
As you can see above, the full size wheel option has a little more suspension travel – this is because you're probably going to be a heavier and faster rider on the bigger bike and need as much suspension travel as possible to soak up the bumps/obstacles.
Stock rear shock differences
Depending on which model size you get, the stock rear shock has some rebound damping adjustment. That may or may not mean much to you, even though it's easy to adjust.
You get a 20-way rebound damping clicker adjustment on the large wheel (140R L) and big wheel/full-size (140R F) models. They use a shock with a piggyback reservoir, which simply gives you a little more performance and is rebuildable.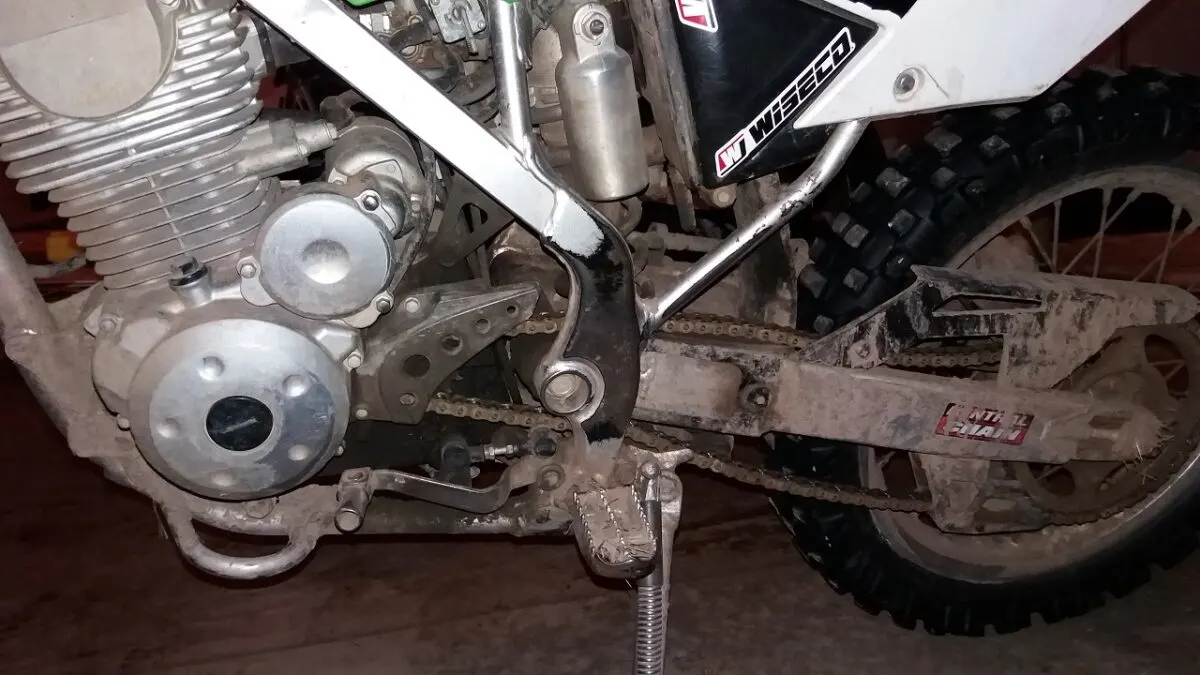 The standard small wheel (140R) has no adjustability other than the 5-way preload adjustability to adjust your sag/ride height. There is no remote reservoir, so it's technically not rebuildable unless you're highly mechanically-inclined.
The stock rear shock is fairly soft on all KLX 140 dirt bikes to make it balanced with the front. The adjustable shock on the two bigger wheel models can help stiffen up the rear by slowing down the rebound.
Rear suspension/wheel travel
Once again, the full size KLX140 model has more suspension travel in the rear to help absorb bigger impacts and perform a little better if you're an adult.
Here's the difference in rear shock/wheel travel travel:
KLX140R: 7.1″
KLX140R L: 7.1″
KLX140R F: 7.9″
KLX 140 Weight – The lightest, most compact package?
The KLX 140 isn't built with the lightest weight components because it's an affordable trail bike, but don't let that fool you. It has such a compact design due to it's low seat height and short wheelbase that it's automatically lighter than other brand bikes with a similar engine size.
These are the curb weights of each KLX140 model (the curb weight simply means the wet weight with all fluids and ready to ride):
KLX140R: 205 lbs.
KLX140R L: 209.4 lbs
KLX140R F: 218.2 lbs
Weight comparison vs other brand midsize trail bikes
The KLX 140L has a one inch lower seat height, and almost 2 inch short wheelbase than the CRF150F, which weighs 233lbs. Coming in at 209lbs wet and ready to ride, the 140L is the lightest bike in it's class, although there aren't many 140-150cc 4 stroke trail bikes.
The next closest competitor in size is the TTR125LE, which is about 10 lbs lighter than the KLX140R L.
Less weight makes it easier to handle, and picking it up isn't as hard if you fall – but that's not the only reason it handles so well as low speed. Having the weight at a lower center of gravity allows you to turn quicker with less effort so that you don't get exhausted as quickly.
It's an excellent dirt bike for teens, females, riders 5'6″ and shorter, or if you just want to start out on a nice, compact set of wheels.
Is the KLX 140 reliable?
Yes, like most 4 stroke beginner dirt bikes, it's very reliable because of its simplicity and low-performance. This makes it great if you're just getting into dirt biking and want to do as little maintenance as possible.
Just fill up on gas, check the oil and air filter, and you're set for a hours of trail riding. If you want to make your KLX last as long as possible, you need to do regular oil and air filter changes or else the engine will wear out and seize.
KLX 140 Seat height – which size is right for you?
There's 3 different KLX 140 models to choose from. Kawasaki made virtually the same dirt bike but the wheels, tires and seat height are different sizes so that you can choose the best one based on your height.
Previously called the KLX140, KLX140L, and KLX140G – they're now called: KLX 140R , KLX 140R L, and KLX 140R F.
Are the new KLX model names any different?
Kawasaki just updated their trail bike model names for the 140cc trail bike for some reason to make it more confusing for us…
The sizes I list for each dirt bike are estimates based on your height, but your inseam is going to make the biggest difference on whether or not you can touch the ground with one foot.
KLX140R (small wheel)
The KLX 140 is now the KLX 140R, but nothing has changed other than the letter added. It's the shortest and smallest model 140cc, making it the smallest dirt bike with a clutch from Kawasaki.
The KLX140R has 14/17″ wheels & tires with a 30.7″ seat height. This makes it good if you're a 4'8″-5'0″ tall.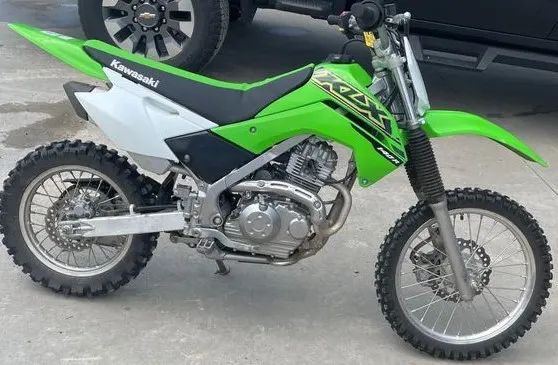 KLX140R L (large wheel)
Updated from the KLX140L, the KLX 140R L has slightly bigger wheels. It's not only taller, but it handles obstacles on the trails a little better because the bigger tires roll over them more easily.
The KLX140R L has 16/19″ wheels & tires with a 31.5″ seat height. This makes it good if you're 5'0″-5'4″ tall.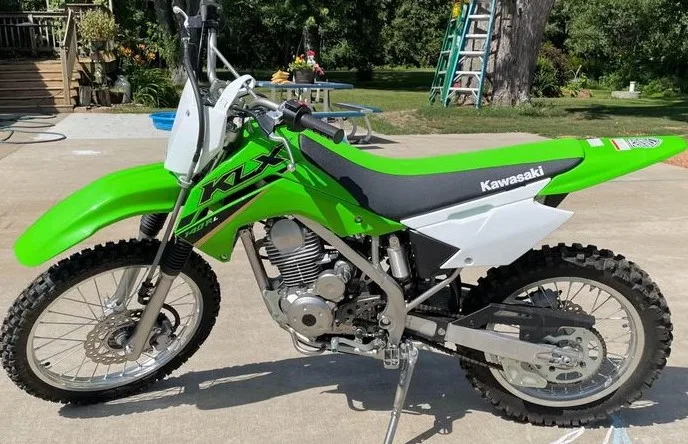 KLX140R F (big wheel/full-size)
Previously named the KLX 140 G, the KLX 140R F is still the same bike with full size wheels. This is a great dirt bike for beginner adults that want the shortest full-size bike. It has the least amount of power, making it easy to ride, but the 21 and 18 inch tires make it handle much better over logs and rocks on the trails.
It still doesn't have the stability of bigger adult size dirt bikes because of the geometry and wheelbase is shorter, but this bike isn't meant to be ridden at high speeds anyway.
The KLX140R F 21/18″ full-size wheels & tires with a 33.9″ seat height, making it a good size if you're a 5'4″-5'8″ rider.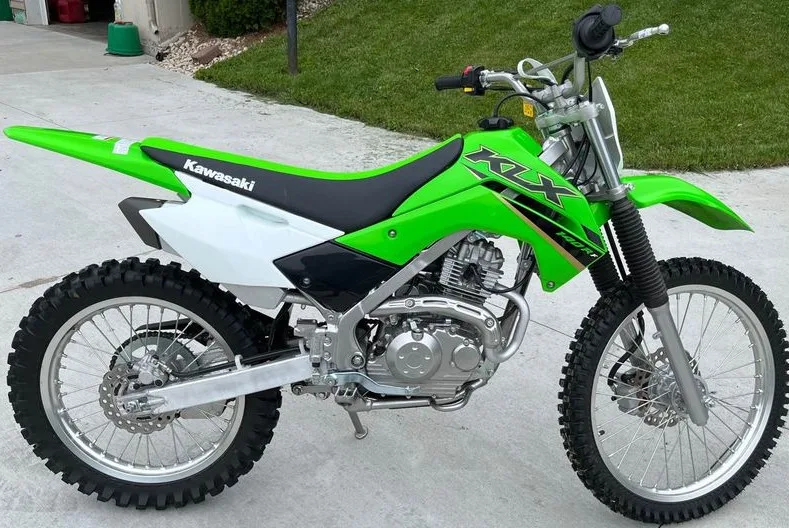 How much does a KLX140 cost?
These are the new MSRP prices of each Kawasaki 140:
KLX140R: $3,499
KLX140R L: $3,749
KLX140R F: $4,049
How much is a used KLX140?
The value really depends on your local market, the specific model 140, what condition it's in, and which year you're looking to buy. A used KLX140 is going to be in the $1500-3500 price range based on these factors.
KLX140 vs TTR125
The biggest difference is that the KLX 140 has more power and a wider ratio transmission, and the TTR125LE weighs about 11 lbs. less.
The KLX140 definitely has more power, but does that alone make it better vs the TTR125? It's just as reliable and I like the ergonomics and handling a little more.
The only problem is the KLX 140 can be harder to find used and usually cost several hundred dollars more.
Is the KLX140 a good bike?
The KLX140 is one of my favorite dirt bikes for beginners. It's great if you're just starting out and want a quality bike that's super easy to ride.
The suspension is nice and plush, it starts easy, and it handles very well. It may not have EFI, but I recommend using non-oxygenated gas and you shouldn't have dirty carb problems.
KLX140R L – Pros & cons
Lowest seat height? Check. Electric start? Check. Cheap to buy? Check. If you're looking for the best mid-size beginner dirt bike, the KLX140L is as good as it gets.
Pros:
Lowest seat height in its class
Great handling; lowest CoG
Lightest on the list
Electric start
Simple, reliable
Quieter than most dirt bikes
Low cost, new and used
Cons:
Smaller wheels (compared to a full size dirt bike)
Small chassis; not good for tall riders
No back-up kick-start
It's green? (or maybe you like the color green!)
Kawasaki KLX 140R F
Wait, didn't I just read about the KLX140? Yep, but the KLX140R F (AKA the KLX140G) is a newer version that Kawasaki updated for riders that want a full-size dirt bike, but still like everything else about the little 140.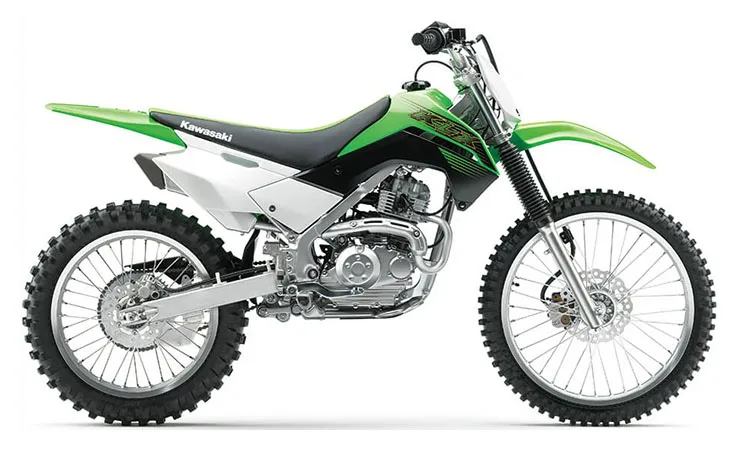 The 140G has full-size wheels (21/18″), so the seat height and wheelbase are taller and longer. It only weighs 9lbs more, so it's still lightweight compared to the rest of the pack.
KLX140R F – pros & cons
The KLX140G has the lowest seat height and is the lightest full-size 4-stroke dirt bike on this list. It may not have a lot of power, but it will be the easiest to ride.
With an MSRP of well under $4,000, this is a very affordable beginner bike. They've already been around for a few years, so waiting to find a used one can save you even more cash that could be spent on proper riding gear and gas.
Pros:
Very low seat height (33.9″)
Only 218lbs wet
Full-size wheels
Electric start
Low CoG
Reliable
Cheap for a full-size dirt bike
Cons:
Low power output
Similar cockpit size as the KLX140L
No back-up kick-start
It's green?
KLX 140 Specs & Dimensions
Here's a comparison of the specifications and size dimensions from Kawasaki for all three KLX 140 models:
| | KLX 140R | KLX 140R L | KLX 140R F |
| --- | --- | --- | --- |
| Engine | 144cc air-cooled 4 stroke | 144cc air-cooled 4 stroke | 144cc air-cooled 4 stroke |
| Transmission | 5-speed manual clutch | 5-speed manual clutch | 5-speed manual clutch |
| Seat Height | 30.7″ (78cm) | 31.5″ (80cm) | 33.9″ (86cm) |
| Weight (curb) | 205 lbs | 209.4 lbs | 218.2 lbs |
| Wheel & tire size | 17/14″ | 19/16″ | 21/18″ |
| Wheelbase | 49.6″ | 50.6″ | 52.4″ |
| Suspension travel | 7.1″ | 7.1″ | 7.5/7.9″ |
| Horsepower | 9 HP | 9 HP | 9 HP |
| Top Speed | 50 MPH | 50 MPH | 50 MPH |
| Price (MSRP) | $3,449 | $3,749 | $4,049 |
Best KLX 140 mods
Already looking ahead and want to make your dirt bike faster? These are the best upgrades for performance and safety for you KLX140:
Intake
Gearing
Forks
Shock
Exhaust
Will the KLX140 make you a better & safer rider?
The KLX140 is a fantastic bike to build your confidence riding off-road, but that's just the beginning.
You must learn proper riding technique and body position to have real control over the bike in the woods or out in the bush, and I want to help show you how to do that quicker. Click here to get started learning proper off-road techniques.