TTR125 vs KLX140 – Which Dirt Bike Is Best For You?
Trying to decide between the TTR125 vs KLX140? I've owned multiple bikes of both models, so in this article I'd like to share what I've learned about them to give you enough info to make the best decision.
The Yamaha TTR 125 and Kawasaki KLX 140 are both air cooled 4 stroke trail bikes, but there's quite a few small differences between them. The TTR125 has been around since 2000, while the KLX140 wasn't made until 2008.
Who are these bikes for?
They're great beginner bikes if you're just starting out riding a dirt bike or off-road. They're mid-sized bikes, and depending on which model you get, they're good if you're between 4'6" and 5'4".
Teens, short adults, and girls are a great fit for the TTR125 and KLX140 because they're easy to ride and short enough to touch the ground on.
Which Model?
First of all, you need to figure out which model of each bike you're looking at. The TTR125 has 2 different sizes (as well as electric start options), and the KLX140 has 3 different sizes, but we'll only look at the 2 smaller models for equal comparison.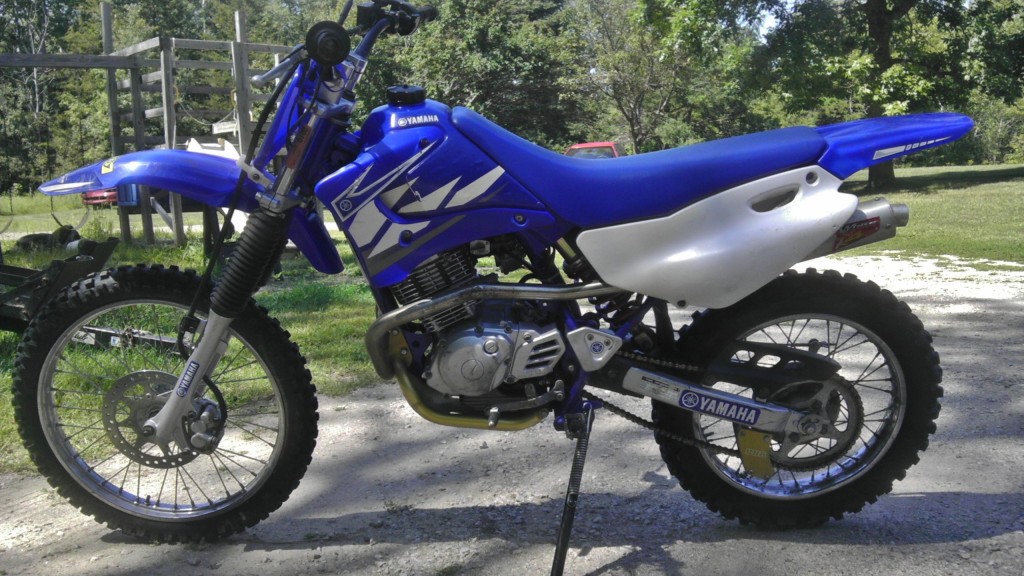 TTR125 vs TTR125L
The standard Yamaha is the small wheel TTR 125 with 17/14" tires, while the TTR125L is the large wheel with 19/16" tires. Not only is the seat taller, but the handling on the 125L is better for getting over obstacles on the trail. The large wheel also has a front disc brake over the drum brake on the small wheel.
KLX140 vs KLX140L
Same as the Yamaha, the KLX140 is the small wheel version with 17/14" tires and the KLX140L has 19/16" tires. Choosing the size is basically dependent on your height/inseam length.
Engine Comparison
As you would expect, the KLX140 has the power advantage over the TTR125, being a larger displacement engine (20cc = 16% increase). More torque and horsepower gives it a slight edge if you need or want a little extra power to start out with.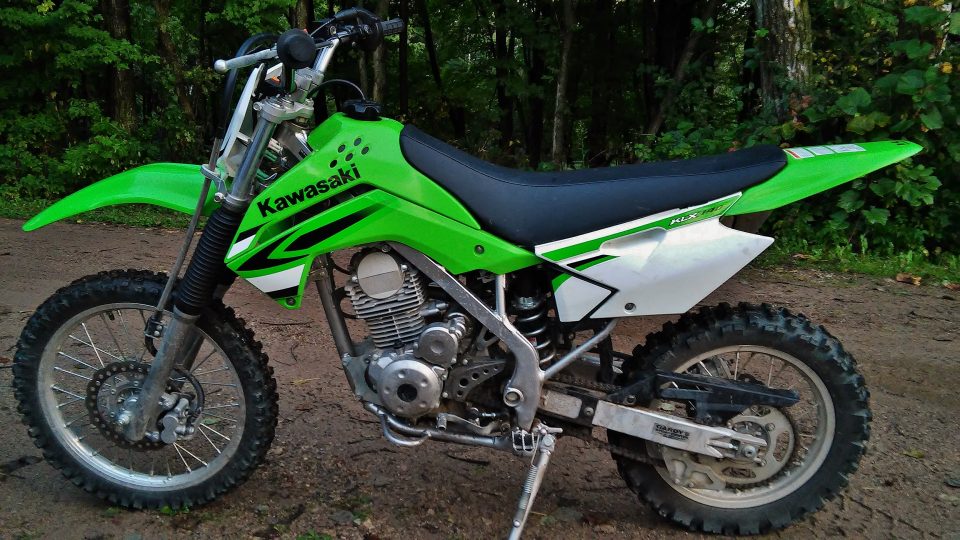 Gearing is quite a bit different, as the KLX140 comes stock with pretty tall gear, at least in first gear. The TTR125 first gear is so low that it's almost unusable, but that makes it easy for learning to use the clutch. The Kawasaki 1st gear feels almost the same as 2nd gear on the Yamaha. 
If that's a problem, simply spend $15 and get a smaller front sprocket for the KLX to shorten the final drive gearing.
Suspension
Both bikes have pretty soft forks and shock, but that's expected for a smaller trail bike. The problem with the TTR125 is that the forks have a little more of a pogo-stick feeling.
I give the stock suspension edge to the KLX140 because the damping is a little better and more confidence-inspiring. 
With that said, some budget mods can be done to make the TTR125 suspension good enough, even if you're an adult rider.
Reliability
Both trail bikes have air-cooled 4 stroke engines. All of these types of engines from the Japanese manufacturer's are pretty much rock-solid. Just keep them properly filled with oil, change it when dirty, and keep the air filter clean. It's a tie with the TTR125 vs KLX140 in reliability of the engine.
Handling
A combination of weird handlebars and subpar suspension makes the TTR125 handling feel less like other dirt bikes. I'm not sure what it is, but the Yamaha feels a little bit different. 
The KLX140 feels more like a small and lightweight motocross bike that handles fairly well for a low-tech trail bike. Can you make both bikes handle better? Of course, but in stock or close to stock trim, the KLX140 gets the win again in handling.
Overall build quality
This is more of a nit-picky category, because both of these dirt bikes are of good quality and durable compared to Chinese dirt bikes and pit bikes.
There's just some random things on the TTR125 that I feel are of lesser quality, such as the handlebars, forks, and carburetor. 
Are these the deciding factor? Absolutely not. If you're a beginner, I wouldn't even worry about these parts. The carb might be the biggest setback if the choke starts to fail or if you let the bike sit for too long. That's why I swapped carbs on my TTR125's.
Price to buy
This is where the TTR125 is the winner. There's way more of them out the for sale than the KLX140. Probably because Kawasaki didn't make as many bikes.
So, you can expect to spend anywhere from 600-2000 for a used TTR 125, and about 1200-2500 for a used KLX140.
Mods available
The TTR125 wins this category as well. I have a whole list of the best mods from free to expensive. The KLX140 does have some aftermarket parts available, but it's just not nearly as big and modified by riders.
How to ride these trail bikes with confidence
Whether you choose the TTR125 or KLX140, I want to help you become a better and safer rider. It starts with proper riding technique to give you more control and confidence. Click here to learn more.