Are you looking to buy a Kawasaki KLR 250 but have some questions to figure out if it's the right bike for you? Whether you're looking for your first off-road motorcycle or your next, you've found the right article!
In this review, you'll learn what kind of bike the KLR250 is, why it may or may not be good for you, and what to expect when buying and riding one so that you save time and money.
What is the Kawasaki KLR 250?
It's a 250cc 4 stroke dual sport motorcycle with a 6-speed manual clutch transmission, but what does that mean for you? Well, 250cc is pretty large for an off-road bike, but for a dual-purpose dirt bike, it's more lightweight because it can ride on and off-road.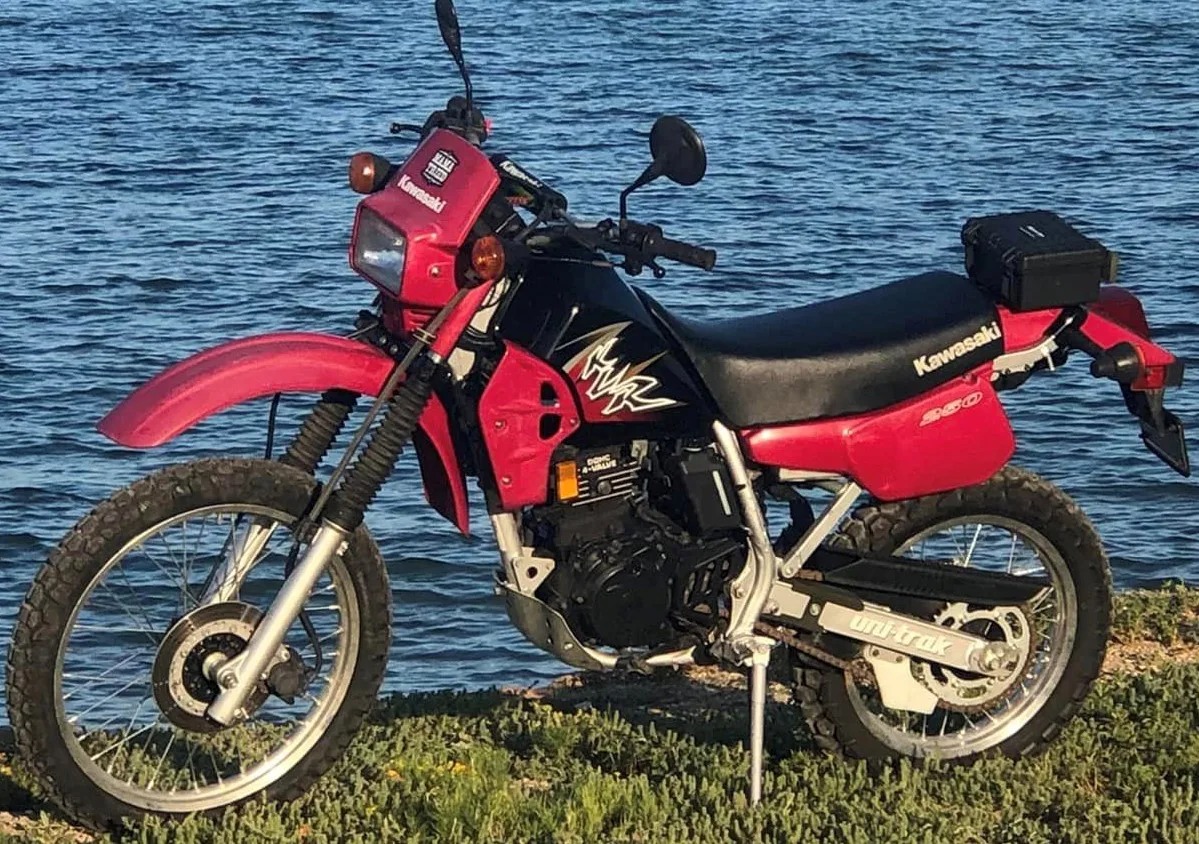 Engine – what to expect
It's a 250cc liquid cooled 4 stroke 4-valve engine that has a 6-speed transmission. It makes a little more power than a typical air cooled 250, but it's not tuned for max performance like a 250 enduro or MX bike.
It makes broad, smooth power, which is great for learning how to ride if you're a beginner. The clutch is easy to control because there is pretty good torque right above idle.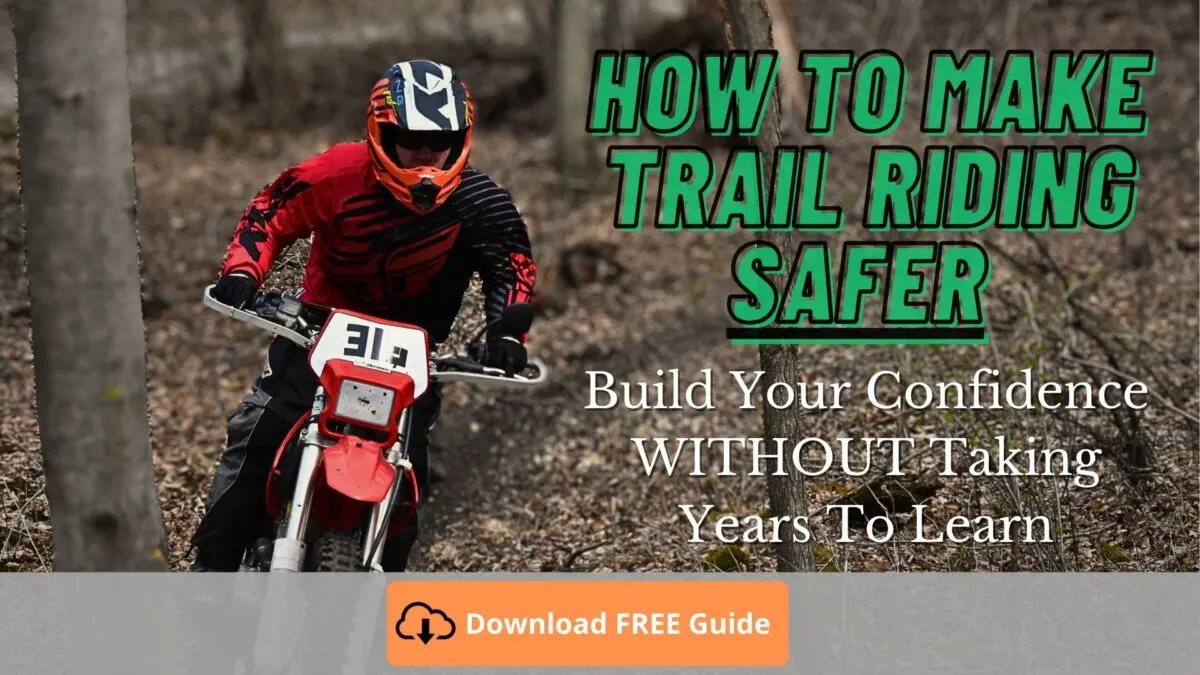 This is the opposite of most high-performance enduro bikes that have a lot more power – most of the power is at a much higher RPM, so it's harder to control at low speeds and low RPMs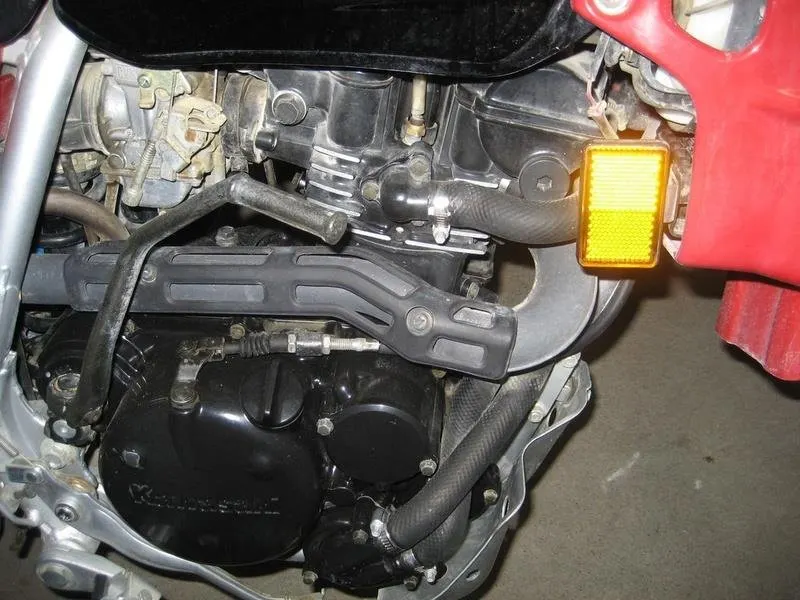 Horsepower
A stock KLR 250 makes about 22 horsepower at the rear wheel, which doesn't seem like a lot – it's at least 25 HP at the crank. However, it's plenty for riding off-road if you're a beginner or casual rider.
It's lacking a little bit once you get on the road and need to cruise at a higher speed on the freeway. For a town bike or commuting short trips, it's a god choice if you're on a budget and want a lightweight dual sport that's economical.
Top speed
The max speed of a stock KLR250 is around 85 MPH on flat ground, which is only important if you're riding on the road. Off-road doesn't really matter because you're never going to need to go that fast on this dual sport bike.
However, cruising at 75 MPH on this street legal 250cc Kawasaki won't be enjoyable for long rides. You'll have to wind the engine out, which will cause more vibration and wear the engine out quicker.
Cruising speeds
You can comfortably cruise at 50-55 mph, but any higher and you'll want to change the gearing (Amazon) or upgrade to a bigger bike.
A bigger and more comfortable road bike from Kawasaki would be the KLR650 – it's much heavier, but it can handle cruising at high speeds at a lower and more comfortable RPM.
Fuel economy
With such a small engine, one major advantage is that it uses less gas, especially if you're easy on the throttle and not riding in 1st gear all the time. You can expect up to 50-70 MPG if you're riding on the road, or about 40-50 MPG if you're doing a mix of trail riding and pavement or gravel roads.
Kick-start
One major downfall of the KLR 250 is that it only has a kickstart. Electric start is generally much easier, especially if you're a new rider that's short or not very strong.
With that said, some simple tricks to make it easier to start are: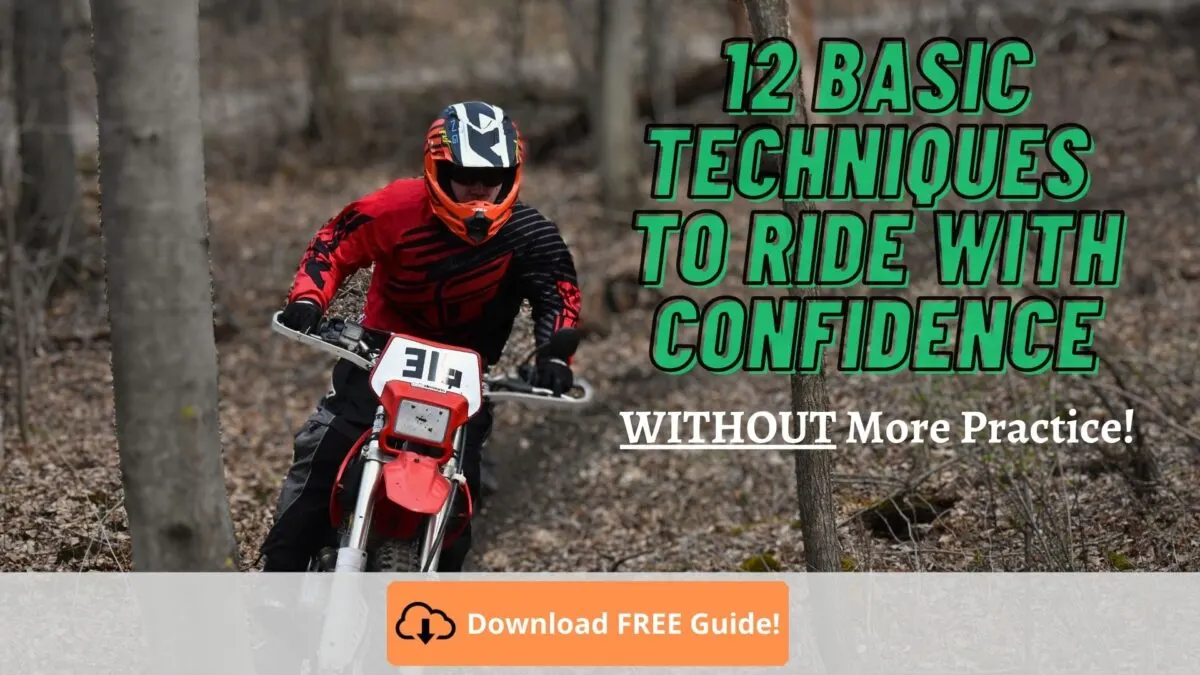 KLR 250 Suspension
The stock suspension components are simple and reliable – in other words, they're cheap and low-performance to make it an affordable motorcycle. But that's okay!
Simple is sometimes better, especially if you just want to ride and not worry about having to adjust anything that seems complicated. Overall, the KLR 250 suspension is pretty soft, which is good for casual trail riding and cruising around the city.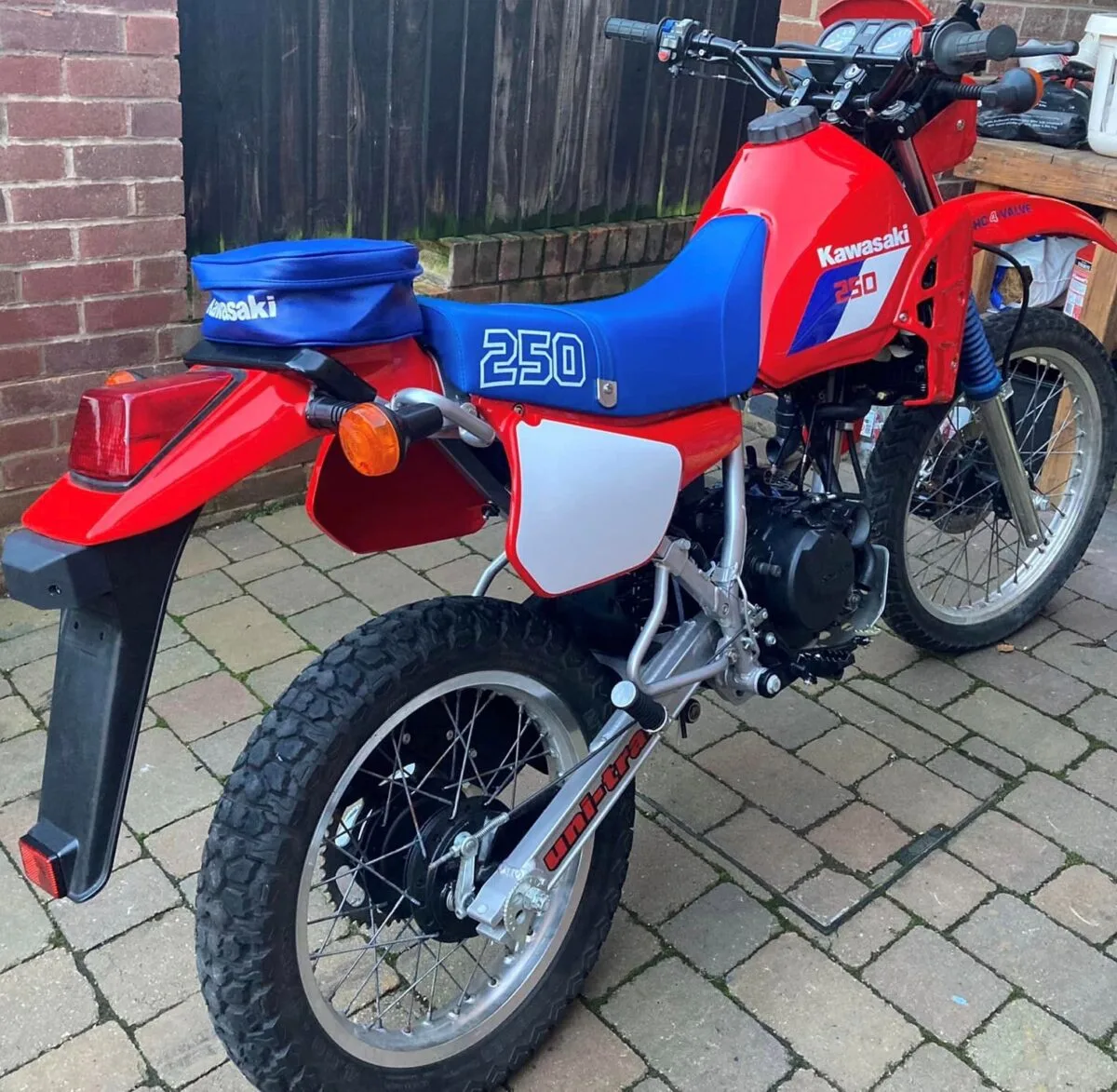 Is there a weight limit?
Once you start pushing the pace and ride aggressively, the stock forks and shock can't keep up and become uncomfortable and unsafe. You'll also want to upgrade the stock spring rates if you weigh 200+ pounds because you'll bottom out the suspension.
Front forks
The stock front forks are very basic and plush, but also reliable. They're conventional-style RSU with the fork boots on the top half, which is less likely to have a fork seal leak caused by dirt and debris.
The spring rate is light, so they'll feel soft if you're over 180 lbs or hard on the brakes and jumping. Upgrading to stiffer springs may be necessary, or changing to a heavier weight fork oil (Amazon) to slow down the compression and rebound, as well as increasing the oil height to reduce the amount of air, making it harder to compress
You can also add or remove a little bit of air in the forks to essentially make them feel stiffer.
Rear shock
The stock shock is also fairly simple and soft, although it does have two external adjustments. If the shock spring rate is correct for your weight, then you just need to adjust the shock preload to get the rear suspension balanced with the front.
If the rear end is too high or too low, your bike won't handle as well and you'll miss out on stability and/or traction. After that, there's a 4-way rebound damping adjuster.
You can turn this in (CW) to slow down the rebound or turn it out (CCW) to speed it up to make it stiffer or softer for better comfort.
Handling – what to expect
The KLR is an average handling bike – it's not great for a trail bike, but it's pretty good for a dual sport bike because of its weight. Since it's lower to the ground and shorter in wheelbase compared to a larger full-size bike, it handles slightly better at low speeds.
You can learn and turn it with less effort, but it still has good stability for riding on the road. Don't expect it to be great for trail riding because it weighs 20-30 lbs more than the average trail motorcycle.
Weight
There's a difference between the dry and wet weights, which is somewhat important. The dry weight of a stock Kawasaki KLR 250 is 258 lbs, but that doesn't include the necessary fluids to ride, such as gas, oil, and coolant – not very helpful, right?
So, the actual wet (curb) weight of a KLR250 that's ready to ride is around the 295-300 pound range. This is pretty average for a 250cc street legal dirt bike because it has to have road legal accessories, and the frame is often more sturdy, making it heavier than a typical trail dirt bike.
Seat height – what size rider is the KLR 250 for?
At 33.7 inches, the KLR250 is considerably lower than most full-size dirt bikes or dual sport bikes. That's not great if you're a tall rider (over 6'0"), but if you're short like me (under 5'8"), it's a good size bike because it's much easier to touch the ground with one foot.
Model year history & changes
The KLR came from the original KL250, which is a 250cc air-cooled dual sport (old-school enduro style) motorcycle. The KLR didn't change much from the first year it was made in 1984 until it was discontinued in 2005.
The main thing was the different style color schemes and graphics packages over the years. So, that means parts interchange from the later years to the early years, which is helpful if you need to fix or replace a broken or worn part.
Kawasaki replaced the KLR with the KLX250S, which got some modern updates to make it perform and handle slightly better.
Reliability – how long will it last?
Yes, it's reliable – so reliable and durable that the U.S. military used KLR250's for reconnaissance and sending messages.
As long as you do simple maintenance, it will last a long time, which could be many years or 20k+ miles before needing a rebuild.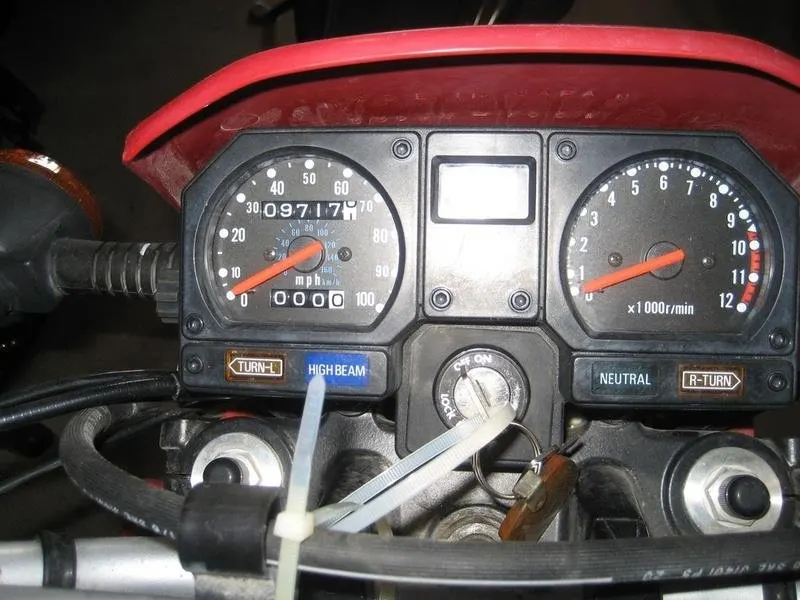 Any common issues?
Nope, the KLR didn't have any major common issues outside of the typical dirt bike problems, such as hard to start. If you don't take care of it by doing preventative maintenance, you'll be much more likely to have catastrophic engine failure.
Specs & dimensions
These are the stock specifications of a KLR 250:
| | |
| --- | --- |
| | KLR250 |
| Manufacturer | Kawasaki |
| Years Made | 1984-2005 |
| Engine | 249cc liquid-cooled 4-valve 4-stroke |
| Transmission | 6-speed manual clutch |
| Seat Height | 33.7" (86cm) |
| Suspension Travel | 9.0" |
| Weight | 295 lbs (wet/curb) |
| Horsepower | 25 HP |
| Top Speed | 85 MPH |
Who's it for?
While it's not great at anything, the KLR 250 is a good all-around dual sport motorcycle. It's a good choice if you want to do a little bit of everything, such as gravel roads, commuting, play riding, or some mild trail riding.
If you want a lightweight dual sport bike that's beginner-friendly and affordable, you're a great fit for this 250cc KLR.
Is the KLR 250 the right dirt bike for you?
Still can't decide if it's the best dirt bike for you? Here are some practical pros and cons to make your choice easier:
Pros
Street legal for on road and off-road riding
Lower seat height (33.7")
Super reliable and durable
Smooth running engine that's easier to control if you're a beginner
Slightly more power than an air-cooled 250 engine
Parts interchange between virtually every model year
Affordable to buy and maintain
Lightweight for a dual sport motorcycle
Cons
Getting harder to find for sale
Fairly heavy for trail riding
Low tech suspension performance (fairly soft)
How much is a KLR 250 worth?
Since all years are basically identical, the condition and your location will be the biggest value factors that determine how much it's worth. In most cases, the average price of a KLR in good condition will be in the 2000-3000 dollar price range.
KLR250 vs XR250L
The main difference is that the KLR250 has a liquid-cooled engine that makes slightly more power, while the Honda XR250L weighs about 15-20 lbs less.
Best mods
I generally prefer a stock dirt bike or motorcycle because it has the best reliability, but sometimes it's hard to leave a bike completely stock. So, here are the best mods that actually improve performance for your KLR 250:
How to buy a used dirt bike without getting screwed
It's easy to go and buy a used dirt bike these days, but it can be difficult and downright frustrating to buy one that's a good deal and won't need repairs or a rebuild right away. That's why I put together the most common mistakes buyers make when looking at a used bike that causes them to buy the wrong bike – Click or tap here to learn how to prevent these mistakes.