Don't make the same mistake that so many other guys and girls make as a new rider…
As a teenager or young adult, it's easy to let pride get in the way, or to simply not know any better. What I'm talking about is how you get started in the amazing sport and recreation of dirt bike riding, and I was once in your shoes not too long ago.
In this article I'm going to show you what a good first dirt bike for an 18 year old is, why it's so important to pick the right bike, and then some simple steps to save time, money, and learn how to properly ride off-road.
All the fancy and fast race bikes are cool, and maybe you want to keep up with your buddies, but I'm just here to properly set your expectations, as well as get you started the right way so you learn quicker and have more fun.
What's a good starter dirt bike for an adult?
First, the worst dirt bike you can start on is a motocross bike if you truly have zero off-road experience. Even if you're a street rider, riding off-road is a completely different sport that requires almost opposite riding techniques.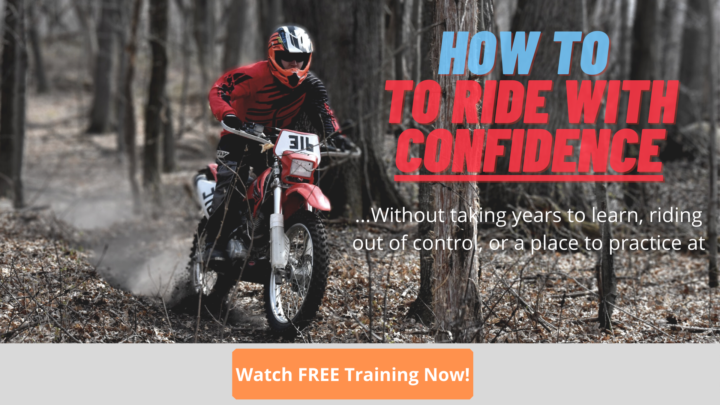 Why is a motocross bike bad?
Because the power-curve is abrupt and unpredictable, they have a tall seat height, and the suspension is stiff. All of these characteristics make it much harder to learn and build your confidence when just starting out.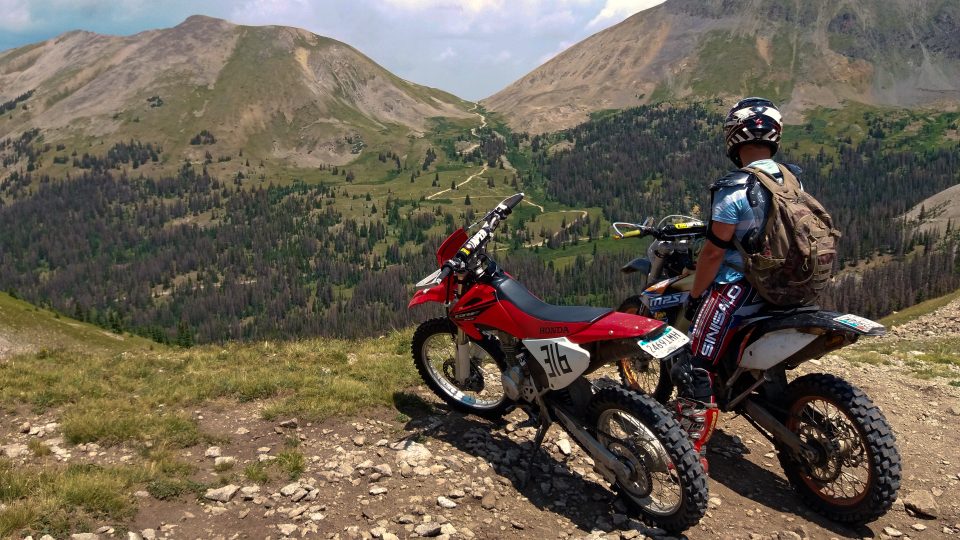 Instead of focusing on the basic riding techniques, you're going to be trying to tame the power and size of the bike in the dirt. I could go on for a long time about this topic, but let's get into why you're here.
These are the best dirt bikes to start on if you're an 18 year old (or close to it):
*Denotes dirt bikes that are discontinued and can be found cheaper on the used dirt bike market.
Is a 250 dirt bike good for a beginner?
A 250 trail bike is good for a beginner if you are tall enough to reach the ground, but a 250 enduro or motocross bike is terrible for starting on.
What's a good size dirt bike for a 17 or 18 year old?
It really depends on your height and inseam length. You may fit a 125cc 4 stroke well, but you may also fit a 250cc dirt bike. Again, if you're a beginner, you want to pick a trail bike because they're much easier to learn how to ride on, and they're cheaper to buy and maintain.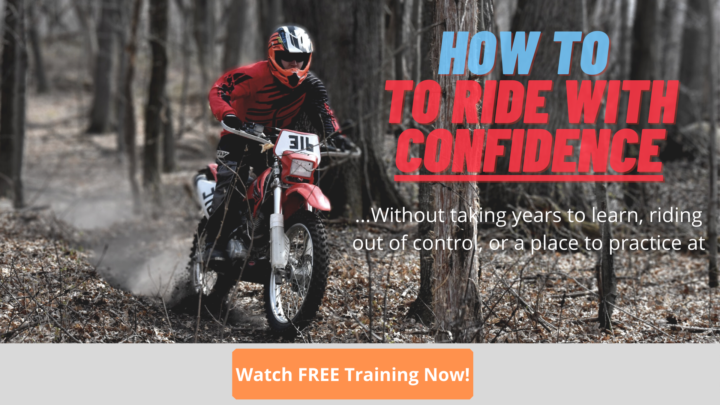 I have another article with a complete sizing guide, but if you're 4'8"-5'2", then 125-150cc would be a good size for you as an 18 year old. If you're taller than 5'2", then you can look at 150-250cc dirt bikes. Refer to the list above for specific model sizes.
What age is a 150cc dirt bike for?
Honda is the only company that has made a 150cc trail bike that I consider a "name brand dirt bike company". I don't recommend Chinese made dirt bikes or pit bikes to my friends because they are almost always poor quality and hard to fix when they break – they fall apart more easily than a Japanese or European made motorcycle.
Kawasaki makes the KLX140 (KLX150 in countries outside the U.S.), which is the closest comparison to the Honda CRF150F. They're both great dirt bikes to start on for trail riding if you're 18 years old. Most teens and adults will fit them well if you're under 5'10".
How fast is a 125cc dirt bike?
It depends on whether you're talking about a 125cc 2 stroke or 125cc 4 stroke dirt bike. The 2 stroke 125 is a fast motocross bike in comparison and will go about 60 mph. A 125 four-stroke will only do around 45 mph in stock form.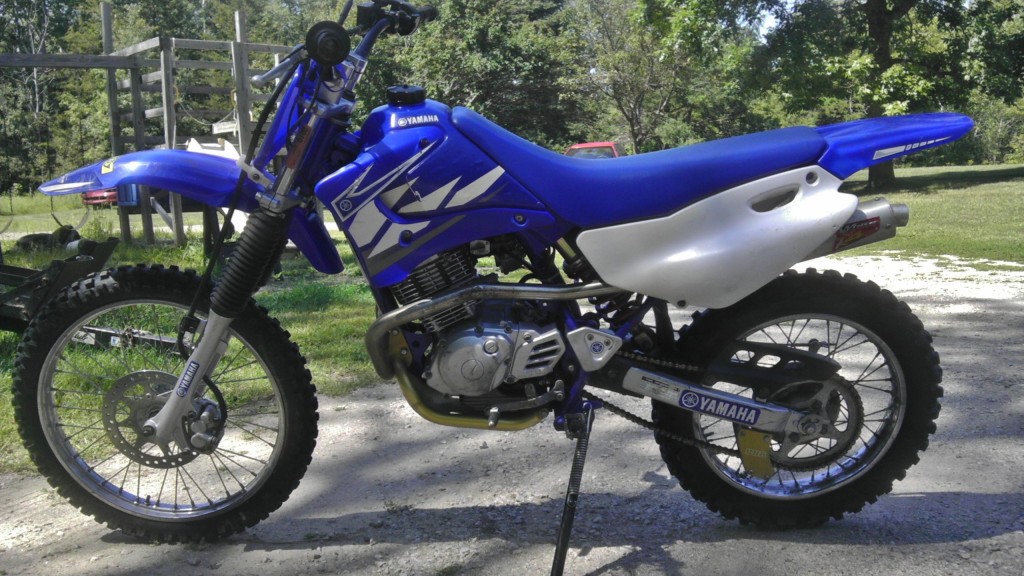 Does the top speed really matter though? Not really unless you're drag racing. If you're serious about dirt biking, pick the right size and type of dirt bike that will make learning to ride easier; not harder.
Best beginner dirt bike for a teenager
Basically all of the same model dirt bikes can be used for any age teen as long as you fit it properly. I wrote another article that covers these bikes for teens (smallest to biggest):
Honda CRF125F
Yamaha TTR125LE
Kawasaki KLX140G
Kawasaki KLX230R
Honda CRF250F
Buying new vs used dirt bike
As an 18 year old, you probably don't have a lot of cash to spend unless you're a smart and hard worker, or if you're fortunate to have parents that will buy you a new motorcycle. For the rest of us that are or were at the age of 18, "cheap" is the name of the game.
First, if you don't have the money, don't buy a new dirt bike. It's not worth taking out a loan. For your first dirt bike especially, it's almost always best to buy a used bike. You're going to scratch it up anyway, and you might not want to keep the same model for a long time, whether you want a different type of motorcycle or you want to upgrade.
When looking for a used dirt bike, it's best to buy an older model that's clean and has been well taken care of than a new model that's been abused with little to no maintenance. Make sure the oil has been regularly changed (10-20 hours) and the air filter is clean – have the owner take the seat off. If it's filthy or falling apart, then they probably haven't done much maintenance anywhere on the bike = run away.
How to make dirt biking safer
I'm so excited that you want to get into dirt biking, but I'm worried that you might make the same mistakes that so many other riders do. Whether it's because they listened to a buddy or they simply didn't have the knowledge, it's easy to start out on the wrong bike and then not learn how to properly ride it.
I want to help you get started the right way so that you don't crash and get hurt. I have some exclusive training to show you the basic techniques and steps you need to ride with confidence, and it's Free right now. Click or tap here to learn more.