Looking to get a Yamaha WR250F or just want to learn more about it? It's a great trail bike, but it's not for everyone, which is why I put together this review.
It covers the practical info and model history you need to help you decide if this is the best dirt bike for you. Choosing the right bike is the first step to becoming a better & safer rider in less time.
What is the Yamaha WR250F?
It's a 250cc liquid-cooled 4-stroke off-road enduro motorcycle, but let's break down what that actually means. A 250 is a full-size dirt bike, and the liquid-cooled engine is high-performance compared to an air-cooled 4-stroke.
It's an off road enduro bike, built for riding in the dirt, such as single-track trails, the desert, or mountain trails. It also has a headlight and tail light. However, the WR250F is not a street legal dirt bike because it's registered for off-road use only by the factory.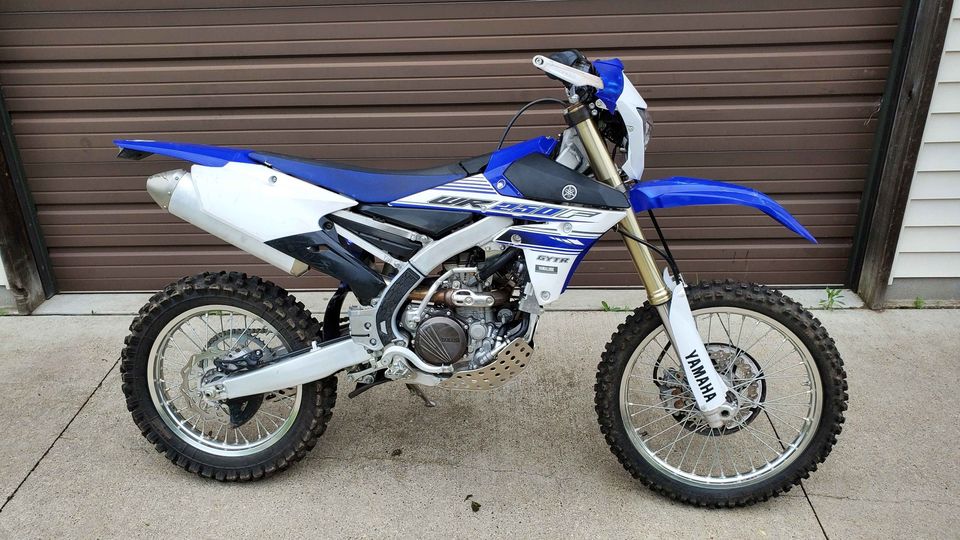 What is the difference between WR250F and WR250R?
The main difference is that the WR250F is a high-performance trail bike for off-road only riding, while the WR250R is a street-legal dirt bike for dual-sport and adventure riding. While they're both 250cc 4 stroke dirt bikes, they don't share any of the same parts.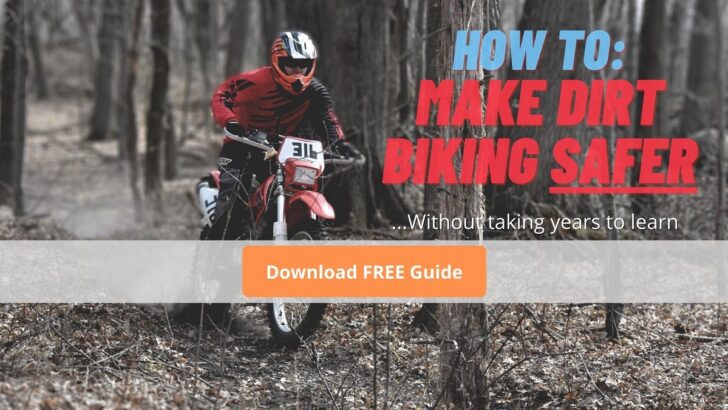 Who is the Yamaha WR250F for?
This is a good bike if you want a light duty enduro bike or high performance 4-stroke trail bike.
What do I mean more specifically? If you've already learned the basic techniques to riding off-road and have built up your confidence from riding a beginner bike, such as the TTR230, then the WR250F is a good upgrade.
It's taller than beginner bikes, but is a good size for older teens and adults if you are 5'8″ or taller.
Engine – what to expect
The 250cc liquid-cooled 4 stroke engine is based off of the YZ250F MX bike, but it's tuned better for trail riding. It has better low-end torque and a smoother power curve because of the different cams, fuel tune, and exhaust. This makes it easier to ride in the woods because it's more predictable and controllable.
The WR250F doesn't get the same updates as the YZ until at least a year later because it's not the premier 250 model from Yamaha. Since 2001, it's gotten several major changes that include completely different frames, engines, exhaust, and fueling systems.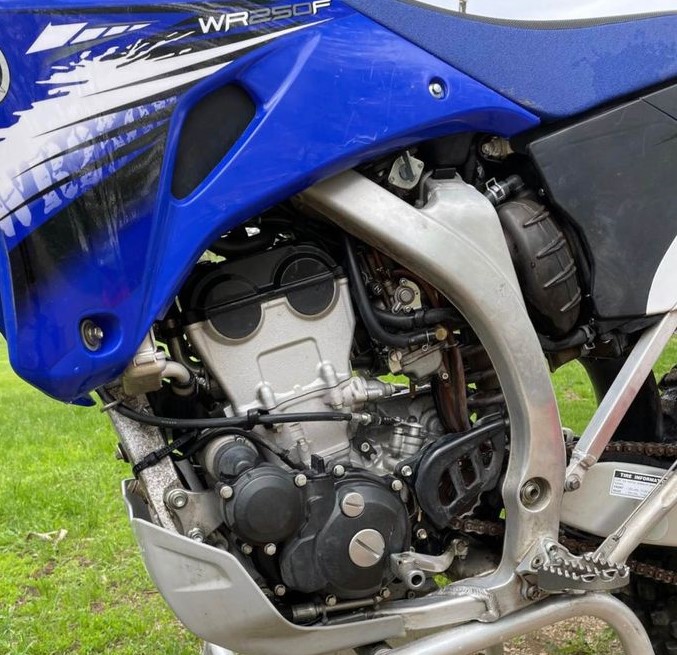 Horsepower
The first generation WR250F, which is from 2001-2014, has about 30 horsepower in stock form. You can increase that with some simple mods, such as intake and exhaust uncorking.
2015+ WR250F has about 35 horsepower in stock form. The increase in power is from the new reverse-style engine taken from the YZ250F. It's been slightly detuned to have smoother and broader power for trail riding, but it still has that race bike "snap" when you twist the throttle at high RPM.
Is it powerful enough?
How much power do you really need? Most riders can't take full advantage of a WR250F with 35 horsepower while trail riding.
So, even if you weigh over 200 lbs, it has plenty of power to do most any kind of riding. With that said, the 250 four-stroke lacks low-end torque right off idle. If you need to lug it and short shift, then you might want a 350 or 450.
Does it have fuel injection?
The WR250F had a carbureted engine from 2001 until 2015 when Yamaha changed to the YZ-style reverse engine with EFI.
This was a big change in performance, as well as being able to ride at different elevations without needing to change jets – the fuel injection auto tunes for air temp and elevation (not exhaust or engine mods though).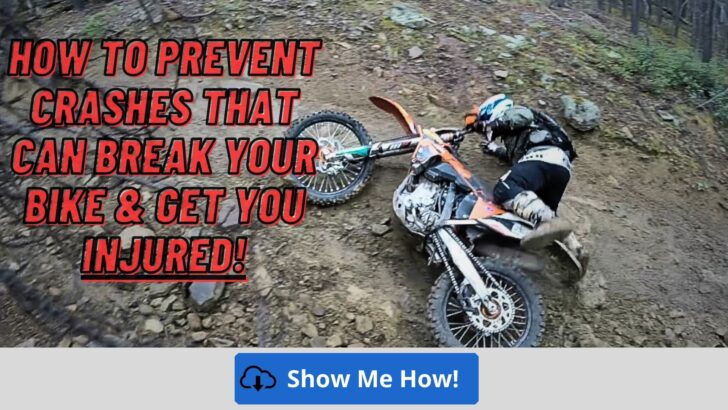 Updating to a 6-speed transmission over the 5-speed in the 2014 and older models helps if you want that extra gear for high speed riding.
Top speed
You can reach a top speed of about 80 mph on a stock WR250F, but why do you need to go that fast? If you're desert racing or drag racing, the max speed is important, otherwise it's useless for trail riding – you can always make it faster with one cheap part.
Want to have a higher top speed? Just replace the rear sprocket with one that is smaller/has less teeth. Or, if you want a lower first gear for hard enduro riding and better acceleration, a bigger rear sprocket will instantly help.
Can it cruise on the highway?
First of all, a WR250F is not street legal unless you get it registered and plated, so you can't legally ride on the highway. With that said, maybe you did convert it to be street legal or you want to cruise on gravel/fire roads to make it back to camp quicker.
Well, a stock WR 250F won't be very comfortable riding on the highway at 60-70 mph because you'll have to keep the engine revved at a high RPM. You can change the gearing to cruise at those speeds more comfortably, but you'll have to sacrifice a taller first gear and slower acceleration overall.
Suspension
While the WR250F may be based on the 250F MX bike, the suspension is much softer, especially on high speed hits, such as rocks, roots and trail chop.
It got updated in 2003 from its original because it was a little too plush for aggressive trail riding. No major changes until 2015 when Yamaha changed the spring rates and valving for a better performing but plush ride.
Front forks
When you go from an inexpensive trail bike, such as the TTR230, and upgrade to a WR250F enduro bike, one of the big improvements is the front forks and rear shock. You get a fully adjustable set of forks that you can tune to your weight, but there are simple steps to make the stock suspension work very well for you.
Yamaha has slowly made the WR250F forks stiffer over the years to compensate for how fast the bike is, but it's still made to have plush suspension compared to the cross-country enduro bikes and especially the motocross bikes. The weight range is 160-180 lbs, but depending on your speed and type of riding, that range is a little bigger.
If you're heavier or lighter, you'll want to change the fork springs so you can get the proper sag and prevent fork bottoming. Then, you can start adjusting the compression and rebound clickers. These adjust the speed of damping, essentially giving you a "stiffer" or "softer" feeling. Tuning these can make you feel more comfortable and ride faster.
Rear shock
The stock rear shock is well balanced with the forks, but you also need to have the right shock spring rate to match the front forks for your weight. Then, you need to get the shock sag adjusted for you to get the proper ride height – when your suspension isn't balanced, you're missing out on a better handling dirt bike that gives you more confidence and control.
Then you have the rebound damping clicker, as well as the high speed and low speed clicker adjustments. By learning how your suspension works and spending time tuning it, you can get your stock WR250F to work great on the trails without spending thousands of dollars at a suspension tuner.
Handling
If you're coming from an older style trail bike, the WR250F is going to handle a little bit differently. Since the chassis is similar to the motocross bike, it's longer and therefore will be more stable at higher speeds and on rougher terrain.
On the flip side, tight turns will be harder because the steering is slower. Can it handle tight, single-track trails? Yes, but it's the best dirt bike for woods riding, although it's gotten better overall since it first came out.
Weight comparison
Depending on which year you get, the Yamaha WR250F weighs about 250-255 pounds, which is average in its class. Compared to a 250 beginner trail bike, it's slightly lighter because the components are higher quality materials with more research and development put into it.
With that said, even though it's heavier than a TTR230 trail bike, it can feel heavier because it's taller and bigger in physical size. A higher center of gravity makes a big difference in handling, and that's why I always recommend starting on a shorter dirt bike unless you're an abnormally tall rider.
Size Dimensions
It's one of the tallest dirt bikes available from Yamaha, and that's because of the full-size wheels, suspension travel, and chassis size. Short riders, like me, tend to complain about the height of modern dirt bikes, and for good reason.
Tall dirt bikes are harder for us to handle because we can't easily touch the ground. But, the reason they're so tall is that they have more suspension travel and you need enough ground clearance below the frame so you don't get it caught riding over obstacles.
With a 58″ wheelbase, which is as long as it gets for a dirt bike, this is another reason why it is so stable but steers slowly at low speed.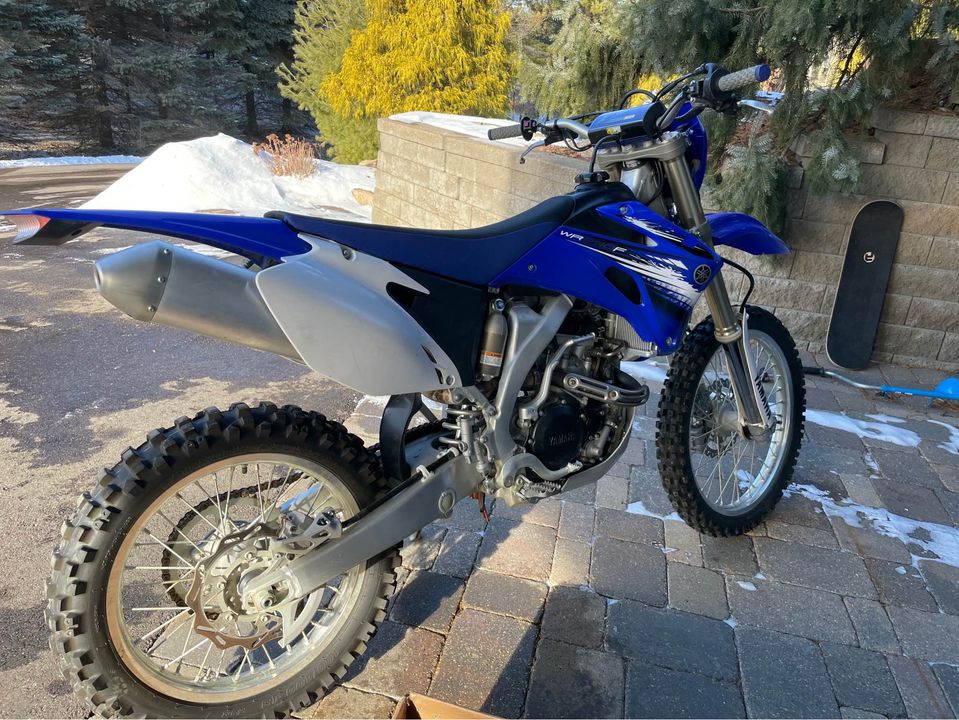 Seat height – what size rider is the WR250F for?
The stock seat height of a WR250F is 37.6 inches, which is pretty typical for an enduro dirt bike. What does that mean for you? Well, if you're short like me (5'6"), then it's going to feel really tall.
Ideally, the WR 250F will fit you well if you're 5'9"-6'2" tall, but it also depends on your inseam length. With that said, seat height and your physical height aren't the only factors to consider. If you're a beginner, choosing the right dirt bike is more important because you will have more confidence if you can touch the ground with one foot.
But, as you improve your balance technique, you won't need to touch the ground or drag your feet while riding because you have more control and confidence with your bike.
Reliability – how long will it last?
The answer everyone wants to hear: "air depends." On one hand, the WR250F is an extremely reliable dirt bike when you properly maintain it, such as checking the oil and keeping the air filter clean.
It can last hundreds of hours and many years before needing a rebuild, especially if you're not bouncing off the rev limiter all the time. The older 5-valve 250F engine was probably the most reliable engine you could buy, and the new reverse engine is just about as durable.
On the flip side, if you don't check the oil, don't ever clean the air filter, and constantly hit the rev limiter because it sounds cool, you might be rebuilding your WR engine in less than 20 hours.
WR250F Specs & Dimensions
| | |
| --- | --- |
| Engine | 249cc liquid-cooled 4 stroke |
| Transmission | 5-speed ('01-'14)/6-speed ('15+) |
| Seat Height | 37.6" (95.5cm) |
| Weight | 254 lbs. |
| Horsepower | 35HP |
| Top Speed | 80 mph |
Model year changes & updates
The Yamaha WR250F was first made is 2001 and is still being made today. Here are the major changes/updates throughout its model history:
2001: First year – based on the YZ250F but detuned/corked up
2003: Updated cosmetics, electric start added, and auto-decompression added to exhaust cam for easier starting
2007: Completely new aluminum frame (changed from steel), but handling didn't change much, and it's harder to work on
2015: All new bike from the ground up based on the 2014 YZ250F MX bike – lighter, faster & better handling
2018: Engine updates for more power and reliability
2020: Engine updates again for more power, kick starter removed for less weight
Any common problems?
Nope, the WR250F is built so well that you'll rarely have issues unless you abuse it and don't do any maintenance. Can it have major problems? Yes, but they're not common, and you can often tell before something bad happens if you pay attention to what your bike is telling you.
For example, if there's a new knocking sound, don't keep riding it until you figure out what the cause or how serious it is. The longer you ride with a known issue, the more likely the engine will grenade and seize on you.
Other common problems, such as when your Yamaha WR250F won't start is usually due to not using it enough. When your dirt bike sits for long periods of time, the gas goes bad and will either cause your carb to get dirty or just not run as well because the fuel breaks down and can absorb water – especially pump gas with ethanol!
Years to avoid?
It really depends on what your needs or preferences are. There aren't any "bad years" for the WR 250F 4 stroke trail bike, but if you don't want a carburetor then you'll want to stay away from the 2001-2014 model years.
Maybe you prefer a steel frame Yamaha WR because they're a little easier to work on. Then you'll want to avoid the 2007 and newer years because they all have thicker aluminum frames after 2006.
Is a WR250F the right dirt bike for you?
Yes, the WR250F is a great dirt bike for trail riding, but it's not "the perfect dirt bike" for everything. Especially the older models, they were fairly weak on the bottom-end, which makes it a little harder to lug around at low RPM.
You can get more torque with mods like a big bore kit, exhaust, carb tuning, and a cam, but they cost hundreds of dollars.
If you haven't figured out if the Yamaha WR250F is the right bike for you or not, here are some quick and practical pros and cons:
Pros:
Very reliable
Makes good power for a trail bike when tuned properly
2003+ has electric start
Suspension is nice and plush but can take some aggressive trail riding
Parts are easy to find & relatively cheap
Easy to maintain
Stable at higher speeds than a beginner trail bike
Cons:
Not much torque right off idle RPM
Tall seat makes it hard to handle if you're short & a new rider
Harder to work on than a trail bike – especially aluminum frame models
Long wheelbase doesn't handle/turn as quickly on tight trails
Hard to find used because nobody wants to get rid of them
Expensive to rebuild if you have a catastrophic engine failure
How much is a Yamaha WR250F worth?
The value of a WR250F depends on the year, condition, season (time of year), and most importantly, your local market. An older WR250F might be worth 2000-2500 in your area, while newer used models are going for 4000-5000.
WR250F vs YZ250FX
A WR250F is an off-road enduro bike that's made for trail riding, while a YZ250FX is a cross-country enduro bike that's best for racing because it has a more aggressive set up with stiffer suspension and a more snappy power curve.
Best WR250F mods
The best free or cheap mods for your WR250F are:
Air box mod
Uncork exhaust
Re-jet
Wiring mod
Suspension tuning for your weight
How to ride with confidence off-road
Whether you're brand new to dirt biking or looking to upgrade to a better trail bike, there's one thing that you can do to quickly boost your confidence riding off-road.
It starts with your riding technique, and I want to help you learn the proper techniques so that you can not only ride better but also be safer so that you don't crash and get hurt. I put together a training guide that will help you do that faster, and you can get it for FREE today. Click here to learn more.