Looking to get a Honda CRF80 but not sure if it's the right dirt bike for you or your kid?
In this review I'll show you exactly what you're getting into, who it's a good bike for, and then some practical tips to make dirt biking more enjoyable and safer!
What is the Honda CRF80?
It's an 80cc air-cooled 4 stroke trail bike with a 5-speed manual clutch transmission and a kick-start, but what does that mean? An air-cooled 80cc engine is simple and low-performance, making it reliable and easy to maintain.
With 5 gears and a manual clutch, it's the smallest dirt bike that has a clutch. The transmission is one down and four up, like most dirt bikes.
It used to be called the XR80, but Honda changed the name and cosmetics/plastics to "CRF" in 2003.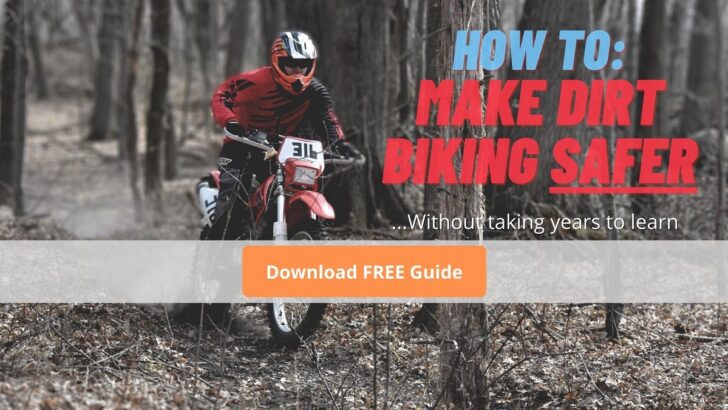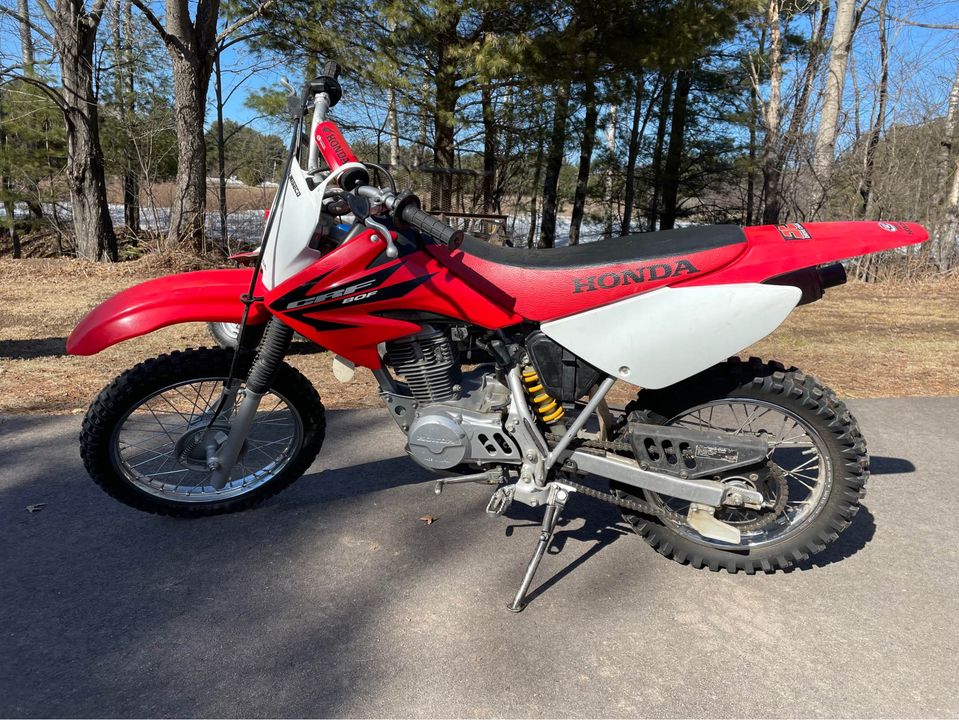 Who is the Honda CRF80 for?
This is a perfect dirt bike for kids that are ready to learn how to use the clutch but still need a smaller dirt bike to touch the ground. It's also good if you're a short adult that just wants the smallest bike to practice using the clutch and riding off-road.
It's a simple, reliable, and easy to ride trail bike for beginners, but Honda doesn't sell the CRF80 anymore. Honda stopped making the CRF80 in 2013 and replaced it with the CRF125F, which is slightly bigger in engine and bike size.
CRF80 vs CR80
The biggest differences are the engine, suspension, and size of the bike. The CRF80 is a smaller and less powerful 4 stroke trail bike for beginners, while the CR80 is a much faster 2 stroke motocross bike for racing.
Engine – what to expect
With an 80cc air-cooled 4 stroke engine, it's as smooth and reliable as it gets. This is what makes it such a great dirt bike to learn on as a kid.
It doesn't have much power, so your son or daughter won't get out of control easily. It's one, if not the smallest dirt bike that has a clutch.
This means that if your kid already knows how to ride a dirt bike without a clutch and is ready for a manual dirt bike, this is a great transitional bike.
Suspension
The forks and shock are very simple but reliable. They're nice and plush for kids, making it comfortable to ride off-road.
Front forks
The stock forks are pretty basic – soft and not adjustable. This is perfectly fine if you're a beginner because it will be comfortable while learning to ride at low speeds.
There's no external adjustment for tuning to your weight, so if you're too heavy then you'll have to start modifying the stock forks. This can include heavy duty fork springs, heavier weight fork oil, or replacing them with a different front-end if you're converting it into a pit bike.
Rear shock
The stock rear shock matches the forks in plushness, making it a comfortable ride on slow trails. You can adjust the shock preload to get the suspension balanced for your weight, but there's no adjustability besides that.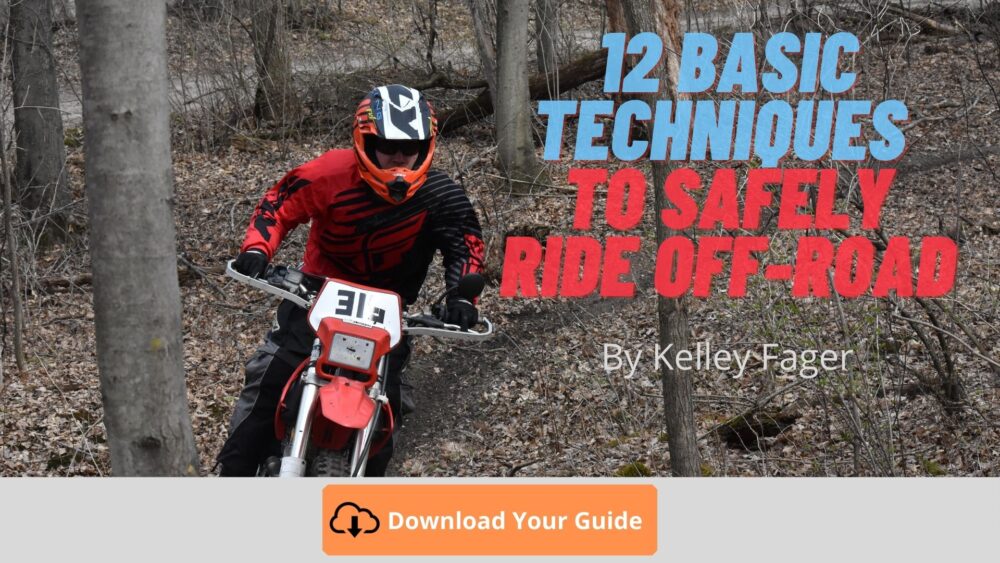 To improve the stock shock, you'll need a stiffer spring, or upgrade to a different shock, which may require frame mods, depending on what shock you use.
CRF80 suspension upgrade?
If you weigh over 100 lbs, it starts to get soft and bottoms out easily. So, if you're an adult and want to turn your CRF80 into a pit bike, you'll want to do some suspension mods.
Going to a stiffer shock and fork springs are a must. With that said, they're easy to rebuild and parts are cheap.
Handling
With a low seat height and a short wheelbase, the CRF80 is made to handle well at low speeds. You can lean and turn it easily, and it's easy to control how heavy it is.
This is perfect if you're learning how to ride a dirt bike for a couple of reasons. Riding at slow speeds and tight areas is ideal because that's where you should be practicing using proper clutch and throttle control.
With a low center of gravity and seat height, it feels lighter, allowing you or your kid to handle the bike more easily compared to a bigger and taller race bike or trail bike.
One of the biggest mistakes new riders make is buying a dirt bike that's too big or powerful. This makes it much harder to control, and therefore kills your confidence and motivation to become a better rider.
CRF80 Weight – lightweight compared to modern trail bikes
The CRF80 isn't built to be a "lightweight dirt bike", but it feels lighter than a taller bike because the center of gravity is so low. It weighs 164 lbs, which may be a lot heavier than the kids that ride it, but that's pretty light for a dirt bike.
With that said, it's about 30 lbs Lighter than the CRF125F that replaced it! Even though they're about the same size, that's a big difference in such a small dirt bike…
Why is it so much lighter than the CRF125?
This is mainly because of the engine size and frame/swing-arm differences to be able to handle a heavier load. What does this mean though?
If your kid is just learning to ride, having a lighter dirt bike is much easier to handle and balance. It's also safer and easier to pick up when they tip over.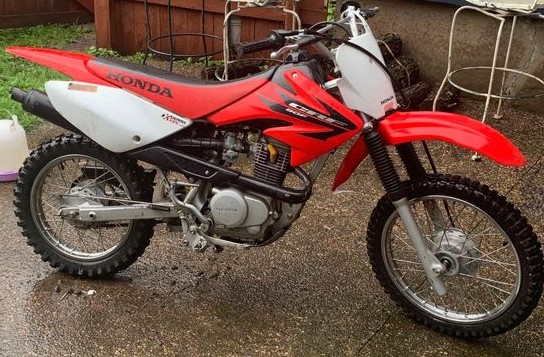 Seat height – what size rider is the CRF80 for?
With a seat height of 28.9", the Honda CRF 80 is a good size dirt bike if you're 4'6"-5'0" tall, but it also depends on your inseam length. This makes it a good beginner or trail bike if you're in the 8-12 year-old age range.
Reliability – how long will it last?
If you need a simple and long-lasting dirt bike, the CRF80 is one of the most reliable, unlike some high-performance race bikes. If you just do simple maintenance, such as oil changes and keeping the air filter clean, it can last for years or even decades before needing a major engine rebuild.
The one problem with reliability
One of the biggest problems is that it's so reliable… Wait, what?!
Yep, so many owners either forget about doing maintenance or are just too lazy. This causes major long term problems, such as:
CRF80 Specs & dimensions
| | |
| --- | --- |
| | CRF80F |
| Manufacturer | Honda |
| Engine | 80cc air-cooled 4 stroke |
| Transmission | 5-speed manual clutch |
| Seat Height | 28.9" (73cm) |
| Weight | 164lbs. (wet w/ fluids) |
| Horsepower | 5HP |
| Top Speed | 35 MPH |
| Fuel capacity | 1.5 gallons (0.3 reserve) |
CRF80F Model Year History
Honda made the CRF80F from 2003 to 2013 when they discontinued it. No major changes were made throughout these years, so there's no "best year" for the CRF80.
It got yearly graphics updates and an occasional plastic update, otherwise every year is virtually all the same. This makes it cheap and easy to find and replace worn or broken parts on it.
Any common issues?
Nope! The CRF80 is as reliable as it gets. Keep the air filter clean and change the oil when it's dirty or low and it will last forever (figuratively)!
The only issue is really a problem when an owner takes advantage of its reliability. Sometimes they don't maintain it, so it's worn out and needs to be rebuilt when they're ready to sell it.
How much is a Honda CRF80 worth?
The value really depends on your local market and the condition that it's in. The year doesn't really matter as much because they're basically all the same.
For example, a CRF80 in poor condition might only cost you $800 when there's low demand. However, you might have to spend up to $2000 or more for a clean one in a high-demand market.
CRF80 vs KLX 110
The biggest difference is that the CRF80 has a 5-speed manual clutch transmission and less horsepower, while the KLX 110 only has a semi-auto transmission and 3 or 4 gears depending on the year you get.
My recommendation? If you want a dirt bike with a clutch, get the CRF80.
Without a clutch? Get the KLX110.
Best mods
Whether you want to make your CRF 80 faster or just more comfortable if you're an adult, these are the best mods for your money:
Uncork intake
Exhaust upgrade/uncork
Proper jetting
Suspension upgrade
Performance exhaust
Big bore kit
Carb upgrade
Hotter camshaft
Cylinder head mods
Bottom Line: Is the CRF80 a good dirt bike?
Yes, the Honda CRF80 is a good dirt bike if you or your kid is the right size for it. It's a great bike for learning how to use the clutch. Here are some quick pros and cons if you're still unsure:
Pros:
Easy to ride for beginners
Smallest dirt bike with a clutch
Great for kids age 9-12 years old
Reliable
Affordable
Plenty of aftermarket parts to upgrade for an adult pit bike
Cons:
Honda stopped making them in 2013 – getting harder to find for sale used
Not as much power as newer dirt bikes of the same size
Kick-start only
Carburetor can get dirty easily if you let it sit for a while
How to safely ride with confidence off-road
Learning to ride with confidence and control requires you to properly use your body on the bike. I want to show you how to do that so you have more fun and help prevent crashes that could get you or your kid hurt. Click here to download my FREE basic techniques guide.