Are you looking to buy a Kawasaki KLX 230 but not sure if it's the right size or even the right type of bike for you? There are a few different options to choose from, but we'll break those down so it's easy to understand.
In this review, you'll learn what kind of bike each KLX230 model is, why they may or may not be right for you, and how to choose the best dirt bike so that you save time & money, whether it's this bike or something else.
What is the Kawasaki KLX 230?
Depending on which model you get, the KLX 230 is an air-cooled 4 stroke dirt bike with a 6-speed manual transmission. The KLX230R is the off-road model, and the KLX230 is the "street" or dual-purpose model, but there are a few different choices when it comes to street models.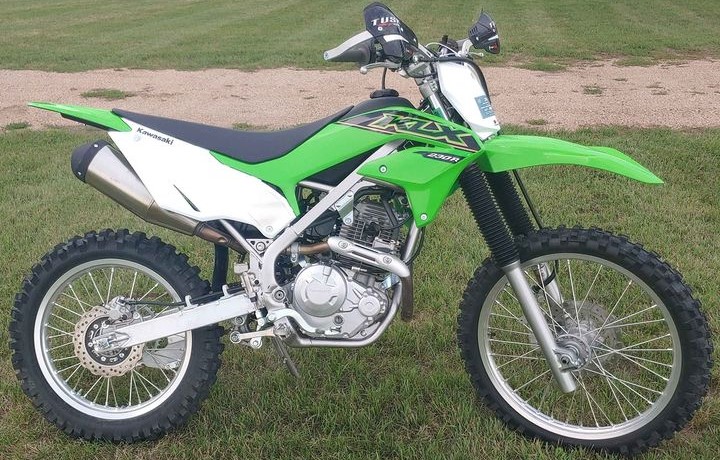 Engine – what to expect
The KLX 230 has a 230 cc 2-valve engine with a 6-speed manual clutch transmission. It's very comparable to the Yamaha TTR230 and Honda CRF250F engines, which are very different from a modern 250cc enduro bike or MX bike engine.
With only 2 valves (one intake and 1 exhaust valve), there are fewer parts to break, but it also makes it produce more off-idle torque, which is great for learning to ride.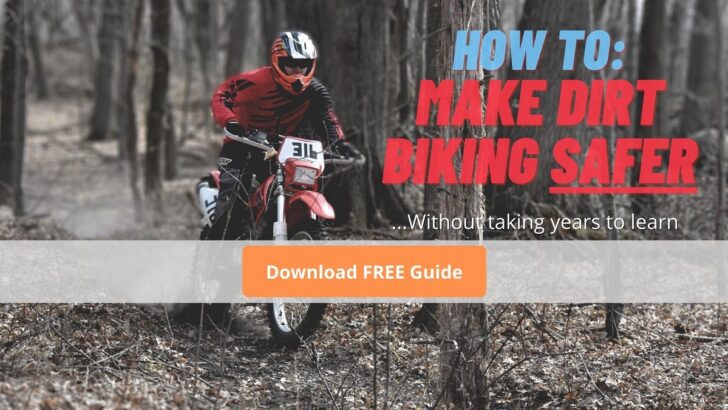 The air-cooled engine runs cooler, making it less likely to overheat. With the 2-valve engine and a heavier flywheel weight, it's also less likely to stall – removes a lot of frustration if you're a newer rider.
Horsepower
A stock KLX 230 makes just over 17 rear-wheel horsepower, according to DirtRider, which is probably 20-21 HP at the crank. That may not sound like a lot of power to you, but this isn't the number that makes the Kawasaki 230 so good.
It's the numbers below the 'peak HP' that you should pay attention to. Think about it – how much of your time riding this bike will you be at 8000 RPM (where it makes the most power)? Probably 10% or less.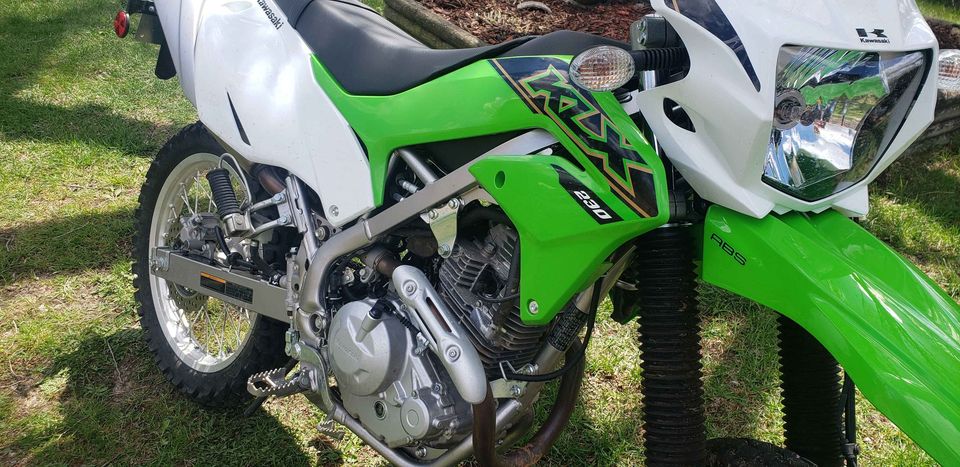 The more important number
Most of your time will be riding at 3000-6000 RPM, and that's where this 233cc air cooled engine shines. It makes almost 10 ft. lbs of torque at 2300 RPM, which is just above idle. The KX250 MX bike doesn't make that much until 3500+ RPM, and doesn't get above 15 ft lbs. Until 7000 RPM.
What does this mean for you? The KLX 230 is very easy to ride at a low RPM, making it smooth and beginner-friendly for learning how to use the clutch and practicing good throttle control.
Top speed
The top speed of a KLX 230R is about 60 MPH, while the KLX 230 (dual sport) is about 78 MPH. The KLX230 has slightly different gearing so you can cruise at a higher speed on the road, although it loses some acceleration as a result.
This can easily be changed on both models with a simple sprocket change, such as a 15T front sprocket (Amazon) for a higher cruising speed and max speed.
Fuel economy
You can expect to get around 70 MPG on the KLX 230 if you're doing a mix of dual sport and trail riding if you're easy on the throttle. The slower you ride and the harder you are on the throttle, the lower your fuel economy will be.
Even though the stock gas tank is only 1.7 gallons on the trail model and 2.0 gallons on the street model, you can still get over a 100-mile range before needing to fill up – that's better than most dirt bikes.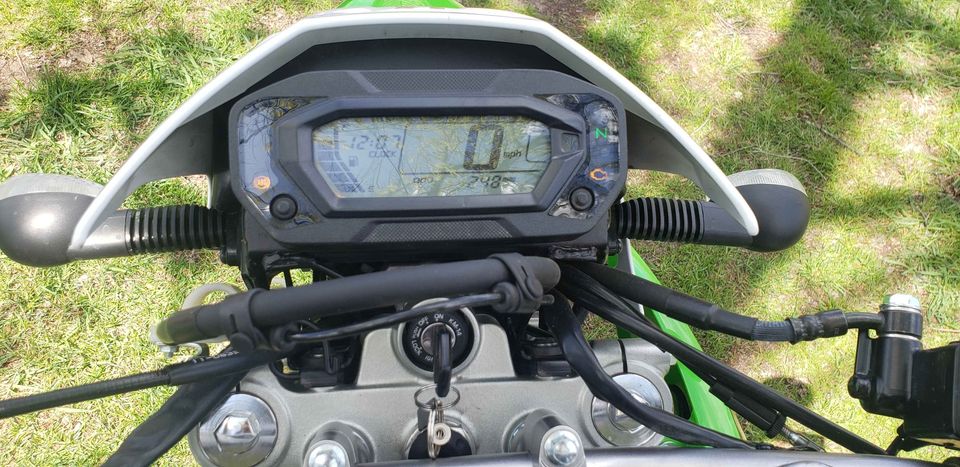 Suspension
The stock suspension is pretty basic and plush, but that's a good thing for this type of dirt bike. When I say basic, I mean that it's a simple technology that's easy to maintain and service because it's not complicated.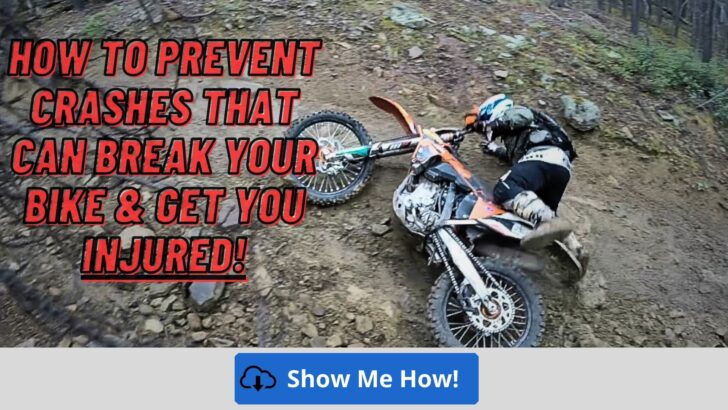 You also have multiple options when it comes to seat height now. Kawasaki offers an "S" model for the KLX 230, meaning it's a "Short" version with a lower seat height due to the shortened suspension travel.
Yes, you lose some performance, but that's the compromise for having a lowered dirt bike, which could make or break the deal if you're a short female or a guy with short legs like me.
Front forks
The front-end is simple – conventional-style (RSU) 37mm forks with up to 9.8 inches of wheel travel (230R off-road model). 37mm diameter forks are smaller than most full-size dirt bikes, so they're noticeably lighter if you weighed the separately.
However, they will also flex more, making the front suspension feel "mushier", especially if you weigh over 200 lbs – unless you add (make) an aftermarket fork stabilizer.
There's no way to easily adjust the stock forks unless you do some internal changes. They're nice and plush, but you may want to install stiffer fork springs with some heavier weight fork oil (Amazon) if you're a heavier rider or will be riding it aggressively.
Rear shock
The only thing you can adjust on the stock rear shock is the preload, which is extremely important to getting your suspension balanced (on any dirt bike). Increasing the preload raises the back end, which is needed if you're a heavier rider.
When the rear end squats too low, the suspension will be unbalanced, causing your dirt bike to handle poorly and have less front-end traction – this makes it easier to slide out, as well as turn at low speeds.
A stock KLX230 is good for 150-180 pound riders, so you may have to get a heavier-duty shock spring if you weigh more or are an aggressive rider if you want the most comfortable ride.
Suspension wheel travel differences/comparison
Just need a quick comparison of the suspension specs on each model?
Here's the wheel travel on each KLX230 model:
| | |
| --- | --- |
| KLX230R | 9.8" |
| KLX230R S | 8.7" |
| KLX230 (Dual Sport) | 8.7" |
| KLX230 S | 6.2" |
| KLX230SM | 8.0" |
Handling – where does it handle well?
The wheelbase is 53.5-54.3", which is a fairly important dimension if you care about handling. Why? Because wheelbase, which is the distance between the front and rear wheels, affects how a dirt bike turns.
In comparison, the KLX300R has a 56.7" long wheelbase, and the KX450 has a 58.5" wheelbase. This means that the KLX230 is several inches shorter in length, making it have a much smaller turning radius – the distance it takes to turn around.
That's great for riding at slow speeds and in tight areas, which is another reason why it's such a good choice for your first dirt bike as a teenager or adult.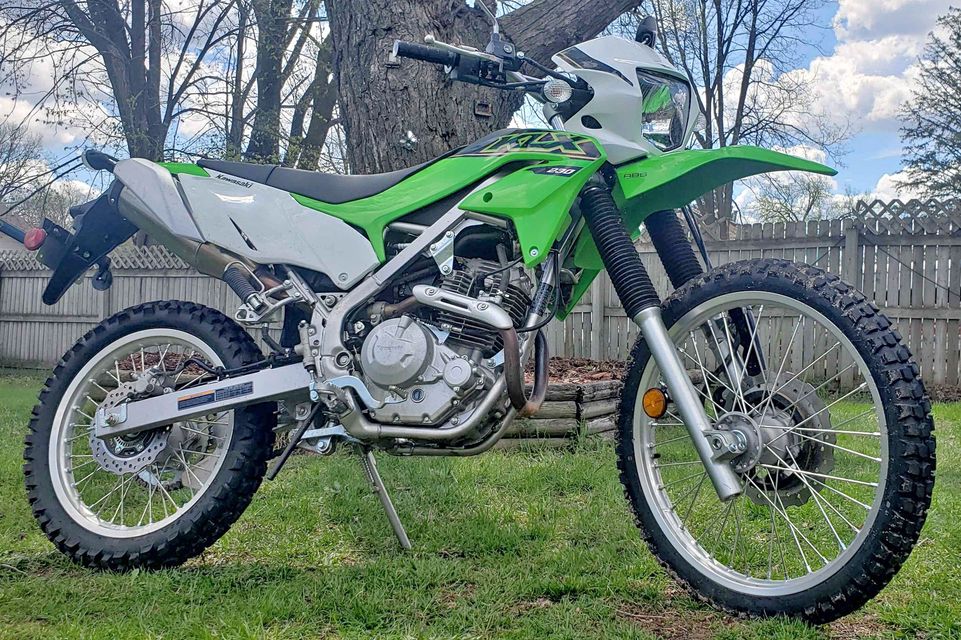 Weight Comparison
A lot of people pay too much attention to dirt bike weights these days. I wouldn't say I like a heavy dirt bike, but 5-10 lbs is not going to make much difference, especially if you're a beginner.
For example, the KLX230R weighs about 254 lbs with all the fluids to ride, then they see the KX250X has a 230 lb weight – "Wow, 20 lbs lighter, I should go with that!"
What they forget is that's the weight without fuel, so it's actually 240 lbs, not to mention it's much taller and top-heavy feeling.
The moral of this story? While weight is important, it's not everything. It shouldn't cause you to buy a totally different type of bike that isn't right for you.
Here are the differences in KLX230 weighs between each model:
| | |
| --- | --- |
| KLX230R | 254 lbs/263 lbs (CA model) |
| KLX230R S | 254 lbs/263 lbs (CA model) |
| KLX230 (Dual Sport) | 291 lbs/293 lbs (CA model) |
| KLX230 S | 296/298 (CA Model), ABS: 298/300 (CA model) |
| KLX230SM | 296/298 (CA Model), ABS: 298/300 (CA model) |
Tire comparison
One of the biggest differences between all of these KLX230 motorcycles is the tires. The KLX230SM is the only one with different size wheels and tires (17"), but the type of tire is completely different.
These are the differences between the KLX230 models in their tires:
KLX230R: Knobby tires for off-road use only. Best traction for trail riding in dirt
KLX230: DOT tires – rounded knobbies for on and off-road. Decent traction in dirt & on pavement
KLX230SM: Full street wheels & tires – Same as a street bike. Best for roading on the road/asphalt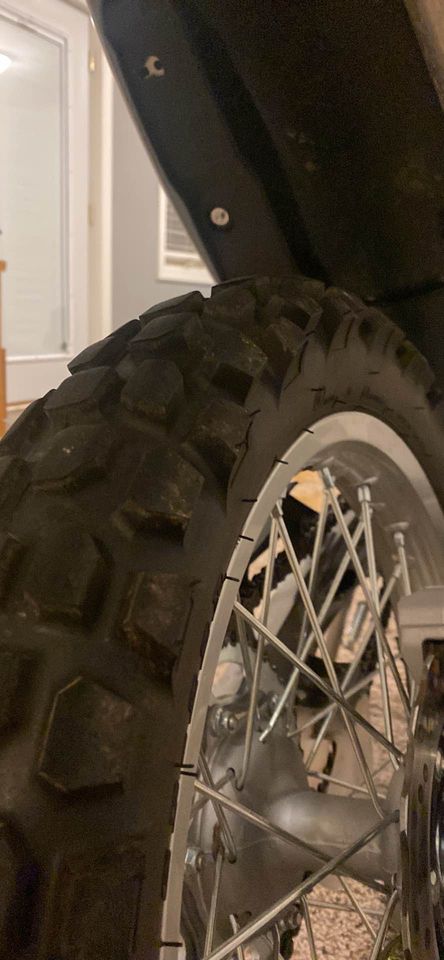 Seat height comparison
While the KLX230 is made to be a smaller dirt bike for shorter riders, it really depends on which model you get. For example, the tallest Kawasaki 230cc dirt bike is the KLX230R trail model with a 36.2" seat height.
The seat height is about the same as the larger KLX300R model. The difference is that the bike itself is narrower, shorter, and softer, so it will still feel smaller when you sit on it.
So, how do you choose which model is right for your height? First, you have to choose which type of bike you want – Trail, dual sport, or supermoto, and then you can pick the standard or lowered bike.
What size rider?
The lowest KLX230 seat height available is the KLX230 S dual sport, which has a 32.9-inch seat height. This is a good size bike if you're around the 5'2"-5'6" height range. Your inseam length also plays a role.
The KLX230R at 36.2" is a good size if you're 5'6" to 6'0" tall. However, there are mods you can do to make it feel smaller as well as bigger. The most important thing is how you ride it – using proper body position will make it more comfortable no matter your height.
| | |
| --- | --- |
| KLX230R | 36.2" |
| KLX230R S | 35.4" |
| KLX230 (Dual Sport) | 34.8" |
| KLX230 S | 32.9" |
| KLX230SM | 33.3" |
Model year history & changes
Since the KLX230 is still a newer model, the only big changes have been the addition of new model options, such as a lowered seat height, a supermoto bike, and a special edition package on the dual sport.
These are all the different Kawasaki KLX 230 models and how they differ:
KLX230R: Trail bike
KLX230R S: Trail bike w/ lower seat height
KLX230: Dual sport bike
KLX230 S: Dual sport bike w/ lower seat height
KLX230 SE: Special Edition dual sport bike (different styling)
KLX230 SM: Supermoto bike
KLX230 vs KLX230R vs KLX230R S differences
There are several different Kawasaki 230cc options based on the type of riding you're doing and you're height. The main difference is that the KLX230R is the off-road trail bike model, while the KLX230 and 230 S models are street legal dirt bikes with all the accessories for legally riding on the road.
There is also the KLX230 SM model, which is a supermoto bike with street wheels & tires.
Here are the differences between the KLX 230 trail bike and the dual sport bike models:
Fuel capacity
Weight
Seat height
Lighting
Physical dimensions/Chassis geometry
Wheelbase
Suspension/wheel travel
Which is better for trail riding?
If you haven't figured it out, the KLX230R model is the best Kawasaki 230 dirt bike for trail riding. The 230R and 230R S (shorter) models are the off-road version with full knobby tires for riding in the dirt, sand, and mud.
Reliability – how long will it last?
If reliability is a concern, then you're in the right place – the Kawasaki KLX 230 is a very reliable dirt bike to start on. With the durable suspension and chassis, along with the simpler air-cooled engine, the only thing you really have to worry about is the occasional maintenance.
This includes changing the oil and air filter. The frequency really depends on where you ride and how you ride.
If you ride in dusty or muddy conditions, you'll have to do more maintenance (on any dirt bike). With that said, the KLX 230 can last a long time if you just do a few things to take care of it. You could ride it for many years or thousands of miles before it needs any kind of rebuild.
Any common issues?
There haven't been any major issues with the KLX230. However the first year it came out, some people had some trouble with it idling and getting too hot – the head pipe would get cherry red.
This is due to a lean air-fuel mixture with the fuel injection (likely due to Kawasaki trying to keep it running cleaner to meet regulations). From what I've read, it was fixed after the first year, or it can be tuned at your local Kawasaki dealer or with an aftermarket EFI fuel controller if you have this problem.
KLX 230 Specs & Dimensions
Just need the OEM specification? Here they are from the Kawasaki website:
| | | |
| --- | --- | --- |
| | KLX230R/KLX230R S | KLX230/KLX230 S |
| Manufacturer | Kawasaki | Kawasaki |
| Engine | 233cc air-cooled 4-stroke | 233cc air-cooled 4-stroke |
| Transmission | 6-speed manual clutch | 6-speed manual clutch |
| Seat Height | 36.2"/35.4" | 34.8"/32.9" |
| Suspension Travel | 9.8"/8.7" | 8.7"/6.2" |
| Wheelbase | 53.5" | 54.3" |
| Weight | 254 lbs (262 lbs CA model*) | 291 lbs/297 lbs (w/ ABS) |
| Horsepower | 21 HP | 21 HP |
| Top Speed | 60 MPH | 78 MPH |
| Price (New MSRP) | $4,749 | $4,999/$5,299 (ABS model) |
Who's it for?
The KLX 230 is made to be an entry-level dirt bike, but how do you know exactly who it's good for? Here are some practical types of people that would be a good fit.
The KLX230R or KLX230S is an excellent motorcycle if you're:
Upgrading from the KLX140
A teen or adult looking for your "first dirt bike/motorcycle"
You want a lightweight dual sport/ADV bike
On a budget but want a new bike
Wanting a reliable play bike that's easy to ride & maintain
Going to ride on and off-road and don't need a lot of power
Is the KLX230 the right dirt bike for you?
Still can't decide if one of these Kawasaki 230cc dirt bikes is right for you? Here are some strengths and weaknesses of this bike:
Pros
Smooth engine & clutch that's easy to control if you're a beginner
Multiple size options with a lowered seat height if you're short (under 5'7")
Fuel injection – no messy carburetor to deal with when dirty or re-jetting
Electric start – no more kick it over on the side of a hill
Reliable – lasts a long time
Simple – maintenance is easy
Fuel efficient – ride longer between fuel-ups
Smaller chassis – handles better at low speeds/tight sections
Affordable for a new "first dirt bike/motorcycle"
Over 10 lbs lighter than the CRF250F trail bike
Cons
Still a relatively new model – not as many of them out there yet
Slightly heavier than modern enduro bikes (but not by much)
No back-up kick-starter
Which is better for you?
Maybe you want a KLX 230 but you're not sure which model is right for you. Here's a quick breakdown between the trail, dual sport, and supermoto bikes:
You should get the KLX230R if you:
Want to ride off-road only
Are new to motorcycles/dirt bikes
You should get the KLX230 if you:
Wato ride on road & off-road legally
Are new to motorcycles/dirt bikes
You should get the KLX230SM if you:
Want to ride on the road/commute
Price difference
There's not much price difference between the different KLX 230 models. The off-road model is the cheapest at $4,749, while the street models with ABS brakes are the most expensive at $5,299.
You might be able to get a used model for $4000-4500.
KLX230R vs KLX300R
While the seat heights are about the same, the wheelbase, weight, power (air vs liquid-cooled engine), and suspension are big differences. The KLX 230 is better if you're a smaller/shorter rider and don't need the extra power, while the KLX 300 is better if you want a bit more performance because you're a bigger/heavier rider.
Learn how to trail ride with confidence
If you're a beginner or novice, then you're in the right place. The KLX 230 is a great bike to build your confidence quicker, but you must also learn the proper techniques to ride it with control. I want to give you a Free guide that covers these, step-by-step – click or tap here to download it.