Whether you're comparing the CRF250F vs KLX230R or CRF250F vs KLX300R, they're all good bikes, but each one has certain features that make them more or less desirable based on your needs.
In this dirt bike comparison between these trail bikes, you'll learn the main differences between their power, weight, size, handling, and reliability so that you can choose the best one for your specific needs!
How to choose the best dirt bike for you
The first step to choosing the right bike for you is to figure out what kind of riding you'll be doing. If you're a beginner that just wants to ride trails or off-road for fun, you'll want a trail bike, which is what all three of these bikes are that we're comparing in this article.
If you want to legally ride on the road and off-road, then you'll need a dual sport motorcycle, which is set up for comfortably riding on pavement and dirt – Kawasaki and Honda both have street legal versions for these trail motorcycles.
Seat height – which size dirt bike is best for you?
Picking the right size dirt bike is even more important if you're new to dirt biking. When you start on your first dirt bike that's too tall to touch the ground, it's harder to build your confidence.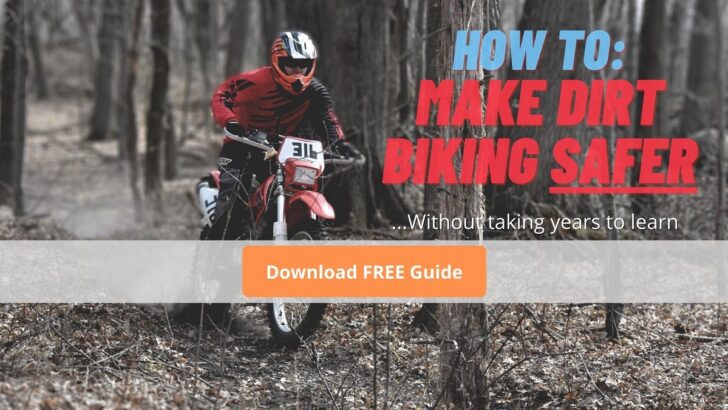 These are the seat heights of these dirt bikes:
Honda CRF250F: 34.8″
Kawasaki KLX230R: 36.2″
Kawasaki KLX300R: 36.4″
So, if you have short legs and seat height is the most important factor, then the Honda CRF250F is going to be the easiest to ride because you can focus on the basic techniques rather than just trying to balance and not fall over.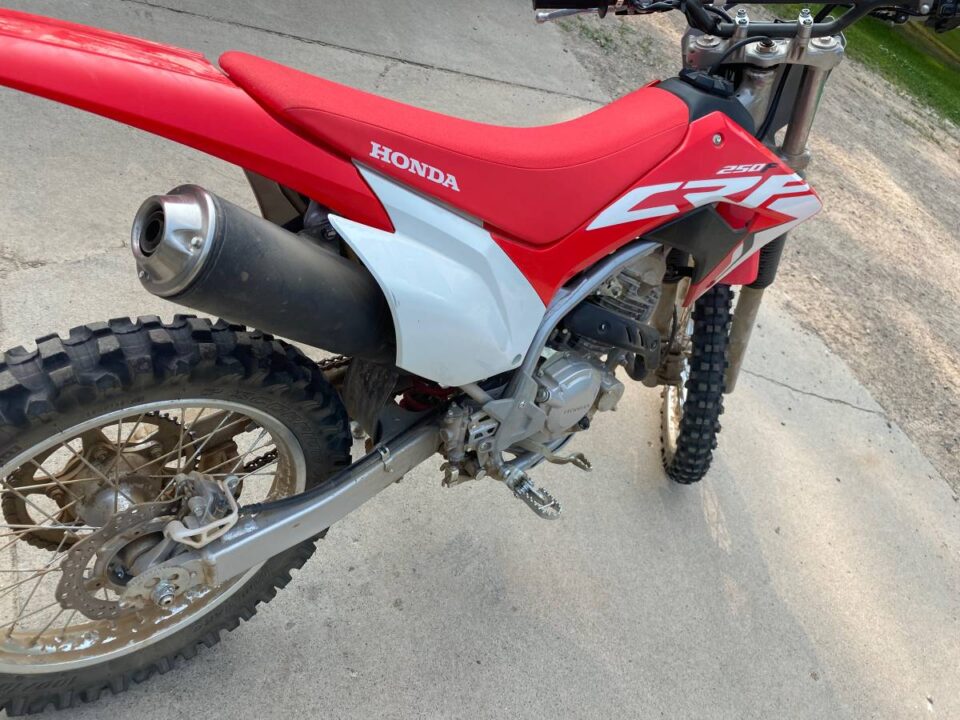 You can see that the Kawasaki KLX230R is about the same height as the 300, but that doesn't mean they feel the same. The KLX300R is wider and longer, making it feel bigger and more comfortable if you're a bigger guy.
Handling & wheelbase comparison
Having a low seat height improves handling because the center of gravity is lower, but the wheelbase plays a big role in how each bike handles. The two Kawasaki trail bikes are a great example because even though they're almost the same size in height, the KLX300R is quite a bit more stable due to the longer wheelbase.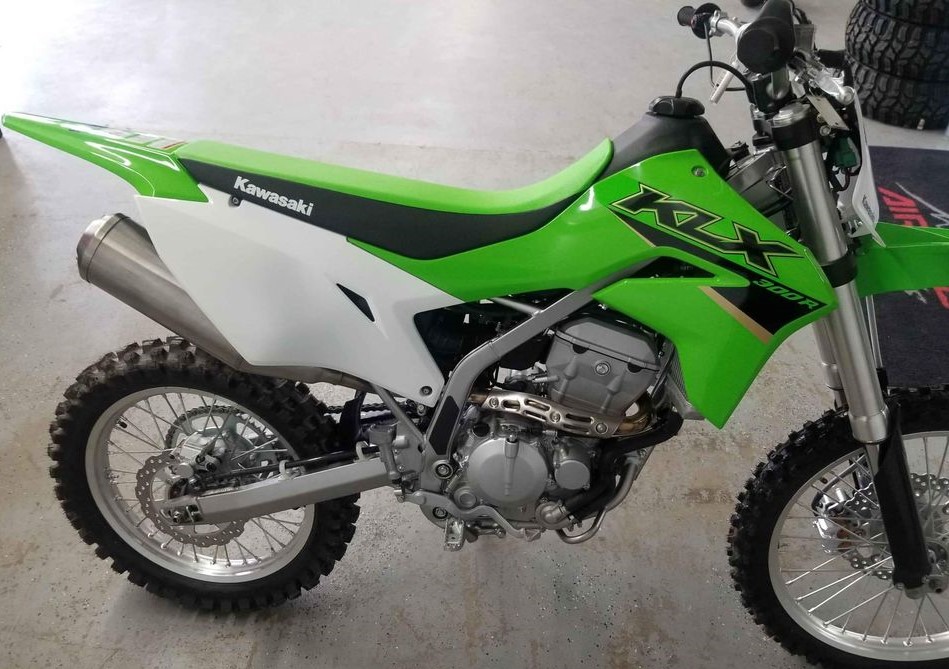 These are the wheelbase of these dirt bikes:
Honda CRF250F: 55.9″
Kawasaki KLX230R: 53.5″
Kawasaki KLX300R: 56.5″
When you have a longer wheelbase, it reduces the chances of doing a wheelie, gives you more stability if you're a taller rider because you can shift your body weight more easily, as well as better high speed control.
A shorter wheelbase, on the other hand, makes it easier and quicker to turn. This makes it great for handling and cornering at low speeds, such as single-track trail riding or if you're just learning how to ride.
Weight
Another important dirt bike spec to compare is the wet weight of each bike. When comparing weights, you need to compare all of the curb weights, which is when they're "wet" with all fluids and ready to ride.
Here are the wet weights of these dirt bikes:
Honda CRF250F: 265 lbs
Kawasaki KLX230R: 254 lbs
Kawasaki KLX300R: 282 lbs
While weight is important, especially if you're not very strong, it shouldn't necessarily be the deciding factor, especially if there's only a 5-10 pound difference. More weight gives you a little more stability and a "planted" feel that doesn't bounce off of obstacles as easily, but it definitely has drawbacks.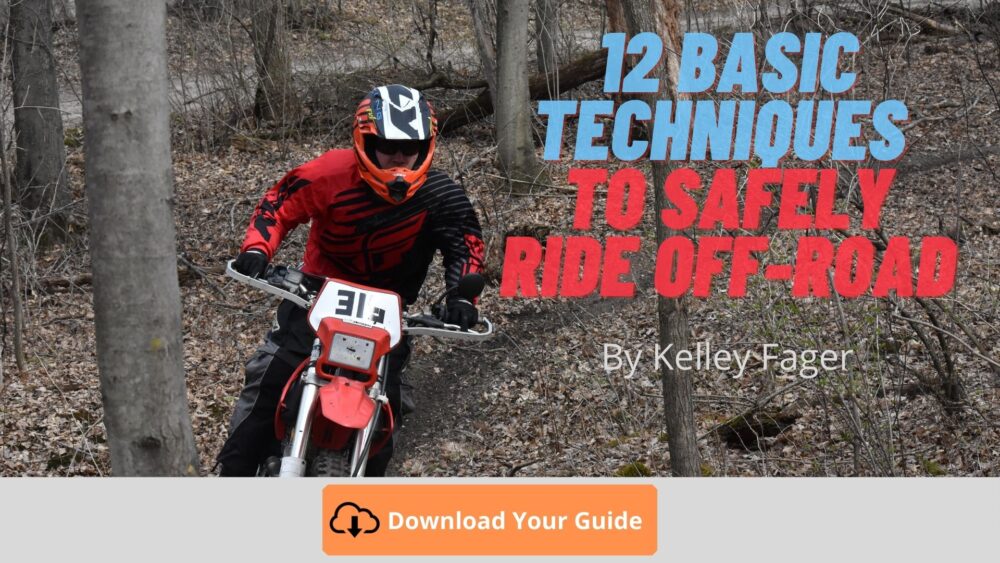 The biggest downfall is that a heavier dirt bike will be harder to pick up if you fall over – this can be a problem if you're a small guy or girl and are riding alone.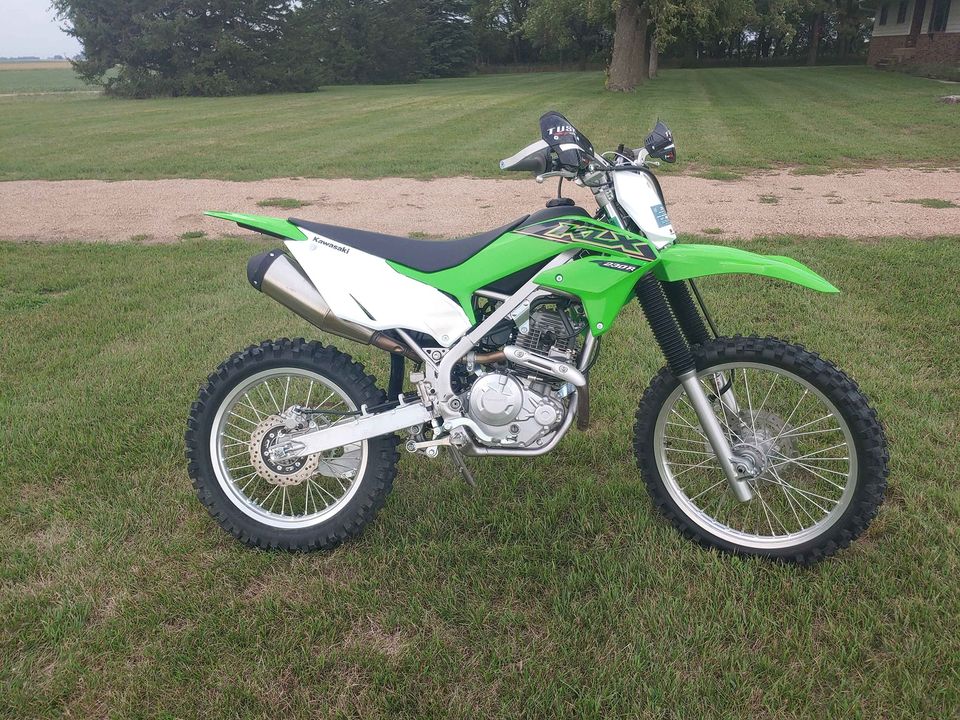 Horsepower
More power = more fun, right? Well, yes, but it's not always productive when learning how to safely ride off-road.
That's why you're being smart and looking at these 230-300cc entry-level trail bikes. With that said, if you're well over 200 lbs, then a little extra torque can help get you moving from a stop.
The KLX300 fits this perfectly because it has slightly more power while still having a smooth power curve that's easy to control.
These are the peak horsepower numbers of these 3 dirt bikes in comparison:
Honda CRF250F: 20 HP
Kawasaki KLX230R: 18 HP
Kawasaki KLX300R: 23.5 HP
The more important number
Horsepower numbers don't actually show the whole story. That power number is only what the dirt bike produces at one specific RPM – so you have to keep the engine revving at 8000 RPM to make that much power.
If you have a dirt bike that's more functional and easier to ride faster and with more control, then you need to look at the numbers below the peak horsepower.
For example, all of these trail bikes make pretty good low-end torque right off idle from 2000-4000 RPM, unlike most enduro bikes that don't make much power until 5k+ RPM.
This makes it easier to learn proper clutch & throttle control because yo
Suspension characteristics
The CRF250F and KLX230R suspension specs are pretty similar. The biggest difference is that the Honda has a little bit larger components – 41mm vs 37mm forks, for example.
This makes the CRF 250F suspension slightly stiffer in handling, which is better if you're a heavier rider because it won't flex as much.
Is the KLX300 best?
The KLX300R has 2 inches more suspension travel than both the 230 and 250cc trail bikes with its adjustable USD forks. They aren't as high-tech as a modern enduro bike suspension, but they can handle a little more weight and abuse without bottoming.
The compression and rebound damping on the KLX300 forks can also give you more comfort with a quick turn of a screwdriver. The CRF250F and KLX230R have no adjustability outside of the rear shock preload, which is super important if you want the suspension balanced for proper handling.
Reliability – which will last the longest?
It's really hard to beat the reliability of a well-built air-cooled engine. No radiators to deal with, and less chances of it overheating.
This is why the Honda CRF 250F and Kawasaki KLX 230R get the slight advantage when it comes to being reliable, but that doesn't mean the KLX 300R isn't.
The KLX300 is very reliable and durable if you properly maintain it – the street-bike based engine will last longer than a typical 250F enduro bike because it's not 'high-strung' and tuned for max power.
Price – which is the cheapest?
If you're buying a new dirt bike, the 230 and 250 are a close comparison in cost – it mainly comes down to your dealer in what they charge for fees to get your "out the door" price.
For a quick comparison, here are the new MSRP for these trail dirt bikes:
Honda CRF250F: $4,899
Kawasaki KLX230R: $4,749
Kawasaki KLX300R: $5,899
Which one is best for you?
Still can't decide which dirt bike is best for you when it comes to the CRF250F vs KLX230R vs KLX300R? Here are some quick and simple factors that will help you make an easier decision:
You should get the Kawasaki KLX230R if you:
Want the lightest full-size trail bike
Need a slightly taller seat height
Want a shorter bike that handles better at low-speeds in the woods/trails
Are lighter and not very strong
Don't want the weight/complexity of a liquid-cooled engine
You should get the Honda CRF250F if you:
Prefer the name and reliability of Honda
Want a good combination of low-speed handling and high-speed stability
Have short legs and want the lowest seat height 250cc trail bike
Want a little bit more power than a 230
Don't want the weight/complexity of a liquid-cooled engine
You should get the Kawasaki KLX300R if you:
Are a bigger/heavier rider
Need more torque and horsepower
Want more suspension travel and performance
Don't mind a little extra weight in trade for power and reliability
Want to look for a cheaper used model with a carburetor (2007 and older)
How to ride a trail bike with confidence
Now that you know which dirt bike is best for you in this comparison, it's time to learn how to properly ride it so that you don't get hurt right away. Dirt biking can be dangerous, but that's only if you make the same common mistakes that other people make. I want to give you a FREE guide that shows you the basic techniques so that you learn to ride with control much faster – click or tap here to download my gift to you.