Looking to buy a Suzuki DR350 or just not sure if it's a good dirt bike for you? Whether you're an absolute beginner or looking to upgrade bikes, you're in the right place!
In this review, you'll learn what kind of motorcycle the DR 350 is, why it may or may not be right for you, the differences between models and years, and what to expect when looking at and riding one.
What is the Suzuki DR350?
Depending on which model DR350 you get, the 350R is an off-road trail motorcycle for trail riding, while the 350S and 350SE is a dual sport motorcycle for riding on and off-road legally.
It has a 350cc air-cooled engine with a 6-speed manual clutch transmission – Suzuki beat KTM to the "350cc dirt bike" category (haha).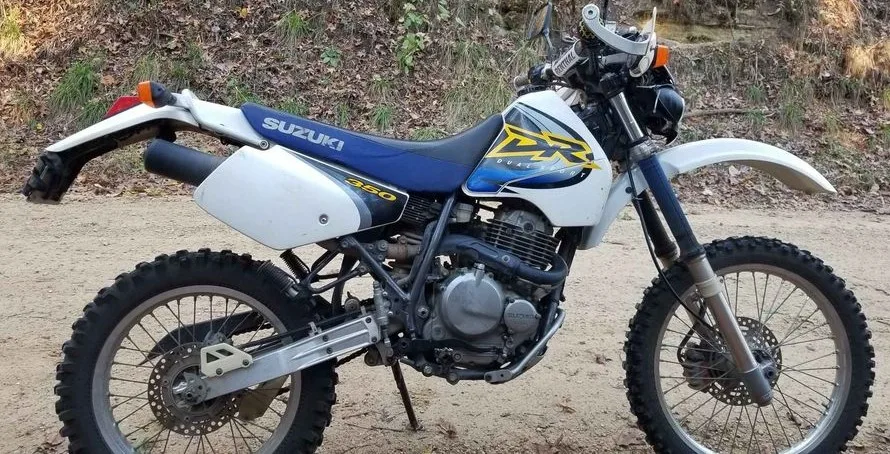 Who's it for?
The DR350 is a good choice for casual trail riding, while the DR350S is a good choice for commuting and dual-purpose riding. It's not a high-performance dirt bike, but it has quite a few strengths that still make it a good bike to buy even today.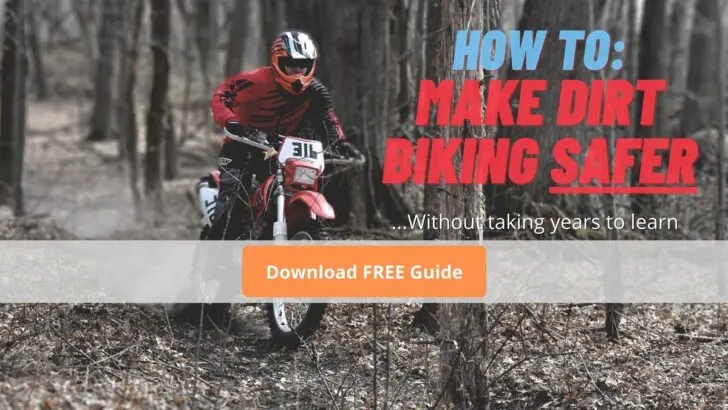 Engine – what to expect
The DR 350 has a 4-valve 4-stroke engine that's carbureted, but what does that mean for you? Compared to the older-style 2-valve engines, the extra valves help it produce a broader power curve with a little better top-end horsepower without sacrificing much low-end torque.
It has noticeably more torque and horsepower than a 250cc trail bike, such as the Honda XR250 or the newer DRZ250, which is needed and appreciated if you're a heavier rider.
Horsepower
A stock DR350 makes about 30 horsepower at the rear wheel, which is comparable to a 125cc 2-stroke MX bike, but that number isn't what you should focus on. 30 HP is plenty of power for almost any kind of off-road riding, but it's the power under the curve that's important.
You see, to use that 30HP, you need to constantly ride at about 8000 RPM, which isn't practical or good for traction if the trail is slippery. Instead, riding at 2000-5000 RPM where the Suzuki DR makes good torque is where it will be easier to ride because you'll have traction and acceleration.
Top speed
The top speed of a stock DR350 is about 80-85 MPH depending on which model you get (DR350 vs DR350S). Again, this number isn't very important unless you're road racing on going for a land speed record…
With that said, if you want to cruise at a higher speed while commuting without revving at a constant high RPM, you can change the gearing. A smaller rear sprocket (Amazon) will do this.
Kick-start vs Electric start
The DR350 and 350S model only had kickstart, while the 350SE only had an electric start with no back-up kickstarter. Electric start is clearly easier on you when it comes to starting the bike hot or cold.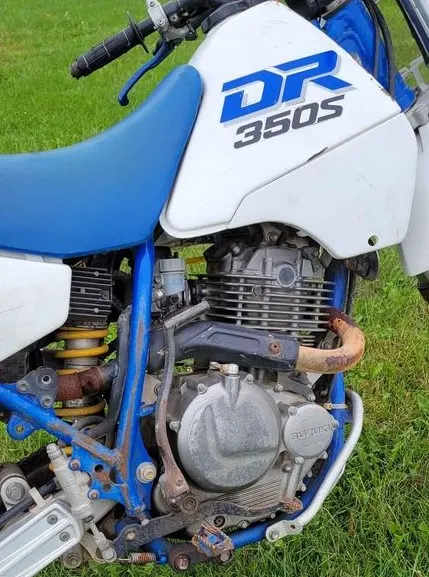 The problem is when the battery gets too weak. With a kickstart, you can always manually kick start it with your leg as long as it's not broken (the kickstart or your leg, lol).
When the battery dies, you have to resort to push-starting it, which can be difficult if you don't have room or a downhill slope.
Lighting & Charging system differences
Since the off-road DR 350 model doesn't have an electric start, it doesn't have a battery. This means that the headlight and tail light are running mainly off of the AC voltage power from the stator.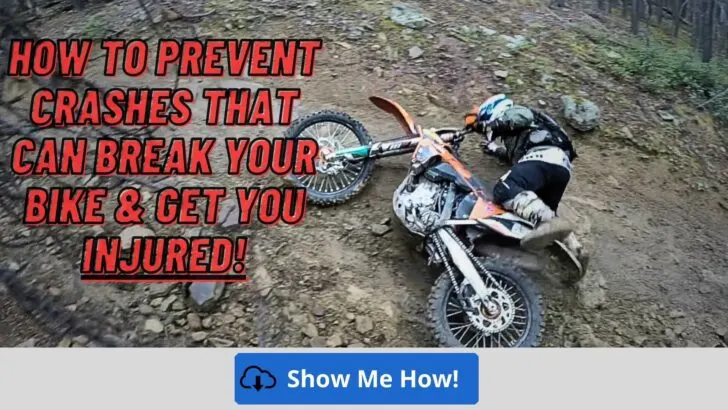 It doesn't produce as much power as the dual sport models, so increasing the lighting output or adding accessories isn't practical because the stock stator can't keep up or produce the commonly needed DC voltage unless you modify the system.
Suspension
There were a few changes to the stock suspension over the years for the DR350. The dirt and street models also had slightly different features to be aware of if you're picky about suspension tuning.
Overall, the stock forks and shock are nice and plush for trail riding and dual sport riding. They're set up well if you're 150-180 lbs, but can handle a little more weight if you're a casual and conservative rider.
Front forks
While all forks that came on any model and year DR350 were conventional-style (Right-side-up/RSU), they did have some adjustability. The early generation from 90-94 had a large slot-head style cap to easily adjust the front fork preload.
Preload is important to getting the suspension balanced for your weight so that the bike handles well.
1995 Fork update
The 95-97 were updated to a cartridge-style fork with more internal damping technology, which simply means it has more performance potential. They had no top preload adjuster but a compression adjuster on the bottom of the fork legs so you can tune how fast or slow the forks compressed when you hit obstacles.
1998 Fork update
The 1998+ DR350 models got 43mm Showa forks they have a compression clicker adjustment on the bottom with rebound clicker adjustment on the top of the forks.
Rear shock
The stock rear shock is also nice and plush to make for a comfortable ride on the trails (and street if you have the dual sport model). The shock on the dirt (off-road) DR models generally had more adjustability.
For example, the early 350S models only had preload adjustment, while the off-road 350 model had preload and rebound damping adjustment. The 1998 and newer SE model received the rebound adjuster on the shock.
Handling characteristics
Let's face it, the DR350 isn't going to win many competitions when it comes to overall handling due to its weight and chassis. It's not a lightweight dirt bike, but that doesn't mean it's useless.
With a slightly lower seat height than a modern enduro bike, it handles fairly well at low speeds and moderate trail riding. For cruising around town or the gravel roads, the Suzuki 350 DR is nice and stable.
Compared to other dual sport bikes, the DR350S and SE is actually fairly lightweight. This makes it better for riding off-road if you need a street legal dirt bike.
Weight – how does it compare?
Coming in at about 286 lbs, the DR350 off-road model is somewhat heavy, but not much more than a modern 450 trail bike when it comes to actual wet weight. The DR350S and 350SE models are about 20 lbs more at 305 pounds, which is average for a midsize dual-purpose motorcycle.
The higher weight is slightly harder to handle at low speeds and is harder to pick up off the ground if you're not very strong. However, the extra weight also gives it more stability and a "planted feel" when riding on the road or hitting bumps on the trails so it doesn't get pushed around as much as a lighter bike.
Seat height – what size rider is the DR350 for?
With a 35.4" seat height, the DR350 is slightly easier to touch the ground on than a modern enduro bike. It's a little bit wider, but the lower center of gravity also improves handling because the overall weight is lower.
So, it's a good size dirt bike if you're 5'7"-6'2" tall. There are some mods you can do to make it feel bigger, but the most important mod to be comfortable is improving your body position technique.
Can you lower a DR350?
Maybe you're a female or just have short legs like me and want to be able to touch the ground with one foot when you come to a stop. A simple lowering link (Amazon) is a quick way to lower the seat height 1-2 inches, which can boost your confidence.
Caution: when lowering the rear, it will make the bike unbalanced and handle poorly. I recommend adjusting the front fork height in the clamps to get the front and rear balanced.
Model year history & changes
The Suzuki DR350 first came out in 1990 and got several updates throughout the 90s until Suzuki stopped making it in 2001. It was discontinued because Suzuki updated it with the DRZ400 dual sport and trail bike models.
Here are the major changes to the DR350 over the years:
1990: First year of the DR350 and 350S models
1993: Last year of the DR350S model
1994: First year of the DR350SE model
1995: Updated to cartridge-style forks
1998: Updated to Showa 43mm forks
1999: Last year of the DR350 off-road model
2001: Last year of the 350SE dual sport model
Reliability – how long will it last?
With the DR350, you get solid reliability as long as you do proper maintenance. This includes simple tasks, such as checking and changing the oil when it's due so that you don't have a catastrophic failure that could leave you stranded.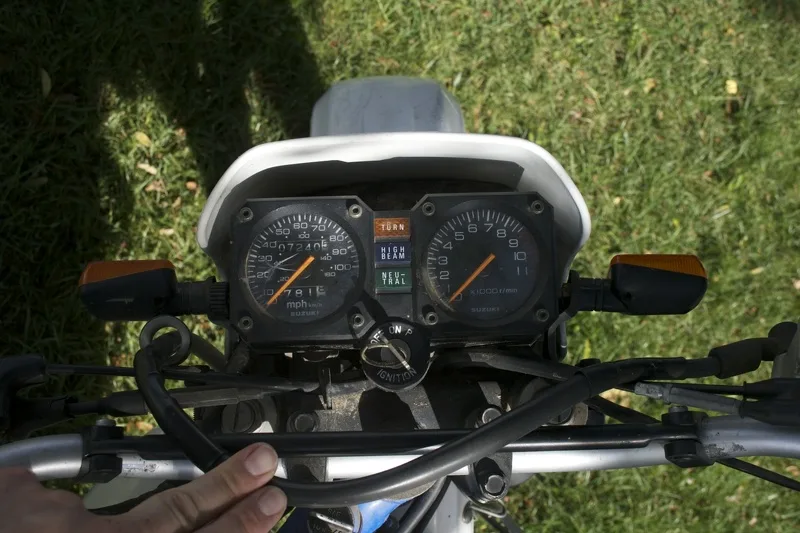 Any common issues?
There really aren't any major common problems when it comes to the Suzuki DR350 over the years. Some of the biggest problems are not starting or jetting issues.
The carb will need to be cleaned if it's been sitting for making, making it hard or impossible to start. Poor jetting can make it run rough, but taking just a few minutes to adjust it can make a huge difference in how it starts and runs.
DR350 Specs & dimensions
These are the basic specifications of a stock Suzuki DR350:
| | |
| --- | --- |
| | DR350/DR350S/DR350SE |
| Manufacturer | Suzuki |
| Years Made | 1990-2001 |
| Engine | 350cc air-cooled 4 stroke |
| Transmission | 6-speed manual clutch |
| Seat Height | 35.4" (90cm) |
| Weight | 286 lbs/305 lbs |
| Horsepower | 30 HP |
| Top Speed | 85 MPH |
Is the DR350 the right dirt bike for you?
Having a hard time deciding if this is the best dirt bike for you? Here are some basic pros and cons of why you should or shouldn't buy one:
Pros:
Smooth power that's easy to ride
Good torque and overall power – great if you're too heavy for a 230-250cc
Very reliable engine
Easy to maintain
Slightly lower seat height is nice if you're under 5'10" tall
Affordable to buy
Off-road and dual sport models available
Cons:
Not made for 20+ years: getting harder to find used
It's fairly heavy
Dual sport model suspension isn't as adjustable
It's not the prettiest looking dirt bike
How much does the DR350 cost?
Since you can't buy one new, you have to look at the used dirt bike market. Depending on the condition, model year, and your local market value, a DR350 can be worth anywhere in the 2000-3500 dollar range.
Buying a used dirt bike can be difficult and potentially frustrating, especially when you make the common mistake of being too anxious and buying a bike that ends up needing a lot of work.
DR350 vs XR400
Comparing the trail version of the DR350 to the Honda XR400, the main difference is that the Honda is a little better performing when it comes to engine and suspension. It's about 10 lbs lighter than the Suzuki, and it also makes a little more power in stock form.
Best mods
There are quite a few mods you can do to make it faster, such as a big bore kit, these are the best cheap mods that make a big difference:
Jetting – Learn how to get started in a few minutes
Suspension – proper springs and sag for your weight
Tires – fresh rubber for the type of terrain you're riding most
New rider – see below
How to become a better rider 5X faster
Whether you're brand new to riding off-road or you just want to ride with more confidence so that you don't get exhausted quickly and end up crashing, improving YOURSELF is the quickest and best way to ride faster and safer so that you can keep doing it for many years to come. I want to show you how to do that by using basic techniques – click here to learn how.