There are several Yamaha 250 dirt bikes to choose from, so how do you know which is best? Whether you're a beginner, enduro rider, MX racer, or dual sport rider, you're in the right spot!
In this article, I'm going to show you the different 250cc bikes, what type of riding each model is good for, and how to easily choose the best Yamaha 250 dirt bike based on your specific needs.
How to choose the best Yamaha 250 dirt bike for you
There are a few steps that I take people through to choose the right dirt bike, and the same goes for these Yamaha dirt bikes.
To pick the best 250, you need to:
Decide what type of riding you'll be doing
Figure out your actual experience/skill level
Choose your budget
There are some other smaller factors, but those three are the biggest ones that will help you make an easy decision.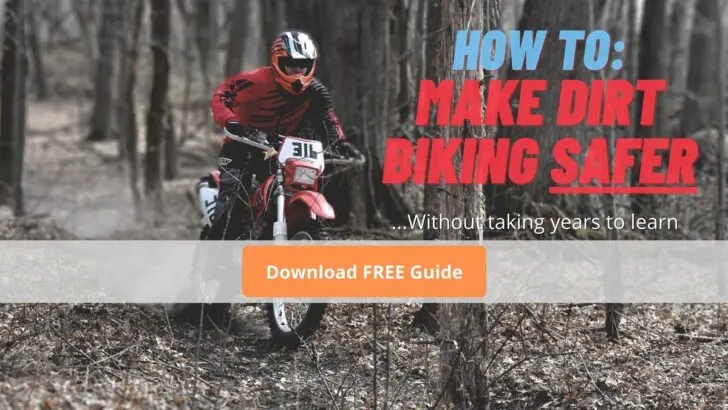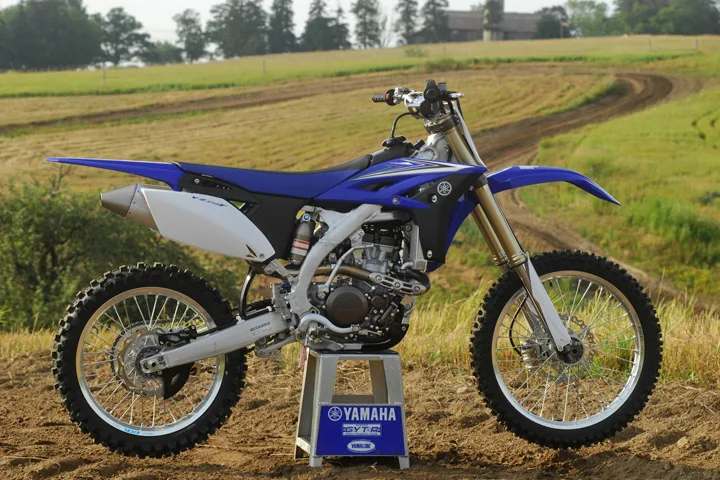 What type of riding do you want to do?
Yamaha has a 250cc dirt bike for virtually every kind of off-road riding, as well as on the road. If you're a beginner, do you just want to casually ride, go on trails, or do some on and off-road adventure riding?
Maybe you're looking to upgrade to a better or faster bike. Do you want an enduro bike for trail riding or hare scramble racing? Maybe you want to race motocross, or possibly a combination.
What's your experience level?
As a newer rider, you'll want to pick a slower model for your first dirt bike for a couple of reasons. It's safer because you won't get into trouble quickly from having too much power. You'll also become a better and more confident rider faster because you can focus on learning the proper techniques, rather than just trying to stay in control.
What's your budget?
Next, you need to decide if you can afford a new or expensive dirt bike, or if you're on a budget and need a cheaper one. If this is your first dirt bike, I recommend starting with a used bike because it's going to get scratched up and lose value if you buy a new one. You can always upgrade later!
XT250
The XT250 is a simple air-cooled dual sport motorcycle. It's great for beginners that want to ride on and off-road.
It has a low seat height and is easy to ride because the power is smooth and predictable. The suspension is soft and plush, and you can use it for some light adventure riding.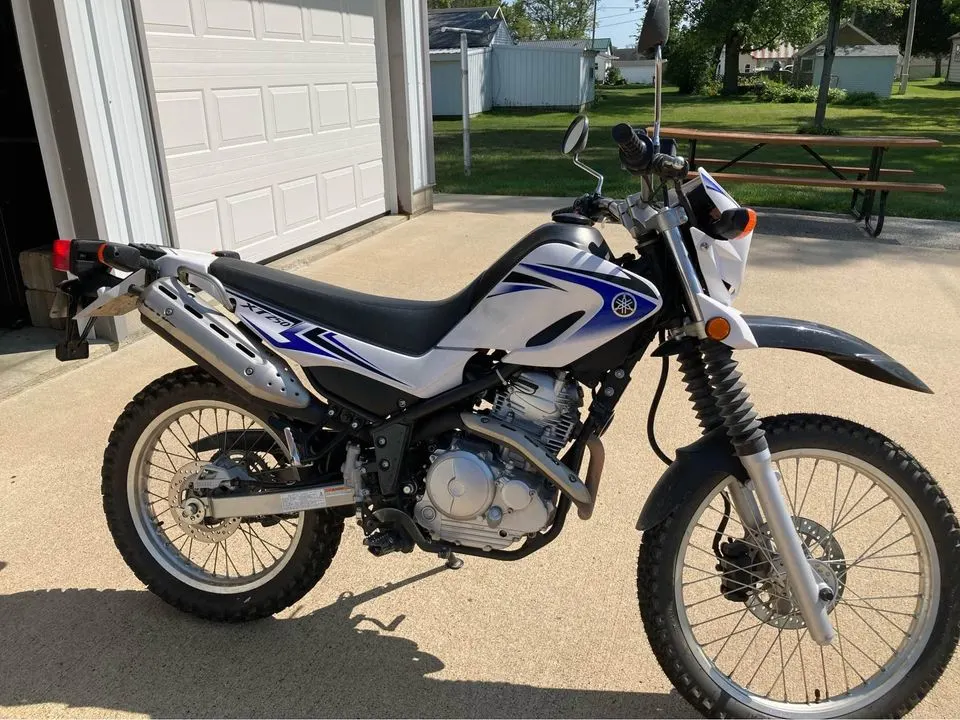 TTR250
Yamaha discontinued the TTR250 a number of years ago, but it's still a good pick for a select few people. It's an air-cooled trail bike that is pretty simple and reliable.
It's easy enough to ride if you're a beginner that needs a full size dirt bike, but has enough power if you want to ride faster in the woods. It's comparable in size and power to the Honda XR250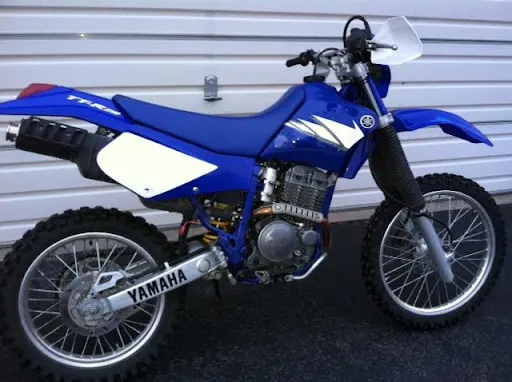 WR250F
Moving up to the WR250F, it's Yamaha's first high-performance 4 stroke trail bike. While similar to the TTR 250, the WR has a liquid cooled engine that makes more horsepower.
The engine doesn't have quite as much low-end torque, so it requires a little more clutch work or revving on tighter trails. It also has a higher tech suspension, a slightly taller seat height, and a longer wheelbase, making it more stable.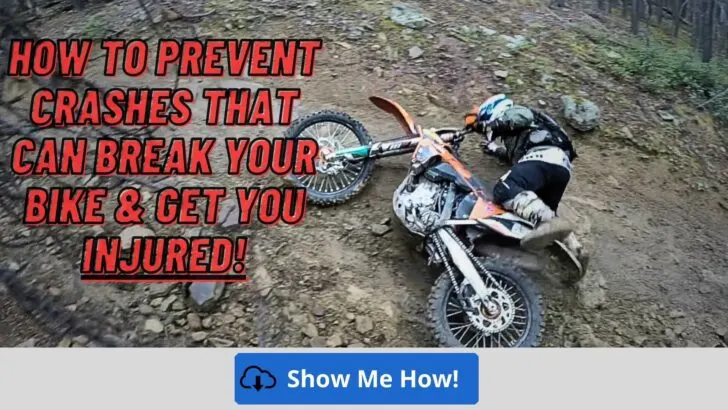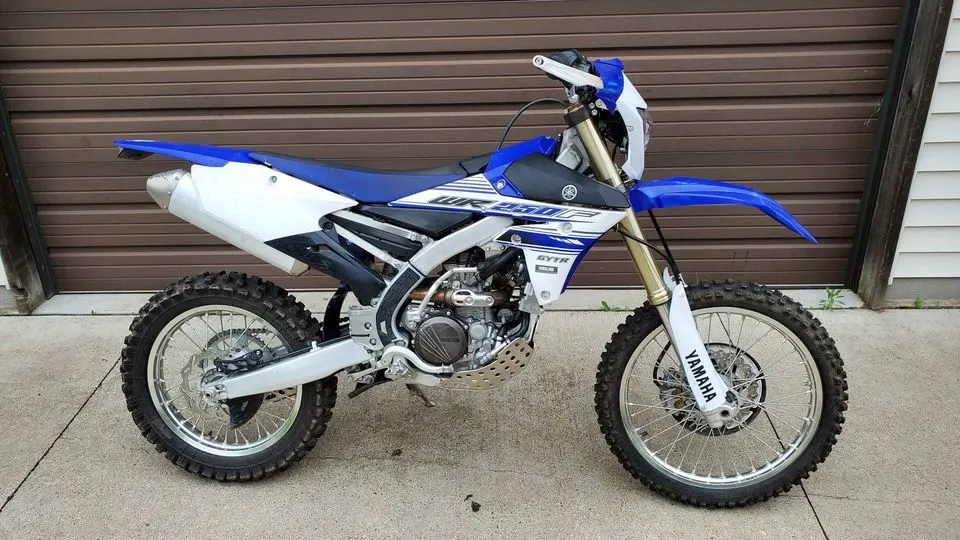 WR250R
The WR250R was made for quite a few years, but Yamaha discontinued it as well due to lack of demand, but that doesn't mean it was a bad bike. It's completely different from the trail bikes – it has a street bike oriented engine, and the frame and suspension are built specifically for this and one other model.
It's a dual sport bike that is street legal, but the 50/50 knobby tires allow you to ride on easy trails. It's a bit heavy for a trail bike, but it's a good street bike or dual sport if you're a beginner. You can load up some gear and do some light adventure riding and camping.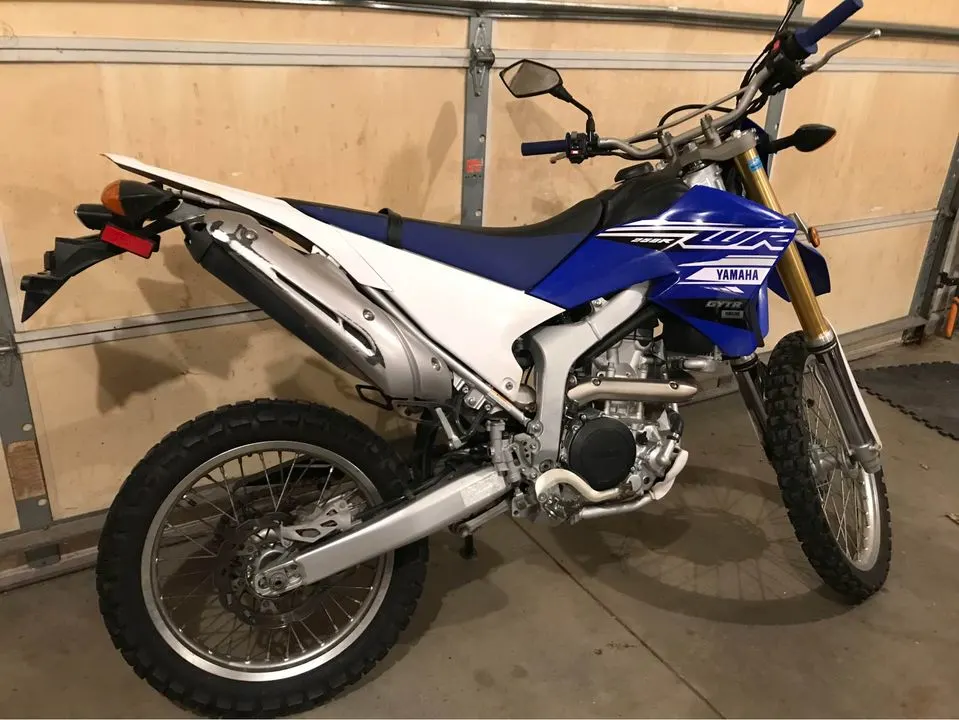 WR250X
Want more of a street bike? The WR250X shares the same engine and chassis as the 250R, but it has full street wheels and tires for riding on the road. It's technically a supermoto bike from the factory.
It's not good for trail riding or off-road riding, but it can handle a little bit of dirt if you want to get off of the pavement for a few minutes. It's another good beginner street bike because it's reliable, easy to ride, and you can get good gas mileage while commuting to work with it in the city.
YZ250F
Switching over to a completely different kind of dirt bike, the YZ250F is Yamaha's tried and tried 250F motocross bike. It's been around since 2001 and is known for its reliability and overall performance – although it hasn't always been the fastest 250 4 stroke in its class.
I would recommend this bike if you're going into motocross racing and nothing else. This is not a good beginner bike – please avoid it if you're a new rider.
It has way more power than you need, especially if you're just starting out or trail riding. Not to mention, it's not very comfortable in the woods on technical or slow trails due to stiff suspension and an abrupt power curve. You'll get fatigued on this bike faster than a trail bike.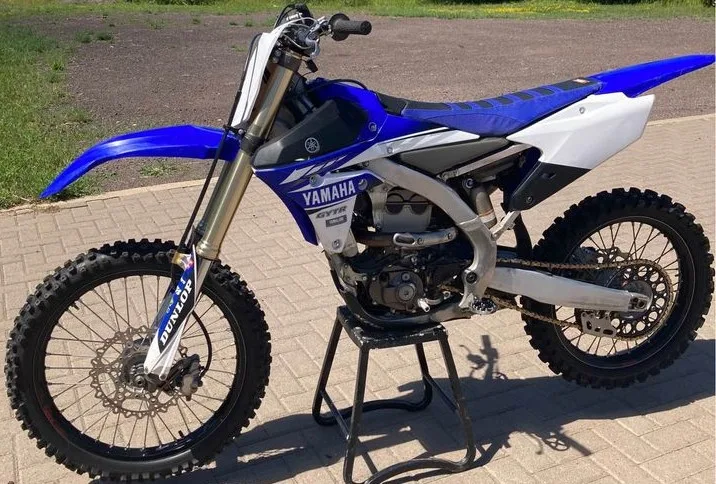 YZ250FX
One of the latest 250 dirt bikes from Yamaha is the YZ250FX, which is basically a trail version of the YZ250F. It's more aggressive than the WR when it comes to the power, and the suspension is stiffer for faster riding or racing.
I also wouldn't recommend this to you if you're new to dirt biking. It just has way more power than you need, and it's harder to control than a slower trail bike. It's also tall like an MX bike, making it hard to touch the ground if you're short like me.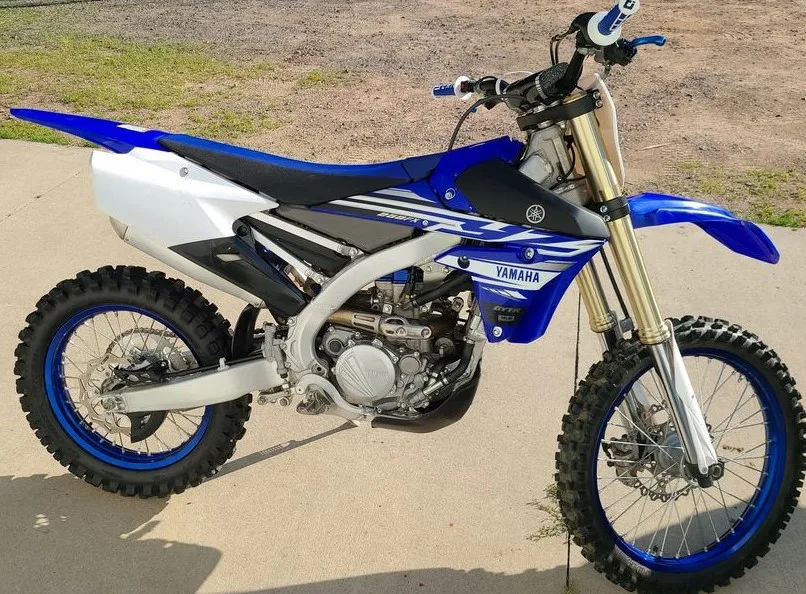 YZ250
Switching to the 2 stroke dirt bikes, the YZ250 has been around for decades. It was the premier motocross bike in the 80s and 90s, but it's still the 'standard' for 250cc two stroke motocross bikes because it's somewhat versatile and is an overall solid bike with great performance.
You need to avoid this dirt bike if you're a beginner, even if your buddy offers you a good deal on it or you think you'll "grow into it". It has way too much power for the average person just starting out, and you'll likely never ride it to its full potential.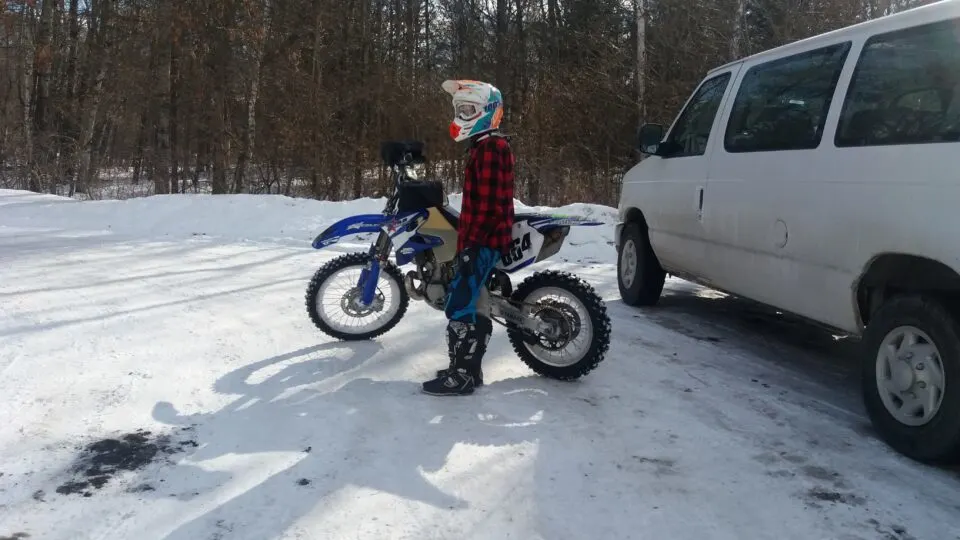 YZ250X
A newer version, the YZ250X is Yamaha's premier 2-stroke enduro bike. It's very similar to the MX model, but with a few small changes to make it more comfortable on the trails.
The engine is tuned for a little more low-end and smoother power. It also has softer suspension and a kickstand, making it more functional for riding in the woods on trails.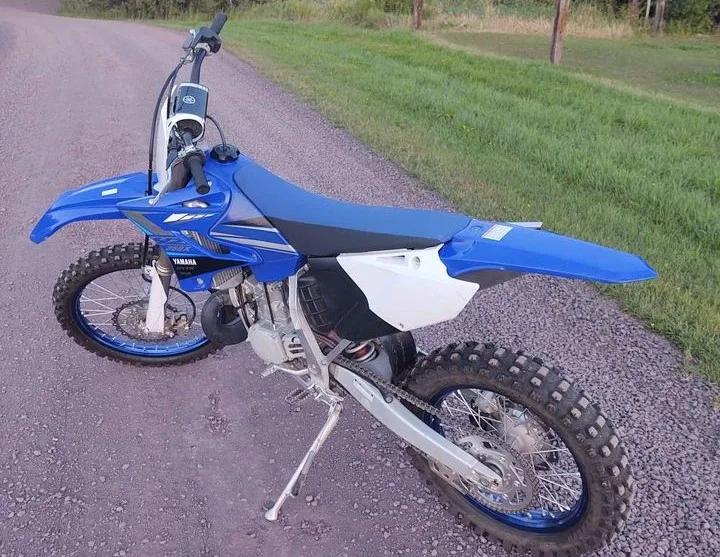 What's the best Yamaha 250 dirt bike?
There are many different ways you can ride an motorcycle on or off-road. If you haven't figured out which 250cc Yamaha dirt bike is best for you specific needs, here's a quick and practical list…
For beginners
Depending on what type of riding you'll be doing, the XT250, TTR250, or WR250R are your best choices as a beginner. If you're just going to be trail riding or casually riding around the farm, I would pick the TTR250 if you can find one.
For trail riding
The TTR250, WR250F, YZ250FX and YZ250X are the best 250 trail bikes from Yamaha, but they are quite a bit different when it comes to riding them. The TTR250 is the most beginner-friendly and lowest maintenance of this group.
The WR250F is the next step up when it comes to a performance dirt bike for trail riding. The YZ250FX is for the most aggressive or high-speed off-road riding and racing. The YZ250X is at the top of this list for the 250cc class because it's a 2 stroke with the most power. It's a little bit harder to handle than the 4 stroke, so it's best if you're an expert rider that wants the most power and least amount of weight.
For motocross
You really only have two good options here. The YZ250F is Yamaha's four-stroke MX bike, and the YZ250 is the two-stroke. Which type of engine do you prefer?
For enduro & hare scrambles
An enduro bike is basically a high-performance trail bike – you can use both bikes for either type of riding, but the high-performance enduro bike will usually do better if you're doing gnarly or more technical trails.
I would consider the WR250F to be an enduro bike, so it's a good choice if you want a little softer suspension and engine with the wider ratio transmission and lights. Otherwise, the more aggressive YZ250FX and YZ250X are the best for enduro riding and hare scramble or desert racing.
For track & trail riding
Sometimes you have to limit yourself to just one dirt bike for riding on tracks and trail riding. If that's the case, then the YZ250FX and YZ250X are the best for track and trail riding.
They are just about as fast as the motocross bikes, and their suspension is stiffer than a typical trail bike, allowing you to compromise and have decent suspension for both types of riding.
For dual sport & adventure riding
Just want to go on an adventure with a street legal dirt bike? The XT250 is the best beginner dual sport from Yamaha, and it's the only street legal 250 that you can buy new right now.
If you want to look on the used market, the WR250R is still a good choice for dual sport riding if you want a little more performance while still being beginner-friendly.
How to ride with confidence off-road
Whether your a beginner or just not advancing in your riding, I want to give you a free guide to quickly build your confidence. It shows you the basic techniques to ride off-road and on the trails with more control. Click here to grab your free guide.