Dillon just bought a Honda CRF250L because he wanted a street legal dirt bike to ride on the dirt and on the road. He really likes the bike, but it just isn't spectacular at anything. He starts saving and looks into what the best mods and upgrades are for his CRF250L.
There's a lot of aftermarket parts for this bike, but after doing a little research he found that doing just a few specific things can get major results with less time and money.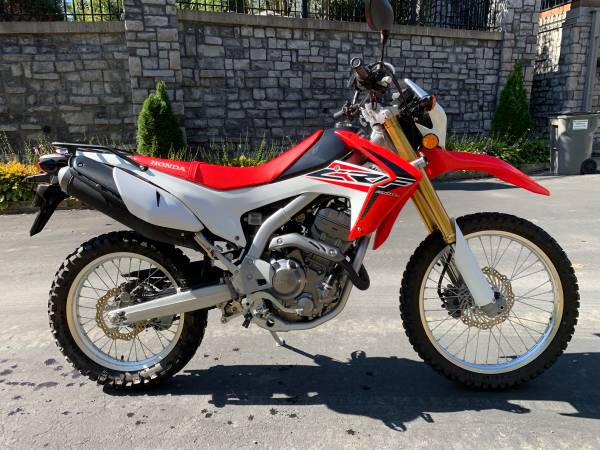 Here are the best performance and adventure mods for a Honda CRF250L:
Air Box Mod
Gearing Change
Exhaust
EJK tuner
Clutch
Suspension
Hand guards
Seat
Handlebars
Rear Rack
USB charging port
Phone mount
Grip warmers
1st Gen vs 2nd Gen CRF250L
Before starting your mods, it's important to know that not every aftermarket part works on all years of the CRF250L. The first generation is from 2013-2016, and then some model changes were made to the 2017 and newer 250L's.
The biggest differences between the 2016 and 2017+ CRF250L is the bigger EFI throttle body and a different bigger exhaust system to accommodate.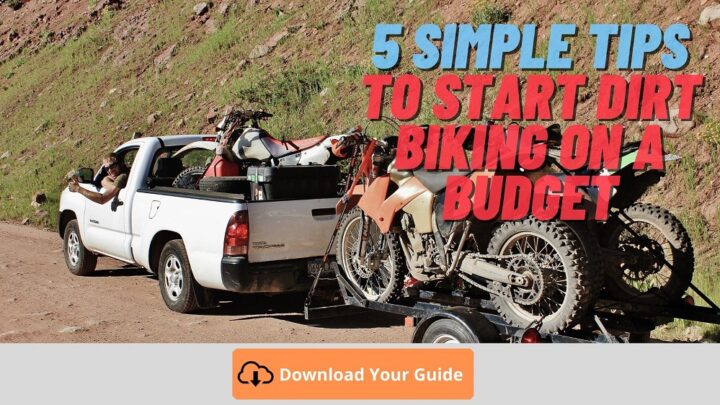 Parts like a pipe, muffler, and fuel tuner will not properly interchange, so keep that in mind when ordering aftermarket parts.
Free & Cheap Mods
Since Dillon is on a budget to begin with, he searched for the best free or cheap mods to make his CRF 250L faster.
Airbox Mod
Air box mods are typically free and easy to do, so that's the first one Dillon tries. Simply remove the top plastic lid on the air box and poof, more air can reach the intake. More air equals more potential power.
He also noticed a slight change in sound, which was a nice touch.
Gearing Change
The CRF250L is geared for more highway riding. This is fine if you want the maximum fuel economy, but Dillon would sacrifice some mileage for some performance.
Going from the stock 14/40 sprockets to a 13/42 gearing (Amazon) is the trick. The acceleration is much improved, and the gas mileage didn't suffer too much. For around $100 or less, this is one of the cheapest and most effective mods Dillon did to his street legal 250L.
Best Power Mods
The first two mods were a great start, but now it's time to spend a little more on some real performance upgrades. Exhaust is the first big component to upgrade.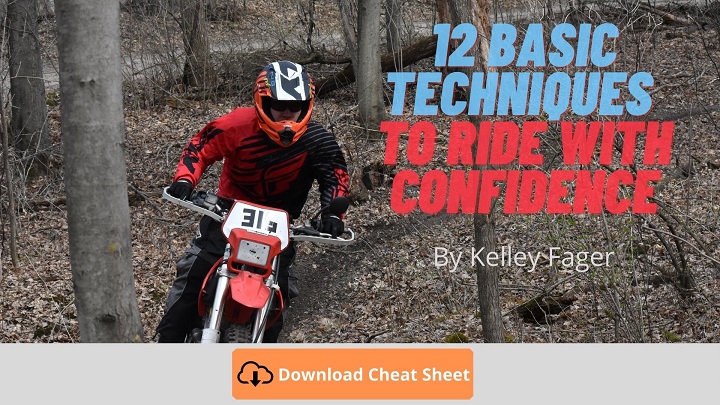 Exhaust Upgrade
Going to a simple FMF Powercore 4 slip-on (Amazon) is an easy change, and the difference is noticeable. More grunt and throttle response, and the sound is way better than the stock sewing machine muffler.
EFI Tuner Worth It?
Dillon started noticing some more popping on deceleration after changing the exhaust. After doing some research, he found that the cause was making the engine run lean. This was due to the exhaust.
Even though this Honda is electronically fuel-injected and changes the air-fuel tune when the ambient air changes, it does not account for physical bike changes. This includes, intake, engine, and exhaust mods.
EFI Can't Auto Tune For Exhaust
Simply put, when Dillon put the new FMF Q4 muffler on, the CRF250L computer still thinks it's a stock bike because nothing has told it to change its state of tune.
After contemplating the cost, he decided he'd rather have a well running dirt bike that is reliable than to cheap out and not buy a fuel tuner. The EJK tuner can change the fuel mapping to get rid of the lean condition from swapping the exhaust.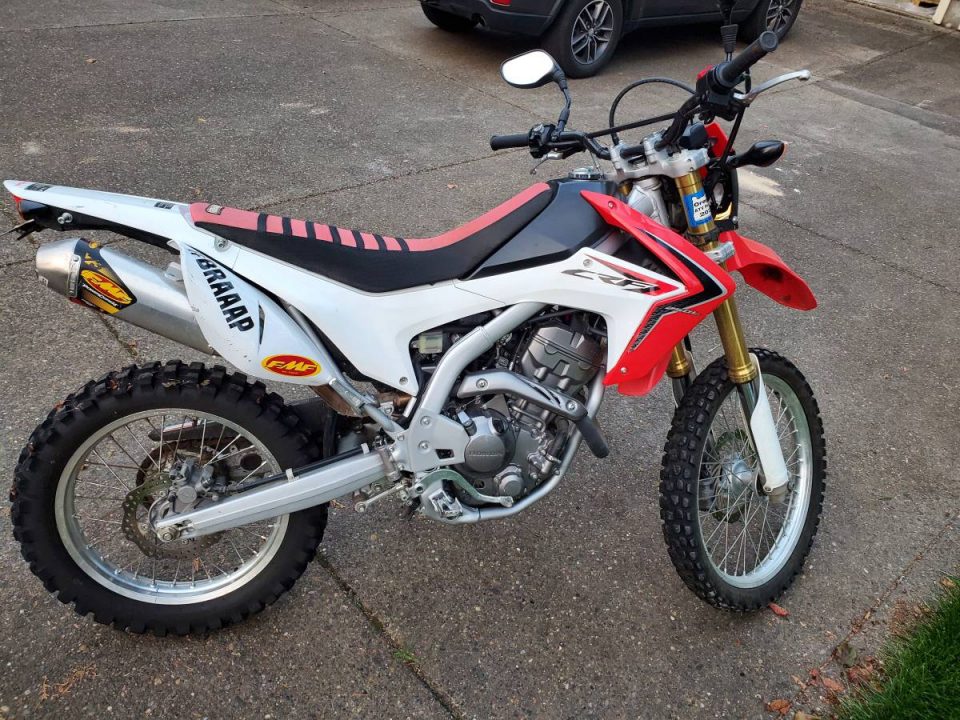 Not only does the bike run better and cooler, but the horsepower increase is noticeable because the engine is now taking full advantage of the better flowing exhaust.
Clutch Upgrade
The stock clutch started to fade as Dillon rode more aggressive offroad. It was time to upgrade to improve the reliability and durability. After some research, simply buying a complete clutch fiber disc kit with some stiffer springs and removing the judder spring did the trick.
The judder spring is there to make the clutch action smoother for a new rider, but it causes slipping under heavy loads and abuse. Replacing it with another fiber disc greatly improves clutch engagement.
Suspension Mods
The stock suspension on the Honda CRF250L is pretty soft, to put it lightly (ha ha). Dillon is an average sized rider, but rides gnarly terrain sometimes and doesn't want it to bottom out. Stiffer fork springs (Amazon) are a much needed upgrade for aggressive riding, or if you're just on the heavier side.
A stiffer shock spring is almost certainly needed to balance out the suspension for proper handling.
Race Tech has a nice setup for the forks and shock. Stiffer fork springs and their gold valve for more personalized tuning.
The rear shock is a little spendy. How much is a more comfortable and better performing ride worth to you?
How Do I Get More Power Out of A CRF250L?
Well, Dillon decided to stop there on upgrading his CRF250L. A big bore kit is possible in the future, but the cost is a little higher, and staying as close to stock as possible is preferred.
In the end, the best performance package on a budget for the Honda CRF250L is the airbox mod, gearing change, exhaust, EFI tuner, and clutch mods.
Rally or Adventure Mods
After doing lots of trail riding and dual sporting, Dillon wants to get into more rally or adventure type of riding. Rally or adventure mods are designed to build a bike for prolonged aggressive riding. Asphalt riding may be included, but offroad in the dirt is the primary purpose.
So, more hours on the internets to figure out the most effective modifications…
In the end, Dillon came up with this list for the best Rally or Adventure riding mods for the Honda CRF250L:
Handguards
Dillon found that he wanted some wind and brush protection for his hands, so proper hand guards (Amazon) were the first item to bolt on.
Seat
The stock seat is good, but he's picky when it comes to what his rump sits on for sometimes several hours in a day.
Enter Seat Concepts. It's universally known as the resource for the best adventure seat for the CRF250L. Rear end = much happier.
Handlebars
Handlebars aren't always necessary, but Dillon took a spill going off road and bent his, so that's a perfect excuse to upgrade!
Rear Rack
Longer riders means more supplies, at least that's what Dillon thinks because he hates being unprepared. He found a sturdy rear rack (Amazon) for the 250L and bolted it on so he could strap anything that will fit on it when needed.
USB Charging Port
Have a helmet communicator? How about a phone? Batteries don't last forever if they're being used. A USB charging port is cheap, but Dillon found it to be one of the smartest mods for longer rides to charge his electronic devices before they die in the middle of nowhere.
Phone Mount
Dillon got sick of pulling over and stopping to pull his phone out every time he needed to view something. A solid phone mount
Grip Heaters
Cold hands suck while riding. It's hard to pull in the brake and clutch levers, twist the throttle, or even hang on at times. Grip heaters have been around for a while, but Dillon wished he'd got them sooner because they make a huge difference in comfort. Riding at night and in the cold isn't so bad anymore!
Best mod for off-road riding
Want to ride with more comfort and speed? Learning proper riding technique will do that because you can use your body to control the bike instead of letting it control you.
Click here for proper riding techniques to quickly improve your control & confidence.