Dillon just bought a Honda CRF250L because he wanted a street legal dirt bike to ride on the dirt and on the road. He really likes the bike, but it just isn't spectacular at anything. He starts saving and looks into what the best CRF250L mods and upgrades are for his dual sport motorcycle, which you'll learn in this article.
There are a lot of aftermarket parts for this bike, but after doing a little research he found that doing just a few specific things can get major results with less time and money.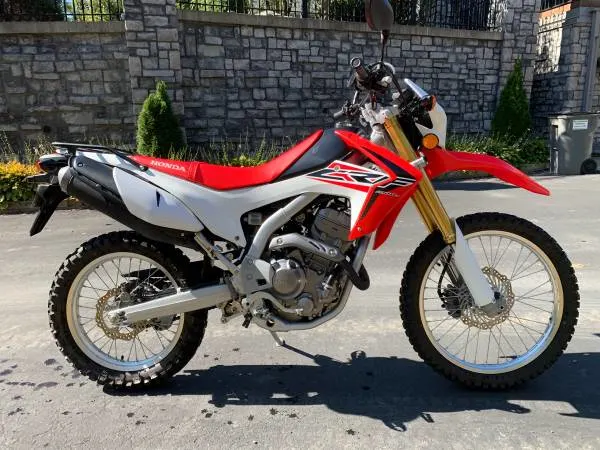 1st Gen vs 2nd Gen CRF250L differences
Before starting your mods, it's important to know that not every aftermarket part works on all years of the CRF250L. The first generation is from 2013-2016, and then some model changes were made to the 2017 and newer 250L's.
The biggest differences between the 2016 and 2017+ CRF250L is the bigger EFI throttle body and a bigger exhaust system to accommodate.
Parts like a pipe, muffler, and fuel tuner will not properly interchange, so keep that in mind when ordering aftermarket parts.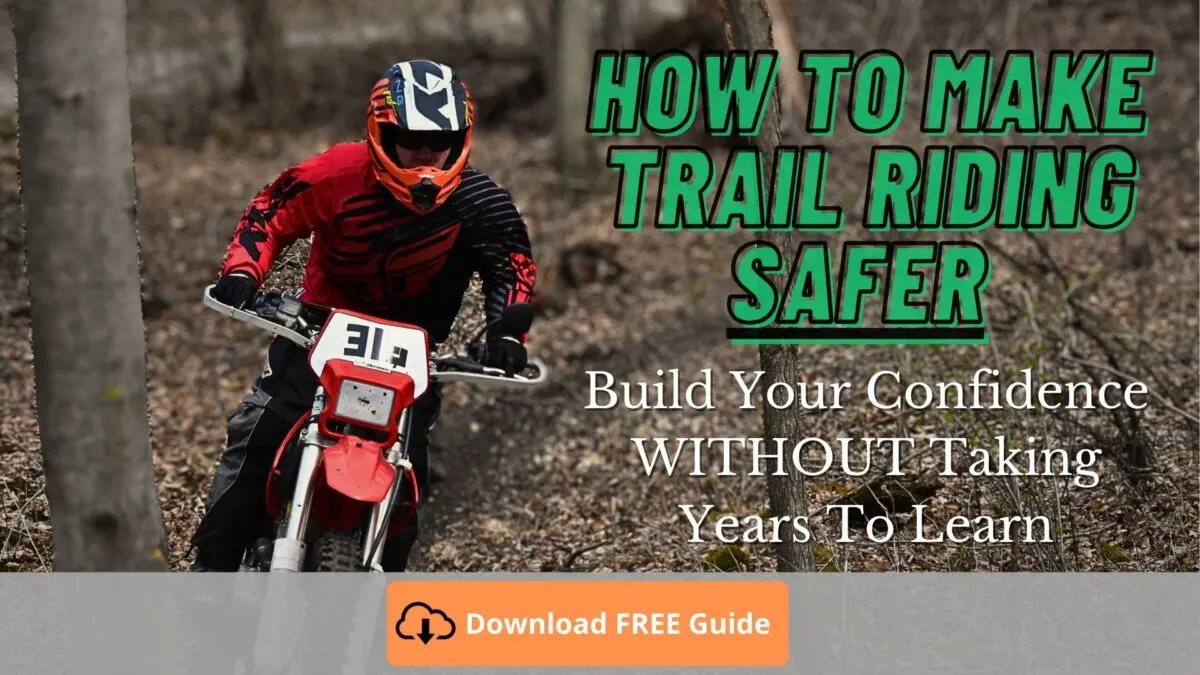 Free & Cheap Mods
Since Dillon is on a budget to begin with, he searched for the best free or cheap mods to make his CRF 250L faster.
Airbox Mod
Air box mods are typically free and easy to do, so that's the first one Dillon tries. Simply remove the top plastic lid on the air box and poof, more air can reach the intake. More air equals more potential power.
He also noticed a slight change in sound, which was a nice touch.
Gearing Change
The CRF250L is geared for more highway riding. This is fine if you want the maximum fuel economy, but Dillon would sacrifice some mileage for some performance.
Going from the stock 14/40 sprockets to a 13/42 gearing (Amazon) is the trick. The acceleration is much improved, and the gas mileage didn't suffer too much. For around $100 or less, this is one of the cheapest and most effective mods Dillon did to his street legal 250L.
Best CRF250L Power Mods
The first two mods were a great start, but now it's time to spend a little more on some real performance upgrades. Exhaust is the first big component to upgrade, but you need a fuel tuner to get your money's worth as far as power goes.
I'll explain why shortly…
What's the best exhaust upgrade for the CRF250L?
There are a few options for performance exhaust upgrades. It just depends on what you want and what your budget is. You can get a muffler, header, or complete system.
The more you do, the more potential power you can get. Horsepower doesn't necessarily make your CRF 250L better, but when it's more "usable power", it will be more enjoyable and easier to ride faster!
The best exhaust is the one that is tuned for the RPM range that you ride the most. For example, you don't want the biggest and best race exhaust if you're a casual dual sport rider because it will be tuned for top-end horsepower and lose that necessary low-end torque you need.
Best cheap CRF250L exhaust upgrade
Want more noise or a better-sounding exhaust without a huge price tag? If you don't care as much about overall quality and performance, you can get a cheap slip-on muffler upgrade on Amazon for under 200 dollars.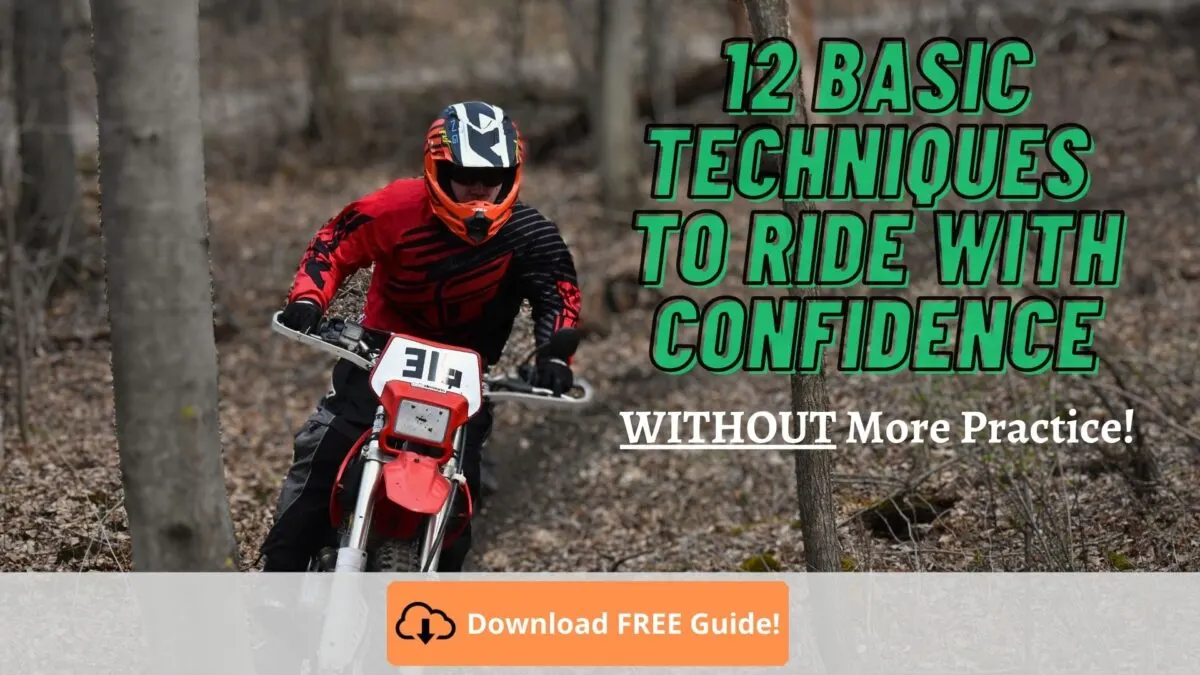 It comes with a mid pipe that should bolt directly onto the stock head pipe. You can expect a sharper throttle response and potentially more torque, but a fuel tuner may be needed if you want to get the most power gain.
Best slip-on muffler for power
Going to a simple Yoshimura 4 slip-on (Amazon) is an easy change, and the difference is noticeable. More grunt and throttle response, and the sound is way better than the stock sewing machine muffler.
If you don't like a louder exhaust, then this probably isn't the best exhaust upgrade for you. It's about 2.5 lbs lighter than the stock muffler, which actually won't be that noticeable in itself, but if you do a lot of weight reduction mods then your CRF250L will feel lighter and handle better off-road.
Best quiet aftermarket exhaust
Want more power without much extra noise? It's hard to beat how quiet the stock CRF250L muffler is, but the FMF Q4 (Motosport) comes close.
With the quiet insert included, it "Meets U.S.F.S. and FIM World Enduro sound regulations". So, if you want more power, better sound, but the quietest aftermarket exhaust for your CRF250L, the Q4 is your best choice.
FMF Powerbomb head pipe – more power & less noise = more riding
Looking to complete your exhaust upgrade with a performance header pipe? The FMF Powerbomb header (Motosport) is a quality made stainless-steel head pipe with two major benefits.
Not only do you get more torque and horsepower over the stock header, but it also reduces the decibel output from the "powerbomb" feature. While the power and noise differences aren't huge just, every little mod adds up to make a big change in your motorcycle.
EFI Fuel Controller Tuner – Is It Worth It?
Dillon started noticing some more popping on deceleration after changing the exhaust. After doing some research, he found that the cause was making the engine run lean. This was due to the exhaust.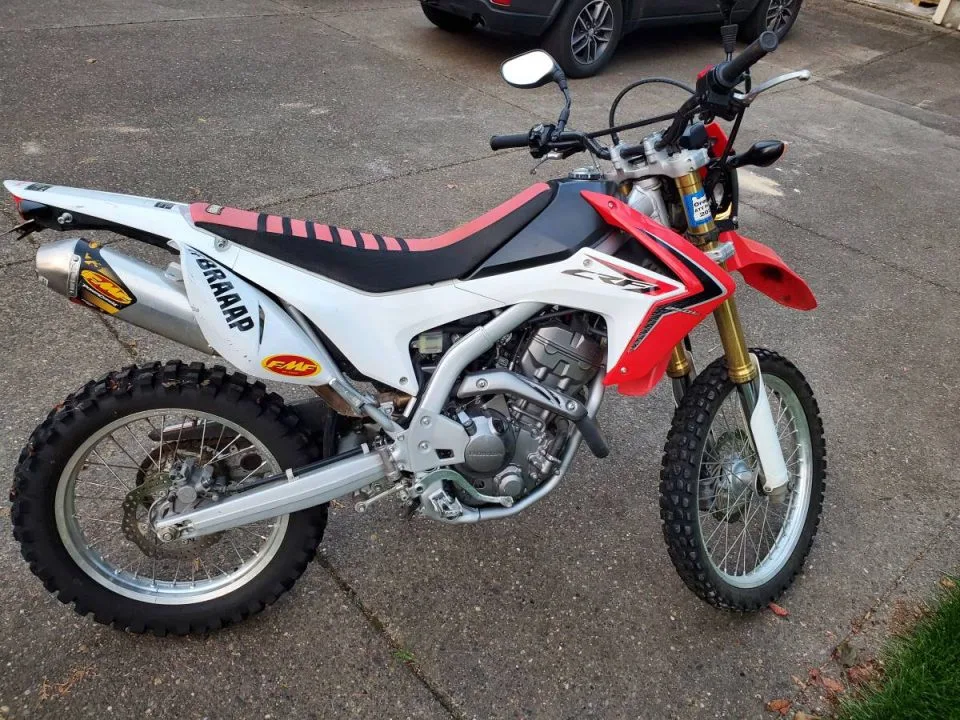 Even though this Honda is electronically fuel-injected and changes the air-fuel tune when the ambient air changes, it does not account for physical bike changes. This includes, intake, engine, and exhaust mods.
EFI Can't Auto-Tune For Exhaust
Simply put, when Dillon put the new FMF Powercore muffler (Motosport) on, the CRF250L computer still thinks it's a stock bike because nothing has told it to change its state of tune.
After contemplating the cost, he decided he'd rather have a well running dirt bike that is reliable than to cheap out and not buy a fuel tuner. The JD Jetting Fuel Tuner (Motosport) can change the fuel mapping to get rid of the lean condition from swapping the exhaust.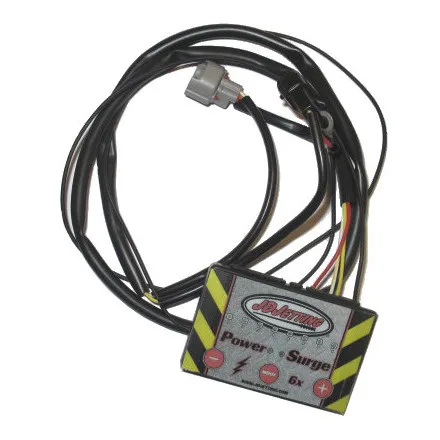 Not only does the bike run better and cooler, but the horsepower increase is noticeable because the engine is now taking full advantage of the better flowing exhaust.
Fuel tuner is too complicated?
Maybe you're a newbie or prefer jetting a "simple" carb and think fuel injection is too complicated. Well, it's actually easier and quicker to make a tuning change than most carbs with the JD Jetting tuner.
Unlike certain brand EFI controllers, JD Jetting makes tuning simple by making the process similar to tuning a carb in how it works, and you can install it in minutes with no messy fuel on your hands!
For less than the price of a new exhaust, a fuel tuner is beneficial in all these ways:
Increases power
Improves throttle response
Easy to adjust at home or off-road with the controller
Tuning logic similar to a carburetor
Installs in minutes – as quick or quicker than re-jetting
Recommended settings included – in case you don't know where to start
Click or tap here to check the price of a CRF250L JD Jetting fuel tuner on Motosport.
Clutch Upgrade
The stock clutch started to fade as Dillon rode more aggressive offroad. It was time to upgrade to improve the reliability and durability. After some research, simply buying a complete clutch fiber disc kit with some stiffer springs and removing the judder spring did the trick.
The judder spring is there to make the clutch action smoother for a new rider, but it causes slipping under heavy loads and abuse. Replacing it with another fiber disc greatly improves clutch engagement.
How Do I Get More Power Out of A CRF250L?
Well, Dillon decided to stop there on upgrading his CRF250L. A big bore kit is possible in the future, but the cost is a little higher, and staying as close to stock as possible is preferred.
In the end, the best performance package on a budget for the Honda CRF250L is the airbox mod, gearing change, exhaust, EFI tuner, and clutch mods.
CRF250L Suspension Upgrades
The stock suspension on the Honda CRF250L is pretty soft, to put it lightly (ha ha). Dillon is an average sized rider, but rides gnarly terrain sometimes and doesn't want it to bottom out. Stiffer fork springs (Amazon) are a much needed upgrade for aggressive riding, or if you're just on the heavier side.
A stiffer shock spring is almost certainly needed to balance out the suspension for proper handling.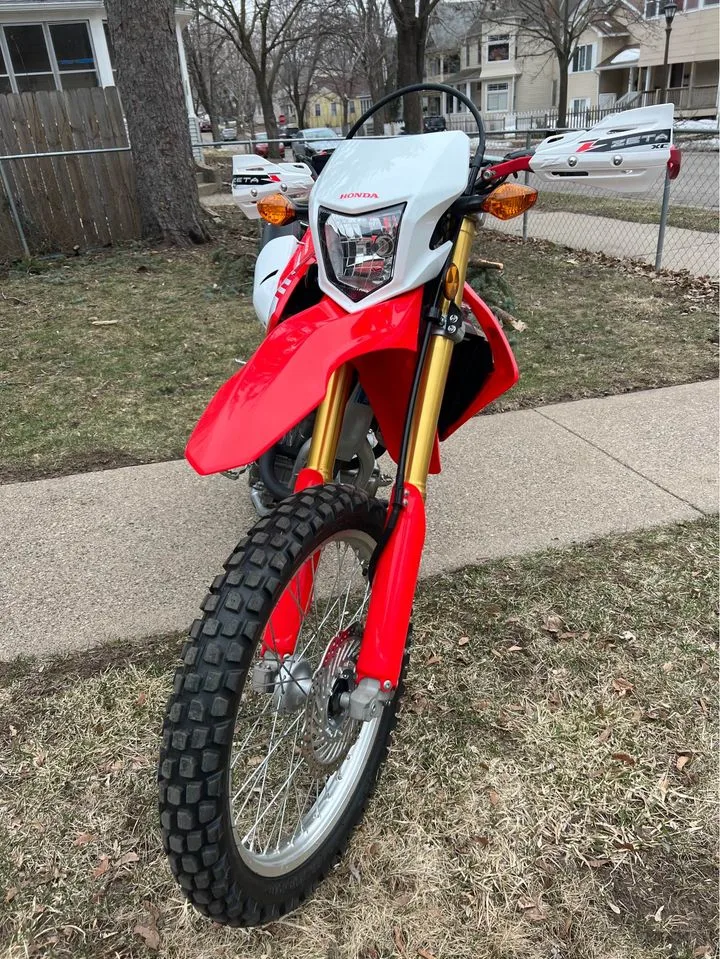 Race Tech has a nice setup for the forks and shock. Stiffer fork springs and their gold valve for more personalized tuning.
The rear shock is a little spendy. How much is a more comfortable and better performing ride worth to you?
Can you lower the seat height on a CRF250L?
Maybe you have short legs like me or you're a short female that wants to be able to put a foot down when coming to a stop. One of the easiest ways to lower the seat height on your CRF250L is with a lowering link (Amazon).
This adjustable rear shock linkage can lower the rear end up to 4 inches, which is a lot! That means you'll really need to lower the front as well or else the suspension won't be balanced and you'll have poor traction and be more likely to wash the wheels out.
The good thing is that it's easy to put the stock linkage back on if you want it taller or if you're going to re-sell your CRF 250L.
Dual Sport Luggage – what's the best set up?
Whether you're dual sport or adventure riding (there's a difference), you'll want to carry some extra gear and/or luggage, and the CRF250L doesn't really offer anything. Depending on your preference and budget, you can go with:
A full set of side hard cases
A rear rack with straps
Fender and tank bags
Cheapest CRF250L luggage set up
On a budget but still want to haul your camping gear/equipment? A simple & sturdy rear rack (Motosport) will get the job done. You just have to buy some quality adjustable cargo net– you don't want a cheap net that will break and lose your luggage on the road or trail, do you?
You just have to be careful with how much weight you put on the rear. Honda made the CRF250L with a beefier subframe because it's a dual sport bike, but if you put an excessive amount on the rear fender and ride hard, there's a greater chance of cracking or breaking the subframe.
Best long distance adventure riding set up
If you're making your CRF250L a lightweight adventure bike, then you'll want a hard case because they're sturdy and weatherproof with more storage capacity than most soft luggage.
First, you'll need a rear rack, then the Givi Universal Monokey adapter plate, along with their 52 Liter Top Case, which are all available from Motosport.
Best fender/tank bag luggage set up
Just need a simple but sturdy fender or tank bag to quickly mount to your bike? The Giant Loop Klamath (Amazon) is a good choice because it's quality made and can latch onto a fender or rack with its adjustable hooks.
It's easy to open with gloves on, has a decent amount of capacity with dividers and cargo strap, and uses durable material with a high-vis exterior accent for extra visibility (because bikes need more, whether on the road or dirt).
Larger storage tank bag
For more storage, the Nelson Rigg Trail End Adventure tank bag (Amazon) is a great choice for dual sport bikes. It's quick & easy to install, has a protective pad, it's expandable, has a map pocket with a touchscreen friendly cover, and includes a waterproof cover for the bag.
Best Rally or Adventure Mods
After doing lots of trail riding and dual sporting, Dillon wants to get into more rally or adventure type of riding. Rally or adventure mods are designed to build a bike for prolonged aggressive riding. Asphalt riding may be included, but offroad in the dirt is the primary purpose.
So, more hours on the internets to figure out the most effective modifications…
In the end, Dillon came up with this list for the best Rally or Adventure riding mods for the Honda CRF250L:
Oversize gas tank
Tired of filling up on gas so often on a long dual sport ride? Upgrading to an aftermarket oversize tank (Amazon) is an easy way to get an extra 20-50 miles further on your ride before needing to re-fuel.
The drawbacks are: more weight and a wider tank. If longer trips outweigh the negatives, then a larger gas tank may be one of the best mods for your CRF250L.
You have two main oversize gas tank options: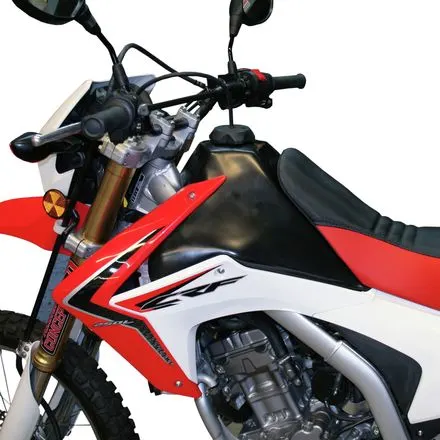 Rear auxiliary gas tank
Want to ride longer but not ready for a bigger gas tank or just want to ride even further? An Acerbis rear auxiliary fuel tank (Amazon) is an extra 1.6 gallons and comes with a mount kit for your rear fender or rear rack.
Aftermarket dashboard/speedo
Need to replace your stock speedo, want to upgrade, or just need to calibrate the speedometer for a gearing change? The universal Trailtech Voyager Pro (Motosport) is a GPS speedo specifically designed for dirt biking with some nice features.
Not only do you get the speedo, tach, speedo calibration and coolant temp with warning lights, but you also get a GPS buddy-tracking system.
Both (or all) riders need the Voyager Pro on their bike so you can see where your 'buddy' is riding without having to stop or get lost – super helpful if you ride out in the mountains or desert far from civilization!
This is the top dirt bike dashboard/speedo with the latest and greatest features, so it's not cheap. If you want the best, then the Voyager Pro is for you. If you're on a budget, then it's best to keep the stock speedo or get Trail Tech's much cheaper option below.
Budget speedo upgrade?
Don't need GPS or buddy-tracking? The Trail Tech Vapor (Amazon) is still a great speedometer dashboard for your CRF250L at a fraction of the price.
It still has most of the same essential features, but it's much cheaper and easier to use once installed. The hardest part is connecting it to the spark plug wiring and installing a simple "T" connection on a radiator hose for the sensors.
Handguards
Dillon found that he wanted some wind and brush protection for his hands, so proper hand guards (Amazon) were the first item to bolt on.
Seat
The stock seat is good, but he's picky when it comes to what his rump sits on for sometimes several hours in a day.
Enter: Seat Concepts. It's universally known as the resource for the best adventure seat for the CRF250L. Rear end = much happier.
Handlebars
Handlebars aren't always necessary, but Dillon took a spill going off road and bent his, so that's a perfect excuse to upgrade!
Rear Rack
Longer riders means more supplies, at least that's what Dillon thinks because he hates being unprepared. He found a sturdy rear rack (Amazon) for the 250L and bolted it on so he could strap anything that will fit on it when needed.
USB Charging Port
Have a helmet communicator? How about a phone? Batteries don't last forever if they're being used.
A USB charging port is cheap, but Dillon found it to be one of the smartest mods for longer rides to charge his electronic devices before they die in the middle of nowhere.
Solid phone mount
Phones are great for a lot of things these days, including GPS, so you may want to use it while dual sport riding on your CRF250L. However, you may not want to get a $20 Amazon phone mount to hold your $1200 phone while cruising down the road and hope that it stays on when you hit a giant pothole…
That's why I recommend the Ram phone mount (Amazon), because they've been making solid motorcycle handlebar mounts for years. I like my Ram mount because it's easy to use and has never moved on me while riding.
Grip Heaters for warm hands in cold weather
Cold hands suck while riding. It's hard to pull in the brake and clutch levers, twist the throttle, or even hang on at times.
Grip heaters (Amazon) have been around for a while, but Dillon wished he'd got them sooner because they make a huge difference in comfort. Riding at night and in the cold isn't so bad anymore!
Easy maintenance schedule
You don't have to do much maintenance to your CRF250L to keep it running and reliable, but that can be a problem. If you don't like writing stuff down, how do you know how much time the oil might have on it since it's been changed last?
That's why a simple hour meter with a tachometer (Motosport) is an easy way to give you assurance. Whether it's because you don't do maintenance often enough, or you're spending too much money on oil from changing it too often, it's nice to know how many "actual" running hours your dirt bike and engine have.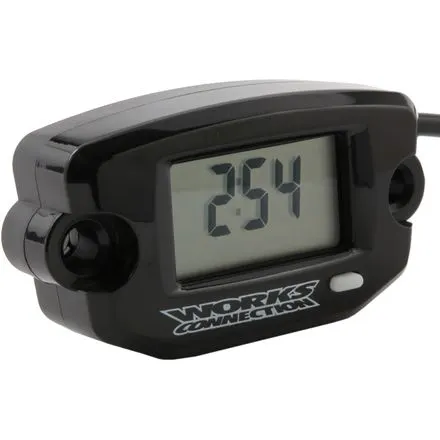 Want a list of the top 3 things you can do to prevent a catastrophic bike failure out on the trail or road? I want to give you this free guide that you can print out and save in your garage or riding toolbox.
Do you have all of these best CRF250L mods?
Here are the best performance and adventure mods for a Honda CRF250L:
Air Box Mod
Gearing Change
Exhaust
EJK tuner
Clutch
Suspension
Hand guards
Seat
Handlebars
Rear Rack
USB charging port
Phone mount
Grip warmers
Best mod for off-road riding
Want to ride with more comfort and speed? Learning proper riding technique will do that because you can use your body to control the bike instead of letting it control you.
Click here for proper riding techniques to quickly improve your control & confidence.