The debate of a dirt bike vs ATV will never end, but I want to show you how to decide which one is actually best for you. Whether you're an absolute beginner or you're considering trying one or the other, you're in the right place!
In this article, you'll learn what exactly makes a dirt bike different than an ATV, why you may or may not want one, and how to decide which is best – or which you should avoid so that you have the most fun while staying safe.
What are the differences between a dirt bike vs ATV?
The biggest difference is that a dirt bike only has two wheels and requires a lot more effort to stay balanced with your body and throttle control. Depending on what kind of ATV you're looking at, it can weigh 2-3 times as much as a typical off-road dirt bike.
Why do some people call 4-wheelers "Bikes"?
I honestly don't understand this – it actually annoys me when I see someone asking a question about their ATV and they refer to it as a "bike".
A dictionary definition of 'bike' is: "a vehicle with two wheels in tandem", so please just call it a "quad" for short if you're referring to a 4-wheeler or ATV.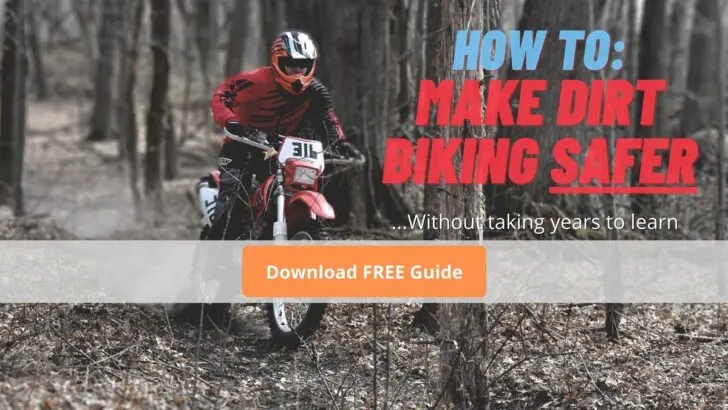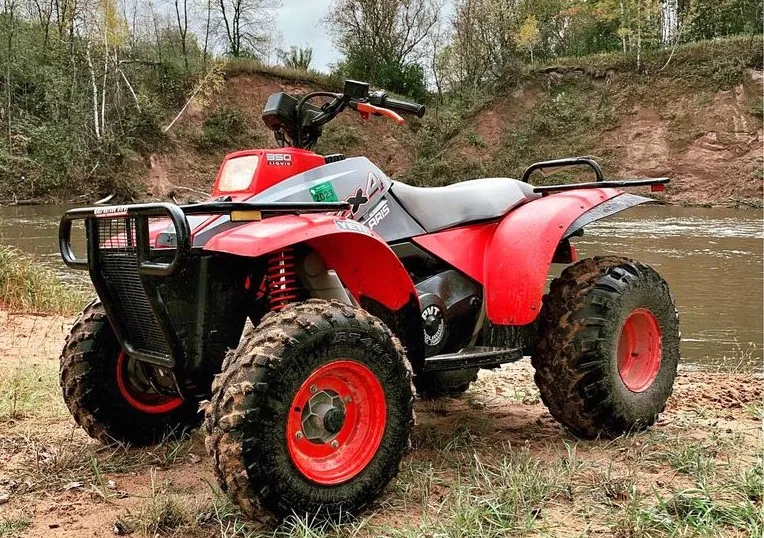 What is better ATV or dirt bike?
The better machine really comes down to what type of riding you'll be doing and what your preferences are. Each one has strengths and weaknesses, whether it comes to having the most fun or being the most practical and useful.
For example, riding in the tight woods might be a lot easier if you're on a dirt bike vs an ATV because it's much smaller in width, so you can get it through narrow sections. Or if you need to haul gear out to a deer stand, an ATV is generally more practical because it can haul more.
What is safer – a dirt bike or four wheeler?
This is also a controversial topic. While I believe that dirt bikes can be safer than 4 wheelers, it can also be easier to crash and get hurt while riding a bike because it requires more skill in most cases.
A dirt bike is safer because:
When you're following proper safety steps, using the right protective gear, and are practicing the proper techniques, dirt biking can be just as safe as any other sport or recreational activity.
Since a dirt bike is much lighter than a quad, it's not as likely to land on you and crush you, especially when you're riding more technical terrain with steep hills.
When you're being a "good little boy" and following the rules/regulations and only riding where you're confident in your abilities, you're much more likely to stay safe and have fun while riding with your family and friends.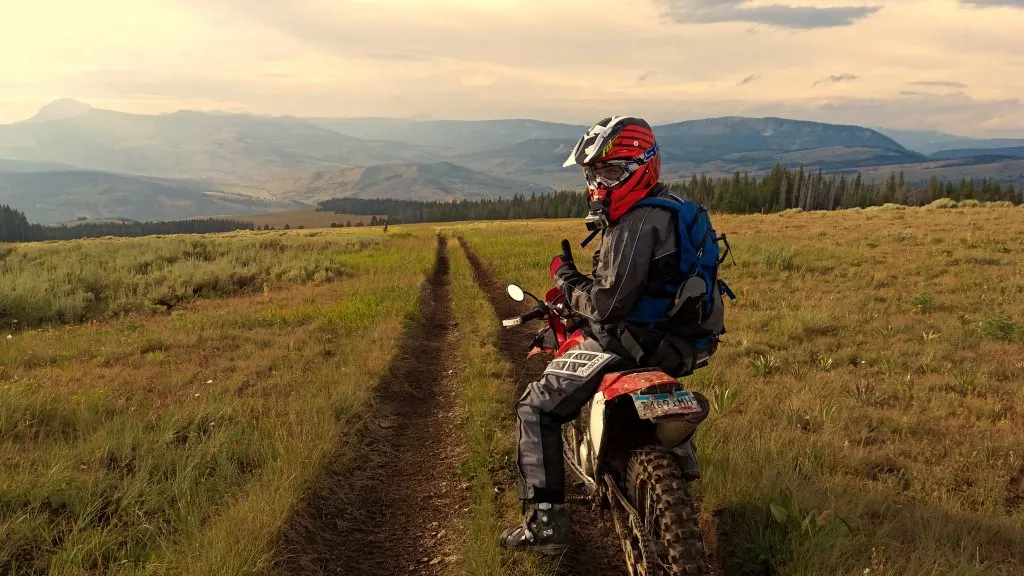 An ATV/4-wheeler is safer when:
You don't have good balance, you're physically impaired, or are using it for utility purposes. Since you don't need to balance to stay upright on a four-wheeler (in most cases), it's easier to relax and just stay sitting on your butt – you just have to have good control of the throttle and brakes.
As long as you're not doing anything stupid or riding steep terrain, an ATV can be very safe. The problem is when people start "testing" their physical capabilities, whether they're sober or not, and usually while wearing no protection other than a t-shirt, jeans, and tennis shoes (if that).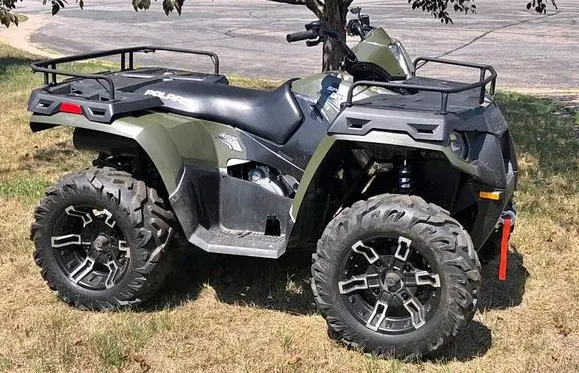 What is more dangerous – a dirt bike or quad?
A dirt bike is more dangerous when you're riding out of your comfort zone, whether it's going to fast while trying to keep up with your buddies, or riding trails that are too advanced for your skill level.
A quad is more dangerous when you're riding past the limit of the quad – it's meant to stay on 4 wheels, so if you're flying around corners or attempting to go up steep hills, you're much more likely to flip the ATV and get hurt from falling on the ground or having the machine fall back onto (think 400-800 pounds of metal).
Is a dirt bike or ATV easier to ride?
On most types of terrain, an ATV is much easier to ride, but does that make it better? Yes, if you just want to get from point A to point B or use it for utility purposes.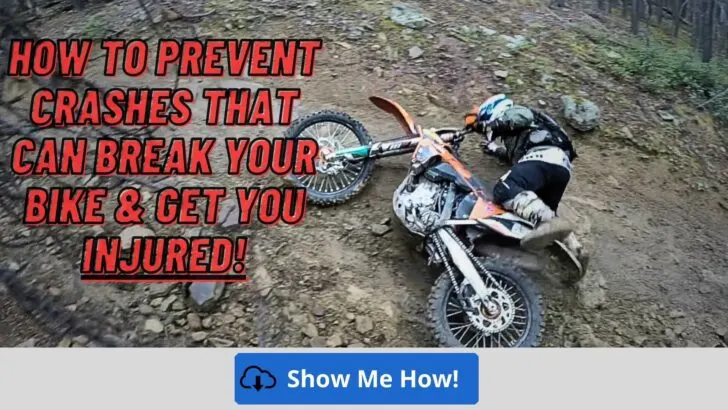 However, if you want more of a challenge and consider it "enjoyable" to use your whole body with a little bit more adrenaline, then a dirt bike is usually the 'better' choice. It's hard to understand what it's like to ride a dirt bike unless you've actually ridden one – yes, that means "trying out" your uncle's old enduro bike for a few minutes doesn't exactly count.
ATV vs dirt bike for trail riding
What kind of trails will you be riding the most? If it's two-track or "double-track" trails, then an ATV might be better for trail riding.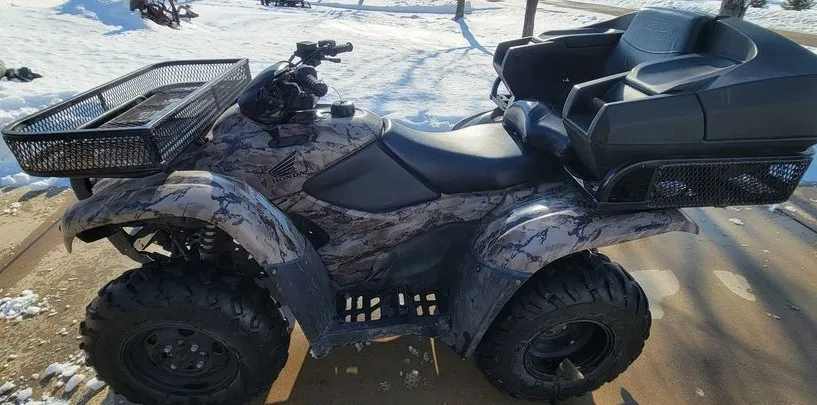 However, if you want to ride 'true' single-track trails, a dirt bike is the only choice because an ATV can't fit. A singletrack trail is posted for OHM-only (off-highway motorcycles).
Which is more fun?
I have ridden almost every kind of recreational toy, from dirt bikes to ATVs, stand-up jet skis, street bikes, go-karts, and more… There's just nothing like ripping through the woods on a dirt bike, railing corners, and weaving through trees.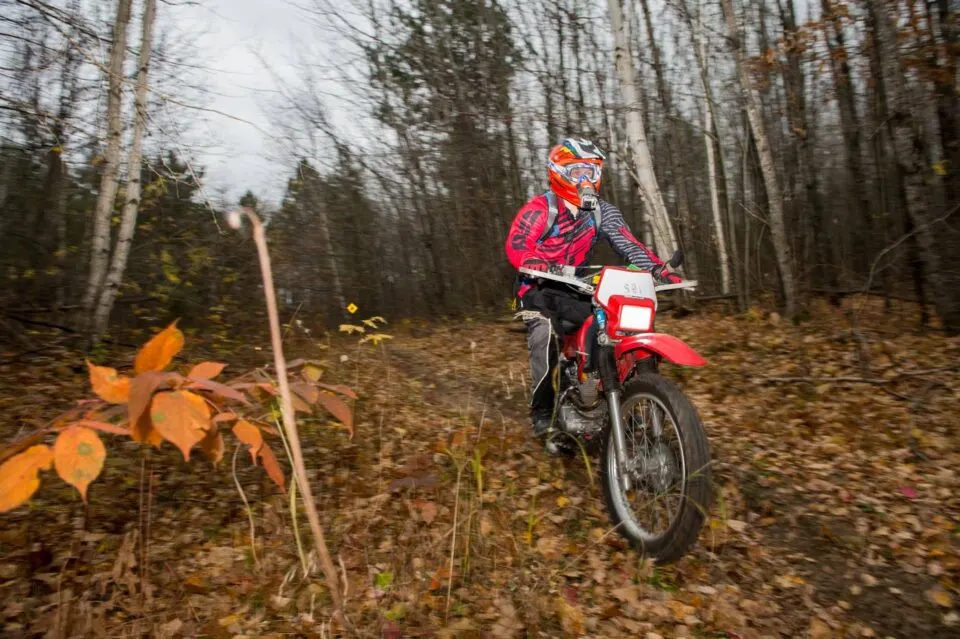 ATV vs dirt bike deaths
Most deaths can be prevented – it's usually because of reckless driving/riding, head-on collisions, or doing it while drunk and under the influence of alcohol.
The Consumer Federation of America released a report on the number of ATV deaths in America in 2022. The total for 2022 from January through December was 287.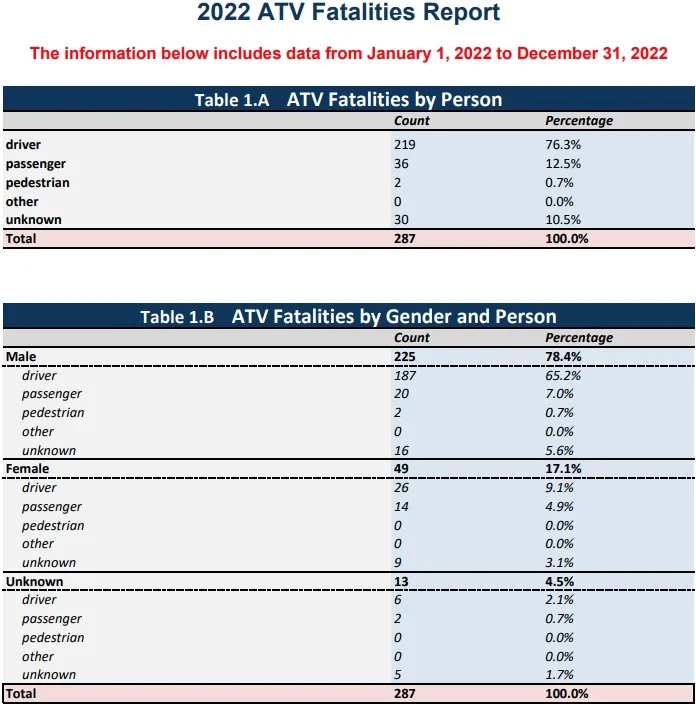 About 78% of them were male (which is not surprising since there's probably a higher percentage of males driving ATVs), and 76% of those fatalities were a driver.
While this is only the "known" deaths, 287 isn't a huge number for the whole country, but still, more than it could be.
As for off-road motorcycles, only 97 deaths were recorded according to the US DOT. Of those 97 deaths, 62% were under the age of 30, and 25% were 30-39 years old.
Which is right for you?
Still can't decide if a dirt bike vs ATV is best for you? There are pros and cons to each, but they are very different in how they feel when riding them and what they're actually good at doing.
ATV
Here are some simple benefits and downfalls of buying and riding an ATV/4-wheeler:
Pros:
Easier to drive for beginners
Better for utility/hauling/towing small equipment/plowing snow
Best for hunting
Can go through mud/swamps more easily
Requires less energy/effort to ride on most types of terrain
Can carry a passenger more easily (on some models)
Can install a winch for emergencies
Cons:
4 wheels isn't as fun or as much of a challenge
Much heavier
Wider – cannot ride single-track trails
Harder to haul/transport
Top reasons you should get an ATV/4-wheeler:
You're a hunter
You need a utility vehicle around your farm/property to haul equipment
You ride through mud often
You don't want the challenge of riding on two wheels
Dirt bike
Here are some simple benefits and downfalls of buying and riding a dirt bike/off-road motorcycle:
Pros:
More fun/exciting/challenging to ride two wheels
Much lighter
Small for riding single-track trails
Better power to weight ratio
Better fuel economy
Easier to haul/transport
Cons:
Harder to ride/balance in most cases
Don't go through mud well
Not as good for hauling things
Top reasons you should get a dirt bike:
A new exciting challenge
Can see new views from riding single-track dirt bike trails
Better exercise for your whole body
How to make dirt biking safer for you and your family
Want to get started dirt biking but worried about safety? I want to give you a free gift – it's a beginner's guide to getting started so that you don't make the same common mistakes that many people make that can get you hurt – click or tap here to download for free.