FMF Fatty Pipe – Review
The FMF Fatty Pipe For 2-Strokes
is the most copied 2-stroke dirt bike pipe in the world, so you know that FMF makes a guaranteed quality pipe. I like making my dirt bikes go faster, and a pipe is a simple bolt-on that can do that. The FMF Fatty exhaust is the first one that came up because it's the most popular, so I figured it must be worth it.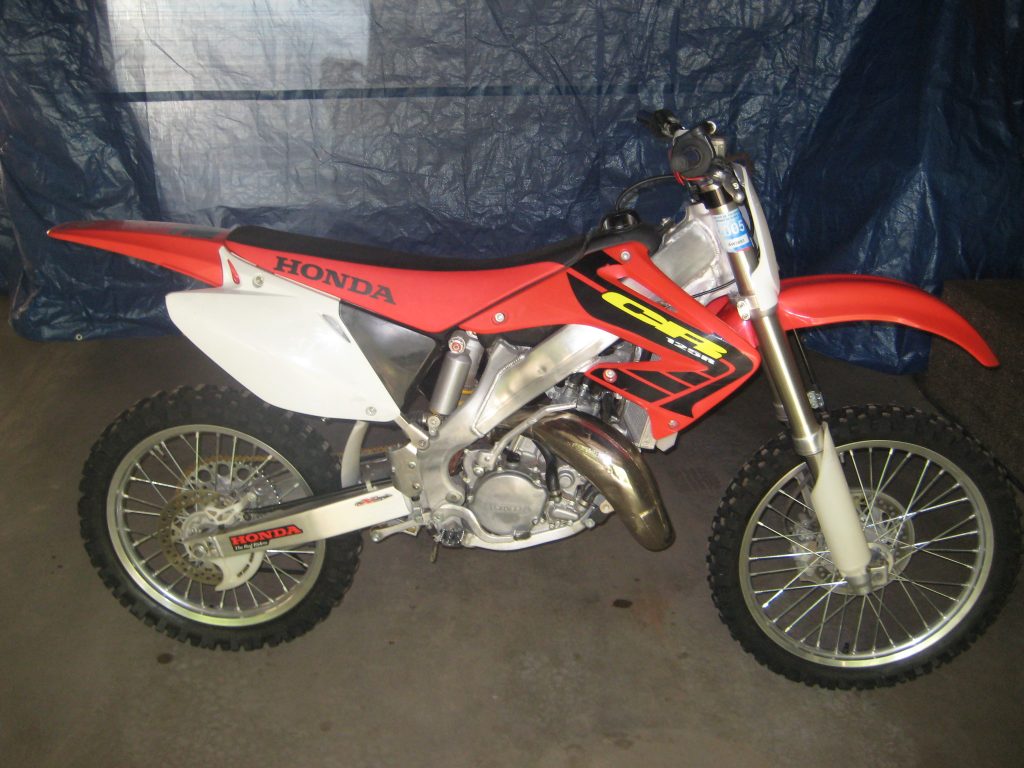 Your 2-Stroke Will Have A Power-Band!
Not that it didn't have one before, because there are people out there that truly don't know that a power-band is not an actual "part" on a dirt bike (more on that in a future article). The Fatty pipe was built to not only increase the power-band on your 2-stroke, but to increase power across the entire RPM range as well. This makes for a great addition if you do a variety of riding types (motocross, trails, play-riding).
Hold Onto Your Panties
When your dirt bike is jetted correctly, you will instantly notice better throttle response at idle and across the rev-range, so you'd better hold on (but not too tight or you'll get arm-pump!).
You Get To Control The Snap of Your 2-Stroke
Two-stroke motocross bike are snappy when on the pipe. More so a 125, because almost all of the power is up top, leaving nothing down low. This makes them more difficult to ride for people that aren't used to them. Don't worry though, FMF someone manage to get more power out of your two-stroke, while making it easier to ride with a more linear power-band. It will still hit hard, but the power is spread out so the bike isn't so peaky.
Rev That Sucker To The Moon
So far you have more power with the fatty, better throttle response, and a smoother power-band that makes it easier to ride… What more can you ask for? Oh yeah, more over-rev. Stock pipes often "sign-off" early, causing you to shift more to keep it in the meat of the power. Well the Fatty pipe continues to rev even further than stock without the power dropping too dramatically.
It's Pretty Much Plated With Gold
If you have used a stock pipe on your two-stroke then you probably know how easily they get dents in them. FMF uses a lower gage metal, meaning thicker, so it withstands a lot more abuse before denting up.
Classic FMF
And to top it all off, FMF gives this exhaust pipe their "Tru-Flo" stamping process to guarantee that it will fit, look, and perform great. Really, this is the do-it-all two-stroke pipe. Four-stroke exhaust pipes cost an arm and a leg, but with the Fatty you get high-quality performance at a great price.
What Are Others Saying About The FMF Fatty Exhaust Pipe?
The FMF Fatty has received dozens of enthusiastic reviews from almost every buyer. It has an average of 4.8 out of 5 star rating on MotoSport; the best selling pipe.
Some of the consumer comments:
Unbeatable Performance
Awesome pipe on my CR!
Good buy
OPENS IT RIGHT UP
Buy Your FMF Fatty Pipe on Amazon here
P.S. Check out my other review for the FMF SST Pipe