Looking to get a new trail bike? The CRF250F vs KLX230R are the latest bikes to come from Honda and Kawasaki with a few modern updates.
In this article I'll cover the practical differences between these two dirt bikes so that you can choose which one is best for you.
Who are the KLX230R & CRF250F made for?
They're both 4 stroke air-cooled trail bikes and they're built for beginners. If you're a teen, a woman, or an old guy that's about 5'4" or taller, then the KLX230R and CRF250F are great for learning how to ride off-road.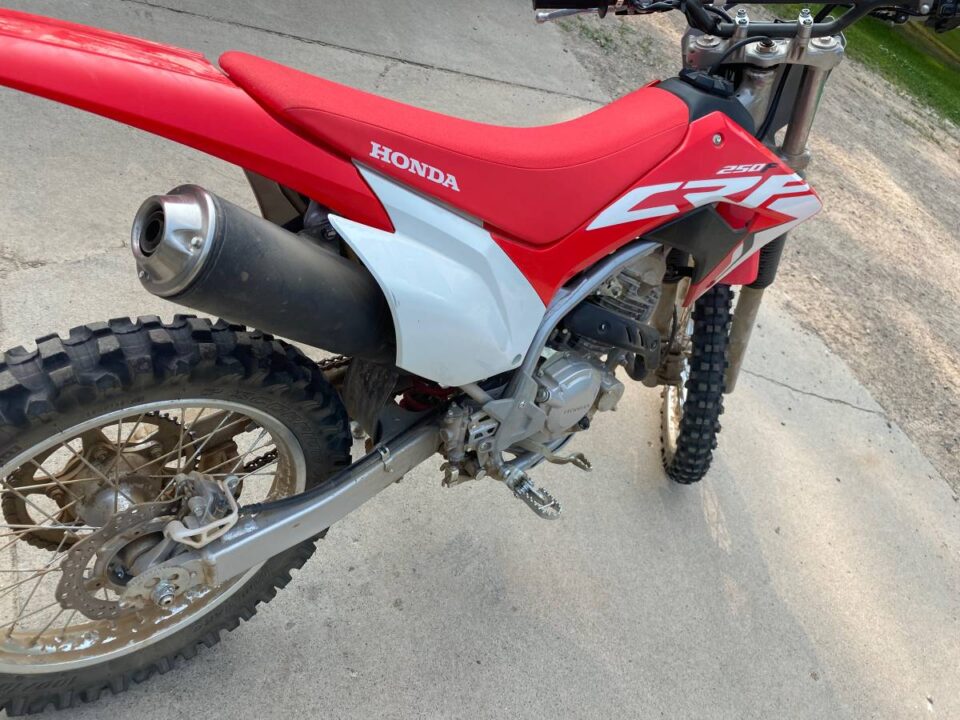 If you're shorter or worried you might not be strong enough to handle these full-size trail bikes, then I suggest you look at the 125cc 4 stroke trail bikes.
Best beginner dirt bike
Are these bikes from Honda and Kawasaki the best beginner dirt bikes? If you're going to buy a new model and you physically fit on them comfortably, then I definitely recommend them?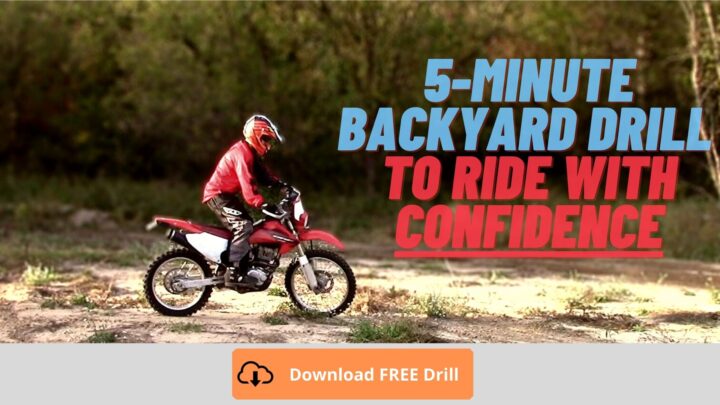 Why?
I could just be a random guy on the internet giving you terrible advice, so it's up to you to decide if my information is credible.
With that said, I've owned and ridden many trail bikes, MX bikes, and enduro bikes, and one of the biggest reasons why I write articles on Motocross Hideout is to help new riders like you learn how to properly do things. If you get hurt right away, then you're probably going to stop riding, which is exactly what I don't want to happen. Enough with my tangent…
What makes these dirt bikes good for beginners?
The CRF250F and KLX230R are great beginner dirt bikes because they are easy to ride – this will boost your confidence quickly, and confidence is key to riding better.
They're easy to ride because they have smooth power that's predictable, they're lower to the ground compared to an enduro or MX bike, making them easier to handle. They're also super reliable if you do simple maintenance, such as oil changes and keep the air filter clean.
CRF250F VS KLX230R power comparison
As you would expect, the Honda has slightly more power than the 230cc Kawasaki, having a 17cc bigger engine (7% more displacement).
With that said, it's not a race bike, so horsepower should not be the determining factor between these two trail bikes.
In addition to that, the KLX230R has a 6-speed transmission, while the CRF250F has just 5 gears. The KLX230 can stay in the meat of the power just as well with the gears being slightly closer together (Iess RPM drop when shifting up). If you want to accelerate faster then just change the sprocket size.
Suspension
The forks and shock are pretty similar when it comes to performance = low performance. But that's not bad when you're new to riding – it makes things simple and reliable. The only thing that's adjustable is the shock preload.
The KLX230R has about 1-1.5" more suspension travel, which is why the seat is taller.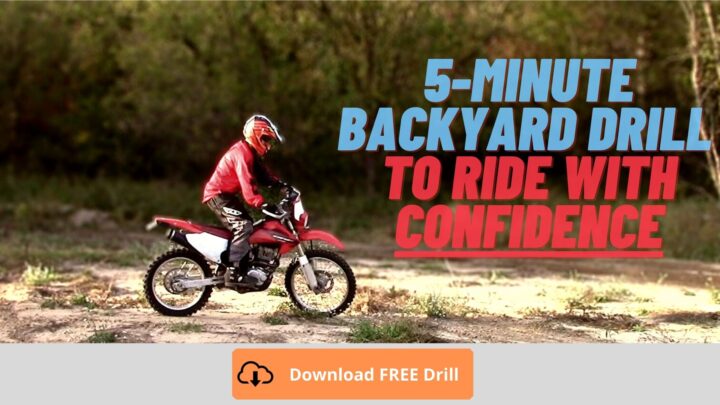 The forks are bigger in diameter on the CRF250F, so they don't flex as much on rough terrain. Will this actually make a difference? Not if you're a beginner.
Size difference – handling comparison
Even though the engine is bigger on the CRF250F, the KLX230R is actually slightly taller in size. The KLX is 1.4" taller when it comes to the seat height. So if you need a taller dirt bike to start on, the KLX230R is the better choice. With that said, there's some things you can do to make the Honda feel bigger and taller.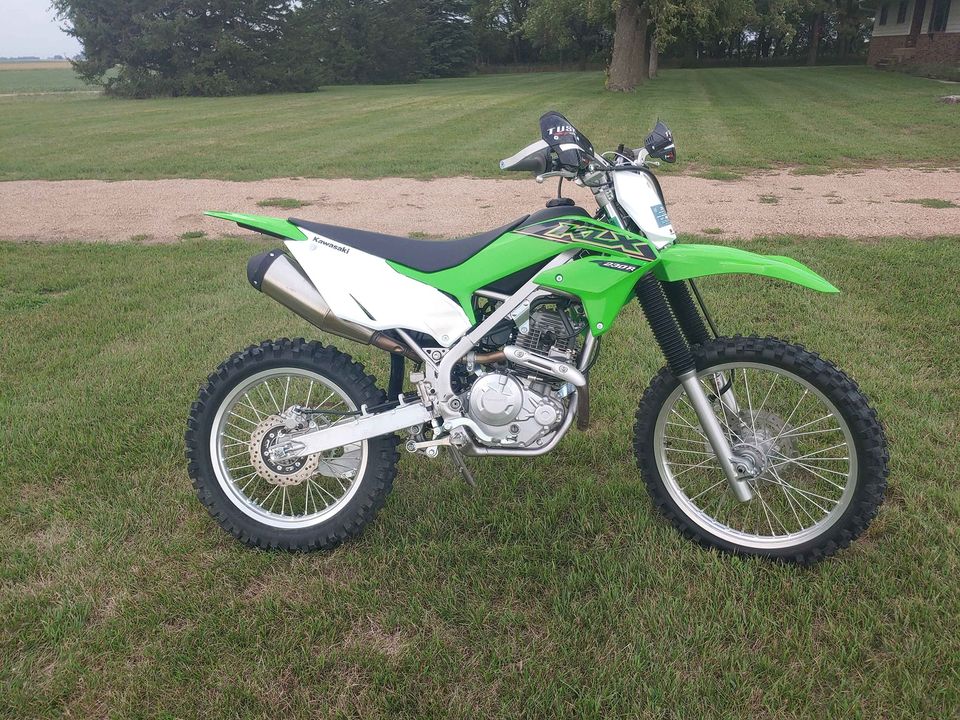 On the other hand, the CRF250F has a longer wheelbase – almost 2.5" longer. So what does this mean?
If you've never ridden a dirt bike before, you probably won't notice much difference, but it will affect the handling. With the wheels closer together on the KLX, it will steer quicker/handle better in tighter riding areas.
The Honda will be more stable, making it handle slightly better at higher speeds and whooped-out terrain.
Reliability concerns?
Are you willing to do some simple maintenance to keep your dirt bike running for a long time? Then neither of these 2 bikes will be a concern for reliability?
Is any dirt bike perfect? No, but these trail bikes are about as reliable as it gets.
Upgrades Available
Both bikes are relatively new, so aftermarket upgrades are still coming out. With that said, the CRF250F has a slight advantage coming out earlier and being a Honda with a longtime following of their trail bikes.
So which bike is the winner? KLX230R vs CRF250F
Both bikes have electric start and are fuel injected. The major differences are the size and color, really. The CRF250F has a little more power, but if you're on the taller side, the KLX230R is better with the taller seat height.
With that said, either bike can be made to feel bigger or smaller with some control adjustments and minor upgrades.
How to become a better & safer trail rider
You're already off to a great start by choosing one of the beginner-friendly trail bikes – one of the biggest mistakes new riders fail to do.
After that, you need to learn proper riding techniques and learn how to set up your dirt bike to fit YOU. I'd like to start you on the right path to riding safer with more confidence. Click here to learn how to properly sit and stand to give you more control on the trails.